Brett McMurphy's bowl projections: Clemson's loss opens door for Penn State
Kamil Krzaczynski-USA TODAY Sports
Brett McMurphy has been a college football reporter for nearly 30 years. He is a longtime voter in the Associated Press poll as well as a Heisman Trophy voter. Find him on Twitter @brett_mcmurphy.
What a crazy week. Oklahoma QB Baker Mayfield won a game away from home and didn't plant a flag at midfield. Les Miles, a year after getting fired by LSU, was cheered at Tiger Stadium. Clemson's Dabo Swinney was honored at an Alabama game.
But then it got really weird. Syracuse over Clemson, Cal over Washington State, LSU over Auburn, Arizona State over Washington, and the biggest shocker: the University of North Carolina over the NCAA. If anyone has a time machine handy, a four-team $100 parlay on those top-10 upsets (Syracuse, Cal, LSU, and ASU) would have paid a cool $261,567.
Everywhere I looked, I just didn't know what to believe. Up was down, down was up. You could have told me the wife of the commissioner of the most powerful league in the world had set up a fake Twitter account to defend her husband and I even would have believed that.
Here's hoping for another week of turmoil and this week's bowl projections.
College Football Playoff
| BOWL (CITY) | DATE | MATCHUP |
| --- | --- | --- |
| Championship Bowl (Atlanta) | Jan. 8 | CFP semifinal winners |
Projection: Alabama vs. Penn State
Finally, I have a new victim, sorry, make that opponent for Alabama in my projected national title game. Penn State, come on down.
This would be a great matchup between Penn State offensive coordinator Joe Moorhead and the Crimson Tide's defense. How would Penn State RB Saquon Barkley fare against the mighty SEC? Alabama has given no indication it won't make a third consecutive appearance in the title game. The question is: who will be joining the Tide?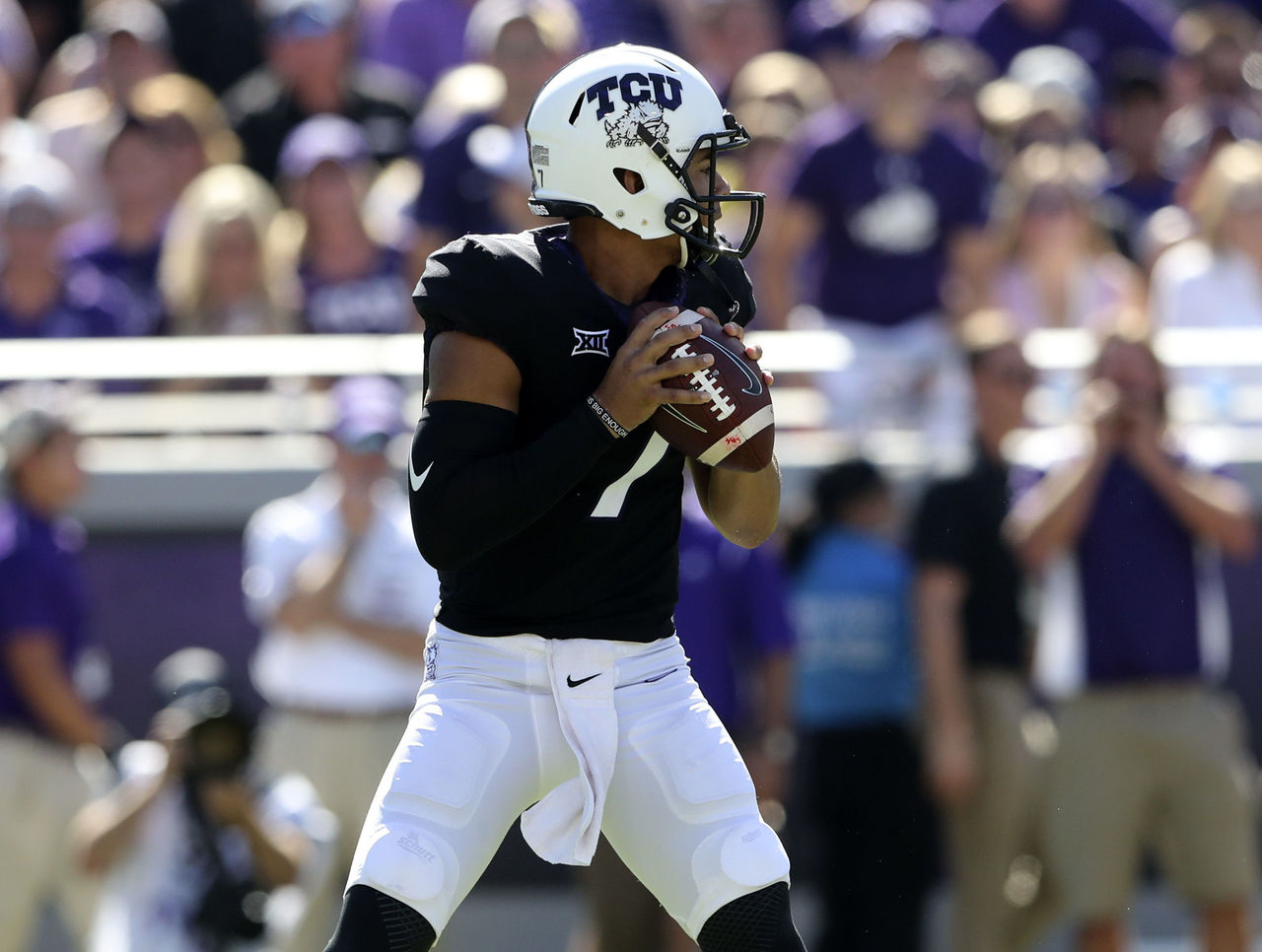 Semifinals
| BOWL (CITY) | DATE | MATCHUP |
| --- | --- | --- |
| Rose Bowl (Pasadena) | Jan. 1 | CFP semifinal |
Projection: Penn State (CFP No. 2) vs. TCU (CFP No. 3)
Penn State moves to No. 2 in my projected rankings, followed by No. 3 TCU. Penn State faces its toughest test of the season this week, hosting Michigan, looking to avenge last year's 49-10 loss. The Nittany Lions haven't faced a ranked opponent this season, but that changes with consecutive games against No. 19 Michigan, No. 6 Ohio State, and No. 18 Michigan State.
TCU also faces its toughest test of the season - trying to stay awake against Kansas. The Horned Frogs are more than a five-TD favorite. Hopefully the Jayhawks will put up more of a fight than FOX did.
The network chose to televise 6-0 TCU vs. 1-5 Kansas and put it up against Michigan at Penn State (ABC), USC at Notre Dame (NBC), and a Major League Baseball playoff game (TBS). I'm not sure what will be lower - Kansas' total points or FOX's rating share. I'm guessing both will be zero.
| BOWL (CITY) | DATE | MATCHUP |
| --- | --- | --- |
| Sugar Bowl (New Orleans) | Jan. 1 | CFP semifinal |
Projection: Alabama (CFP No. 1) vs. Clemson (CFP No. 4)
Despite Clemson's loss at Syracuse, I still have the Tigers projected in my playoff field. I did drop them to the four-seed, so they would have to open with Alabama in the semifinals. It would be a third straight year meeting Alabama, but the first not in the final. A 12-1 record and ACC championship will earn the Tigers another playoff bid.
Not even "rat poison" can kill Alabama. The Crimson Tide were a unanimous No. 1 in Sunday's Associated Press poll. Coach Nick Saban picked up his 100th career SEC regular-season win last week, joining Bear Bryant, Steve Spurrier, Johnny Vaught, and Vince Dooley as the SEC's only coaches with 100 league victories.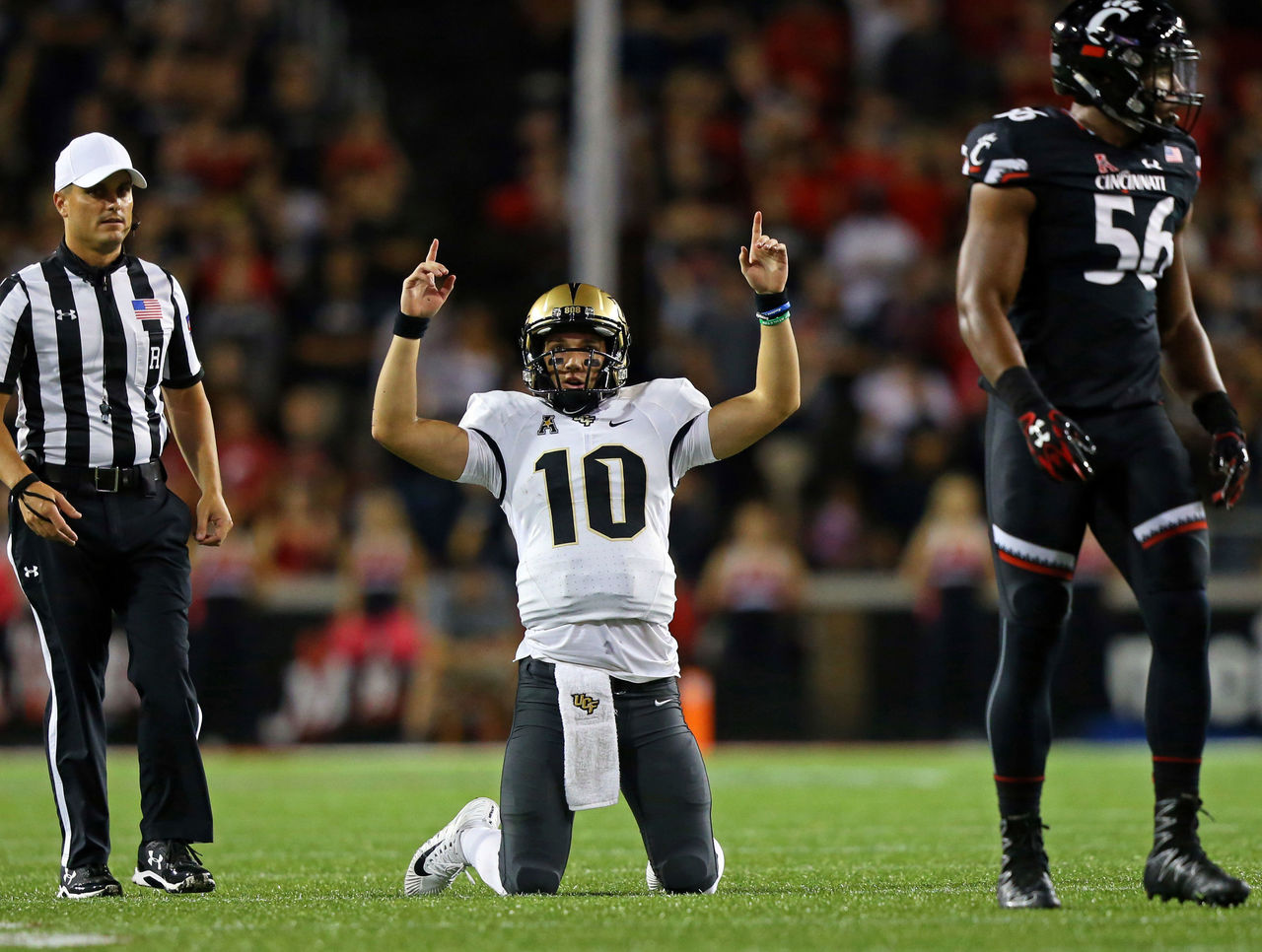 New Year's Six bowls
| BOWL (CITY) | DATE | MATCHUP |
| --- | --- | --- |
| Peach Bowl (Atlanta) | Jan. 1 | at-large vs. at-large* |
Projection: Wisconsin vs. UCF
Leaving the Wisconsin family and Godfather/AD Barry Alvarez has been as damaging to a coach's future as Fredo Corleone betraying brother Michael. Since departing Madison, the careers of Gary Andersen and Bret Bielema are pretty much swimming with the fishes.
Andersen resigned last week at Oregon State after compiling a 7-23 record. Bielema remains employed at Arkansas, but for how long? Since 2013, Bielema is 10-25 in SEC play, tied for the worst league record among Power 5 conference coaches.
UCF's Scott Frost isn't a Power 5 coach - just yet. That could change in weeks (hello, Nebraska), especially if he guides the Knights to an American Conference title and a New Year's 6 bowl bid.
I reported last week the highest-rated Group of 5 champion will play in either the Peach or Fiesta Bowl. After San Diego State's upset loss to Boise State, I'm projecting the USF-UCF winner in that spot. The Nov. 24 game is in Orlando so I give the Knights the slightest edge.
| BOWL (CITY) | DATE | MATCHUP |
| --- | --- | --- |
| Fiesta Bowl (Glendale) | Dec. 30 | at-large vs. at-large |
Projection: Oklahoma vs. Stanford
Stanford RB Bryce Love - i.e. The Human 1st Down (I wish I'd trademarked that nickname when I first used it a month ago) - started the season as a 100-to-1 long shot to win the Heisman. He's now the favorite, according to the Westgate Las Vegas SuperBook. In seven games, Love has 1,387 yards. Even more impressive is that he's averaging 10.3 yards per carry.
With Washington's loss at Arizona State, I'm now projecting Stanford to win the Pac-12 title. With two losses, the Cardinal will miss out on the College Football Playoff, but will receive a New Year's 6 bowl bid.
| BOWL (CITY) | DATE | MATCHUP |
| --- | --- | --- |
| Orange Bowl (Miami Gardens) | Dec. 30 | ACC vs. Big Ten/SEC/ND |
Projection: Miami vs. Georgia
Georgia has been the nation's most dominating team not named Alabama this season. The Bulldogs are 7-0 for the first time since 2005, which happens to be the last time they won the SEC title.
If they don't win the SEC - and I don't think they will - the Bulldogs will have no problem earning a New Year's 6 bowl bid. If 12-0 Georgia meets 12-0 Alabama in the SEC title game, the selection committee may have a problem keeping the loser out of the College Football Playoff.
Miami would have a problem if games only lasted 59 minutes and 50 seconds. Fortunately for the Hurricanes, they're still 60 minutes long. UM has pulled out consecutive down-to-the-wire victories against FSU (winning TD with six seconds left) and Georgia Tech (winning FG with four seconds left). Can Miami survive a third close call? Surging Syracuse visits on Saturday.
| BOWL (CITY) | DATE | MATCHUP |
| --- | --- | --- |
| Cotton Bowl (Arlington) | Dec. 29 | at-large vs. at-large |
Projection: Ohio State vs. Oklahoma State
At Oklahoma State's Homecoming pep rally last week, Cowboys coach Mike Gundy and QB Mason Rudolph took off their shirts (not sure why), much to the delight of the Gallagher-Iba Arena crowd. Then Saturday, the Cowboys promptly undressed Baylor's defense for 59 points and 747 yards. Rudolph and WR James Washington are the key components for the nation's top offense, averaging 610 yards.
The nation's second-best offense belongs to Ohio State. The Buckeyes are averaging 577 yards per game and have scored at least half a hundred in four consecutive contests. The Buckeyes are off this week before what appears to be a challenging stretch run of Penn State, at Iowa, Michigan State, Illinois, and at Michigan.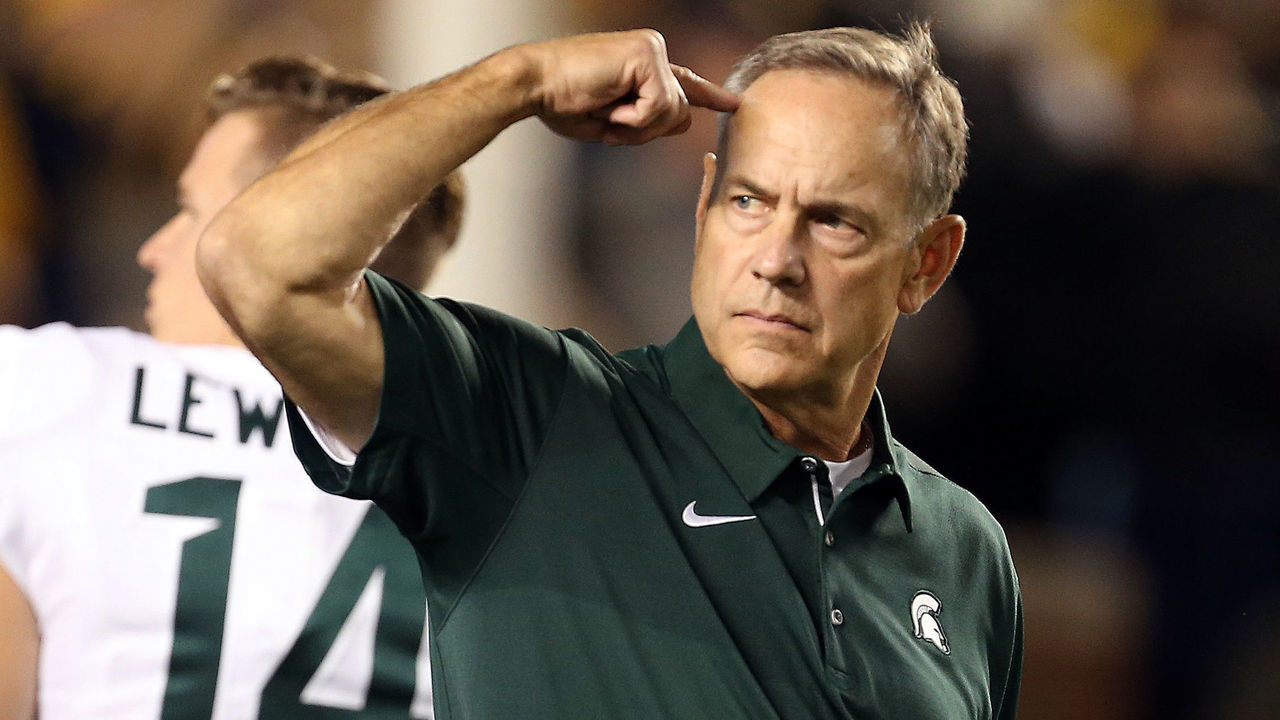 Other bowls
| BOWL (CITY) | DATE | MATCHUP |
| --- | --- | --- |
| Citrus Bowl (Orlando) | Jan. 1 | ACC/Big Ten vs. SEC |
Projection: Michigan State vs. Auburn
In the first quarter of last week's game at LSU, Auburn's Aubie mascot dressed up as a Troy Trojan, trolling LSU for its loss to Troy two weeks ago. Aubie was in good spirits as Auburn raced to a 20-0 lead in the opening 17 minutes, but then Auburn's offense went in reverse and LSU rallied for a historic 27-23 win.
Since 2014, top-10 ranked teams were 182-0 when leading by at least 20 points. Make that 182-1. Auburn, a preseason darkhorse pick by some geniuses (such as myself) to reach the College Football Playoff, already has two losses with road games remaining at Arkansas and Texas A&M and home games against Georgia and Alabama. Aubie may want to find another disguise real soon.
| BOWL (CITY) | DATE | MATCHUP |
| --- | --- | --- |
| Outback Bowl (Tampa) | Jan. 1 | Big Ten vs. SEC |
Projection: Michigan vs. Kentucky
Can Michigan's defense also play offense this week at Penn State? I'm asking for a khaki-colored-pants-wearing friend. The Wolverines' offense has been, well, offensive. Still, Michigan is 5-1 entering the (Nittany) Lions den Saturday.
Against Indiana last week, UM barely survived in overtime, overcoming a school-record 16 penalties and a poor performance by QB John O'Korn. In O'Korn's last two games, he is 26 of 55 for 256 yards and three interceptions. It doesn't get any easier at Penn State. This will be Michigan's toughest test facing a team looking to avenge last year's 49-10 loss.
| BOWL (CITY) | DATE | MATCHUP |
| --- | --- | --- |
| Liberty Bowl (Memphis) | Dec. 30 | Big 12 vs. SEC |
Projection: Kansas State vs. South Carolina
Last year, K-State printed "2016 Texas State Champions" T-shirts after going 5-0 against Texas schools. The team won't be printing any bowl T-shirts this year if it doesn't don't finish strong. Last week's loss at TCU dropped the Wildcats to 1-2 against Texas schools and 3-3 overall. KSU will have to win three of its final five games to reach the postseason.
Despite losing its top playmaker, Deebo Samuel, to a broken leg, South Carolina coach Will Muschamp has the Gamecocks (5-2) one win from postseason play for a second consecutive season. Samuel's injury was initially thought to be season-ending, but Muschamp is cautiously optimistic he could return at some point. "I just told those guys if we get close you guys let me know something," Muschamp said. "We'll figure out a role for him."
| BOWL (CITY) | DATE | MATCHUP |
| --- | --- | --- |
| TaxSlayer Bowl (Jacksonville) | Dec. 30 | ACC/Big Ten vs. SEC |
Projection: Purdue vs. Florida
Crazy stat: Florida is winless when wearing Gator-like Nike alternate uniforms. That's because last week Florida lost to Texas A&M 19-17. In the past four weeks, the Gators have a one-point win vs. Kentucky, a one-point loss to LSU, and a two-point loss to Texas A&M.
There will be no fantastic - or infuriating - finish for the Gators this weekend. Florida has an open date before sobering up for the annual World's Largest Outdoor Cocktail Party and a date with Georgia in Jacksonville.
| BOWL (CITY) | DATE | MATCHUP |
| --- | --- | --- |
| Arizona Bowl (Tucson) | Dec. 29 | MWC vs. Sun Belt |
Projection: Wyoming vs. New Mexico State
In a cool gesture, Wyoming will honor former coach Joe Tiller by wearing a helmet decal for its Oct. 28 game vs. New Mexico. The helmet decal will display the letters "JT" in Wyoming's school colors of brown and gold. Tiller died Sept. 30. He was 74. One of the game's great innovators, Tiller coached at Wyoming from 1991-96. He also coached 12 seasons at Purdue.
| BOWL (CITY) | DATE | MATCHUP |
| --- | --- | --- |
| Belk Bowl (Charlotte) | Dec. 29 | ACC vs. SEC |
Projection: Georgia Tech vs. Texas A&M
While Miami has flourished in late-game situations, Georgia Tech has floundered. The Yellow Jackets would be 5-0 if games didn't last 60 minutes. Tech surrendered a game-tying TD to Tennessee with 1:29 left in an OT loss and allowed a game-winning FG to Miami with four seconds left. Georgia Tech shouldn't have any last-second issues at home this week against a Wake Forest team coming off consecutive losses to Clemson and Florida State.
Don't look now, but Kevin Sumlin has not only survived his AD pouring gasoline on his hot-seat status before the season and an immature Texas A&M fanboy/board of regent throwing him under the bus on social media, but has actually thrived. Sumlin and the Aggies are 5-2 entering this week's open date.
Since the season-opening collapse at UCLA, the Aggies have won five of six games with their only loss by eight points to Alabama, which probably should count as a half-win based on the Tide's dominance this season. The funny thing is the AD and regent ultimately may get their wish and not have Sumlin around next season. But it won't be because the coach was fired - as they expected/hoped - but instead because Sumlin bolts for another Power 5 school or the NFL.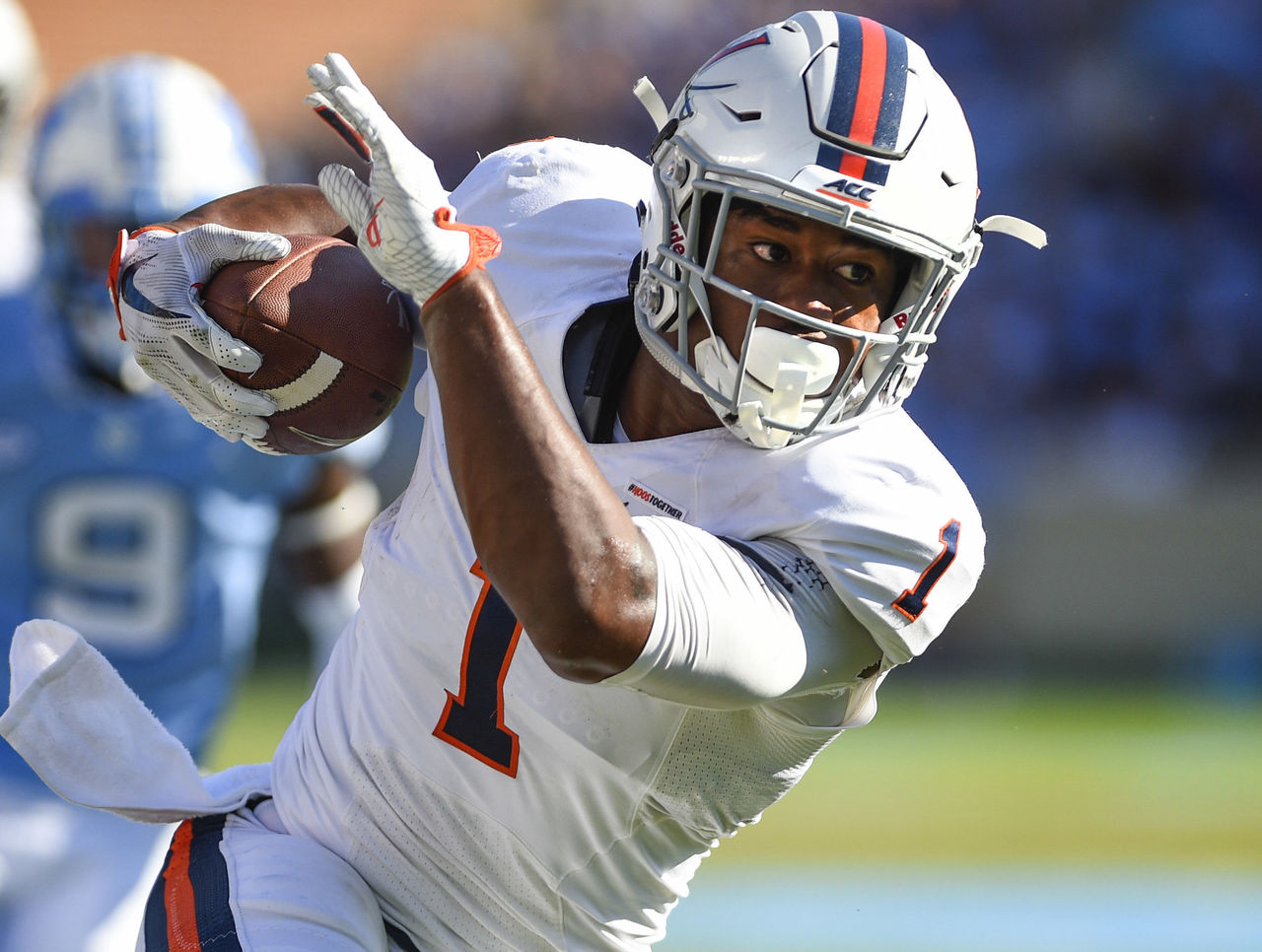 | BOWL (CITY) | DATE | MATCHUP |
| --- | --- | --- |
| Music City Bowl (Nashville) | Dec. 29 | ACC/Big Ten vs. SEC |
Projection: Virginia vs. Mississippi State
Off to its best start since 2007, Virginia hosts Boston College this week. BC is the only ACC team Virginia has never beaten. The Cavs (5-1) are one win from bowl eligibility thanks to a suffocating defense implemented by Bronco Mendenhall. The Cavs have held back-to-back FBS opponents (Duke and North Carolina) below 300 yards for the first time since 2012.
| BOWL (CITY) | DATE | MATCHUP |
| --- | --- | --- |
| Sun Bowl (El Paso) | Dec. 29 | ACC vs. Pac-12 |
Projection: NC State vs. Utah
NC State athletic director Debbie Yow said the school is working on a new contract for coach Dave Doeren. And who says timing isn't everything? Doeren has the Wolfpack off to a 6-1 start and in first place of the ACC's Atlantic Division. But since he came to NC State in 2013, his 13-23 record in ACC games is fifth worst among Power 5 conference coaches.
| BOWL (CITY) | DATE | MATCHUP |
| --- | --- | --- |
| Alamo Bowl (San Antonio) | Dec. 28 | Big 12 vs. Pac-12 |
Projection: West Virginia vs. Washington
Washington has tumbled from being one of my preseason playoff teams to the Alamo Bowl this week. That may seem rather extreme, but the Huskies' non-conference schedule (soft) will keep them out of a New Year's 6 bowl unless they win the Pac-12. Making matters worse, the Huskies lost more than a game at Arizona State - starting CB Jordan Miller (broken ankle) & LT Trey Adams (torn ACL) both suffered season-ending injuries.
| BOWL (CITY) | DATE | MATCHUP |
| --- | --- | --- |
| Camping World Bowl (Orlando) | Dec. 28 | ACC vs. Big 12 |
Projection: Notre Dame vs. Texas
A year after Notre Dame coach Brian Kelly admitted he was "the absent professor," Kelly and his Fighting Irish have shown up this season. Notre Dame sits at 5-1 with its toughest exams in the coming weeks, starting Saturday vs. USC.
Four of Notre Dame's final six games are against teams currently ranked in the AP Poll: No. 11 USC, No. 16 NC State, No. 8 Miami, and No. 22 Stanford. This is the first meeting between Notre Dame and USC with both ranked in the top 15 since 2006.
| BOWL (CITY) | DATE | MATCHUP |
| --- | --- | --- |
| Holiday Bowl (San Diego) | Dec. 28 | Big Ten vs. Pac-12 |
Projection: Iowa vs. USC
When USC visits Notre Dame on Saturday, the Trojans will look to become the winningest visitor in Notre Dame Stadium history. Since the stadium opened in 1930, only 37 different teams have won there. USC and Michigan State are tied for the most wins with 14 each. USC was able to survive at home last week in a one-point win vs. Utah, while the Irish enjoyed a week off.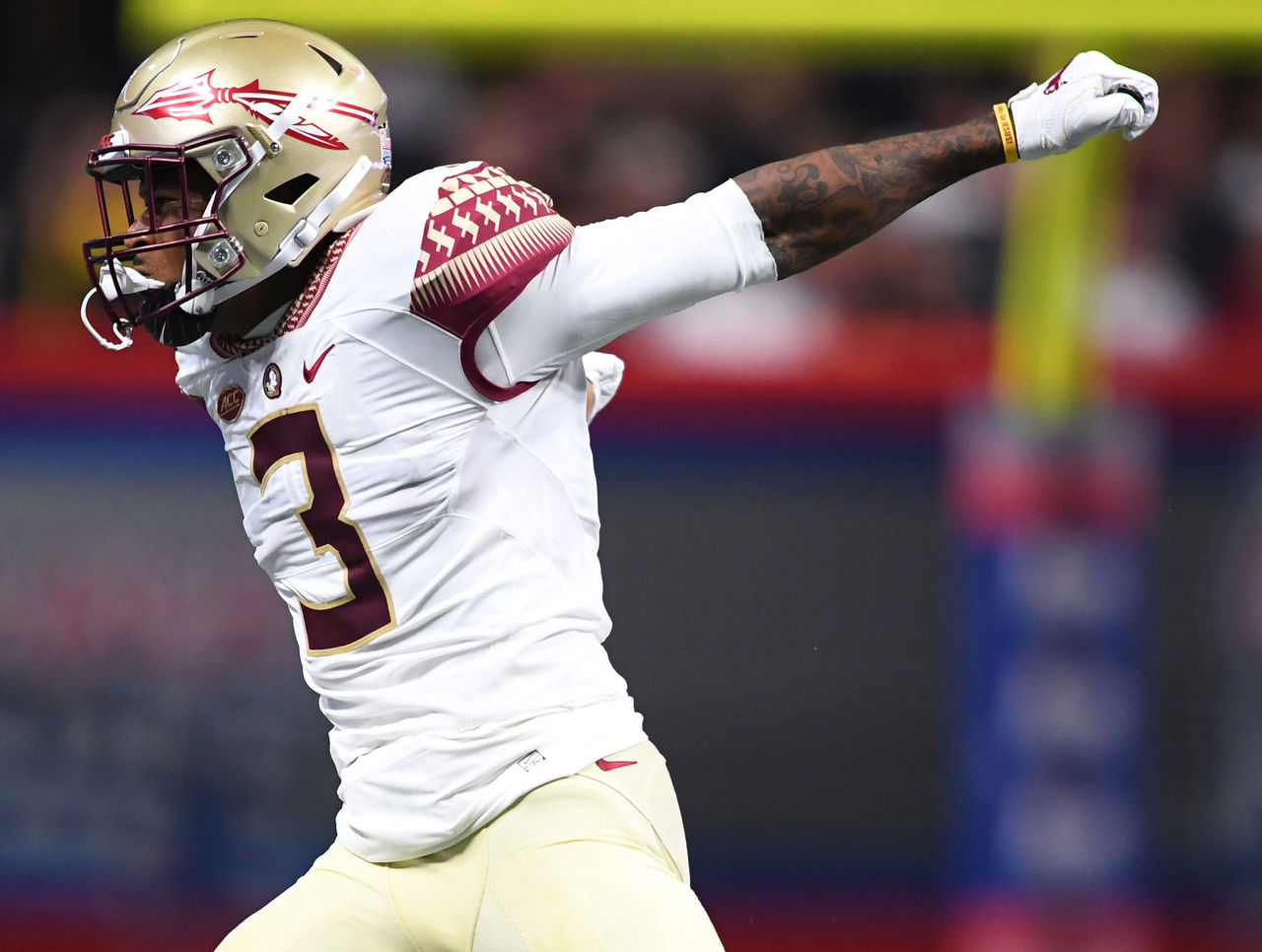 | BOWL (CITY) | DATE | MATCHUP |
| --- | --- | --- |
| Military Bowl (Annapolis) | Dec. 28 | ACC vs. American |
Projection: Florida State vs. Navy
How devastating has the season-opening injury to Florida State's starting QB Deondre Francois been? FSU is one of only four schools that have failed to score more than 26 points in a game this year. The others: BYU (1-6), Illinois (2-4), and UTEP (0-7). FSU might reach that elusive 27-point mark this week against Louisville, since the Cardinals were shredded last week for 45 points by Boston College.
Led by QB Zach Abey, Navy has had no trouble piling up points - or yards. The Midshipmen are averaging 35 points and 479 yards a game, ranking among the nation's top 30 teams in both categories.
| BOWL (CITY) | DATE | MATCHUP |
| --- | --- | --- |
| Foster Farms Bowl (Santa Clara) | Dec. 27 | Big Ten vs. Pac-12 |
Projection: Northwestern vs. Washington State
Washington State coach Mike Leach recently explained his ideal college football playoff - one involving 64 teams. It may be a while until we see that format, but this much is certain: the Cougars' chances to crack the current four-team model took a huge hit with last week's loss at Cal. To his credit, Leach didn't make excuses. "We were pathetic," he said. "We were a bunch of pathetic front-runners."
| BOWL (CITY) | DATE | MATCHUP |
| --- | --- | --- |
| Independence Bowl (Shreveport) | Dec. 27 | ACC vs. SEC |
Projection: Louisville vs. Southern Miss**
How hard/impossible is it to repeat as a Heisman Trophy winner? After seven games, compared to last year, Louisville's Lamar Jackson has improved his completion percentage (57.1 to 59.3 percent), and thrown for more yards (1,646 to 1,894) and TDs (11 to 12). Only his total offense has slightly dropped (3,069 to 3,012). Yet, Jackson is only the fifth choice at this point in the season.
Any chance of Jackson repeating likely ended when Louisville lost to Boston College, dropping the Cardinals to 4-3.
| BOWL (CITY) | DATE | MATCHUP |
| --- | --- | --- |
| Pinstripe Bowl (Bronx) | Dec. 27 | ACC vs. Big Ten |
Projection: Virginia Tech vs. Minnesota
Justin Fuente faced the challenge of replacing legend Frank Beamer at Virginia Tech (you never want to replace "the guy") this season, but he's off to an unprecedented start. A victory against North Carolina on Saturday would be Fuente's 16th win, the most by a Hokies head coach in his first two seasons.
Fuente is known for his offense, but it's been Bud Foster's defense that's delivered so far. The Hokies have held five of six opponents to 24 points. All five were victories, extending the team's streak of 17 consecutive wins when its opponent is held to 24 or less. That's bad news for the Tar Heels, who've lost their last four and not topped 17 points in any of those losses.
| BOWL (CITY) | DATE | MATCHUP |
| --- | --- | --- |
| Texas Bowl (Houston) | Dec. 27 | Big 12 vs. SEC |
Projection: Texas Tech vs. LSU
LSU coach Ed Orgeron, apparently still giddy from the Tigers' huge comeback win vs. Auburn last week, was asked about his upcoming return to Ole Miss, where he coached from 2005-07. "The truth is," Orgeron replied, "the whole time I was there I was wishing I were (at LSU)."
That quote was about as popular at Ole Miss as a visit from an NCAA investigator. Ole Miss' official football account responded on Twitter: "See you Saturday in Oxford, Ed." For a Rebels team that's ineligible for a bowl this year, I'm guessing the "Coach O" Bowl will be the next best thing.
| BOWL (CITY) | DATE | MATCHUP |
| --- | --- | --- |
| Cactus Bowl (Phoenix) | Dec. 26 | Big 12 vs. Pac-12 |
Projection: Iowa State vs. Oregon
Since losing starting QB Justin Herbert to a broken collarbone, Oregon has managed only 17 points in back-to-back losses to Washington State and Stanford. It's the fewest points in a two-game stretch since the Ducks had a combined 13 points in consecutive games in 1992.
Fortunately for Oregon, Herbert is expected back at some point and has resumed throwing. "He actually went out the other day, I don't know if he was supposed to, but he threw the football," coach Willie Taggart said. "He's got to heal."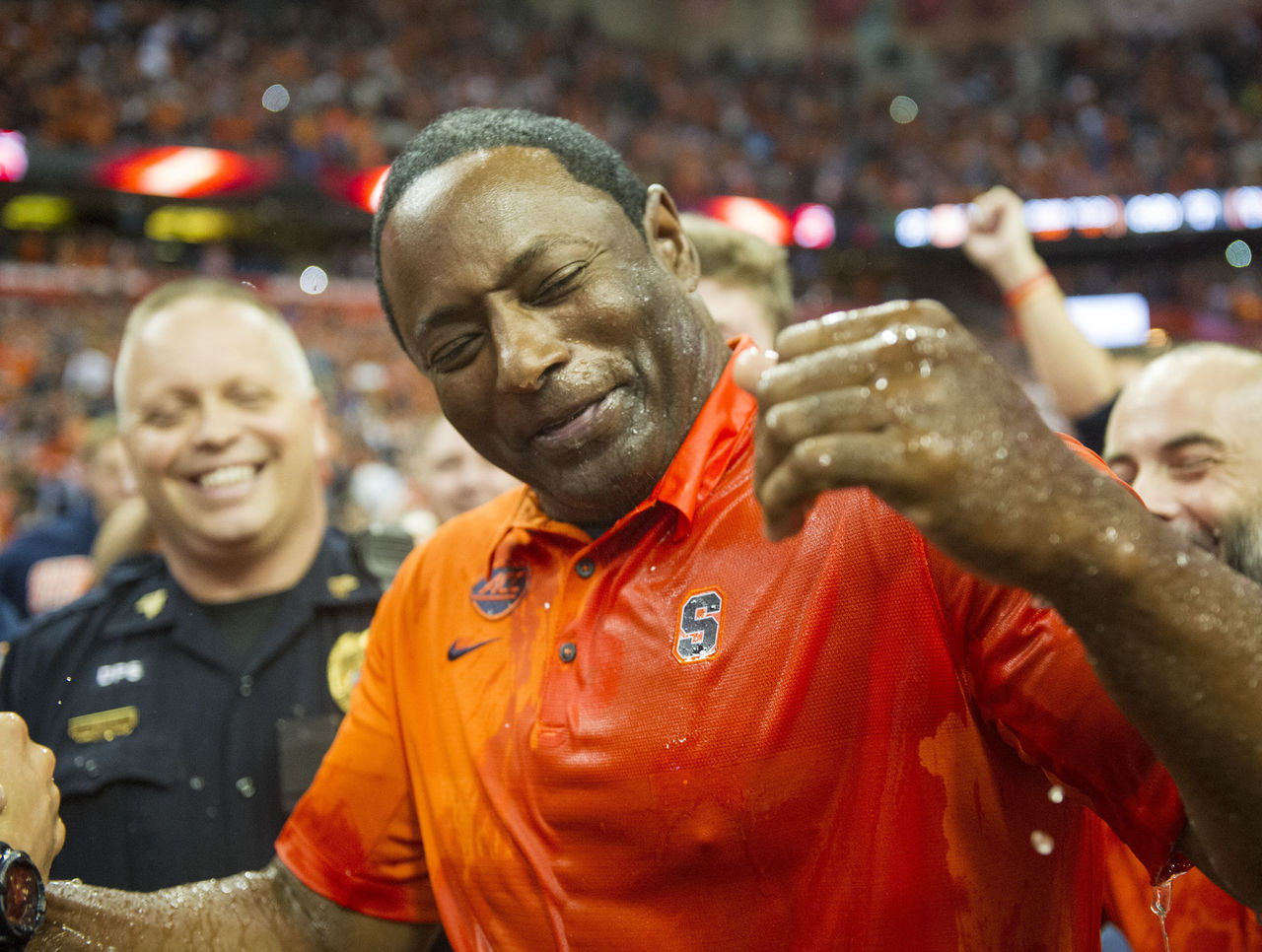 | BOWL (CITY) | DATE | MATCHUP |
| --- | --- | --- |
| Heart of Dallas Bowl (Dallas) | Dec. 26 | Big Ten vs. Big 12 |
Projection: Indiana vs. Syracuse**
The first time I met Dino Babers was at the 2016 ACC spring meetings in Amelia Island, Fla. He'd been hired five months earlier as Syracuse's head coach. He came out of a meeting and I broke the news to him that Mark Coyle, the AD that hired him, had left for Minnesota. What he said in response remains off the record, but let's just say he was absolutely stunned.
Now Babers knows how the rest of the college football world felt after Syracuse upended Clemson last Friday. Because of that win, Syracuse enters my bowl projections for the first time. And with Babers midway through his second season at Syracuse, don't be shocked to see more big wins.
| BOWL (CITY) | DATE | MATCHUP |
| --- | --- | --- |
| Quick Lane Bowl (Detroit) | Dec. 26 | ACC vs. Big Ten |
Projection: Duke vs. Cal**
Cal throttled Washington State's passing game in last week's upset, intercepting Cougars QB Luke Falk five times and registering nine sacks. Now the Bears' defense may be facing a tougher task - the nation's hottest runner in Arizona quarterback Khalil Tate.
| BOWL (CITY) | DATE | MATCHUP |
| --- | --- | --- |
| Hawaii Bowl (Honolulu) | Dec. 24 | American vs. MWC |
Projection: Memphis vs. Colorado State
This projected matchup would be a perfect nationally televised Christmas Eve showdown - two of the nation's top 15 offenses featuring two of the top quarterbacks. Colorado State's Nick Stevens is averaging 322 yards passing per game, while Memphis' Riley Ferguson is averaging 302. Colorado State also features wide receiver Michael Gallup, who has a nation-leading 948 yards receiving while his 135 yards per game are second.
| BOWL (CITY) | DATE | MATCHUP |
| --- | --- | --- |
| Armed Forces Bowl (Fort Worth) | Dec. 23 | C-USA vs. Army |
Projection: Western Kentucky vs. Army
Army is the nation's worst passing offense and coach Jeff Monken could care less. For the third time this season, the Knights did not complete a pass in a game in Saturday's win vs. Eastern Michigan. Army is the first team to have three games without a pass completion since Ohio in 1997.
Monken has said he's not concerned about the lack of passing as long as Army is effective running the ball. And that they are. The Knights have the nation's second-best rushing attack, averaging 378 yards per game. By comparison, Army has completed only 6 of 25 passes in its five wins.
| BOWL (CITY) | DATE | MATCHUP |
| --- | --- | --- |
| Birmingham Bowl (Birmingham) | Dec. 23 | American vs. SEC |
Projection: USF vs. Tennessee
It was 10 years ago last Saturday that USF was ranked No. 2 in the initial 2007 BCS poll. The Bulls finished that season out of the final rankings, but this year's club doesn't look like it's falling out of the top 25 anytime soon. Yes, USF played in the Birmingham Bowl last season, but if the Bulls don't win the AAC, I'm projecting they return to face an SEC school. The Bulls seek their first 7-0 start in school history at Tulane on Saturday.
USF has scored at least 30 points in 23 consecutive games, tying Oregon for the NCAA's longest streak since 1936. The Bulls also have the nation's longest current winning streak at 10 games. Tennessee's most relevant current streak? The Vols have not scored a touchdown in 150 minutes, 25 seconds, dating back to Sept. 23 vs. UMass. That streak may not end anytime soon since the Vols visits No. 1 Alabama on Saturday.
| BOWL (CITY) | DATE | MATCHUP |
| --- | --- | --- |
| Dollar General Bowl (Mobile) | Dec. 23 | MAC vs. Sun Belt |
Projection: Toledo vs. Appalachian State
Toledo QB Logan Woodside, who led the FBS with 45 touchdown passes last year, is having another solid season for the Rockets. Woodside leads the Mid-American in passing yards (287 yards per game). His TD passes are down (only 11 through six games), but his TD-to-interception ratio (11-1) ranks as the fourth best in the country.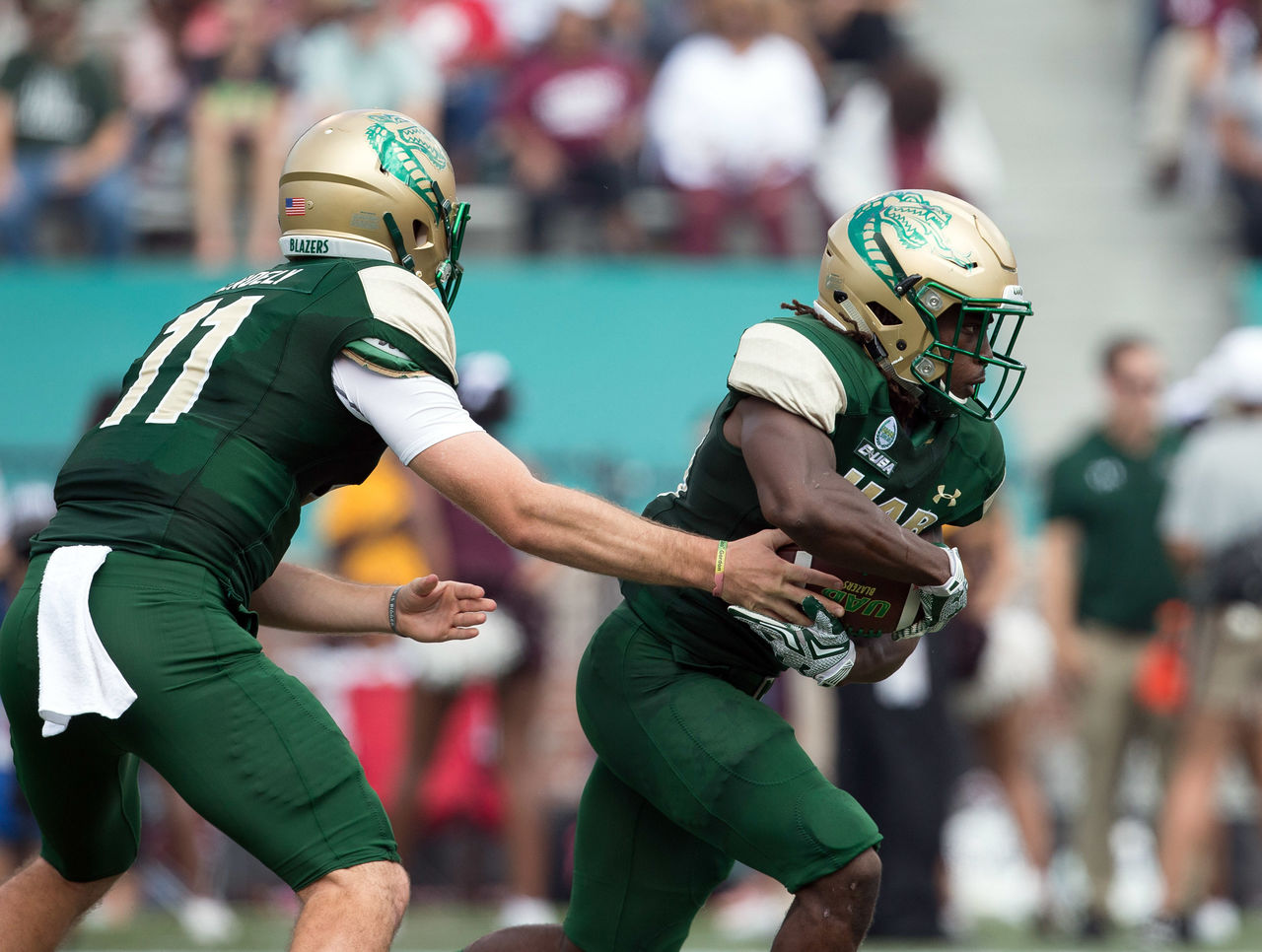 | BOWL (CITY) | DATE | MATCHUP |
| --- | --- | --- |
| Bahamas Bowl (Nassau) | Dec. 22 | C-USA vs. MAC |
Projection: UAB vs. Ohio
What a long strange trip it's been for UAB. The Blazers were given up for dead after the program was dropped in 2015, but it was reinstated this season. The Blazers are now two wins from bowl eligibility and are making only their second bowl trip in school history.
A big reason for the Blazers' success is coach Bill Clark. Athletic director Mark Ingram told me the school is working on a long-term contract extension for Clark, who's 10-8 in his two seasons with UAB. His current deal ends in June 2020.
| BOWL (CITY) | DATE | MATCHUP |
| --- | --- | --- |
| Idaho Potato Bowl (Boise) | Dec. 22 | MAC vs. MWC |
Projection: Western Michigan vs. Boise State
Boise State has not allowed a 100-yard rusher this season and is limiting opponents to only 102 yards rushing per game. As good as the Broncos' defense has been, however, the offense is not up to its recent standards.
Boise State has produced a 1,000-yard running back in eight consecutive seasons, which is tied as the nation's longest streak. Alexander Mattison leads the Broncos with 412 yards in six games and will need a big second half to extend that streak.
| BOWL (CITY) | DATE | MATCHUP |
| --- | --- | --- |
| Gasparilla Bowl (St. Petersburg) | Dec. 21 | American vs. C-USA |
Projection: Wake Forest** vs. Marshall
Wake Forest enjoyed a week off after consecutive games vs. Clemson and Florida State. The Demon Deacons needed it to prepare for an imposing closing schedule. Wake Forest visits Georgia Tech Saturday, before facing Louisville, Notre Dame, Syracuse, and NC State. The Demon Deacons need two wins in their final six games to earn their second consecutive bowl trip, something they last accomplished in back-to-back seasons in 2007 and '08.
| BOWL (CITY) | DATE | MATCHUP |
| --- | --- | --- |
| Frisco Bowl (Frisco) | Dec. 20 | American vs. MAC/MWC |
Projection: SMU vs. Akron
Akron couldn't have started the season much worse: a 52-0 loss to Penn State, that - as the cliche goes - wasn't even that close. The Zips also suffered non-conference losses to Iowa State and Troy, but since taking their lumps out of the league they've reeled off three consecutive MAC wins.
The latest was a 14-13 victory at defending champion Western Michigan in a contest that was delayed a day because the field flooded from heavy rains. Akron's next test is at league favorite Toledo on Saturday.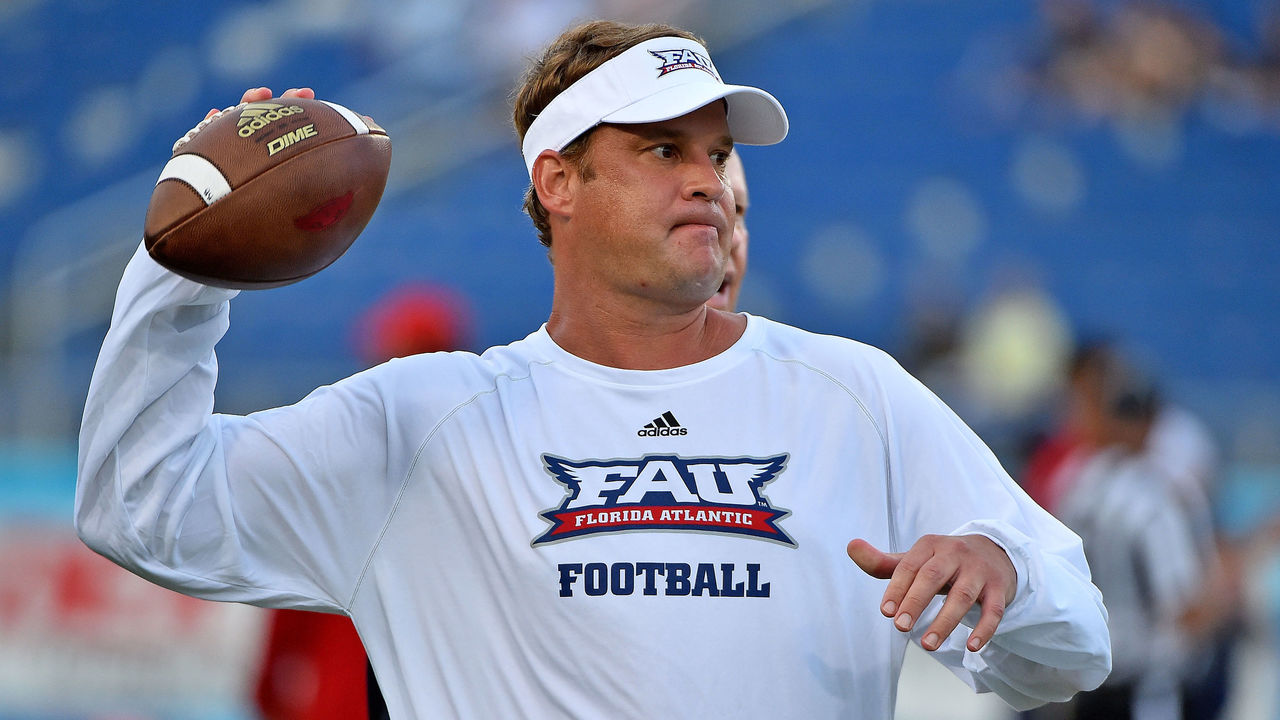 | BOWL (CITY) | DATE | MATCHUP |
| --- | --- | --- |
| Boca Raton Bowl (Boca Raton) | Dec. 19 | American vs. C-USA |
Projection: Houston vs. FAU
The obvious storyline for this projected matchup would be Lane Kiffin facing Houston, where he was a finalist for the Cougars' job last season. Kiffin, then the Alabama offensive coordinator, was in the running for the Houston job that ultimately went to UH offensive coordinator Major Applewhite.
The Cougars looked like a contender for the AAC title until last week's clunker at Tulsa. UH needs a win at Memphis on Thursday to get its conference title hopes alive. Meanwhile, FAU's Conference USA title hopes are alive and well. The Owls are tied atop the East Division and host West Division leader North Texas on Saturday.
| BOWL (CITY) | DATE | MATCHUP |
| --- | --- | --- |
| Camellia Bowl (Montgomery) | Dec. 16 | MAC vs. Sun Belt |
Projection: Northern Illinois vs. Troy
Sutton Smith came to Northern Illinois as a highly touted running back. That didn't last long. During his freshman year, a defensive back picked up a fumble in practice and took off running. Smith leveled him. The coaches immediately moved him to defense, and the change has paid off. Smith, now a sophomore defensive end, leads the nation in tackles for loss (14.5) and sacks per game (1.42).
Led by Smith, the Huskies lead the nation in fewest yards allowed per play (3.54). NIU's defense has keyed a 4-2 start that easily could be 6-0. The Huskies lost to Boston College 23-20 (NIU missed a 39-yard FG with 21 seconds left) and to San Diego State 34-28 (NIU threw two interceptions in the final four minutes).
| BOWL (CITY) | DATE | MATCHUP |
| --- | --- | --- |
| Cure Bowl (Orlando) | Dec. 16 | American vs. Sun Belt |
Projection: FIU** vs. Georgia State
Georgia State joins our bowl projections for the first time this season. The Panthers play their first home game in 51 days Saturday against Troy. Because a Sept. 30 home game vs. Memphis was canceled because of weather, Georgia State had to play four consecutive road games (at Penn State, Charlotte, Coastal Carolina, and Louisiana-Monroe).
The Panthers enjoyed their time away from home, winning their last three games. Last week, Georgia State finished with a school-record 670 yards of offense vs. ULM.
| BOWL (CITY) | DATE | MATCHUP |
| --- | --- | --- |
| Las Vegas Bowl (Las Vegas) | Dec. 16 | MWC vs. Pac-12 |
Projection: San Diego State vs. Arizona
Arizona QB Khalil Tate gashed UCLA for 230 yards rushing (as my regular readers know, I predicted he would last week). Tate became the first FBS quarterback with consecutive games of more than 200 yards rushing since Navy's Chris McCoy in 1997.
San Diego State's hopes to earn a New Year's 6 bowl bid were crushed in last week's loss to Boise State. The Aztecs still have a shot if (a) they win the Mountain West and (b) whoever emerges as AAC champion has at least one loss.
| BOWL (CITY) | DATE | MATCHUP |
| --- | --- | --- |
| New Mexico Bowl (Albuquerque) | Dec. 16 | C-USA vs. MWC |
Projection: Louisiana Tech vs. Fresno State
Jeff Tedford is back home at his alma mater and has the Bulldogs closing in on a bowl berth for the first time since 2014. Tedford, who coached at Cal from 2002-12 where he was the school's winningest bench boss, never faced a non-conference schedule like the one he inherited this season.
The Bulldogs played consecutive road games at Alabama and Washington. The results were similar: lopsided losses by 31 and 32 points. And then a funny thing happened - Fresno State caught fire. The Bulldogs have won their last three games, including last week's 38-0 shellacking of New Mexico. A year after going 1-11, the Bulldogs and Tedford are one of the nation's biggest surprises.
| BOWL (CITY) | DATE | MATCHUP |
| --- | --- | --- |
| New Orleans Bowl (New Orleans) | Dec. 16 | C-USA vs. Sun Belt |
Projection: North Texas vs. Arkansas State
I have no idea what tickets cost for North Texas games, but whatever the price, fans are certainly getting their money's worth. In UNT's last two home games, the Mean Green have come through for dramatic victories.
They first blew a 14-point lead in the final six minutes vs. UAB only to kick a game-winning field goal with six seconds left for the wild 46-43 win.
Then last week, North Texas trailed UTSA 26-22 and was pinned on its own 2-yard line with no timeouts and 1:07 remaining. The Mean Green subsequently drove 98 yards for the victory with a 22-yard TD with 10 seconds remaining. UNT is at Florida Atlantic on Saturday before returning home the following week vs. Old Dominion.
*The highest-rated champion from the Group of 5 conferences (American, Conference USA, Mid-American, Mountain West, and Sun Belt) will be selected to play in either the Cotton, Fiesta, or Peach Bowl. If Army is bowl-eligible, it must play in the Armed Forces Bowl.
**Replaces team from league that can't fill bowl.
Want more Brett McMurphy? Of course you do. Find him on Facebook.
(Photos courtesy: Action Images)
Comments
✕
Brett McMurphy's bowl projections: Clemson's loss opens door for Penn State
  Got something to say? Leave a comment below!