Brett McMurphy's bowl projections: Penn State propelled into playoff picture
Brett McMurphy has been a college football reporter for nearly 30 years. He is a longtime voter in The Associated Press poll as well as a Heisman Trophy voter. Find him on Twitter @brett_mcmurphy.
One week Tennessee coach Butch Jones complains because the media is too negative. The next week Alabama coach Nick Saban goes on a rant because the media is too positive.
Will these coaches please make up their minds?
"I'm trying to get our players to listen to me instead of listening to you guys. All that stuff you write about how good we are … it's like poison. Said Saban said. "It's like taking poison. Like rat poison. So I'm asking them: 'Are you gonna listen to me? Or are you gonna listen to these guys about how good you are?'"
Saban's right. We have been too positive about the Crimson Tide. We'll balance it out.
Did you know Nick Saban has never beaten a coach that makes more than $11 million a year? Or that Saban can not eat as much as the coach his Tide faces this week - Arkansas' Bret Bielema. Also, Nick Saban can't dunk a basketball.
I could go on forever, but I know you want to get to this week's bowl projections.
College Football Playoff
| BOWL (CITY) | DATE | MATCHUP |
| --- | --- | --- |
| Championship Bowl (Atlanta) | Jan. 8 | CFP semifinal winners |
Projection: Clemson vs. Alabama
Ho hum: Clemson and Alabama remain on a collision course … yada, yada, yada … Third meeting … yada, yada, yada … Defending champion Clemson … yada, yada, yada … No one's been more dominant than Alabama … yada, yada, yada … Rat poison.
Semifinals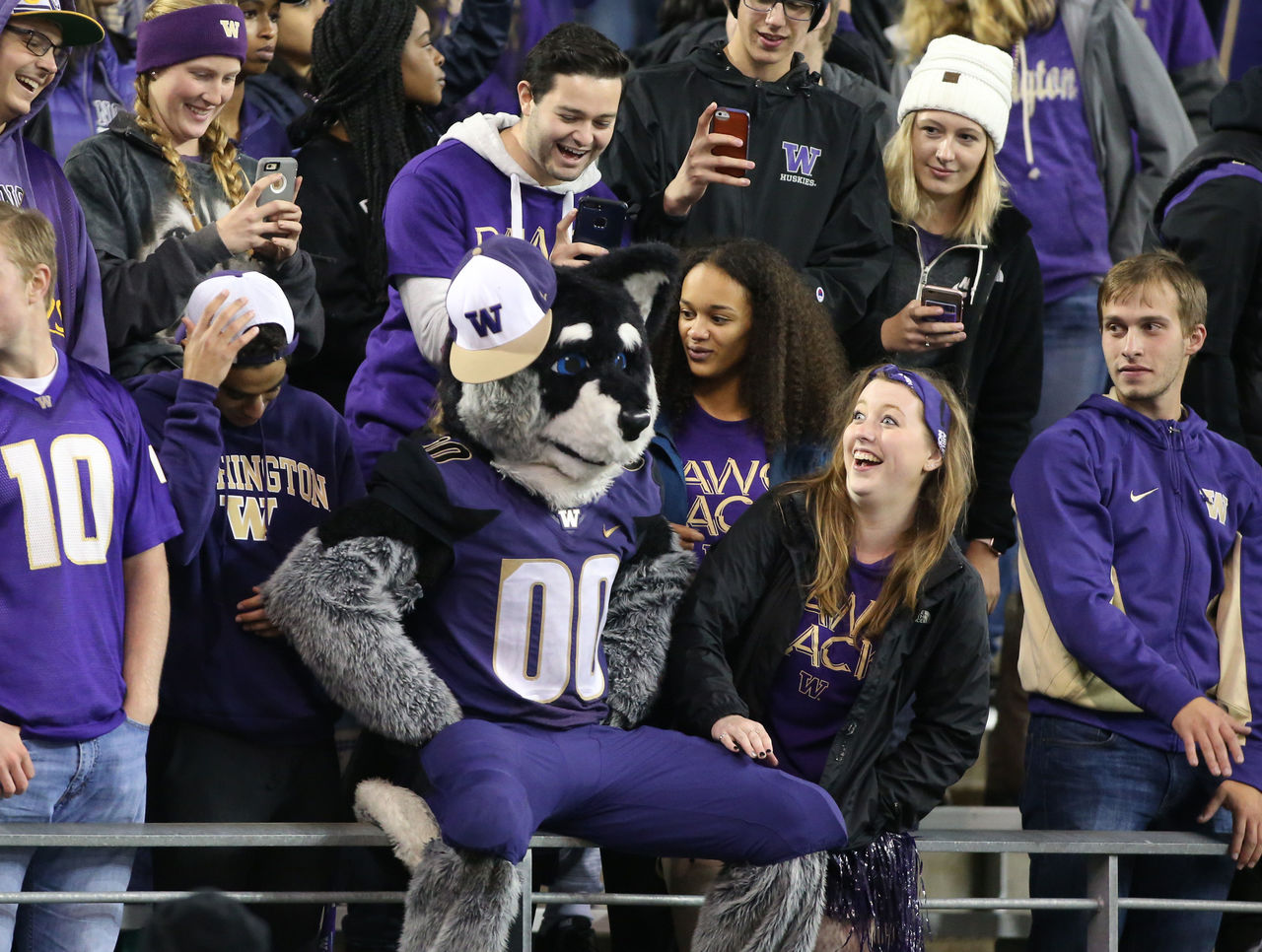 | BOWL (CITY) | DATE | MATCHUP |
| --- | --- | --- |
| Rose Bowl (Pasadena) | Jan. 1 | CFP semifinal |
Projection: Alabama (CFP No. 2) vs. Washington (CFP No. 3)
Washington coach Chris Petersen apologized to his fans for the Huskies' late start times. But there's no need to apologize for their play so far this season. Whether anyone on the East Coast can stay awake to watch them, don't sleep on the Huskies. They're missing one of the country's most balanced teams featuring QB Jake Browning and return specialist Dante Pettis.
| BOWL (CITY) | DATE | MATCHUP |
| --- | --- | --- |
| Sugar Bowl (New Orleans) | Jan. 1 | CFP semifinal |
Projection: Clemson (CFP No. 1) vs. Penn State (CFP No. 4)
Clemson plays at Syracuse on Friday night. Dabo Swinney was asked about his thoughts on playing on a night usually reserved for high school football. "I'm not a fan of it." This just in: TV pays the bills and dictates when the games will be played.
Penn State doesn't play this week and the Nittany Lions could use the week off to rest up for its upcoming opponents. After its break, Penn State faces Michigan, Ohio State, and Michigan State in consecutive weeks.
New Year's Six bowls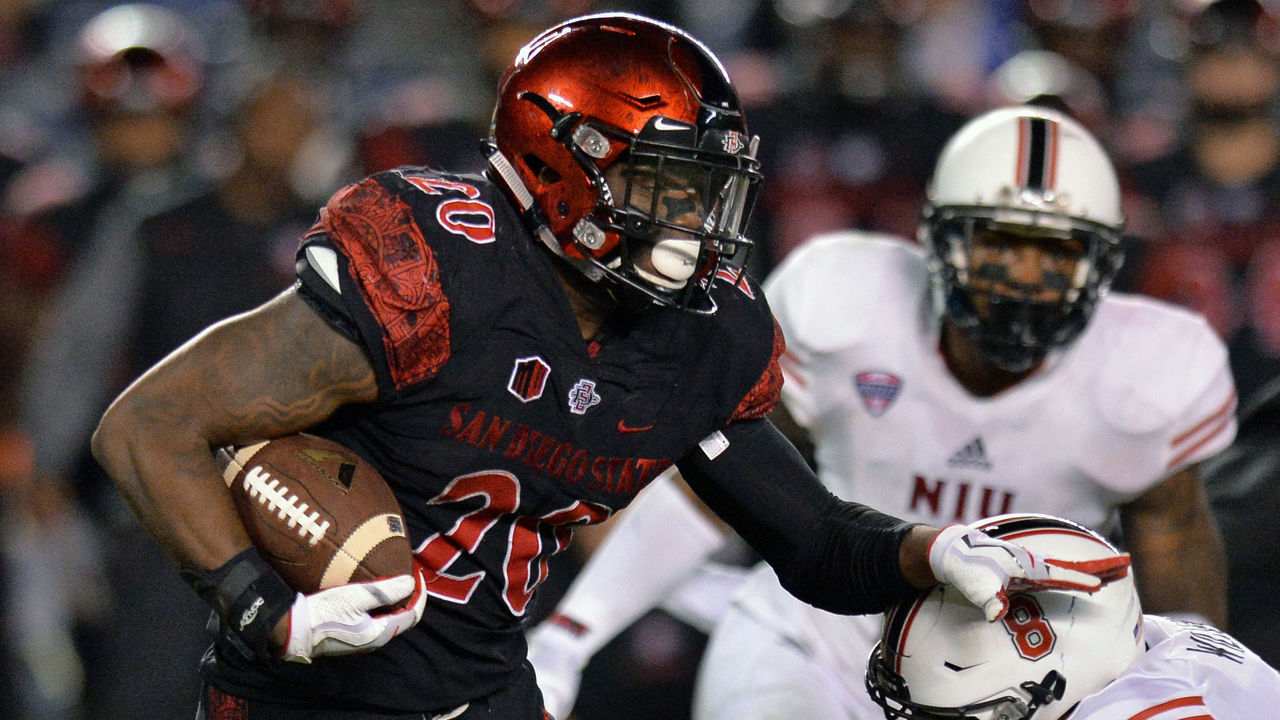 | BOWL (CITY) | DATE | MATCHUP |
| --- | --- | --- |
| Peach Bowl (Atlanta) | Jan. 1 | at-large vs. at-large* |
Projection: Wisconsin vs. San Diego State
Why is San Diego State in the Peach Bowl? The Aztecs, with wins versus Arizona State and Stanford, will earn the New Year's Six bowl bid as the highest-ranked Group of 5 champion ahead of the American champ.
The reason I'm sending San Diego State across the country is that is exactly what I believe the selection committee will do, for two reasons: (1) They are more concerned about creating the best Power 5 matchups in the other NY6 bowls than giving the Group of 5 champ the closest bowl site, and (2) Since Atlanta has the national title game, it would most likely get the Group of 5 rep in the Peach Bowl.
| BOWL (CITY) | DATE | MATCHUP |
| --- | --- | --- |
| Fiesta Bowl (Glendale) | Dec. 30 | at-large vs. at-large |
Projection: Oklahoma State vs. Washington State
Mike Gundy and Mike Leach share more than just a first name. The two coaches - along with Washington's Chris Petersen - are the only coaches whose schools have scored at least 30 points in six games this season. They should both make it seven games when the Cougars visit Cal on Friday and Oklahoma State hosts Baylor on Saturday.
| BOWL (CITY) | DATE | MATCHUP |
| --- | --- | --- |
| Orange Bowl (Miami Gardens) | Dec. 30 | ACC vs. Big Ten/SEC/ND |
Projection: Miami vs. Georgia
The U is back! At least for one week, Miami finally halted a seven-game losing streak to rival Florida State Saturday. Now the Hurricanes are challenged with having to stop celebrating long enough to slow down Georgia Tech's Flexbone attack. Georgia continues to run roughshod over the SEC East and now faces a Missouri team that is allowing an average of 40 points a game.
| BOWL (CITY) | DATE | MATCHUP |
| --- | --- | --- |
| Cotton Bowl (Arlington) | Dec. 29 | at-large vs. at-large |
Projection: Ohio State vs. TCU
TCU visits Kansas State on Saturday. Last year K-State went 5-0 against Texas schools, including a win versus TCU. The Wildcats promptly printed up some "2016 Texas State Champions" T-shirts. And at least one, I'm told, found its way inside the TCU locker room.
Look for the Horned Frogs to continue their road success, after already having won at Oklahoma State. Ohio State also takes to the road this week, visiting Nebraska. That shouldn't be an issue for Coach Urban Meyer, who is 25-1 in true road games, including 21-1 in Big Ten road contests.
Other bowls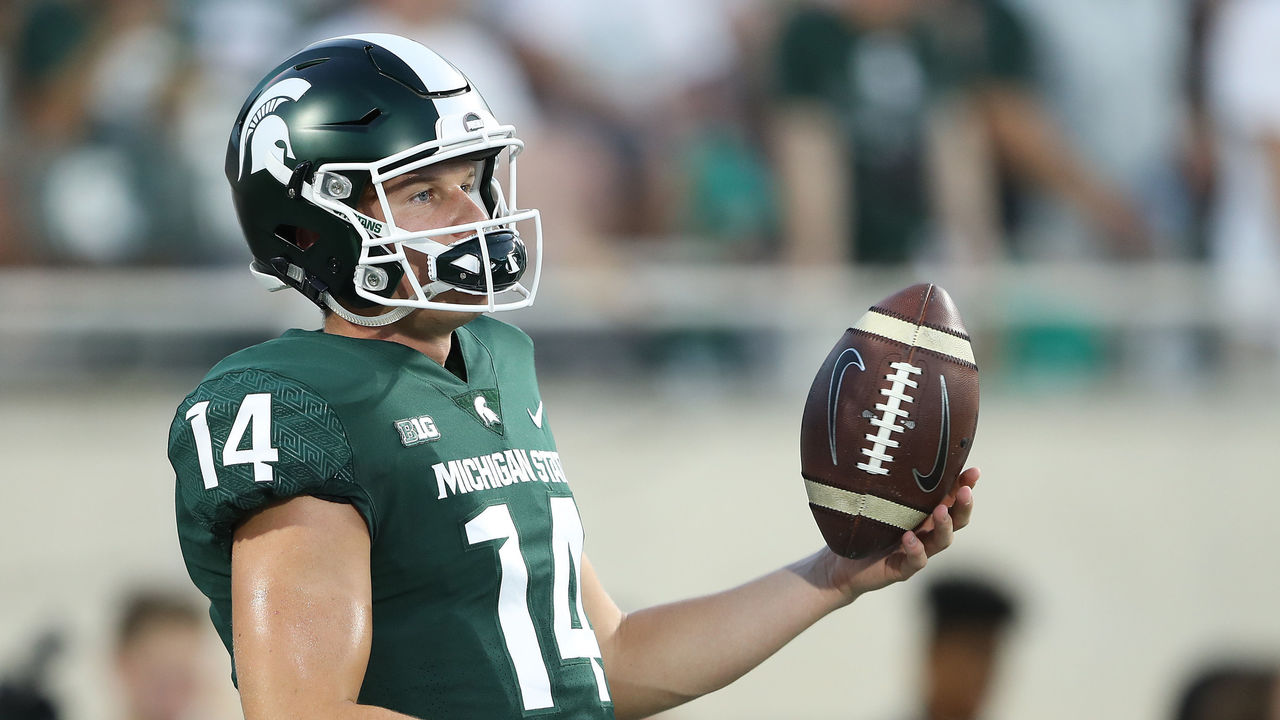 | BOWL (CITY) | DATE | MATCHUP |
| --- | --- | --- |
| Citrus Bowl (Orlando) | Jan. 1 | ACC/Big Ten vs. SEC |
Projection: Michigan State vs. Auburn
Maybe by now, no one should be surprised when Michigan State coach Mark Dantonio rolls into Ann Arbor and exits with a victory. He did it again Saturday. He is 8-3 all-time versus Michigan. But he's done the most damage as a visitor. In games versus current Big Ten East Division teams in Michigan Stadium, Dantonio is 4-1. Jim Harbaugh is 4-3.
Having conquered the Wolverines - again - the Spartans have to avoid the letdown Saturday at Minnesota.
| BOWL (CITY) | DATE | MATCHUP |
| --- | --- | --- |
| Outback Bowl (Tampa) | Jan. 1 | Big Ten vs. SEC |
Projection: Michigan vs. Kentucky
Jim Harbaugh after 31 games at Michigan 24-7; Brady Hoke after 31 games at Michigan 24-7. Jim Harbaugh in his first five games versus Ohio State and Michigan State 1-4. Brady Hoke in his first five games versus Ohio State and Michigan State 2-3. Jim Harbaugh after 31 games at Michigan: among the highest five paid coaches in college football but the only one that hasn't won a national title or a conference title.
| BOWL (CITY) | DATE | MATCHUP |
| --- | --- | --- |
| Liberty Bowl (Memphis) | Dec. 30 | Big 12 vs. SEC |
Projection: Texas Tech vs. Tennessee
Before the season, both coaches in this projected matchup - Kliff Kingsbury and Butch Jones - were on the proverbial hot seat. Nearing the season's midway point, Kingsbury is 4-1 and riding high. The Red Raiders are nationally ranked for the first time since 2013. Jones and the Vols, well, are leading the nation in "leadership reps."
At Monday's press conference, Jones was discussing the Vols' quarterback competition during the off week. "You don't have to get a physical rep to get a rep," Jones said. "You can get a leadership rep."
| BOWL (CITY) | DATE | MATCHUP |
| --- | --- | --- |
| TaxSlayer Bowl (Jacksonville) | Dec. 30 | ACC/Big Ten vs. SEC |
Projection: Maryland vs. Florida
On Monday night, Florida revealed its alternate "swamp" uniforms it will wear Saturday against Texas A&M. The uniforms are supposed to resemble an alligator's skin. Let's just say social media didn't approve of the look. USA Today's George Schroeder tweeted the resemblance between the uniforms and the Sleestaks from the 1970s series Land of the Lost.
That's right, Florida's end zone is officially Land of the Lost.
| BOWL (CITY) | DATE | MATCHUP |
| --- | --- | --- |
| Arizona Bowl (Tucson) | Dec. 29 | MWC vs. Sun Belt |
Projection: Utah State vs. New Mexico State
In this projected matchup, both Utah State and New Mexico State feature the same mascots: The Aggies. That's the only similarity between the teams, especially this week. Utah State plays its third consecutive home game versus Wyoming after defeating BYU and losing to Colorado State.
New Mexico State plays its third consecutive road game at Georgia Southern after losing at Arkansas and Appalachian State.
| BOWL (CITY) | DATE | MATCHUP |
| --- | --- | --- |
| Belk Bowl (Charlotte) | Dec. 29 | ACC vs. SEC |
Projection: Georgia Tech vs. Texas A&M
Only seven schools have scored at least 30 points in five or more games this season. Of the seven, only one is from the ACC. Clemson? Nope. Louisville? Wrong again. Pass-happy Syracuse? Incomplete. The correct answer is none other than Georgia Tech.
Paul Johnson's Flexbone option attack is alive and well in Atlanta. The Yellow Jackets (3-1) have reached the 30-point mark in 10 of their past 12 games.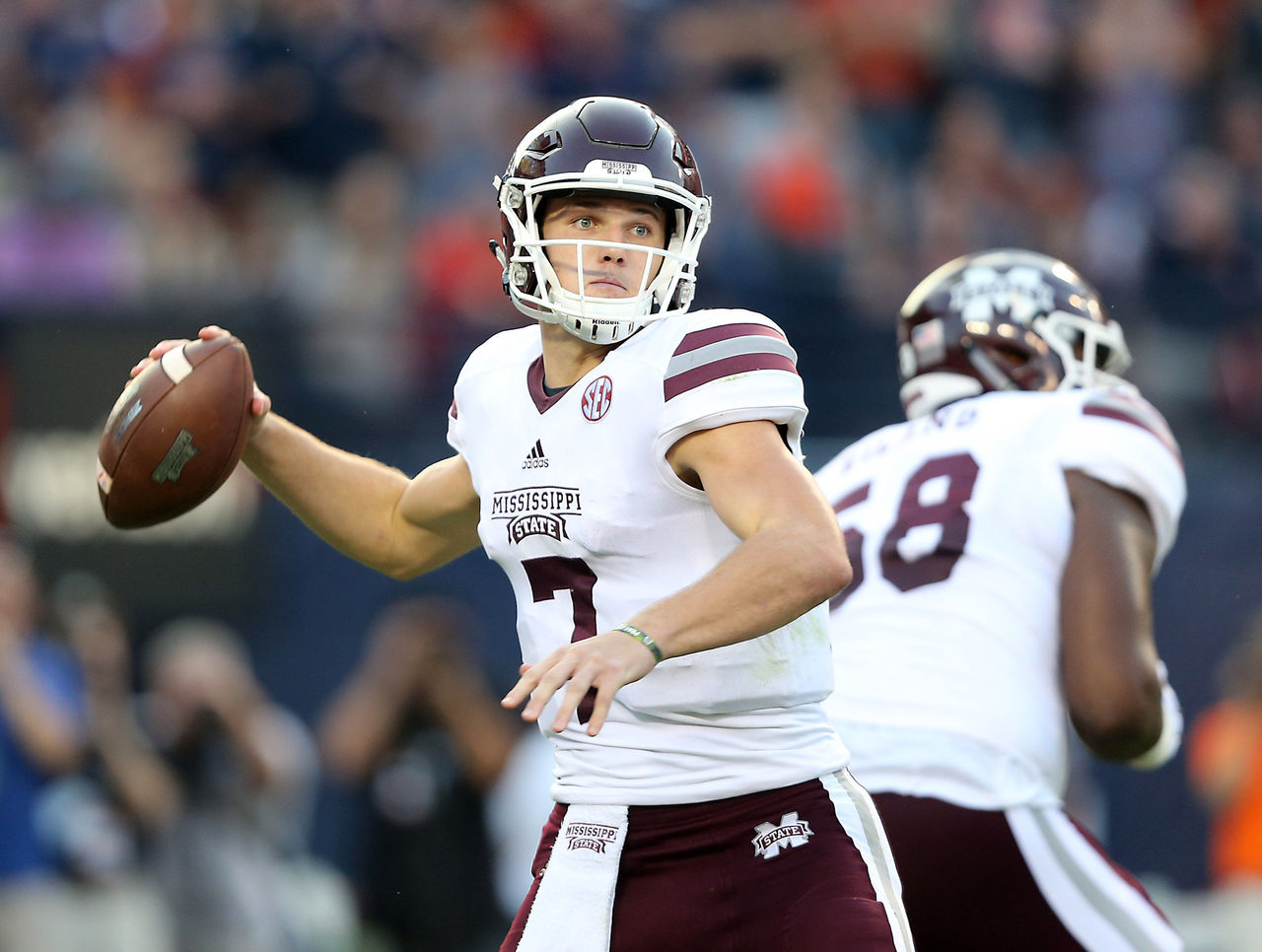 | BOWL (CITY) | DATE | MATCHUP |
| --- | --- | --- |
| Music City Bowl (Nashville) | Dec. 29 | ACC/Big Ten vs. SEC |
Projection: Virginia Tech vs. Mississippi State
Mississippi State hosts struggling BYU on Saturday. The Cougars and their pedestrian offense will be a welcome sight for the Bulldogs' defense, who had no answers in consecutive SEC beat downs at Georgia and Auburn. Against Auburn, Mississippi State allowed 49 points - one fewer point than BYU has scored in its five games against FBS opponents this season.
| BOWL (CITY) | DATE | MATCHUP |
| --- | --- | --- |
| Sun Bowl (El Paso) | Dec. 29 | ACC vs. Pac-12 |
Projection: NC State vs. Utah
NC State is off to its best start ever under Dave Doeren and just in time. On Thursday, the North Carolina State Fair begins its 11-day run Thursday in Raleigh. This is the 150th North Carolina State Fair and for the first time the fair will allow beer and wine sales.
In the previous 149 fairs, the North Carolina State Fair was the country's only one that didn't serve alcohol. And, I'm just spit-balling here, but it also was the nation's saddest and lowest-attended state fair.
| BOWL (CITY) | DATE | MATCHUP |
| --- | --- | --- |
| Alamo Bowl (San Antonio) | Dec. 28 | Big 12 vs. Pac-12 |
Projection: Oklahoma vs. USC
Speaking of state fairs, Oklahoma and Texas meet in Dallas on Saturday in the Cotton Bowl located literally inside the State Fair of Texas. While the game is played, fair patrons roam the fairgrounds outside the stadium feasting on such delicacies as fried beer (I've had it, it's horrible) or a new item this year: The funnel cake queso burger. A bargain at only $12.
There's also a new attraction at this year's fair specifically for Oklahoma fans: it's the "watch the opposing team plant a flag at midfield" game. Wearing an Iowa State uniform to participate is encouraged, but not mandatory.
| BOWL (CITY) | DATE | MATCHUP |
| --- | --- | --- |
| Camping World Bowl (Orlando) | Dec. 28 | ACC vs. Big 12 |
Projection: Notre Dame vs. West Virginia
Last year, Notre Dame was Notre Done. The Flailing Irish floundered to a 4-8 record. This year, it's Notre Damn (They're Good). The Irish are 5-1 at the midway point of the season and off Saturday before USC visits next week.
The biggest difference for the Irish this year is their rushing offense and defense against the run. Through six games, Notre Dame has 23 rushing TDs, while the defense has allowed only one rushing TD.
| BOWL (CITY) | DATE | MATCHUP |
| --- | --- | --- |
| Holiday Bowl (San Diego) | Dec. 28 | Big Ten vs. Pac-12 |
Projection: Iowa vs. Stanford
This would be a rematch of the Iowa-Stanford Rose Bowl from two years ago. After seeing what Christian McCaffrey did to the Hawkeyes that day (a Rose Bowl-record 368 all-purpose yards, including 172 yards rushing), Iowa fans might not want to face another Stanford running back.
This year's version - Bryce Love/The Human First Down - is off to a monster start. He is averaging 10.5 yards per carry and he has more yards rushing (1,240) than 104 FBS teams.
| BOWL (CITY) | DATE | MATCHUP |
| --- | --- | --- |
| Military Bowl (Annapolis) | Dec. 28 | ACC vs. American |
Projection: Florida State vs. Navy
It's been six seasons since Florida State has not qualified for the College Football Playoff or a New Year's Day bowl. Unless Jameis Winston walks through that door with another year of eligibility, that streak will come to a screeching halt. Just like the Seminoles' offense.
Off to a 1-3 start, FSU is averaging a meager 327 yards per game. The only Power 5 teams that are worse: Vanderbilt, Illinois, Rutgers, Oregon State, and Boston College.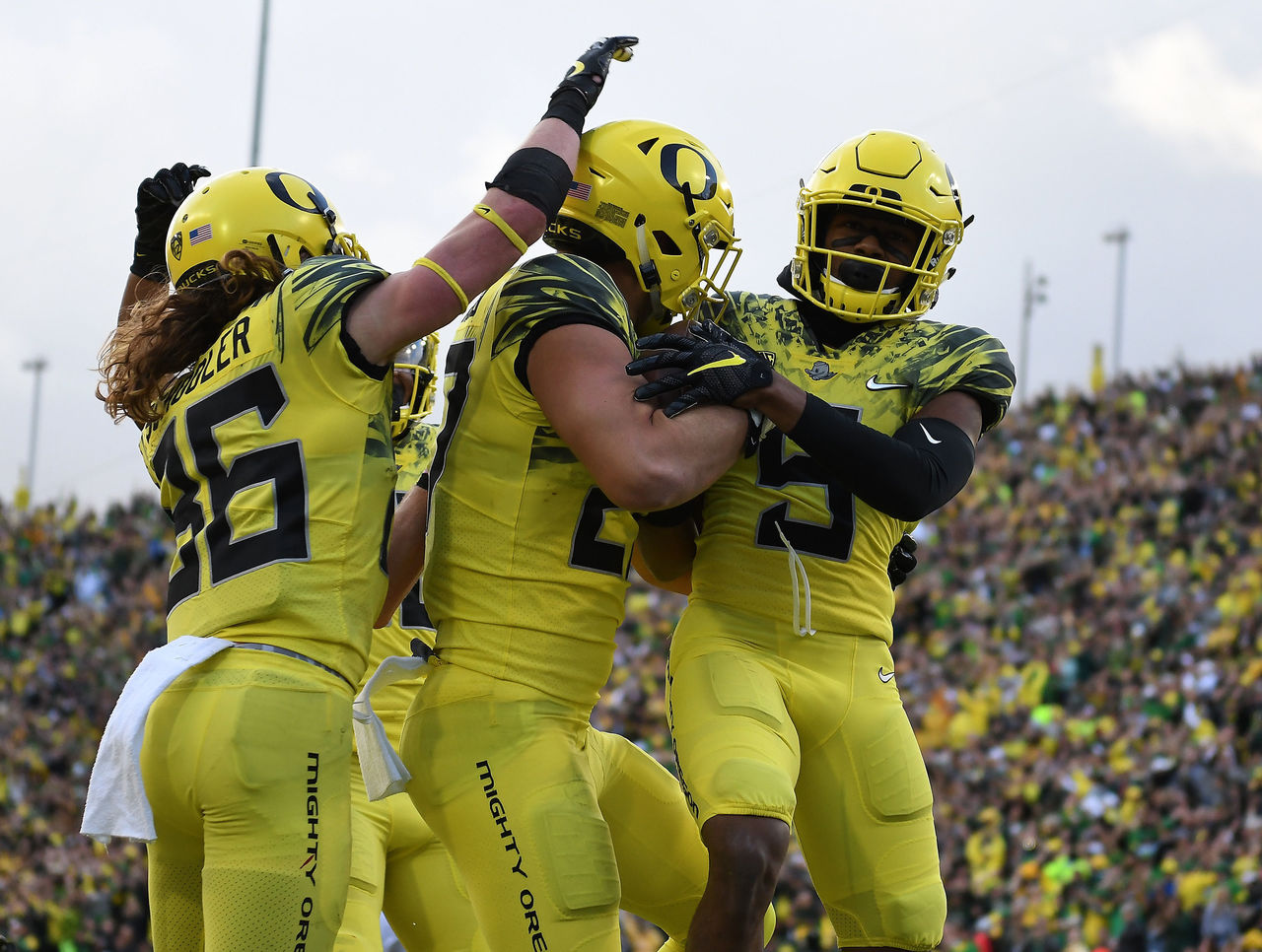 | BOWL (CITY) | DATE | MATCHUP |
| --- | --- | --- |
| Foster Farms Bowl (Santa Clara) | Dec. 27 | Big Ten vs. Pac-12 |
Projection: Purdue vs. Oregon
Oregon coach Willie Taggart's run of his teams scoring at least 30 points ended at 21 consecutive games in last week's loss versus Washington State. Not coincidentally, it was the Ducks' first game since starting QB Justin Herbert suffered a broken collarbone. Without Herbert, the Ducks had no chance against Washington State.
No one gave Purdue much of a chance to get to a bowl this year. In fact, Las Vegas oddsmakers posted Purdue's projected season win total at 2 1/2. Five games in, the Boilermakers picked up win No. 3 and are halfway to bowl eligibility under first-year coach Jeff Brohm.
| BOWL (CITY) | DATE | MATCHUP |
| --- | --- | --- |
| Independence Bowl (Shreveport) | Dec. 27 | ACC vs. SEC |
Projection: Virginia vs. South Carolina
South Carolina's offense had struggled the past three weeks, failing to top 17 points against Kentucky, Louisiana Tech, and Texas A&M. But the Gamecocks finally exploded for 48 points versus a reeling Arkansas club.
Actually, the defense should get a large amount of credit, scoring three touchdowns on two interception returns and a fumble return. The 48 points tied for the most scored by a Will Muschamp team against a Power 5 opponent.
| BOWL (CITY) | DATE | MATCHUP |
| --- | --- | --- |
| Pinstripe Bowl (Bronx) | Dec. 27 | ACC vs. Big Ten |
Projection: Louisville vs. Minnesota
Louisville QB Lamar Jackson's bid to join Archie Griffin as the only back-to-back Heisman winners isn't officially over … OK, yep, it's kaput. The Cardinals' second loss of the season last week to NC State coupled with emerging running backs (Saquon Barkley and Bryce Love) and a pair of Oklahoma quarterbacks (Baker Mayfield and Mason Rudolph) has Jackson rated with the fifth-best odds to win.
| BOWL (CITY) | DATE | MATCHUP |
| --- | --- | --- |
| Texas Bowl (Houston) | Dec. 27 | Big 12 vs. SEC |
Projection: Texas vs. LSU
Texas coach Tom Herman is about a seven-point underdog versus Oklahoma on Saturday. In other words, he has the Sooners right where he wants them. In Herman's last six years as a coach, as Ohio State's offensive coordinator from 2012-14, Houston's coach from 2015-16, and this season at Texas, he has been an underdog 12 times. He won 11 of those games - the only loss was 27-24 at USC on Sept. 16 when Texas was a 15-point underdog.
| BOWL (CITY) | DATE | MATCHUP |
| --- | --- | --- |
| Cactus Bowl (Phoenix) | Dec. 26 | Big 12 vs. Pac-12 |
Projection: Kansas State vs. Colorado
Kansas State coach Bill Snyder celebrated his 78th birthday Saturday. Unfortunately for Snyder and the Wildcats, it was a controversial 40-34 overtime loss at Texas. Now K-State welcomes TCU, fresh off its wild 31-24 win against West Virginia.
Will the Horned Frogs come in fat and happy or can they avoid an upset in Manhattan? TCU is a 4-1/2-point favorite, but beware laying points against Snyder, who has covered five of his last six as a home underdog.
| BOWL (CITY) | DATE | MATCHUP |
| --- | --- | --- |
| Heart of Dallas Bowl (Dallas) | Dec. 26 | Big Ten vs. Big 12 |
Projection: Northwestern vs. Iowa State
Hello, Iowa State. The Cyclones join my bowl projections for the first time this season (Not sure if you heard, but ISU upset Oklahoma last week. It was kind of a big deal). The Cyclones haven't been to a bowl since 2012, but if Saturday's win is any indication, they will be back this year. Iowa State opened the season with three consecutive games scoring 40 points (including a heartbreaking OT loss to Iowa), before Texas limited ISU to seven points.
After the OU win, ISU is 3-2 with Kansas up next - 4-2 - so the Cyclones will need only two wins in the second half of the season at Texas Tech, TCU, at West Virginia, Oklahoma State, at Baylor, and at Kansas State to get bowl eligible. I think they'll get it done.
| BOWL (CITY) | DATE | MATCHUP |
| --- | --- | --- |
| Quick Lane Bowl (Detroit) | Dec. 26 | ACC vs. Big Ten |
Projection: Duke vs. Indiana
Duke's 4-0 start is but a distant memory as the Blue Devils try to avoid a third straight loss Saturday and dip to 4-3. Up next is Florida State and the Blue Devils' most recent memory of the Seminoles is not a good one. In their last meeting, FSU blasted Duke 45-7 in the 2013 ACC Championship game.
Indiana would love to have the opportunity to lose in a conference championship game. But that's not going to happen this year. The Hoosiers are 0-2 in league play, allowing 93 points to Ohio State and Penn State. Saturday, IU visits an ornery Michigan club.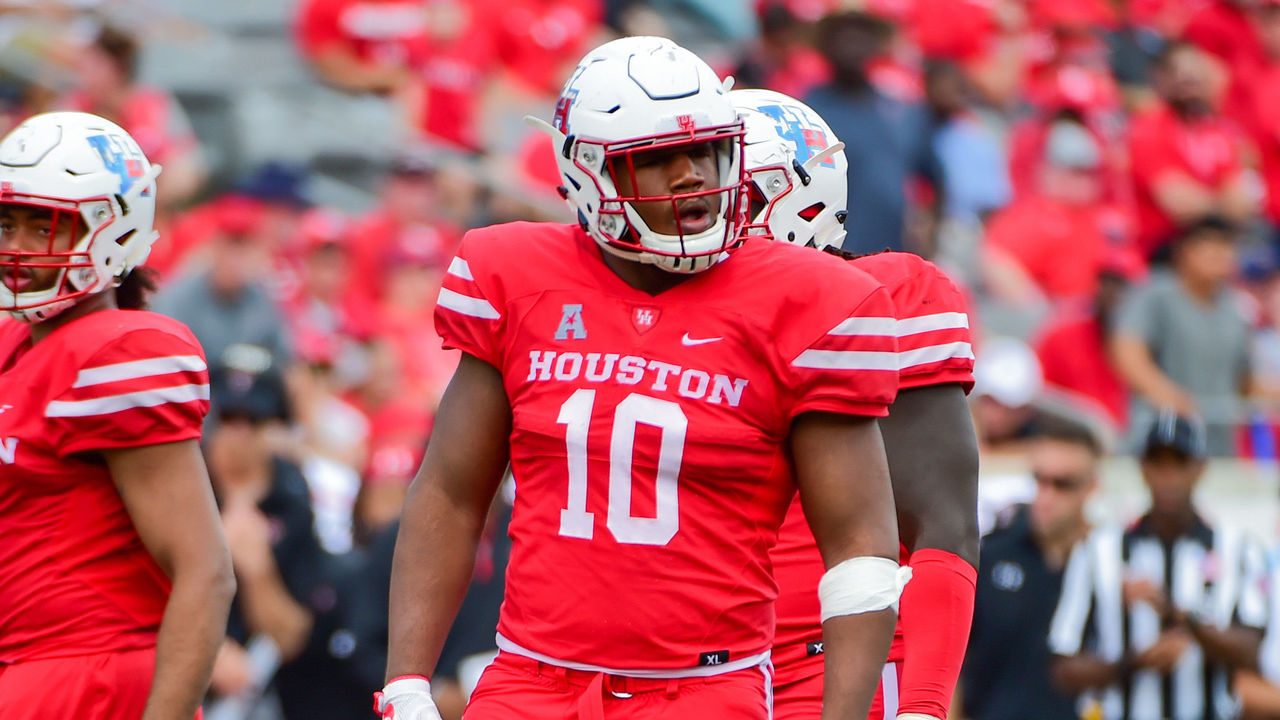 | BOWL (CITY) | DATE | MATCHUP |
| --- | --- | --- |
| Hawaii Bowl (Honolulu) | Dec. 24 | American vs. MWC |
Projection: Houston vs. Wyoming
While USF, UCF, and even Navy are grabbing all the attention in the AAC as the league's best chances to earn a New Year's Six bowl bid, don't forget about Houston. The Cougars know what it takes to get there, earning the league's only bid in the three years of the College Football Playoff. The Cougars will have their opportunity.
After visiting defenseless Tulsa on Saturday, Houston hosts Memphis the following week and faces USF and Navy among its final four games of the season.
| BOWL (CITY) | DATE | MATCHUP |
| --- | --- | --- |
| Armed Forces Bowl (Fort Worth) | Dec. 23 | C-USA vs. Army |
Projection: UTSA vs. Army
It would be hard to find a team with a lower travel budget than UTSA. The Roadrunners are the nation's only team that plays their first seven games in their home state. It would have been eight straight, but the season opener at Houston was canceled because of Hurricane Harvey.
So appropriately I've projected UTSA for the Armed Forces Bowl, about a four-hour drive north up I-35 from San Antonio. The Roadrunners won't leave the state until Nov. 4 when they actually board a plane for a road game at FIU. Their only other game outside Texas is at Louisiana Tech on Nov. 25.
| BOWL (CITY) | DATE | MATCHUP |
| --- | --- | --- |
| Birmingham Bowl (Birmingham) | Dec. 23 | American vs. SEC |
Projection: UCF vs. Vanderbilt
Vanderbilt's promising 3-0 start has quickly turned into 3-3. Such is life in the SEC. The Commodores just finished a stretch of Alabama, Florida, and Georgia. Saturday, Vandy travels to Ole Miss, which has lost all three games against Power 5 opponents by an average of 31 points. Earlier this year, UCF took care of its only Power 5 foe - a 28-point win versus Maryland.
The Knights are 4-0 for the first time since 1982, when UCF was competing at the FCS level.
| BOWL (CITY) | DATE | MATCHUP |
| --- | --- | --- |
| Dollar General Bowl (Mobile) | Dec. 23 | MAC vs. Sun Belt |
Projection: Toledo vs. Appalachian State
Appalachian State continues its farewell tour of soon-to-be former Sun Belt members. Last week, the Mountaineers intercepted six passes to outlast New Mexico State 45-31. On Saturday, Appalachian State visits Idaho for only the second - and final - time. After this season, New Mexico State is becoming an FBS independent, while Idaho is dropping down to FCS.
| BOWL (CITY) | DATE | MATCHUP |
| --- | --- | --- |
| Bahamas Bowl (Nassau) | Dec. 22 | C-USA vs. MAC |
Projection:Marshall vs. Ohio
Marshall's success has been fairly easy to predict: when QB Chase Litton throws multiple TD passes and no interceptions, the Thundering Herd has never lost. Last week's 14-3 win at Charlotte made Marshall 8-0 when Litton has at least two TD passes and no interceptions. Marshall continues to make amends for last year's dreadful three-win season, already at 4-1 and a legitimate contender in Conference USA's East Division.
| BOWL (CITY) | DATE | MATCHUP |
| --- | --- | --- |
| Idaho Potato Bowl (Boise) | Dec. 22 | MAC vs. MWC |
Projection: Western Michigan vs. Boise State
These two programs can reminisce before kickoff about the good old days. You know, back in 2016 and 2014. Those seasons, Western Michigan and Boise State earned a bid to a New Year's Six bowl as the Group of 5's highest-rated champion. In 2016, WMU lost to Wisconsin in the Cotton Bowl. In 2014, Boise State defeated Arizona in the Fiesta Bowl.
This season, both already appear out of contention for a New Year's Six bowl - but should have no problem making a bowl. That will make it 16 consecutive bowls for Boise State and four straight for WMU.
| BOWL (CITY) | DATE | MATCHUP |
| --- | --- | --- |
| Gasparilla Bowl (St. Petersburg) | Dec. 21 | American vs. C-USA |
Projection: Memphis vs. Louisiana Tech
Memphis' Mike Norvell is the latest coach to try and solve Navy's option attack when the Tigers host the Midshipmen Saturday. Navy has already topped 40 points three times this season and Memphis has allowed 40 twice this season.
Norvell was asked about watching film of Navy's offense over the weekend. "I was throwing up all day," Norvell said. Now, he knows the same sickening feeling Florida fans had upon seeing the Gators' alternate uniforms for Saturday.
| BOWL (CITY) | DATE | MATCHUP |
| --- | --- | --- |
| Frisco Bowl (Frisco) | Dec. 20 | American vs. MAC/MWC |
Projection: SMU vs. Buffalo
Buffalo might have to take some advice from Chris Berman this week. To paraphrase Berman: "Nobody - and I mean nobody - circles the wagons like the Buffalo Bulls." The Bulls must try to rebound from last week's crushing 71-68 seven-OT loss to Western Michigan.
QB Drew Anderson - making only his second career start - threw for 597 yards, seven touchdowns, and no interceptions during that game. Now the Bulls must visit Northern Illinois, which already won at Nebraska and also nearly upset unbeaten San Diego State.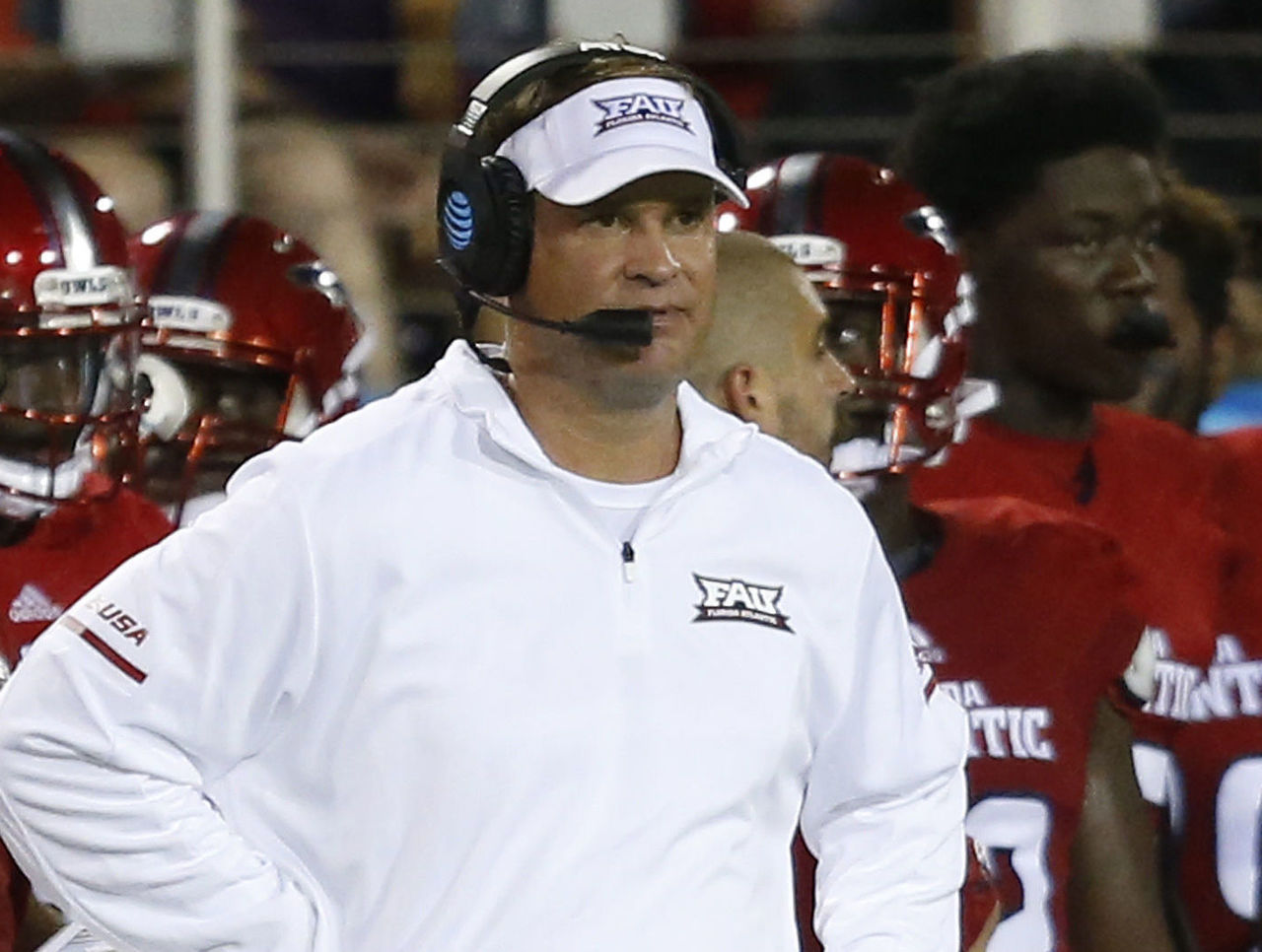 | BOWL (CITY) | DATE | MATCHUP |
| --- | --- | --- |
| Boca Raton Bowl (Boca Raton) | Dec. 19 | American vs. C-USA |
Projection: USF vs. FAU
Upon seeing an analytics poll where FAU had a 37 percent chance to win Conference USA, the highest of any league member, FAU coach Lane Kiffin went to Twitter. Of course, he did. Kiffin tweeted: "Please stop media!! This is rat poison to our players!! #process" Kiffin was mocking his former boss Nick Saban's rat poison comments. Earlier in the week, FAU football's official Twitter feed put out a video entitled: "Roll Owls."
I'm not sure if Kiffin is turning FAU into Crimson Tide South, but it is entertaining watching him try.
| BOWL (CITY) | DATE | MATCHUP |
| --- | --- | --- |
| Camellia Bowl (Montgomery) | Dec. 16 | MAC vs. Sun Belt |
Projection: Northern Illinois vs. Troy
Troy goes for the rare Daily Double: a chance to beat LSU and Alabama in consecutive games. What? Oh, that's South Alabama on Wednesday? Never mind. Still this is a huge game for Troy. It's the Battle of the Belt (seriously). When the Sun Belt split into divisions before this season, Troy and South Alabama, located only 165 miles apart, were put in different divisions.
However, the league's athletic directors voted that the Troy-USA series would be the league's only protected annual cross-division series. "This is the biggest game on our schedule," Troy coach Neal Brown said. "I don't make any 'ifs, ands, or buts' about it. We put a lot of importance on this. It's the Battle for the Belt." So, buckle up.
| BOWL (CITY) | DATE | MATCHUP |
| --- | --- | --- |
| Cure Bowl (Orlando) | Dec. 16 | American vs. Sun Belt |
Projection: Tulane vs. UL Monroe
Because of the threat of Hurricane Nate, last week's kickoff for Tulane's game with Tulsa was moved up to 10 a.m. ET. Players had to arrive at 6 a.m. Perhaps, the Green Wave should play all their games that early after routing Tulsa 62-24. Tulane had 48 points before noon and its 62 points were the second most it's scored in conference play in school history.
On Saturday, Tulane visits FIU that will feature a more traditional 7 p.m. ET kickoff.
| BOWL (CITY) | DATE | MATCHUP |
| --- | --- | --- |
| Las Vegas Bowl (Las Vegas) | Dec. 16 | MWC vs. Pac-12 |
Projection: Colorado State vs. Arizona
Arizona returns to my bowl projections for the first time since my initial list on Aug. 30. Welcome back Wildcats. On Saturday, Arizona hosts UCLA and this could get ugly. The Bruins and their nation's second-worst rushing defense will try to (pick one) stop, slow down, or kidnap Arizona QB Khalil Tate. Barring that, they'll pray he comes down with an illness before kickoff. After all, Tate rushed for 327 yards last week versus Colorado on only 14 carries.
The Bruins' (pick one) struggling/leaky/swiss cheese-like/matador run defense is allowing 284 yards rushing a game, while Arizona averages 321 yards rushing, the nation's fourth-best running attack.
| BOWL (CITY) | DATE | MATCHUP |
| --- | --- | --- |
| New Mexico Bowl (Albuquerque) | Dec. 16 | C-USA vs. MWC |
Projection: North Texas vs. New Mexico
New Mexico is investigating Coach Bob Davie for allegations of physical abuse and racial insensitivity, NMFishBowl.com reported. The school is also investigating claims Davie mishandled the team's drug testing process.
The Albuquerque Journal also reported the school has hired a former federal judge to conduct an "initial and preliminary fact-finding of certain complaints" against an athletic department employee, which is supposedly Davie. Abuse and drugs in Albuquerque? When did they renew "Breaking Bad"?
| BOWL (CITY) | DATE | MATCHUP |
| --- | --- | --- |
| New Orleans Bowl (New Orleans) | Dec. 16 | C-USA vs. Sun Belt |
Projection: Western Kentucky vs. Arkansas State
Western Kentucky (3-2) hosts Charlotte on Saturday, continuing a crazy trend for the Hilltoppers. None of WKU's first six opponents currently have a winning record. Not one. They are a combined 8-26. WKU meets 0-6 Charlotte a week after edging 0-6 UTEP.
I believe this is the latest in a season a team has played consecutive winless opponents in college football history (until my yet-to-be formed research department can prove otherwise).
*The highest-rated champion from the Group of 5 conferences (American, Conference USA, Mid-American, Mountain West, and Sun Belt) will be selected to play in either the Cotton, Fiesta, or Peach Bowl. If Army is bowl-eligible, it must play in the Armed Forces Bowl.
**Replaces team from league that can't fill bowl.
Want more Brett McMurphy? Of course you do. Find him on Facebook.
(Photos courtesy: Getty Images)
Comments
✕
Brett McMurphy's bowl projections: Penn State propelled into playoff picture
  Got something to say? Leave a comment below!