Final Four preview: Old Big East foes UConn, Miami fight for title berth
UConn and Miami hail from different conferences, but they aren't exactly strangers.
The two schools were members of the Big East from 1991-2004, with the Huskies owning a 17-8 head-to-head advantage.
Hurricanes head coach Jim Larranaga was also at the helm of 11-seed George Mason when it shocked a loaded UConn squad in the Elite Eight of the 2006 NCAA Tournament.
Saturday's showdown should evoke some memories for longtime followers of both teams.
Here's how the two sides stack up ahead of their Final Four clash.
UConn
How they got here
Record: 29-8 (13-7 in Big East)
Final AP Poll ranking: 10th
NCAA Tournament seed: No. 4 in West Region
First round: UConn 87, No. 13 Iona 63
Second round: UConn 70, No. 5 Saint Mary's 55
Sweet 16: UConn 88, No. 8 Arkansas 65
Elite Eight: UConn 82, No. 3 Gonzaga 54
Key stats
APG: 17.6 (4th)
Offensive rebounds: 13.1 (10th)
Opponent 3-point percentage: 29.7% (12th)
BPG: 4.8 (20th)
Adjusted offensive efficiency: 120.8 points per 100 possessions (3rd)
Adjusted defensive efficiency: 91.9 points per 100 possessions (11th)
Star players
Adama Sanogo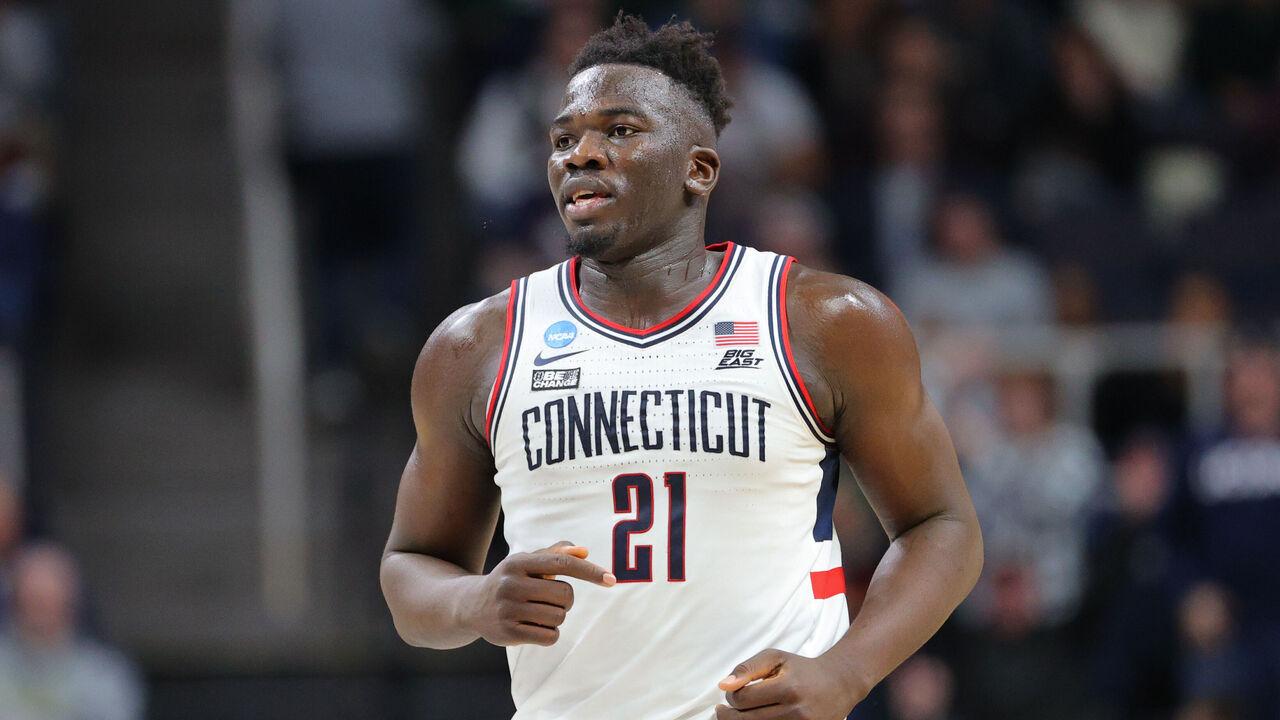 Sanogo has been nearly unstoppable during UConn's run to the Final Four. The third-year forward is averaging 20 points on 65.5% shooting to go along with 9.8 boards, 1.3 assists, and 1.3 blocks through four NCAA Tournament games. He's incredibly managed to produce some of the finest moments of his career while fasting for Ramadan.
Sanogo routinely overpowers defenders on the low block using his 240-pound frame and is a superb finisher around the rim. When opposing teams choose to double Sanogo, he's capable of dishing the ball to open teammates. While Sanogo has yet to drain a triple in the Big Dance, he's proven to be an outside threat in pick-and-pop action. The Malian native has made 34.7% of his threes this season after failing to knock down a single 3-pointer in his first two campaigns.
Jordan Hawkins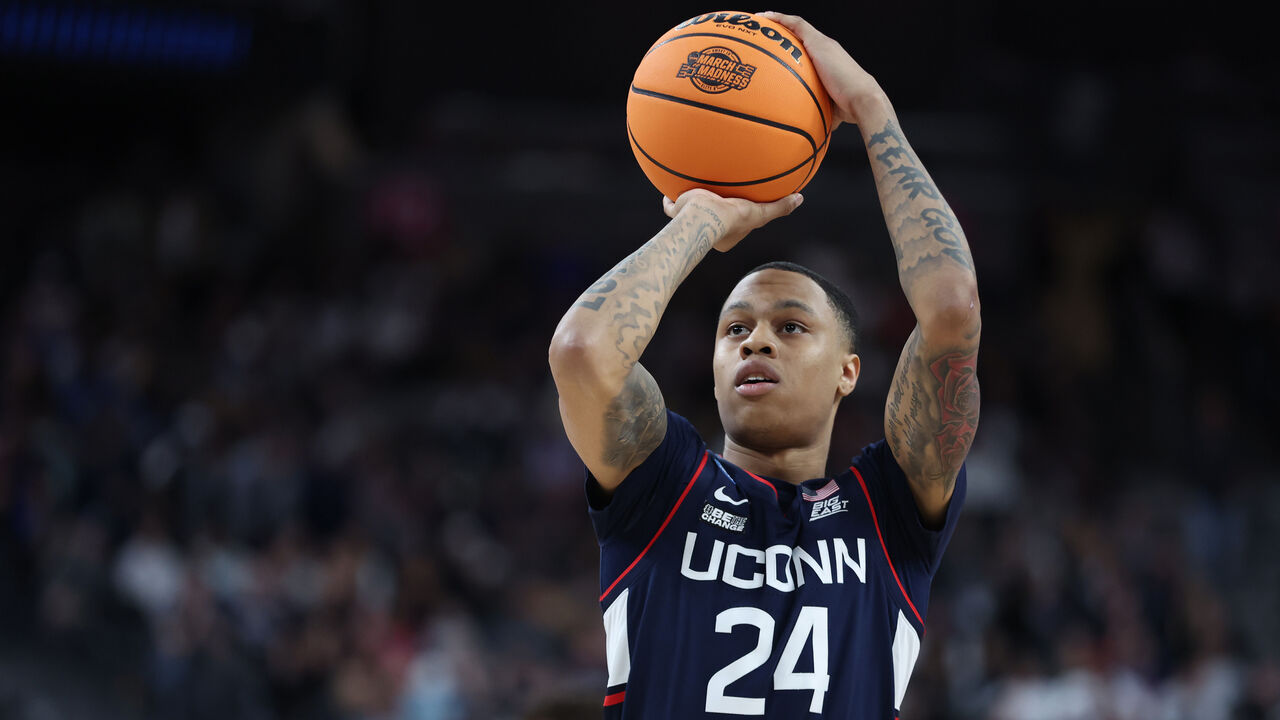 Hawkins is the other half of the Huskies' inside-out offensive attack. The sophomore guard has had a breakout campaign, averaging 16.3 points and shooting 38.5% from beyond the arc. He leads all Big East players with 104 makes from downtown and ranks ninth in the conference in free-throw attempts (132).
Hawkins has a quick release and is in constant motion when he doesn't have the rock. The Huskies frequently use off-ball screens to free Hawkins up, and he often draws fouls on 3-point attempts with teams being overly aggressive on closeouts. Hawkins enters the Final Four coming off back-to-back 20-point games and Most Outstanding Player honors in the West Region.
Andre Jackson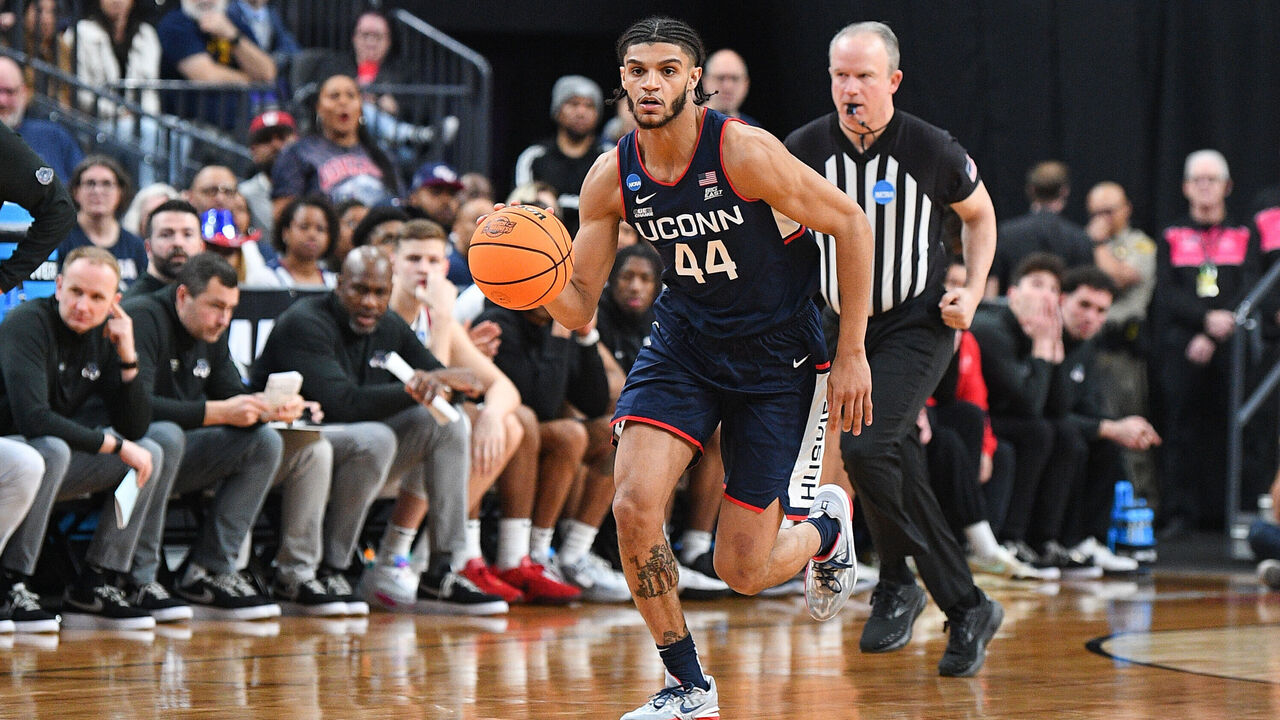 Jackson is UConn's Swiss Army knife. The 6-foot-6 wing has filled the role of point forward, initiating the team's offense in both the half court and in transition. He's racked up 31 assists and only six turnovers heading into the final weekend of the NCAA Tournament. With his elite athleticism and length, Jackson can guard multiple positions on the floor.
His shooting struggles are no secret, but Huskies head coach Dan Hurley has managed to minimize that weakness by using him in a variety of ways. The former four-star recruit has been effective as a screener, cutter, and in dribble handoffs. Teams will still sag off Jackson and dare him to take jumpers, but the New York native has been more selective with those shots, attempting field goals from spots where he's more comfortable.
X-factor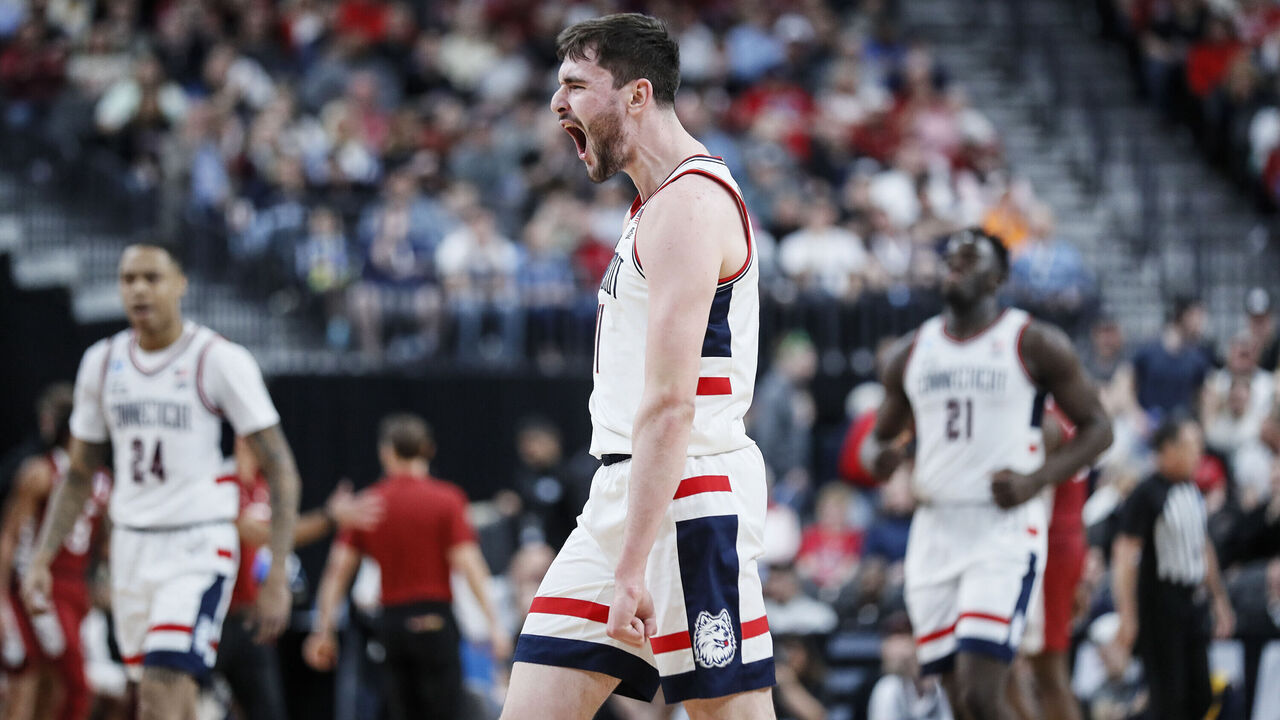 An injury to Samson Johnson in UConn's season opener thrust Alex Karaban into the starting power forward role, and he hasn't relinquished that spot. The redshirt freshman has provided steady play at the four, averaging 9.5 points and 4.4 boards to go with a 40.6% clip from distance. He was 17th in the Big East in offensive rebounds (58) and 19th in swats (24).
Karaban's floor spacing will be important, with Sanogo sure to receive a healthy dose of double-teams from an undersized Miami roster. He's made multiple triples in six of his last eight appearances, including a pair against Iona and Gonzaga. Karaban's interior defense on Jordan Miller will be vital as well. While Karaban has improved immensely in that aspect, the Hurricanes are likely to test the first-year player, given his defensive struggles earlier this season.
Reason for concern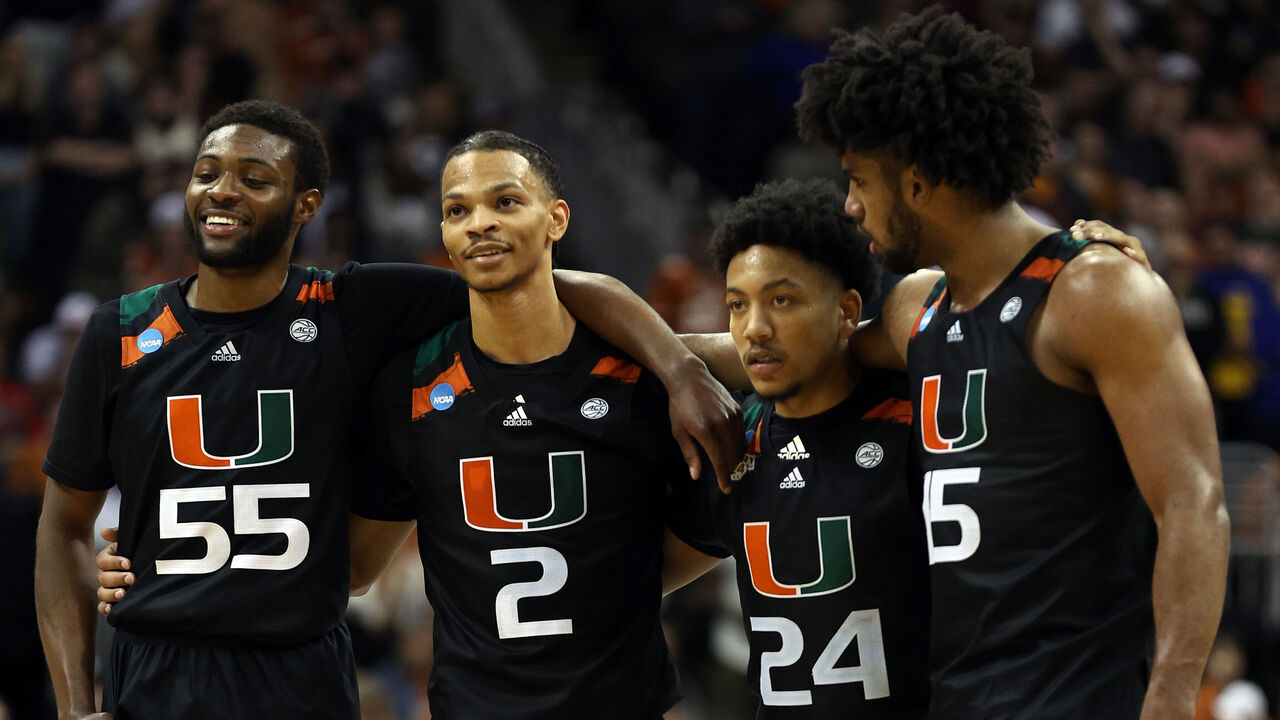 Miami's shot-making ability can make even the best defenses look silly. The Hurricanes dropped 89 points and shot 44% from long distance against a formidable Houston team that ranked second in both points allowed and opponent 3-point percentage. They followed that up with an 88-point showing in the Elite Eight against Texas' 13th-ranked defense.
Larranaga's squad can pull away in a hurry and suddenly climb back into a game it appeared out of. Four different players are averaging at least 13 points, and five rotational pieces are converting 35% or more of their 3-point attempts. Miami certainly has the firepower to match UConn if the tilt turns into a shootout.
Miami (FL)
How they got here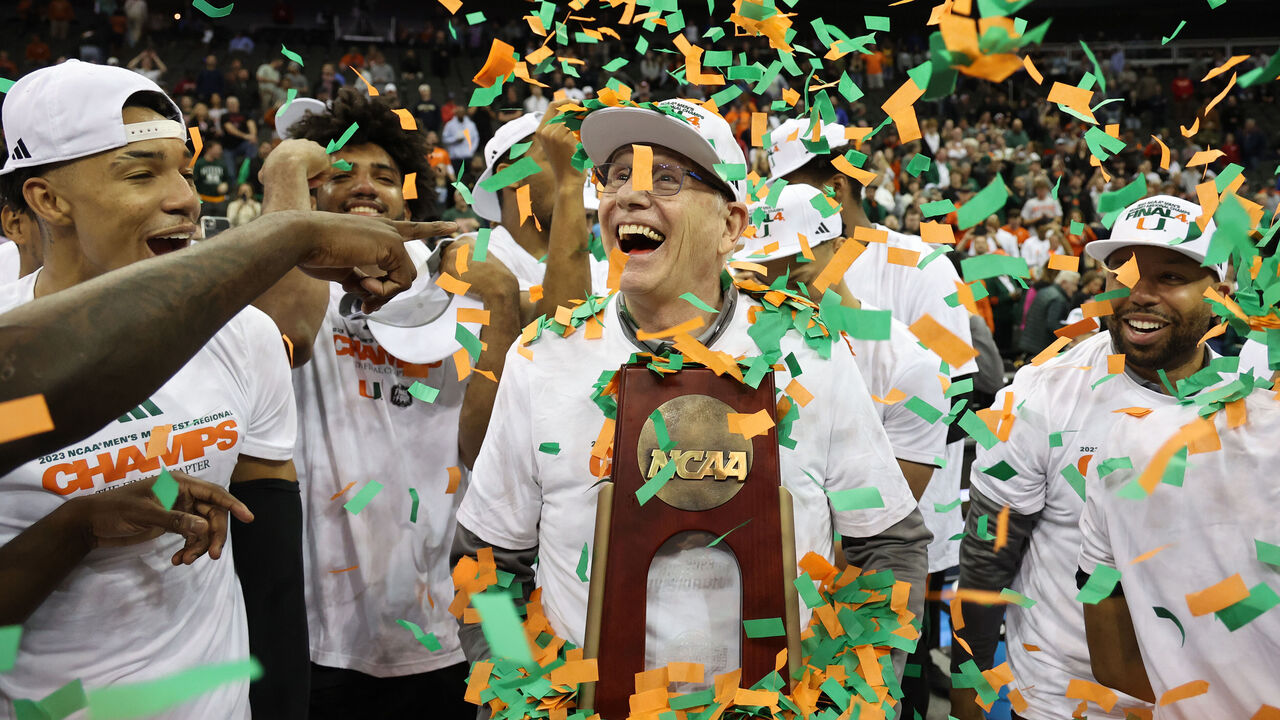 Record: 29-7 (15-5 in ACC)
Final AP Poll ranking: 16th
NCAA Tournament seed: No. 5 in Midwest Region
First round: Miami 63, No. 12 Drake 56
Second round: Miami 85, No. 4 Indiana 69
Sweet 16: Miami 89, No. 1 Houston 75
Elite Eight: Miami 88, No. 2 Texas 81
Key stats
FT%: 78% (12th)
FG%: 48.4% (14th)
Fouls per game: 14.3 (20th)
PPG: 79.6 (21st)
Fast-break points: 13.3 (24th)
Adjusted offensive efficiency: 119.6 points per 100 possessions (5th)
Star players
Isaiah Wong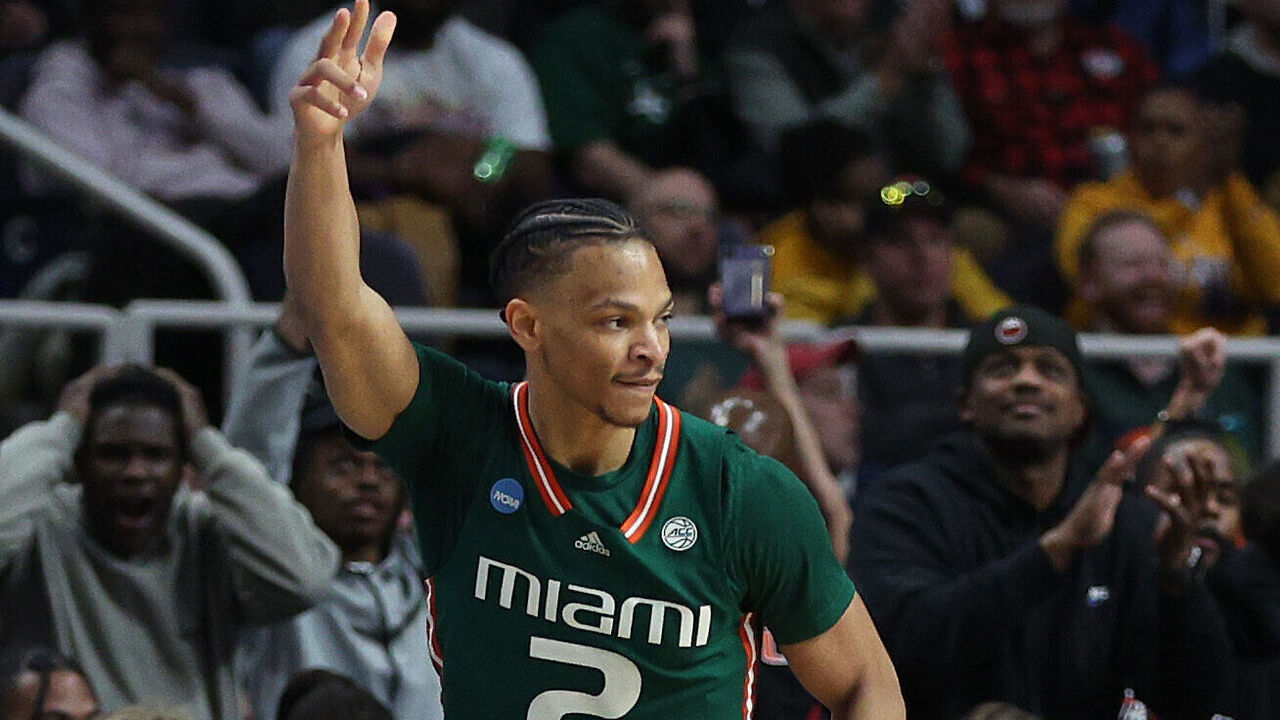 Wong paces the Hurricanes' high-octane offense with 16.2 points per contest. He's already shown the ability to take over any game in the NCAA Tournament, dropping 27 points in the Round of 32 against Indiana and 20 versus top-seeded Houston in the Sweet 16. The 6-foot-4 guard is shooting a career-high 38.1% from deep and sits second on the team with 59 threes.
Wong can also put the ball on the floor and draw fouls if opponents run him off the 3-point line. The reigning ACC Player of the Year has made 84.1% of his free throws and ranks fourth in the conference with 176 attempts from the charity stripe. Wong's great body control is especially helpful whenever he attempts contested shots. His ability to force turnovers has been an important part of Miami's transition attack over the last few seasons.
Jordan Miller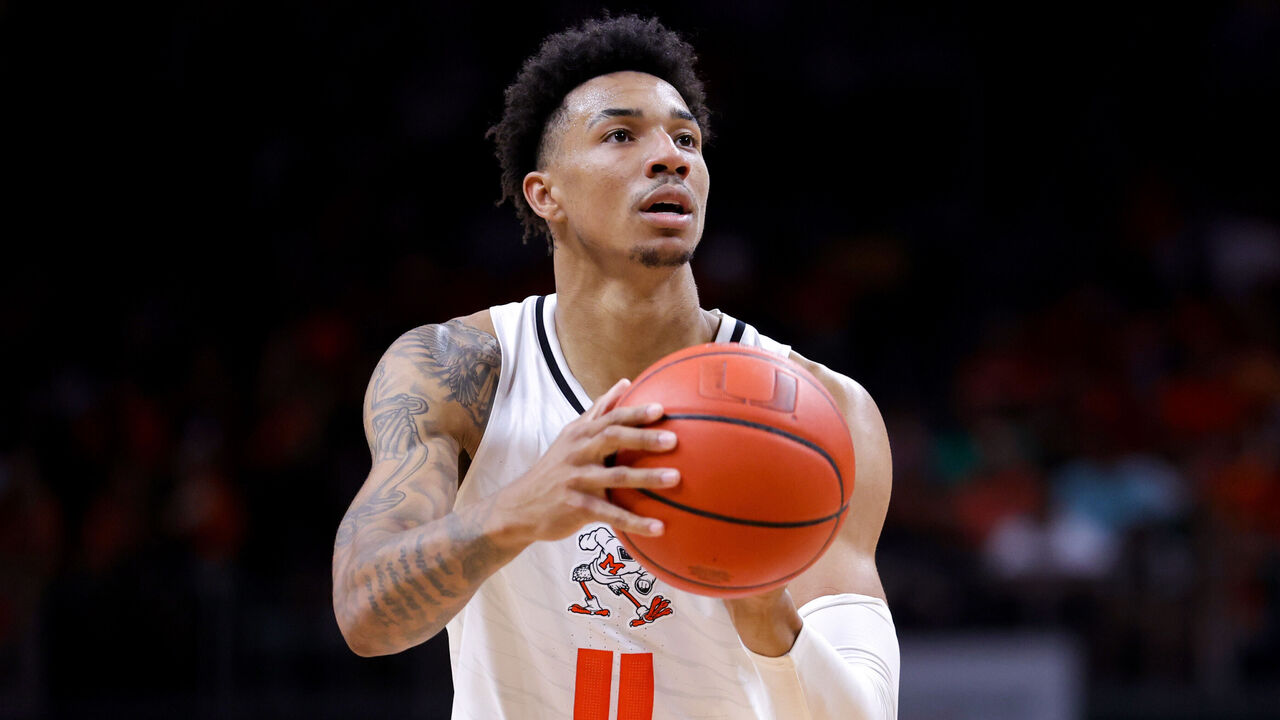 Miller had a historic performance in the Hurricanes' comeback win over Texas in the regional final. The 6-foot-6 guard joined Christian Laettner as the only players in the last 60 years of the NCAA Tournament to go at least 7-of-7 from both the field and free-throw line. He's undoubtedly a talented scorer, but lighting up the scoreboard is just part of his versatile skill set.
In each of the last two campaigns, Miller has finished in the conference's top 10 in both offensive rebounds and steals. The All-ACC second-team selection is capable of handling the rock and leading the fast break off a missed shot. He's displayed sound decision-making as well, posting a 2.1 assist-to-turnover ratio this season.
Nijel Pack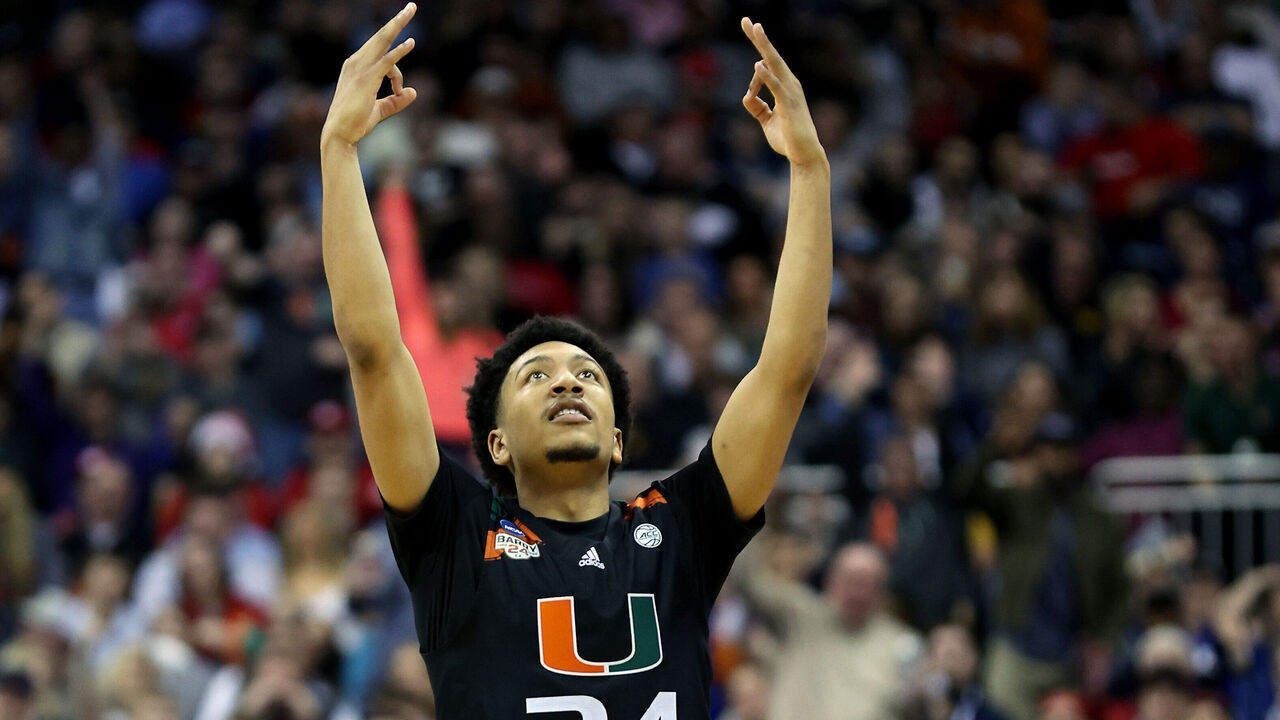 Pack was among the most coveted players available in the transfer portal last offseason, and he hasn't disappointed during his first season in Coral Gables. The former All-Big 12 first-team player is averaging 13.8 points and shooting over 40% from beyond the arc. He's tallied a team-high 74 points in the NCAA Tournament, including seven triples in the Sweet 16 versus Houston.
Pack's outside range extends beyond the NBA 3-point line, and he can burn his counterparts if they choose to go under ball screens. Few players in the nation are better shooting off the catch and off the dribble. Once Pack gets going, he can be awfully difficult to stop.
X-factor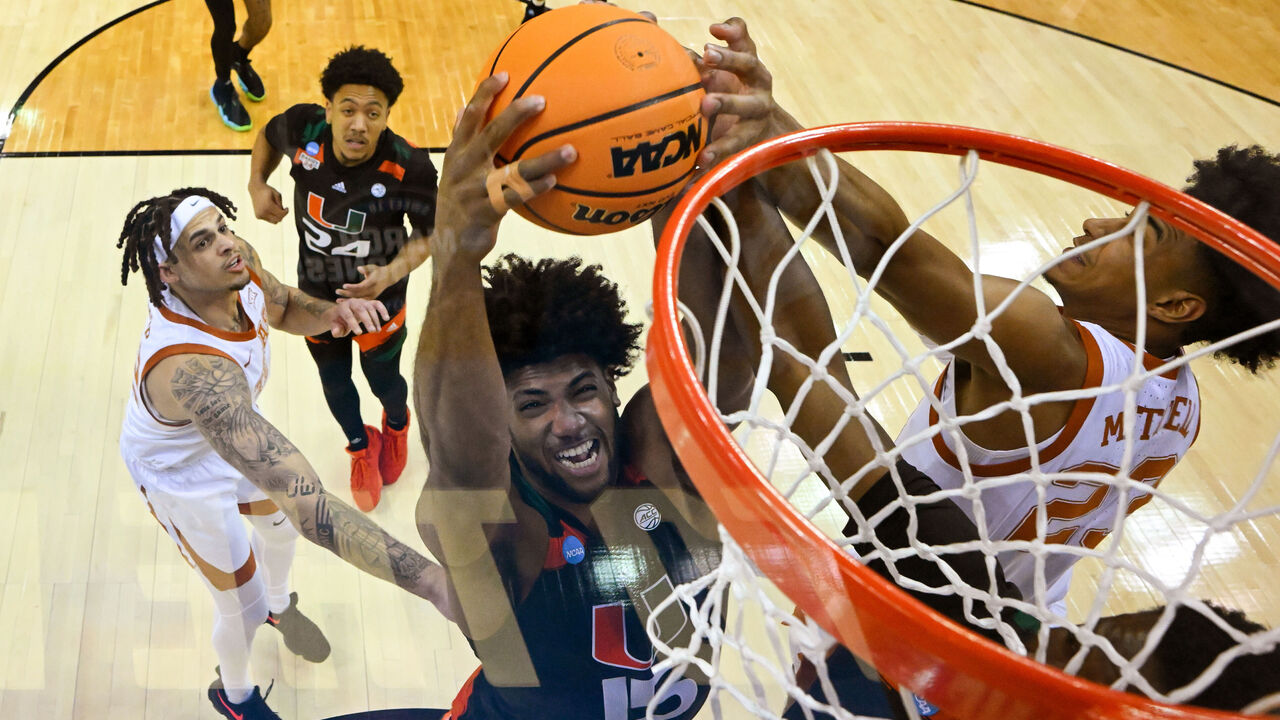 If Miami hopes to upset UConn, it'll probably need another big effort from Norchad Omier. The Arkansas State transfer has been a beast on the glass, registering over 10 boards per contest for the third consecutive campaign. He got the better of Indiana star Trayce Jackson-Davis in the second round, grabbing a game-high 17 rebounds, including eight on the offensive glass.
Omier subsequently added 13 boards against an elite rebounding Houston squad. The 6-foot-7 big man will need to display that same energy and physicality on the glass against the Huskies' dynamic one-two punch at the five. Sanogo and Donovan Clingan were arguably the NCAA's top center tandem this season, leading UConn to the second-best offensive rebounding percentage in college basketball.
Reason for concern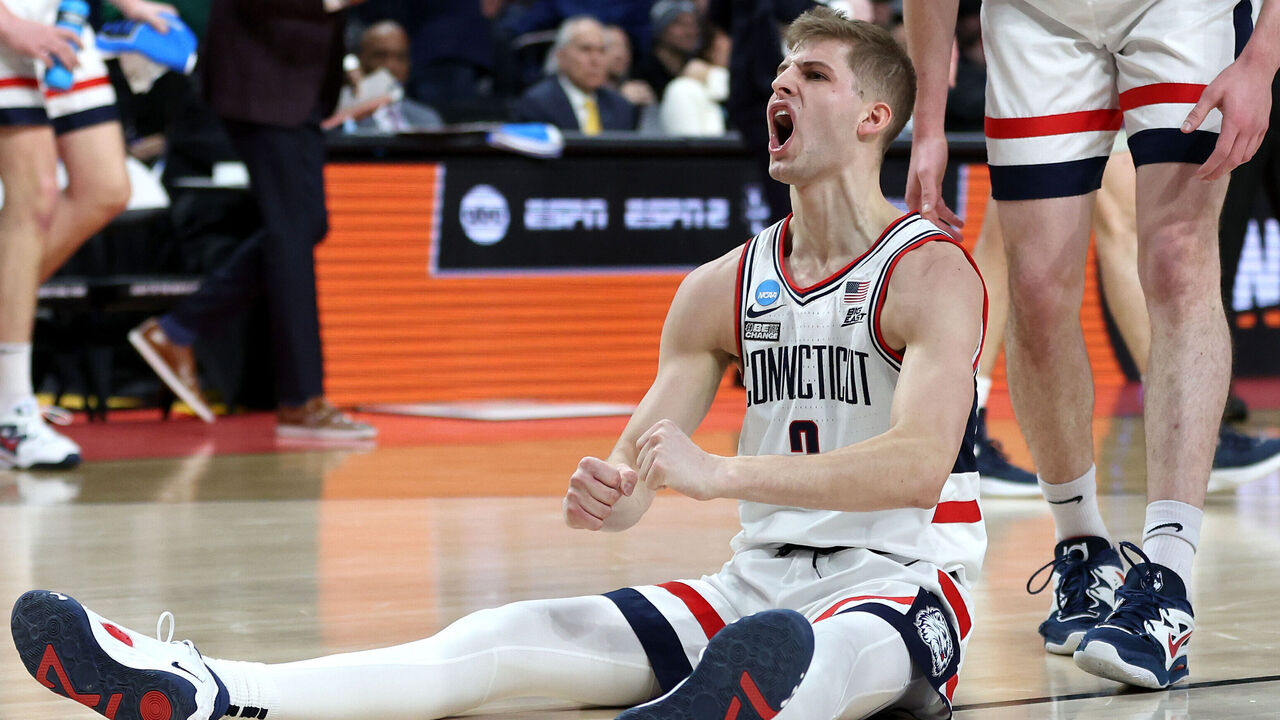 Miami's offense may only take it so far. Of the remaining four teams, the Hurricanes easily have the worst defense, sitting 104th on KenPom's rankings for adjusted defensive efficiency. They don't have a true rim-protecting presence or shutdown defender on the perimeter.
That could spell trouble against a balanced UConn attack. The Huskies can feed Sanogo in the post, create space for Hawkins through off-ball screens, or let Jackson initiate the offense. The Huskies have no problems sharing the rock and boast more shooting off the bench with transfers Joey Calcaterra and Nahiem Alleyne.
Sometimes your best defense is a good offense. If Miami's guards have an off shooting night, it could be a long 40 minutes for the Hurricanes.
Comments
✕
Final Four preview: Old Big East foes UConn, Miami fight for title berth
  Got something to say? Leave a comment below!