How Chet Holmgren became the most unique NBA prospect in recent memory
Photo illustration by Nick Roy/theScore
In late November, all eyes in the college basketball world were on Las Vegas, where No. 1 Gonzaga took on No. 2 UCLA in a rematch of last year's thrilling Final Four.
Many of those in attendance at T-Mobile Arena were fixated on Bulldogs phenom Chet Holmgren. Some had been following the consensus top 2021 high school prospect for years, while others just wanted to understand the hype surrounding the 7-foot center.
Holmgren wasted little time bringing both of those parties to their feet.
During an early second-half sequence, the teenager put on a masterclass in pick-and-roll defending. First, Holmgren applied pressure on the opposing ball-handler, forcing Bruins star Johnny Juzang to pass the ball. In doing so, he gave teammate Andrew Nembhard time to recover from the screen set on him by UCLA center Myles Johnson. The teenager then rotated back on to Johnson for an outstanding recovery block as the big man rolled to the basket.
Holmgren subsequently took the rock upcourt, lost Johnson at the top of the 3-point arc with a behind-the-back dribble, and finished the possession with a cool two-handed slam.
Holmgren is widely considered the most unique NBA prospect in recent memory because of two-way sequences like this. Players of his size shouldn't be able to defend guards and handle the ball at such a high level. However, he was given the freedom to hone those skills long ago.
When Holmgren joined the Grassroots Sizzle AAU program in the third grade, his coach Larry Suggs emphasized a positionless style of basketball. Suggs, the father of Orlando Magic rookie Jalen, allowed Holmgren to bring the ball upcourt and play on the perimeter. He gave Holmgren the opportunity to run the pick-and-roll because he could see over the top of defenses.
Holmgren's high school coach Lance Johnson credits Suggs for setting that foundation.
"As youngsters, I loved that approach. Why basically pigeonhole them into one position? Ultimately, you want kids that are well-rounded, especially in today's game," the Minnehaha Academy bench boss told theScore ahead of the NCAA Tournament. "People are knocking for big guys that can shoot, ball-handle, and defend."
Holmgren bought into Suggs' vision. Despite not playing much early on, he continued to attack his weaknesses behind the scenes.
He worked tirelessly on his jump shot, improving what was initially a slow release. When the McDonald's All-American broke his right wrist in the sixth grade, he focused on improving his left-hand finishing and ball-handling.
As Holmgren's game grew, so did he. The Minneapolis, Minnesota, native was always tall for his age but grew seven inches to 6-foot-9 from the start to end of eighth grade.
Holmgren did experience growing pains as he adjusted to his new body. Chandler Sentell, an assistant with both Minnehaha and the Grassroots Sizzle, remembers Holmgren sitting out varsity team practices with discomfort in his knees and shins.
Holmgren's father, Dave, had his own basketball career shortened by bad knees and didn't want his son to suffer the same fate. He put Chet in physical therapy where they worked on his movement, posture, and core strengthening. Since then, he hasn't experienced any major issues.
"We really had to monitor that his eighth and ninth grade year," Sentell told theScore. "His ninth grade, we were in the (Class 2A) state tournament for the first time and he really didn't have that much of a contribution just because he was going through that growth spurt. So he really fine-tuned his game. When he came back as a freshman, he was way more prepared for the varsity season."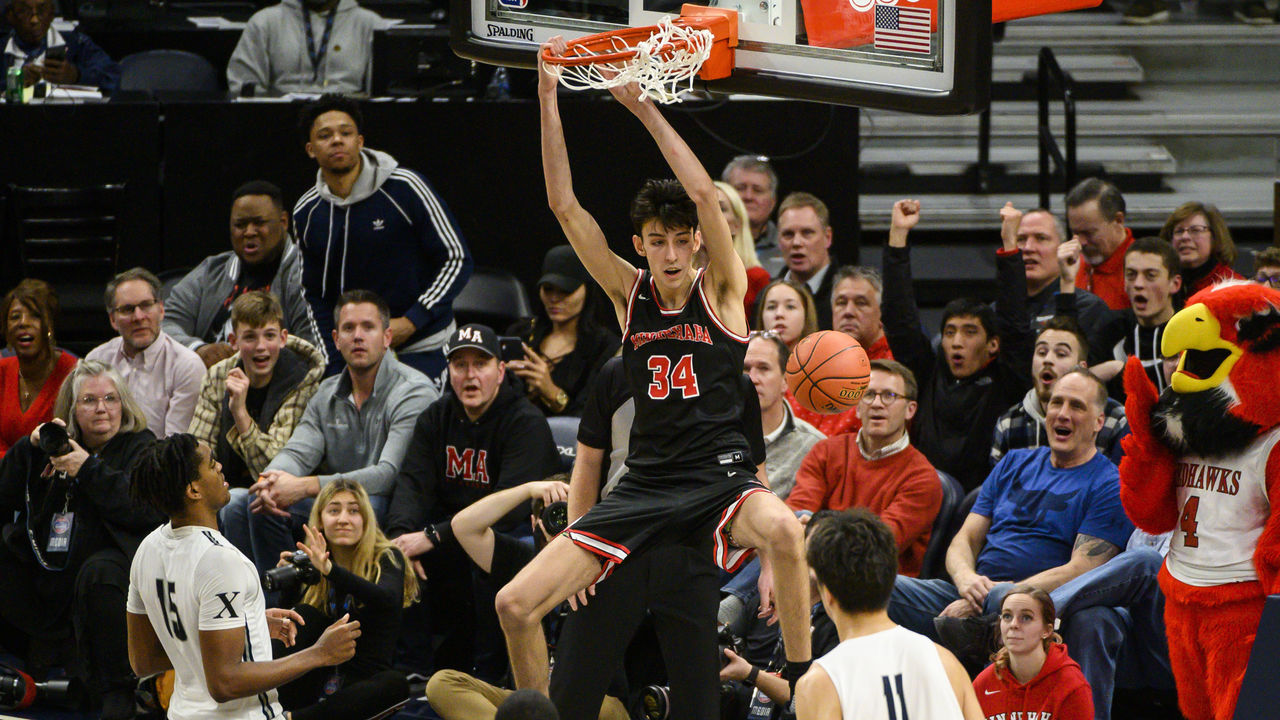 Holmgren was a role player during his freshman year at Minnehaha. Johnson used him in a similar fashion with his AAU team, primarily as a spot-up shooter in the corner and defensive specialist.
Although Holmgren averaged only 6.2 points and three boards during the 2017-18 campaign, he became a significant part of the Redhawks' rotation by season's end. In the state final, Holmgren posted seven points, five boards, and three blocks in 17 minutes to help the school repeat as champions.
"When he became 6-foot-10, he literally was a one-man defensive show … offenses wouldn't even go inside," Johnson said.
He added: "We could switch ball screens with him. Feel really comfortable that he could guard a guard. If they got by him, he could just block shots from behind. He could give them enough space where he's six feet away and still block their jump shot."
All the years Holmgren spent rounding out his skill set finally culminated in a breakout sophomore season. He grew a few more inches to seven feet, began scoring off the dribble, and maximized his length on the defensive end.
Holmgren registered 18.2 points, 9.8 rebounds, and 5.5 blocks per contest in 2018-19. His shooting percentages from the field and charity stripe also increased by more than double digits to 62% and 72%, respectively. Minnehaha captured its third consecutive state championship with Holmgren recording a triple-double with 14 blocks in the title-clinching matchup.
He carried that momentum to the Under Armour circuit with the Grassroots Sizzle, putting forth another all-around display en route to tournament MVP honors.
The scholarship offers suddenly came flooding in after Holmgren previously received just two. His popularity also reached another level at Stephen Curry's basketball camp that summer when he crossed over the Golden State Warriors superstar using the two-time MVP's own signature move. The clip instantly went viral and capped Holmgren's rapid rise in the recruiting rankings over the last 12 months.
Holmgren continued to impress during his junior year. In January 2020, he had 12 rejections in a nationally televised showdown against a loaded Sierra Canyon squad, featuring future NBAers Ziaire Williams and B.J. Boston as well as Bronny James.
"That was huge for him because that was coming off the Steph Curry camp. So how good is this kid? There was a lot of hype around him and he definitely proved that he belonged," Sentell said.
With childhood friend Jalen off to Gonzaga, Holmgren became Minnehaha's lead horse during the 2020-21 campaign. He spent the early part of the COVID-19 pandemic in the weight room - and it showed on the court. Holmgren now had the ability and strength to hold his low-post position, adding another wrinkle to his offensive arsenal. He concluded his high school career with a personal-best 20.7 points on 80% shooting to go along with a fourth state championship.
Holmgren won virtually every major individual accolade as a senior, including Minnesota's Mr. Basketball and the Naismith Prep Player of the Year award.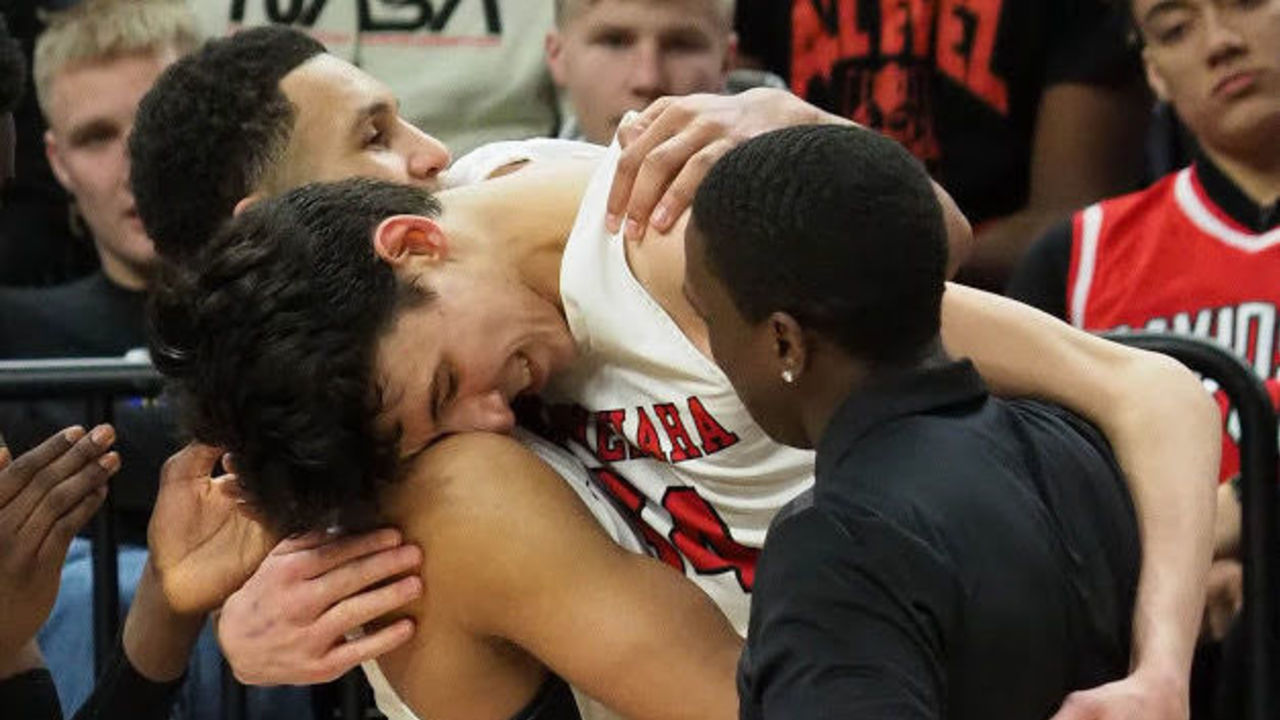 In April 2021, he followed Jalen's footsteps and committed to Gonzaga, becoming the highest-ranked recruit in Bulldogs history.
Holmgren started off slow as he became acclimated to his new teammates and the Zags' style of play. But as his freshman season progressed, he became more assertive and was soon leaving his imprint on virtually every aspect of the game.
The Gonzaga star enters the Big Dance averaging 14.2 points, 9.6 boards, 3.6 blocks, and 1.8 assists across 29 appearances during the 2021-22 campaign. He sits atop the NCAA leaderboard in effective field-goal percentage (68.9%) and ranks fourth in total blocks (104).
Holmgren's nation-leading defensive rating (78.0) is a testament to his elite rim-protection and ability to defend in space. He alters shots inside and outside of the paint with his 7-foot-6 wingspan and has the lateral quickness needed to stay in front of players on the perimeter.
The 19-year-old is currently on pace to become the only player in NCAA history to average at least three swats per game while shooting over 70% from 2-point range and 40% from deep, per ESPN's Mike Schmitz.
Holmgren is shooting 41.2% on 3.3 triples per contest, but he isn't just drilling jumpers from the corner. He's draining threes as the trailer in transition, off pick-and-pops, and knocking down catch-and-shoot attempts. Additionally, Holmgren is an excellent high-low passer and defenses have to be wary of his playmaking on the perimeter.
"He's now starting to make this level of play look like he's playing in high school again and dominating," Johnson said. "I would see that continuing too because you're dealing with a kid whose body is not fully developed … his upward growth is going to be exponentially higher than a lot of other players."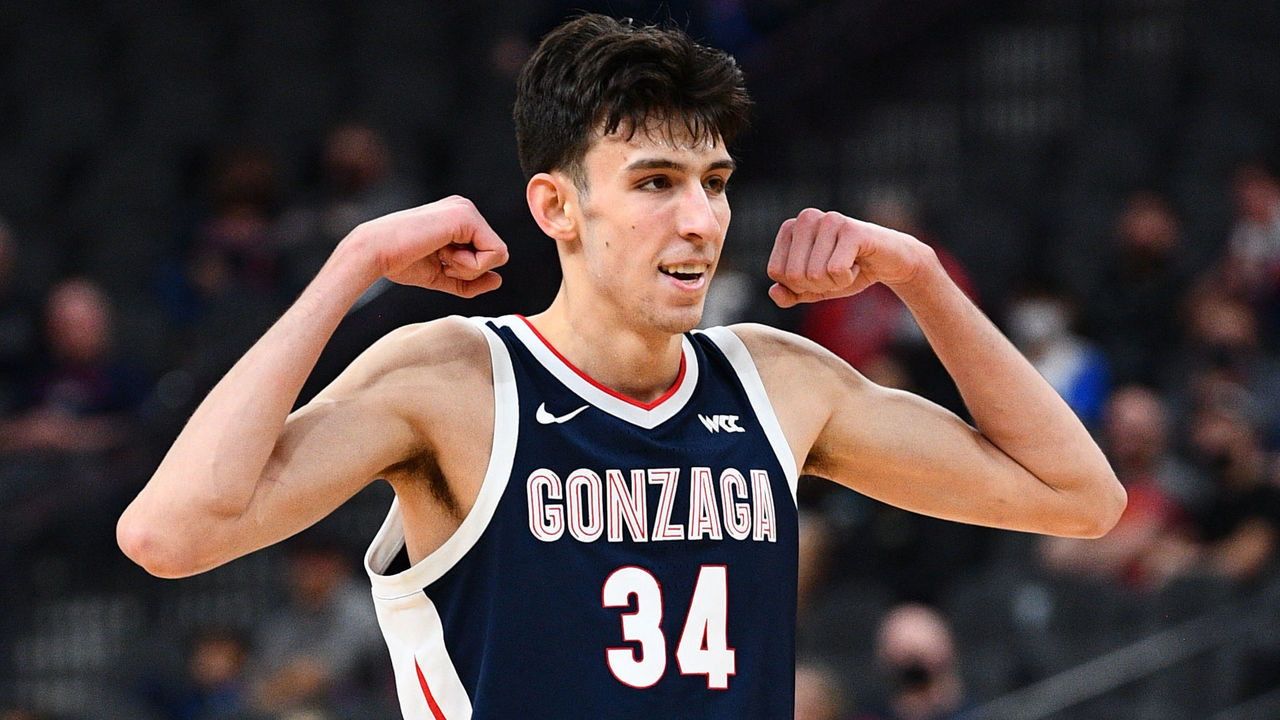 Holmgren's slender frame remains the biggest question among scouts despite a dominant collegiate campaign. His 195-pound body isn't ideal for the physicality at the NBA level, but that shouldn't be the be-all and end-all when projecting his future.
Giannis Antetokounmpo was just one pound heavier as a rookie; Brandon Ingram, an All-Star and Most Improved Player award winner, weighs five pounds less than Holmgren. There were also questions about Kevin Durant and Anthony Davis coming out of college, yet both have since bulked up through NBA strength and conditioning programs.
Even at his current weight, Holmgren is already tough as nails. He plays with a mean streak that isn't found in every player and won't hesitate to mix it up down low.
Johnson remembers a younger Holmgren picking his lip out of his braces after taking an elbow to the face in a game against older competition. Instead of sitting out, he immediately checked back in. Sentell has similarly seen Holmgren answer the bell countless times and is confident that type of character will help him overcome any physical limitations in March and beyond.
"What I saw on the (AAU) circuit - just how he got beat up when he was a sophomore player at 17 years and even as a freshman playing up - he showed that he belonged," Sentell said. "He really never got punked by anyone and that goes a long way, especially given his size.
Sentell added: ​​"I definitely want to give credit to his pops, but Chet's his own guy. I think it's just something innate. He's a fierce competitor. He doesn't like to lose."
Comments
✕
How Chet Holmgren became the most unique NBA prospect in recent memory
  Got something to say? Leave a comment below!