2021 NBA Mock Draft: Cade Cunningham leads star-studded top 5
Photo illustration by Nick Roy / theScore
With the college basketball season reaching its conclusion, it's time once again to put on our scouting caps and prepare for the NBA draft set for July 29.
Unlike last year's draft, 2021's class features multiple players with superstar potential, adding further intrigue for all the bottom-tier NBA clubs.
A top five that has separated itself from the rest of the pack highlights theScore's first 2021 NBA mock draft.
1. Minnesota Timberwolves - Cade Cunningham, G, Oklahoma State
Cade Cunningham entered college basketball as the projected No. 1 pick and leaves in the same position. All the Oklahoma State star did was average 20.1 points, 6.3 rebounds, and 3.5 assists per game en route to being named a first-team All-American.
Coming into the season, Cunningham's only knock was a questionable jumper, but shooting 40% on 3-pointers and 84.6% from the line dismissed those concerns. With point guard skills in a 6-foot-8, 220-pound frame, Cunningham is a can't-miss prospect.
2. Houston Rockets - Evan Mobley, C, USC
Evan Mobley's historic freshman season at USC netted him the Pac-12's Player of the Year, Defensive Player of the Year, and Rookie of the Year awards. The last Power 5 player to sweep all three accolades was Anthony Davis in 2012.
Mobley has elite length and surprising dexterity, projecting him as an ideal defender in today's pick-and-roll heavy NBA. Plus, with a developing jumper and burgeoning passing skills, Mobley has the ability to become one of the best big men in the league over time.
3. Detroit Pistons - Jalen Suggs, G, Gonzaga
While Jalen Suggs might be most well-known for his legendary game-winner that sent Gonzaga to the national championship, his NBA potential is just as legitimate.
Suggs, a powerful 6-foot-4 guard with elite athleticism, can play either backcourt spot and even slide over to the wing. While his 3-point jumper remains a work in progress, Suggs has the on-court demeanor of a future star with production to match.
4. Orlando Magic - Jalen Green, G, G League Ignite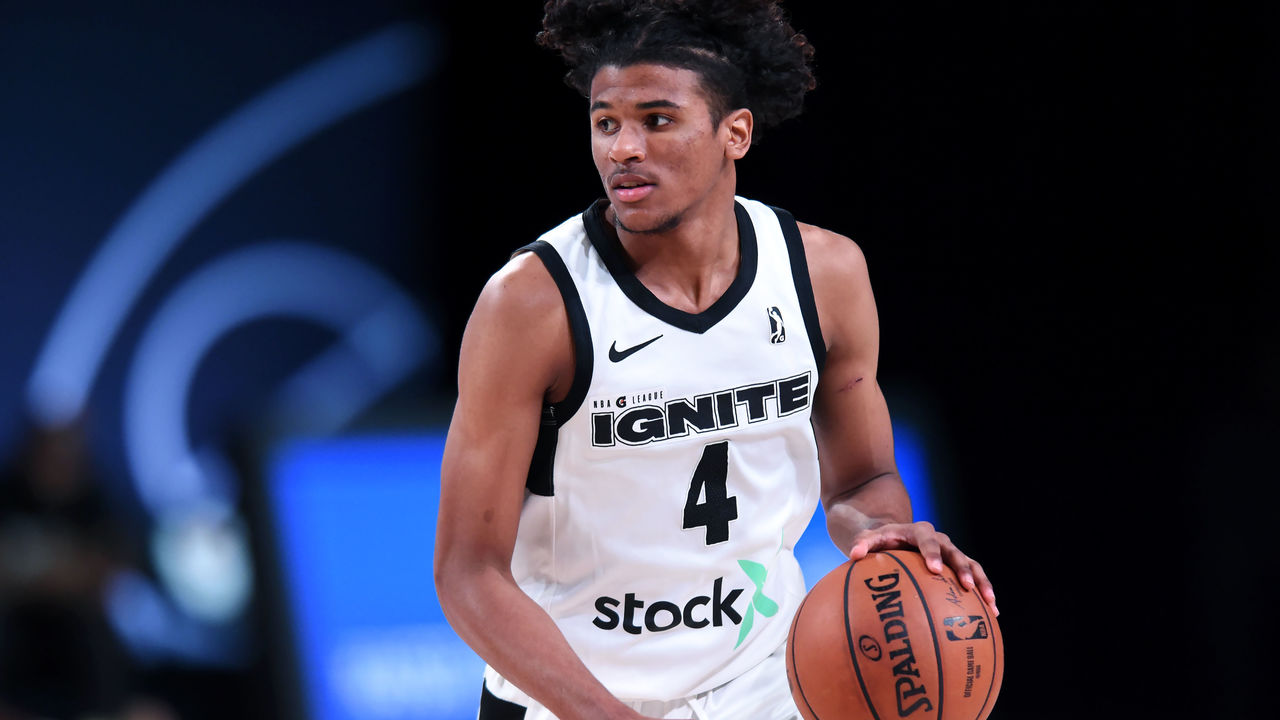 Jalen Green is arguably the best scorer in the draft. Green's explosiveness off the bounce and improved jump shot made him an offensive force against former collegiate stars and experienced pros in the G League bubble.
The 6-foot-6 guard put up 17.9 points on 46.1% shooting - including 36.5% from deep - over 15 regular-season appearances. Green proceeded to register a career-high 30 points, seven assists, five boards, and three steals in the Ignite's playoff loss to the Raptors 905.
5. Cleveland Cavaliers - Jonathan Kuminga, F, G League Ignite
Jonathan Kuminga has the physical profile to be a lockdown defender, standing at 6-foot-8, weighing 225 pounds, and boasting a 7-foot wingspan. While Kuminga showed great versatility during the G League campaign, he did have frequent defensive lapses, which was also the case for him in high school.
There are also questions about his jumper after shooting only 24.6% from downtown and converting 62.5% of his free-throw attempts this past season.
6. Oklahoma City Thunder - Keon Johnson, G, Tennessee
Keon Johnson is one of the most athletic players in this year's class. Johnson's got the speed to blow by defenders, the footwork to contain guards and wings, and can finish above the rim.
The 6-foot-5 guard ended his collegiate career on a strong note after a slow start, averaging 14.7 points, 2.9 assists, and 1.3 steals over his final 11 games at Tennessee.
7. Washington Wizards - Moses Moody, G, Arkansas
A long, smooth guard with a silky jumper, Moses Moody looks the part of a high-level offensive guard who has potential on the other side of the ball.
Moody did really struggle to close out the NCAA Tournament, though, shooting 6-for-30 with no made threes across his final two games with Arkansas. Despite the slump, the in-state native's track record and projectability should get him a look in the lottery.
8. Toronto Raptors - Davion Mitchell, G, Baylor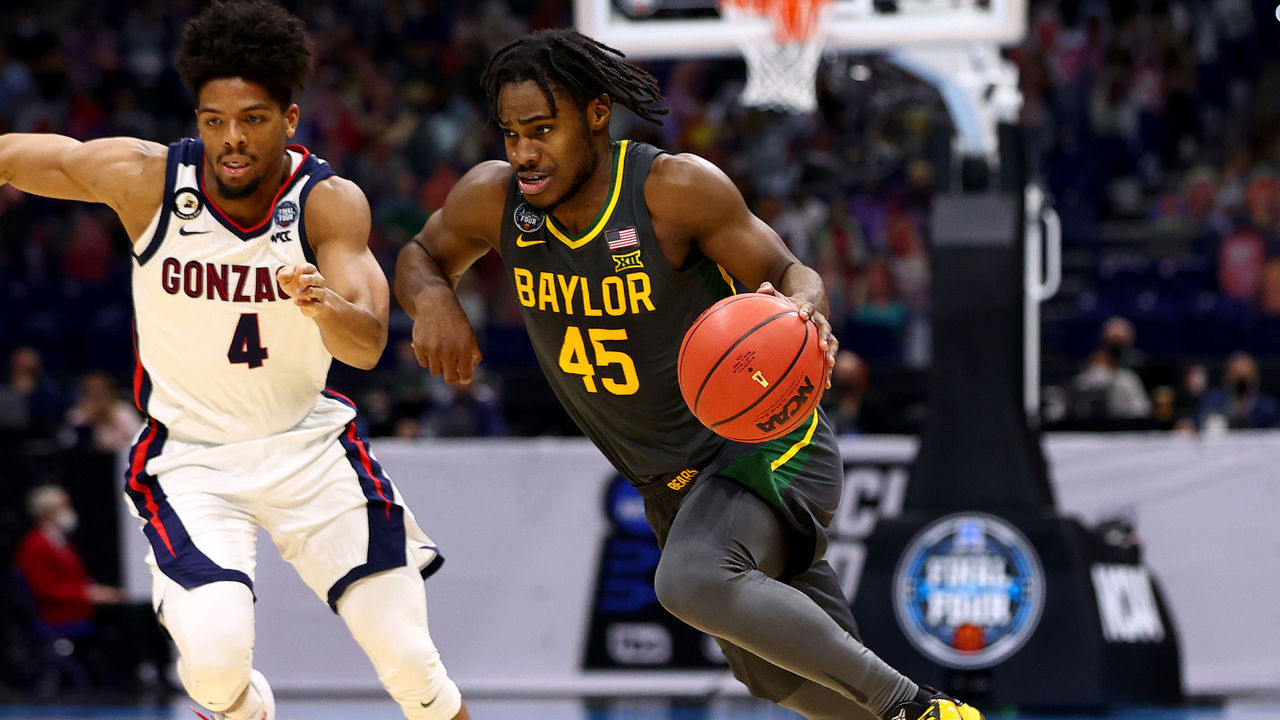 Few players boosted their draft stock in the NCAA Tournament more than Davion Mitchell. The redshirt junior's explosive first step, pick-and-roll facilitation, and suffocating on-ball defense were on full display throughout Baylor's national championship run.
Mitchell's efficiency from deep will allow him to play off the ball alongside another guard.
9. Sacramento Kings - Kai Jones, F, Texas
Kai Jones stands out as an elite athlete, even by NBA standards. At 6-foot-10 with springy bounce, Jones made highlight plays look routine at Texas.
Shooting has always been the swing skill for Jones, but he seems to have figured it out. After raising his 3-point percentage from 29% as a freshman to 38% as a sophomore, he's a much safer play this high in the draft.
10. Orlando Magic (from CHI) - Jalen Johnson, F, Duke
Jalen Johnson's tumultuous stint at Duke, which saw him opt out after only 13 games, looms as a question mark for teams. However, his talent is obvious.
The former five-star recruit's game blends power and finesse, making him a valuable offensive piece. At only 19 years old, he's a player worth taking a chance on despite the limited resume.
11. New Orleans Pelicans - Franz Wagner, F, Michigan
Franz Wagner did a little bit of everything for Michigan's offense. Wagner spaced the floor with his outside shooting, handled the rock, and was a dependable secondary facilitator.
The versatile 6-foot-9 forward is a great pick-and-roll passer and can also create out of the high post. Wagner averaged only one assist per game during his freshman year, but that number increased to three in 2020-21.
12. Indiana Pacers - Scottie Barnes, F, Florida State
At first glance, a bench player who averaged only 10.3 points per game isn't a high-profile prospect - but Scottie Barnes is an exception.
Playing on a deep Florida State squad, Barnes flashed elite defensive ability while leading the Seminoles in assists. There's potential here as a high-end 3-and-D wing if his poor shooting splits can improve over time.
13. Golden State Warriors - James Bouknight, G, UConn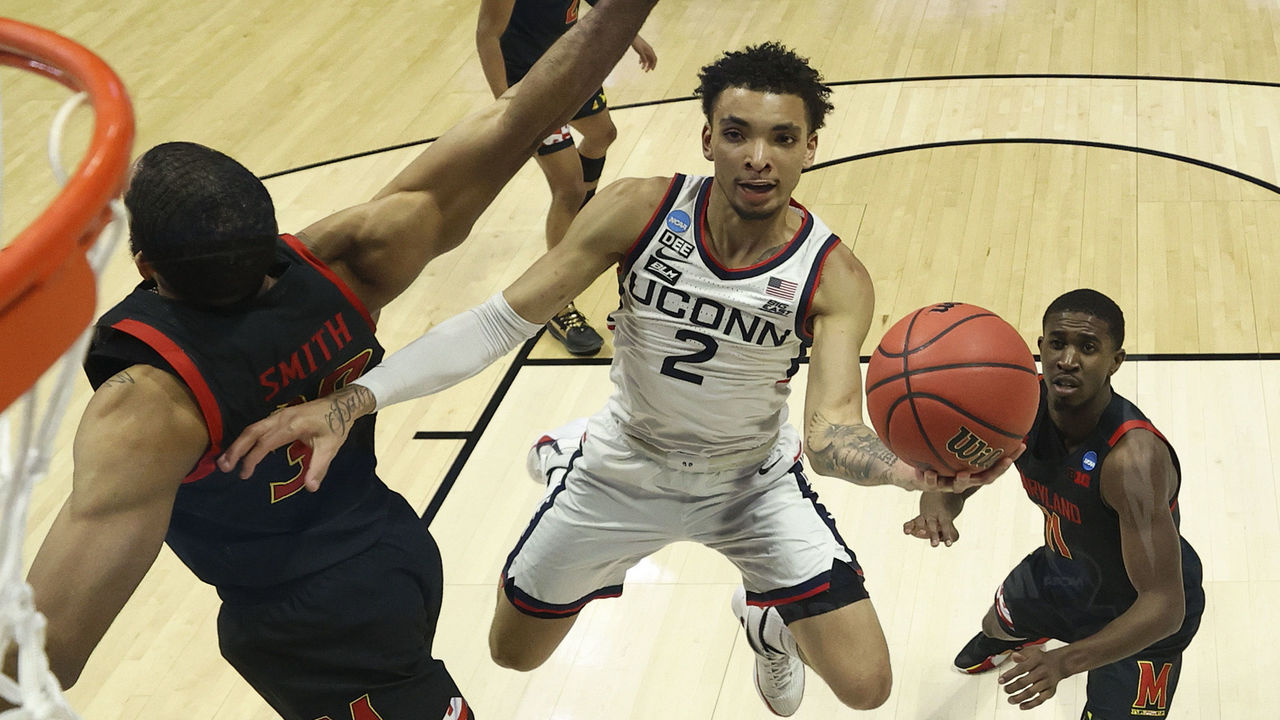 James Bouknight teased his capabilities with a 40-point performance in UConn's Big East opener vs. Creighton. The sophomore was drilling step-back triples, pulling up from mid-range, and finishing with both hands around the rim.
Bouknight's natural athleticism was evident in high school, but he's developed into a well-rounded scorer in Connecticut.
14. San Antonio Spurs - Josh Giddey, G, Adelaide 36ers (Australia)
Josh Giddey continues to increase his draft stock during the ongoing NBL campaign. The 18-year-old Aussie guard hasn't looked out of place, becoming one of the league leaders in both assists and rebounds.
At 6-foot-8, Giddey can see above most opposing point guards and make all sorts of passes.
15. New York Knicks - Corey Kispert, F, Gonzaga
Corey Kispert is one of the winningest players in college basketball history and a career 40.8% 3-point shooter. His ability to stretch the floor and make winning plays are his main draws.
While the 22-year-old will likely never be a main option offensively, his value as a role player on a team looking for a scoring spark makes him a worthwhile selection near the end of the lottery.
16. Charlotte Hornets - Greg Brown, F, Texas
Greg Brown, a top-10 recruit out of high school, had an up and down year for Texas, which led him to play in less than 50% of his team's minutes.
Brown's intrigue lies in his rare athletic ability - standing at 6-foot-9 gives him endless defensive potential as a player who could guard multiple positions at the next level. However, his offensive role is still a work in progress.
17. Oklahoma City Thunder (from MIA) - Ziaire Williams, F, Stanford
Many projected Ziaire Williams would be a top-10 pick before his underwhelming year at Stanford. The forward only made 29.1% of his 3-point attempts and shot 37.4% from the field overall.
Still, there's reason to believe Williams will turn it around - the former five-star recruit has great footwork and clean mechanics on his jump shot.
18. Memphis Grizzlies - Jaden Springer, G, Tennessee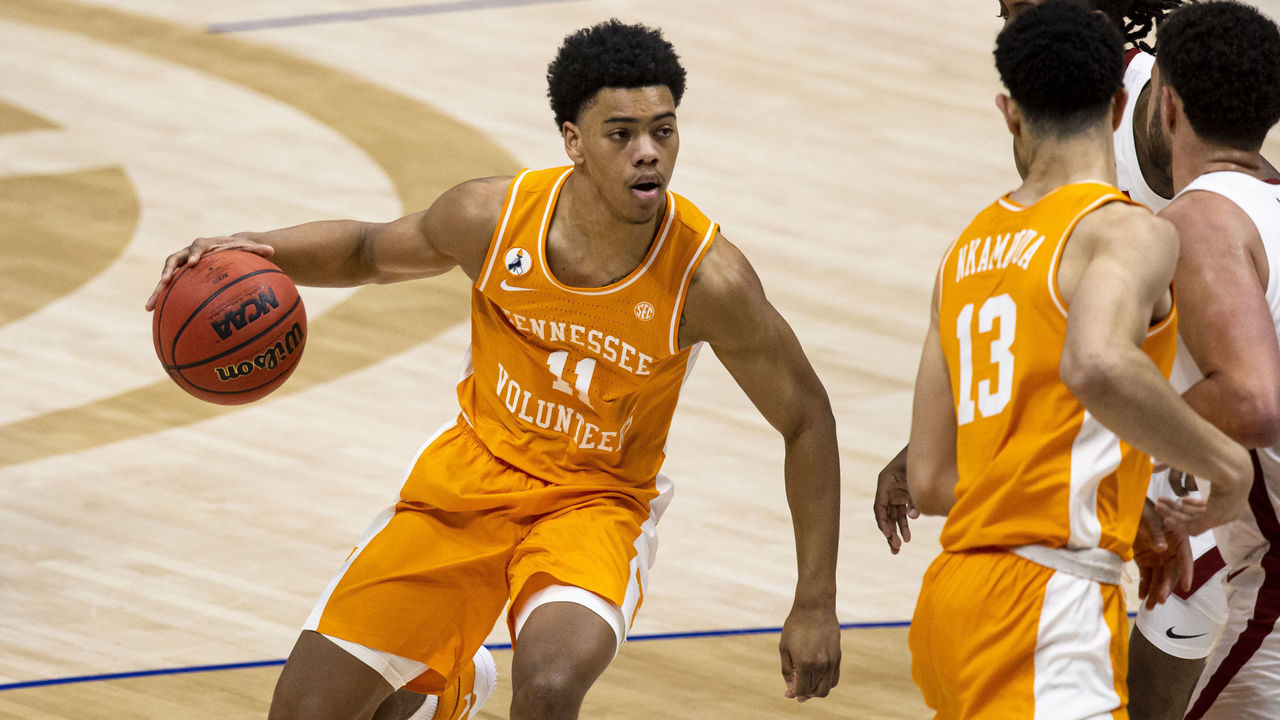 At face value, Jaden Springer looks like a can't-miss prospect. A five-star recruit who shot 47/44/81 as a freshman and won't turn 19 until after the draft is an enticing combination.
Still, questions remain about Springer's projectability down the road since he lacks elite burst and doesn't possess lead guard playmaking ability.
19. Boston Celtics - Tre Mann, G, Florida
Tre Mann broke out in a major way this season at Florida, upping his average point total from 5.3 as a freshman to 16.0 and his 3-point shooting from 27.5% to 40.2%.
The 6-foot-5 Mann has the potential to slide over to point guard long term but would likely start his NBA career off the ball. Between his size and improved college production, Mann could carve himself a role from Day 1.
20. Atlanta Hawks - Ayo Dosunmu, G, Illinois
Ayo Dosunmu's decision to return for his junior year paid dividends. The Illinois standout improved his 3-point shooting considerably and averaged two more assists per game than each of his previous collegiate seasons.
Dosunmu excelled in transition and clutch situations, though turnovers remained a glaring issue as he committed the 11th-most during the 2020-21 campaign.
21. New York Knicks (from DAL) - Jared Butler, G, Baylor
Jared Butler is cut from the same cloth as his backcourt partner Mitchell. Butler's an efficient outside threat, a disruptive defender, and can create out of the pick-and-roll.
The Baylor star showed off his all-around game in this year's Final Four, winning the tournament's Most Outstanding Player award.
22. Houston Rockets (from POR) - Sharife Cooper, G, Auburn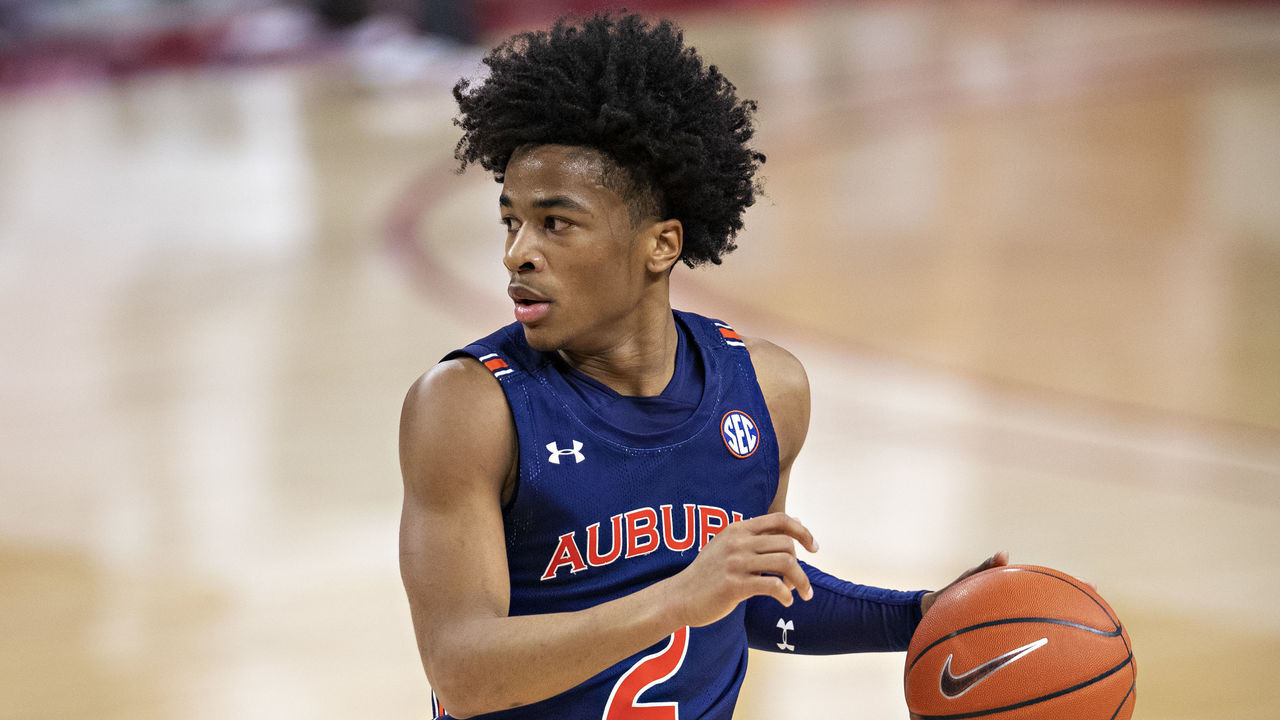 In only a 12-game sample size, Sharife Cooper was one of the most exciting players to watch in all of college basketball.
Cooper showcased an incredible ability to get to the rim and find teammates, netting him 8.1 assists per game at Auburn. Shooting only 22.8% from deep is a red flag, but Cooper's ability to run the show on offense is worth hoping the long ball comes around.
23. Los Angeles Lakers - Chris Duarte, G, Oregon
Chris Duarte wasn't even on the NBA radar a few years ago, but the JUCO transfer emerged as a vital piece for Oregon over the last two seasons. The reigning Jerry West Award winner averaged 14.9 points and shot nearly 40% from deep during his time in Eugene.
Duarte works tirelessly on the defensive end and could carve himself an immediate role as a 3-and-D option.
24. Houston Rockets (from MIL) - Cameron Thomas, G, LSU
Simply put, Cameron Thomas gets buckets. Not only was he college basketball's fourth-highest scorer with 23 points per game for LSU, but he also made more free throws than any player in the country.
The question is, what else does Thomas do? While there's always room for scorers in the NBA, he'll have to expand his overall repertoire to carve out a big role at the next level.
25. Denver Nuggets - Isaiah Jackson, C, Kentucky
Isaiah Jackson has the skill set of a modern NBA big man - he can run the floor in transition, occasionally handle the ball, and has the length and quickness to stay with guards on the perimeter.
The Kentucky product was also 15th in the NCAA last season with 2.6 rejections per game. But Jackson is raw offensively and could fall out of the lottery as a result.
26. Los Angeles Clippers - Alperen Sengun, C, Beşiktaş (Turkey)
Alperen Sengun is putting together a stellar campaign in the Turkish Super League. The 6-foot-10 teenager is averaging 19.3 points, 9.3 boards, 2.4 assists, and 1.6 blocks over 26 appearances in the country's top professional basketball division.
Sengun does most of his damage in the post and has flashed some playmaking potential. However, his inability to space the floor could limit his effectiveness in the Association.
27. Brooklyn Nets - Usman Garuba, F, Real Madrid (Spain)
Usman Garuba fits the bill of an energetic big man who rebounds well and plays solid defense.
Garuba's ability to be more than that is relatively unknown, given that he's only played in spot minutes for Real Madrid throughout his career. While he's still young, Garuba would have to develop significantly on offense to become a two-way player.
28. Philadelphia 76ers - Joel Ayayi, G, Gonzaga
Joel Ayayi was among college basketball's most versatile guards last season, rebounding at a high level for his position, moving well off the ball, and steadily improving his outside stroke.
The Jerry West Award finalist didn't garner as much attention as his teammates, but he put his stamp on the Bulldogs' NCAA Tournament run with a 22-point performance in the Zags' Final Four victory over UCLA.
29. Phoenix Suns - Max Abmas, G, Oral Roberts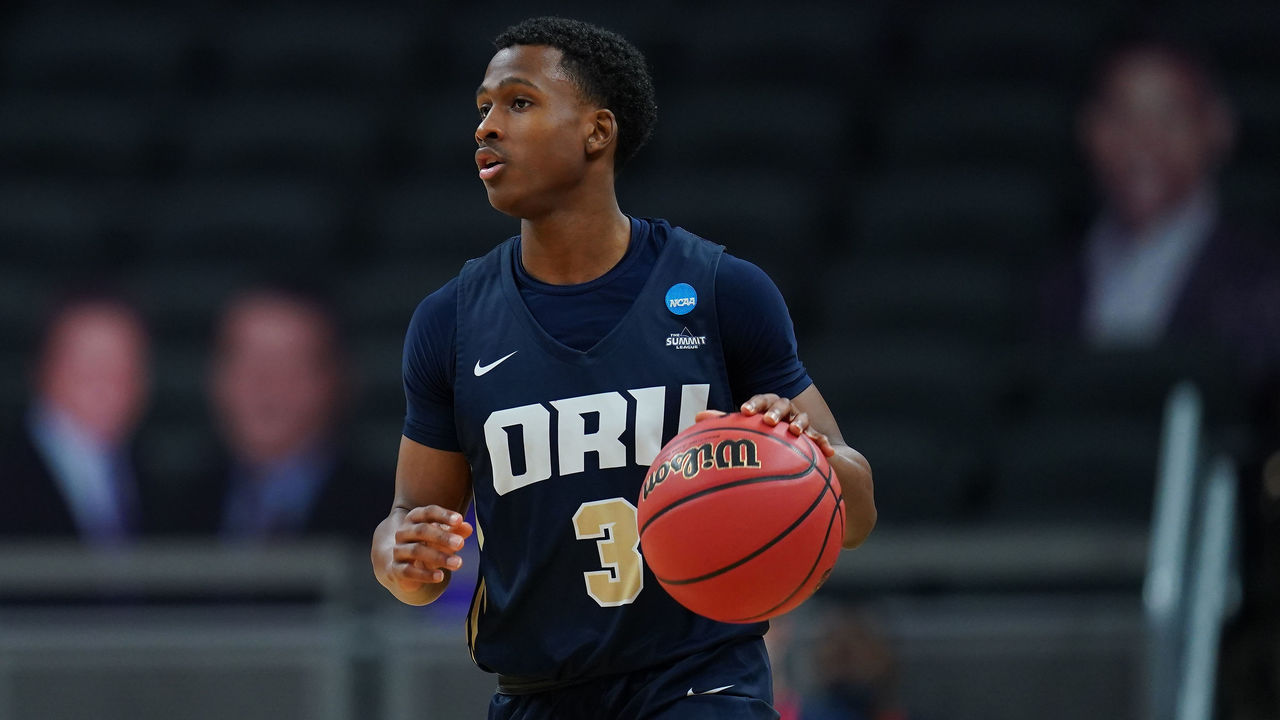 Max Abmas became the first player to lead college basketball in scoring and bring his team to the Sweet 16 in the same season since Jimmer Fredette in 2011.
Despite a slim 6-foot-1, 165-pound build, Abmas uses the threat of his 3-point shooting and shiftiness with the ball to finish over bigger defenders. The Oral Roberts product will struggle to defend in the NBA, but his microwave scoring ability should get him late-first to early-second round looks.
30. Utah Jazz - Brandon Boston Jr., G, Kentucky
Brandon Boston only shot 35.5% from the field during his lone season in Lexington. The 6-foot-7 guard struggled to finish at the rim and had troubles with the college game's increased physicality.
Still, this is a player who began the campaign projected as a top-five pick. Boston's got elite size and wingspan for his position and showed promise as a shot-creator in high school.
Comments
✕
2021 NBA Mock Draft: Cade Cunningham leads star-studded top 5
  Got something to say? Leave a comment below!