The 2019-20 college hoops campaign was brought to an abrupt end on Thursday due to the coronavirus pandemic, but let's not forget the eventful past season on the court.
A record-tying seven teams spent time atop the AP poll as mid-major schools rose to national contending status alongside the traditional blue bloods.
It was truly a year of parity in college basketball and that's reflected in theScore's selections for the major awards.
Player of the Year - Obi Toppin, Dayton
Toppin's basketball future was up in the air after receiving no Division I offers following his senior year of high school. Just a few years later, the 6-foot-9 forward is all but assured to be selected within the top 10 of this year's NBA draft after a standout sophomore season.
Toppin averaged 20 points, 7.5 boards, 2.2 assists, and 1.2 blocks en route to becoming the first Dayton player to earn Atlantic 10 Player of the Year honors. He was a dominant inside-out force, showing an ability to post up and stretch the floor. Toppin shot 69.8% on 2-point field goals and 63.3% from the field overall to finish fourth and sixth, respectively, in the nation.
If there was a player that best embodied his school's moniker, Toppin would be the unanimous choice. The Flyers star literally took flight on a nightly basis, topping all players with 107 dunks this season.
His off-the-charts athleticism was just as impactful defensively, where Toppin switched seamlessly between bigs and guards.
Defensive Player of the Year - Marcus Garrett, Kansas
Garrett doesn't need to score 20 points in order to leave his fingerprints on a game. The Kansas guard's smothering on-ball defense often forces turnovers, which jump-starts the Jayhawks' transition offense and in some cases, alters the momentum of an entire matchup.
Garrett was fifth in the Big 12 with 1.8 steals per contest, including 10 games of three steals or more. He shows great defensive instincts and knows when to reach in for the ball and where to be position-wise.
But what makes Garrett an even more valuable defender is his ability to communicate his knowledge of the opposition to his teammates. It's no coincidence the Jayhawks were fourth among 353 Division I basketball schools in defensive rating (89 points per 100 possessions) and 10th in points allowed per game (60.7).
"I'd say he's our defensive coordinator," Jayhawks wing Ochai Agbaji said of Garrett, according to Gary Bedore of The Kansas City Star. "The way he talks to us is different on the defensive end. The way we call switches and communicate is him leading the way."
Coach of the Year - Brian Dutcher, San Diego State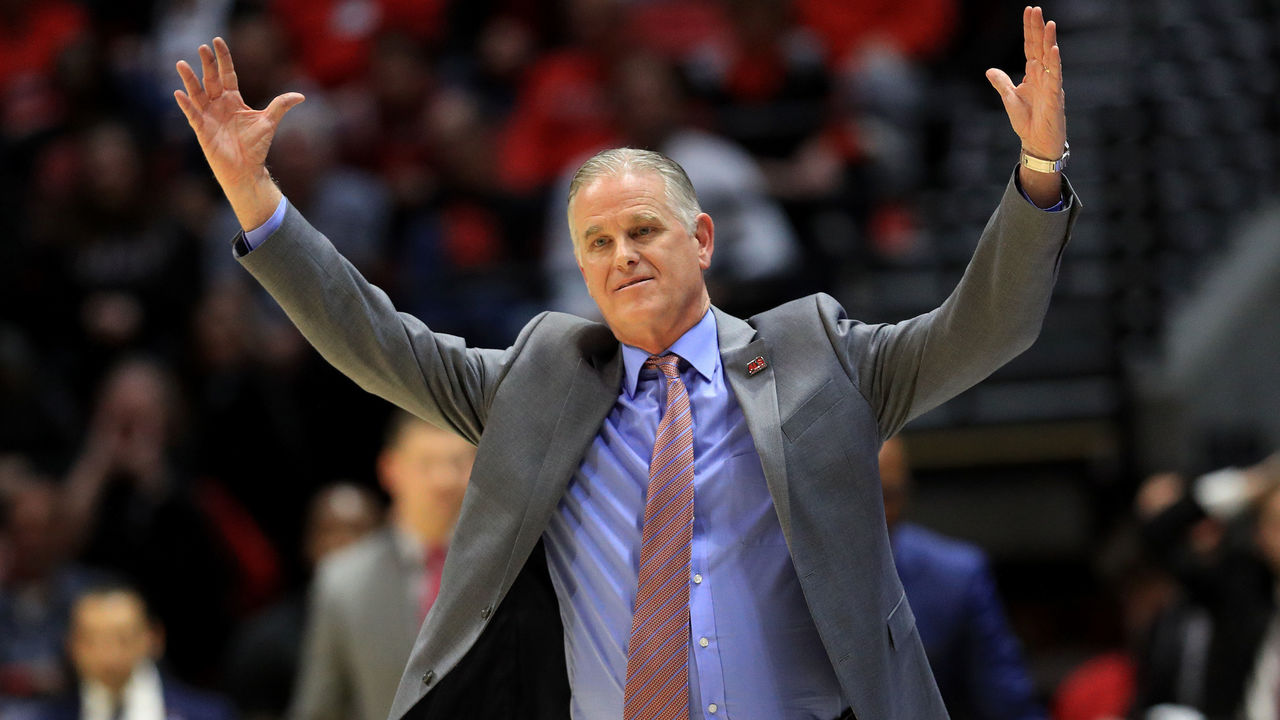 Dutcher had some big shoes to fill following the retirement of his mentor and longtime San Diego State head coach Steve Fisher after the 2016-17 campaign. But just three years into Dutcher's tenure as the Aztecs' bench boss, he's already doing things that not even Fisher accomplished during his successful 18-year run.
San Diego State's 26-0 start to the 2019-20 season broke the Mountain West Conference and school record of 20 straight wins, originally set by the Kawhi Leonard-led 2010-11 squad. San Diego State's undefeated start is even more impressive considering Dutcher lost three of his top four scorers from last season's 21-win team.
The 60-year-old also deserves a ton of credit for successfully integrating transfers Yanni Wetzell, Malachi Flynn, and KJ Feagin. The trio started all 32 games and bought into the culture after years of losing at their previous stops. San Diego State finished the season with the country's third-best offensive rating (113.3) and was 10th in defensive rating (90.0). Meanwhile, only Virginia and Liberty allowed fewer points per contest than the Aztecs (59.5).
Freshman of the Year - Vernon Carey, Duke
Carey was the crown jewel of Duke's 2019 recruiting class and didn't disappoint in what's likely his only season in the Bull City. The 6-foot-10 center was remarkably efficient, recording 17.8 points on an ACC-leading 57.7% shooting while averaging 8.8 boards and 1.6 blocks in just under 25 minutes of play per game in 2019-20.
To get a true gauge of Carey's effectiveness, one can look at his player efficiency rating (PER), which measures an individual's per-minute productivity. Carey's PER of 34.1 was the fifth-highest by a freshman since 2010, according to Chris Bunn of The Devils Den podcast, just slightly behind the likes of Anthony Davis and DeMarcus Cousins.
The 19-year-old did most of his damage in the post, using a combination of strength and finesse to beat opposing defenders.
Carey attempted 71.3% of his total field goals at the rim, connecting at a 65% clip, according to Hoop-Math.com. His dominant interior play left adversaries with little choice but to foul Carey, who finished 10th in the NCAA with 218 free-throw attempts.