Heir Jordan: The players we ranked 20-16 from the last 25 years
Julian Catalfo / theScore
There have been 25 NBA seasons since Michael Jordan retired from the Chicago Bulls after their second three-peat in the spring of 1998. theScore basketball writers Joseph Casciaro and Joe Wolfond are using that milestone to rank and discuss the top 25 players in the post-Jordan era. (Wizards-era Jordan did not make the cut.)
As a reminder, the accomplishments listed for each player only cover the 25-year period in question. For example, Jason Kidd was a six-time All-Star in that period, although he earned eight All-Star selections in his career.
Catch up with Monday's introductory essay and players 25-21 here.
20. Jimmy Butler
Signature performance: 2020 Finals
A 56-point performance against the Bucks in the 2023 playoffs deserves mention, but Butler's most memorable showing came in his first career Finals appearance. His underdog Heat fell in six games to the LeBron-led Lakers in the Disney Bubble, but it wasn't for a lack of effort on Butler's part. Though James and the Lakers slowly beat Butler down, his indomitable spirit endured, dragging Miami to victories in Games 3 and 5. In the former, Butler poured in 40 points on 14-of-20 shooting, along with 13 assists, 11 rebounds, two steals, and two blocks. In Game 5, he recorded 35 points, 12 rebounds, 11 assists, five steals, and a block while playing all but 48 seconds. An exhausted Butler leaning over a baseline barrier after drawing a foul late in that contest has become a defining image of his career.
Why he's here: Has anybody on this list had to work for it like Jimmy Butler has? Kicked out of his house at the age of 13 and left to bounce between friends' homes; an overlooked recruit whose path began at a junior college; a 30th overall pick who logged fewer than nine minutes per game as a rookie. It's no wonder Butler plays the game with ferocious defiance. He's scraped and clawed for every ounce of what he has, and he's not about to let anyone take it from him, or tolerate those who settle for less than the excellence he demands of himself.
Butler's NBA career is one of the great development stories in league history. He's grown from a defensive-minded youngster into the type of alpha superstar capable of averaging nearly 24 points per game, as he did in 2016-17; or 7.1 assists, as he did in 2020-21; or shooting 56% from 2-point range, 35% from deep, and 85% from the free-throw line, as he did last season.
The two-way beast has never played on a losing team, has made the playoffs 12 times in 13 years, and has earned a reputation as one of the great postseason performers in league history. Aside from a long-range jumper that can sometimes abandon him, Butler can do it all on an NBA court. As Bulls commentator Stacey King used to proclaim, his name is Jimmy G. Buckets, and the G stands for "gets." - Joseph Casciaro
19. Dwight Howard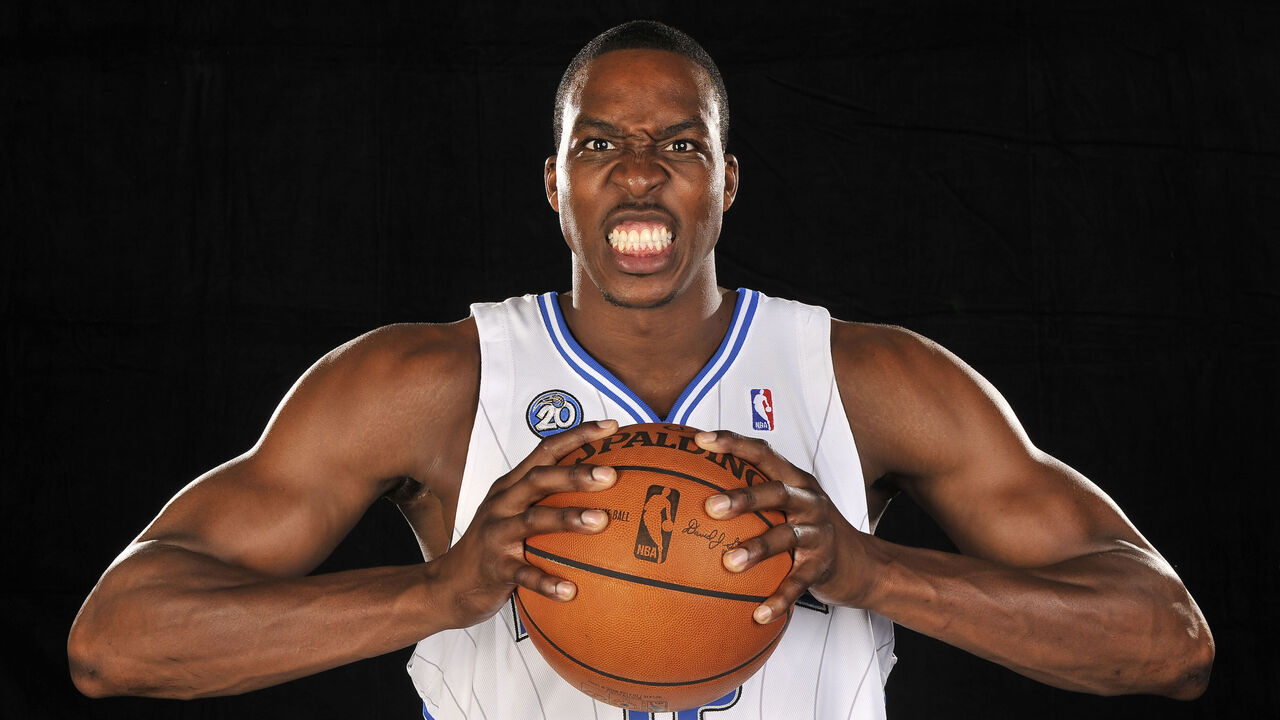 Signature performance: 2009 East finals
A 32-year-old version of Howard had a 32-point, 30-rebound game for a mediocre Hornets team in 2018, but the best basketball of his career was on display during the 2009 conference finals, when he lifted the Magic past reigning MVP LeBron James and the top-seeded Cavaliers. After struggling through a second-round series against the wily, physical Celtics, Howard ran into a Cleveland team that had absolutely zero answers for him. Over a six-game series, the 23-year-old version of Howard averaged 25.8 points, 13 rebounds, 2.8 assists, and 1.2 blocks while shooting 65% from the field and 70% on 11 free-throw attempts per game, highlighted by a 40-point, 14-rebound performance in the series clincher.
Why he's here: Howard made his presence felt immediately after being the No. 1 overall pick in the 2004 draft. He emerged as an All-Star and All-NBA center at 21 years old, transforming the Magic into a perennial Eastern Conference contender. At his best, Howard's combination of size, strength, explosiveness, and defensive instincts made him one of the most feared big men in league history. The 6-foot-10 Howard's height and somewhat underdeveloped offensive repertoire may have held him back, yet he was still virtually unstoppable for a good half-decade. On the defensive end, he had no equal among his contemporaries, as evidenced by the fact that no one else has ever won three consecutive Defensive Player of the Year awards.
As the 2000s gave way to the 2010s, Howard battled the likes of James, Kobe Bryant, and Derrick Rose for league supremacy, finishing top five in MVP voting in four straight seasons (and seventh in 2012). Even as back injuries robbed him of the trademark athleticism that made him the tallest dunk contest winner, Howard remained an impact player into his late 20s and a productive player even longer. The journey culminated in a fine performance as a part-time starter for a championship Lakers team (led by James) in 2020. Even in his first Lakers stint in 2012-13 - a disappointing season that drew Bryant's ire - Howard averaged 17.1 points, a league-leading 12.4 rebounds, and 2.4 blocks despite battling the lingering effects of back surgery and a shoulder injury. He also played in 76 games that season.
His prime may have been cut short, and his locker-room reputation may work against him in exercises like this, but Howard's an easy choice as one of the top players of his era. - Casciaro
18. Allen Iverson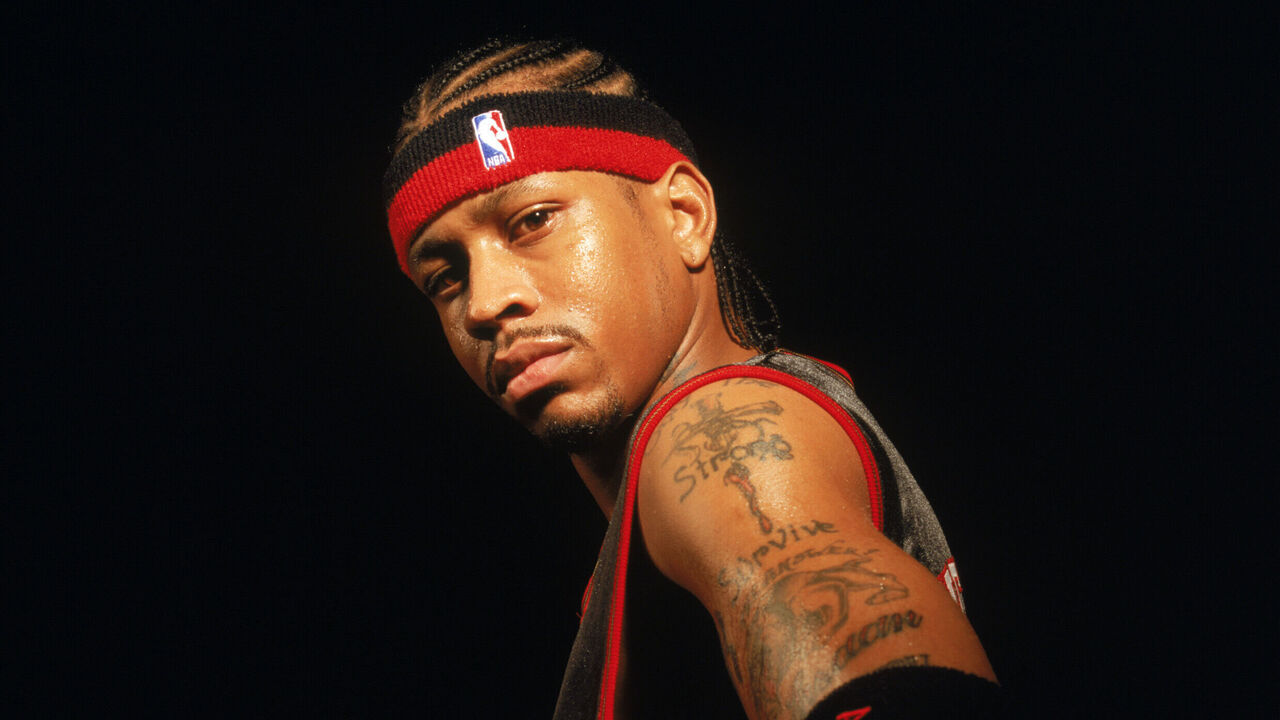 Signature performance: Game 1, 2001 Finals
As if there was any other option. Iverson had many better performances over the course of his Hall of Fame career, but none more iconic than June 6, 2001. A.I. was already a worthy MVP that season, having dragged a 76ers team that featured Theo Ratliff as the second-leading scorer and George Lynch playing the second-most minutes to 56 wins and a Finals berth. Then his Sixers ran into the defending champion Lakers.
Led by a young Kobe Bryant and the most unstoppable version of Shaquille O'Neal, the Lakers entered the Finals undefeated (11-0) in the 2001 playoffs. Their only blemish en route to a second straight title came in Game 1, when Iverson exploded for 48 points, six assists, five rebounds, and five steals while playing all but three seconds of the overtime classic. Everyone watching knew they had just witnessed what would become one of the most indelible moments in NBA history when Iverson stepped over a fallen Tyronn Lue after sinking the dagger.
Why he's here: Iverson's scoring average during this era (27.6 points per game) ranks second, while the three-time steals champion tops all players over the last 25 years at 2.2 steals per game, although his coaches may tell you he was a defensive gambler. Through a modern lens, Iverson's efficiency, lack of postseason success outside of 2001, and aversion to practice leaves something to be desired, but The Answer was so much more than shooting percentages and soundbites.
You may not have always liked how he went about it, and it wasn't always conducive to winning basketball, but dammit if Allen Ezail Iverson didn't give every last drop of his "6-foot," 165-pound frame. The undersized workhorse poured his heart out on the court, and his authenticity off of it won him admirers the world over. Few players in history have marched to the beat of their own drum - or inspired a controversial dress code - like Iverson; his brash but honest demeanor, ankle-breaking crossover, shooting sleeve, braided hair, and headband made him a cultural icon.
Iverson also gets bonus points for being one of the few old-timers who goes out of his way to build up the modern game and its players rather than tearing them down. - Casciaro
17. Jason Kidd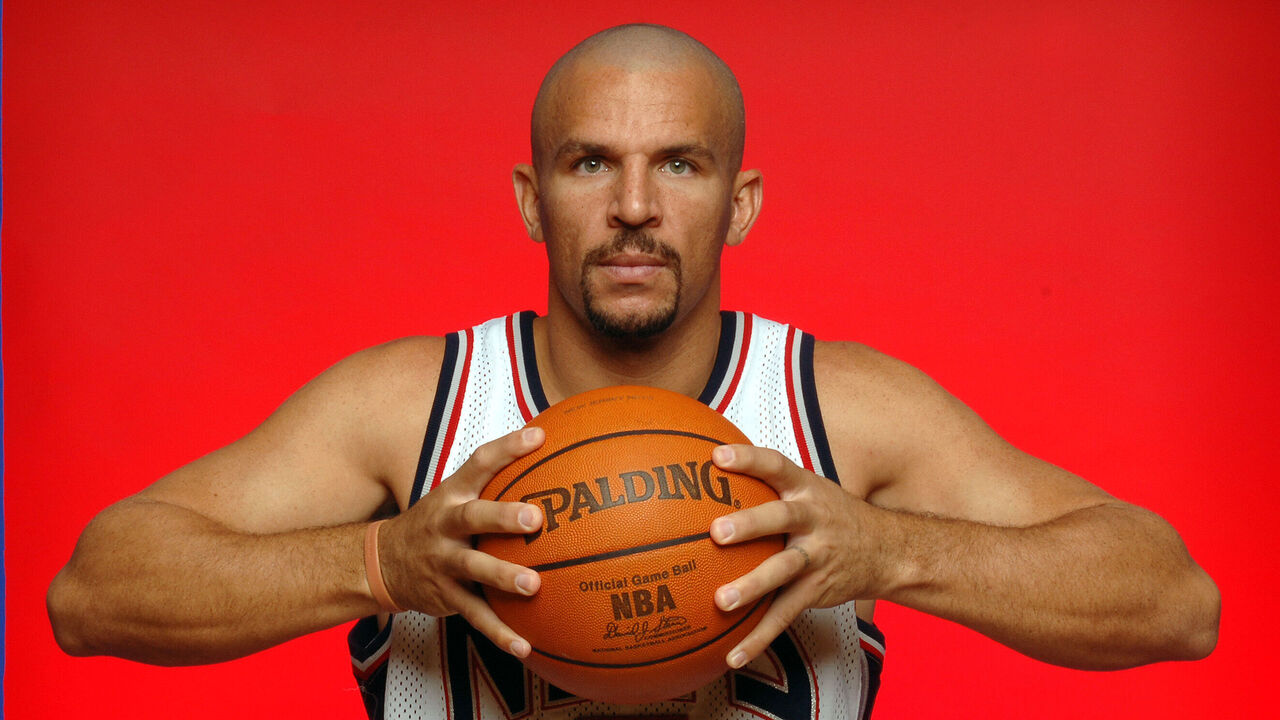 Signature performance: 2003 East finals, Game 3
In 2001-02, Kidd arrived in New Jersey and instantly transformed the Nets from a 26-win doormat into a 52-win conference champion. In 2003, he was trying to back it up by leading the Nets to a repeat Finals berth. To do so, he'd have to go through a hungry, upstart Detroit team that had finished with the East's best record.
The Pistons' time would come, but on this occasion, they had no answer for Kidd at either end of the court. His defining performance came in Game 3, when he recorded 34 points, 12 rebounds, six assists, four steals, and a block to give New Jersey a 3-0 vise grip on the series en route to a sweep.
Why he's here: Kidd was never a high-volume scorer, nor an especially efficient one (he only had four seasons with a true shooting percentage above league average), but he made up for it in so many other ways. He was one of the best pure passers, one of the smartest players, one of the best perimeter defenders, and probably the best rebounding point guard of his day.
He demonstrated his ability to elevate the teams he played for not just by captaining winning team after winning team early in his career, but by adapting seamlessly to a complementary role and still finding a way to be a major contributor in later years. That was best exemplified in 2011 when, at the age of 38, he was the leading minutes-getter, highest-volume 3-point shooter, and occasional primary LeBron James defender for the title-winning Mavericks. - Joe Wolfond
16. Russell Westbrook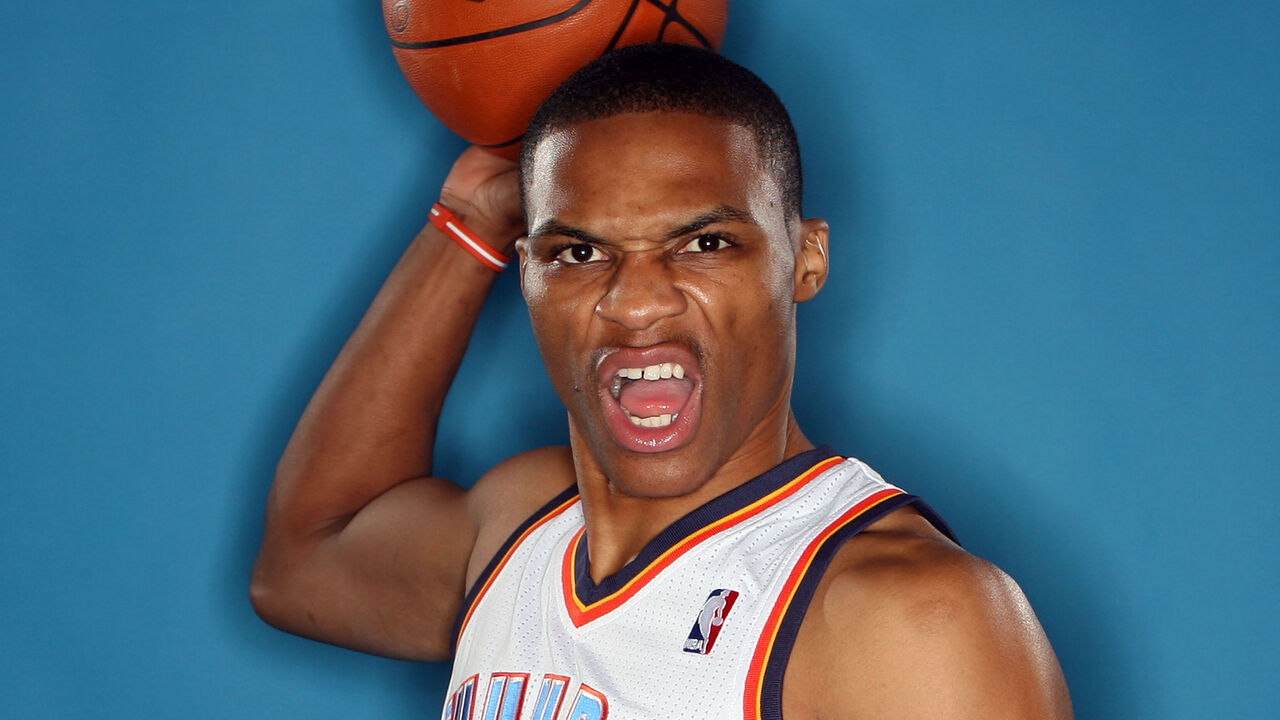 Signature performance: 50-point triple-double vs. Nuggets
Westbrook actually recorded 57- and 51-point triple-doubles earlier that same season, but his April 9, 2017 performance against the Nuggets was the perfect capper to a historic 2016-17 campaign. In Oklahoma City's first season following Kevin Durant's departure, Westbrook had already helped the Thunder secure a playoff berth by becoming the first player to average a triple-double since Oscar Robertson 55 years earlier. OKC's 80th game of the season was just icing on the cake, as Westbrook eliminated the Nuggets from playoff contention with a 50-point, 16-rebound, 10-assist epic that ended on a Westbrook buzzer-beater.
Why he's here: One of the most prolific players in league history, Westbrook's combination of speed, explosiveness, relentlessness, and recklessness has made him one of the most entertaining athletes of his time.
As a running mate to Durant, he was one of the greatest secondary stars of his era. As a main character, he was an unstoppable force; an unabating ball of energy who went for the jugular from the opening tip to the final buzzer. Over the first 70 years of NBA basketball, Robertson was the only player to average a triple-double over an entire season, and he did it once. Between 2017 and 2021, Westbrook accomplished the feat four times in five seasons.
Westbrook and his former Thunder and Rockets teammate James Harden are the only two players in history to be multiple-time scoring champions and multiple-time assists champions. Over the last 25 years, Westbrook ranks fifth in total assists and 10th in points. His shot selection, off-ball indifference, and defensive decision-making keep him from climbing higher on this list, but as fans of the game, we're fortunate that Westbrook does things his way, on-court consequences be damned. - Casciaro
Wednesday: Players 15-11