From Miami to Mount Everest, Heat culture is real
Julian Catalfo / theScore
DENVER - The Miami Heat's organizational ethos has been referenced, celebrated, and at times even mocked over the years, but the concept of "Heat culture" has been an especially hot topic this spring as Miami marched through the Eastern Conference playoffs.
The Heat are the first 8-seed to make the NBA Finals since the 1999 Knicks, and the first play-in team to win a playoff series, let alone three of them. Miami finished seventh in the conference standings but lost at home to Atlanta in the 7 vs. 8 play-in game, then trailed Chicago late in its second-chance game at home to salvage the No. 8 seed. Seven weeks later, the Heat are in Denver, marking the franchise's seventh Finals appearance in the last 18 seasons.
Believers will cite Heat culture and the resilience it's supposed to represent as the reason for Miami's unlikely run through the Bucks, Knicks, and Celtics. Skeptics will tell you that the concept is nothing more than a fabricated narrative - that the 2023 Heat are no different than any other team that finds success in the playoffs. They caught some injury luck, mostly wound up on the right side of the shooting-variance pendulum after a woeful performance in the regular season, and they employ one of the game's ultimate postseason stars in Jimmy Butler, plus arguably the league's best tactician in Erik Spoelstra.
Spoelstra, for his part, doesn't feel the need to explain Miami's culture to the outside world. "It's been defined enough. I don't think anyone wants to hear about it," Spoelstra said Wednesday when asked what Heat culture means to him. "It's something we believe in. It's not for everybody."
With all due respect to Spoelstra, a two-time NBA champion and six-time finalist as a head coach, Heat culture has never been truly defined. But whether you believe in it or scoff at it, whether you call it luck, devil magic, or have a name for it at all, you'd have to be delusional to dismiss it at this point.
Moments before deflecting the question about Heat culture, Spoelstra seemed equally perturbed by the idea that Denver's altitude and thin air might impact the Heat in this series against the Nuggets.
"Our guys are in great shape. They're ready to compete," Spoelstra told reporters Wednesday. "If Denver wants to tip this thing off at the top of (Mount) Everest, we'll do that."
Whether Spoelstra will admit it or not, it's that competitive fire and intensity that sets the tone, just as former head coach and current team president Pat Riley laid the groundwork for Heat culture with his own spirit and bravado.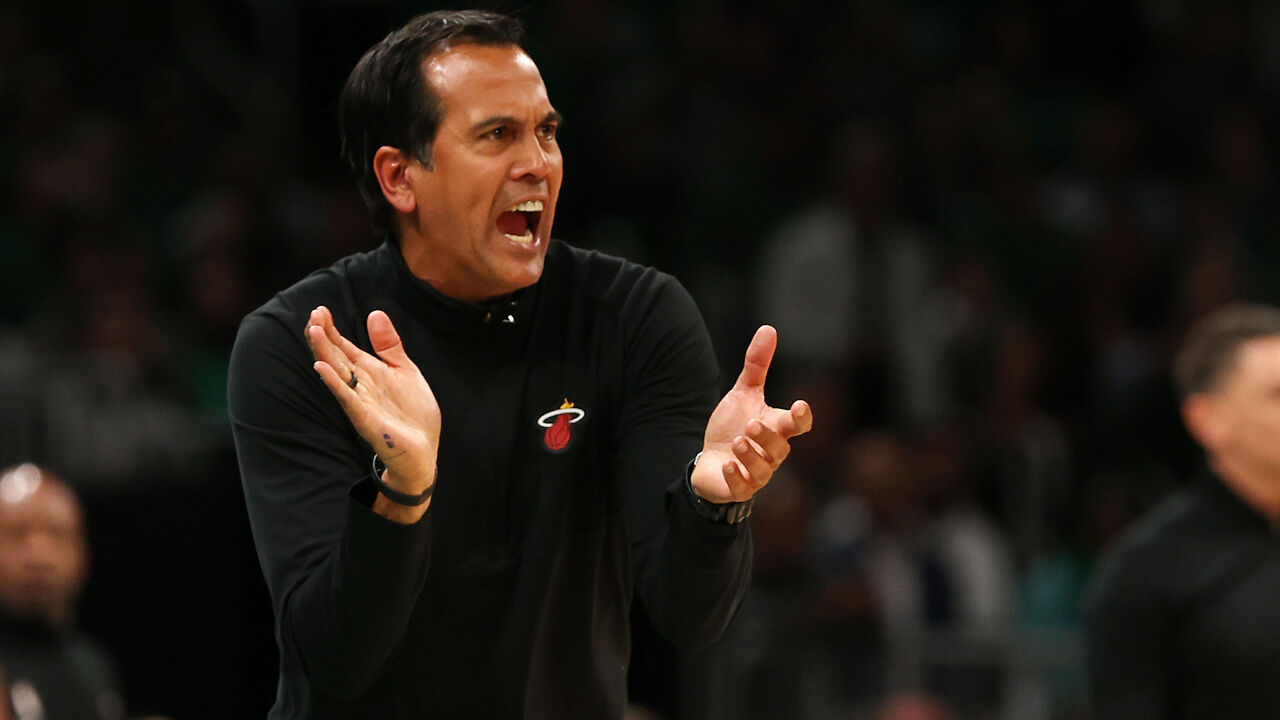 The Heat are a grimy team. Miami is just as comfortable mucking it up as it is trying to win a shooting contest. Opponents can only tolerate the team's physicality, defense, and general demeanor for so long, while the Heat themselves just never seem to get rattled.
That doesn't mean there aren't moments of vulnerability. All-Star center Bam Adebayo's individual offense has been tested this postseason. Though he remains an impactful defender and playmaker, he has largely failed that test, averaging 12.4 points on 45.3% shooting over the last five games of the Eastern Conference finals. But by and large, it appears that nothing can make Spoelstra's Heat uncomfortable.
After losing Game 6 of the East final to Boston in the final second, the Heat became just the fourth team in history to blow a 3-0 series lead out of 151 clubs that had built such a commanding advantage. The Heat were also the first such squad to have to play that seventh game on the road. And yet, Miami looked mighty comfortable going into Boston to hand the Celtics their worst home loss of the season.
The Heat have played seven undrafted players during this playoff run - a testament to the organization's scouting and player development departments - and to a man, they never looked out of place.
Caleb Martin went undrafted in 2019, was waived by the Hornets in 2021, and was arguably Miami's best player in the 2023 East finals - a series that featured multiple All-NBAers. After losing his starting spot in February, Martin returned to the starting lineup for Games 6 and 7 against Boston. He totaled 47 points and 25 rebounds on 76.4% true shooting over those two contests.
Duncan Robinson, another of Miami's undrafted seven, was largely out of the team's rotation over the season's final three months and logged just six minutes in a playoff-opening win over Milwaukee. Robinson has logged nearly 19 minutes per game since then, knocking down 44.6% of his 5.1 3-point attempts per game. The play of Martin and Robinson has helped the Heat survive injuries to guards Tyler Herro and Victor Oladipo. Even little-known forward Haywood Highsmith has provided a boost off the bench at times.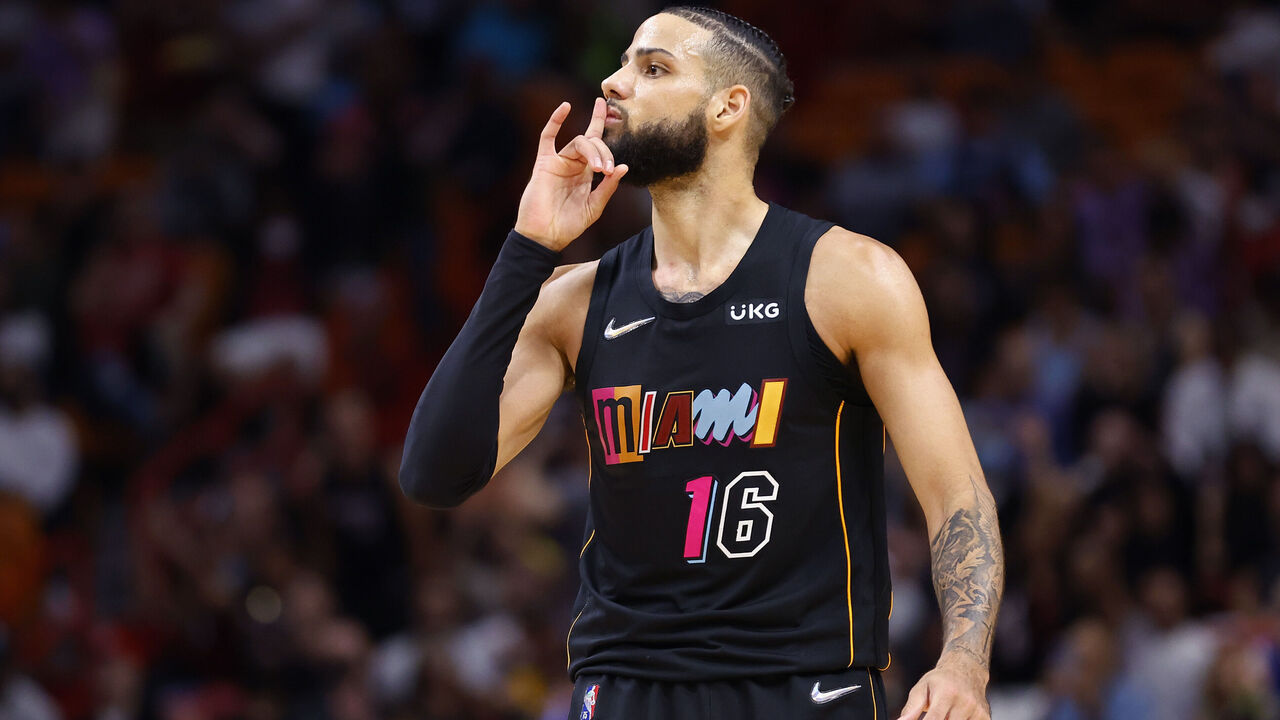 A seemingly mediocre 44-win team lost its second-best offensive player and a key reserve within the first two games of the playoffs - while facing the league's No. 1 overall seed - yet finds itself in the Finals six weeks later.
"I think the culture is just about believing, and we believe in what we do and the work we put in every single day," Kyle Lowry told theScore at media day. "We just don't care about what others think. We do what we do, no matter what. We work hard, no matter the time, place, or situation. We're well-prepared to go into any situation. We're prepared to do anything."
As valid as Lowry's points may be, plenty of athletes would say the same thing about their teams. What's unique about the Heat and their culture?
"That's it in itself - that no one really has a true definition for it," Kevin Love said through a smile Wednesday. "But when you look at us, when you're around us, when you experience our hard-fought games, the way we're never out of it, when you see what Coach Spo is about, how we're led at the top by Coach Riley as well, it's just who we are and what we're about. If you try to define it, or ask our players and coaches, you'd probably get different answers, but I think it's just about doing anything to win and sacrificing yourself for the better of the team."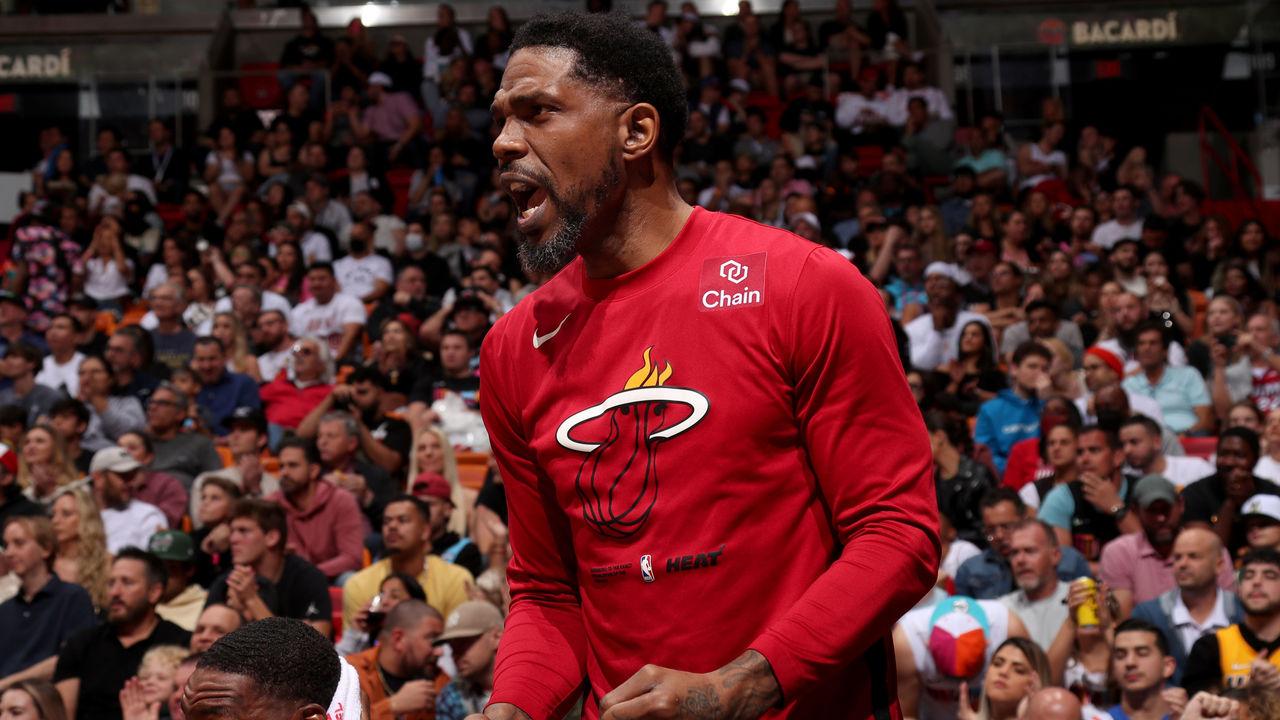 The best player to ask about Heat culture might be one who never plays. Udonis Haslem has been a member of the Heat for 20 consecutive seasons, but he has only appeared in 102 games over the last eight years and hasn't cracked the 100-minute mark in a season since 2016-17. The Heat's annual announcement that they're bringing Haslem back on another veteran's minimum contract is often met with chuckles and eye-rolls outside Miami, but Haslem's teammates are dead serious when discussing the big man's locker-room value.
Haslem, who will turn 43 during this series, took his turn trying to describe the team's culture.
"It's accountability," he said. "It's work first, which is like a foreign language these days. It's sacrifice. Everyone wants to sacrifice, but not when it's their turn, so we nip that in the bud first.
"You've got to come here ready to work. You've got to be able to be held accountable, and you've got to be able to enjoy the success of other people around you. No sitting on the bench whining when you're not playing but we're up 20. That don't work over here."
During a heated confrontation between Butler and Spoelstra last season, it was Haslem who threatened to beat Butler's ass, though the pair were happily drinking wine together again within a couple of days.
Haslem's presence might be the best example of Heat culture. What other franchise would even keep him around this long? Most would've moved him into a coaching or minor front-office role long ago. The Heat continue to see value in his presence in the locker room, even if that value is as hard to pin down as the culture itself. As Spoelstra said, it's not for everyone.
Of course, Butler's presence and annual postseason heroics remain the biggest component of Miami's sustained excellence and resilience. In the four seasons since Butler arrived, the Heat have made the Finals twice (as a fifth seed and an eighth seed) and the conference finals three times.
The ability to lure stars like Butler - and LeBron James and Chris Bosh before him - can't be overstated when discussing the Heat's success over the last decade and a half. It's fair to question how much of Miami's vaunted culture boils down to the advantage of playing in one of the league's most desirable markets. But sunshine and South Beach can't explain everything. The beauty of Biscayne Bay doesn't get to the heart of why the franchise of Riley, Spoelstra, and Haslem was the perfect fit for a win-at-all-costs star who wore out his welcome in Chicago, Minnesota, and Philadelphia.
"So many of my former teammates have shaped me and this leader that you think you see in front of you today," Butler told reporters Wednesday. "I'm not perfect or anywhere near it in any way, but I'm me, and my style of leadership works here." Butler also gave credit to Heat legend Dwyane Wade. "He always told me about the culture here, and how it fits who I am, what I'm about, and how I go about things. It really is a match made in heaven."
That culture, and why it's a perfect fit for Butler specifically, may never be properly defined. The Heat will never be able to convince everyone it exists, and Spoelstra may never be willing to address it publicly.
But whatever Heat culture is, it's palpable around this team, and it's helped a squad that was overmatched at seemingly every turn get back to the NBA Finals, where Miami is ready to duke it out atop the world's tallest mountain if need be.
The Heat would probably look plenty comfortable up there, too.
Joseph Casciaro is theScore's senior content producer.