Even screen-and-dive centers are becoming playmakers
If I'd watched this play even three or four years ago, my eyeballs might have fallen right out of my head:
That's Dwight Powell, absolutely no one's idea of a playmaking center, corralling a high bullet pass from Luka Doncic on the roll before wrapping a blind backhand pass around a tagging James Harden and into the shooting pocket of Reggie Bullock in the weak-side corner.
Some of us are old enough to remember when all but the simplest and most plainly available four-on-three passes were solely the purview of elite playmaking bigs. Now, seemingly every roller can make rapid-fire reads and pinpoint passes on the move that change the direction of the ball.
Pass-savvy centers are far from a novel phenomenon, but the average skill quotient at the position has hit an unprecedented level. Its reach goes well beyond the league-altering likes of Nikola Jokic and Joel Embiid, who are about to finish one-two in MVP voting for a third straight year. It goes beyond new-age playmaking hubs and elbow operators like Domantas Sabonis and Bam Adebayo and spreads down to the big men with the most stripped-down offensive roles.
As the game in the 21st century moved away from post-centric offense and toward pick-and-roll play, the shape of the typical center started to change. Offense increasingly ran through guards and wings, so the job of a big man skewed toward making life easier for those perimeter creators. If the post wasn't going to be emphasized, bigs needed to focus more on setting solid screens (not just on ball-handlers' defenders, but on their own) and time up their rolls to stay in the passing pocket or make themselves available for lobs.
With defenses pulling in weak-side help earlier and earlier to account for the influx of athletic rim-runners (having already been forced to account for the rising threat of the pull-up three), passing became another essential arrow in the roll man's quiver. Players previously confined to screening and pick-and-roll finishing started to build out their skills as connective passers and, in some cases, independent scorers.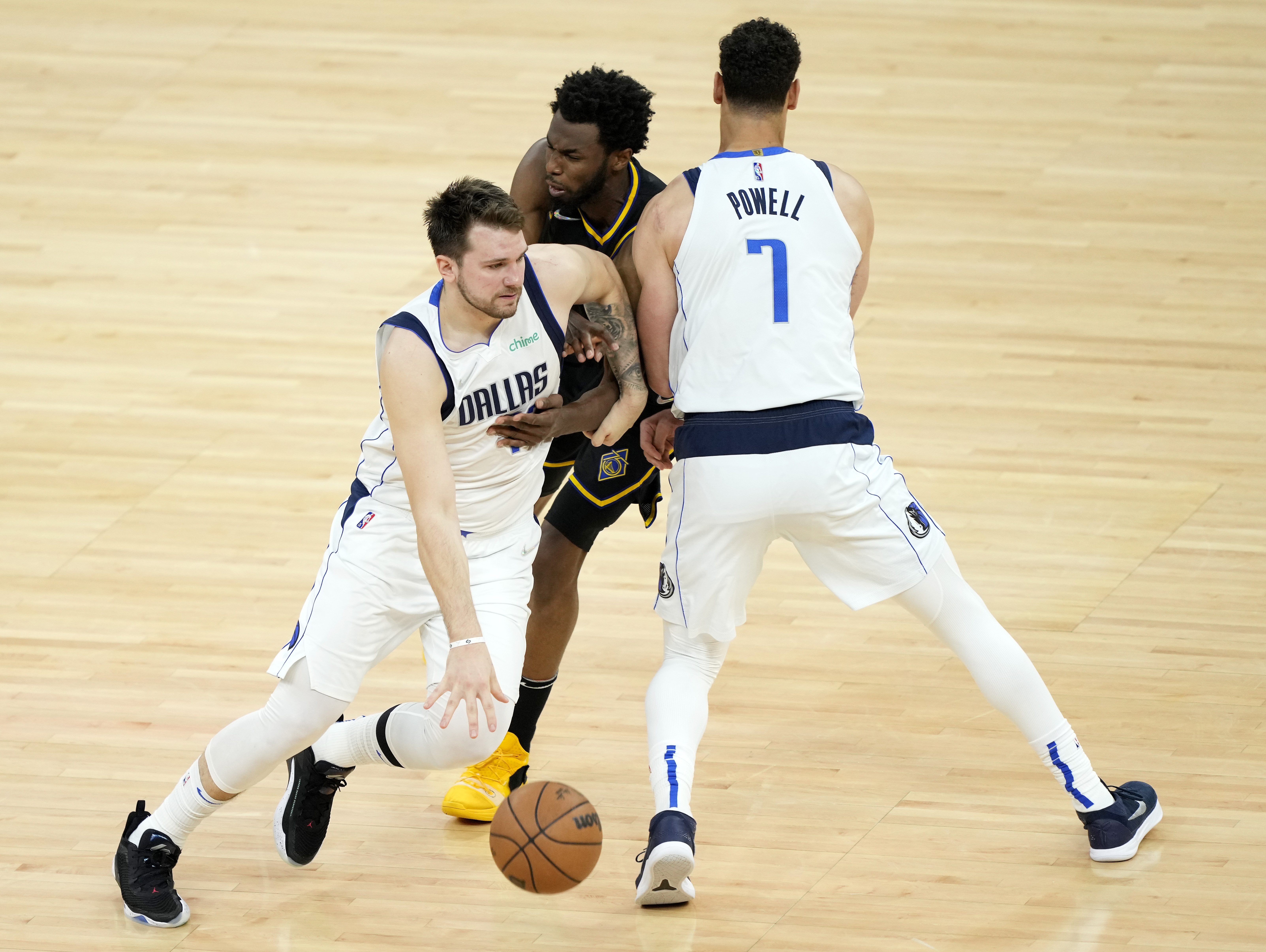 The key to four-on-three playmaking is download speed. Defenses rotate so precisely that a nanosecond of hesitation can allow the passing window to close. Even calling those scenarios four-on-threes is somewhat misleading because the man advantage usually evaporates as quickly as it appears. Making those passes requires an element of precognition and an ironclad grasp of how an opposing defense moves.
Note in the play up top how quickly De'Anthony Melton peeled off and closed out to the corner after Harden slid over to help. Powell knew he didn't have time to turn his body or bring the ball back over his head. If he hadn't anticipated the opening before landing, or lacked the confidence to throw that creative pass, Philly's defense could've reset, having chopped valuable seconds off the shot clock with the Mavericks gaining no advantage.
And again, Powell is among the least threatening on-the-roll passers in the league. But as someone who's spent five years screening for a double-team magnet in Doncic, those reads have become second nature to him, as they have to so many others. Perhaps that's why aggressive pick-and-roll coverages that commit two defenders to the ball and require a third to pre-rotate on the back side - like blitzing, showing, and ICE-ing - have steadily declined over the last several years.
Defenses have used those coverages on 15.7 ball screens per 100 possessions this season, down from 26.6 a decade ago, according to a source with access to Second Spectrum data. Over that timeframe, offenses have also improved their scoring average against those looks from 0.88 to 0.97 points per possession.
As two-on-the-ball coverages have waned, coverages that aim to defend pick-and-rolls without engaging a third defender - namely, dropping and switching - have become more frequent. But it's not like offenses haven't figured out how to attack those schemes. Most of that owes to the unstoppable modern ball-handlers who can roast drop coverage with pull-up jumpers and dust switches with drives. But bigs deserve credit for forcing defenses to pick that poison anyway and for doing their part to make it even more venomous.
It's become immensely important, especially in the playoffs, for centers to be able to exploit size advantages on the back end of switches - to seal, establish deep position, and either score or draw a double-team before the defense can scram its way out of the matchup.
Pick-and-pop bigs like Myles Turner and Kristaps Porzingis already presented good antidotes to drop. However, their overreliance on popping and aversion to rolling hard made them easy to switch against because the subsequent size mismatch would materialize too far away from the basket for them to do serious damage against it. Both are rolling far more frequently this season, and they're ducking in and sealing with more force than we've ever seen from them:
That's led to the pair's best offensive seasons and best post-scoring seasons by a country mile. Porzingis' 1.18 points per post possession rank him in the 88th percentile, while Turner sits in the 81st percentile at 1.11, per NBA Advanced Stats.
Even as the frequency of post-ups has declined, as a vehicle for direct scoring they've become markedly more efficient in recent years. According to NBA Advanced Stats, the median efficiency of a post possession ending in a shot, drawn foul, or turnover has leaped from 0.84 points in 2015-16 (which is as far back as the tracking database stretches) to 0.99 this season. If you include passes that lead directly to possession-finishing outcomes, the post-up has been the most efficient half-court play type in the league this campaign, per Second Spectrum.
Young centers who came into the league as rim-running lob merchants, like Jarrett Allen and Nic Claxton, have really refined their footwork, handle, and touch. The value of those guys still lies primarily in their defense, but they've turned themselves into multifaceted offensive contributors. They can now string multiple dribble moves together, whether posting or facing up, and have developed highly effective push shots and baby hooks. Both guys are shooting 49% from floater range, by far the highest marks of their careers (Claxton was at 33% coming into this season), per Cleaning the Glass.
Thanks largely to Donovan Mitchell's arrival, Allen hasn't been as much of a post presence this season as he was last. But he's become an excellent short-roll lob passer, which is vital for a Cavs team that lacks corner shooting threats and thrives on baseline cuts and high-low action:
Handoff plays orchestrated by big men are also more frequent and more efficient than ever. As Grizzlies center Steven Adams explained late last season, "Pick-and-rolls are still very much a thing, but you'll see the bigs have the ball in their hands a lot more for handoffs and stuff like that, just because it gives a different look for the pick-and-roll coverages. And then we play split actions and whatnot, you see that a bit more around the league (now) than back in the day. Like, my OKC days, it wasn't a thing."
A lot of those plays function as basic pick-and-rolls, but big men have an added decision-making component because the ball starts in their hands. Centers who can cycle through reads as the triggermen in those scenarios, punish overplays with passes to backdoor cutters, and pose a genuine scoring threat when deciding to keep the ball and drive are becoming more and more valuable. That's the area where hubs like Jokic, Sabonis, and Adebayo thrive. But less refined playmakers like Claxton are also making significant strides:
This overarching trend places a spotlight on the centers who haven't rounded out those parts of their games. Mitchell Robinson can gripe about touches all he wants, but he hasn't exactly demonstrated the feel to warrant a larger role in the Knicks' offense. Clint Capela's lack of playmaking chops and limited utility as a dribble-handoff hub had as much to do with the Hawks' underutilization of Kevin Huerter as Trae Young's ball dominance did. Rudy Gobert's stilted offense has contributed to a choppy first season in Minnesota, and despite having set more ball screens than any other player since he entered the league, he still misses a frustrating number of short-roll passing reads.
Still, all of them remain very valuable players due to their extraordinary rebounding prowess, rim protection, and vertical gravity (the latter of which helps their teams create open corner threes without them even having to touch the ball). And Gobert, at least, has made some glacial progress in the skill department.
When it comes to letting him workshop his undercooked ball skills and post game, the Wolves have shown a bit more patience than the Jazz did. The leash is still short, and bad things still happen almost anytime Gobert tries to dribble or make a post move. But even in his intentionally narrow offensive role, he's shown the ability to make touch passes on the move and break out the most ungainly (but still effective) Eurostep you've ever seen:
For all the ink spilled over the fragile state of the NBA center over the last decade or so, it's never really been much different from any other position in today's league. Centers were never going extinct; it was simply one-dimensionality dying out across the whole positional spectrum.
If anything, it's probably easier to survive as a one-dimensional center because the baked-in benefits of a big man's dimensions - rebounding, rim protection, efficient interior finishing - tend to be more important than those of one-dimensional smalls. But much like you can't really be only a 3-and-D wing these days and hope to stay on the floor in the biggest moments, it's getting harder to survive as only a play-finishing, screen-and-roll center.
There aren't too many of those guys left.