5 potential trade destinations for Kyrie Irving
In another chapter of a seemingly never-ending saga spanning the last few seasons, Brooklyn Nets superstar Kyrie Irving reportedly requested a trade ahead of next Thursday's deadline.
Irving is one of the league's most notable names and a generational scoring talent. However, he brings heavy baggage and an expiring contract that could see him bounce this summer from whichever team trades for him.
Any franchise pulling the trigger on an Irving deal is taking a risk, but one with 2023 NBA championship upside. With that in mind, we look at five squads that fit as potential trade destinations for the eight-time All-Star.
Los Angeles Lakers
The narratives behind a deal with the Lakers make far too much sense to ignore. Irving would be rejoining forces with LeBron James, years after the pair won a championship in 2016 with the Cleveland Cavaliers. Add a healthy Anthony Davis amid his best season in Los Angeles, and a once-dead team to begin the campaign becomes a title threat.
Plus, the Lakers would likely send Russell Westbrook to Brooklyn for salary matching purposes. While Russ' best days are behind him, the potential Sixth Man of the Year would be teaming back up with Kevin Durant. Los Angeles would also almost certainly send its only two tradeable future first-round picks - in 2027 and 2029. With James probably out of the picture by then, the Nets should be intrigued by that value.
A Westbrook-Irving swap with those picks attached had been loosely discussed this summer, immediately making the Lakers an early favorite to land the Nets' point guard this go-around. If a deal comes to fruition, it would be one of the most star-studded trades in league history.
Los Angeles Clippers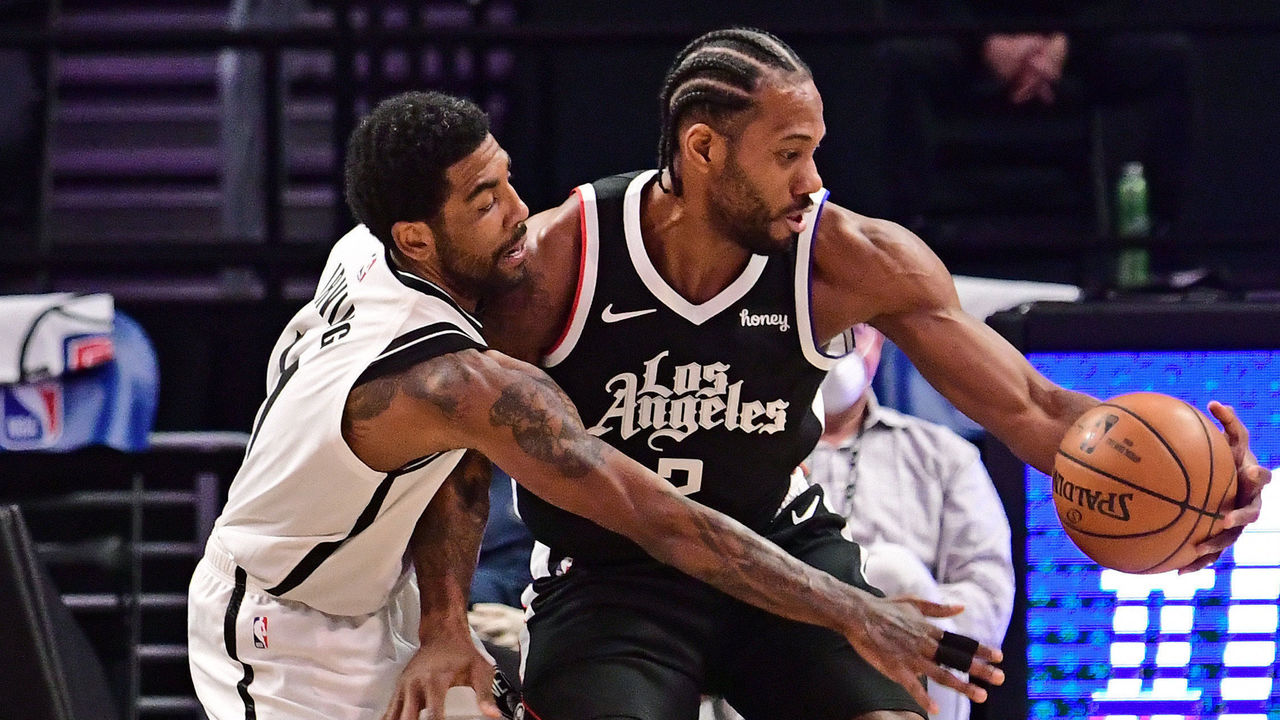 Outside of the Lakers, there may not be another team in as much of a win-now mode as the Clippers. After trading away countless assets to acquire Paul George and Kawhi Leonard, the club has yet to fully make good on the gamble. With L.A. in the hunt this season as Leonard continues to recover from a torn ACL, adding a third superstar in Irving would arguably give it the most talented core in the Association.
Unlike the Lakers, the Clippers don't have a giant salary to trade. It would likely take two or three role players - potentially including Norman Powell, Marcus Morris, and Robert Covington - to send enough money back to Brooklyn. Devoid of most future first-rounders thanks to the trade with the Oklahoma City Thunder for George, the Clippers would also likely have to include guard Terance Mann, who Los Angeles has reportedly rejected offers on all season.
Still, the Clippers are one of the oldest and deepest rosters in the league. They might as well put their last few chips on the table in hopes of bringing the franchise its first-ever championship.
Dallas Mavericks
What do you do when you roster one of the best isolation scorers in the game? Add another one. While a Luka Doncic-Irving backcourt would feature a "your turn, my turn" dynamic, there's little arguing it would be the most skilled guard pairing in the NBA.
The Mavericks could possibly begin a package with forward Christian Wood, an 18-point-per-game scorer on a $14 million expiring deal who's been attached to trade rumors lately. Adding veteran guard Tim Hardaway Jr. would fill the salary requirements. Should Dallas need to sweeten the deal, promising pieces Josh Green or Jaden Hardy are options, as are any first-round picks outside this upcoming draft.
It's hard to call Dallas a true win-now destination with a 23-year-old leading the way. But the Mavericks could still attempt to load up for a Finals berth they came so close to last season. Adding Irving would make them one of the favorites to do so.
Phoenix Suns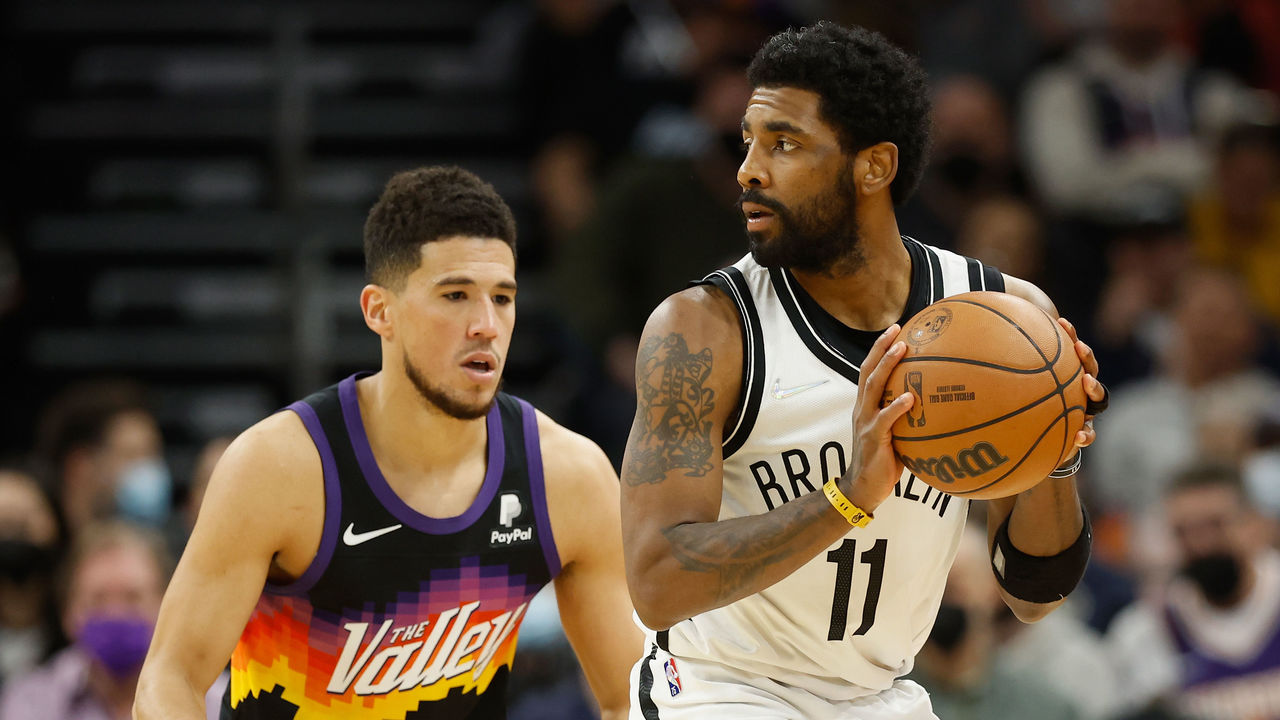 The primary concern in Phoenix is arguably the longevity of Chris Paul, who turns 38 in three months and has missed time this year with injuries. Paul is far from a net negative on the court. However, it would be fair to assume the Suns are already scouring for his long-term successor considering core pieces Devin Booker, Mikal Bridges, and Cameron Johnson are just 26. Acquiring Irving can help bridge that gap between now and the future, with the massive caveat of getting him to re-sign this summer.
The Suns could potentially take a couple of trade routes. Numbers-wise, the simplest option is to include Deandre Ayton and castaway forward Jae Crowder. That two-for-one swap matches salaries, but it's hard to imagine Brooklyn clamoring for Ayton when it already has Nic Claxton, a standout big in his own right.
An alternative is a package including Crowder alongside a cast of role players like Cameron Payne, Landry Shamet, and Dario Saric, for example. That would give the Nets more playmaking and shooting to better surround Durant, Simmons, and Claxton. Meanwhile, Phoenix sacrifices depth for a sublime starting five that could win the franchise's first championship.
It's also worth noting that the Suns are the only NBA team to have full control of all of their future first- and second-round picks, according to RealGM. If Nets GM Sean Marks is adamant about receiving some draft compensation for Irving, Phoenix has the capital to make it work.
New York Knicks
What about a trade sending Irving to the Nets' crosstown rival? The Knicks cleared enough cap space in the 2019 offseason to slot in two maximum contracts but came up empty-handed after pursuing Irving and Durant. They lost the tandem to Brooklyn.
The Knicks have taken a slow and steady approach since missing out on Irving, Durant, and first overall pick Zion Williamson. They've added a collection of youngsters over the past four seasons - RJ Barrett, Immanuel Quickley, Quentin Grimes, and Obi Toppin - who've turned into solid rotational players the Nets could surround Durant with or lead the team's next iteration. Evan Fournier's $18-million salary and Derrick Rose's $14.5-million figure help the Knicks come closer to Irving's $36.5-million contract.
To sweeten the deal, N.Y. has an array of picks to offer. The Knicks have all of their own first-rounders, as well as future protected picks from the Detroit Pistons, Washington Wizards, and Milwaukee Bucks. Adding Irving into the fold alongside All-Star Julius Randle and two-way force Jalen Brunson would create a Big Three, something the Knicks franchise has seeked.
Comments
✕
5 potential trade destinations for Kyrie Irving
  Got something to say? Leave a comment below!