How far can the Kings ride their blistering offense?
The Sacramento Kings' streak, at long last, is over.
I'm talking, of course, about their seven-game win streak - the franchise's longest in nearly two decades! - that was snapped Wednesday in Atlanta on the second night of a back-to-back. But perhaps a few months from now we'll get to say the same thing about that other streak: the run of postseason whiffs that stretches back to 2006.
In a league that sends 53% of its teams to the playoffs (or two thirds, if you include the recently created play-in tournament), spending 16 consecutive years in the lottery is genuinely difficult to do. When the Seattle Mariners ended their own protracted playoff drought a few weeks ago, an indignity that was once confined to the NBA universe officially became the longest-running embarrassment in all of North American pro sports. There are only three active players (LeBron James, Chris Paul, and Andre Iguodala) who were in the league the last time Sacramento played a postseason game.
The good news: this year's Kings represent the franchise's best hope to date of curtailing the suffering. They're 10-7, owners of the league's seventh-best net rating and second-ranked offense. Of course, whenever anything goes right or shows any sign of turning around for this team, the questions invariably turn to how it's all going to come crashing down. In this case, those questions hinge on how sustainable the offense is, how much the 25th-ranked defense can improve (if at all), and whether the former will ultimately be good enough to offset the latter.
The answers, for now, are actually quite encouraging.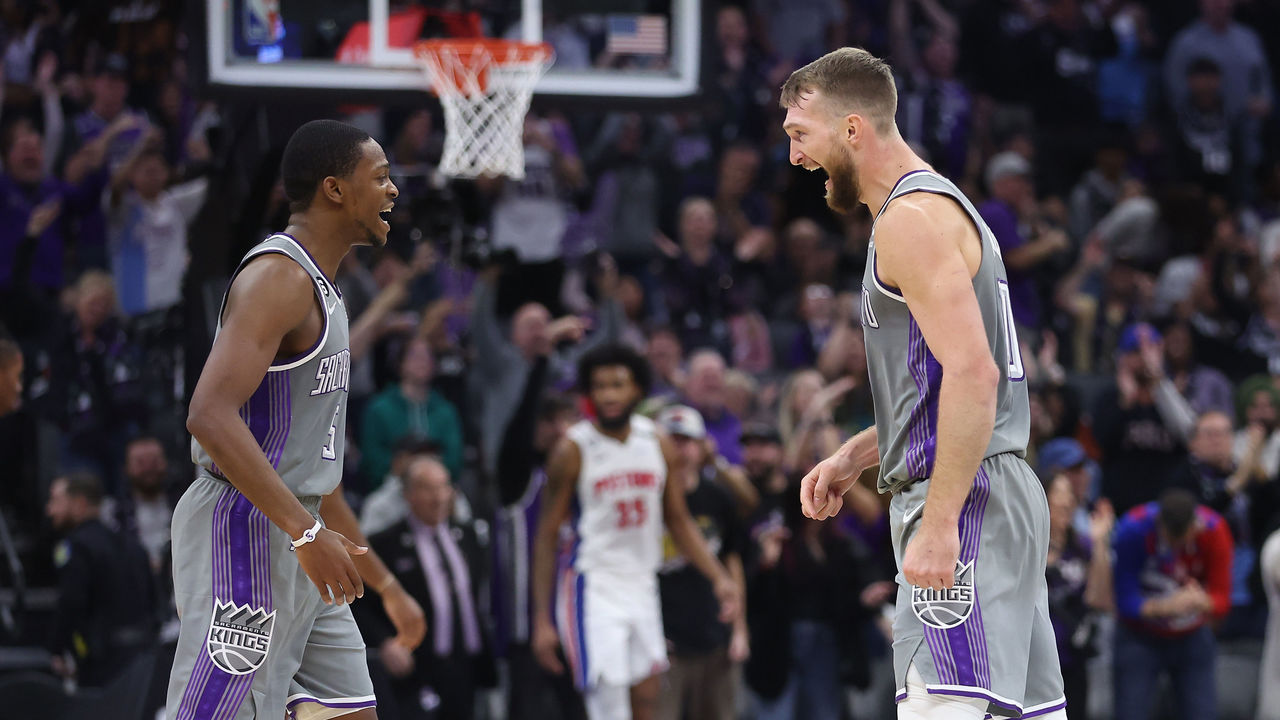 The Kings may not finish the season second in offensive efficiency, but their early scoring barrage is no fluke. They possess a potent mix of shooting, off-the-dribble burst, and passing, and they play all those elements off each other to great effect. They rank fifth in 3-point attempt rate and eighth in 3-point percentage, and the attention they command on the perimeter opens up backdoor cuts and clean driving lanes, which is a big reason why they lead the league in field-goal percentage at the rim and scoring efficiency on plays finished via cut.
Their pristine spacing is continuous rather than static, with waves of off-ball screens and musical-chairs cycles of relocation that occupy and disorient weak-side defenders. They also have a handful of excellent inside-out playmakers - De'Aaron Fox, Malik Monk, and Davion Mitchell on the drive, Domantas Sabonis out of the post and the short roll - which allows them to capitalize when defenses collapse on them in the middle. (Of note: no team passes out of drives more frequently than Sacramento.) Just as the threat of their 3-point shooting allows for easier rim runs, their rim runs create more and better 3-point opportunities. One hand washes the other.
New bench boss Mike Brown arrived with a reputation as a defense-first coach who was happy to run sludgy offense if it meant his team took care of the ball and was able to get set at the other end of the floor. But his time on the Warriors' staff seems to have given him a new appreciation for the value of offensive flow, and he's making creative use of the considerable tools at his disposal. He's even pinched some old standbys from the Golden State playbook, running various types of split action around Sabonis in the post and using exit screens to free shooters in the corners or get screeners slipping to the basket.
Fox is both the biggest beneficiary and the biggest driver (literally) of Sacramento's revamped offensive dynamic. He's long been one of the game's most dangerous downhill forces, and right now he's feasting in the paint like never before. He's driving to the basket 15 times per game, good for 11th in the league, and shooting 61.5% on those drives. Among players averaging even 10 drives per game, only Luka Doncic and Donovan Mitchell have finished a higher share of them.
But this breakout season from Fox is about more than improving something he was already extremely good at. It's about the all-around mastery he's developed in the half court, where he's not just exploding to the rim in a straight line (though he's still doing that plenty) but modulating his pace, jailing defenders on his back for teardrops, making patient and unpredictable reads on kickouts, drilling all manner of step-back mid-rangers, and even occasionally operating out of the post.
Fox is shooting 81% at the rim and 58% from floater range, both of which lead the league among point guards, per Cleaning the Glass. And that doesn't account for all the shots he's creating for others as a drive-and-kick engine.
He's also turned himself into a legitimate off-ball weapon, jetting around and accelerating into his catches in order to make half-court possessions feel more like the transition plays he's always dined out on. It doesn't hurt that he's shooting the ball better than ever. He's hit 50% of his catch-and-shoot 3-pointers so far, so defenders have to stick close when he spots up and trail him over pindowns rather than shooting the gap. He's also shooting a career-high 48% on pull-up twos, which, coupled with his refined floater touch, gives him a great counter to deep drop coverages and other paint-packing schemes.
While Fox is the most critical component of Sacramento's offense, Sabonis is the hub that connects all its pieces. His tireless screen-setting and passing from the middle of the floor keeps the ball moving side to side, breaks opposing zones, and prevents the Kings from getting bogged down. After an uneven trial period following last season's deadline trade, the Kings have figured out how to deploy him: as an elbow operator orbited by constant action, allowing him to pick out cutters and work the dribble-handoff game. His connection with Fox has borne plenty of fruit, but his most effective two-man dance partner has been Kevin Huerter, a monumental offseason addition who resembles a human torch in both form and function.
Huerter is shooting 49.6% on 7.4 3-point attempts per game, including - wait for it - 72.5% from deep (29-for-40) on passes from Sabonis. Together they form the most prolific DHO combination in the game. Huerter's 4.5 points per game via handoff lead the league by a mile. (Steph Curry ranks second at 3.2 while Fox is third at 2.8). Sabonis' screens carve out plenty of space for Huerter to get shots off, especially because Sabonis' defender tends to sag way off of him. But the two also leverage Huerter's gravity into back cuts and slip-outs that allow him to showcase his underrated playmaking chops:
Huerter never had anyone like this to play off of in Atlanta. So much of his offense was stationary, as the Hawks made him a spectator to the Trae Young pick-and-roll show. They never ran their offense through an elbow hub, nor did they have a big man with the kind of playmaking juice that allows Sabonis to make those actions so dynamic. Now everything Huerter does is coming off of movement, and it's done wonders for him and his new team. He's more than tripled his rate of used handoff possessions, and has scored more points off handoffs through 17 games than he did all last season.
That two-man game, while vital, is just one cog in an offensive machine that never stops moving. The Kings flow from one action to the next in perfect synchronicity, until someone springs loose for a shot or the defense is forced to switch itself into a tough matchup.
Watch this after-timeout set against the Warriors, and note all the different screening actions that went into getting Sabonis a deep post catch against a smaller defender in Klay Thompson:
Fox missed Huerter on a cut after Sabonis' initial off-ball screen up top, but instead of checking out of the possession, Huerter flowed right into a flex screen for Harrison Barnes, which got Thompson (who was anticipating a switch) trailing Huerter by so much that the Warriors had no choice but to switch Draymond Green out when Sabonis rolled into a pindown (his third screen in the span of four seconds). The ensuing post mismatch prompted an emergency double-team that left Fox wide open above the break. Splash.
The Kings' ability to maintain their flow without ever having guys invade each other's space speaks to well-drilled principles. So, too, does their immaculate timing when they have activity buzzing on both sides of the floor. The play below, for instance, was relatively simple in its setup, but it worked like gangbusters because every domino fell exactly when it was supposed to:
Monk came off a corner pindown into a dribble-handoff (Chicago action) and got his defender trailing. With Sabonis' roll occupying Jakob Poeltl, Devin Vassell was forced to slide over and help at the nail. Mitchell immediately cut behind Vassell, and Huerter lifted from the weak-side corner at the exact same moment, pulling Jeremy Sochan with him and erasing the only possible back-side helper from the picture. It looks like a Spurs breakdown, but each of their defenders is put in an impossible situation. Sochan should have held in the paint to take away the easy layup, but that still would've left Huerter (who, again, has hit half his freaking threes this season) wide open on the wing.
Those plays also hammer home the fact the Kings' offensive renaissance is the product of a whole bunch of factors working in harmony and amplifying each other. Mitchell and Huerter's beautifully choreographed cut-and-shake wouldn't have mattered if Monk hadn't opened up a seam as a scoring threat before utilizing his improved passing chops. And that slick ATO would've gone for naught if Sabonis wasn't a dangerous enough post scorer to draw a double-team, or if Fox hadn't seemingly turned himself into a dead-eyed off-the-catch shooter.
So, yeah. The offense is no joke. About that defense, though.
There's reason to believe the Kings are better than their bottom-five ranking. They're one of the best defensive rebounding teams in the league, and only the Jazz do a better job suppressing opponent threes. They've been burned by hot jump shooting that should eventually normalize to some extent. But the Kings are still going to be hamstrung by a lack of quality individual defenders, which is why it's hard to see them improving by all that much, barring a personnel shakeup.
Apart from Mitchell, they don't have any great screen navigators or one-on-one stoppers. It's been nice to see Fox amping up his effort and activity level after a couple troublingly apathetic defensive seasons, but he still nets out around average on the perimeter. Huerter and rookie Keegan Murray are long and positionally sound, but neither is especially explosive moving laterally, nor strong enough to handle the power wings of the world in isolation. Barnes, Monk, and Terence Davis are sieves prone to blow-bys and coverage breakdowns.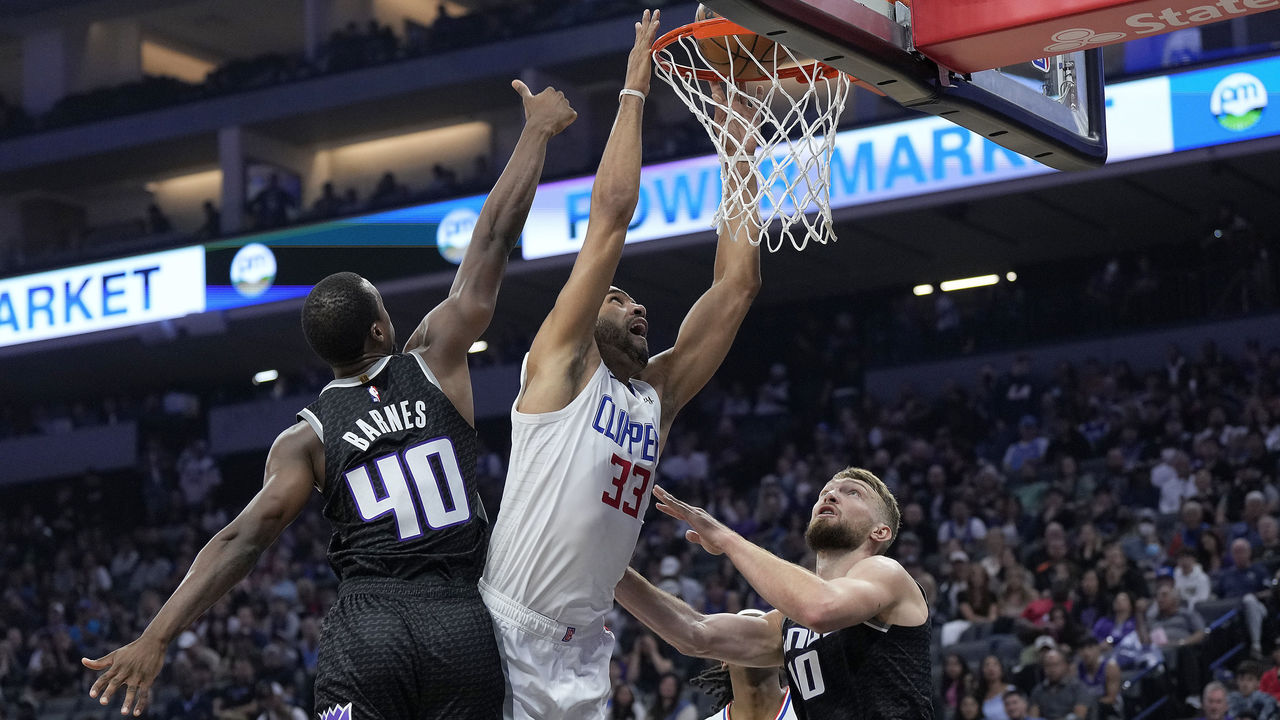 The Kings' flimsiness at the point of attack is compounded by their lack of rim protection. They allow the league's fifth-highest opponent field-goal percentage at the rim, and that starts with the man in the middle. Sabonis is a smart defender but doesn't have the wingspan or the vertical pop to be much of a deterrent around the basket, which is why he does his best work as an at-the-level disruptor in pick-and-roll. And that issue is in turn compounded by the Kings' lack of athleticism and speed at the forward positions, which makes it hard for them to cover for Sabonis when he shows high on ball screens.
Even when the Kings make the right early rotations behind him (which they usually do), they struggle to close space in 3-on-4 scenarios, and their secondary rim protection is largely ineffectual. Barnes, for example, is proactive as a low man, always pulled into the paint early. But he's slow to close back out, and Sacramento doesn't have the personnel to peel switch in order to alleviate his tag-and-recover responsibilities. Barnes also isn't an imposing enough roadblock to stop cutters and rollers from going through him at the basket, and the same goes for Huerter and Murray. Opponents are hitting 72.4% at the rim when one of those three contests the shot.
All that said, it feels no less likely that the Kings' defense will meaningfully improve than it does that their offense will significantly regress. They're currently scoring about nine more points per game than their opponents from the 3-point arc and free-throw line combined, so math is on their side. And for a team that thrives on pace (Sacramento ranks second in transition frequency, and first after defensive rebounds), the ability to score like this while pulling the ball out of your own basket this frequently is telling. It suggests that even if the Kings' half-court scoring regresses, a bit of defensive improvement could go a long way toward keeping their overall offensive efficiency robust.
In the meantime, they can rely on sequences like this:
That's a microcosm of the Kings' season. They give up a layup because Sabonis is up at the level and they can't hold the dam behind him, but before the Warriors even have a chance to exhale, Fox has already hung two points on them at the other end. No matter how many buckets the Kings surrender, they're going to keep coming at you, fast and focused and determined.
It's those qualities that make you feel like this Sacramento team could be the one to finally exorcise the franchise's demons.
Comments
✕
How far can the Kings ride their blistering offense?
  Got something to say? Leave a comment below!