10 observations from the first 10 days of the NBA season
theScore's NBA feature writers, Joseph Casciaro and Joe Wolfond, dig into 10 intriguing trends from the first week and a half of the 2022-23 season.
Ben Simmons faces a long climb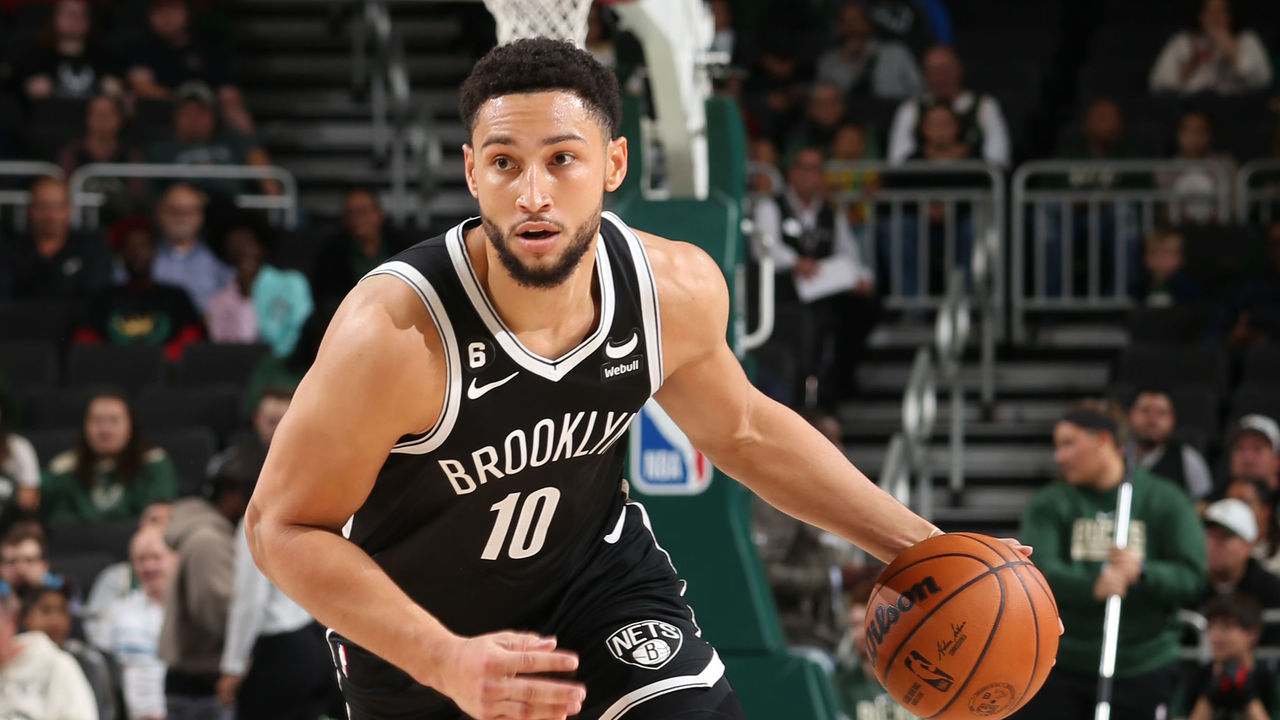 Early-season samples should always be taken with several grains of salt, doubly so when the player in question is coming off a 17-month layoff and clearly needs time to shake off cobwebs and rebuild his fractured confidence. But even within that context, it's hard to imagine a more discouraging start to Ben Simmons' Nets tenure than what we've seen through his first five games.
The Nets seemed to have the ideal offensive environment to harness Simmons' talents and shield his vulnerabilities. But rather than being a necessary piece of connective tissue between Brooklyn's stars (Kevin Durant and Kyrie Irving) and the rest of the roster, rather than capitalizing on the gravity provided by those stars, Simmons has looked more tentative than ever.
He's averaging only 4.3 drives per game, less than half his previous career low. That's not because the ball isn't finding him enough (he's second on the Nets in touches per game and average time of possession), it's because he's aborting most would-be drives before they begin, and killing his dribble before even reaching the free-throw line. The rare times he does penetrate deep into the paint, his instinct is to look for a passing escape hatch before even glancing at the rim.
It's been encouraging to see him setting more ball screens, but that newfound willingness hasn't yet unlocked his theoretical short-roll skill set because he rarely actually rolls to the basket. That's partly because he plays next to non-shooting centers and doesn't always have space to roll, but even on the rare occasions the Nets run him at the five, he tends to stand in place after setting the screen, especially when opponents play those ball-screen actions straight-up rather than blitzing. It's not that holding a screen to free up a dynamic ball-handler like Irving is a bad thing, it's just something basically every big man in the league is capable of doing.
Simmons' paltry 13.5% usage rate would be by far the lowest mark of his career, and that number still oversells his offensive involvement, because over 35% of his used possessions to this point have ended in turnovers. Perhaps most concerning of all, his defense hasn't been nearly as impactful as it was before his hiatus, and his surgically repaired back is seemingly already giving him trouble. Brooklyn is struggling badly in all the areas he was supposed to shore up, ranking 19th in opponent turnover rate, 19th in points added via transition play, 30th in defensive rebound rate, and 29th in overall defensive rating. And they've been significantly worse in each of those categories with Simmons on the court.
The Nets are preaching patience, as they should. This is almost certainly not the same Simmons we're going to see at season's end, and he's already shown signs of progression (his help defense the last two games has been strong). But he looks to be facing a long, steep climb to get back on solid ground mentally and physically. - Joe Wolfond
The Blazers are legit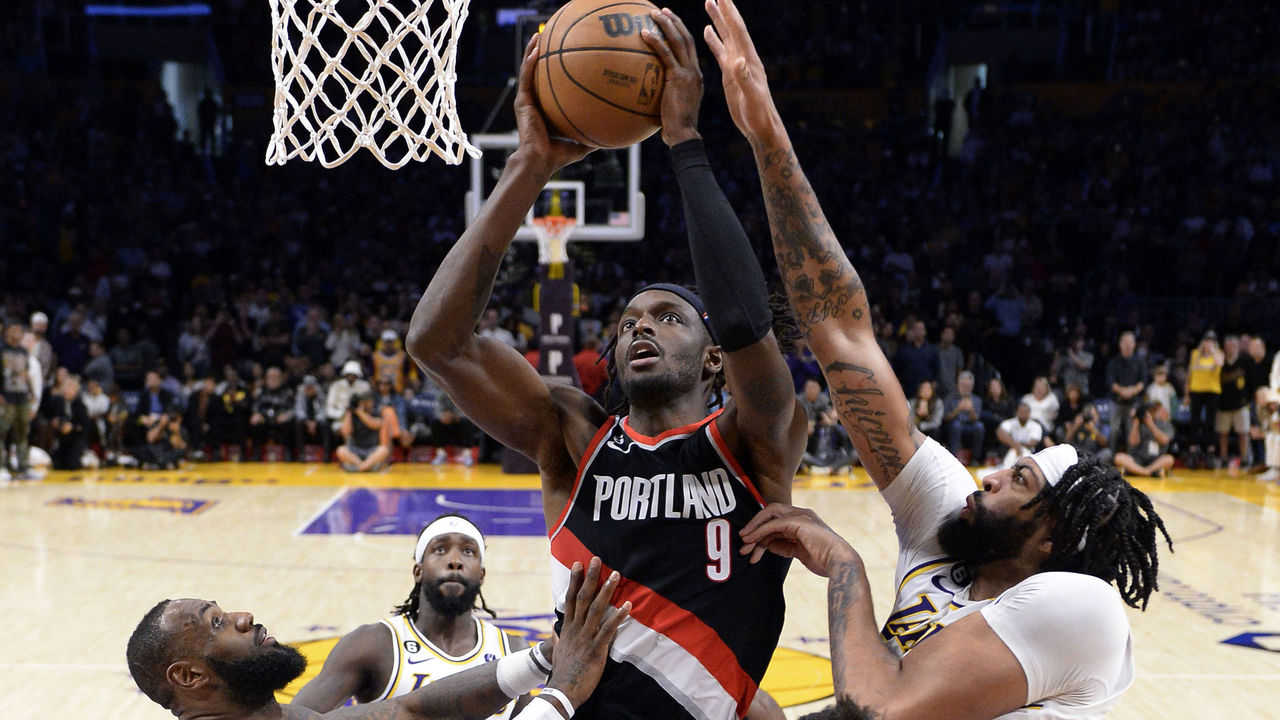 Not necessarily legitimate contenders, but a legitimately good and well-constructed team (though a Damian Lillard calf injury could derail this feel-good story).
Portland's two road wins came against teams the Trail Blazers were expected to battle with for the Western Conference's final two play-in spots (Lakers and Kings), with home victories already banked against more upper echelon West contenders Phoenix and Denver.
After some time in Detroit being miscast as a top option, Jerami Grant looks more at home back in a tertiary role that still provides Portland the luxury of having a big who can create for himself (as Grant did on his game-winner against the Lakers). Grant, transition maestro Josh Hart, and Jusuf Nurkic also combine to provide the Blazers the type of length and defensive acumen needed behind a porous backcourt consisting of Lillard and Anfernee Simons.
Justise Winslow has looked promising as a small-ball center. Rookie Shaedon Sharpe looks NBA-ready. Nassir Little is solid. The Blazers have managed a slightly above average (13th-ranked) defense so far after finishing in the bottom four on that end in each of the previous three seasons, despite the fact prized offseason acquisition Gary Payton II has yet to take the court.
The last time Portland had even a mediocre defense to support Lillard (in 2018-19, when it ranked 16th), it made the conference finals. That might be asking too much of this team, but the roster balance around Lillard and Simons is impressive.
It's worth noting the Blazers will send their 2023 first-round draft pick to Chicago if they make the playoffs, but the lottery-protected pick will continue to roll over every year until 2028 if it's not conveyed. Therefore, making the playoffs would give the Blazers control over all of their first-rounders again beginning in 2024, with Lillard, Simons, Payton, Sharpe, and Little all under team control for at least another year, and Nurkic on the only real suspect contract of them all.
Suddenly the Blazers, left for dead less than a year ago, are worth monitoring over the next year or two. - Joseph Casciaro
Ja's shooting could unleash a monster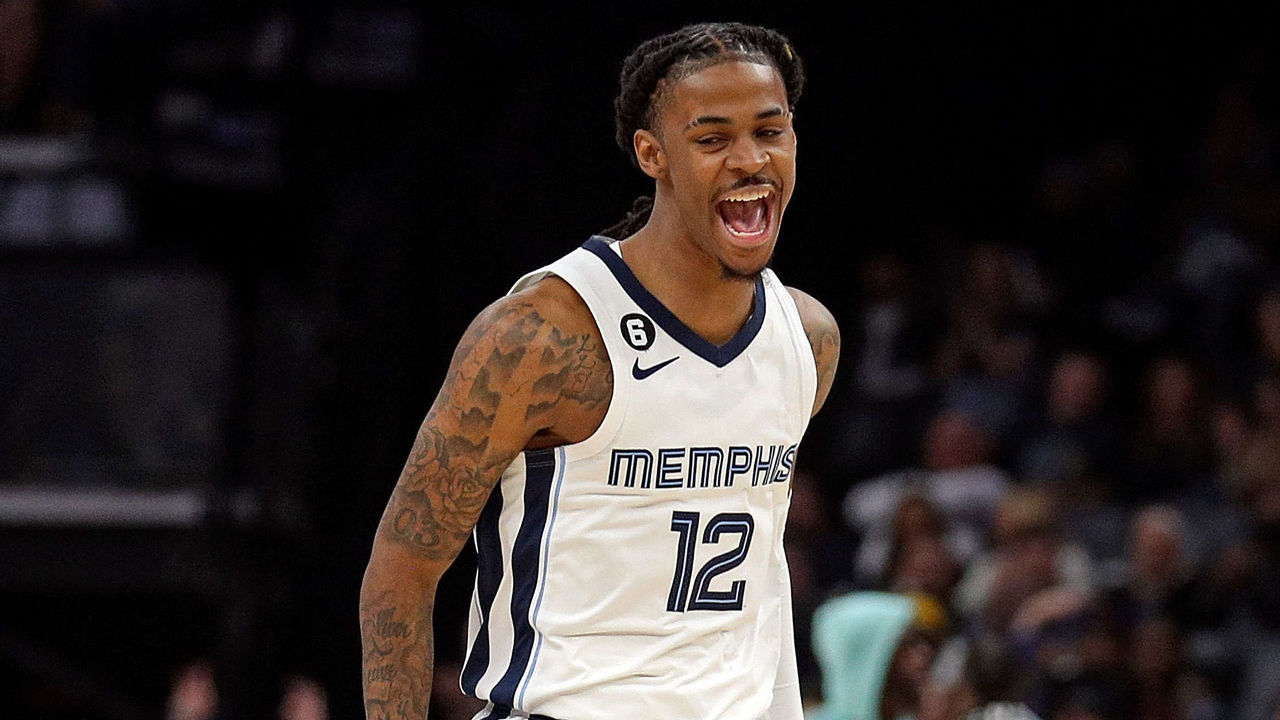 Ja Morant didn't need to add anything to his game to frighten opposing defenses further, but his improved shooting has to be downright terrifying.
Morant, last year's Most Improved Player, obviously won't shoot anywhere near this well over the course of a whole season. He was a career 32.7% 3-point shooter through his first three years as a pro, shot 332-of-1,002 (33.2%) from deep over a five-year sample that included both regular season and postseason contests between the NCAA and NBA, and then shot 3-of-13 in preseason action earlier this month.
So, let's be clear: Morant shooting 56.5% (13-of-23) from deep and an outrageous 61.5% (8-of-13) on pull-up threes through his first four games isn't sustainable, but even an incremental uptick in his long-range accuracy could have a devastating effect on opposing defenses.
Morant is nearly unstoppable getting to the rim, and is already a good playmaker. If defenses have to get more aggressive on the perimeter to account for his shooting prowess, guarding him becomes just about impossible.
There are players around the league who blend some semblance of driving and shooting ability; think Trae Young, Shai Gilgeous-Alexander, and Malcolm Brogdon, among others. None are as explosive as Morant. If he takes a leap as a shooter, his offensive arsenal will be as unique as any player in history. - Casciaro
3-pointers … in decline?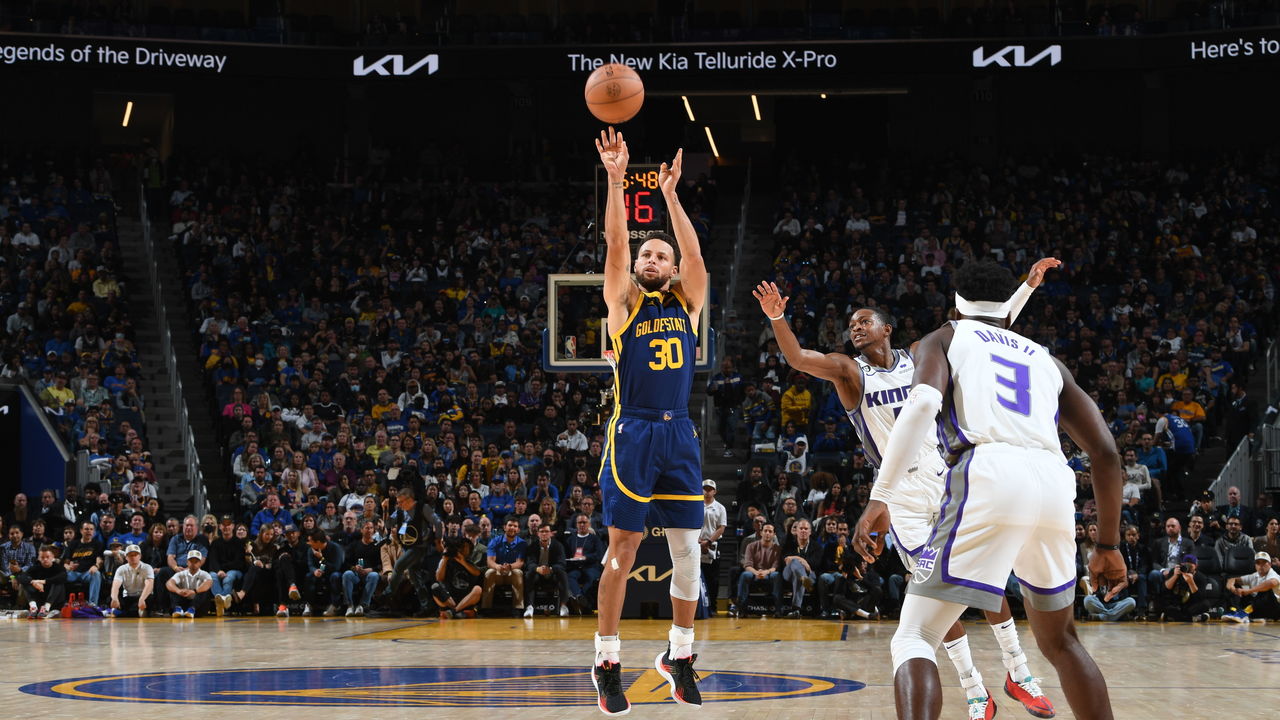 The proliferation of the long ball has been the biggest factor in reshaping the style and geometry of NBA basketball over the past two decades, and as recently as five years ago, the dust cloud from the 3-point explosion was still mushrooming at an exponential rate. In the ensuing years, though, its growth began to slow. And so far this season, things have actually started to trend in the opposite direction.
The league-wide 3-point attempt rate (the proportion of all field goals that come from behind the arc) currently sits at 34.8%, down from 36.8% last year, per Cleaning the Glass. If that were to hold, it would represent the lowest mark since 2018-19 and the first time in 12 years the 3-point rate has dipped rather than climbed year over year.
At various points in time, there have been fears that 3-point attempts would continue to rise in perpetuity, eventually rendering the NBA a chucker's haven with minimal stylistic diversity. But as I wrote about last season, collective jump-shooting habits have begun to stabilize, with long mid-rangers (the shots that were previously migrating to the 3-point line in droves) accounting for about 10% of all field goals for four years running. It's hard to imagine that number sinking much lower, considering those are the shots defenses are most willing to concede.
As a result, things eventually reached a point where amping up 3-point rate meant leeching away shots at the rim, which is a far less straightforward trade-off than the one in which long twos become 50% more valuable by simply moving a couple feet back. Maybe we're seeing teams recalibrate that trade-off this season, or maybe there's a different kind of philosophical shift at play.
The "why" of stylistic change is always two-pronged, dependent not only on offensive objectives but also defensive behavior. Mike Budenholzer's Bucks changed modern NBA defense with their all-out commitment to protecting the rim, a scheme that produced the league's best defensive rating two years in a row despite inviting boatloads of opponent threes. Now, those same Bucks are veering the other way and making a point of limiting triples.
It's still too early to tell whether this is a proactive trend or a reactive one for the league's offenses. But it's helpful to remember that nothing is ever immutable in the NBA, things rarely progress in a straight line, and trends move in unpredictable ways. - Wolfond
Raptors cleaning the glass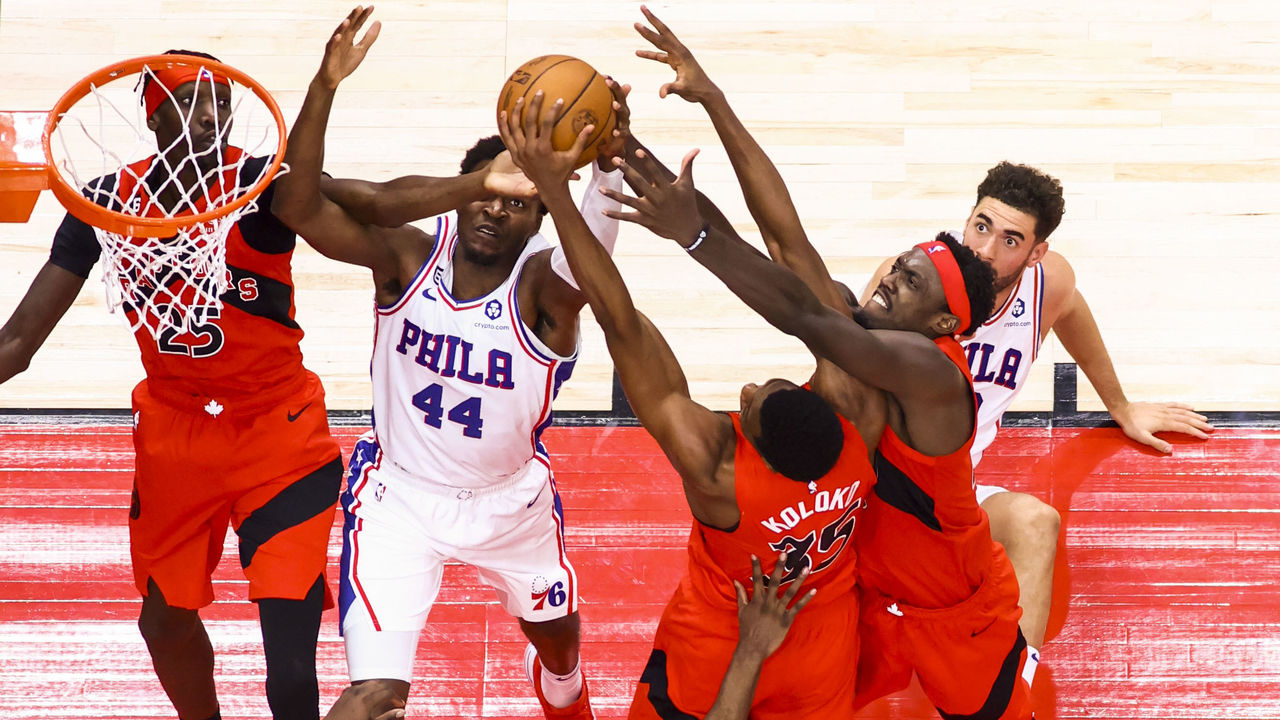 Though the Raptors finished ninth in defensive efficiency last season, Toronto's defensive success didn't live up to the expectations forged by the length and general defensive abilities at head coach Nick Nurse's disposal. A big reason for that defensive disappointment was that the Raptors finished 23rd (and 14th out of 16 playoff teams) in defensive rebound rate, collecting only 71.4% of available defensive rebounds in a season where the league average was 72.5%, according to NBA.com.
Through five games this season, Toronto's work on the defensive glass has been a revelation, as the Raptors have posted a league-best defensive rebound rate of 78.1% against a league average of 71.3%.
"We needed to do better on that," Nurse told theScore after beating Philadelphia on Wednesday behind a gargantuan 89.1% defensive rebound rate. "It's probably too early to be making any big conclusions, but hopefully we're just doing a better job of fundamentally blocking people out and (having) more guys on the glass, more guys chasing long ones. That was always part of our rebounding problems; the long ones, we weren't really racing down very well, and we seem to be doing a much better job of that (this year)."
Nurse's aggressive, frenetic defensive scheme means the Raptors are going to concede 3-point attempts, which in turn lead to longer rebounds that are more up for grabs when compared to standard defensive rebounds that favor the defensive team. If the Raptors continue to make tracking down those longer rebounds a point of emphasis, and Nurse stays in the ears of stars like Pascal Siakam when it comes to hitting the glass, Toronto's defense should reach another level.
Between a plethora of lengthy, switchable defenders who force turnovers and late-clock shot attempts, the Raptors should get enough stops. If they finish more of those defensive possessions with a rebound, which could also fuel their impressive transition game, the Raps will be even better than the 48-win team that pushed Philly to six games in last year's playoffs. - Casciaro
Can mid-range James continue to adapt?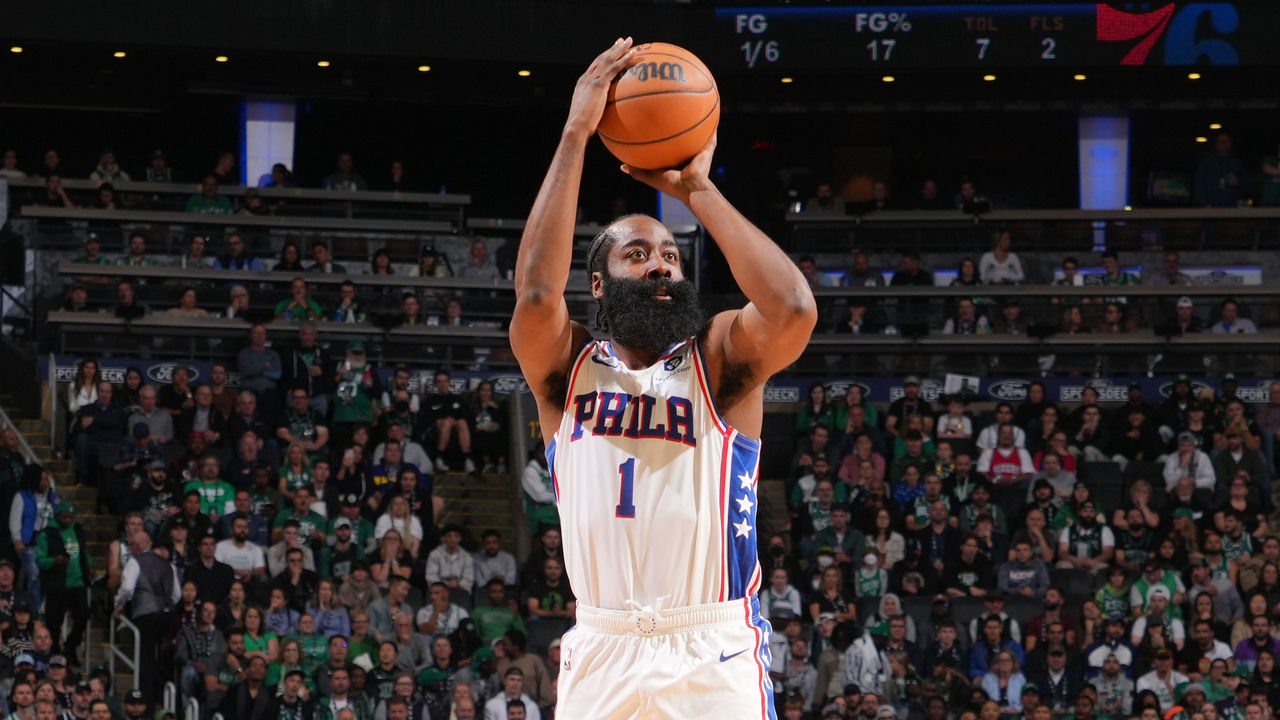 Even the greats must eventually confront the realities of aging. Some are able to accept those realities and find ways to adapt, extending their primes by layering in new skills or habits. Others can't.
James Harden has a lot of attributes that are resistant to precipitous decay - shooting, passing, ball-handling, core strength - but he also relied in the past on athletic burst in a way he no longer can. You might see it in flashes, but he can't consistently beat his man off the bounce, or power through rim-protectors with explosive finishing steps, or even create a ton of separation on his step-back threes. This has been clear since early last season.
The question of how Harden would react became especially pertinent on opening night, when he got absolutely zilch at the basket against a Celtics team missing its primary rim-protector. He wound up having a big night, but was entirely dependent on either hitting or getting fouled in the act of shooting step-back triples. Then, in the following game, against a Bucks team that protects the rim better than anyone and is now also making a point of taking away the 3-point line, something happened.
Harden, the physical embodiment of the precepts of Moreyball, the man who won three scoring titles and built a Hall of Fame career on threes and layups and almost nothing in between, started hunting mid-range jumpers. He hit seven of them that night, the most he's ever hit in a game, and almost carried the 76ers to a win. He's yet to have another game quite like that, but overall he's 11-for-18 on long middies, after hitting only 17 such shots last season and 16 in the two prior seasons combined.
We know Harden is capable of making certain adjustments and taking what defenses give him. A few years ago, he fashioned a silky floater out of whole cloth in response to the exaggerated deep drops he was seeing. Now that his burst is waning and his rim frequency is down to a career-low 18%, he's embracing a shot that allows him to use his strength, chiseling out space inside the arc instead of relying solely on his 3-ball. But this can't be where his adaptation ends.
The Sixers have struggled badly out of the gate, and offensive flow is a big reason why. Harden has been their best player so far, but he also has the power to balance their attack. Tyrese Maxey has the downhill juice Harden lacks, and can collapse a defense in a way he can't, but shifting more ball-handling reps Maxey's way won't make sense unless Harden actually commits to forming up around drives and taking some catch-and-shoot jumpers. Somehow, even playing next to two major gravitational forces in Maxey and Joel Embiid, Harden is taking 84% of his threes off the dribble.
Is mid-range James capable of another foundational change? - Wolfond
The take-foul rule is working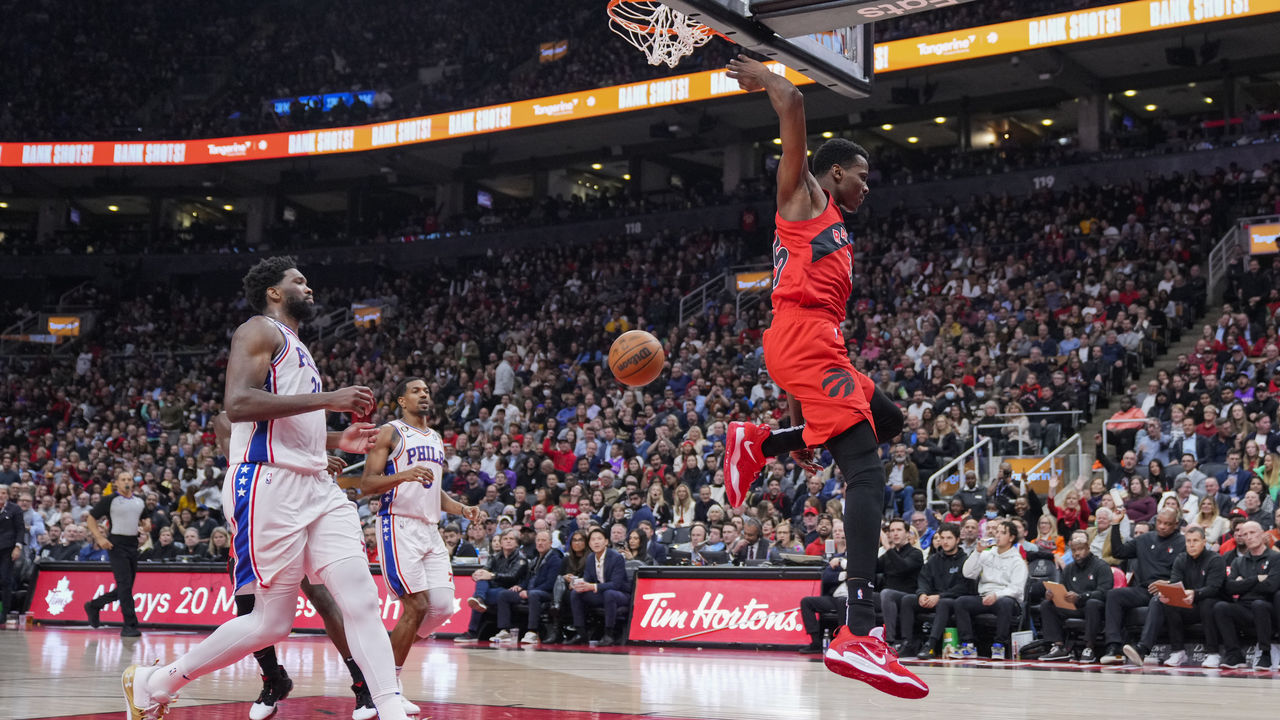 A week and a half into the season, the new take-foul rule that penalizes teams for taking a foul to break up a potential transition opportunity is working as intended.
It's been hilarious to watch guys catch themselves in the act of preparing to take a foul in such situations, only to remember the new rule, pull back, and then look on helplessly as an opposing player goes on to score in transition. It's likely been equally joyous for the league to see the results of the new rule in effect.
The frequency of transition possessions through 10 days of the season (16.1% of all possessions) marks an 8% increase from 2021-22, when 15% of possessions were transition opportunities. The 16.1% figure also represents the highest transition frequency in Cleaning The Glass' 20-year database.
Nowhere is this entertaining increase in transition play more evident than after live-ball turnovers.
With players free to lazily use a foul they had to give in order to stop potential transition plays last season, steals resulted in transition opportunities only 62.9% of the time in 2021-22, according to Cleaning The Glass. That's in line with the previous five years of data, which shows that between 2016-2021, steals led to transition opportunities between 56.7% and 63.9% of the time. This season, that number is up to 70.6%.
Are you not entertained? - Casciaro
Thibs, Knicks embrace pace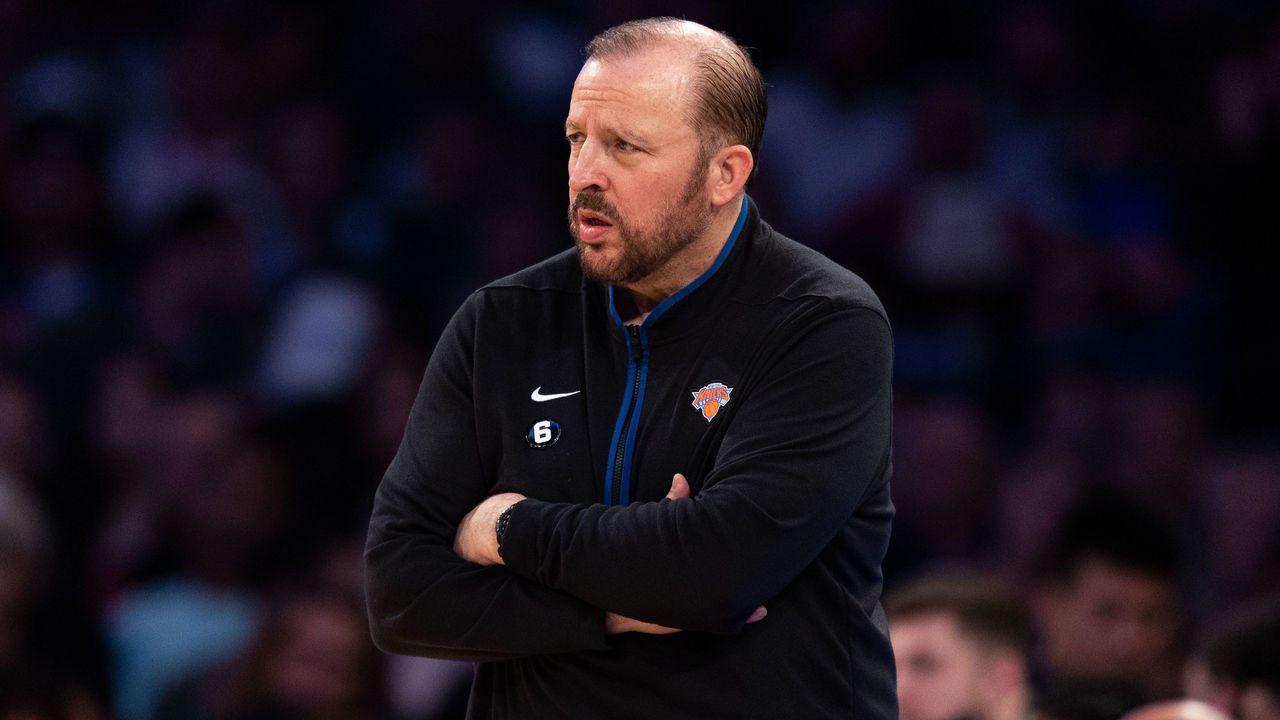 Inpredictable tracks a statistic called "average time to shot," which measures solely offensive tempo. (As stats go, "pace" is a comparatively poor indicator of the speed at which a team plays, because it's skewed heavily by the speed at which the team's opponents play.) Here are the time-to-shot rankings, in chronological order, of all the teams Tom Thibodeau has coached for full seasons in the NBA: 16th, 14th, 27th, 28th, 20th, 19th, 30th, 30th, 27th. (You can see the demarcating line when Derrick Rose tore his ACL.)
Thibs permitted some open-court chaos in Chicago when Rose was at his athletic peak, but since then he's leaned all the way into his preference for grinding, methodical sludge-ball. He brought that stylistic predilection to New York when he took over as head coach in 2020, overseeing the league's slowest and fourth-slowest offenses in his first two seasons at the helm. And yet! In one of the small-sample miracles of this early season, the Knicks currently have the ninth-fastest offense in basketball, having shaved about a second-and-a-half off their average offensive possession from last year.
A few things are driving that change, the obvious being that the Knicks are simply getting out in transition more frequently. Their second unit, in particular, has been burning rubber, with live wires like Immanuel Quickley and Obi Toppin sprinting off of live-ball turnovers, defensive rebounds, and even makes. Not coincidentally, the team started playing faster when Thibodeau showed a willingness to loosen the leash on his younger, more exuberant, more mistake-prone players (though Toppin still deserves more run).
But this is about more than just bouncy reserves creating transition opportunities. Top to bottom, the Knicks have made a concerted effort to hunt early offense and get into their half-court actions quicker, after spending last season meandering into their sets and routinely waiting until the shot clock dwindled into single digits to kick things into gear. The possessions on which they've shown the biggest uptick in tempo are those that come after opponents' made baskets. They're also throwing about 18 more passes per game than they did last season, jumping from 20th in the league to seventh.
To that effect, the addition of Jalen Brunson has been monumental. Julius Randle is a solid ball-handler and passer for his size, but he was overextended as a point forward. His tendency to dribble in place too often ground the offense to a standstill, letting passing windows close and defenses reset. Brunson dances with the ball from time to time, but he's a much more decisive half-court attacker, not to mention a solid transition scorer and hit-ahead passer in his own right. He's allowed Randle to refocus on his strengths as a slasher, open-court lane-filler, and play finisher.
Time will tell if Thibodeau has truly embraced change, or if his tempo-quashing instincts are just waiting to grab the wheel. - Wolfond
Can Kawhi stay on the floor?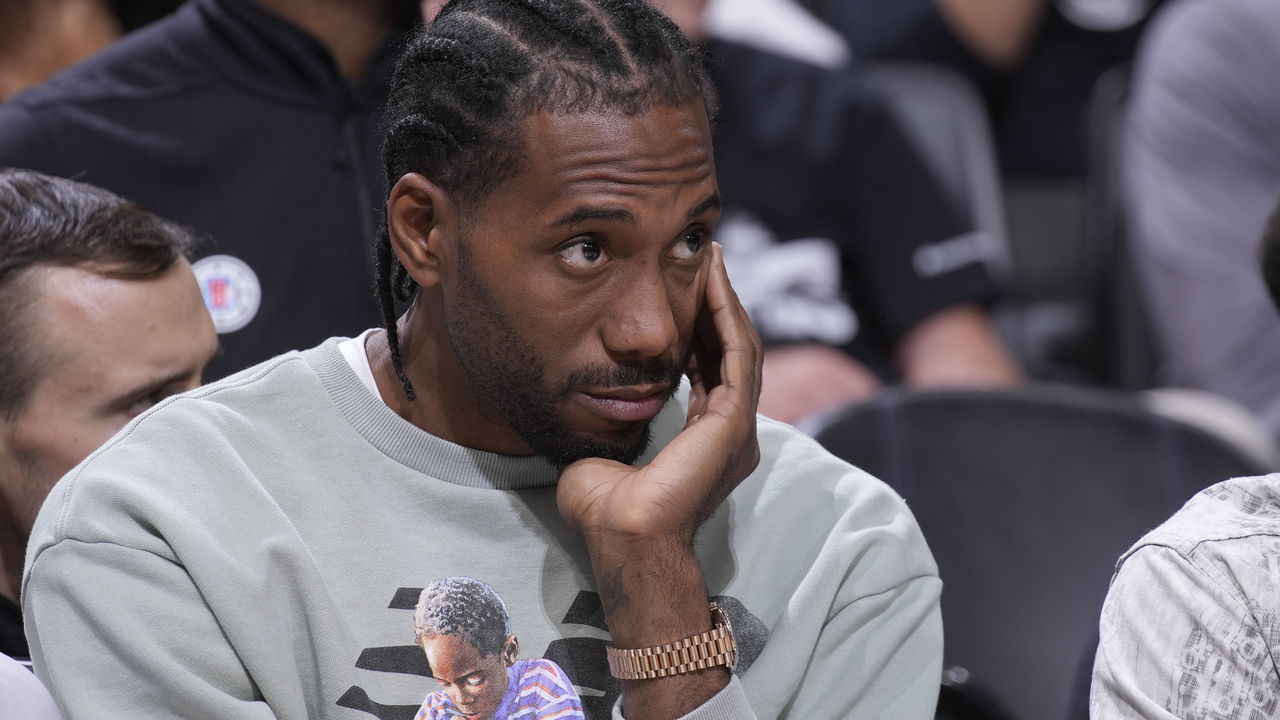 I understand why the Clippers want to be extra cautious with Kawhi Leonard, the two-time Finals MVP who missed 16 months due to a torn right ACL before returning to the court last week. I get why some might shrug off Leonard's limited action to start the season; the Clips are all-in on competing for a championship between April-June. But that doesn't make October any less concerning.
Leonard has played in only two of Los Angeles' five contests, coming off the bench midway through the second quarter in each appearance, and logging only 42 combined minutes. After a 16-month layoff, is he only capable of playing roughly 21 minutes, every other game? Even that may have been asking too much, as the 31-year-old was ruled out for two games against Oklahoma City due to stiffness in his right knee.
Given the lingering right quad issue (quadriceps tendinopathy) that already made Leonard's night-to-night availability over the last five years so unpredictable, it's worth asking whether the future Hall of Famer will ever be available enough for the Clippers to truly contend.
Leonard hasn't played 70 games in a season in six years. He's cracked the 60-game mark only once in that time. Paul George hasn't exactly been a model of durability, either, missing an average of 33.7 games per 82 over the last three seasons.
The Clippers continue to throttle teams when both stars share the court (+13.7 per 100 possessions in 39 minutes this season), but have predictably lost the minutes when at least one of Leonard or George is on the bench. The team has depth, but the drop-off from George to the Clippers' third-best player is stark, as L.A. doesn't employ the type of talent that would usually be the third star on a title team.
Given how much is riding on both Leonard and George being on the court, and how few and far between those shared minutes might be, the Clippers' standing in a tough Western Conference will likely suffer. That means a tougher road to ultimate glory.
Banking on Leonard's return to full strength by the time the playoffs roll around is understandable, but it also feels increasingly unlikely. - Casciaro
ILoveMarkkanen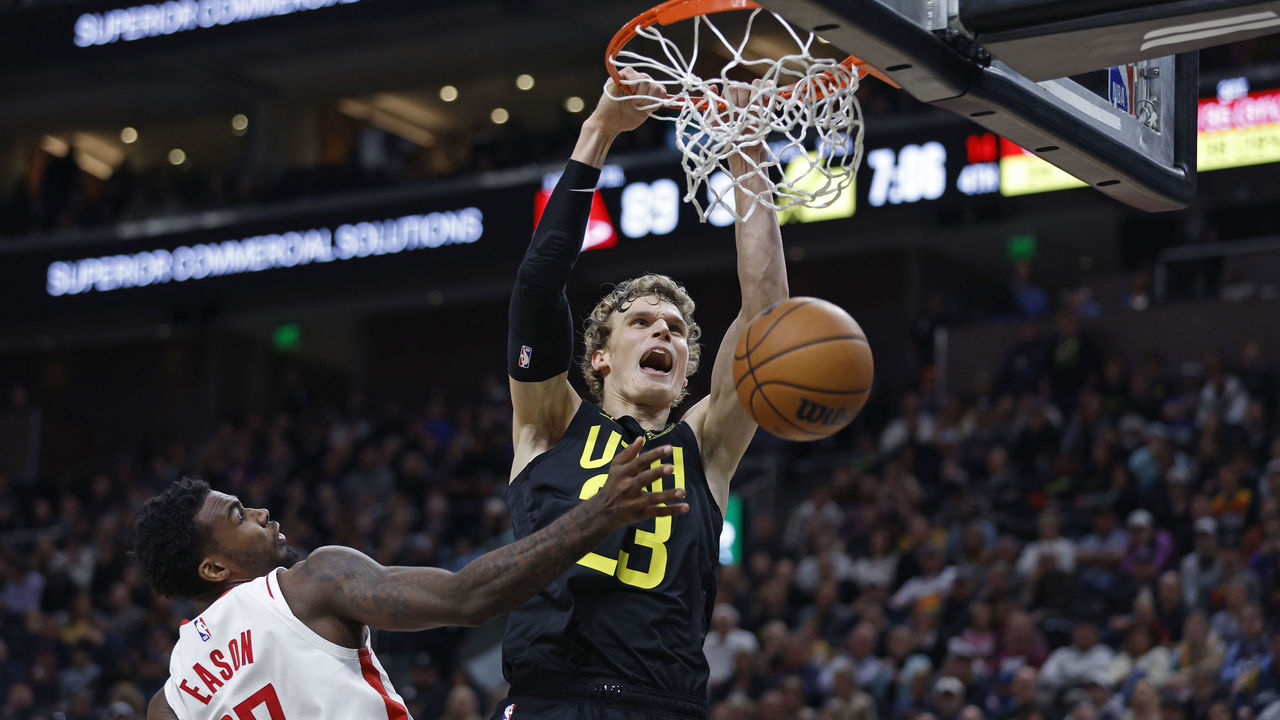 There's been no bigger surprise in the league so far this season than the Utah Jazz, summer sellers and would-be tankers who are off to a 4-1 start, with wins over presumed contenders in Denver, Minnesota, and New Orleans. While it took a total team effort and pristine ball movement for the Jazz to catch those teams flat-footed, the biggest driver of their early success, and the swing factor that has the most power to determine how sustainable it proves to be, is the play of Lauri Markkanen.
Markkanen's been a frustrating player for most of his career, due to his inability to either stay healthy or actualize his potential when he's been healthy enough to play. His headlining NBA skill has always been his ability to shoot the ball while also being 7-feet tall, but the truth is he's never quite lived up to his reputation as a shooter - he's only had one season in which he's been solidly above average from 3-point range. He's nonetheless operated primarily as a stretch big, without really rounding out his game around that theoretical skill … until now. Markkanen is playing the best ball of his life while shooting 24% from deep, and looks to have found a home in Utah.
The most encouraging sign is how much of Markkanen's damage is being done in close proximity to the basket - as a driver, cutter, and roll man. Nearly two-thirds of his shots have come inside the paint (a career high by a mile), and he's hit an extremely nice 69% of those shots. He's always been a capable closeout attacker, but this is something different. He's creating his own offense more frequently - and more effectively - than ever before. He looks stronger, quicker with the ball, and more decisive. And Jazz coach Will Hardy is empowering him to spread his wings.
Markkanen has already finished more possessions as a pick-and-roll ball-handler than he did all last season. He's averaging a career-high six drives per game, and while he almost never passes out of those drives, it's been a complete non-issue so far because he's shot an incredible 68.4% on his forays to the basket.
He remains a limited playmaker, and he'll never have the lateral quickness to be an all-world defender, but he's made meaningful strides in both areas. He proved last season in Cleveland that he could hold up at small forward, and while that won't be as tenable defensively without Evan Mobley and Jarrett Allen behind him, his ability to function as a jumbo wing on offense gives Utah the ability to roll out some massive lineups. His development this season will be fun to track. - Wolfond
Comments
✕
10 observations from the first 10 days of the NBA season
  Got something to say? Leave a comment below!