The 5 most interesting storylines from the NBA's 2022 draft
The NBA officially began looking toward the 2022-23 season on Thursday, with 58 players selected in the 2022 draft and plenty more joining teams on two-way contracts as undrafted free agents. Here are five things that stood out to us on an eventful night.
Shake-up at top works out for Banchero and Rockets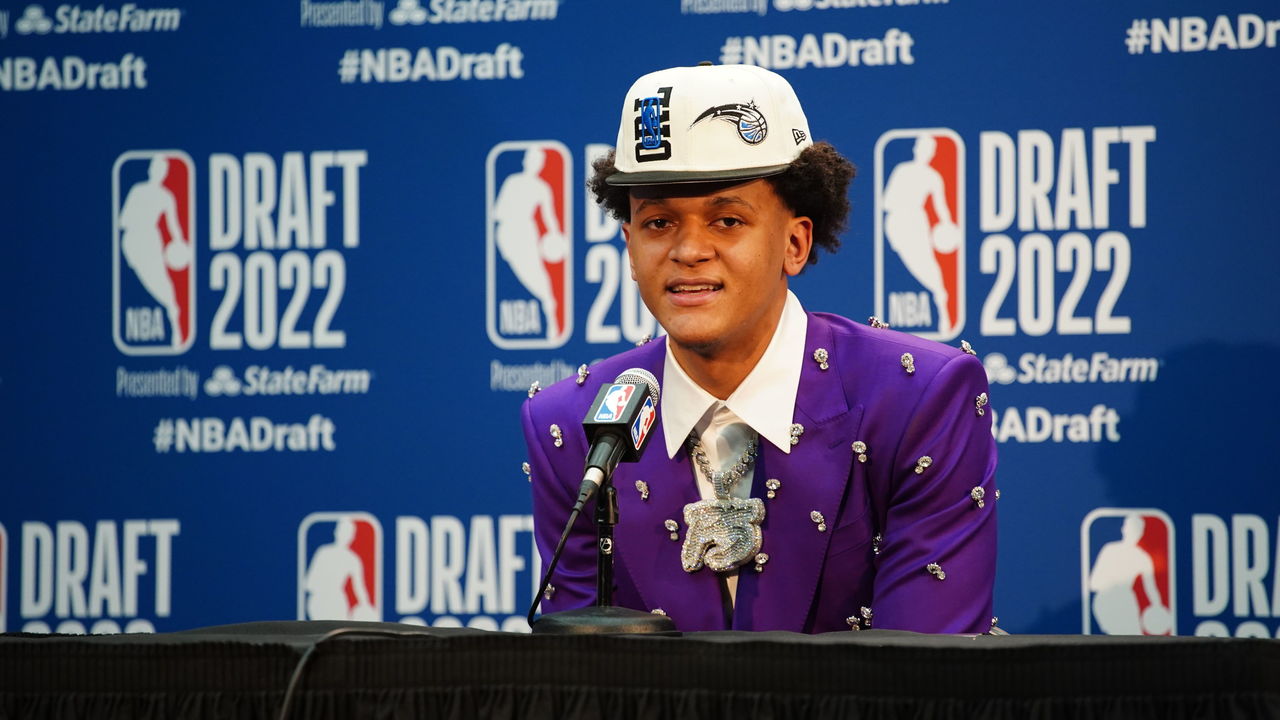 It was reported for weeks that the draft would start with Jabari Smith heading to Orlando, followed by Chet Holmgren to Oklahoma City, and then Paolo Banchero to Houston. However, the night began with a bang, as the Magic opted to take Banchero first overall, despite never conducting a workout or an interview with him.
Though Holmgren ended up in OKC, the Magic's surprising choice led to positive outcomes for Banchero and the team initially slated to select him.
The Duke product never seemed like an ideal fit in Houston, where the Rockets are already tasked with figuring out how to build around an offensively gifted but defensively indifferent youngster in Jalen Green. The scoring potential between Banchero and Green would've been limitless. But Houston would've been left to plug too many defensive holes in the coming years, while Banchero would've landed on a team where another young star already believes he's the franchise cornerstone.
Ideally, a dynamic and ball-dominant player like Banchero either ends up in a situation where he can soak up as many possessions as possible at the NBA level or learn winning (and defensive) habits from successful veterans. The Rockets wouldn't have presented either option. The Magic can at least offer the former. Cole Anthony and Jalen Suggs might have something to say about that, but make no mistake, the Magic are Banchero's team now.
Orlando, like Houston, still boasts plenty of promising youngsters to complement the newest No. 1 pick. In addition to Anthony and Suggs, there's the quietly improving Wendell Carter, 2022 All-Rookie first-team selection Franz Wagner, Markelle Fultz, and the returning Jonathan Isaac (who hasn't played since 2020 due to knee and hamstring injuries), among others. However, unlike the Rockets, the Magic had more pre-draft roster balance between both ends of the court, which will be necessary to insulate Banchero.
Pre-draft is the keyword there. Houston should be just as pleased with how the top of the draft played out. Banchero going first overall and Holmgren remaining locked in at No. 2 allowed Smith to fall into its lap.
Unlike Banchero, Smith competes and excels on the defensive end. That's exactly what Green and the rest of the Rockets need. In addition to his defensive versatility, the 6-foot-10 forward brings a lethal jumper to Houston, which should help space the court for Green (especially in the wake of losing Christian Wood).
The Rockets then added another tenacious defender later in the first round, selecting LSU power forward Tari Eason 17th overall. Eason can create a ton of turnovers, and he might've been one of the few players in this draft class who can match Smith's defensive versatility and upside.
Houston went from staring down a future built upon gunners for whom defense is more of an occasional option to instead surrounding Green with a promising blend of defensive balance. Banchero went from staring down a questionable fit to tip off his NBA career to landing in a spot that provides him more opportunities to excel. That sounds like a win-win all around. - Joseph Casciaro
Pistons win the night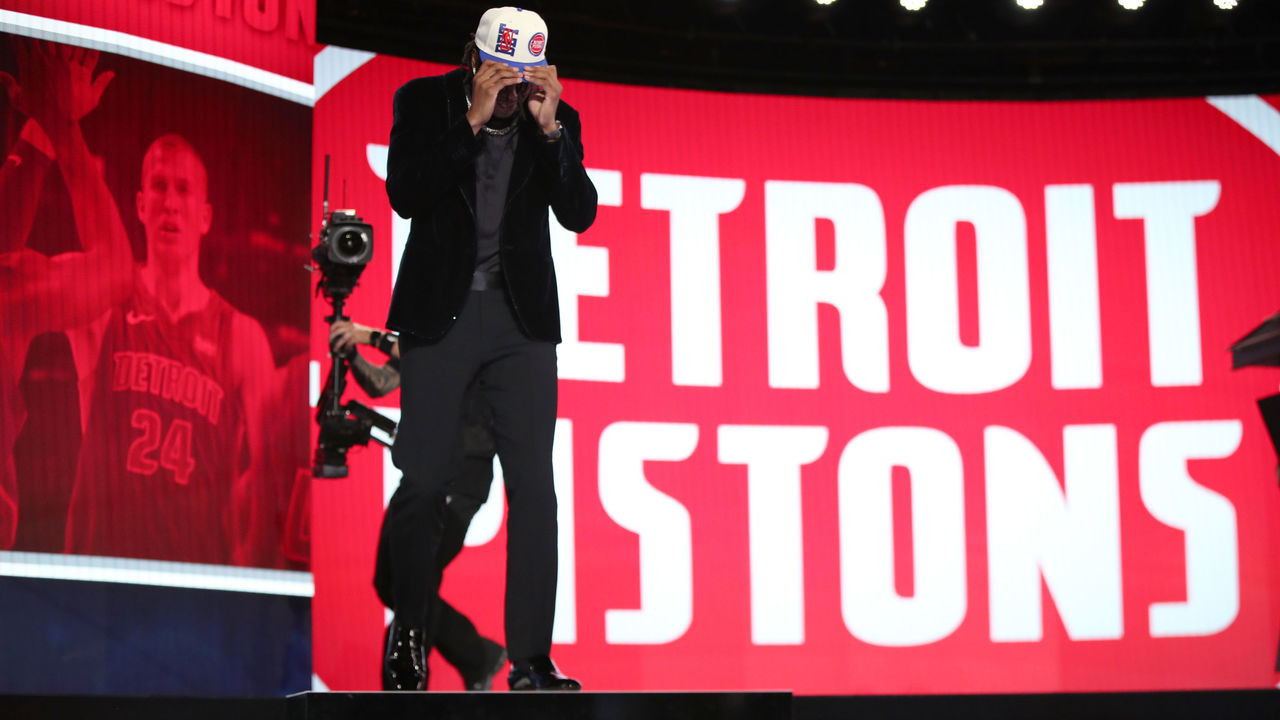 It would've already been a victorious night for Detroit had it ended when the team selected Jaden Ivey fifth overall. But the evening turned into a home run after the Pistons maneuvered their way into landing Memphis center Jalen Duren (13th overall) about an hour later.
Ivey's a star-level shot-creator who many pundits believe has the highest upside in the entire class. Duren's an NBA-ready rim-protector who should immediately pose a significant, vertical threat on both ends of the court. He can blow up opponents' possessions with his fantastic defensive timing or catch lobs from Cade Cunningham and finish pick-and-rolls on offense.
The draft-night haul is even more impressive when you consider the Pistons acquired the pick used on Duren by flipping the 2025 first-rounder they received a day earlier in trading Jerami Grant to Portland. Essentially, Detroit turned a solid but unspectacular veteran on a soon-to-be expiring contract - who they would've lost for nothing a year from now - into Duren.
The Pistons also still have a ton of cap space this summer. They can use that on an impact player who fits their tantalizing rebuild or absorb unwanted contracts (like Kemba Walker's), which come with more picks attached. Either way, general manager Troy Weaver has his team well-positioned for the future.
A year after selecting Cunningham first overall and two years after coming away from the 2020 draft with Saddiq Bey, Isaiah Stewart, and Killian Hayes, the Pistons again leave the draft as one of the night's winners. The team's record over the last couple of seasons is nowhere near indicative of Detroit's bright future.
The wins may not come immediately, but they'll come eventually. In the meantime, Pistons fans should have an entertaining squad to root for. - Casciaro
Knicks punt on lottery in favor of cap space, future picks
It's extremely rare for a team to trade out of the lottery (not trade down, but out of the first round entirely) without acquiring a proven present-day contributor in return. The Knicks, however, shipped out the 11th overall pick Thursday night for three conditional 2023 first-rounders and cap relief by shedding Kemba Walker's $8-million contract while avoiding adding a first-round salary slot to their ledger.
To recap: New York received those three future picks from the pick-rich Thunder in exchange for No. 11, then traded one of the incoming picks (the 2023 Nuggets first, which happens to be by far the most likely one to convey next year) and four second-rounders to the Hornets for the No. 13 pick. The Knicks then rerouted that pick (Duren) along with Walker to the Pistons in exchange for the Bucks' 2025 first-rounder that Detroit just acquired in the Grant trade.
The deals pushed New York to about $16 million in projected cap space, which still isn't enough to land an impact free agent, but gets it close. The Knicks' reported top choice to fill that space is point guard Jalen Brunson, whose Bird rights belong to the Mavericks. It's also worth noting that New York reportedly appeared on Kyrie Irving's list of preferred destinations if he can't work out a new deal with the Nets. It would need to carve out considerably more space to make signing him a reality. Every little bit helps, though.
It's tempting to say the Knicks must have some intel that suggests one of their prime offseason targets is likely to sign with them, but plenty of fans have been hoodwinked, bamboozled, and led astray by that line of thinking in the past. We all remember the big Irving and Kevin Durant whiff three summers ago. New York also took pains to clear cap space last offseason - including trading down several spots in the first round in part to lower the payroll hit of the pick - only to use that space to overpay Evan Fournier.
At least in this case, the Knicks will wind up with more first-rounders than they started with. They could, in theory, package those picks in a trade somewhere down the road. But how valuable will the selections actually be? With the heavy protections on the Pistons and Wizards picks and the fact the Bucks pick is likely to land in the 20s, they're all potentially going to be worse than the pick New York just traded away.
Altogether this wasn't necessarily a bad piece of business by the Knicks. It'll look especially savvy if it helps the franchise land a big fish. But because we've learned not to assume anything until a star free agent actually puts pen to paper, for now, we can only take this series of moves for what it is: another gamble on another free-agent pipe dream. - Joe Wolfond
Grizzlies trade up and bolster the Sixers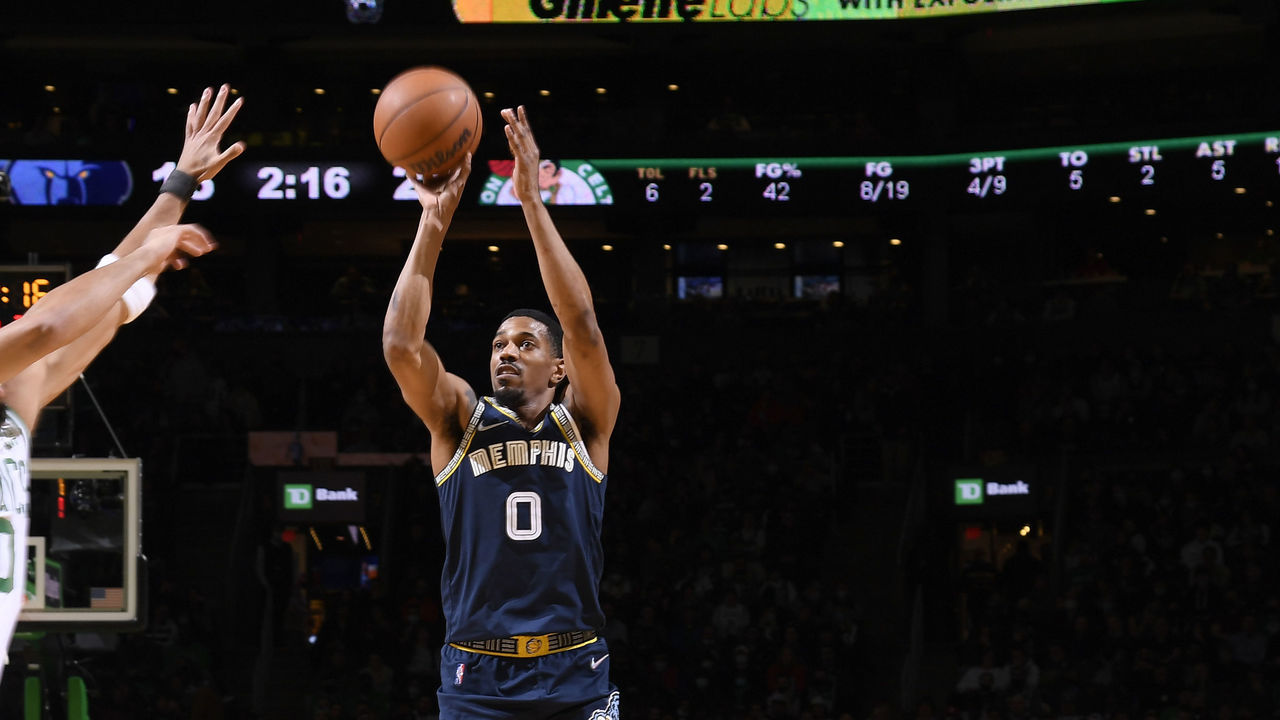 The Grizzlies' draft coffers have been well-stocked in recent years. That means when the club sets its sights on a particular draft target, they can usually package multiple picks and trade up to get their man. General manager Zach Kleiman hasn't been shy about doing so, and it's worked out quite well for the team so far, particularly in the cases of Desmond Bane and Brandon Clarke. Since Kleiman took over the front office in 2019, Ja Morant is the only pick the Grizzlies have made that they didn't trade up to get.
Memphis pressed ahead with that tactic Thursday night, sending the No. 22 and 29 picks to Minnesota in exchange for No. 19. It used that selection to draft Jake LaRavia, a high-feel playmaking forward who could be a pretty sensible replacement for free agent Kyle Anderson. Then, just four picks later, the Grizzlies dealt from their roster to get back into the first round, sending De'Anthony Melton to the 76ers for the right to draft another skilled, beefy forward in David Roddy at No. 23.
On its face, turning Melton, the 22nd pick, and the 29th pick into picks Nos. 19 and 23 doesn't seem like great business, especially considering Memphis had to eat Danny Green's dead-weight salary in the deal. Melton's been a valuable contributor for the Grizzlies over the last three seasons, especially on the defensive end. His loss could prove particularly damaging if they lose their other key bench guard in Tyus Jones to free agency. But given how well these draft picks have typically worked out for the current regime, this front office and scouting department deserve the benefit of the doubt.
The Sixers, for their part, were the biggest beneficiaries of Memphis' aggressive draft approach. They needed point-of-attack defense in the worst way, and Melton - an ace screen navigator with sticky hands, terrific instincts, and a 6-foot-9 wingspan - gives them that in spades. His offensive game is still a bit choppy, but he's turned himself into a reliable 3-point shooter (38.8% over the last two seasons), is a menace in the open floor, and can initiate in a pinch. He should be a snug fit next to either James Harden or Tyrese Maxey in transitional lineups or possibly even between them in three-guard units.
Melton can effectively replace the injured Green in the rotation while offering some defensive insurance on the perimeter in the event Philly wants to move Matisse Thybulle. He isn't quite the defender Thybulle is, but Melton has a much better chance of playing big minutes and contributing in the playoffs because his offense should be good enough to keep him on the floor. He's still just 24 and under contract for two seasons at $19 million. That's a great return for the 23rd pick, especially given Philly's extreme win-now mandate.
Acquiring him rather than just waiving Green before his guarantee date means the Sixers likely won't have access to the full mid-level exception in free agency. But Melton is probably a better fit than anyone they could've realistically signed with the MLE. - Wolfond
Blazers straddling the present and future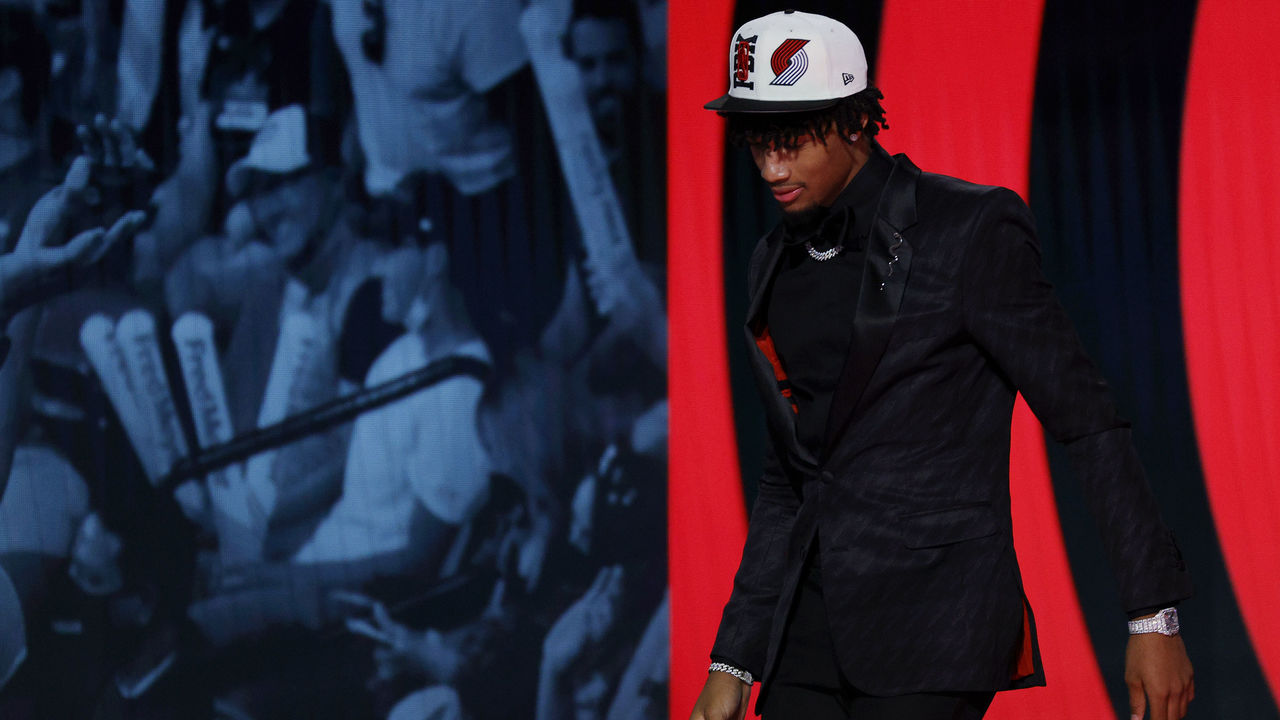 Trading a future first-rounder for Grant was yet another indication that the Trail Blazers don't intend to blow things up completely, which would culminate in a Damian Lillard trade. Instead, it seems they'll continue building around Lillard until the wheels fall off. Reports that Portland was also shopping the seventh overall pick ahead of Thursday night only solidified that point.
However, keeping their pick and selecting Sharpe - who may be the draft's biggest mystery but also its best long-term star - offers the Blazers some insurance. Sharpe possesses the exact type of upside Portland would be looking for as part of a future Lillard trade return, and he's the kind of long-term play a franchise needs to bank on when it's time to hit the reset button.
The Blazers may be able to fight their way off the ropes both today and tomorrow if they can appease Lillard with a more competitive team next season while Sharpe comes along as Portland's future star. If things go south in 2022-23 or Lillard loses his patience with what's ultimately a team shuffling the deck chairs on the Titanic, then they've already got the first pillar of a rebuild.
The interesting question is, what happens if Lillard forces the team's hand in dealing Sharpe? Would the Blazers go further all-in for the longtime franchise star who's set to earn roughly $137 million over the next three years, or would they opt for a fresh start? - Casciaro
Comments
✕
The 5 most interesting storylines from the NBA's 2022 draft
  Got something to say? Leave a comment below!