NBA MVP Rankings: Captivating wide-open race at 1-month mark
There are no shortage of MVP candidates. Plenty of familiar names are in the hunt for the Maurice Podoloff Trophy, but nobody has separated themselves from the pack. Here are the top 10 players in the running as we approach the quarter mark of the 2022-23 campaign.
10. Stephen Curry, Warriors
Preseason ranking: 5
Curry is having one of his strongest seasons amid the Golden State Warriors' sluggish start. The 34-year-old is on pace to set new career highs in points (32.3 per game), field-goal percentage (52.9), and rebounds (6.7) while boasting one of the highest usage rates in the Association.
Curry is on track to join the 50/40/90 club for the second time in his career - only Larry Bird and Steve Nash accomplished the feat multiple times. The Warriors guard is also within striking distance of Rudy Gobert's single-season NBA record for true shooting percentage.
9. Devin Booker, Suns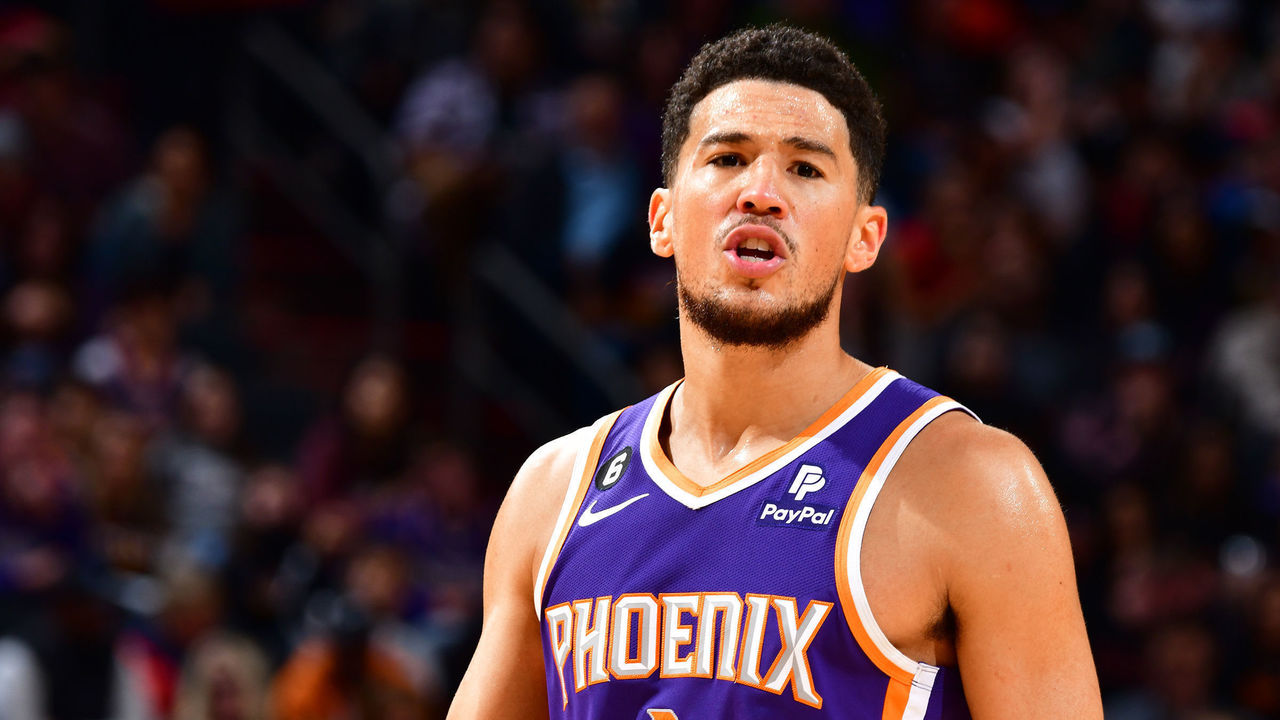 Preseason ranking: 8
Booker is having a career year, even as the Phoenix Suns continue to lose bodies around him.
The 26-year-old is leading Phoenix during star veteran Chris Paul's indefinite absence due to a heel issue. Booker averaged 28.3 points, 7.2 assists, 5.8 rebounds, and 1.2 steals in the six contests Paul missed so far. No team's pulled away in a cramped Western Conference, and the Suns haven't fallen out of the picture, either - with Booker the main reason why.
8. Ja Morant, Grizzlies
Preseason ranking: 6
Morant suffered an ankle injury that could sideline him for weeks, but he's been a top-10 player so far. He boosted his scoring, rebounds, and assists averages from last season's breakout. The Memphis Grizzlies star is also generating his usual array of spectacular highlights.
Memphis thrived without Morant last season, earning a 20-5 record in his absence. This year, the Grizzlies have a minus-7.5 net rating when he's off the court, compared to plus-6.6 when he plays. They've lost all three games he sat out. Memphis' struggles without Morant may actually give him a better MVP case than last year.
7. Shai Gilgeous-Alexander, Thunder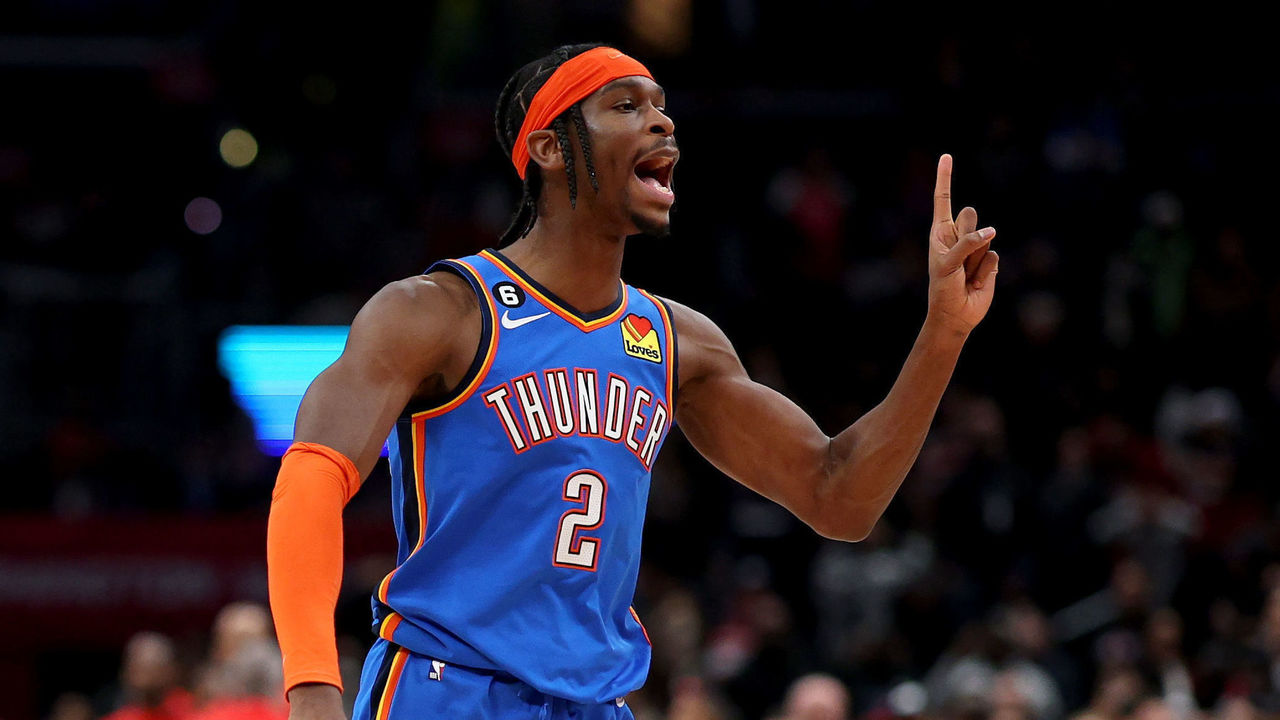 Preseason ranking: Unranked
It'd take the NBA season of all seasons for this Oklahoma City Thunder squad to boast the MVP, but don't let that take away from what Gilgeous-Alexander has done through the first month.
The Canadian guard is cementing himself as a bona fide star - not just with his career-high 31.1 points per game, but also with his penchant for the spotlight. He demonstrated this with a game-winning step-back three Friday to bury the Washington Wizards and cap a 42-point night. Gilgeous-Alexander would likely need something groundbreaking to win MVP, but he's making a solid case early.
6. Nikola Jokic, Nuggets
Preseason ranking: 2
The returns of Jamal Murray and Michael Porter may have lightened Jokic's workload, but the two-time reigning MVP remains the central figure in the Denver Nuggets' seventh-ranked offense.
Denver is scoring an absurd 20.8 more points per 100 possessions with Jokic on the floor. The Serbian star is averaging 20.8 points on 60.6% shooting to go along with 9.5 boards and 1.5 steals per contest. He's registering a career-best 8.9 assists per game, trailing only Tyrese Haliburton and Trae Young.
Jokic recently surpassed the legendary Wilt Chamberlain for the most triple-doubles by a center. He has three this season and sits sixth on the all-time list with 79 overall.
5. Donovan Mitchell, Cavaliers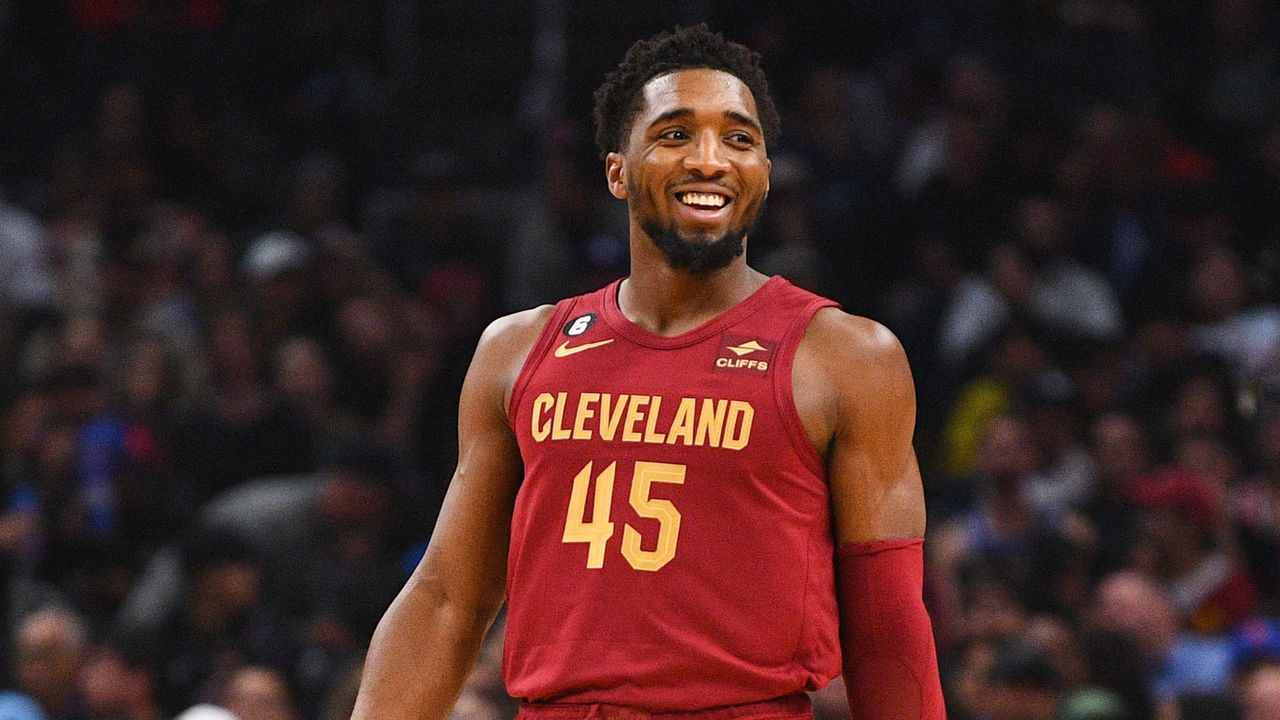 Preseason ranking: Unranked
Don't look now, but Mitchell is seventh in the NBA in scoring, leads the league in minutes per game, and is shooting just a couple percentage points shy of 50/40/90. His performances have cemented the young Cleveland Cavaliers as one of the best teams in the Eastern Conference.
The former Utah Jazz guard could experience a shooting drop-off, and his insane numbers may come down slightly with fewer minutes. However, his role as one of the game's top scorers on a potential top-three seed should allow him to remain in the MVP race all season long.
4. Joel Embiid, 76ers
Preseason ranking: 3
Embiid got off to a slow start, missing four of the Philadelphia 76ers' first 10 games and struggling stamina-wise after dealing with plantar fasciitis this summer. But in the six games since James Harden's injury, the big man stepped up in a huge way. Embiid averaged 37.3 points, 10.7 rebounds, and 5.8 assists in that span, shooting 86.2% on an absurd 15.7 free-throw attempts per contest.
Last year's MVP runner-up dropped an early candidate for best individual performance with a historic 59-point, seven-block game against the Jazz. Embiid is second in points per game, and he's anchored Philadelphia's fourth-ranked defense.
3. Giannis Antetokounmpo, Bucks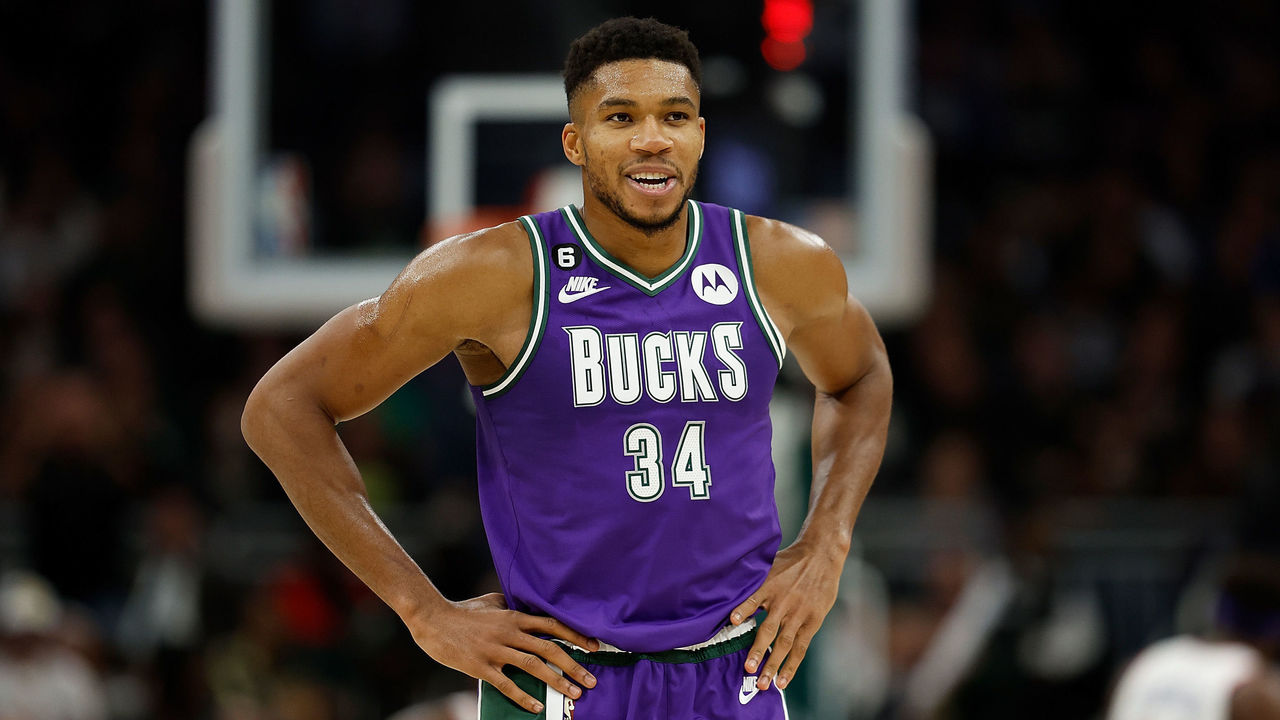 Preseason ranking: 1
MVP voters have come to expect the exceptional from Antetokounmpo, and he's delivering once again for the 11-4 Milwaukee Bucks. The two-time MVP is nearly matching his career-high points per game average in the new campaign while maintaining his lofty rebounding, passing, and defensive stats.
The Greek Freak's position as the league's best all-around player is probably still valid, but between voter fatigue and a handful of elite stat-stuffers vying for the trophy, it's tough to call him the favorite right now. The Bucks' strong start and push for the league's top record would help, though.
2. Luka Doncic, Mavs
Preseason ranking: 4
Doncic's pursuit of a first career MVP award is off to a flying start. The Dallas Mavericks superstar began the campaign with nine straight 30-point games, trailing only Chamberlain's 23-game streak.
Doncic leads the Association in scoring (33.5 points per game), free-throw attempts (171), and triple-doubles (four). He also ranks third in steals (1.9) and usage percentage among qualified players (37.7%)
The offseason departure of Jalen Brunson put even more on Doncic's plate, but the Slovenian has continually delivered. If Doncic can somehow sustain this level of play and lift the Mavs to a playoff berth, it'll be hard to deny him the award.
1. Jayson Tatum, Celtics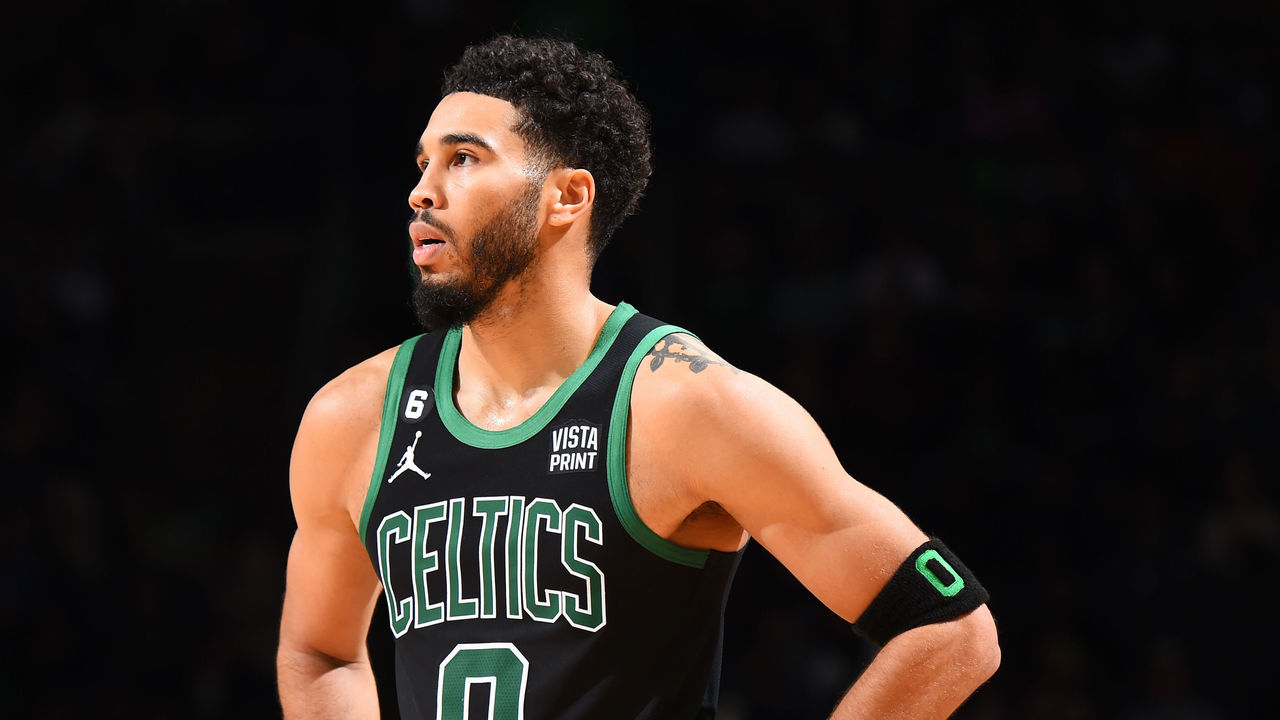 Preseason ranking: 7
Tatum is putting up near-identical shooting percentages to his previous two seasons, but increased volume at the free-throw line means he's on pace to top 30 points per game for the first time in his career. Thanks in part to that scoring bump, the Boston Celtics have the NBA's best record and lead the league in both offensive rating (119.1) and net rating (7.7).
The three-time All-Star deserves a ton of credit for keeping Boston afloat amid its preseason coaching controversy and has come out with a vengeance after struggling in last year's NBA Finals loss. Winning an MVP trophy and taking home the championship this spring would be the perfect revenge.
Honorable mentions: Kevin Durant, Lauri Markkanen
Comments
✕
NBA MVP Rankings: Captivating wide-open race at 1-month mark
  Got something to say? Leave a comment below!