Good luck to the next Lakers coach amid L.A.'s self-inflicted downfall
Photo illustration by Nick Roy/theScore
As a fictionalized account of Jerry Buss' first year running the Los Angeles Lakers plays out on television, the real-life soap opera of Jeanie Buss' present-day Lakers took another dramatic turn this week.
It was reported that Phil Jackson, who won five of his 11 coaching championships with the Lakers, is significantly involved in the team's search for a new head coach.
Jackson remains an admired guru of sorts by coaches far and wide. He's also an out-of-touch 76-year-old who continued to scoff at the 3-point revolution even as a 67-win Warriors team led by an MVP named Steph Curry closed in on a championship in 2015.
Why is Jackson, who was also Buss' fiance for several years until they broke up in 2016, involved in a modern coaching search at all, let alone significantly? Because the Lakers have fallen in love with latching on to anyone associated with the franchise's past success.
General manager Rob Pelinka was Kobe Bryant's agent. Senior adviser Kurt Rambis won four championships as a player with the "Showtime" Lakers in the 1980s. Linda, Rambis' wife, is Buss' close friend and confidante. She also holds a position in Lakers management as executive director of special projects.
Linda's relationship with Buss is strong enough that she's long been considered a shadow executive on the basketball side. She's also reportedly remained a staunch Pelinka supporter.
The Lakers' 2020 title in the Disney bubble is becoming an outlier result of Pelinka's wretched team building. Frank Vogel wasn't blameless in Los Angeles' 33-49 campaign, but it's ludicrous that the coach of the 2020 champions lost his job while Pelinka and Rambis kept theirs.
Buss fired her own brother, Jim, and former championship executive Mitch Kupchak in 2017 while mired in the longest playoff drought in franchise history - a drought that produced the draft picks and young talent that eventually helped the team trade for Anthony Davis. As cold as those terminations may have seemed, they were also the kind of shrewd, team-first decisions that appeared to highlight why the late Jerry Buss left his daughter with the final say over his beloved Lakers.
Where has that gumption gone?
Pelinka, who was brought in under a Magic Johnson-led regime in 2017, marches on, just as he did when Johnson shockingly stepped down in 2019. The Lakers legend called Pelinka a backstabber at the time. Nine months later, Pelinka, who had already earned a reputation within the organization as a duplicitous storyteller, was promoted to vice president of basketball operations.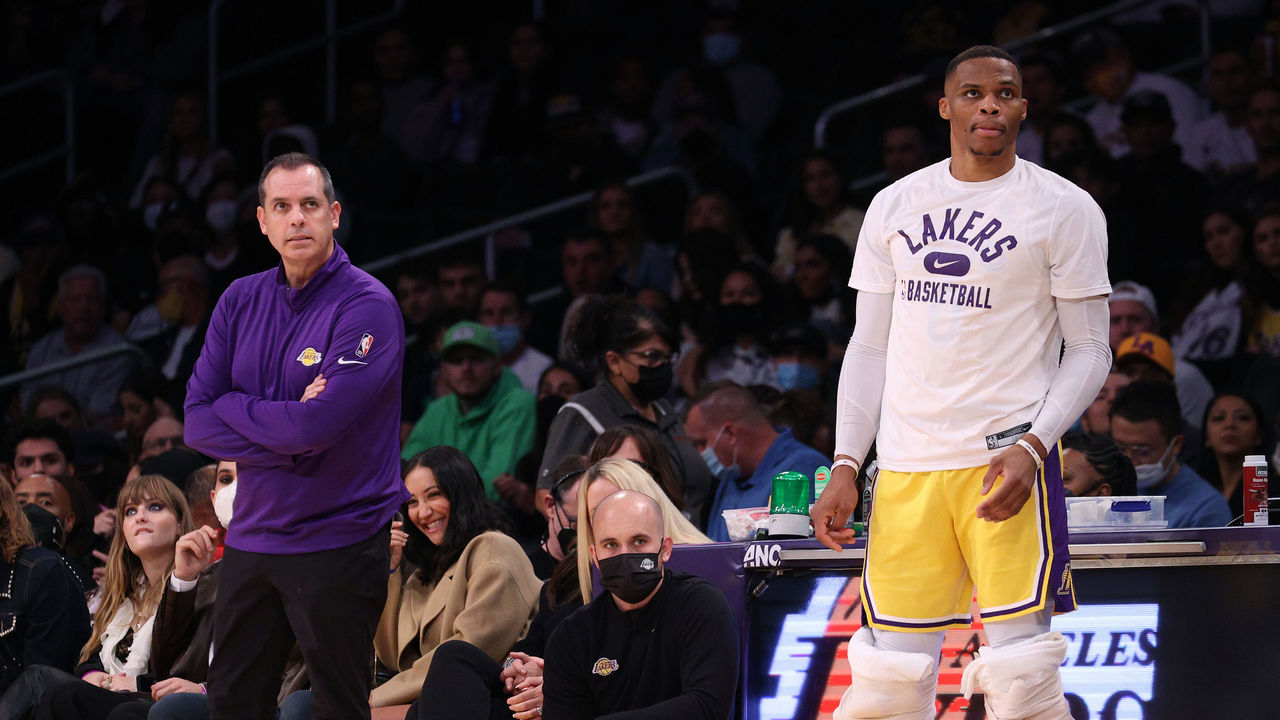 If Vogel was the sideline scapegoat for the NBA's most disappointing team this season, then Russell Westbrook was the Lakers' fall guy on the court. Yes, Westbrook is a fading star in rapid decline who's shown little self-awareness, just like the Lakers as a whole. Vogel shouldn't be held responsible for the fact one of the worst volume shooters ever - who doesn't want to defend, move much off the ball, or move to the bench - doesn't fit beside LeBron James.
But it's not Westbrook's fault the team gave up Kyle Kuzma, Montrezl Harrell, and Kentavious Caldwell-Pope to acquire his mammoth contract, which contains a $47-million player option for next season.
Whether trading for Westbrook was the front office's preferred move or Pelinka was forced to do so because of the influence of James, Davis, and Klutch Sports - as Pelinka and his supporters seemingly want us to believe - it's these kinds of regressive transactions that have contributed to L.A.'s slide since 2020.
Pelinka's Lakers didn't think trading for soon-to-be free agent Kyle Lowry was worth giving up Talen Horton-Tucker at the 2021 trade deadline. Lowry is both a better player and a better fit than Westbrook at this stage in their careers, yet Los Angeles scoffed at acquiring Lowry before turning around and surrendering way more to acquire Westbrook months later.
Lowry could've helped L.A. put forth a more competitive title defense in 2020-21 when an injury-riddled Lakers team was eliminated in the first round. Whether he would've stuck around or not, the team still could've made a deal for a player like Buddy Hield or DeMar DeRozan, or simply kept most of the better-fitting talent it later dealt for Westbrook.
Now the Lakers are a capped-out, aging, losing team without the asset capital necessary to improve. It's also quite possible they'll lose their best young player in free agency this summer, as the club may not be able to stomach the luxury-tax bill that would come with retaining Malik Monk.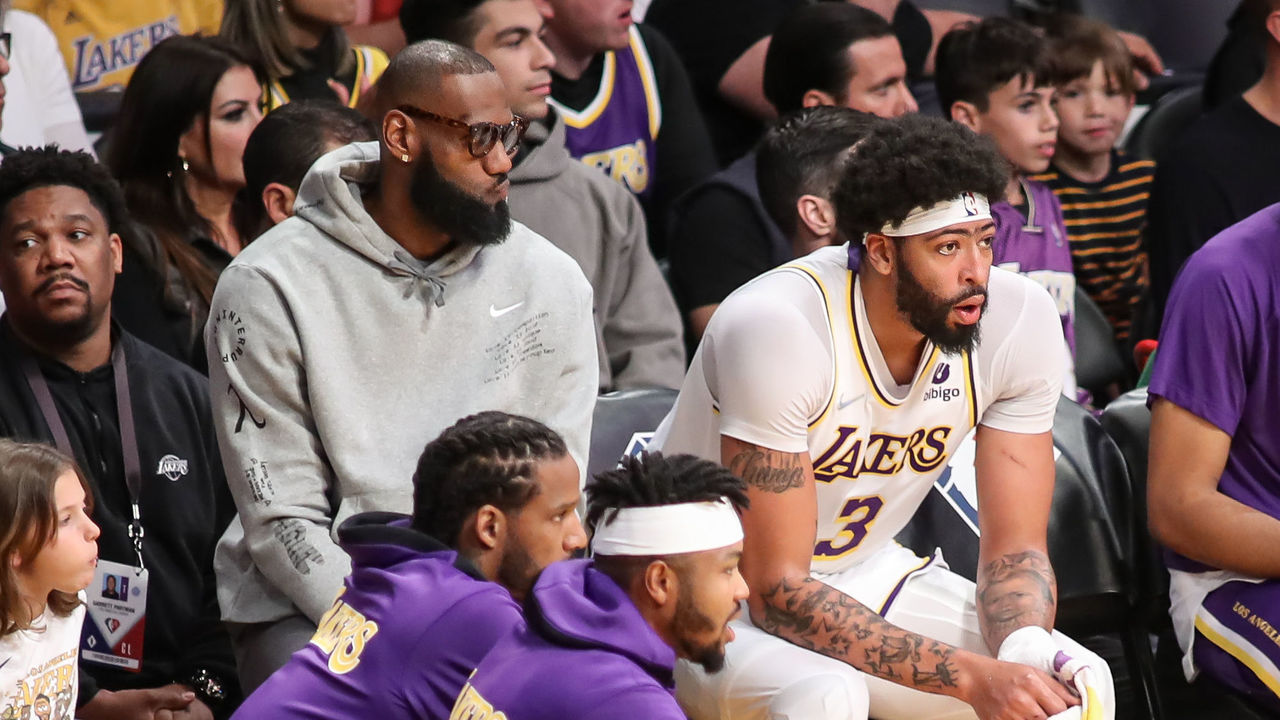 Injuries to James and Davis are no excuse, either. The Lakers were minus-30 in the 576 minutes their two superstars shared the court this season, which speaks to the poor roster construction around them.
Pelinka and Rambis also bucked tradition by meddling in the affairs of the coaching staff. As The Athletic's Bill Oram reported last month, the team's GM and senior adviser were regular attendees in Vogel's coaches' meetings and film sessions.
Between Buss, Pelinka, Kurt and Linda Rambis, James, Davis, and now Jackson, there seems to be a lot of voices steering what's ultimately a rudderless ship.
Why would any top-tier coach with options choose that kind of arrangement?
Even the privilege of coaching James might not be enough to outweigh the off-court baggage anymore. LeBron only has one year remaining on his contract, and though he remained offensively prolific for a 37-year-old, 19-year veteran this past season, his team posted a losing record with him in the lineup for the first time since his rookie campaign.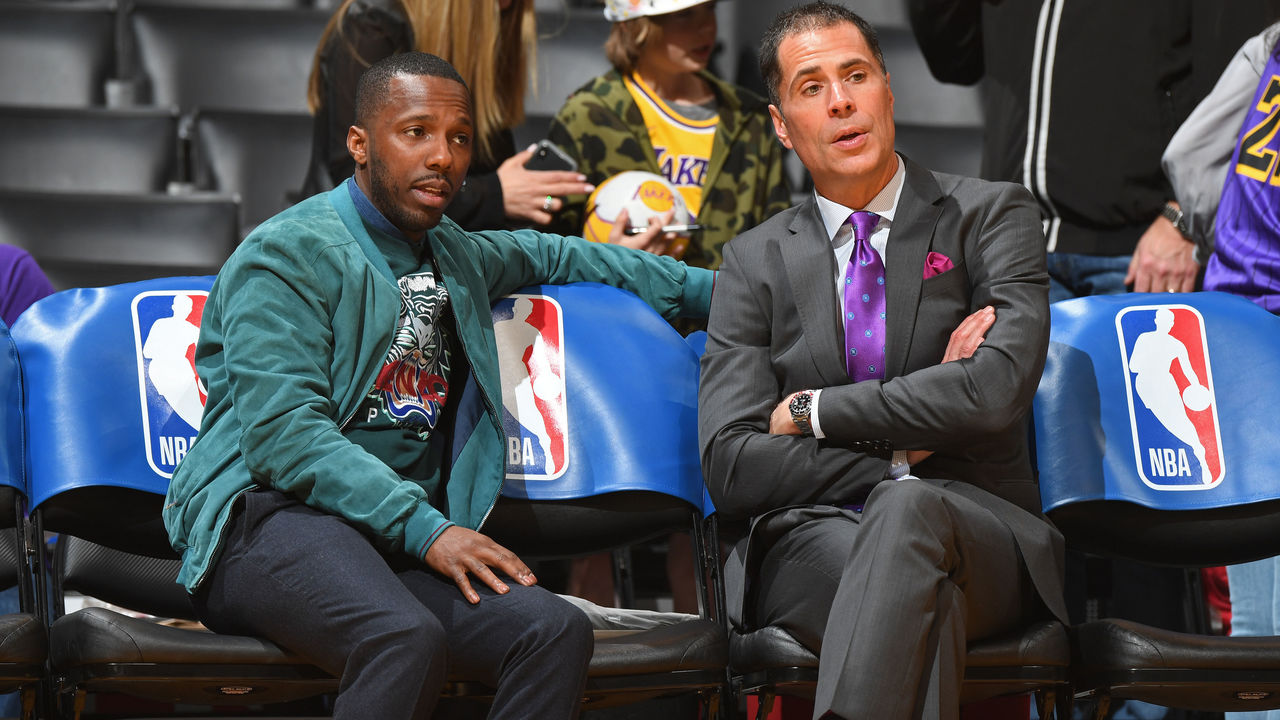 Given the way the Lakers have carried themselves in recent years, it doesn't appear any lessons were learned from Monty Williams choosing Phoenix in 2019, or from missing out on Ty Lue shortly thereafter because they low-balled him.
The Lakers have made the playoffs just twice in the last nine years, yet there remains an air of arrogance emanating from an organization that doesn't seem to realize it's becoming a punchline. They're starting to look like Knicks West.
L.A.'s saving grace is that the Lakers are a legacy franchise located in the league's most desirable market. They can continue to flounder aimlessly and still have a future superstar fall into their laps, like when James chose them in 2018.
But there's another L.A.-based team that's been the better-run organization for nearly a decade now. There are other warm-weather destinations and big markets around the NBA. And it won't be long before incoming draft classes aren't old enough to remember a time when the Lakers fielded consistent winners.
To change that, the Lakers can start by hitting a home run in their coaching search. Still, that person will have significant challenges to overcome with this cast of characters.
Joseph Casciaro is a senior writer for theScore.