Forecasting the 2022 NBA All-Star teams
With less than a month before the NBA's star-studded spectacle in Cleveland, All-Star season is officially upon us. Let the armchair prognostications begin.
A quick rundown of how the league determines the 24(ish) players invited to participate:
Jan. 27 - Starters announced
Feb. 3 - Reserves announced
Feb. 20 - All-Star Game
The starters are determined through ranked balloting, with the fan vote worth 50% while a media panel and the players themselves account for 25% each. The head coaches then vote for the reserves.
In the event a player can't participate in the All-Star Game, commissioner Adam Silver will handpick the replacement.
The NBA has also set a precedent for granting ceremonial All-Star berths for outgoing legends; that's how Dirk Nowitzki and Dwyane Wade tacked on extra appearances in 2019. Short of Carmelo Anthony announcing his intent to retire, it seems unlikely an honorary All-Star will be named this time.
Without further ado ...
Eastern Conference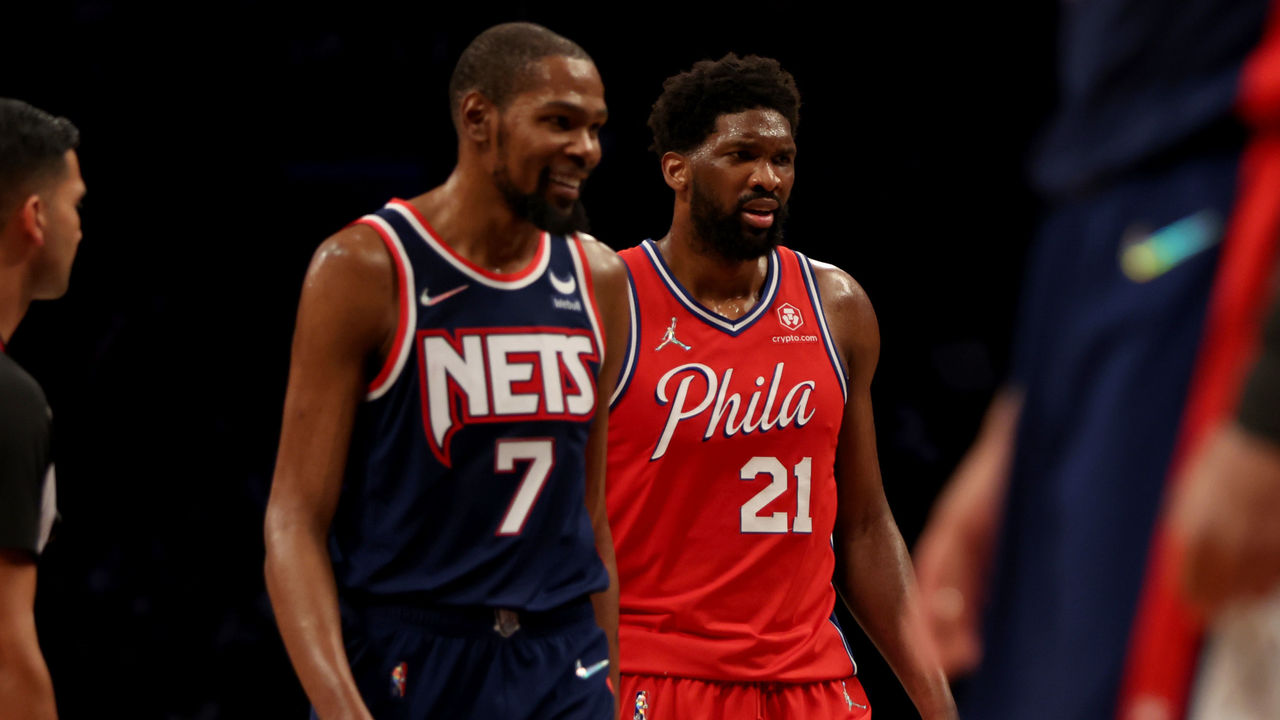 Starters
| POS | PLAYER | TEAM |
| --- | --- | --- |
| G | Trae Young | Hawks |
| G | DeMar DeRozan | Bulls |
| FC | Kevin Durant* | Nets |
| FC | Giannis Antetokounmpo | Bucks |
| FC | Joel Embiid | 76ers |
The Eastern Conference starters are fairly straightforward.
Antetokounmpo and Embiid have been named All-Star starters for four years running, and with both deeply entrenched in the MVP conversation, there's no reason to think their streaks will end this year.
DeRozan - who the NBA insists upon listing as a guard despite him predominantly playing forward the past four seasons - is the scoring and win shares leader for a Chicago Bulls team that's spent the season at or near the top of the East standings.
The Atlanta Hawks' poor record is a strike against Young's case, but there's precedence for a losing team's standout getting the nod; the Wizards were 9-17 when Bradley Beal was announced as an All-Star starter last February.
Durant leads the league in scoring, but his current injury recovery timeline will presumably prevent his participation at All-Star Weekend. Jimmy Butler currently ranks seventh in the league in Player Efficiency Rating, making him the obvious player to promote to the group of starters.
Reserves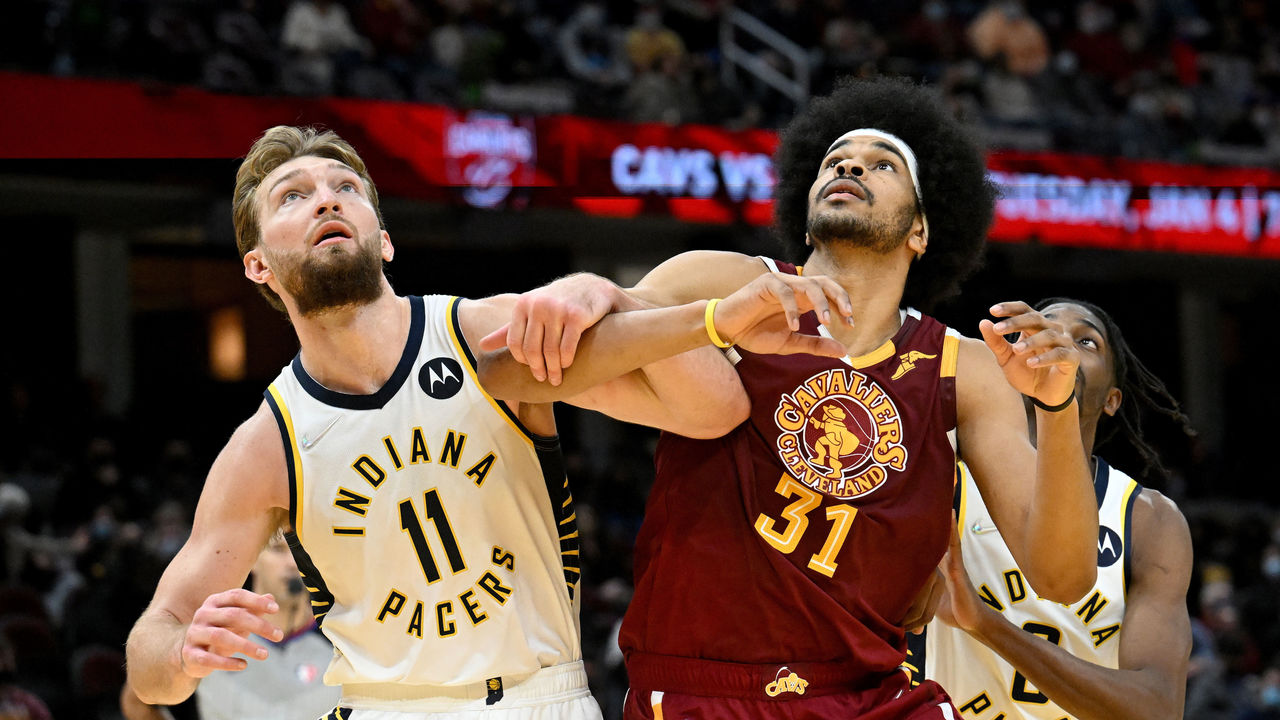 | POS | PLAYER | TEAM |
| --- | --- | --- |
| G | James Harden | Nets |
| G | Zach LaVine | Bulls |
| FC | Jimmy Butler | Heat |
| FC | Jarrett Allen | Cavaliers |
| FC | Domantas Sabonis* | Pacers |
| WC | LaMelo Ball | Hornets |
| WC | Fred VanVleet | Raptors |
If Durant isn't available, at least the Brooklyn Nets will be represented by Harden. His scoring efficiency is still well off his career mark, but he's dishing a league-leading 10.1 assists per night. This would be Harden's 10th All-Star selection.
LaVine deserves props for keeping things copacetic upon DeRozan's emergence as the team's co-alpha dog, all while continuing to kick ass in his own right, putting up 24.9 points, 4.8 rebounds, and 4.2 assists per game.
With apologies to Darius Garland, two All-Star berths is probably a lot to ask for an up-and-coming fifth-seeded Cleveland Cavaliers team. If there can only be one, Allen - with his double-double season average, staunch paint protection, and above-the-rim assaults - deserves the nod.
Sabonis is putting up video-game numbers - 19 points, 11.9 rebounds, 4.9 assists, and a steal per game - but might not even play for the resetting Indiana Pacers by this time next month.
Finally, we have two intra-team, head-to-head battles for the two wild-card slots. For the Charlotte Hornets, Miles Bridges leads the team in scoring but Ball isn't far off, and he boasts a superior PER. Over in Toronto, VanVleet leads the leagues in minutes and initiates the Raptors' offense, but Pascal Siakam is rounding into form as the team's top two-way player; either is deserving of the final slot.
The silver lining in Durant's and (possibly) Sabonis' absences is that it means some of the East's snubs will probably get the nod anyway. The Boston Celtics' Jayson Tatum and the Washington Wizards' Bradley Beal have not been at their best, but neither of their teams is currently represented and both are at or above .500. You could even make the argument for Jaylen Brown as the superior Celtic.
Western Conference
Starters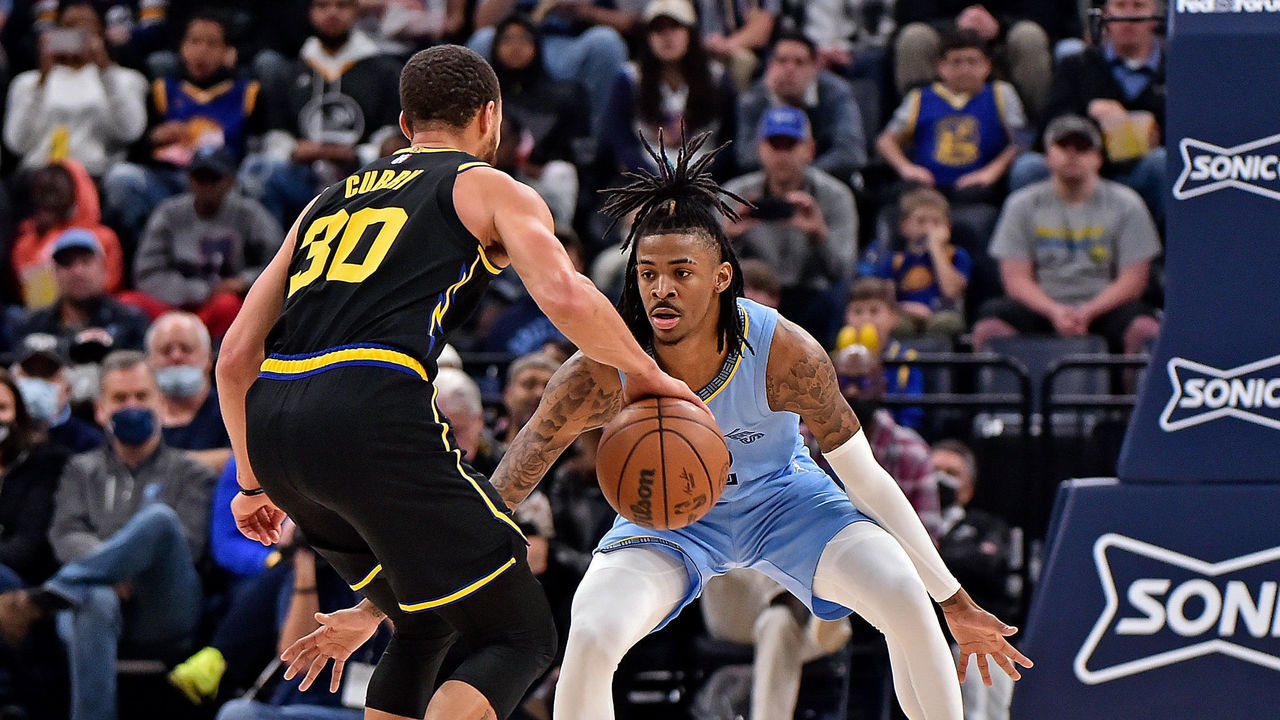 | POS | PLAYER | TEAM |
| --- | --- | --- |
| G | Stephen Curry | Warriors |
| G | Ja Morant | Grizzlies |
| FC | LeBron James | Lakers |
| FC | Nikola Jokic | Nuggets |
| FC | Rudy Gobert | Jazz |
Curry has started every All-Star Game he's played dating back to 2014. Given his uneven season so far - strong raw numbers, weak efficiency - you can debate whether he deserves to start, but his dominant showing in the fan vote and the respect of his peers will carry him to a starting gig anyway.
The third-seeded Memphis Grizzlies are the best story in the league. No West guard has a better PER than Morant's 24.6, unless you want to get cute about what position James plays. He'll be the first Grizzlies All-Star since Marc Gasol in 2017.
LeBron is LeBron. Despite the Lakers' struggles, he's also having his best year since joining the franchise in 2018. Same as it ever was.
Jokic, the reigning league MVP (and, in some corners, once again the MVP front-runner), is still registering one of the greatest singular season-long performances in league history. No one has ever recorded a higher single-season PER than the Denver Nuggets star's current clip.
Gobert might be having his best season ever - no small feat for a three-time Defensive Player of the Year. Here's the list of players who've averaged 15 points, 15 rebounds, and two blocks per game for a season: Moses Malone, Kareem Abdul-Jabbar, Elvin Hayes, and Bob McAdoo. Gobert's on pace to be the first entrant to that exclusive club in nearly 40 years.
Reserves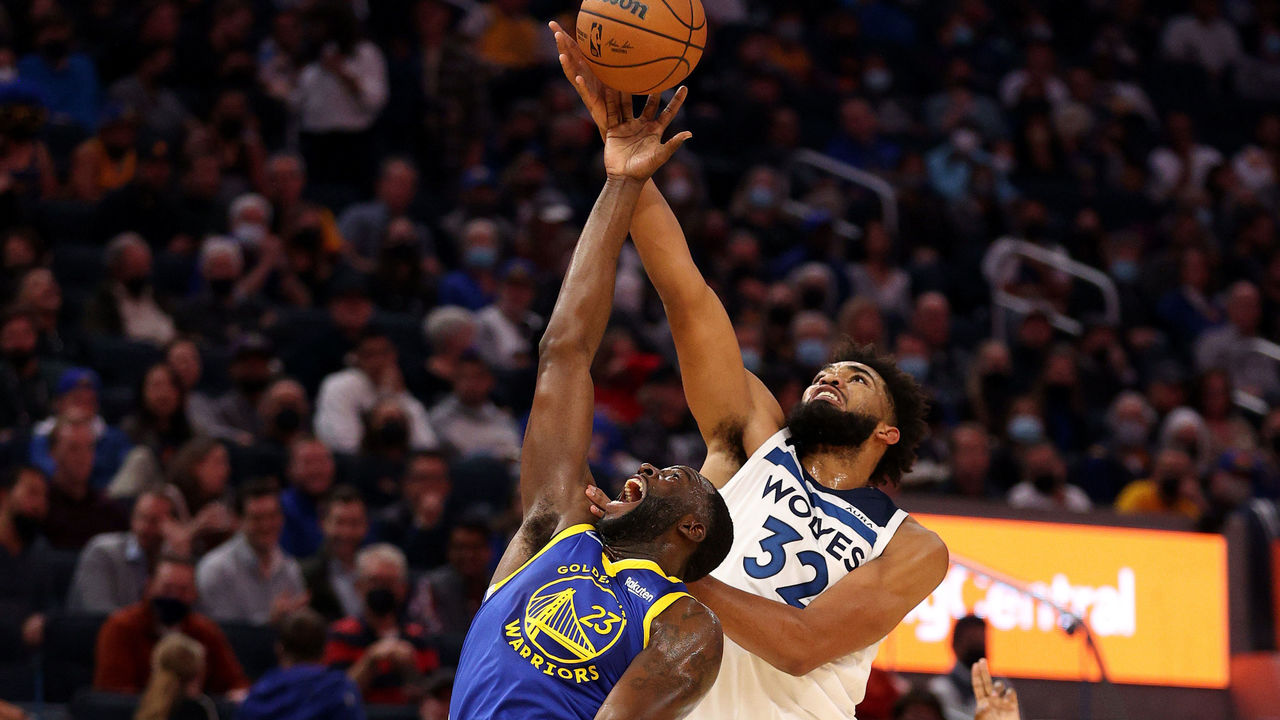 | POS | PLAYER | TEAM |
| --- | --- | --- |
| G | Donovan Mitchell | Jazz |
| G | Luka Doncic | Mavericks |
| FC | Karl-Anthony Towns | Timberwolves |
| FC | Draymond Green* | Warriors |
| FC | Brandon Ingram | Pelicans |
| WC | Devin Booker | Suns |
| WC | Chris Paul | Suns |
A number of major injuries to perennial All-Stars - Kawhi Leonard, Paul George, Damian Lillard, Anthony Davis, Klay Thompson, and Zion Williamson chief among them - have unclogged the usual logjam out West. The annual snub conversation is going to be tepid this year.
Mitchell's numbers are as strong as ever. His 52.8% effective field-goal clip would be a new career high. Inversely, Doncic's worst - 25.6 points with untenably poor long-range shooting, 8.8 rebounds, 8.7 assists, and 1.2 steals per game - is still something lesser players can only aspire to.
After two straight All-Star appearances, Towns has been left out in the cold in each of the last two seasons. Now, with his 23-23 Minnesota Timberwolves firmly in the playoff picture, the big man's preposterous offensive numbers can't be denied.
After KAT, the West's frontcourt reserve picture gets murky.
A wonky back has forced the Warriors' Green from the public conscience, but he was arguably the odds-on favorite to win Defensive Player of the Year through the first third of the season when the Dubs were 28-6 with the defensive maestro in the lineup. At this rate, though, who knows if Green is even healthy enough to take part at All-Star Weekend. (The strength of Andrew Wiggins' candidacy has been overstated.)
After the New Orleans Pelicans' 2-14 start, you're forgiven for not paying close attention to Ingram, who's quietly put up 22.4 points, 6.1 boards, and 5.2 assists per game. If he's named an All-Star reserve, it's mostly a nod to the weakness of competition in the Western Conference/frontcourt quadrant.
Finally, we get to a duo of Phoenix Suns. Neither Paul nor Booker merits a starting spot, but both have had strong showings en route to the NBA's best record.
If Green is named a reserve but unable to play, Davis or the Dallas Mavericks' Kristaps Porzingis would be fine replacements. Both have missed over a quarter of their team's game so far.
Or maybe Adam Silver could get creative and name the San Antonio Spurs' Dejounte Murray as an injury replacement. If you haven't paid attention to an otherwise lousy Spurs squad this season, you might not realize that the sixth-year guard averaged 19.3 points, nine assists, 8.5 rebounds, and two steals a night.
Comments
✕
Forecasting the 2022 NBA All-Star teams
  Got something to say? Leave a comment below!