LeBron's decline phase has finally arrived
Chris Elise / NBA / Getty
For years we've been wondering when all the games and minutes would finally catch up to LeBron James. And for years, right up until this season, whenever Father Time seemed to gain enough ground to appear in his rearview mirror, LeBron - the historic anomaly who continued to lord over the NBA deep into his second decade in the league - managed to pick up the pace and put some distance between himself and the unrelenting force stalking him (and the rest of us).
It's not that he hadn't experienced any decline since his absolute apex - which he probably hit between 2008 and 2013 - but the physical falloff was always minor enough that he could account for it with skill progression and an ever-advancing mental mastery of the game. He appeared to be slowing down as long ago as his first season back in Cleveland in 2014-15. But midway through that campaign he took two weeks off to go to Miami and rehab his ailing back and returned like a house afire, ultimately dragging the Cavaliers to within two wins of the championship without Kyrie Irving or Kevin Love.
He helped topple the 73-win Warriors with an incandescent Finals showing the following year, then led the Cavs (including a mess of a supporting cast in 2017-18) through the East in the next two years thereafter, making it eight straight Finals trips in all. Even as Cleveland got swept by Golden State in 2018, LeBron staked his claim as the best player alive with a Herculean effort in Game 1 that ranks among the greatest individual playoff performances ever.
His first season with the Lakers in 2018-19 also appeared to be a harbinger of imminent decline, as LeBron struggled to jell with his young teammates (whom he ultimately alienated by openly pushing to have them traded for Anthony Davis), looked wholly apathetic at the defensive end of the floor, suffered a groin strain that led to the first extended injury absence of his career, and missed the playoffs for the first time in 14 years. But then the Lakers did trade for Davis, and a rejuvenated and newly inspired LeBron recommitted to defense. By season's end, he was hoisting the Larry O'Brien and Bill Russell Finals MVP trophies in Disney World, demanding his respect after once again establishing himself as the NBA's top dog.
Another injury-plagued campaign followed in 2020-21, but when he was healthy, LeBron was still tremendous, if not quite the inner-circle MVP candidate many made him out to be. The Lakers had the eventual West champs on the ropes before Davis got injured (they outscored the Suns by 6.1 points per 100 possessions with both on the floor), and despite LeBron's own disappointing and hobbled finish to that series, it was still easy to talk yourself into considering a fully healthy and locked-in LeBron as the best player in the league.
But in Year 19, as he approaches his 37th birthday, with 61,496 regular-season and playoff minutes to his name (only Kareem Abdul-Jabbar has more), it's become much more difficult to make that case. This is because the notion of a fully healthy LeBron feels increasingly unrealistic and because his play when he's been available hasn't come close to warranting it.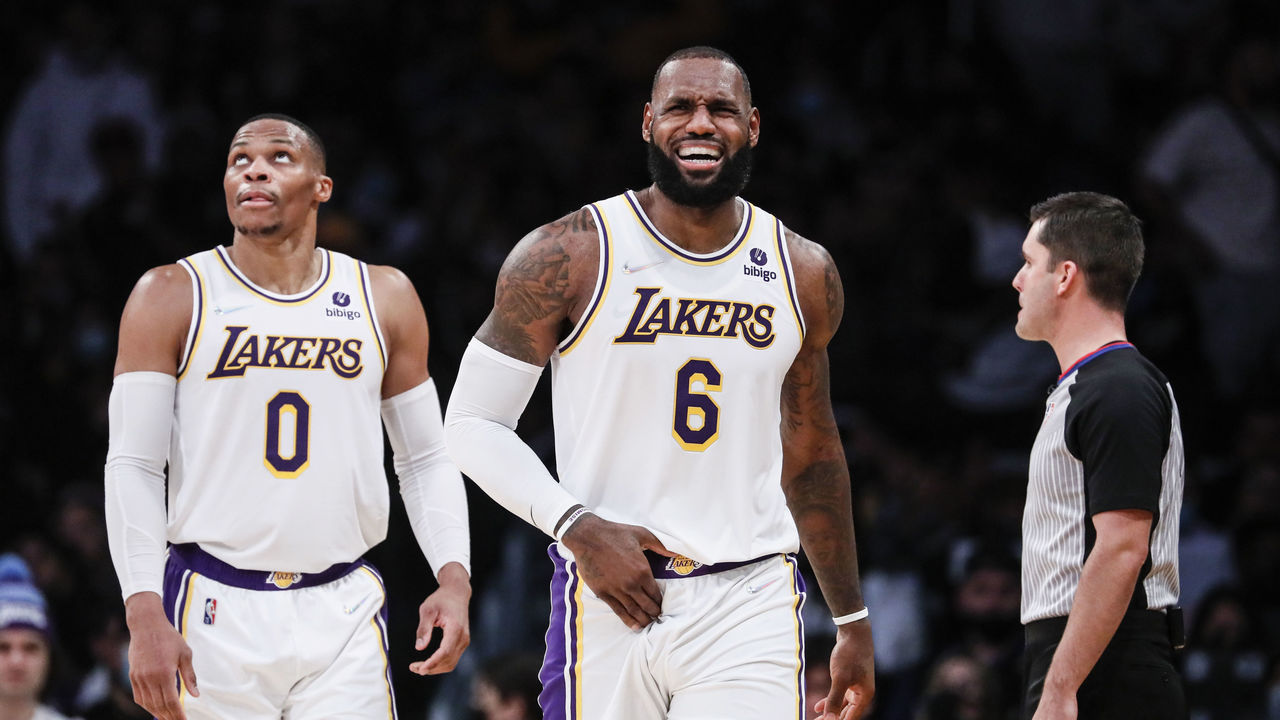 LeBron has missed 12 of the Lakers' 23 games this season - two due to an ankle sprain, one due to suspension, eight due to an abdominal strain, and now one (and counting) due to a positive COVID-19 test that will keep him sidelined for a minimum of 10 days. He says he's asymptomatic, which hopefully means he won't experience any lingering effects. Perhaps the layoff will even prove to be a blessing in disguise, as it'll give him more time to rest that nagging abdominal injury. But it's still another setback, among many, that will make it more difficult for him to build up to the level of comfort, rhythm, and physical fitness to which he's accustomed.
He's now missed as many games during his three-plus seasons in Los Angeles (71) as he did in his first 15 combined. This, as much as anything, is what age catching up to a player looks like. Nicks and bruises become harder to play through, recovery times get more protracted, absences beget more absences. LeBron's play when he's been healthy enough to take the floor has also been well below his usual standard. His vertical and horizontal bursts have both looked diminished, and he hasn't displayed the turn-the-corner explosiveness that in past years allowed him to get downhill consistently.
As a result, he's averaging just 6.2 free-throw attempts per 100 possessions - by far the lowest rate of his career - and is more reliant on his jump shot than ever before. Above-the-break threes now account for more of his field-goal attempts than shots at the rim do, which hadn't even been remotely close to happening in any previous season. He's gone from taking 46% of his shots at the rim during the Lakers' championship campaign in 2019-20 to 35% this season, and from scoring 8.1 points per game on drives to 5.9. He's taking more pull-up threes than ever despite hitting just 26% of them.
He's averaging 0.78 points per possession as an isolation scorer, a 29th-percentile mark. When he's handling in the pick-and-roll, he'll often eschew the opportunity to take an extra dribble toward the basket that might help open up a pass to the roller or a skip to the corner, instead opting to get off the ball early or shoot a step-back or pull the ball back out to go to work against a switch. And the types of players he used to wreck on switches now appear plenty capable of holding their own against him, even slow-footed bigs like Alex Len and Domantas Sabonis:
Part of that decision-making process has to do with the Lakers' lack of floor spacing and the fact that driving the ball in those situations would mean reckoning with multiple waves of help - prying arms digging from the wing followed by a corner rotation or a dunker-spot defender stepping up to meet him at the rim. But the LeBron of years past, even one in regular-season chill mode, would accept that challenge a lot more often than he's doing now.
LeBron's rebound rate is also a career low and barely half of what it was last year. You can chalk some of that up to him frequently playing next to the league's most voracious rebounding guard in Russell Westbrook, along with two bigs. That still doesn't explain why the Lakers rank 25th in defensive rebound rate and corral an even lower share of them with LeBron on the floor.
The state of LeBron's defense is equally concerning. Though we've seen him demonstrate comparable levels of lethargy in regular seasons past, it's been a little jarring to see him succumb to those habits after he largely excised them the last two years. Since returning from his eight-game absence, he's been giving up back-cuts, getting beat off the dribble, jogging back in transition, making questionable strong-side gambles, and closing out to shooters like it's 2018-19 again:
At LeBron's age, there's logic in scaling back at this part of the season for the sake of physical preservation. But there are possessions in which he has multiple opportunities to help and simply chooses not to, even when doing so wouldn't seem to demand all that much energy. Watch him throughout this particularly indolent possession:
Much like on offense, the Lakers roster isn't really doing LeBron any favors here. The club gave away its two best point-of-attack defenders and one of its best forward defenders in the offseason and is now relying on the likes of Westbrook, Malik Monk, Wayne Ellington, and Carmelo Anthony to contain dribble penetration and make weak-side rotations. No surprise, then, that the Lakers allow by far the highest opponent rim frequency in the league.
Even with Davis beside him, LeBron simply isn't insulated the way he was the last two seasons. Asking him to help clean up that many messes is asking an awful lot of a guy with more NBA miles on his odometer than all but one player in history. Still, the Lakers have been 6.7 points per 100 possessions better defensively with him on the bench. And while they've still been better overall with him on the floor, they've only played opponents to a dead draw in those minutes.
The fact that LeBron is in his decline phase and still averaging 26-5-7 on 59% true shooting tells you all you need to know about his career. There are plenty of All-Stars who can only dream of ever having a season that good. That's how far LeBron has moved the goalposts. It's just unfortunate that this Lakers team wasn't and isn't built to withstand his decline, at least insofar as it fancies itself a championship contender.
The team's questionable depth, shoddy perimeter defense, poor spacing, and dearth of half-court advantage creation can really only be overcome by vintage LeBron - the one who can steamroll his way to the rim even against paint-packing opponents; who can connect all the dots on offense by dint of his court-warping on-ball gravity and ability to leverage that into passing windows; who can fly around on defense covering for other people without causing any breakdowns of his own.
It's illustrative of the Lakers' dependence on him, even in his aging and hobbled state, that they've played him nearly 37 minutes a game when he's been available, good for second in the NBA. He's still a top-10 player in basketball, maybe even top-5 at close-to-full health and peak playoff intensity. But he may no longer be the type of franchise carrier who can supersede all manner of roster flaws by sheer force of physicality and will.
This, by the way, is totally normal and fine. The fact that there was even a discussion about whether LeBron was that type of player last season is insane. But that, unfortunately, is what the Lakers need him to be in order to accomplish anything meaningful this season. And unless he has one last squirreled-away stash of the magic elixir he found midway through the 2014-15 campaign and in the 2019 offseason, their hopes of making it through multiple playoff rounds - let alone escaping the West or hanging banner No. 18 - are doomed.
Comments
✕
LeBron's decline phase has finally arrived
  Got something to say? Leave a comment below!