The Jazz are riding a historic offense back into title contention
Alex Goodlett / Getty Images
The Utah Jazz have become a model of regular-season consistency. They have a tried-and-true 82-game formula: Rudy Gobert anchors the defense, Donovan Mitchell steers the offense, and a cadre of 3-point bombing role players with some playmaking chops flank them. Head coach Quin Snyder orchestrates it all by drilling the principles of his ornate, pick-and-roll-heavy offensive system and his no-frills, drop-centric defense. Roll the ball out and they'll get you 50-plus wins in their sleep.
They've also honed that formula over the last few years. Mike Conley was brought in to supply elite secondary ball-handling and pick-and-roll playmaking, Bojan Bogdanovic brought his world-class spot-up shooting to complement the core, and the Gobert-Derrick Favors frontcourt was scrapped, along with all other two-big lineups, in favor of constant four-out spacing around their rim-running center. (Outside of Gobert and backup Hassan Whiteside, Utah doesn't play any non-shooters. Six players in the team's 10-man rotation hoist at least seven 3-pointers per 36 minutes.)
For a while, the Jazz succeeded largely on the strength of their defense. They've sacrificed some of that defensive bite in recent years, but the trade-off has turned their offense into an unstoppable force. Not only do they lead the league in offensive efficiency this season, they've scored 4.4 more points per 100 possessions than the second-ranked Hornets, which is equivalent to the gap between the Hornets and the 20th-ranked Mavericks. If you strip out garbage time using Cleaning the Glass' filter, the gulf is even wider.
According to Basketball Reference, their offense is 8.3 points per 100 better than league average, which ties them with the 2015-16 Warriors for third-best margin all time.
It's worth noting that of the 12 best offensive teams ever by that relative measure, only two (the '95-96 and '96-97 Bulls) went on to win the championship. And because everything pertaining to the Jazz these days tends to be met with skepticism about springtime sustainability, some will surely take that as proof that even an all-time great offense won't save this team from another postseason letdown.
Maybe those doubts are fair. The Jazz have won just two series in the Mitchell-Gobert era, and their last two playoff defeats involved blown series leads of 2-0 and 3-1. They will almost certainly have to go through either Golden State or Phoenix just to reach the conference finals this year, and both those teams are formidable. It's entirely possible that the Jazz once again fail to escape the second round. But that doesn't mean what they're currently doing is devoid of big-picture implications. Whether or not they ultimately make good, the Jazz are a serious title threat, and slowing down their offense is going to be a monstrously tall task for any team that faces them.
The Jazz lead the league in field-goal percentage at the rim (70.8%) and from floater range (46.1%) and rank fifth in 3-point percentage (37.3%) on a league-high volume of attempts. They rank second in free-throw attempt rate and fifth in offensive rebound rate. They derive almost all of their offense from the paint, the stripe, and the arc; a league-low 3.6% of their shots are long 2-pointers.
Pristine spacing opens huge swathes of court through which Gobert can roll and their guards (namely Mitchell) can drive. Mitchell, Conley, and Jordan Clarkson all have effective floaters to counter drop coverages that seek to neutralize the lob threat and take away the rim. And while the Jazz are fairly turnover-prone, aggressive schemes are equally difficult to pull off against them because of how decisively they attack scrambles and man-advantage scenarios.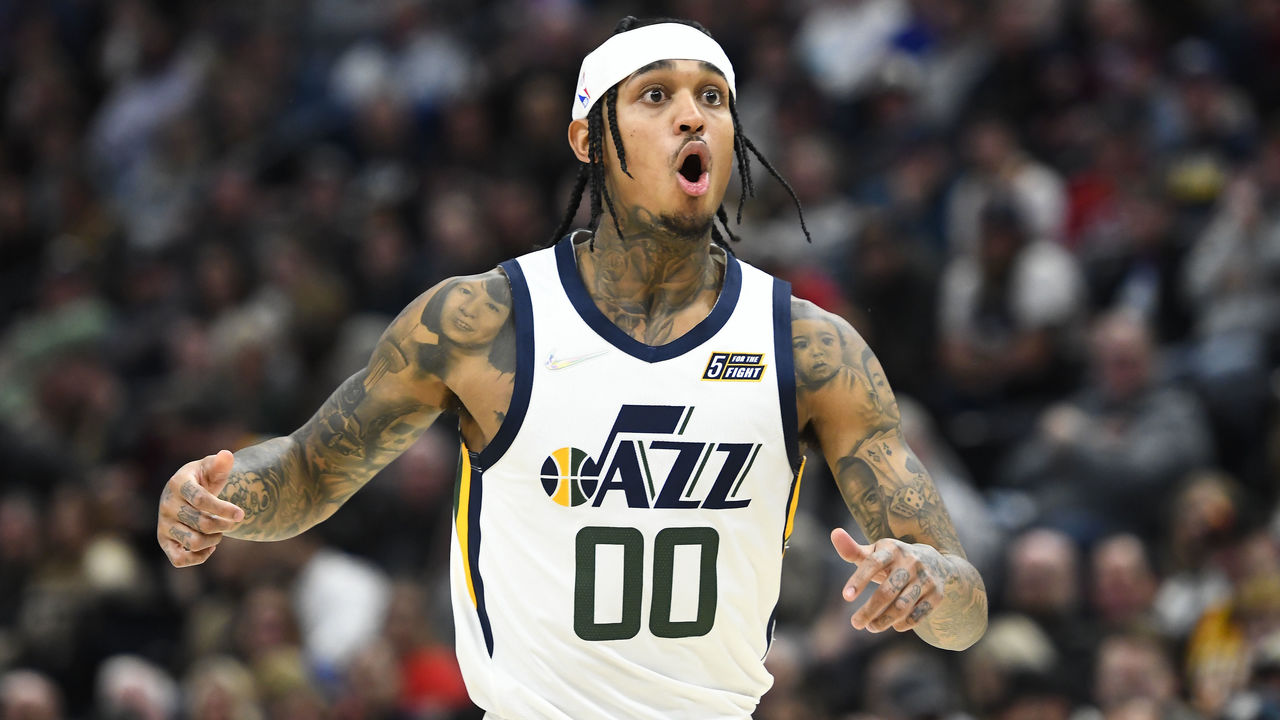 All of Utah's spot-up shooters - from Bogdanovic to Joe Ingles to Rudy Gay to the ever-improving Royce O'Neale - are capable of driving closeouts and making quick decisions to beat rotations. Each of them aside from O'Neale is plenty comfortable running second-side pick-and-roll (and in Ingles' case, primary pick-and-roll). Incredibly, not a single one of their rotation players is shooting below 50% from 2-point range.
While they like to dress it up with sauce and sides, the pick-and-roll is the Jazz's staple food. They lead the NBA in both volume and efficiency of possessions finished by pick-and-roll ball-handlers - via a shot, drawn foul, or turnover - according to NBA Advanced Stats. Mitchell and Conley lead the way, both ranking in the top six in pick-and-roll ball-handler frequency.
Conley's scoring efficiency out of the pick-and-roll puts him in the 80th percentile, while Mitchell's average of 1.09 points per possession is tops among the 62 players who've finished at least 100 such plays. Lower that threshold to 50 possessions, and Ingles (1.13) is one of two players to rank ahead of him.
Mitchell has developed into a coverage-buster of the highest order, and at this point, there's no good way to guard him in ball-screen actions. He splits traps, turns the corner to beat hedges, torches drop and ice coverages with pull-up jumpers, and cooks switches with straight-line drives. He glides into the middle of the floor with a mix of power and control, quickly cataloging his options before deciding whether to pull up, kick out, find the roll man, or continue toward the basket. He's become a devastating finisher, shooting 66% at the rim and 56% from 2-point range overall, which has more than made up for what's been a so-so 3-point shooting season thus far.
He's driving to the basket 14.5 times per game and shooting 56.5% on those drives, which ranks third among 47 players with at least 10 drives per contest. He also passes out of his drives less frequently than all but three of those players, but it's hard to complain given how effective he's been at finishing them.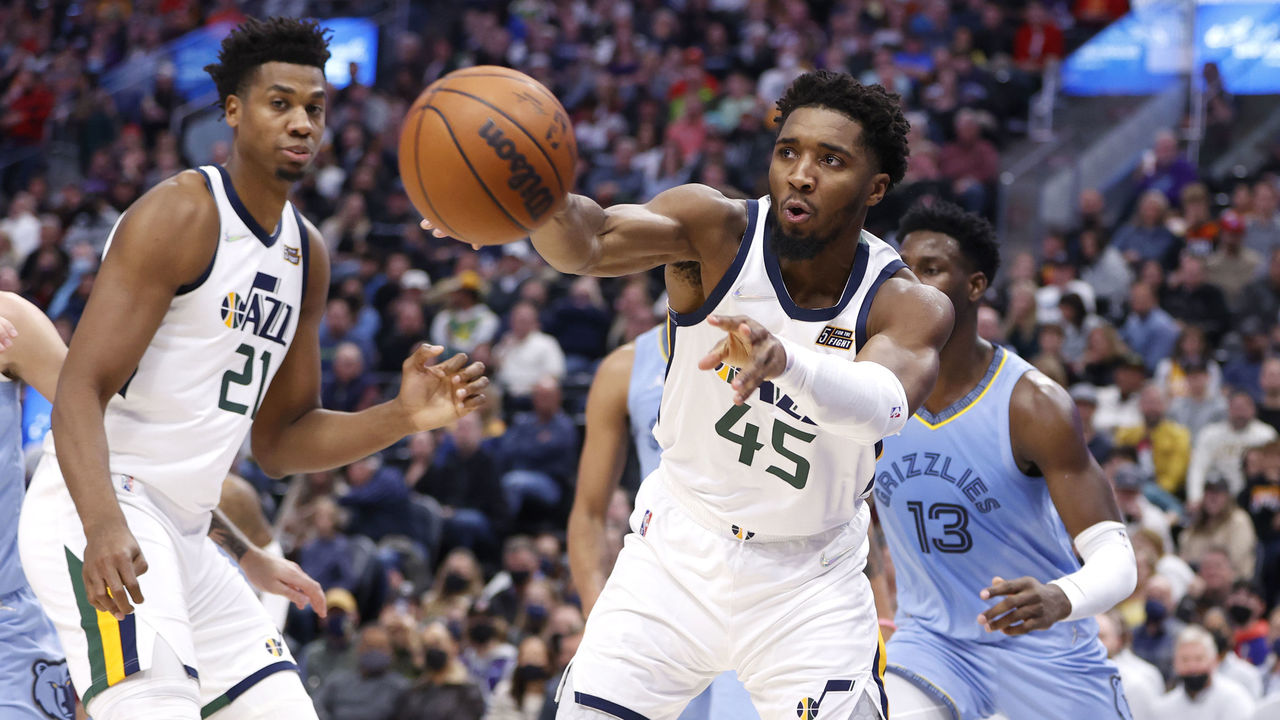 Mitchell's passing ability has never been in question; he's always been capable of snapping off cross-court bullets and live-dribble lasers when he so chooses. It's the vision and willingness that haven't always been there. He's always been a more reactive passer than a proactive one, and that's still the case a lot of the time. But his reads have gotten sharper, and so has the placement on his passes. He's spent the past two years incrementally creeping toward top-15-level superstardom.
Gobert's ball skills and post game are still extremely limited, so he can't do much when he catches the ball with his feet on the ground and finds someone planted between him and the basket. His ability to capitalize on size mismatches and make hay on the back end of switches will rightly continue to be questioned, and those questions always grow louder in the playoffs, when switching becomes the primary method by which opponents try to short-circuit Utah's offense. But Mitchell's ascension at least gives the Jazz the ability to beat switches on the front end, and Gobert is always good for a few well-timed slips that can force soft-switching defenses to reconsider their approach.
For all his offensive limitations, Gobert's roll gravity is a defense-bending force that plays a huge part in Utah's attack. His threat level as a dive man is such that he often pulls multiple defenders with him on his way to the basket, opening up wide-open shots on the perimeter. He has an innate sense of when to make contact on a screen and when to slip, how long to hold a screen before releasing, and how to pace his roll to make sure he always remains in the passing pocket, never too far out of his pick-and-roll partner's range.
Most crucially, he rolls hard on almost every possession despite knowing that more often than not he won't get to touch the ball. Those are underappreciated acts of selflessness that benefit the team in unquantifiable ways. Gobert's "screen assists" have become something of a punch line, but his "roll assists" are legitimately deserving of attention. He's also piling up free throws at a team- and career-high rate.
We see plenty of teams run a ton of empty-corner ball-screen sets that remove a potential low-man helper from the picture and clear more space for the roller. The Jazz don't really need to bother with that for a few reasons: Gobert can outleap anybody who arrives late to try and disrupt his roll; their guards (particularly Conley) are very good at hitting the corner skip pass when defenders pull in early to tag; and their corner shooters are extremely dangerous, with Bogdanovic (48.1%), Conley (44.4%), Gay (42.9%), Ingles (40%) and O'Neale (38.8%) all capable of raining fire.
That's why, according to Louis Zatzman at FiveThirtyEight, Utah thrives in a spread alignment that features the league's highest rate of pick-and-rolls in which shooters occupy both corners.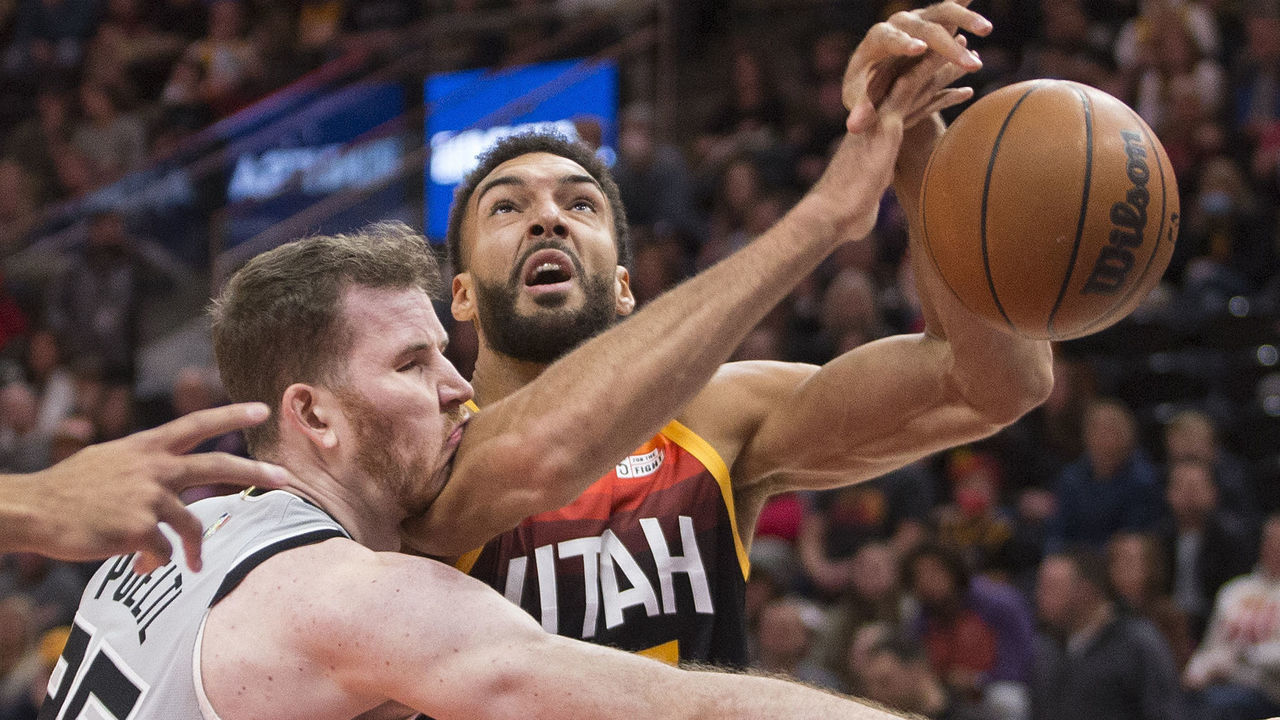 None of this feels particularly unsustainable. Utah's offense may not continue to perform at quite this historic clip, but barring a major injury or ill-timed COVID-19 outbreak (which, knock on wood, they've miraculously avoided to this point), it's hard to imagine it meaningfully falling off in the regular season or the playoffs. It was the Jazz's defense, remember, that failed them in each of the last two postseasons. They posted a 117.2 offensive rating in their second-round loss to the Clippers last year and a ridiculous 120.3 mark in their first-round loss to the Nuggets the year prior.
Some watched them get run off the floor by the small-ball Clippers and concluded that Gobert was indeed the playoff liability they'd long believed him to be. Even the Jazz went out and signed Gay in part as a potential small-ball-center contingency in the event they run into a similarly problematic matchup. But the reality is they're still going to sink or swim with their three-time Defensive Player of the Year.
The theoretical rationale for pulling him in a high-leverage playoff situation would be to juice the offense and be able to switch pick-and-rolls at the other end. The thing is, Utah's offense against the Clippers was more than fine with Gobert on the floor, and there wasn't even much opportunity to switch on defense because L.A. simply went five-out and proceeded to blow by Utah's perimeter defenders one-on-one, no ball screens needed. Ideally, Conley and Mitchell won't be hobbled this time around and Gobert will have a stronger layer of protection in front of him.
But Jazz skepticism always seems to be rooted less in specifics than in a general feeling of mistrust. Until they prove otherwise, they'll be dubbed a regular-season team. That label has somehow become a pejorative as if racking up wins and being in the top half of the playoff bracket year after year is a fruitless endeavor worthy of derision; as if plenty of teams that ultimately break through in the playoffs aren't regular-season teams first.
This Utah team is a fine-tuned ensemble that plays all the hits on repeat. And while the compositions haven't necessarily changed, the harmonies have improved over time. There's something to be said for reliability and routinized excellence, for leaning hard into what you do best and continually working to sharpen that thing, rather than trying to become something else.
The Jazz, more than any team in the league, know exactly who they are and how they want to win. They've gotten really, really good at it. And while having one of the three best regular-season offenses of all time may not be a guarantee of playoff success, it certainly doesn't hurt.
Comments
✕
The Jazz are riding a historic offense back into title contention
  Got something to say? Leave a comment below!