Who are the Spurs now, and where are they going?
Logan Riely / NBA / Getty Images
Here's an interesting exercise - and, depending on your rooting interests, possibly a dispiriting one: Name the best player on the San Antonio Spurs.
Your answer will most likely hinge on personal tastes. Do you favor the open-court havoc and enveloping point-of-attack defense provided by Dejounte Murray? The enduring promise of Derrick White's jump shot and pick-and-roll proficiency? The headiness and vital connective tissue at both ends of the floor embodied by Thaddeus Young? Maybe you believe in Lonnie Walker's upside and explosive first step. Perhaps you feel Keldon Johnson and his wrecking-ball rim runs should be the team's central gravitational force.
Whatever your answer, it's unlikely to fill you with a great deal of confidence in the 2021-22 Spurs. You'd be hard-pressed to find a team outside of Orlando with such a tepid pool of best-player candidates. And while it's tempting to believe San Antonio can mitigate its top-end talent deficit by sprinkling some of that trusty old Spurs pixie dust, the truth is that magic started to wear off a while ago, and the club hasn't been this talent-strapped at any point in the Gregg Popovich era.
For all his well-documented flaws, the departed DeMar DeRozan was a steadying presence and the team's unquestioned offensive hub. He scaled up his ever-improving playmaking to serve as the primary facilitator for a young team that relied heavily on his half-court shot creation.
DeRozan scored efficiently (21.6 points per game on 59.1% true shooting) and distributed judiciously, averaging 6.9 assists against just two turnovers - a ratio that only ranked behind Chris Paul among players with usage rates above 20%. San Antonio scored 113 points per 100 possessions with DeRozan on the floor and just 104.8 per 100 with him on the bench, the difference between the league's 11th- and 28th-best offenses.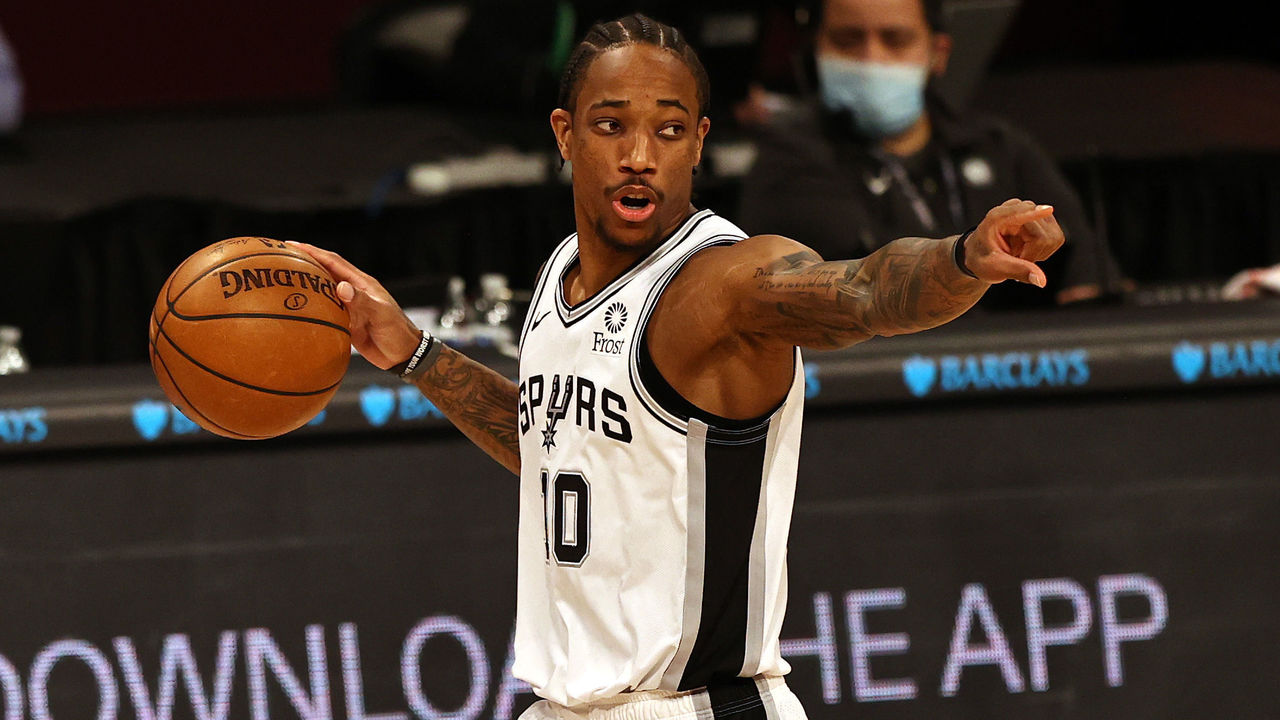 That said, given where they're at in the league's competitive landscape, the Spurs did the right thing sending DeRozan to the Bulls in a sign-and-trade package centered on Young and a 2025 first-round pick, rather than paying him handsomely through his age-35 season. But such a major structural change, and the remaining roster's hazy outlook, make it difficult to get a feel for what they're going to look like in the coming season and those to follow.
When they were strong-armed into trading Kawhi Leonard, the Spurs didn't commit to a particular direction. Instead, they tried to thread the needle between short-term relevance and long-term development. In letting go of not only DeRozan but also veteran mainstays in Patty Mills and Rudy Gay this offseason, San Antonio is finally exiting its self-imposed purgatory and fully committing to a youth movement.
For now, though, this feels like a somewhat atypical rebuild with no clear-cut priority building block around whom the next iteration of the team will be structured. Instead, the core is comprised of middling prospects and shapeless young players who'll be competing for a share of on-ball possessions that none of them have yet proven capable of shouldering at a consistently high level.
Losing Mills, the last vestige of San Antonio's championship era, will hurt a lot. On top of his leadership and institutional knowledge, Mills was a huge part of a bench that's consistently been one of the driving factors behind the Spurs' success. He's long been their best shooter and one of the league's best off-ball movers. Mills helped their second units win their minutes by at least 1.5 points per 100 possessions in each of the last 10 years.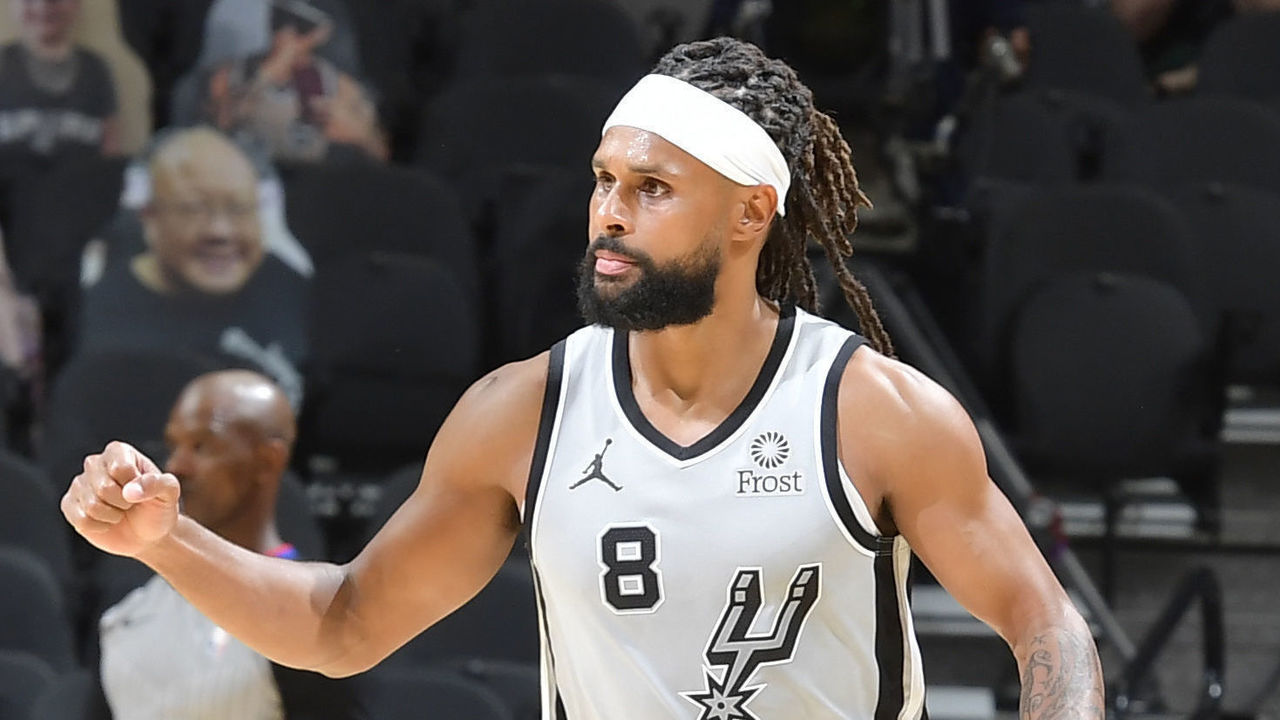 There's something to be said for having a deep well of competent NBAers, and San Antonio should go at least 10 deep with legitimate rotation guys, pending the performance of unproven young players like Luka Samanic, Tre Jones, and this year's 12th overall pick, Josh Primo. But it's fair to wonder how good a team can be without rostering a single top-75 player.
That might be a palatable situation if the Spurs were lacking only in present-day talent. Unfortunately, for a rebuilding squad, they're also worryingly light on long-term star potential. Even woebegone teams like the Timberwolves, Thunder, Rockets, Pistons, and Cavaliers have legitimate franchise cornerstones or young players with real potential to grow into those types of pieces. Who among this crop of existing Spurs can realistically become that guy?
Murray has all the physical tools you could want, and he's now the team's best playmaker. He'll almost certainly be given the keys to the offense, especially given his off-ball limitations. But his jumper is still a huge question mark, even as he's made it serviceable out to 18 feet. It takes him eons to unfurl his arms and release the ball, and he's still a bit too mechanical with his off-the-dribble game to efficiently create for himself in tight spaces.
White is arguably the Spurs' most well-rounded player, but it's hard to know what to expect from him after a disappointing, injury-marred campaign. His off-the-dribble shooting nosedived after a promising 2019-20 in which he ranked second in the league to Damian Lillard in points created per possession (via shots and passes) as a pick-and-roll ball-handler. He did start to get his offensive mojo back toward the end of last season, with a particularly encouraging uptick in his free-throw rate.
Defensively, White's an elite charge-taker who can slide across three positions. His big swing skill is 3-point shooting, and if he can return to the level he was at in the Disney bubble - when he shot 39.3% on eight attempts per game - maybe he can be a functional primary option.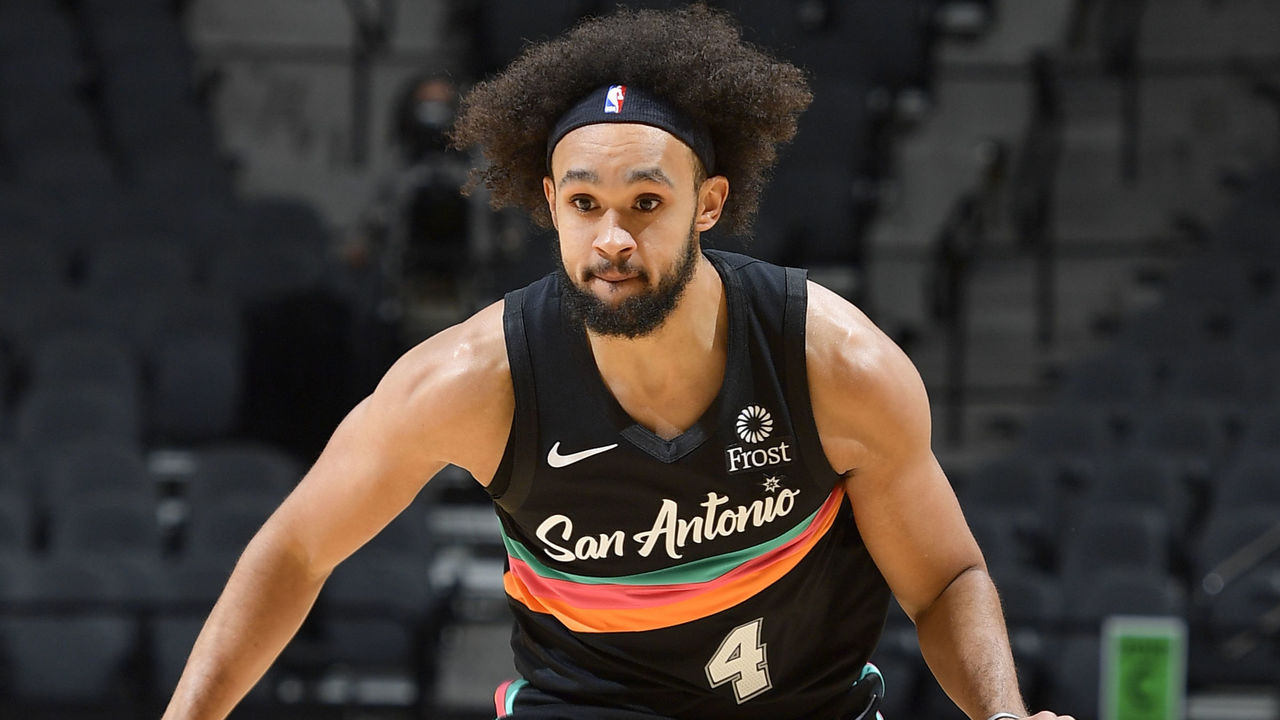 The Spurs of recent vintage have suffered from a lack of spacing and 3-point volume, but they've been able to mitigate those issues to some extent by driving and kicking until something profitable opens up. This year's team will have to find new workarounds to those same problems after losing their drive-and-kick engine and their best (only?) high-volume 3-point shooter. It'll be interesting to see how San Antonio tries to replace DeRozan's self-creation and crisp cross-court passing. Johnson is a relentless driver, but he also passes out less frequently than anyone in the league.
A lack of off-ball weapons figures to be one of the Spurs' biggest issues moving forward, with Mills gone and none of the team's young players fitting that description. Perhaps that's why the front office shelled out a three-year, $42-million deal for Doug McDermott this summer. McDermott's a much different player than Mills, but you can envision them plugging him into some of the same off-ball sets. And his gravity as a shooter will give the team's fledgling on-ball creators some much-needed breathing room.
The Spurs seemed to stumble into a new identity in the bubble, going small and playing at a breakneck pace without LaMarcus Aldridge. But their tempo slowed right back down this past season and didn't really tick up again even after Aldridge was released. With DeRozan's departure likely to leave the half-court offense in particularly dire straits, they'll need to rediscover that open-court verve, with Murray, Johnson, and Walker leading the way.
Regardless, the offense is probably going to be a hot mess. At the other end of the floor, San Antonio should be able to craft a stout defense after finishing in the bottom half of the league the last three years. Parting with DeRozan certainly won't hurt in that department; the team allowed 10.5 fewer points per 100 possessions with him on the bench last season. With Murray and White patrolling the perimeter, Jakob Poeltl holding down the back line, and Young and second-year stopper Devin Vassell filling all the gaps, the Spurs ought to thrive playing any scheme.
Poeltl is an exceptional rim-protector who also moves his feet well enough to switch out onto the perimeter in a pinch. Murray and White have the length and strength to hold their own on the back end of those switches, but they also excel at fighting through screens and stopping the ball at the point of attack. Vassell and Young can body up like-sized forwards man-to-man, but they're also great help defenders who have the versatility to handle just about any assignment.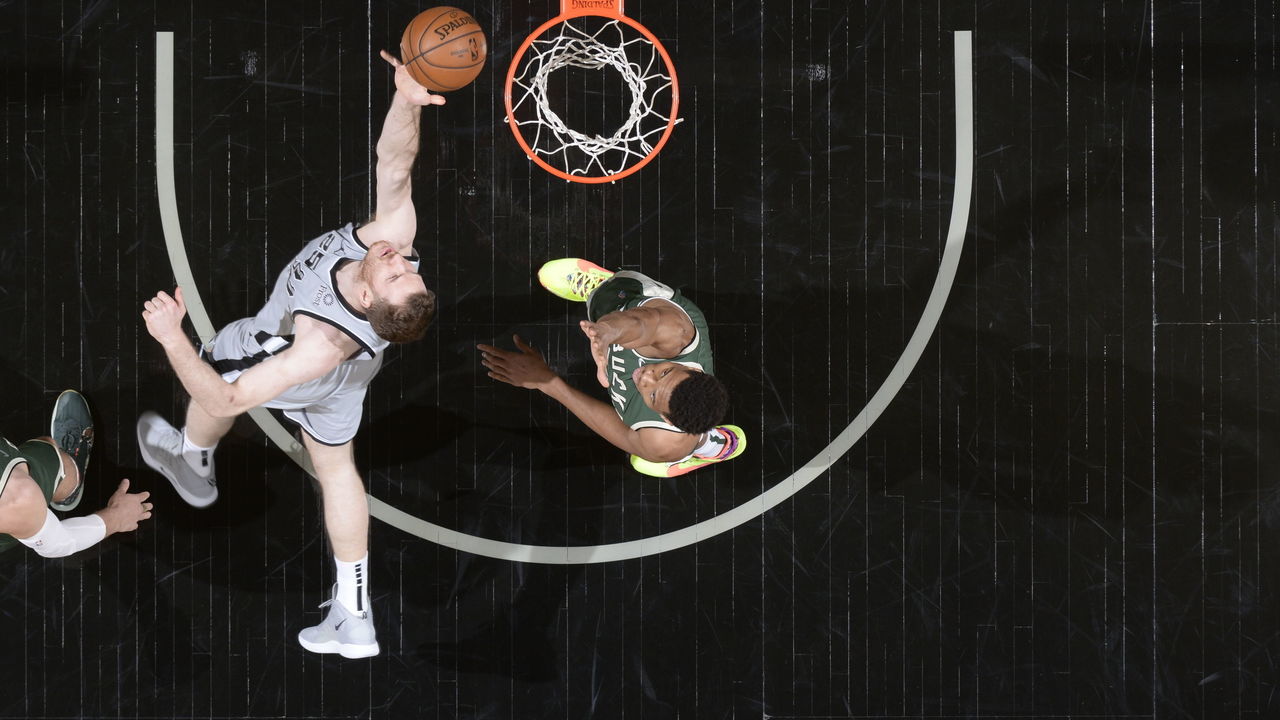 There are still defensive question marks here, though. Walker gets hung up on screens and makes a ton of off-ball mistakes - getting coverages wrong, helping when he shouldn't, and generally struggling to track his man and the ball at the same time. A lot of that could be said about Johnson as well. And one or two weak links can undo a team's defense even if the rest of the chain is ironclad.
We saw that to an extent last year when the Spurs' communication and connectivity often looked broken. It sometimes seemed unclear whether they were scheming to switch or deciding whether to do so on the fly. Two guys would chase the same player on an off-ball screen, one reading it as a switch while the other tried to play lock-and-trail. You'd see Poeltl drop back in pick-and-roll and stay glued to the roll man while the on-ball defender treated the coverage as a late switch, so neither player ever committed to the ball-handler.
All in all, this looks like a team that won't be good enough to compete for a Western Conference playoff spot but won't be bad enough to bottom out and pull itself out of the muck through the draft, at least not without some lottery luck.
San Antonio drafted Vassell 11th overall last year, and while his defensive potential is enormous, it feels unlikely he'll ever develop enough offensive dimension to break out of the role-player mold. Primo was considered a big reach at No. 12 this year, and as the NBA's youngest player, he probably won't contribute for a while. But perhaps going off-board for a ball of clay the Spurs can shape as they see fit is the type of swing they should be taking.
Similarly, taking a flier on the ever-intriguing but perpetually injured Zach Collins feels like the right kind of move for a team with longer-term ambitions. But again, is any of this really moving the needle? It's hard to discern a cogent team-building philosophy or vision here. The pieces don't seem to complement each other particularly well. Does the front office have a plan, beyond hoping against hope that one of its flawed young players can take a Kawhi-like leap?
For more than two decades, everything this organization touched seemed to turn to gold. The Spurs churned out 55-to-60-win seasons in their sleep, sailing on the strength of their Hall of Fame leaders, their eye for undervalued talent in the draft, their sterling player-development work, and Popovich's organizing principles.
But whatever elixir once coursed through the water supply at the AT&T Center has evaporated. The front office waited far too long to pivot to rebuild mode, perhaps because it couldn't stomach one while Popovich coached out his twilight years. The scouting department that used to routinely unearth gems from overseas and in the latter stages of the draft hasn't turned up a game-changing player in a while.
Perhaps brain drain has finally caught up to the Spurs. For years, other teams have poached their top basketball minds: Sam Presti, Kevin Pritchard, Mike Budenholzer, Sean Marks, Dennis Lindsey, James Borrego, and Ime Udoka. That happens to all good organizations, but no other brain trust has seen quite as much talent walk out the door. It's bound to have an effect at a certain point.
But also, every franchise is beholden to luck, and the Spurs are no different. They obviously did a ton of things right during those two decades, but their success wouldn't have been possible if they hadn't had the great fortune of landing the No. 1 pick in Duncan's draft year after David Robinson got hurt and a team coming off a 56-win season went into the tank. Duncan wasn't going to play forever, nor were Manu Ginobili and Tony Parker. It was always going to be impossible to replace that trio. Replacing even one of them would require a dose of luck San Antonio evidently hasn't gotten yet. Maybe it's as simple as that.
Leonard, of course, seemed primed to extend the team's peerless run of excellence for another half-decade or more, but his trade demand - and the Spurs' inability to maximize their return when they moved him - dealt the organization a crippling blow. The front office did well to recoup draft capital in the DeRozan deal, which will look like an even tidier piece of business if they can flip Young for another first-rounder before this season's trade deadline.
But that would still leave their total haul for Leonard feeling pretty underwhelming. Trading an MVP-caliber player without getting a premium draft asset or a blue-chip prospect in return is how a once-proud franchise will find itself on the hamster wheel of mediocrity.
That's where the Spurs are now, and it's hard to imagine them elevating their station anytime soon.
Comments
✕
Who are the Spurs now, and where are they going?
  Got something to say? Leave a comment below!