Opening night takeaway: Defending champion Bucks look even better
Gary Dineen / National Basketball Association / Getty
Once the Milwaukee Bucks' championship ring and banner ceremony ended, much of the opening night intrigue surrounded the Kyrie Irving-less Brooklyn Nets. They enter the season as title favorites, with Kevin Durant boasting the league's second-best MVP odds.
But it was the reigning champions, and NBA Finals MVP Giannis Antetokounmpo, who put together a show of force Tuesday that served as a season-opening reminder that the East still runs through Milwaukee.
Rather than any sort of championship hangover, Antetokounmpo and the Bucks look like a wiser and more refined team that's built upon the lessons learned en route to the 2021 title.
Looser Giannis still improving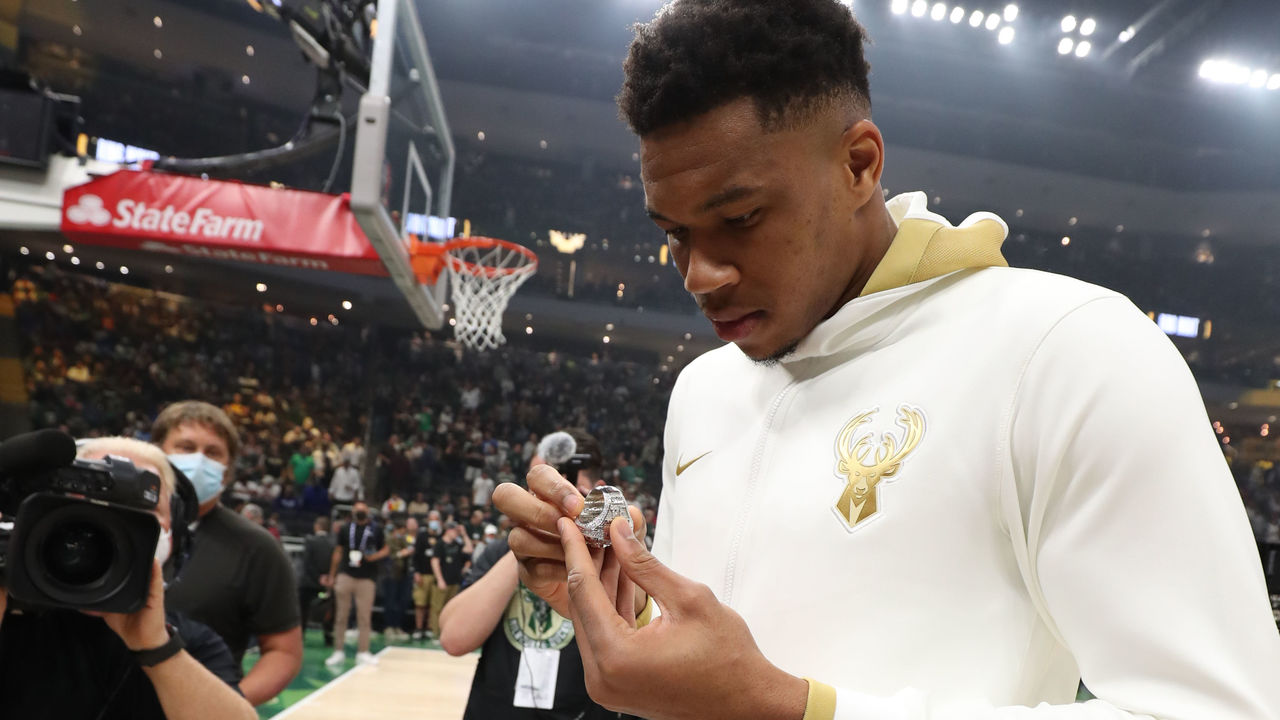 A year ago, the Greek Freak faced contractual uncertainty. Five months ago, the two-time MVP faced questions about his skill set and whether he was equipped with the tools required to lead a franchise to the promised land. Having cemented his long-term commitment to Milwaukee and then silencing his postseason doubters with an NBA Finals performance for the ages, Giannis enters the 2021-22 campaign with the weight of the world off his shoulders.
In a game that featured three members from the NBA's 75th Anniversary team (Durant, Antetokounmpo, James Harden), it was Giannis who established himself as the best player on the court, finishing with 32 points, 14 rebounds, seven assists, two blocks, and a steal in 30 minutes of action.
While he still struggled to score outside the paint (3-of-9), Antetokounmpo did appear to be playing freer. As was the case during the preseason, he at least looked more comfortable - and less hesitant - getting to his short jumper. He also looked like a new man at the free-throw line, where the painstaking delays he used to cause were replaced with more natural and confident timing. Between his shocking free-throw performance in the Game 6 clincher versus Phoenix, three preseason contests earlier this month, and a 7-of-9 outing Tuesday, Antetokounmpo has now made 31 of his last 40 free throws.
Whether Giannis can maintain that kind of accuracy going forward remains to be seen (although he was a 74% free-throw shooter through his first six seasons), but an improved, looser Greek Freak with less to think about is a scary thought for the rest of the league.
Fear the D-eer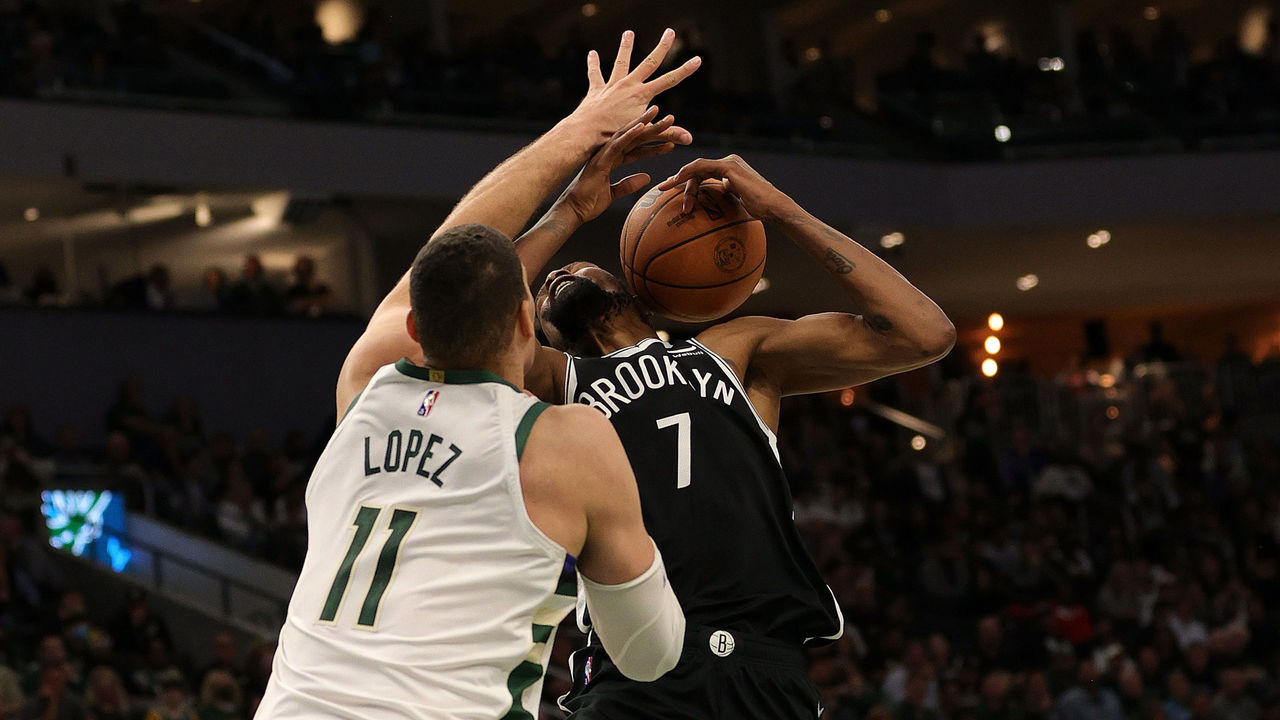 Mike Budenholzer's Bucks became more defensively malleable and less stubborn as last season wore on, with Milwaukee switching more than ever by the time The Finals arrived after using the 2020-21 regular season as an experimental testing ground.
That championship defense carried over to Tuesday's season-opening victory, as the Bucks neutralized the high-octane Nets by deploying a perfect blend of schemes. Brook Lopez stonewalled Brooklyn at the rim and in the paint in drop coverages, but he also moved his feet well defending at the level of the screen when James Harden or Durant were the ball-handlers. When it was time for Giannis to fill minutes at center, Milwaukee transformed into a switch-heavy defense to great effect.
The Nets struggled with turnovers early, shot 20-of-52 from 2-point range, and produced an offensive rating of just 102.0 (OKC's 30th-ranked offense last season produced 102.8). Brooklyn will get better and be much less disjointed later in the season - especially if Irving returns at some point - but the Bucks' defensive potential is as terrifying as it looked Tuesday night in Milwaukee.
After owning the league's best defense in two consecutive campaigns, the Bucks' defense slipped to ninth last season as the team got comfortable with less rigid game plans. Milwaukee seems to have mastered that adaptability now and should get back to being one of the league's stingiest teams, if not the downright stingiest.
Bucks will get deeper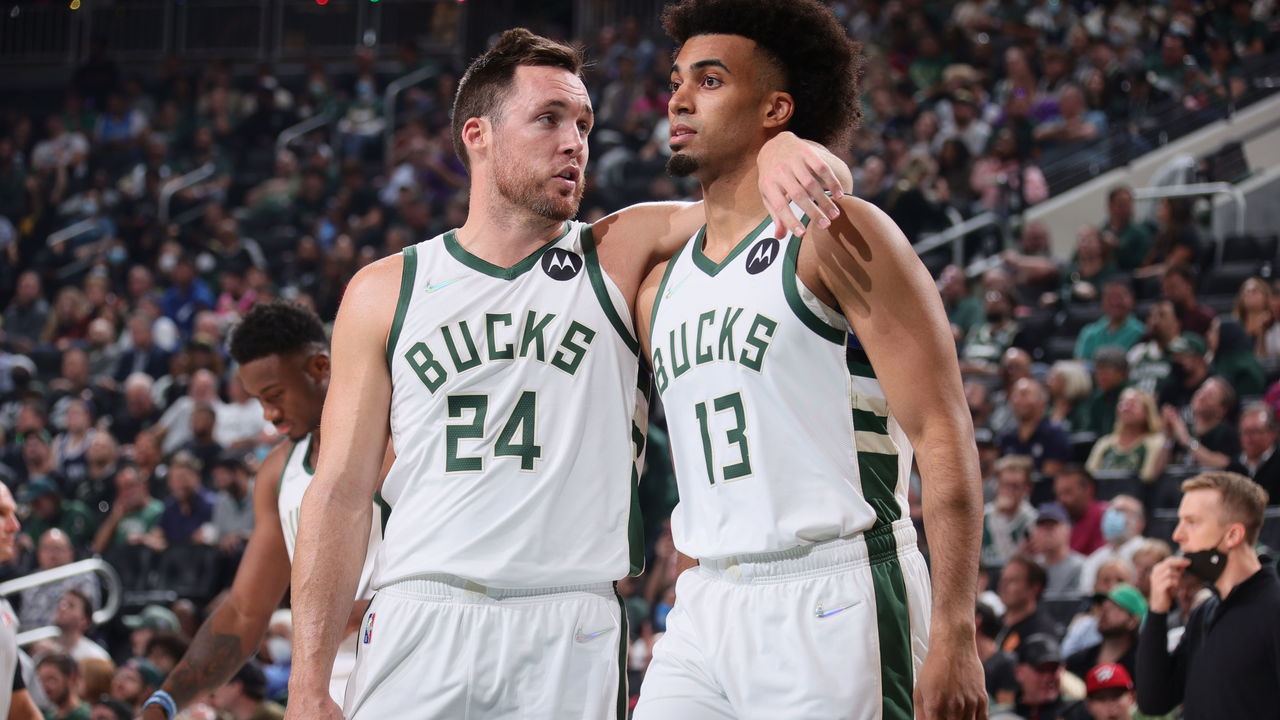 Opening night can often be fool's gold, but if Jordan Nwora and Thanasis Antetokounmpo are anywhere near as improved as they looked in Game 1 of 82, Milwaukee's depth could help the Bucks coast through another regular season.
Though it will be tough to replace what P.J. Tucker gave them defensively in the playoffs, the Bucks also replaced Jeff Teague and Bryn Forbes with Grayson Allen and George Hill, they added Semi Ojeleye, and they'll eventually get Bobby Portis and Donte DiVincenzo back.
The defending champs might have the best player alive at the top of the roster, a second All-Star in Khris Middleton, one of the best two-way guards in basketball in Jrue Holiday, and a rotation that's legitimately 10 or 11 deep. They'll rack up a ton of wins between now and April and, if healthy, will enter the playoffs as equipped as any team to reclaim the title they currently own.
Joseph Casciaro is theScore's senior basketball writer.
Comments
✕
Opening night takeaway: Defending champion Bucks look even better
  Got something to say? Leave a comment below!