Top 25 since '96 finale: The top-5 greatest modern NBA players
Photo illustration by Nick Roy/theScore
It's been a quarter century since the NBA celebrated its 50th anniversary by naming the top 50 players in league history. To mark the latest milestone, theScore's basketball news editors voted for the top-25 players since the original list debuted.
Reminder: players on the original list were ineligible for inclusion - so no Michael Jordan, Shaq, or anyone else who continued to star beyond 1996. Second, players who debuted before 1996 were eligible, but they needed to have made an impact over the last 25 years.
Explore the series
25-21 | 20-16 | 15-11 | 10-6 | 5-1
Here's the final entry of our five-part series:
5. Stephen Curry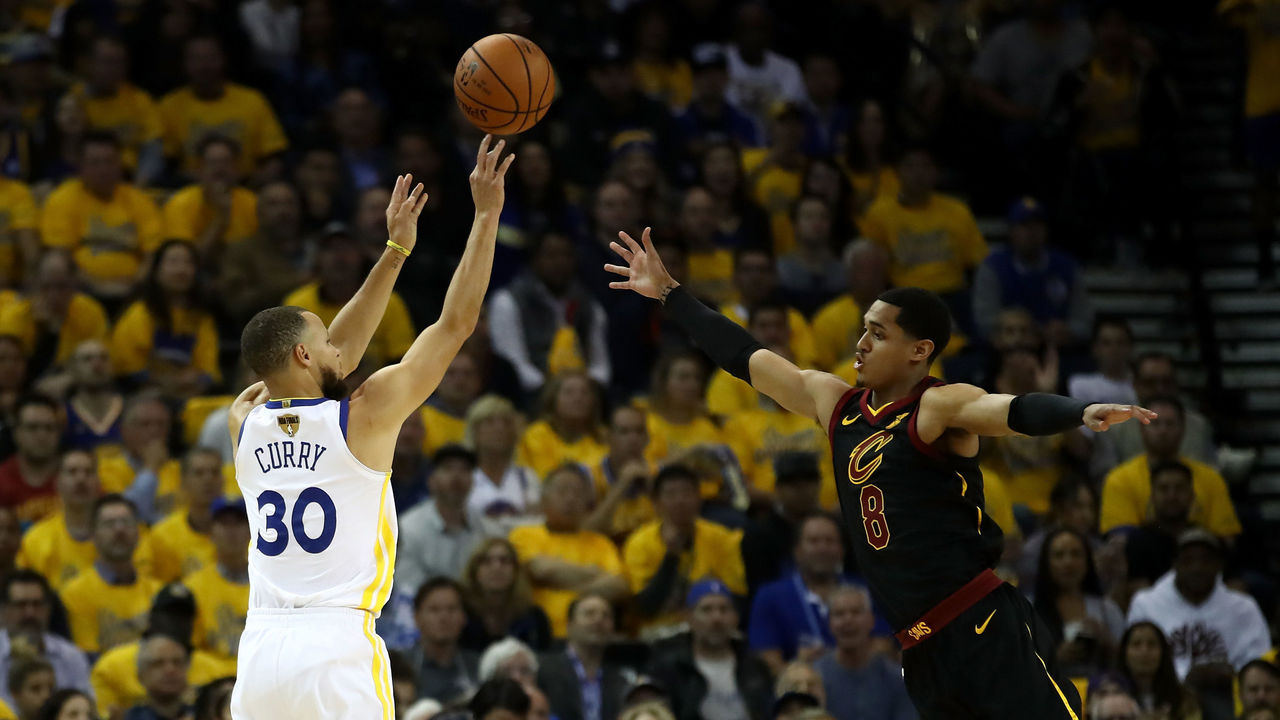 | PTS | REB | AST | STL | BLK | 3P% |
| --- | --- | --- | --- | --- | --- |
| 24.2 | 4.6 | 6.5 | 1.7 | 0.2 | 43.3 |
Team: Warriors
Last season, Stephen Curry reminded NBA fans that he's uniquely talented while dropping a career-high 32 points per contest and almost single-handedly taking Golden State to the play-in games.
The two-time MVP and three-time champion is one of the best players of his generation, and he's been a monumental driving force behind the perimeter offense explosion in today's NBA. The league hadn't seen anything like him, but every team is now looking for the next Steph because of his dominance.
To top it all off, Curry will break Ray Allen's all-time 3-pointer record this season at only 33 years old. - Matthew Winick
4. Kevin Durant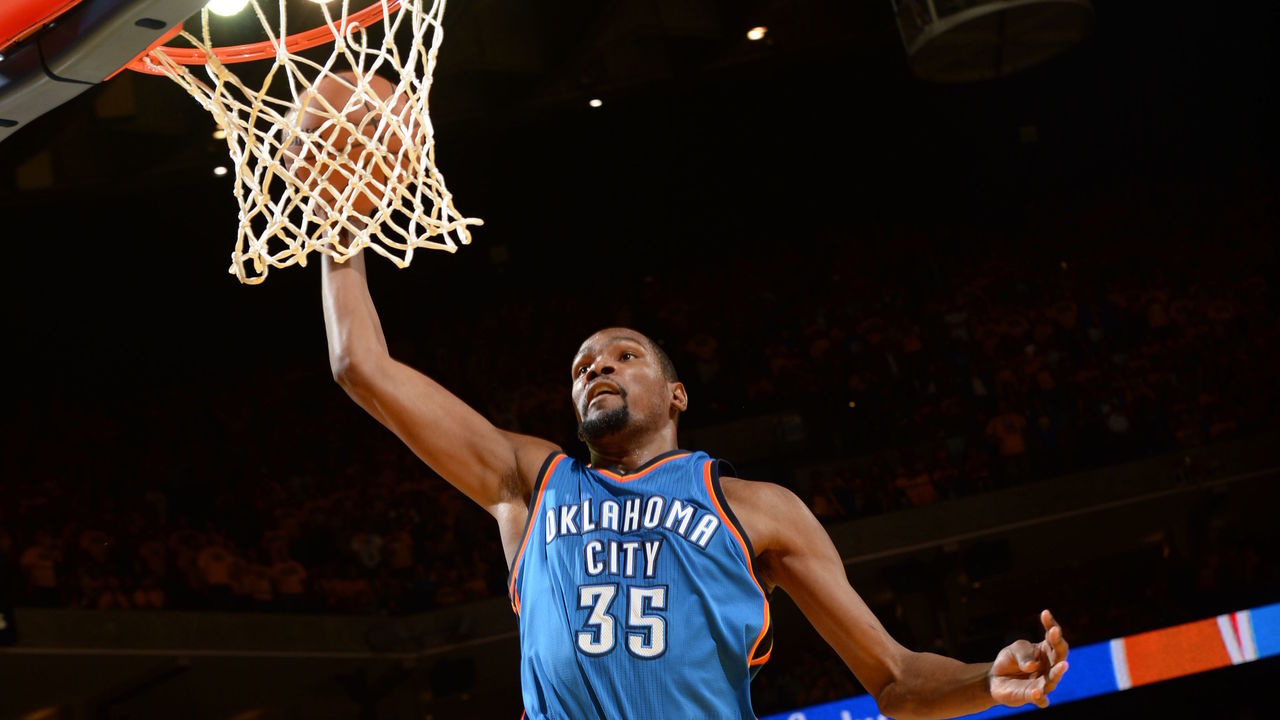 | PTS | REB | AST | STL | BLK | 3P% |
| --- | --- | --- | --- | --- | --- |
| 27.0 | 7.1 | 4.2 | 1.1 | 1.1 | 38.4 |
Teams: Thunder, Warriors, Nets
With a guard's skill set inside a 6-foot-10 frame, Kevin Durant possesses one-of-a-kind ball-handling and scoring abilities for his size. His unique offensive profile has helped the "Slim Reaper" cement himself as one of the most gifted and unguardable scorers we've ever witnessed.
Durant's resume speaks for itself: two NBA championships, two Finals MVP awards, three Olympic gold medals, 11 All-Star appearances, nine All-NBA selections, four scoring titles, a Rookie of the Year award, and regular-season MVP hardware.
There's no denying he's already one of the game's all-time greats. And at 32 years old, there's still plenty of time for him to pile up more Hall of Fame-worthy accomplishments. - Josh Weinstein
3. Tim Duncan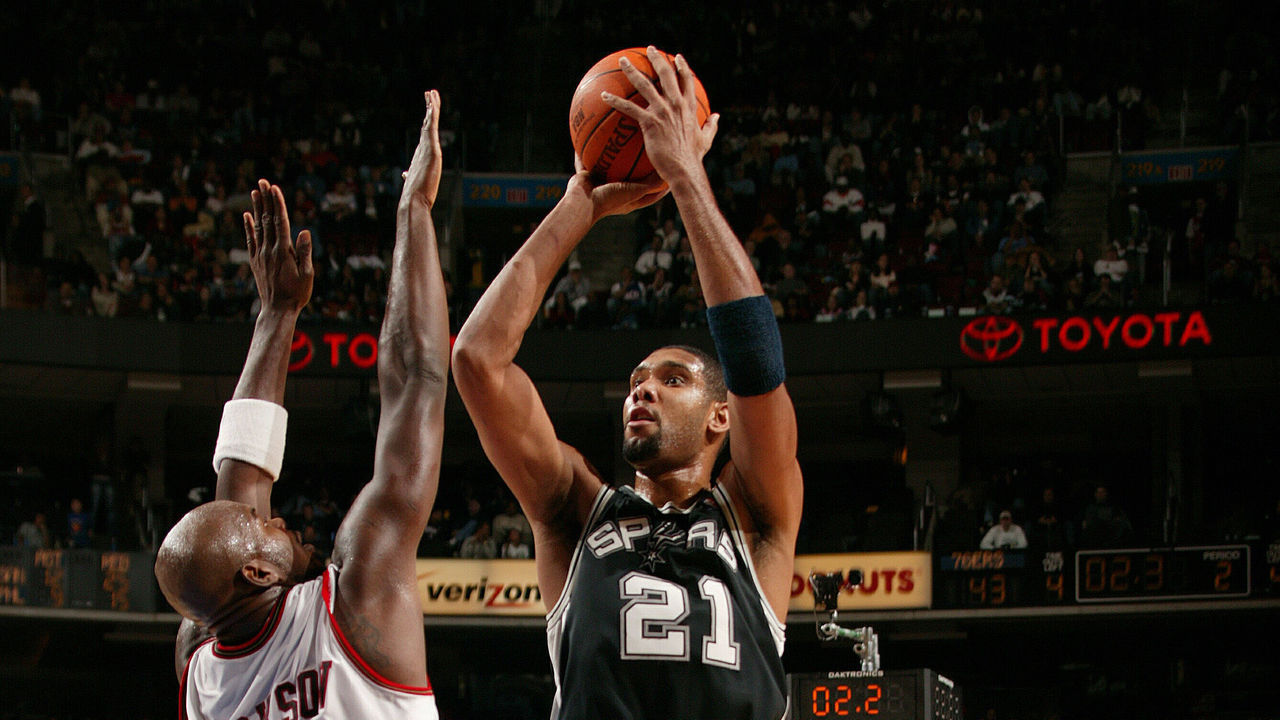 | PTS | REB | AST | STL | BLK | 3P% |
| --- | --- | --- | --- | --- | --- |
| 19.0 | 10.8 | 3.0 | 0.7 | 2.2 | 17.9 |
Team: Spurs
The San Antonio Spurs' disastrous 1996-97 campaign allowed Tim Duncan to fall right into their lap when the club won the draft lottery before taking the big man first overall. Duncan immediately put himself into the upper echelon of power forwards, posting a league-leading 57 double-doubles and earning an All-Star and All-NBA first team nod following his rookie campaign.
His success would continue for nearly two more decades. The Spurs won two titles over six seasons with Duncan and David Robinson leading the way. When Robinson retired in 2003, Duncan took the reins and guided San Antonio to another three championships.
The Hall of Famer was named the NBA Finals MVP three times, trailing only Michael Jordan and LeBron James for the all-time lead. Duncan ended his career with 15 All-Star selections, 15 All-NBA and NBA All-Defensive team nods, and two MVP awards. He's the only player in league history to be named to both the All-NBA and NBA All-Defensive team in 13 consecutive campaigns.
Duncan's playing style was never flashy, but it was highly effective for many years. He dominated in the low post, developed a trademark mid-range bank shot, provided elite rim protection, and was always willing to do the dirty work on the glass.
There may never be another player like "The Big Fundamental." - Chicco Nacion
2. Kobe Bryant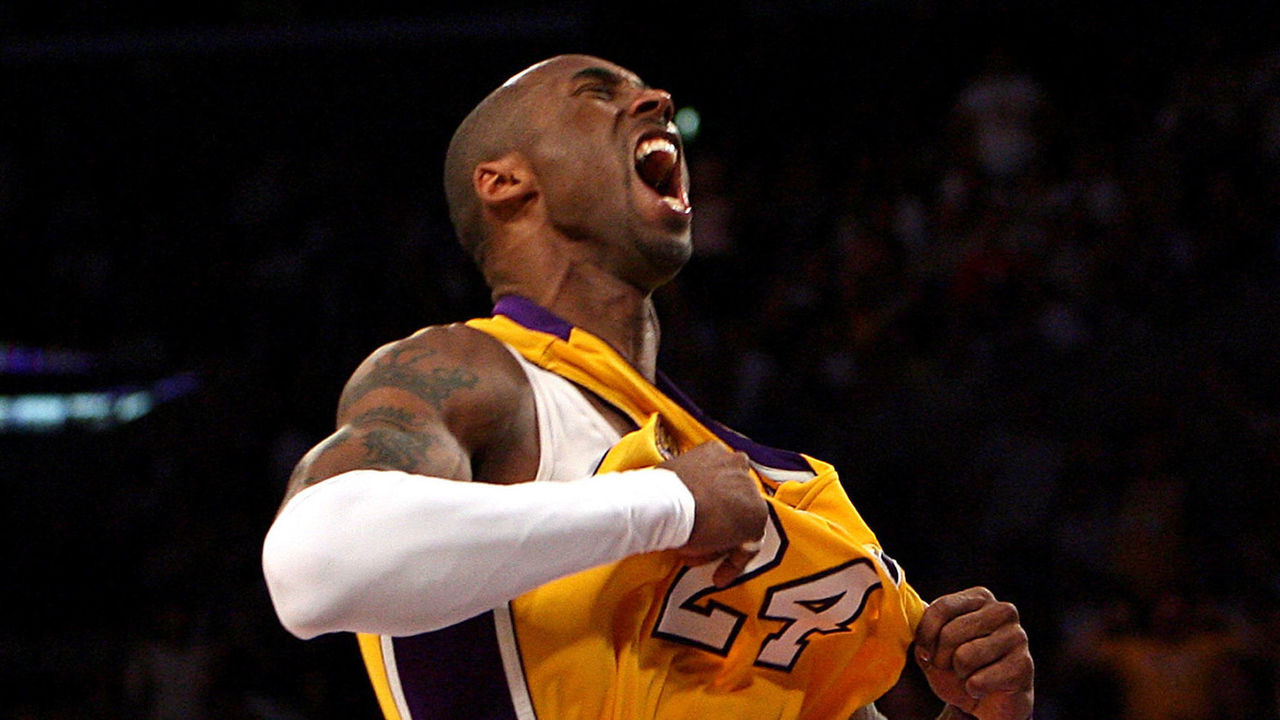 | PTS | REB | AST | STL | BLK | 3P% |
| --- | --- | --- | --- | --- | --- |
| 25.0 | 5.2 | 4.7 | 1.4 | 0.5 | 32.9 |
Team: Lakers
Kobe Bryant's legacy is forever inextricably linked with those he played with and against.
First, it was Michael Jordan, a comparison a young Bryant warmly embraced. Then, it was LeBron James, whose ascension seemingly snatched the title of being the league's best from the Lakers legend. And in between, Shaquille O'Neal claimed he carried Bryant and the team to a three-peat, an assertion the latter partly dispelled while guiding L.A. to back-to-back titles in 2009 and 2010 without Shaq.
As such, Jordan and James have become the joint focal points of the enduring and exhausting GOAT debate - and also a benchmark for Bryant's accomplishments. That shouldn't diminish Bryant's contributions, as five rings and two NBA Finals MVPs pair nicely with a regular-season MVP nod, 18 All-Star appearances, and two scoring titles.
Bryant is also fourth on both the all-time scoring list and its playoff equivalent. There's no shame in finishing runner-up here. - Michael J. Chandler
1. LeBron James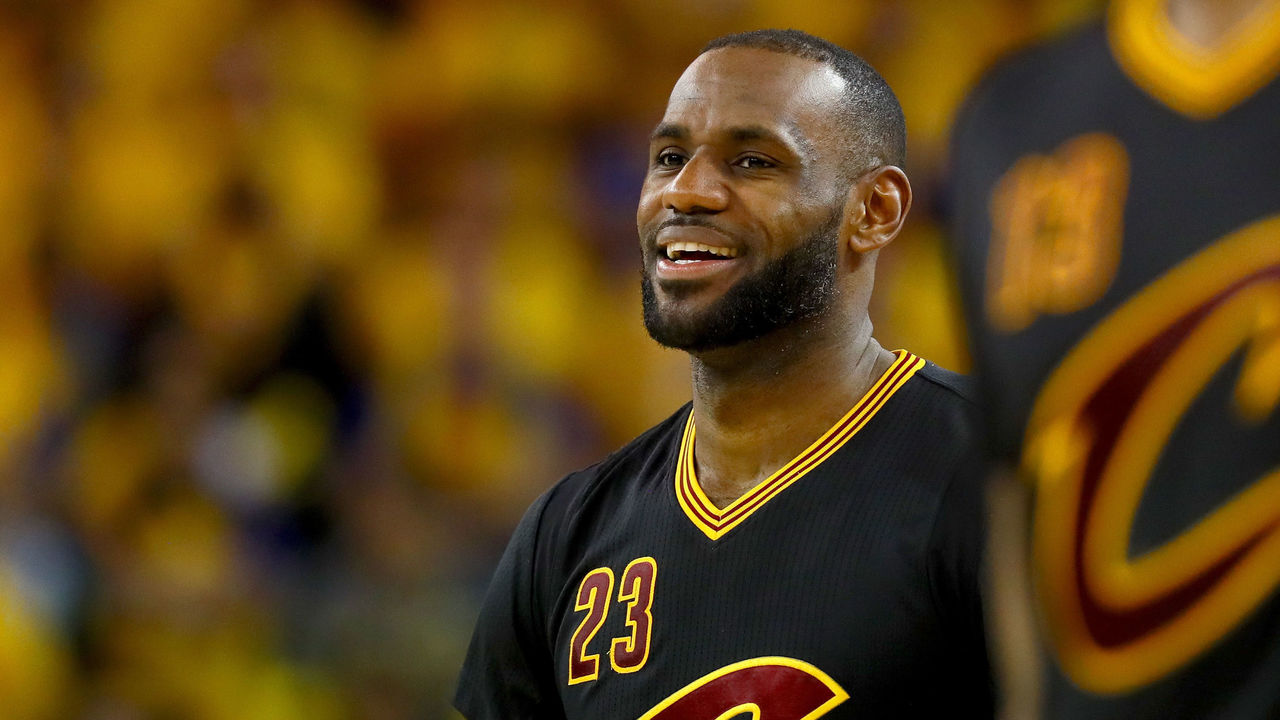 | PTS | REB | AST | STL | BLK | 3P% |
| --- | --- | --- | --- | --- | --- |
| 27.0 | 7.4 | 7.4 | 1.6 | 0.7 | 34.5 |
Teams: Cavaliers, Heat, Lakers
LeBron James is theScore's unanimous No. 1 pick as the greatest player of the past 25 years. He's won four MVP trophies (with 14 top-five finishes), earned 17 straight All-NBA selections, and secured a scoring title at the age of 23 and an assists title at 35. Then there are his four championships - and four NBA Finals MVP performances - spread across three franchises with different supporting casts.
At some point over the next two or three seasons, James will pass Kareem Abdul-Jabbar as the NBA's all-time scoring leader. He already holds the postseason scoring record. He's also eighth on the all-time assists leaderboard, and the only non-traditional point guard that high by a country mile.
Also, while defense won't come to mind first when looking back on LeBron's career, he's made six All-Defensive teams (five firsts), routinely locks in come playoff time, and he executed maybe the greatest block in NBA history.
Some will hold LeBron's 4-6 NBA Finals record against him, penalizing the legend for leading a rag-tag Cavs team to the 2007 Finals at just 22, or for losing twice to the Curry-Durant Warriors.
Michael Jordan took nearly two years off in the middle of his prime to recharge, and Kobe experienced his mid-career lull between Shaq's departure and Pau Gasol's arrival. But LeBron's presence nearly guaranteed an NBA Finals appearance for his teams, making the big dance 10 times over a 14-season span. What more can you ask for? - Andrew Joe Potter
--
Miss part of the countdown? Click here to revisit part one of the series.
Comments
✕
Top 25 since '96 finale: The top-5 greatest modern NBA players
  Got something to say? Leave a comment below!