4 trade destinations for Ben Simmons
Scott Cunningham / National Basketball Association / Getty
Ben Simmons has reportedly asked to be traded out of Philadelphia after a tumultuous five-year tenure with the 76ers. A swap could get done quickly, too, as the Australian is reportedly reluctant to arrive for training camp on Sept. 28.
Here are four potential trade destinations for the 2016 No. 1 overall pick.
Golden State Warriors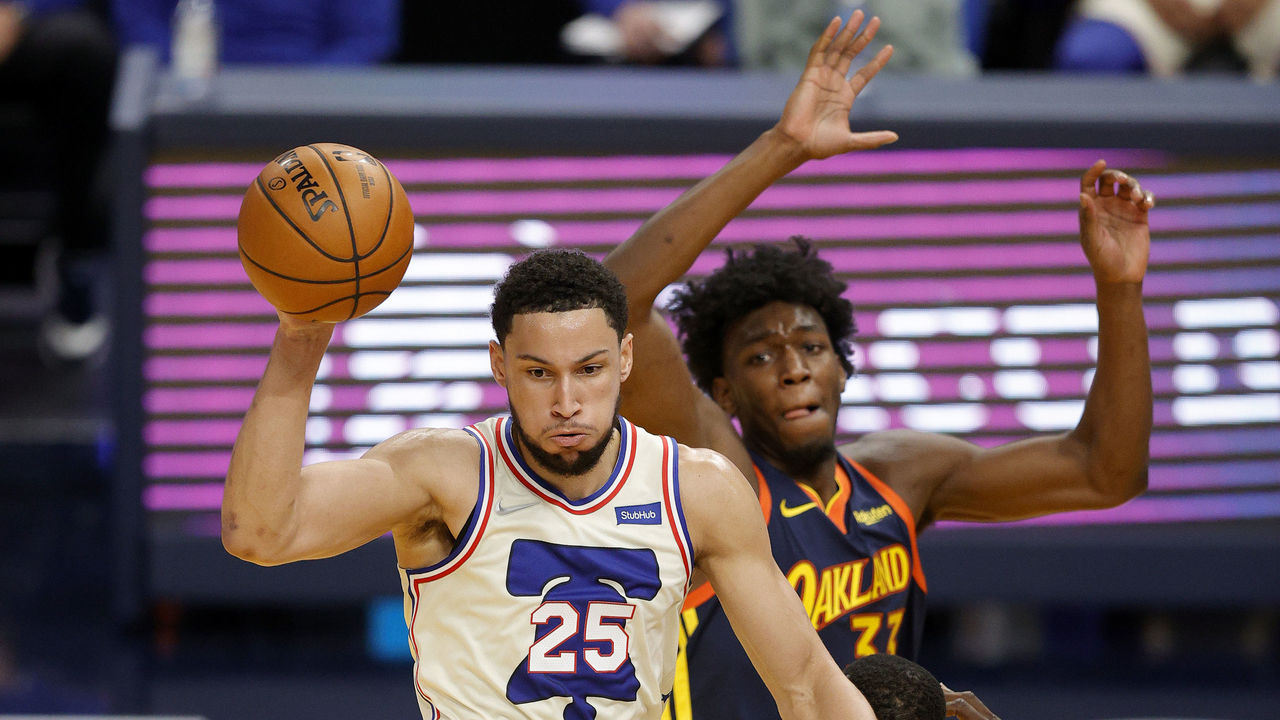 | Warriors receive | 76ers receive |
| --- | --- |
| Ben Simmons | Andrew Wiggins |
| Tyrese Maxey | James Wiseman |
| | Moses Moody |
| | 2022 1st-round pick |
| | 2026 1st-round pick |
The Warriors have been involved in Simmons trade rumors for months, and a move still makes some sense.
Andrew Wiggins is essentially a must-add player for salary matching purposes, though he revived his trade value slightly with a solid 2020-21 campaign shooting-wise, registering a career-high true shooting mark (56.8%), in addition to highs from the floor (47.7%) and from distance (38%).
But the Warriors really need to sweeten the pot for Philadelphia beyond Wiggins. James Wiseman is still their best trade piece, and tutelage from Joel Embiid could boost the 20-year-old's development, even if it comes with a bench role and a drop in minutes for now. Rookie Moses Moody gives the 76ers another solid 3-and-D option with notable upside. The pair of unprotected first-rounders are likely necessary to further appease 76ers president Daryl Morey (a potential 2024 pick to the Memphis Grizzlies limits what Golden State can trade out).
The biggest issue here is leaving the 76ers' without a permanent starting point guard. Seth Curry did assume the role for a couple of games last season with Simmons out, though it's likely Morey would need a follow-up move to secure a more stable solution.
Sacramento Kings
| Kings receive | 76ers receive |
| --- | --- |
| Ben Simmons | Buddy Hield |
| | Tyrese Haliburton |
| | Davion Mitchell |
| | 2022 1st-round pick |
| | 2024 1st-round pick |
The Kings are desperate to end their 15-year playoff drought, and they may view Simmons as the piece that finally puts them over the edge in a competitive Western Conference.
Despite Sacramento's on-court struggles, the club's roster does feature multiple desirable assets and enough future draft capital - the Kings own all of their first-round picks through 2028 - to potentially entice Morey into making a deal.
Buddy Hield, 28, has been one of the league's most prolific shooters since entering the NBA in 2016. The Oklahoma product has shot a career 40.6% on threes while increasing his shooting volume every season. Hield's 10.2 long-range attempts per game during the 2020-21 campaign ranked third league-wide behind Stephen Curry and Damian Lillard.
Tyrese Haliburton and Davion Mitchell would help fill the void that Simmons' departure creates, especially from playmaking and defensive standpoints, respectively. Haliburton, 21, showcased an impressive two-way game during his first NBA season while finishing third in Rookie of the Year voting.
Meanwhile, Mitchell was a defensive irritator throughout the summer league, and he also showcased a smooth jumper. The 22-year-old's tenacity isn't likely to waver once games start to count.
If Morey prefers De'Aaron Fox's playmaking and overall scoring capabilities over Hield's sharpshooting prowess, including him in a similarly structured deal would work from a financial standpoint, although that may prove to be too steep of a price for Sacramento to pay.
Portland Trail Blazers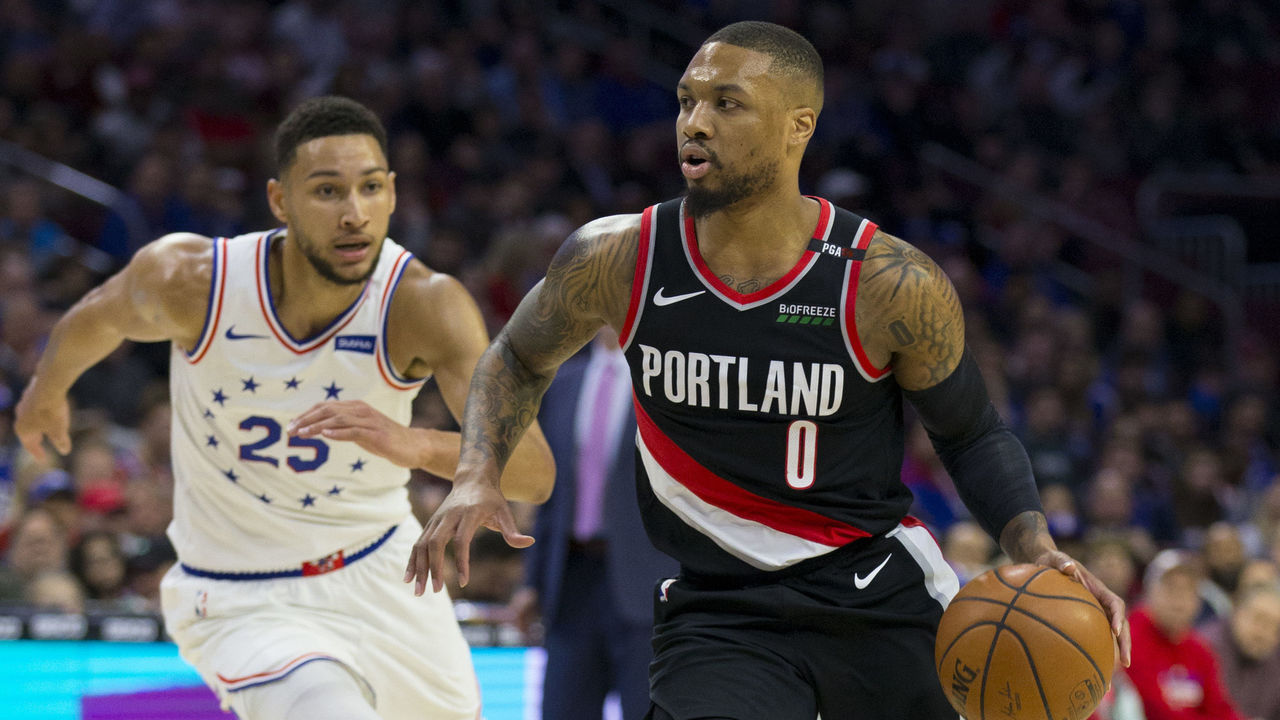 | Trail Blazers receive | 76ers receive |
| --- | --- |
| Ben Simmons | Damian Lillard |
| Tyrese Maxey | |
| 2023 1st-round pick | |
| Right to swap picks in 2024 | |
Despite his recent assurances that he's not actively seeking an exit, Damian Lillard's situation in Portland still feels incredibly volatile, especially with the 76ers always circling.
Trail Blazers president Neil Olshey made a noteworthy upgrade this offseason, effectively turning Derrick Jones Jr. into Larry Nance Jr. through a three-team deal centered around Lauri Markkanen heading to the Cleveland Cavaliers. But if Lillard still doesn't consider Portland's roster ready to compete for a title, he could put the franchise on the spot closer to the season with a formal trade request.
While Simmons is much younger and a perennial Defensive Player of the Year candidate, Lillard plays himself into the MVP conversation yearly, and the 76ers may need to convince the Trail Blazers to make the deal. Simmons reportedly forcing his way out before the new season limits Morey's leverage, which also doesn't help.
Portland could require the 76ers to throw in young guard Tyrese Maxey and a bit of draft compensation, taking the opportunity to get younger overall while still staying competitive.
Toronto Raptors
| Raptors receive | 76ers receive |
| --- | --- |
| Ben Simmons | Fred VanVleet |
| | OG Anunoby |
| | Chris Boucher |
Philly would receive a pair of tremendous pieces who have both gained championship experience in Fred VanVleet and OG Anunoby, and they can help to replace Simmons' production.
VanVleet is coming off another strong two-way season when he averaged a career-high 19.6 points per game. He's a significant floor-spacing upgrade over Simmons, and VanVleet would slot into the 76ers starting lineup with ease.
As for Anunoby, the 24-year-old has been a remarkable defender his whole career. He's taken noticeable strides offensively each season, especially as a ball-handler, playmaker, and inside-out scoring threat.
Chris Boucher would serve as a trade sweetener. The Montreal native would bolster Philadelphia's bench while providing valuable rim protection and athleticism. His shot-blocking could especially come in handy if Embiid misses an extended period.
While it's unclear exactly what assets the organization has included as part of potential packages for Simmons, The Athletic's Shams Charania reports the Raptors' offers haven't been juicy enough to swing a deal yet.
Comments
✕
4 trade destinations for Ben Simmons
  Got something to say? Leave a comment below!