How the Hawks helped induce two epic Sixers collapses
Tim Nwachukwu / Getty Images
There are two sides to every NBA game, and nothing a team does happens independently of its opponent. One team's humiliating collapse is another's heroic comeback. That's important to keep in mind as we try to sift through the rubble following the Hawks' wins over the Sixers in Games 4 and 5 of their second-round series, in which they erased deficits of 18 and 26 points, respectively. Combined, they outscored Philly 123-82 in the second halves of those games.
The obvious story, naturally, is that the Sixers choked those leads away. They're the higher seed and the series favorite, which gives the impression they have all the agency here, that the outcome of each game is in their hands. That's true to an extent, particularly when all they have to do is protect a massive lead for one quarter. They've exhibited terrible offensive process and a shocking level of defensive ineptitude down the stretch of the last two games, and they deserve every bit of the flak they're catching for losing them. But it takes two to tango, and the Hawks deserve their share of credit for turning those games around.
To overcome those deficits, the Hawks had to be razor-sharp at both ends of the floor. They didn't resort to chucking early-clock threes or go overboard with their ball pressure in a desperate attempt to force turnovers. (The Sixers were gracious enough to gift them plenty of those.) Atlanta was patient, disciplined, and focused, gradually chipping away with the help of some timely shotmaking.
One thing they've done an excellent job of is finding and exploiting soft spots in the Sixers' typically rock-solid defense. Trae Young hasn't been able to simply spam high pick-and-roll with Clint Capela because of how well Philly has defended those actions, with either Ben Simmons or Matisse Thybulle applying pressure from behind and Joel Embiid masterfully navigating the space between Young and Capela in drop coverage. The collective size Young is seeing when Embiid is engaged in ball screens is giving him trouble, so Atlanta's had to explore different avenues of attack.
In particular, they've had success dragging Tobias Harris, Furkan Korkmaz, and Seth Curry into the fray. The Sixers are reluctant to switch any of those defenders onto Young, or in some cases Lou Williams. When they have given the switch, it's gone pretty poorly for them. But it hasn't been much better when they've tried to show and recover - or whatever Korkmaz (No. 30) has been doing on some of these possessions:
When one of those guys is defending the screener, the Sixers frequently get caught between coverages, uncertain of whether they should be switching or hedging. When they opt to stay out of the switch, there's been a lot of miscommunication about when it's safe for the screen defender to retreat (as you can see in the plays above).
The Hawks have mixed in a lot of ghost screens when running small-small pick-and-rolls to keep the Sixers off-balance, and they've gotten great looks when they run those actions with an empty corner, taking away a helper and giving a shooter (ideally Bogdan Bogdanovic) the option to either fire or attack a closeout with a cleared-out side after slipping out:
And Young was able to generate good stuff out of the Hawks' staple food in crunch time, taking advantage of a possibly fatigued Embiid, whose pick-up point seemed to drop further back the longer the games went on. Early in the games, it felt like Embiid was the one dictating the terms of the pick-and-roll dance, keeping Young guessing and freezing him with indecision by stunting and retreating. Later on, it was Young playing master manipulator, disguising his intentions until the defense gave something away.
In Games 4 and 5, Young scored 21 points, dished out five assists, shot 6-of-7 from 2-point range, and committed zero turnovers in 17 fourth-quarter minutes, during which Atlanta outscored Philly by 23 points.
Of course, the minutes with Embiid on the floor haven't really been the issue for the Sixers. They were a plus-11 during his 39 minutes in Game 5, and a minus-14 in the nine minutes he sat. Philly's bench is routinely getting trounced, and Game 5 was probably the most egregious such instance in the series. No Sixers reserve could do anything at the offensive end, and Harris, in his worst performance of the playoffs, couldn't buoy those units at all. At the other end, Williams hit them with a barrage of floaters and pull-up jumpers to whittle the deficit down to a manageable margin by the time the starters returned in the fourth.
The thing is, even with Philly's starters back in, the Hawks kept scoring. Young got more aggressive attacking his primary defender without a screen. And because of Williams' scorching stretch, he managed on occasion to preoccupy Philly's defense long enough for Young to burrow inside and score. Below, Simmons (second 76er from right) turned his back on the ball to deal with a Danilo Gallinari decoy pin-down for Williams that the Sixers were seemingly preparing to switch:
Again, it takes two, and the Sixers deserve a ton of blame here. First, Simmons can't be so caught up with a potential Lou Williams off-ball action that he's completely diverting his attention from Trae freaking Young. Second, there was no reason for Embiid to be so distracted by Capela in the dunker spot that he couldn't contest at the rim in time. And third, Thybulle didn't help matters by opening up his stance and letting Young blow right past him at the point of attack. (Simmons, for what it's worth, didn't fare much better in trying to keep Young in front of him late in the game.) That's three All-Defensive teamers combining to bungle a crucial crunch-time defensive possession. Not great.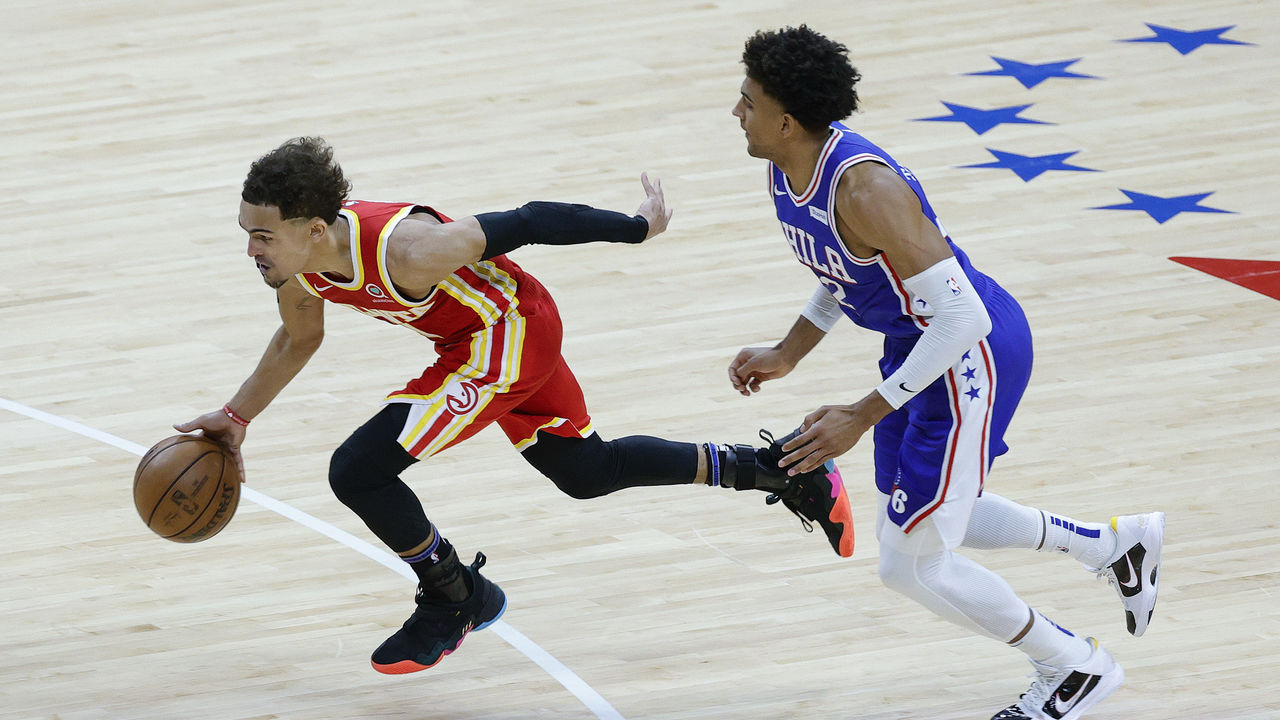 At the other end of the floor, Philly's completely disintegrated down the stretch, devolving into stagnancy and one-on-one play and purposeless dithering deep into the shot clock. Their offense in the fourth quarter of Game 5 made the Bucks' crunch-time offense look downright Suns-ian by comparison. But the Hawks contributed to those offensive struggles with some locked-in, on-a-string defense, even with a closing backcourt of Young and Williams - probably the most defensively vulnerable guard tandem we'll see on the floor this postseason.
The Sixers let them off the hook by neglecting to really attack those two (especially given how much success they had running Young through off-ball screens earlier in the game) but the Hawks found ways to protect them. That mostly involved bringing Capela up to the level of the screen and navigating the rotations behind him. A lot of credit for that is owed to John Collins, one of the most improved defenders in the league this season.
This possession fell apart for the Sixers in large part because Harris wasn't even thinking about pulling up off the staggered ball screen, and because Embiid tried to short-roll to the free-throw line rather than diving to the rim. But it also fell apart because of how well Collins executed the late switch onto Embiid and took away the easy pass:
This was probably Atlanta's most important and most impressive defensive possession of the game:
Watch that sequence and make note of all the different help assignments the Hawks had to absolutely nail, starting with Capela jumping out to take away Curry's pull-up (the one weapon that really burned them in the second half), and Gallinari stepping up to deter Embiid on the roll. Embiid missed a window to hit Simmons in the dunker spot, but Atlanta closed that window quickly, with both Williams and Collins sinking from the corners to take the high-low pass away. Collins then closed out to Harris in the corner and ran him off the arc, Gallinari stepped up again to stop Harris' drive, Collins veered back to help Capela and take the baseline away from Embiid, and then recovered to block Harris at the rim.
So, yes, the Sixers obviously shot themselves in the foot in these games. Repeatedly. But the Hawks weren't just bystanders to the calamity. They very much helped cause it.
Comments
✕
How the Hawks helped induce two epic Sixers collapses
  Got something to say? Leave a comment below!