Anthony Davis alone won't fix what ailed the Lakers in Game 5
Juan Ocampo / NBA / Getty Images
It's possible the Los Angeles Lakers will have Anthony Davis back for Game 6 against the Phoenix Suns on Thursday, as they try to stave off the first first-round elimination of LeBron James' career. And it's possible that having Davis back will engender a more spirited performance from LeBron and Co. than the one they put forward Tuesday, when the Suns blitzed the Lakers en route to a 30-point victory and a 3-2 series lead.
But would Davis' return, and the ripple effects it might produce, be enough on its own to flip a series that's tilting toward the younger, fresher, deeper team?
Without even accounting for how limited Davis could be if he tries to play through a groin injury, his return won't be enough to extend the series if the rest of the Lakers don't fix what ailed them in Game 5. It's not just about individual performance, although almost every rotation player needs to be better. The team also has some things to figure out tactically that Davis alone won't remedy.
For starters, there has to be at least some concern about the state of LeBron and his wonky ankle, even if he left something in reserve because he recognized winning Game 5 was out of reach. His counting stats looked fine - he finished with 24 points on 19 shooting possessions, hit six threes, and dished seven assists - but it was jarring to see how incapable he was of making an impact inside the arc.
Even when James looked to drive the ball, he couldn't seem to find his way around or through Deandre Ayton. He tried to face up Torrey Craig from the left block and got stuffed. James repeatedly shied away from contact. He shot just 2-for-5 at the rim and didn't get to the line once. It was the first time since 2013 that he went without a free-throw attempt in a playoff game. Here's one clear indication that he didn't have his usual juice:
Look how wide a route he takes to try and avoid Ayton at the rim. A healthy LeBron takes that straight into the chest every time.
The Lakers as a whole were blanketed on the interior, shooting just 10-of-23 (43.5%) in the restricted area. Much of that had to do with their terrible spacing, a result of their lack of willing or threatening shooters (exacerbated by an injured and ineffective Kentavious Caldwell-Pope), poor floor balance, and the slow processing speed of everyone not named LeBron. The Suns game-planned to choke off the middle of the floor, and the Lakers made it easy for them to do so.
Take this possession, for instance: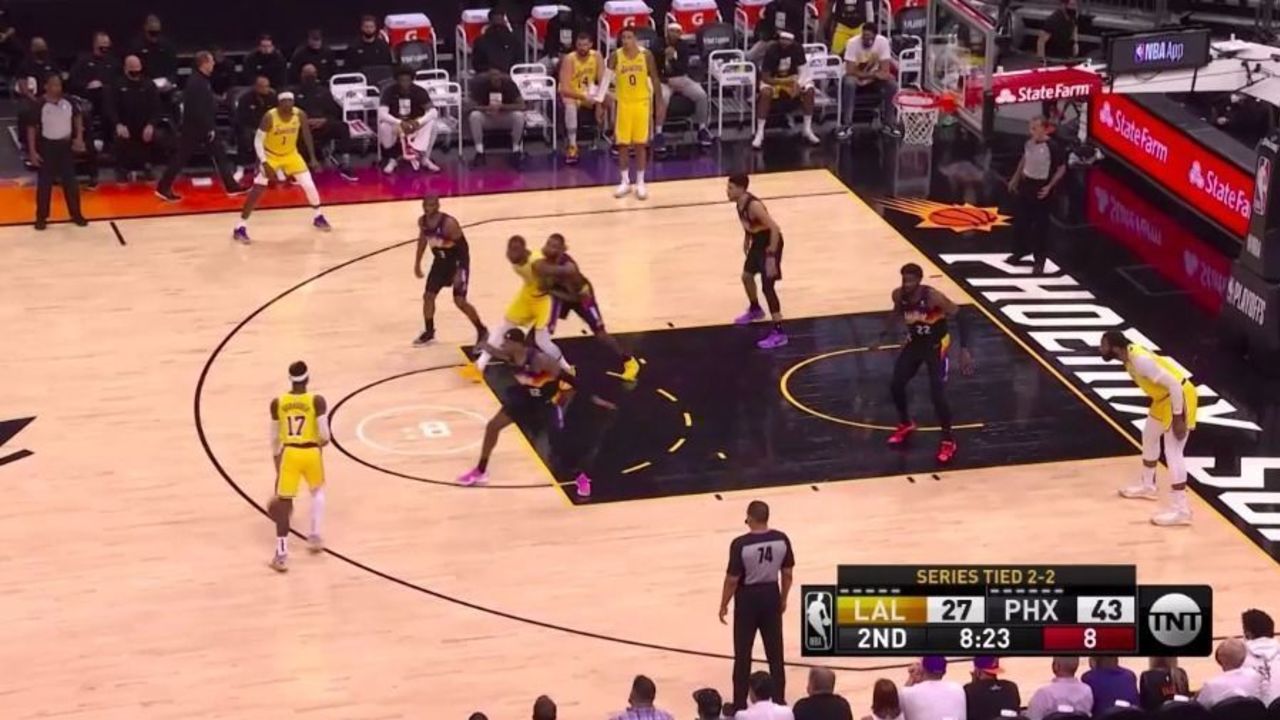 All five Suns defenders had at least one foot in the paint, and the Lakers couldn't find their way to an advantage. L.A. has the strong-side corner empty, but that served no purpose because LeBron rolled into a post seal in the middle, where the Suns were collapsing and where Dennis Schroder couldn't thread him the ball. Schroder, who had a nightmarish game, also passed up the opportunity to reverse the ball or skip it to the corner, which would've at least forced long closeouts from Chris Paul and Devin Booker. Instead, he dithered with the ball before driving into the sea of bodies and attempting a contested floater:
LeBron-run pick-and-rolls with Andre Drummond were similarly fruitless. It's hard to find rolling or driving lanes when defenders are helping this aggressively: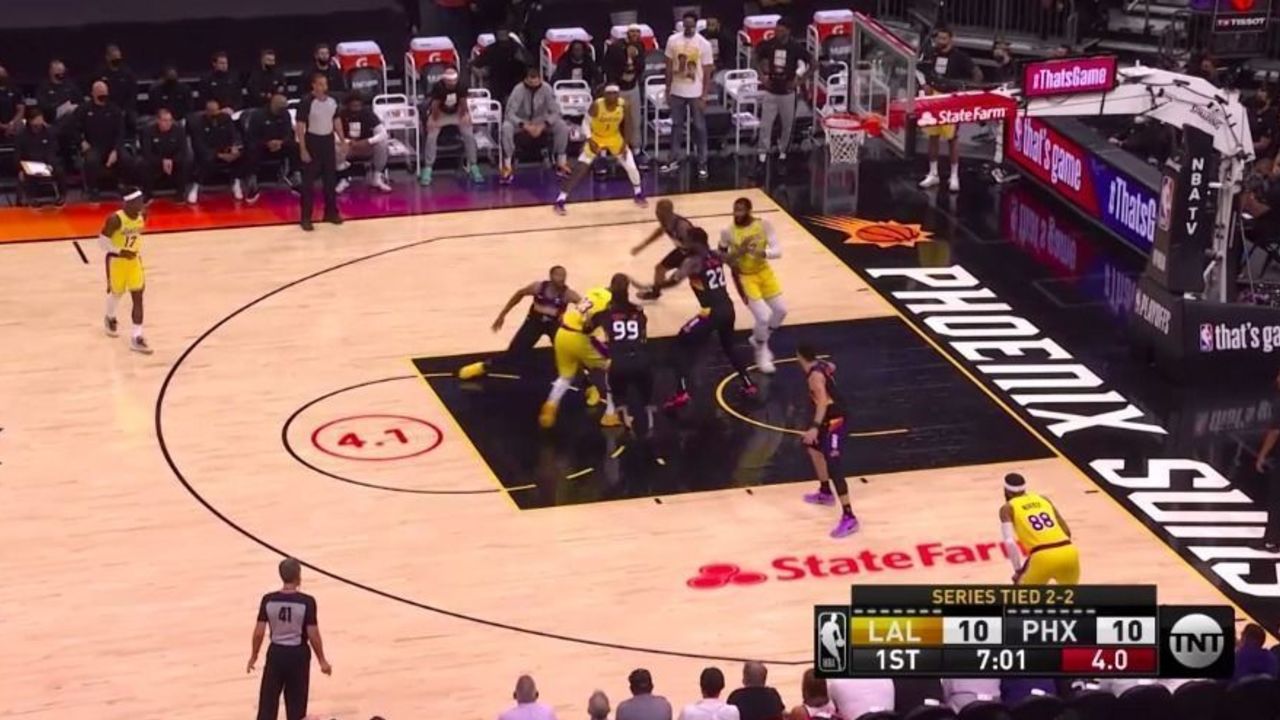 That's Mikal Bridges helping about 15 feet off of Schroder. LeBron wound up kicking a pass out to Schroder, who clanked a three as part of an 0-for-9 shooting night.
Here's another possession that encapsulated L.A.'s teamwide offensive struggles:
With Davis out, the Suns stuck Jae Crowder on LeBron and Bridges on whichever Laker was nominally playing point guard. That allowed them to switch L.A.'s preferred LeBron-guard screening actions, like the corner set involving Alex Caruso on the possession above. Bridges switched onto LeBron, and LeBron didn't feel confident in his ability to score over Bridges' length in the post, so he kicked it to an open Kyle Kuzma in the corner. But Kuzma barely even looked at the basket before flinging a grenade at Caldwell-Pope above the break with one second on the shot clock. Note LeBron's reaction.
Uncorking Montrezl Harrell and Talen Horton-Tucker a little earlier might have helped. For all their limitations, they're at least aggressive in hunting their own shots and capable of getting into the teeth of the defense. Davis, of course, would also provide a very helpful dose of rim pressure, and because of the vertical threat he poses any time he gets behind the defense, he'd make it much more difficult for Ayton to step up and help as liberally as he did in Game 5. But if the Lakers' perimeter players aren't making or even taking their open threes, it's unclear how much that would matter.
An even remotely mobile Davis would go a long way toward shoring up L.A.'s defense, which struggled to contain Booker and handle the pick-and-roll. Without Davis to help on the backline or play spot minutes at center, Drummond and Marc Gasol were routinely torched (though they didn't get much help from the point-of-attack defenders). Phoenix ran pick-and-roll at Gasol basically every moment he was on the floor. He entered the game in the first quarter, and on his first three possessions, he fouled Ayton on the roll, conceded a mid-range jumper to Booker on a switch, then gave Booker an and-1 layup in drop coverage. Gasol was a minus-14 in 10 minutes of action.
Again, the Lakers didn't help themselves out much with their scheme. They rarely made Booker see extra bodies, and they generally opted to drop their bigs back despite having spent most of the year playing various iterations of show-and-recover. Their guards did a poor job of tracking Booker around screens, particularly when the Suns ran Chicago action (a pindown into a dribble-handoff). Drummond might've helped by hedging here, rather than functionally setting a second screen on Wesley Matthews as Booker turned the corner with zero resistance:
He also might've been able to deter Cam Payne's drive out of this dribble-handoff if he hadn't turned his back on the ball in order to stay in contact with Ayton:
All is not necessarily lost. The Lakers can clean a lot of this stuff up, and the Suns are dealing with their own injury concerns after Paul re-injured his right shoulder in Game 5. Betting against LeBron James is never a good idea; maybe he's keeping the tank full enough for two heroic, season-saving performances. Maybe Davis can miraculously return at something close enough to 100% to handle center duty for extended stretches. Maybe the Lakers' role players will step up, and some positive shooting regression will change everything.
For now, though, it's looking like a hobbled LeBron will have to carry L.A. for two straight games even if Davis manages to play, and James didn't look capable of doing so in Game 5. After their title run in the bubble and their significantly compressed offseason, attrition has dogged the Lakers all year, and it may well prove too much to overcome. Even with a king in hand, they may be drawing dead.
Comments
✕
Anthony Davis alone won't fix what ailed the Lakers in Game 5
  Got something to say? Leave a comment below!