3 questions left to answer in best-of-3 NBA Finals
Stacy Revere / NBA / Getty Images
With both the Suns and Bucks holding serve at home through four games, the NBA Finals returns to Phoenix as a best-of-three. Here are three questions to contemplate for the remainder of the series.
Can anyone take MVP from Giannis?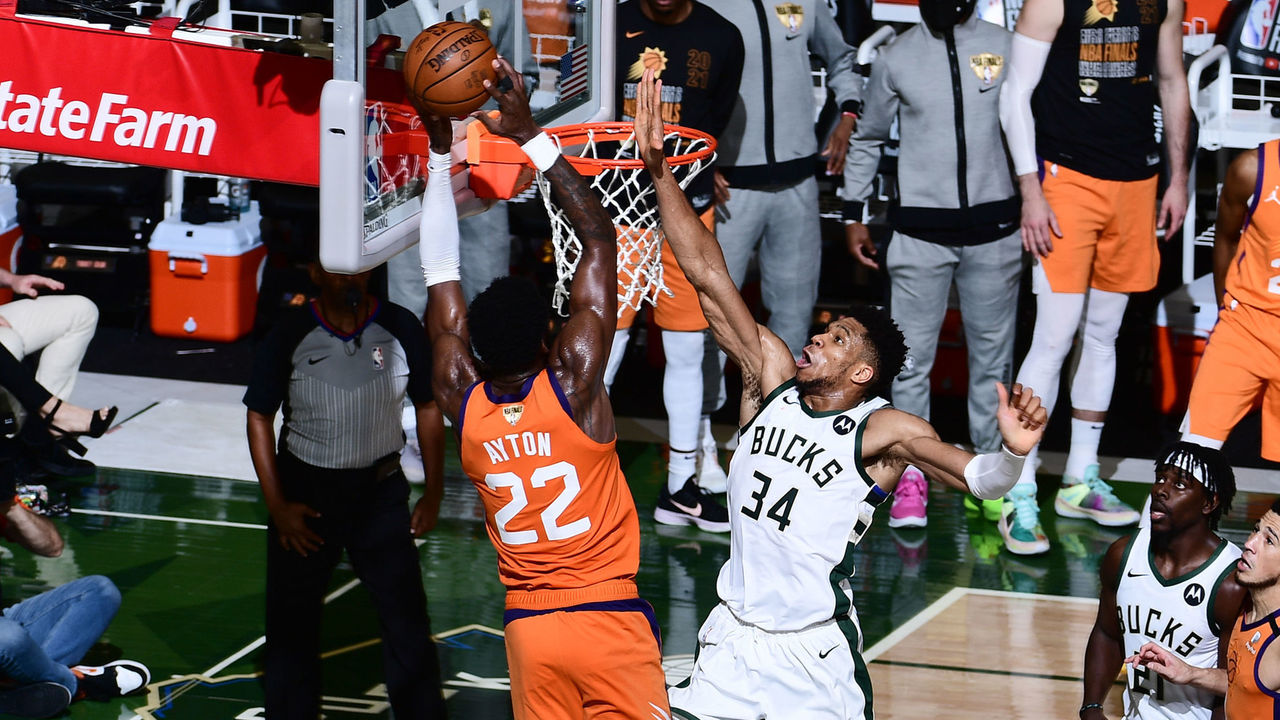 You might think this is an easy "yes" if the Suns win the championship. After all, the only example of a player from the losing team winning Finals MVP was Jerry West in 1969. LeBron James couldn't pull it off when he dragged a Kyrie Irving-less, Kevin Love-less Cavaliers team to Game 6 against the 67-win Warriors in 2015, nor did he have a shot at the Bill Russell Award when he averaged a triple-double in a five-game loss to Golden State in 2017.
But what Antetokounmpo is doing in this series feels different, largely because the gap between his performance and the play of anyone else who's touched the court is just so drastic.
Through four Finals games, the Greek Freak has averaged 32.3 points, 14 rebounds, 5.5 assists, 1.8 steals, and 1.5 blocks on 61.3% shooting. He's even knocked down more than 63% of the 55 free-throw attempts he's racked up by relentlessly attacking the rim despite averaging 39 minutes per game of full-throttle, two-way ball.
He's been by far the best player on both ends, which is why the Bucks have outscored the Suns by 27 points with Antetokounmpo on the court, while Phoenix has won the 36 non-Giannis minutes in this series by 24 points.
The lasting image of Game 4 - and perhaps of the 2021 Finals as a whole - will be Antetokounmpo exploding off the ground to deny Deandre Ayton at the rim with a thunderous block in the closing minutes of a Bucks victory.
With the Bucks facing a 2-0 series deficit as the series shifted from Phoenix to Milwaukee, I questioned whether there were any defensive adjustments left for the Bucks to make against the Suns' devastating pick-and-roll attack. Nursing a two-point lead with 74 seconds remaining in Game 4, Antetokounmpo single-handedly blew up one of those patented pick-and-rolls as he first helped P.J. Tucker corral Devin Booker on the perimeter, then in one fluid motion pivoted into a stunning leap to stuff Ayton at the rim as the big man tried to flush home Booker's lob.
It was the stuff of legend, and of a one-man wrecking crew. It was one of the finest defensive plays you'll ever see and a reminder that sometimes the best adjustment is simply having the best player on the floor by a country mile.
Remember, too, that Antetokounmpo was doubtful for the series opener after hyperextending his left knee on a stomach-turning landing a couple weeks ago, and that he was the most dominant player on the court even as the Suns built a 2-0 series lead.
Even if Phoenix were to take the next two games to win the title in six, it would require some unbelievable performances from Booker and Chris Paul - or an inexplicable collapse from Antetokounmpo - to justify giving Finals MVP to anyone else.
Who's second best?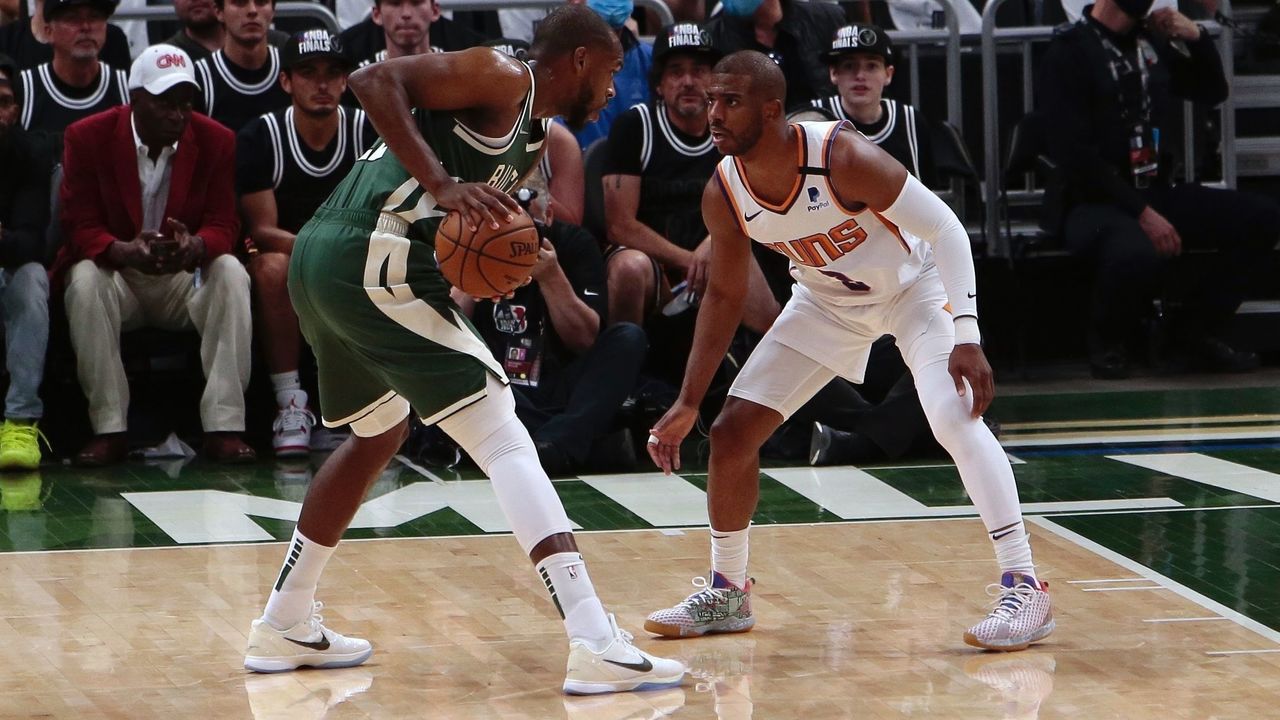 We know who deserves the Bill Russell Award right now, but whoever emerges as the second-best player in this series will likely determine which team walks away with the Larry O'Brien Trophy.
Paul was second best in Games 1 and 2. Jrue Holiday stepped up to help Antetokounmpo and the Bucks maintain life in Game 3. Booker and Khris Middleton jostled for the title in a close Game 4. Which star will get the job done consistently over the final two or three contests?
Paul and Booker don't need to outshine Antetokounmpo for a better-built Suns team to claim the franchise's first championship, but they do need to outplay Milwaukee's backcourt. Phoenix's star duo was menacing in Games 1 and 2 but couldn't get on the same page in road games this week. Booker looked uncharacteristically lost in Game 3 before exploding for 42 points in Game 4, and Paul just never looked right in Milwaukee, with turnovers haunting him, particularly unforced ones down the stretch in Game 4.
Holiday has been a defensive menace and remains a quality playmaker, but his scoring struggles have been painful to watch, as he's bricked layups about as often as he's misfired jumpers. The Suns have stopped respecting Holiday's jumper, which has further constrained the potency of pick-and-rolls involving the point guard and the non-shooting Antetokounmpo.
Middleton's jumper has come and gone throughout the Finals much like it has across the postseason, and his shot selection can sometimes leave a lot to be desired. But after looking gun-shy in Games 2 and 3, he at least emptied the clip in Game 4, overcoming some early bricks to finish with 40 points on 38 possessions. No other Bucks player used more than 23 possessions. After Game 2, I wrote that even if Middleton isn't quite the caliber of star you'd expect of a championship-level closer, "the Bucks need him to at least die trying." His effort Wednesday qualifies.
If one of Middleton or Holiday outperforms Paul and Booker, the Suns are cooked, given how otherworldly Antetokounmpo has looked. If Paul returns to Point God form or Booker picks up where he left off in Game 4, Giannis is going to need more consistent help from guys not named Pat Connaughton.
Did the Suns already miss their chance?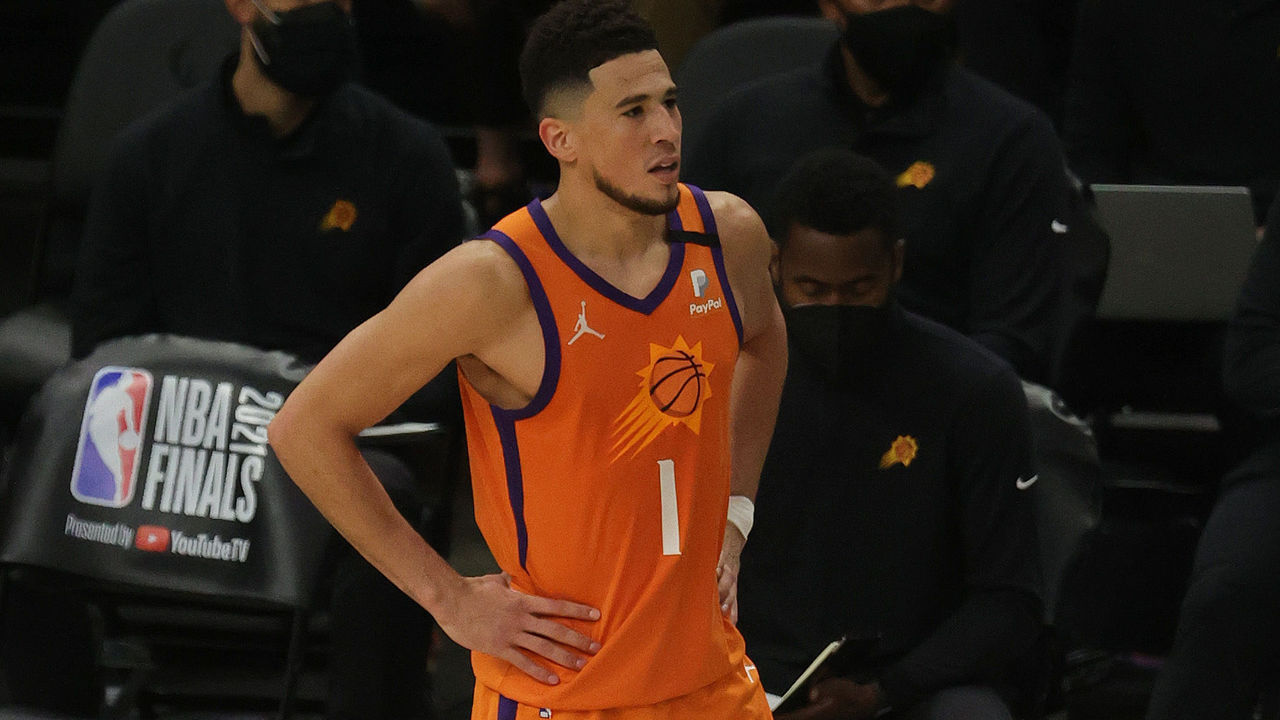 I don't want to be an alarmist here, Suns fans. Phoenix still has home-court advantage and the better overall team, as evidenced by the fact that the Suns controlled much of the series despite Antetokounmpo's excellence. But teams that blow opportunities like Phoenix did Wednesday in Milwaukee usually rue the day as heartbroken losers later.
It's not just that the Suns held a game-high, nine-point lead early in the fourth quarter, or that Phoenix reclaimed the lead with 2:30 remaining and a chance to take a stranglehold of the series coming back home. It's not even just that the usually sure-handed Paul committed an unforced turnover to essentially ice the game for Milwaukee. Everything about Game 4 screams "we should've had it" for Phoenix.
The Suns became the first team in history to lose a Finals game while shooting better than 50% from the field while holding their opponents below 42%. The shot quality profile paints an even uglier picture for Phoenix, as it shows the Suns greatly outperformed their expected field-goal percentage in Game 4, while the Bucks drastically underperformed. Yet Milwaukee came out on top in the only measure that counts.
Losing winnable games is part of the emotionally taxing journey that comes with a long playoff run, but missing out on a golden opportunity to go up 3-1 in the Finals and set up a potential championship clincher at home Saturday is going to sting the Suns for a while. There's a massive difference between that scenario and essentially playing for your life in a swing game.
It also stands to reason that the longer this series goes, the more vulnerable the Suns are, given the team's depleted frontcourt in the absence of Dario Saric, who tore his ACL in Game 1. When Ayton rests or, God forbid, gets in foul trouble, the Suns have had to rely on some combination of Jae Crowder, Cam Johnson, or Torrey Craig at center in super-small lineups against a team that starts Brook Lopez and also boasts the modern incarnation of Shaq when it comes to interior scoring.
Not to mention, the margin for error gets smaller the deeper the series goes, and the deeper the series goes, the more likely it is that the best player will decide it. And in case you haven't been paying attention, he doesn't play for the Suns.
Joseph Casciaro is a senior writer for theScore.
Comments
✕
3 questions left to answer in best-of-3 NBA Finals
  Got something to say? Leave a comment below!