How Nuggets, Blazers are trying (and failing) to limit each other's superstars
Steve Dykes / Getty Images
The Denver Nuggets and Portland Trail Blazers have both built their identities on high-powered offenses that revolve around two of the most unguardable players in the NBA. Neither team would be confused for a defensive juggernaut. As such, they have predictably struggled to defend each other - and specifically each other's top player - in their first-round series.
After the Nuggets' 120-115 win on Thursday night that put them up 2-1, Nikola Jokic is averaging 36 points on 68.4% true shooting in the series, and Denver has a 123.3 offensive rating with him on the floor. For his part, Damian Lillard is averaging 37.7 points and 9.3 assists on 62.4% true shooting, and Portland has a 124.7 offensive rating with him on the floor. Both teams have implemented some interesting wrinkles as they navigate the challenges of slowing the other down, but they're both operating with limited personnel. Even for the best defensive teams, guarding Jokic and Lillard typically involves picking the poison you think will kill you least painfully.
With that in mind, let's take a look at how the two superstars have responded to the coverages they've seen, what has and hasn't worked for each defense, and what - if anything - those defenses can do to mitigate the damage as the series progresses.
Aggressively single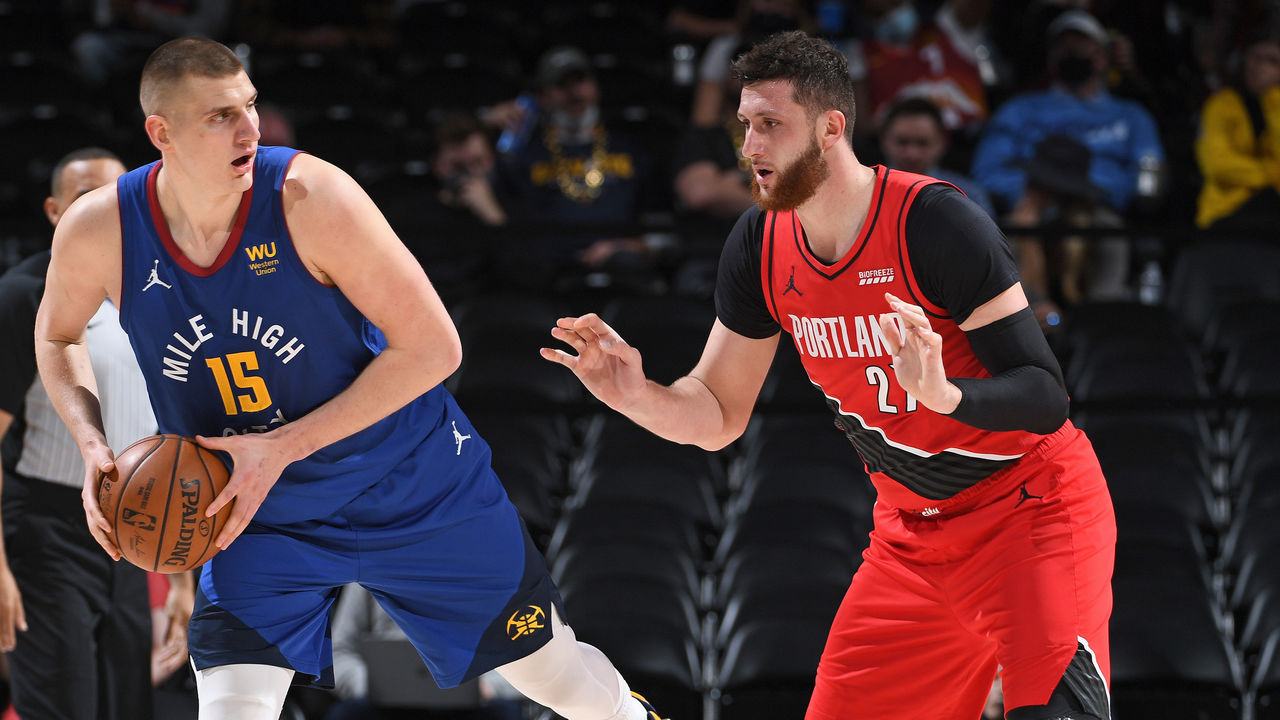 The Blazers began the series with the somewhat bold strategy of sending no extra bodies at the soon-to-be MVP. They did so knowing that Jokic was going to score a ton of points, and they've largely stuck to that game plan even as he's cooked Jusuf Nurkic, Enes Kanter, and Robert Covington in single coverage.
It's admirable that Portland has stuck to its guns, but it's unclear whether that's actually the best approach for defending Jokic and the Nuggets. You'd think with Denver being shorthanded and often playing multiple non-shooting threats at the same time, the Blazers would take more liberties with their help, not less.
Jokic has simply become too good a scorer to play straight-up, especially against a smaller defender like Covington or a slower one like Kanter. Nurkic has done as good a job as could be expected, but he's still overmatched when he's on an island trying to guard against Jokic's jumper, off-ball cuts, and zig-zagging forays to the basket. I'm not sure the Blazers can survive the volume and efficiency at which Jokic is scoring.
Of course, the alternative is turning him into a passer, which isn't any more appealing. Keeping everyone home on shooters and cutters at least prevents Jokic from fully utilizing his best skill; he registered just one assist in Game 1 (his lowest total in any contest since January 2020) and is averaging just 3.7 in the series after a regular season in which he averaged 8.3. With Jamal Murray and Will Barton sidelined, the Nuggets are light on self-creation outside of Jokic, so there's some sense in making their complementary players try to generate their own advantages, rather than allowing Jokic to create advantages for them.
According to Synergy, 39.9% of Jokic's used post-up possessions in the regular season directly created shots for teammates via passes, and those shots produced an average of 1.25 points. In Games 1 and 2, only twice did a Jokic post-up lead directly to a shot for someone else. That finally changed late in Game 3 when Nurkic fouled out and the Blazers went small, leaving them no choice but to start hard-doubling.
There's also a case to be made that forcing Jokic to carry such a heavy scoring load - he has a 35.6% usage rate in the series, up from 29.6% in the regular season - could cause him to wear down. That did seem to be the case in Game 1 when he scored just three points in the fourth quarter while getting torched on defense.
Maybe that's part of the reason the Nuggets tweaked their approach in Games 2 and 3, having him spend more time at the top of the floor, getting him involved in more screening action, and getting him the ball on the move. He scaled back the arduous post-ups and replaced them with a steady diet of pick-and-pop threes, short-roll runners, and free-throw line jumpers. After finishing 13 possessions out of the post in Game 1, he used just five post possessions in Games 2 and 3 combined, per Synergy.
The Blazers have gotten a bit more help-conscious as the series has progressed, particularly in digging down from the strong side when a shaky shooter (usually Facundo Campazzo) is occupying that side along with Jokic. The second half of Game 3 game was the first time they actually started to show help on Jokic's drives.
Compare their coverages on these two face-ups, the first from Game 2 and the second from Thursday night:
Earlier in the series, they were just letting him get to that spin move, but on that Game 3 possession, Covington and C.J. McCollum were pulled all the way over from the weak side to snuff it out, willing to live with Aaron Gordon or Austin Rivers potentially beating them from outside. (Incidentally, Rivers did exactly that later in the game. But it's still a bet Portland has to make.) Having McCollum and Covington out there instead of Carmelo Anthony and Anfernee Simons probably made a difference as well.
On the whole, the Blazers should be working harder to deny Jokic the ball in the first place. They haven't tried fronting him in the post at all, not even when they've been forced to downsize. And they've eschewed opportunities to help at the nail or stunt off the entry passer when they might be able to crowd him on the catch or at least force Denver to eat some clock trying to get him the ball.
The Nuggets ran multiple variations of this pin-down for Jokic to catch and fire from the free-throw line in Game 2:
You can see how the Blazers adjusted and shrank that pocket of space on the second one. They need to try to shrink it even further.
They also need Nurkic to stay out of foul trouble so they can hard-match his minutes with Jokic's, because nobody else has a prayer as the primary in that matchup. No more playing Nurkic against Denver's small-ball second unit. In 25 minutes with Jokic on the court and Nurkic off, the Nuggets have a 144.2 offensive rating.
Picking a poison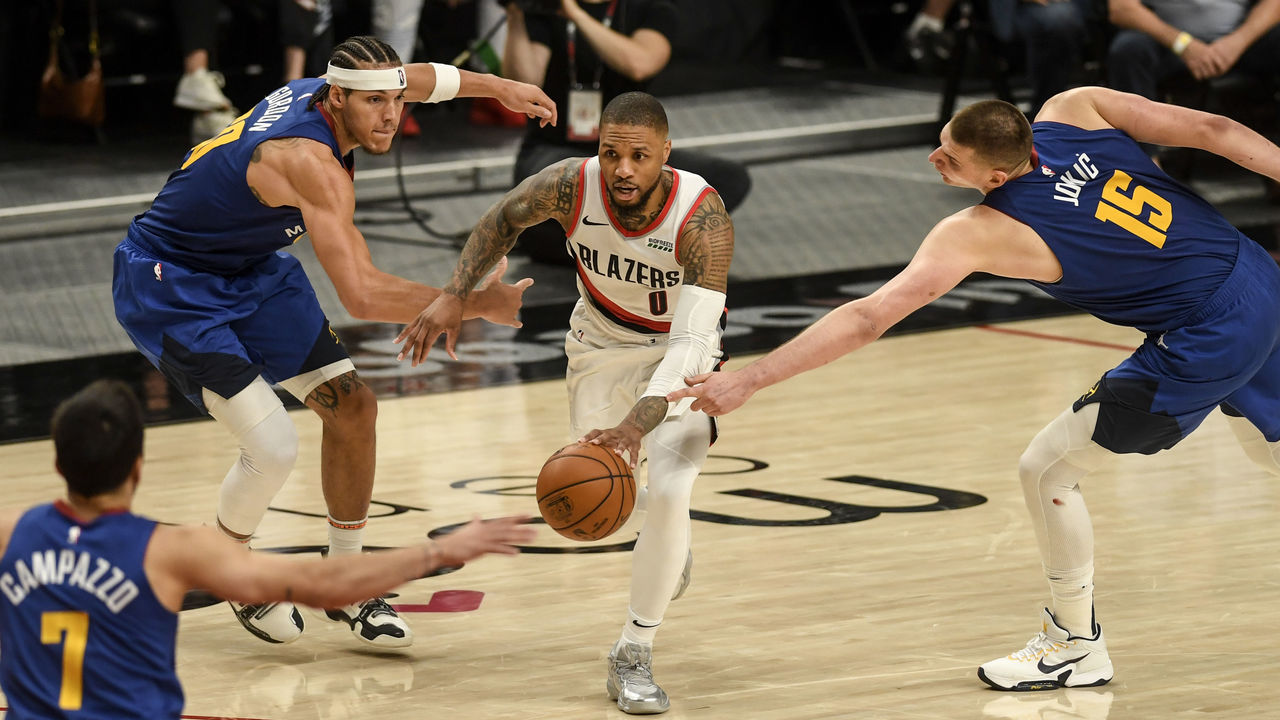 Lillard does his damage in a completely different fashion than Jokic, and the Nuggets wouldn't be able to single-cover him even if they wanted to because his dynamic pick-and-roll game invariably engages multiple defenders on every possession. The challenge for Denver is trying to figure out which defenders to engage, and how to engage them.
That starts with Jokic, who's the screen defender in the vast majority of Lillard's pick-and-rolls. As expected, the Nuggets are having him play up to the level of the screen, both as a deterrent to Lillard's lethal pull-up game and a way to prevent Jokic from having to defend in space. Unfortunately for them, it hasn't really worked; Lillard's had no issue finding daylight for his off-the-bounce threes or turning the corner and getting downhill.
This play was particularly mean. First, he absolutely smoked Jokic on the hedge. Then, instead of trying to go through Michael Porter Jr. at the rim, he pulled the ball back out, drew out Porter on the switch, and cooked him off the bounce:
Lillard is averaging a ridiculous 1.18 points per possession as a pick-and-roll ball-handler in the series, per Synergy. When he isn't going at Jokic, he's targeting Porter, who, for all his improvements as a helper, is still mostly awful as a ball-screen defender and one-on-one guy.
Another issue for Denver is that Campazzo, who began the series as Lillard's primary, is just too short to meaningfully impact him at the point of attack. Unless the screen defender is all the way up, even the tiniest advantage Campazzo concedes when fighting over a screen is enough to give Lillard a clean look at a three, because the 5-foot-10 guard doesn't have the length to alter his sightline or release from beside or behind.
The Nuggets eventually got the message and pulled Campazzo off of Lillard, replacing him with Gordon in the second half of Game 2. The move completely changed the tenor of the game. Gordon's combination of size and speed allowed him to contest Lillard's shot while playing him with enough of a cushion to avoid getting blown by or tagged with fouls.
But Lillard also let Gordon off easy by neglecting to run him through high ball screens. On multiple occasions, he either rejected a screen, attacked before a screen ever arrived, or declined to call for a re-screen after the first one whiffed:
He still got some buckets on Gordon in isolation, but he wasn't putting the defense in any compromising situations. The danger with having Gordon defend at the point of attack is it takes away the Nuggets' most potent back-side helper, a major vulnerability given that their base pick-and-roll scheme calls for them to put two on the ball. But Lillard repeatedly allowed Gordon to keep the play in front of him in Game 2.
The Blazers made the necessary adjustment in Game 3. Not only did they make sure to run Gordon into picks, they also set those picks way out near halfcourt to give Lillard a runway to attack Denver's weakened second layer of defense:
On that first play, Covington even hit Gordon with a delayed second screen - basically a Spain pick-and-roll but with both picks hitting the same guy - to make sure he couldn't recover.
Both Covington and Nurkic are expertly disguising the direction of their screens, hoodwinking Jokic and Porter Jr. into jumping out on the wrong side. On a night when his 3-ball wasn't really falling, Lillard shot 10-for-13 at the rim, after scoring just four baskets inside the restricted area in Games 1 and 2 combined.
It hasn't all been bad for the Nuggets' defense. With their biggest players getting pulled out to the perimeter, their guards have mostly done an admirable job rotating behind the central action. Rivers has been especially alert in that regard, and even Campazzo, small stature and all, has blown up Nurkic's short roll on multiple occasions by stepping in to draw (or pose the threat of drawing) a charge. Lillard, for all his brilliance, hasn't always been adept at spotting the open skip pass when Denver makes those rotations.
Though he hasn't gotten a ton of burn, Shaq Harrison has probably been Denver's best Lillard defender in the series, routinely denying him the ball and refusing to be screened. His offensive limitations make it hard to play him for extended minutes, but giving him a larger chunk of that assignment would be a good adjustment for the Nuggets. On top of getting the benefit of Harrison's on-ball stickiness, that would allow Gordon to slide back to his role as a help-side quarterback. (Though playing both together for an extended stretch would be rough on Denver's spacing.)
The Blazers may not have an answer for Jokic's offensive exploits, but at least they have Lillard to make his life miserable at the other end of the floor. Dragging him through innumerable pick-and-rolls - in which he either has to show and recover or track Lillard in space - may be their best hope of slowing him down. Portland's best defense in this series could ultimately be its offense.
Comments
✕
How Nuggets, Blazers are trying (and failing) to limit each other's superstars
  Got something to say? Leave a comment below!