On to Milwaukee: 4 questions that will determine if Bucks still have life
Christian Petersen / NBA / Getty Images
The Phoenix Suns have withstood two herculean efforts from Giannis Antetokounmpo and two Finals injuries in as many games to build a 2-0 series lead over the Milwaukee Bucks. Here are four questions that will go a long way in determining whether the Bucks can turn things around as the series shifts to Wisconsin for Games 3 and 4.
Are there any defensive adjustments left to make?
There have been plenty of times throughout Mike Budenholzer's coaching career - including during the 2021 postseason - when criticisms about his delayed or absent adjustments have been valid. What's happening to the Bucks on the defensive end right now is not for a lack of trying or experimenting, though.
Milwaukee opened Game 1 playing a switch-heavy defense in an attempt to slow Phoenix's devastating pick-and-roll attack, which is powered by the brilliant combination of Chris Paul and Devin Booker. With PJ Tucker starting on Paul, the Bucks were decently equipped to switch the 1-5 pick-and-roll run by the point guard and Deandre Ayton. Ironically enough, a fair Game 1 criticism of Budenholzer might be that the Bucks abandoned their original plan too quickly, as a 30-point second quarter from the Suns - buoyed more by tough shot-making than bad defense - seemed to spook Milwaukee.
The Bucks reverted to more of a drop defense in the second half, which was shredded by the midrange capabilities of Phoenix's star backcourt.
To start Game 2, Jrue Holiday drew the primary Paul assignment, and it was obvious he and the Bucks made it a priority to fight over and through screens rather than concede automatic switches. In addition, the Bucks were much more aggressive sending off-ball help to disrupt Paul and Booker if they got by their primary defender. The result? The two stars calmly picked that defense apart by finding the open man abandoned by the helper, and the Suns knocked down eight first-quarter 3-pointers en route to 20 treys for the game.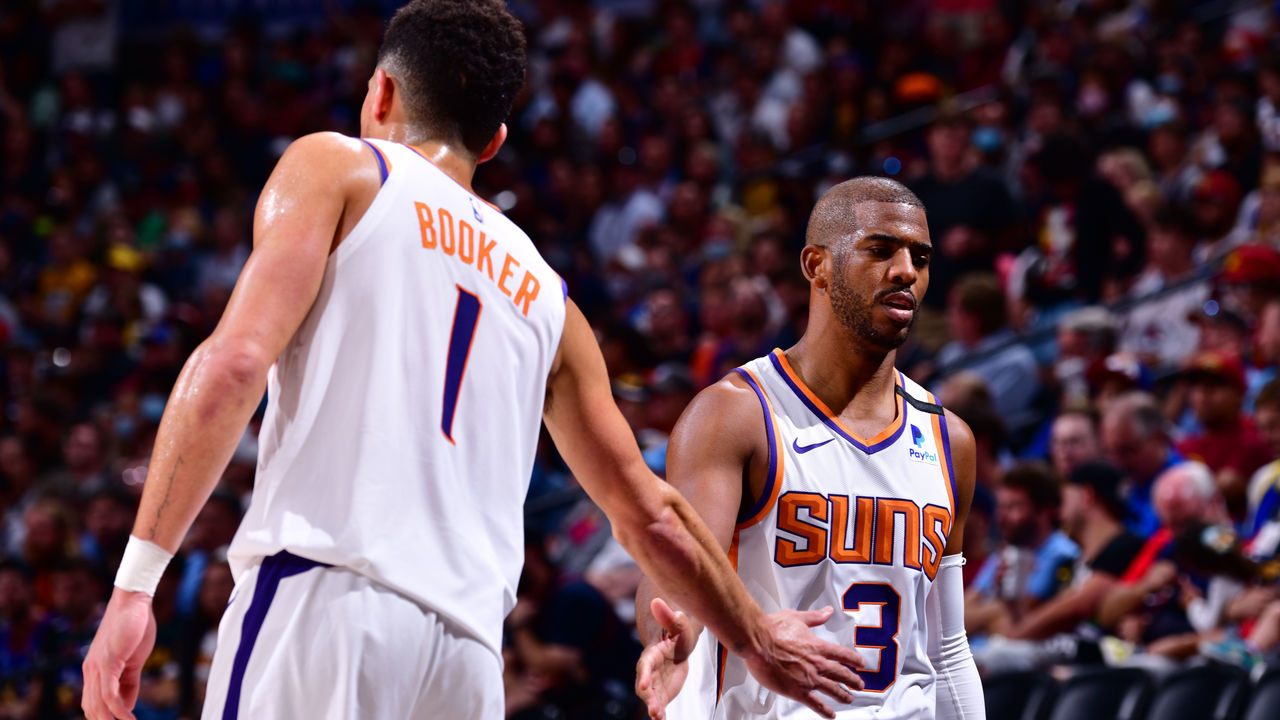 During a sideline interview following that first quarter, Budenholzer said he could only hope the Suns would start missing some of their shots when asked what his team could do to stop them. That answer became cannon fodder for those looking to once again dunk on Bud, but you almost felt for him at that moment, because he wasn't exactly wrong.
The Bucks have already tried many different looks to slow the Suns' attack, and they haven't necessarily done much wrong on the defensive end. At some point, you run out of adjustments to make, tip your cap to Paul and Booker, and yes, hope either they stop burying daggers between your eyes or their supporting cast stops splashing threes.
Everyone loves to talk about adjustments, but this is still basketball. There are only so many new ideas to come up with. No one's reinventing the wheel, especially this late in the season.
The cold, hard truth for the Bucks may simply be that Paul and Booker are too good. The duo's combination of shooting, playmaking, three-level scoring, and pick-and-roll prowess, and the fact the Suns have surrounded them with shooters and a rim-running, low-post big man give Phoenix the perfect offense for the modern game.
Will the real Holiday and Middleton please stand up?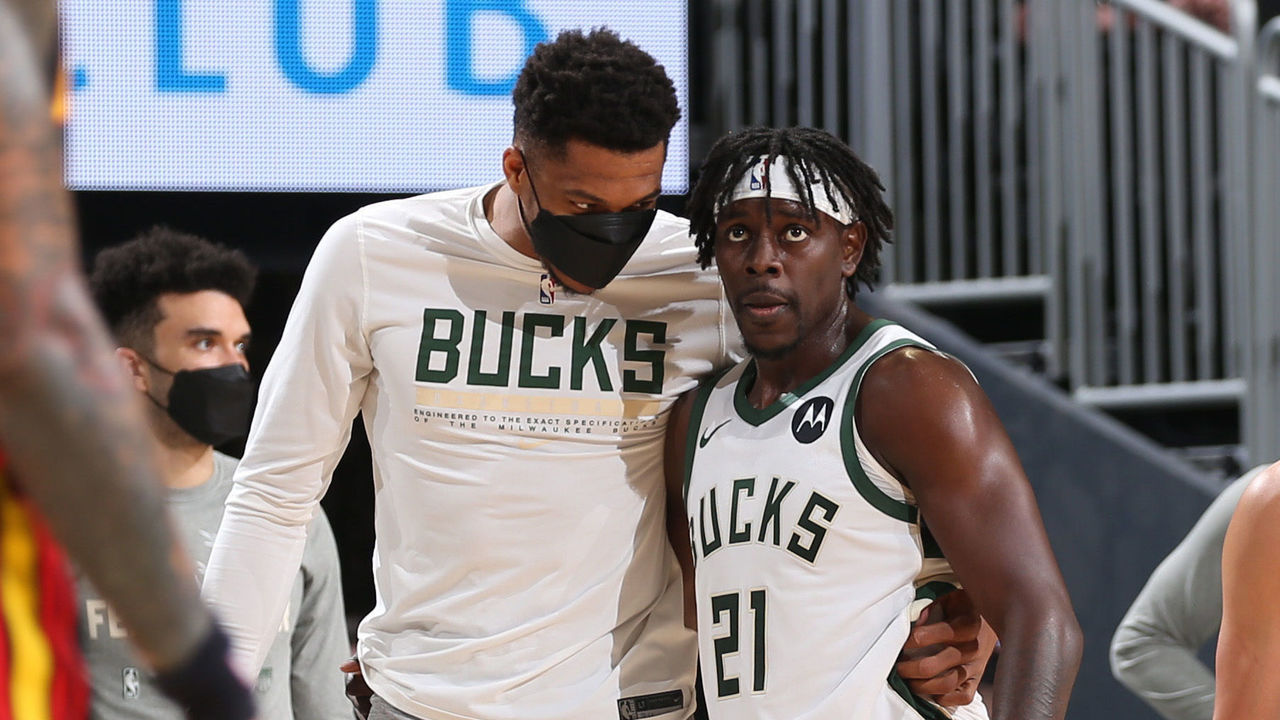 Though there may be no answers on the defensive end, Milwaukee's offensive struggles are much more frustrating, because they can largely be tied to two-thirds of its Big Three - and two players each set to earn $30 to $40 million per year over the next three-to-four seasons - failing to show up.
Khris Middleton and Jrue Holiday have combined for 67 points on 36.3% (28-of-77) shooting and 90 combined possessions through two games of this series, with both equally maddening in their own way.
Middleton has yet to attempt a free throw in 86 minutes of Finals action and looked way too gun shy in Game 2 after taking 26 shots in the first contest. Holiday's scoring struggles throughout this playoff run have been jarring after the regular season he put together, but it hasn't stopped him from forcing the issue, often to disastrous results.
One play in particular - with about eight minutes remaining in the fourth quarter of Game 2 - perfectly captured the state of both players right now. With the Bucks down seven, Middleton caught the ball somewhat open in the corner but didn't pull the trigger. He then attacked Booker's closeout and beat him on the baseline but abandoned his drive when Mikal Bridges was there to cut him off. Middleton then gave up the ball to Holiday, who attacked Jae Crowder and attempted a low-percentage shot between Bridges and Ayton that looked like this (note Brook Lopez in the dunker spot):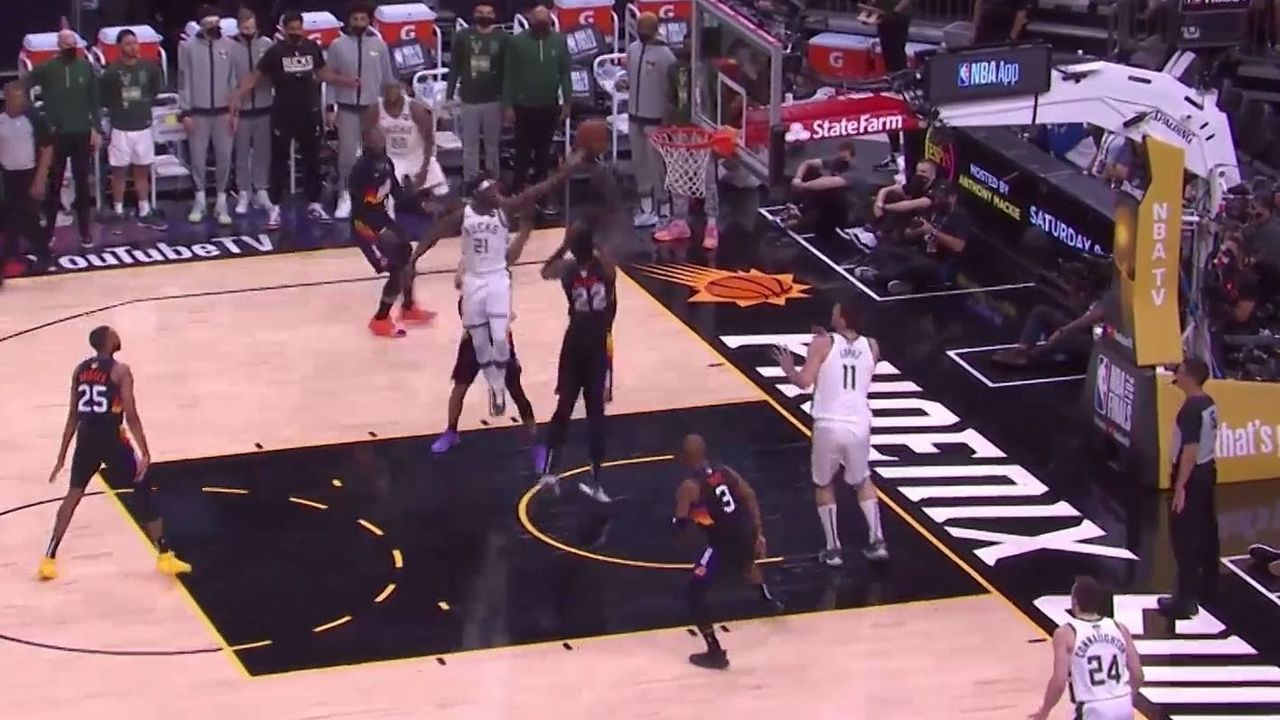 Given Antetokounmpo's limitations as a shooter, the Bucks rely on Middleton (and to a lesser extent, Holiday) to be their big-shot maker. He's had his playoff moments, but is he capable of being that guy consistently? His postseason history says otherwise, but Milwaukee needs him to at least die trying, and he doesn't look willing to do that right now.
Holiday, meanwhile, has brought inspiring defense, hustle, and playmaking, even as his shot has abandoned him, and the Bucks don't need him to be a star-level scorer to succeed. Heck, his own playoff history suggests he's not as capable an individual scorer as this year's regular-season numbers suggest. But Milwaukee needs him to at least be an offensive upgrade over Eric Bledsoe.
How much more can Giannis possibly give?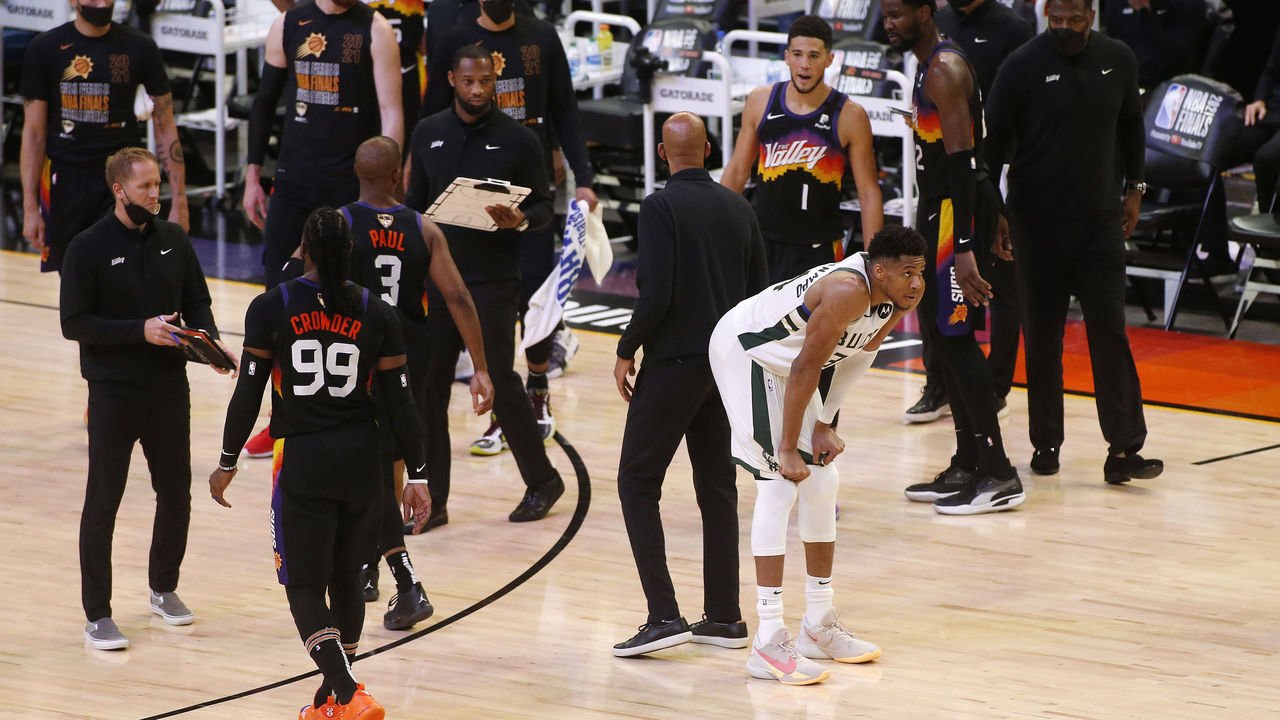 An interesting note about the aforementioned fourth-quarter play that ended in a Holiday brick; it was part of a 58-second sequence in which the Suns outscored the Bucks 5-0 while Milwaukee got Antetokounmpo some much-needed rest, stretching a lead Giannis helped trim to five.
How can the Bucks survive if Antetokounmpo literally can't take a minute off, and how much more can Milwaukee possibly extract from the Greek Freak, who's hobbled by a hyperextended left knee that has had him limping at times during the Finals after collisions or awkward landings?
Antetokounmpo is averaging 31 points, 14.5 rebounds, four assists, two blocks, and 1.5 steals on 61.4% shooting through two games, earning 30 free-throw attempts in 75 minutes of action, and knocking down 60% (18) of those freebies. He scored 42 points on 70% true shooting in Game 2. The Bucks have won his minutes by four points and have been outscored by 27 in the 21 minutes he's sat.
There isn't much more a healthy Antetokounmpo - let alone an injured one - can possibly do to help his team right now. The easy question to ask is when teammates like Middleton and Holiday will show up, but the more sobering question might be how realistic and healthy it is to expect much more from Giannis in this series.
Will Bud trust Lopez more?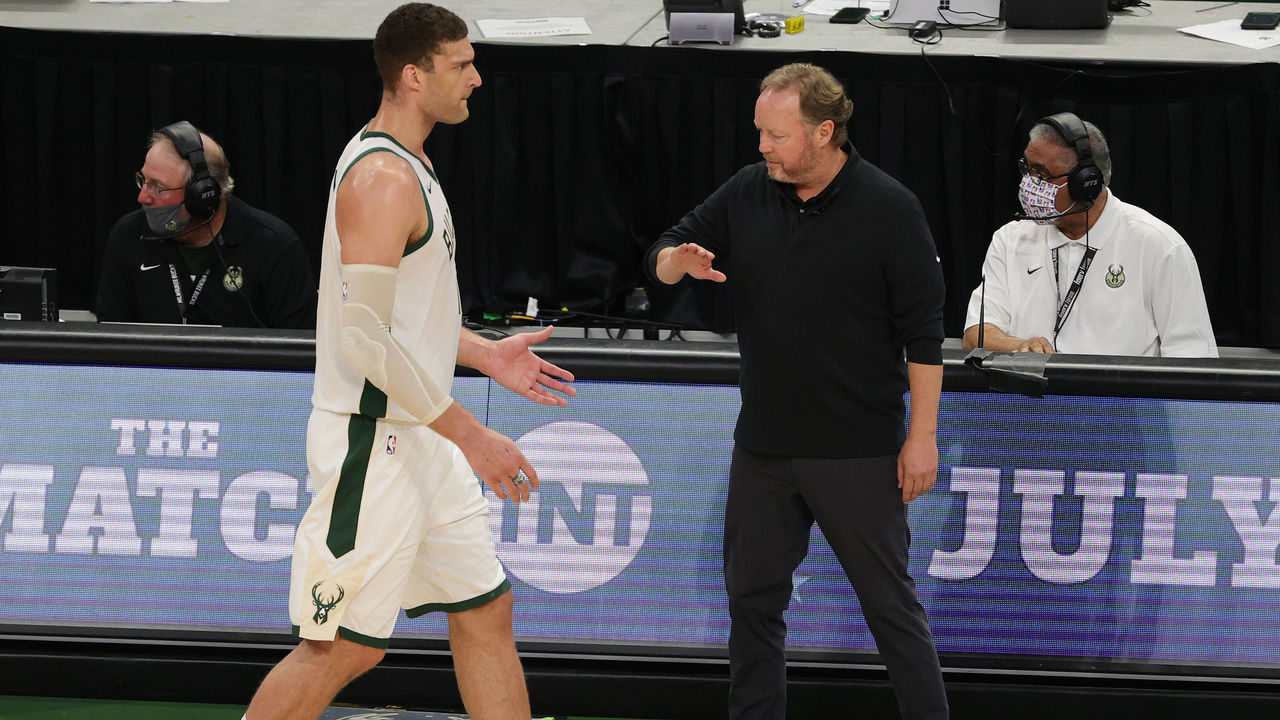 Lopez has seen his playing time slashed thus far (his minutes are down about 17% compared to the rest of the playoffs), and there doesn't seem to be a logical reason why.
Sure, Paul and Booker can annihilate the drop coverage Milwaukee often resorts to with the plodding center on the court by feasting from midrange, but the trade-off is that Phoenix has been getting to the rim undeterred with Lopez off the court.
Tucker, for all of his defensive versatility and guile, doesn't have a great matchup in this series, so it's not as easy as going away from Lopez to go small, either. Ayton, meanwhile, can absolutely feast on smaller Bucks lineups.
In addition, the Bucks' ability to score inside has largely evaporated in this series outside of the first quarter of Game 2, and though some of that has simply been bad luck (Holiday alone missed eight layups in Game 2), a fair share of that interior incompetence has been self-inflicted. Using Lopez inside would be a good place to start, especially in the minutes Giannis rests when you don't have to worry about him clogging the two-time MVP's driving lanes.
Force-feeding Lopez is also a good strategy when Ayton is off the court, as injuries to Dario Saric and Torey Craig mean that Phoenix's small-ball center options boil down to Cam Johnson, Frank Kaminsky, and Abdel Nader, none of whom are capable of doing a thing to stop Lopez in the paint.
Lopez's two-way excellence during the Bucks' run to the Finals has been underrated, and if Budenholzer trusts him more beginning Sunday night in Milwaukee, the big man may yet have more to add to his place in franchise lore.
Joseph Casciaro is a senior writer for theScore
Comments
✕
On to Milwaukee: 4 questions that will determine if Bucks still have life
  Got something to say? Leave a comment below!