2021 NBA Mock Draft: Green joins Cunningham, Mobley in top 3
Many teams have shifted their attention toward this summer's draft now that the NBA's regular season in the rearview mirror.
The league finalized the draft lottery odds Tuesday, flipping a coin to break multiple ties.
Here is theScore's latest NBA mock draft based on the projected order.
1. Houston Rockets - Cade Cunningham, G, Oklahoma State
Cunningham is the franchise-altering star the Rockets need to jump-start their rebuild. The reigning Big 12 Player of the Year has elite size for a point guard and uses his 220-pound frame to post up smaller defenders. Cunningham was a deadly isolation scorer and versatile defender during his lone collegiate season, and he silenced questions about his jump shot. With John Wall in the fold, Cunningham may not start immediately at the point. However, the Oklahoma State standout's 40% clip from deep last season is evidence that he can play off the ball alongside the five-time All-Star.
2. Detroit Pistons - Evan Mobley, C, USC
The 7-foot USC star flashed incredible athleticism and versatility in being named the Pac-12's Player of the Year, Defensive Player of the Year, and Freshman of the Year. Mobley's elite length will create nightmares for the opposition on defense, while his inside-out offensive game will make him virtually unguardable in today's NBA. He might not be the best positional fit for the Pistons, but his talent is too good to pass up at No. 2.
3. Orlando Magic - Jalen Green, G, G League Ignite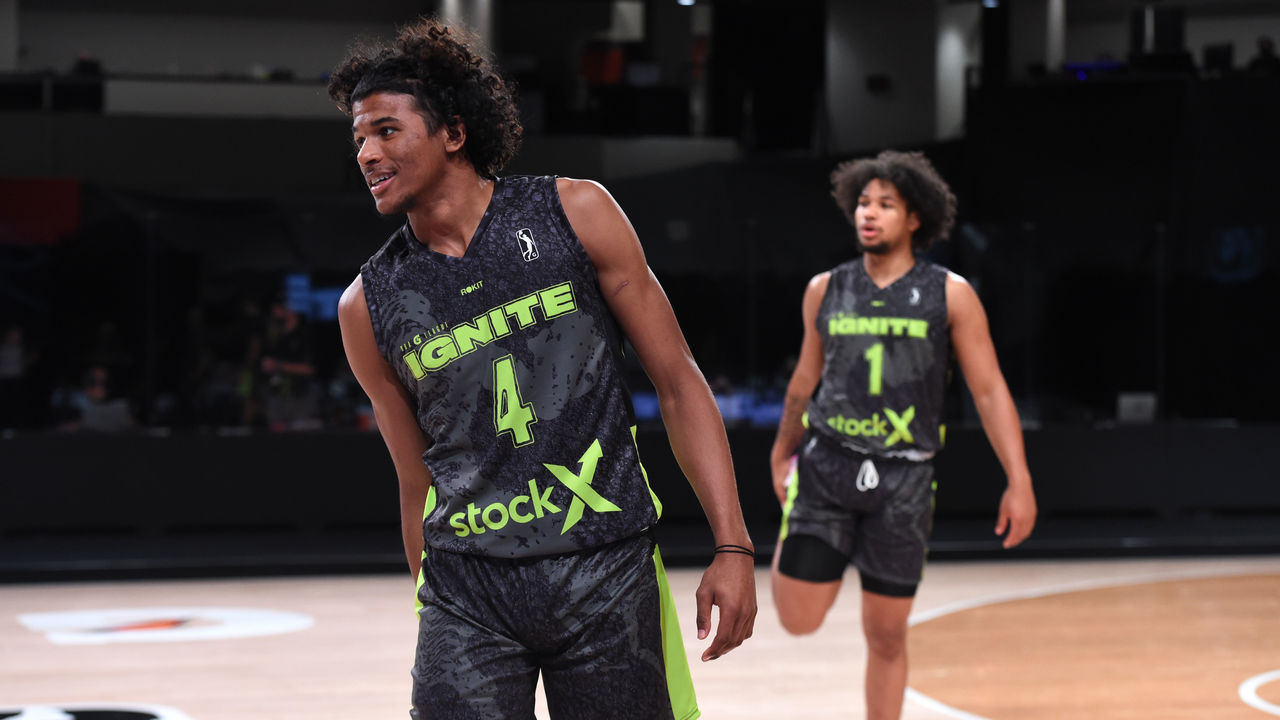 Green had a tremendous showing in the G League bubble, averaging a team-high 17.9 points on 46.1% shooting against pro competition. The 6-foot-6 guard is a bucket-getter with the ability to create his own offense in a variety of ways; he has the quickness to blow by defenders, the athleticism to finish above the rim, a deadly pull-up jumper, and NBA 3-point range. The Magic's backcourt could use a shot-creator like Green, and he'd slot in nicely alongside any of their point guards.
4. Oklahoma City Thunder - Jalen Suggs, G, Gonzaga
Shai Gilgeous-Alexander's presence shouldn't stop the Thunder from drafting a point guard. Suggs was the floor general for Gonzaga's top-scoring offense, registering 4.5 assists per game last season. The 6-foot-4 guard showed the ability to play on and off the ball, while his excellent open-court play fits Oklahoma City's up-tempo offense. Suggs' suffocating on-ball defense would further bolster a unit that already has two solid perimeter defenders in Gilgeous-Alexander and Luguentz Dort.
5. Cleveland Cavaliers - Jonathan Kuminga, F, G League Ignite
Kuminga is a physically imposing figure at 6-foot-8, 225 pounds, and he brings a ridiculous 7-foot wingspan to the fold. His jumper will have to improve if he's to be a serious offensive threat at the next level, but he already fits the bill as a lockdown defender. Adding Kuminga alongside the Cavaliers' explosive young backcourt will make for an entertaining outfit in the East.
6. Golden State Warriors (via MIN) - Keon Johnson, F, Tennessee
If highlight-reel dunks were the deciding factor in this draft, it's safe to say Johnson would go first overall. The Tennessee star is among the most athletic players in this class and flashed great scoring potential during his time with the Volunteers. Adding Johnson to a Warriors attack with Klay Thompson returning from injury should help restore Golden State to the West's upper tier.
7. Toronto Raptors - Davion Mitchell, G, Baylor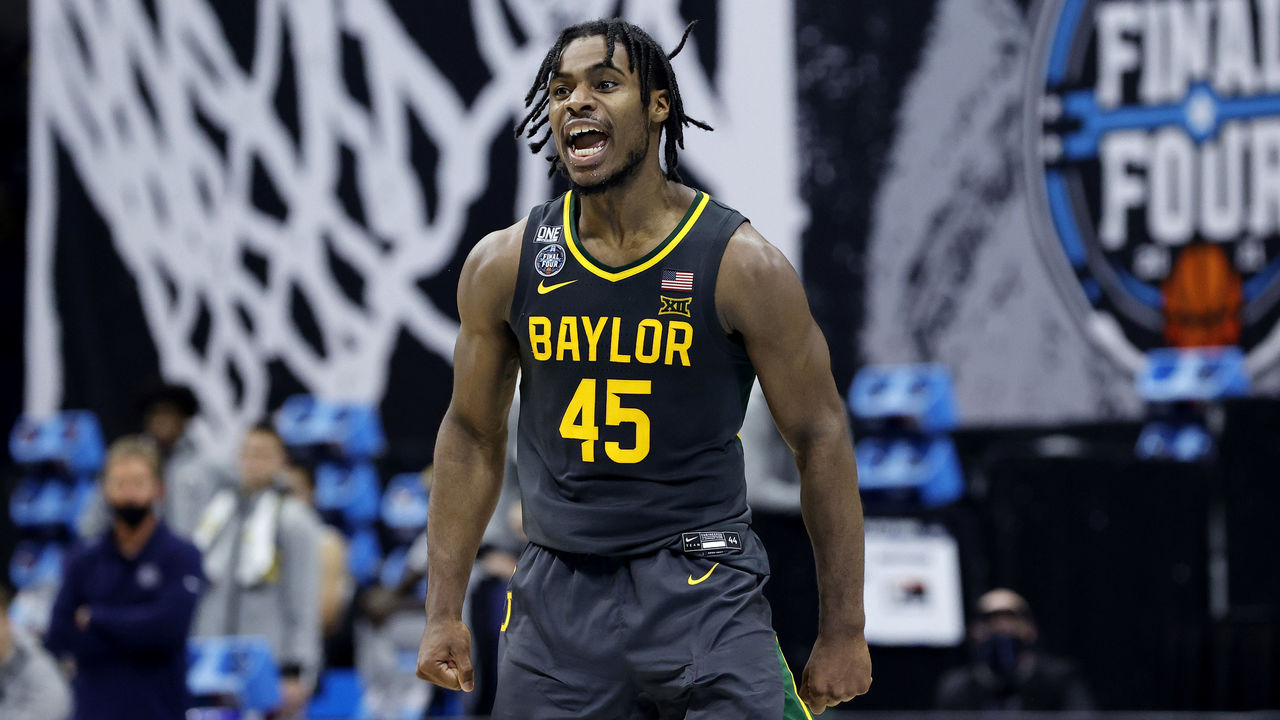 Mitchell was instrumental in Baylor's national championship run, averaging 13.5 points, 5.8 assists, and 1.7 steals during the 2021 NCAA Tournament. He was clinical in the pick-and-roll and created havoc on the defensive end with his lateral quickness and active hands. The Bears feasted all season off live-ball turnovers created by Mitchell and Co. The 6-foot-2 guard should excel similarly on a Raptors squad that loves to attack in transition. Mitchell provides some insurance in the event Kyle Lowry leaves in free agency this summer.
8. Orlando Magic (via CHI) - Jalen Johnson, F, Duke
Johnson opted out of the 2020-21 NCAA campaign after only 13 appearances. However, the 6-foot-9 forward impressed during his brief Duke stint, showing off guard-like playmaking, ball-handling skills, and defensive versatility. Johnson's perimeter shooting will be the swing factor at the next level as he shot only 31.8% on 2-point jumpers during his lone collegiate season, according to Hoop-Math.com.
9. Sacramento Kings - Franz Wagner, F, Michigan
Wagner's diverse skill set was an essential part of Michigan's offense, which ranked ninth in adjusted offensive efficiency last season, per KenPom. The Wolverines standout made huge strides as a passer, shot the ball reasonably well from downtown, and was a capable ball-handler. His defense was also a strong suit as he routinely guarded multiple positions. The Kings had the NBA's worst-ranked defense last season and could improve with both Wagner and Tyrese Haliburton in the fold.
10. New Orleans Pelicans - Scottie Barnes, F, Florida State
Barnes should significantly help the Pelicans, who rank among the league's worst defensive teams. The Florida State standout was one of the ACC's most versatile players last season, putting up 10.3 points, 4.1 assists, 4 rebounds, and 1.5 steals in just over 23 minutes per game. Barnes will have to improve his shooting stroke after making just 27% of his triples last year, but he should be an instant contributor on the defensive end.
11. Charlotte Hornets - James Bouknight, G, UConn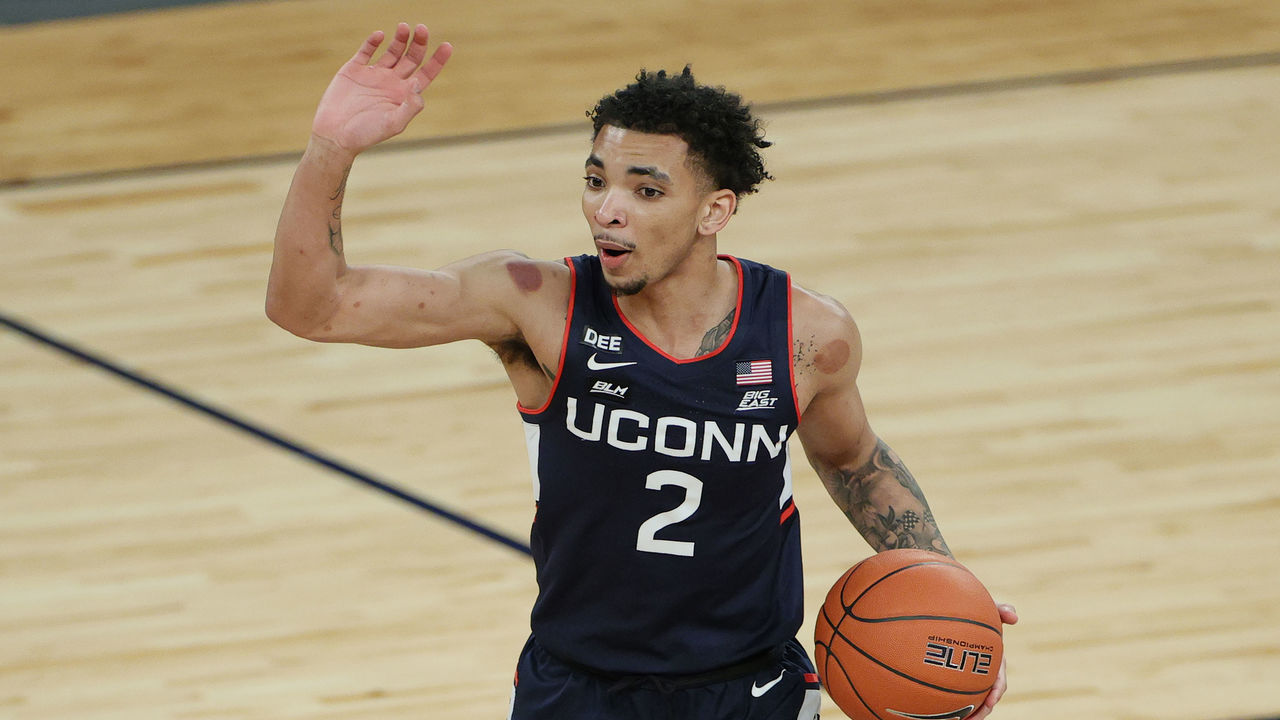 Bouknight would've likely won last season's Big East Player of the Year award if he stayed healthy. The UConn guard was a handful for opposing teams with his shot-creating prowess, off-ball movement, and athletic finishes around the rim. The Hornets could opt for a center despite adding Vernon Carey and Nick Richards a year ago. But if Malik Monk isn't retained, Bouknight could step into his role as a microwave scorer off the bench.
12. San Antonio Spurs - Isaiah Jackson, F, Kentucky
Jackson immediately fills a need down the middle for the Spurs, bringing high-level defense and shot-blocking at No. 12. While patrolling the paint for Kentucky, the 19-year-old registered a whopping 2.6 blocks in just 20 minutes of action per game. He certainly didn't post gaudy offensive numbers with the Wildcats but showed enough potential that he could be a capable weapon down the road.
13. Indiana Pacers - Josh Giddey, G, Adelaide 36ers (Australia)
Giddey's strong play over the 2020-21 NBL campaign certainly caught the attention of NBA teams. The 6-foot-8 teenager led Australia's top pro league in assists (7.5 per game), averaging more than LaMelo Ball during his lone year Down Under. Giddey's activity on the glass gives him more opportunities to spark the fast break, and his unselfish play fits like a glove on a Pacers team that emphasizes ball movement.
14. Golden State Warriors - Moses Moody, G, Arkansas
Klay Thompson is coming back from injury, but there's no such thing in the NBA as too much 3-and-D. Moody made over 35% of his attempts from deep in his freshman season while also playing lockdown defense on the opposition's best wing player. Adding the 6-foot-6, 205-pounder after taking Keon Johnson earlier in the draft would give Steve Kerr an incredibly athletic bench to compete in the West.
15. Washington Wizards - Usman Garuba, F, Real Madrid (Spain)
Garuba's calling card from Day 1 will be his defense. The Spaniard can contain guards and wings on the perimeter and hold his ground in the post against physical big men. He finished the 2020-21 EuroLeague campaign eighth in total blocks and would bolster a Wizards squad that ranked 28th in that department last season. Garuba's offensive game needs work, but Washington already has enough firepower and can be patient with his development.
16. Boston Celtics - Cameron Thomas, G, LSU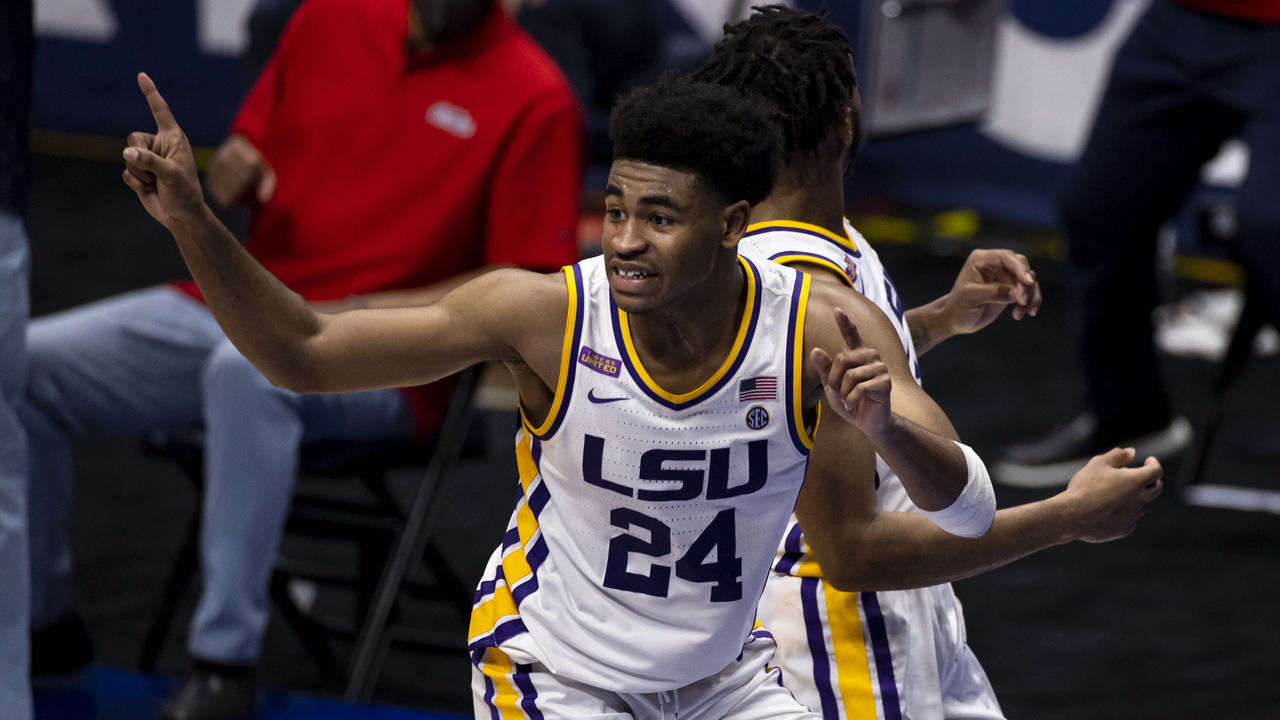 Thomas will likely be able to score at the professional level right away. The LSU wing is streaky on the offensive end, showing throughout his time in college that he can get hot at a moment's notice. He came to the Tigers as the all-time leading scorer at powerhouse Oak Hill Academy - a school that boasts names like Kevin Durant, Carmelo Anthony, and Rajon Rondo on its alumni list. Expect the 6-foot-4, 210-pounder to make noise off the Celtics bench early.
17. Memphis Grizzlies - Corey Kispert, F, Gonzaga
While the Grizzlies have nice a foundation in place, they need more outside shooting. Memphis finished 20th in 3-point percentage (35.6%) and 24th in triples per game (11.2) during the regular season. Kispert is arguably the best shooter in this year's class. He drilled 40.8% of his triples over four years at Gonzaga and had the sixth-highest 3-point percentage (44%) in the NCAA last season.
18. Oklahoma City Thunder (via MIA) - Kai Jones, F, Texas
If Jones is available at No. 18, the Thunder will run to the podium to call his name. The versatile big showed he can defend across the court and is an improved shooter who can stretch the floor and attack the offensive glass. The 6-foot-11, 218-pounder needs to add some size, but he flashed a well-rounded game at Texas that should play well in the NBA.
19. New York Knicks - Alperen Sengun, C, Besiktas (Turkey)
The Knicks have some uncertainty at the center position behind Mitchell Robinson. Nerlens Noel may price himself out of the Big Apple after finishing third in the NBA in blocks, while veteran big man Taj Gibson will also hit the open market this summer. Enter Sengun, who averaged nearly 20 and 10 in the Turkish Super League as an 18-year-old, thriving in the post as both a facilitator and scorer. Despite his solid production, Sengun is undersized at the five and faces questions about his defense.
20. Atlanta Hawks - Tre Mann, G, Florida
Mann would be an excellent fit on the Hawks with his ability to operate out of the pick-and-roll on offense and stretch the floor with quality shooting. The Florida star connected on over 40% of his triples last season while also putting up 5.6 rebounds and 3.5 assists per game.
21. New York Knicks (via DAL) - Chris Duarte, G, Oregon
Duarte is one of the older prospects in this year's draft, though that shouldn't deter prospective teams. The reigning Jerry West Award winner should contribute immediately with his 3-and-D ability. He averaged nearly two steals per game over two seasons at Oregon and shot 42.4% from distance during his senior year. The Knicks were one of the Association's top defensive teams in Tom Thibodeau's first year in charge, and Duarte should mesh well with their newly established identity.
22. Los Angeles Lakers - Sharife Cooper, G, Auburn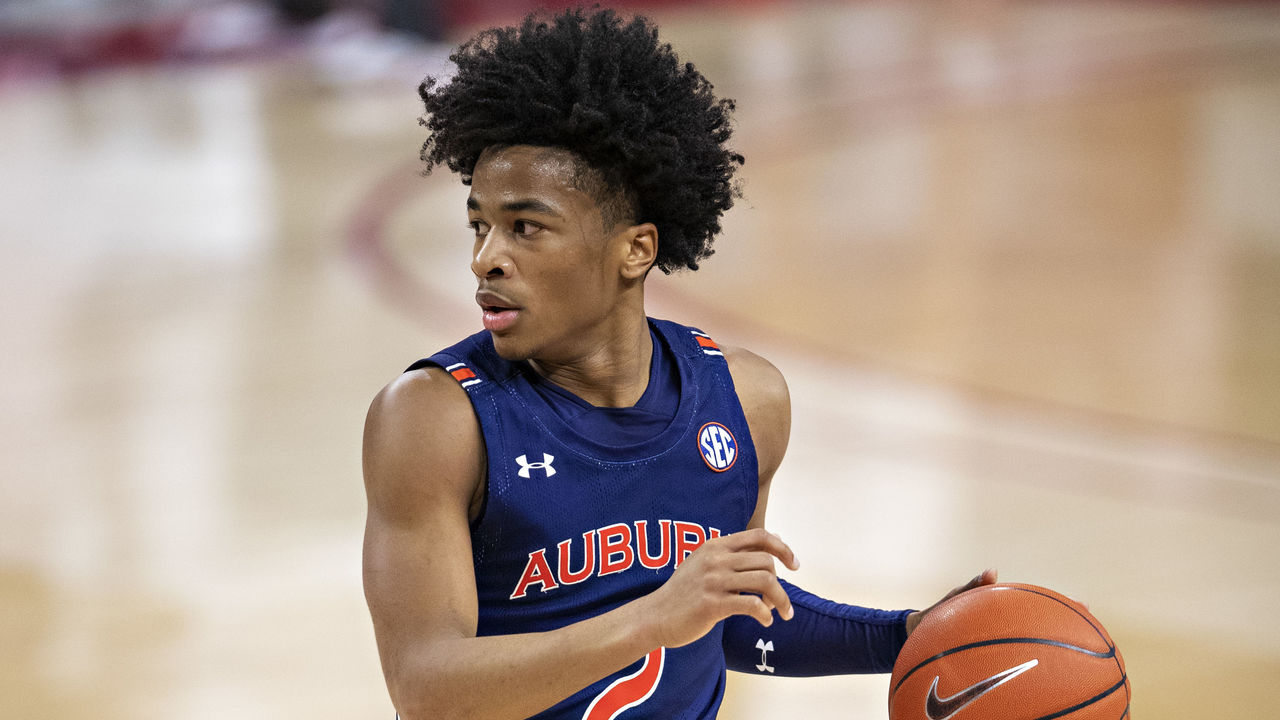 Cooper is far from a finished product but has the potential to be one of the most electric players in this draft. The Auburn standout is an outstanding ball-handler and is brilliant in operating in both the pick-and-roll and fast break. He's undersized at 6 feet, 180 pounds, but his quickness creates matchup issues across the board.
23. Houston Rockets (via POR) - Ayo Dosunmu, G, Illinois
Dosunmu tested the draft waters last year but returned to play a starring role on one of college basketball's top squads. The junior guard benefited from another year of school, improving significantly as a playmaker and 3-point shooter. Rockets rookie Jae'Sean Tate carved out a starting role this past season with his strong play on both ends of the floor; Dosunmu's two-way play could similarly help him earn a spot in the rotation.
24. Houston Rockets (via MIL) - Ziaire Williams, F, Stanford
The Rockets end Williams' slide by snagging the Stanford forward at No. 24. Many pegged Williams as a lottery pick, but he struggled mightily with his shooting last season, connecting on just 29.1% of his shots from deep. Should the former five-star recruit solve his shooting woes, the Rockets could land a steal late in the opening round.
25. Los Angeles Clippers - Marcus Bagley, F, Arizona State
A combination of injuries and COVID-19 pauses limited Bagley to just 12 appearances for Arizona. Still, it wouldn't be inconceivable to see the former top-35 recruit taken by the end of the first round. Bagley's ability to space the floor and defend multiple positions are coveted in today's NBA. He also played out of his natural position at the four this past season, so Bagley's numbers may not truly be indicative of his potential.
26. Denver Nuggets - Charles Bassey, C, Western Kentucky
Bassey is among the most athletic bigs in the draft, standing 6-foot-11 and weighing 235 pounds. He absolutely dominated Conference USA for Western Kentucky last season, averaging 17.6 points and 11.6 rebounds per game. The Nuggets' roster remains one of the league's deepest, and Bassey's talent is worth a shot late in Round 1.
27. Brooklyn Nets - Day'Ron Sharpe, C, North Carolina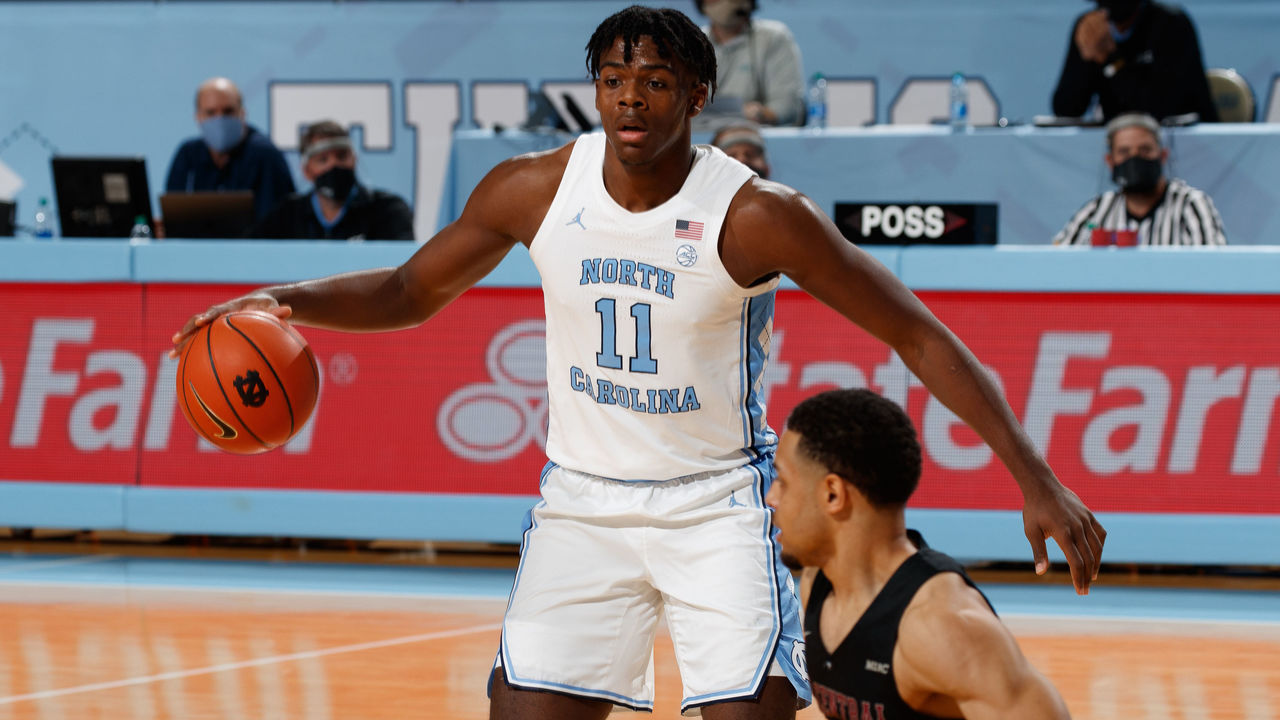 Sharpe was relegated to a bench role due to a logjam of big men, but the McDonald's All-American might've been the most talented center on North Carolina's roster. The former five-star recruit flashed great passing skills for a player of his size and consistently brought energy on the glass, averaging 7.6 boards (3.3 offensive) in just under 20 minutes.
28. Philadelphia 76ers - Jared Butler, G, Baylor
Butler was one of the stars of Baylor's national title-winning team last season, rising to the occasion with 22 points and seven assists in the final. The 20-year-old is among the most well-rounded players in the draft and would bring lockdown defense and strong shooting to the 76ers.
29. Phoenix Suns - Max Abmas, G, Oral Roberts
Abmas was one of the darlings of the NCAA Tournament, leading plucky Oral Roberts on a deep run that captured national attention. The undersized 6-foot-1 guard wasn't just a Tournament wonder, however, as he led the nation in scoring during the 2020-21 campaign. His lack of size will always be an issue defensively, but Abmas should be a solid scoring threat off the Suns' bench.
30. Utah Jazz - Greg Brown, F, Texas
Brown is just as likely to go in the top 15 as he is to fall out of the first round. He was one of the best high school players in his class but had an up-and-down run with Texas. The Jazz would bank on potential here, as the 6-foot-9 versatile forward is a work in progress.
Comments
✕
2021 NBA Mock Draft: Green joins Cunningham, Mobley in top 3
  Got something to say? Leave a comment below!