Nets-Bucks mini-series gives glimpse into game plans vs. Giannis, KD
Kamil Krzaczynski / NBA / Getty Images
With two weeks left in the regular season, the Brooklyn Nets and Milwaukee Bucks occupy the Eastern Conference's second and third seeds, respectively. That seeding, if it holds, would put them on track for a second-round postseason matchup. Given that the top-seeded Philadelphia 76ers hold a two-game edge on Brooklyn in the loss column, with the tiebreaker in hand and a tissue-soft remaining schedule, it's starting to look like the Nets and Bucks are on a collision course.
If that playoff matchup does materialize, the regular-season series between the two teams suggests it could be a classic. Their three head-to-head games were all entertaining, hotly contested affairs decided by an average of four points. Two of those games took place over the last three days, with the Bucks sweeping a mini-series in Milwaukee. The predictive value of those games was minimized by the absence of James Harden, but they were still illustrative from a tactical perspective, most notably in terms of each team's approach to guarding the other's best player.
While both teams likely kept some of their cards close to the vest, we got a glimpse of their preferred defensive game plans for Giannis Antetokounmpo and Kevin Durant. We also saw the distinct challenges they face in trying to slow those players down, as Antetokounmpo averaged 42.5 points in the two-game set and Durant averaged 37.
Comparing defensive coverages for Antetokounmpo to coverages for Durant is an apples-to-oranges exercise because of how differently the two players operate. Durant's greatest strength (jump shooting) is Antetokounmpo's biggest weakness, while Antetokounmpo's greatest strength (interior scoring) is a minor part of Durant's game.
With that said, let's look at how their respective opponents schemed for them.
How Brooklyn defended Giannis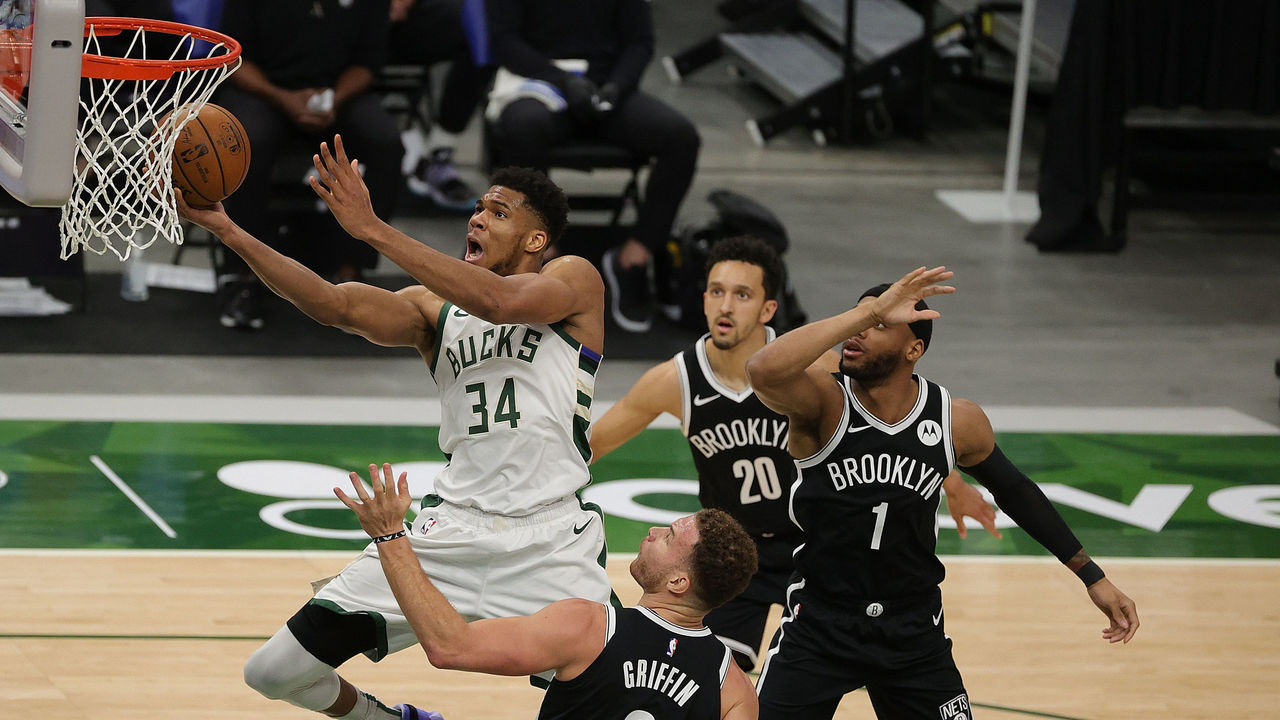 As they did in the teams' first meeting of the season, the Nets started out by using center DeAndre Jordan as Antetokounmpo's primary (and on most possessions, only) defender.
Jordan's directive was to sag way back and concede a huge swath of space while bracing himself to try and absorb the force of Antetokounmpo's drives and challenge him at the rim. The Nets left Jordan to handle that task on his own, sending virtually no help even as the two-time reigning MVP feasted in single coverage. When Jordan was on the bench, the responsibility simply fell to whoever was nominally playing the 5 in Brooklyn's small-ball lineups, mostly Blake Griffin and Jeff Green.
Antetokounmpo responded with a season-high 49 points on Sunday and another 36 on Tuesday. That doesn't mean the coverage was totally without merit. The Nets forced Antetokounmpo to alter his typical shot diet and limited what he could do as a playmaker. By staying home on shooters and keeping themselves out of rotation, they also prevented Milwaukee from creating the volume of spot-up threes it typically subsists on. The Bucks as a team averaged 41.5 pull-up jumpers across the two games, compared to 19 shots off the catch. Coming into the mini-series, they averaged just 26.6 dribble jumpers per game, compared to 27 catch-and-shoots.
Antetokounmpo himself took 19 pull-up jumpers in both games combined (his season average coming in was 5.5), going 15-of-38 overall and 7-of-18 from deep, according to NBA Advanced Stats. It was a strong shooting display by his standards and a positive indicator for the Nets' defense. Those are exactly the shots you want Giannis taking. His effective field-goal percentage on pull-ups for the season is still an anemic 43.5%.
But there are other, better ways for Antetokounmpo and the Bucks to attack that gap, and they did so extremely effectively when he wasn't trying to do his best Durant impression. He was able to pivot into dribble-handoffs with Khris Middleton or Jrue Holiday that either led to a clean jumper for one of them or turned into a pick-and-roll with an empty corner. Or he was able to simply chew up the space Brooklyn's bigs afforded him and drive all the way to the dotted line before uncorking one of his increasingly refined low-post moves or simply dipping a shoulder and creating enough separation for a short-range jump hook:
After the first game of the set, Nets coach Steve Nash insisted he wouldn't overreact to Antetokounmpo's huge night, and suggested the coverage in the second game would remain the same. It mostly did, though there was a lot less Jordan and a lot more Griffin, among other tweaks.
Antetokounmpo picked up where he left off from long range, canning four 3-pointers in a second straight game for the first time in his career. The Nets continued to allow him to shoot freely, though he did get Jordan with a pump fake and busted out the up-and-under move a couple of times as his mid-range began to garner more respect.
The Nets also shaded more baseline help Antetokounmpo's way on his drives, made more of an effort to wall up against him in transition, and had their bigs pick him up a little higher when he had the ball inside the arc. That contributed to him going to the free-throw line 12 times, but he wasn't able to do as much damage inside, and the jumper he kept falling back on eventually started to land short. His 36 points in Tuesday's game came on 35 shooting possessions.
Griffin actually held his own in the matchup in both games, showing great anticipation in sliding his feet on Antetokounmpo's face-ups:
It's still far from ideal for the Nets, who give up speed and size in that matchup. But the fact is, Brooklyn doesn't have a good solution to the Giannis problem. The best defensive setup against Antetokounmpo involves having a long, strong, physical wing who can slow him down at the point of attack and a stout backline anchor who can meet him at the rim. The Nets don't really have anyone who fits the former description, so using some combination of Jordan, Griffin, and Green as his primaries and just doing their utmost to make him a jump shooter may well be their best option.
All told, it's hard to quibble too much with Brooklyn's process. Antetokounmpo typically takes 56% of his shots in the restricted area, but in these two games, that proportion dropped to just 26%, per Cleaning the Glass. The Nets will likely be less help-averse and more flexible with their schemes in a playoff matchup, but they'll probably live with the consequences of a base coverage that slashes Antetokounmpo's at-rim attempt rate in half without unleashing him as a passer.
How Milwaukee defended Durant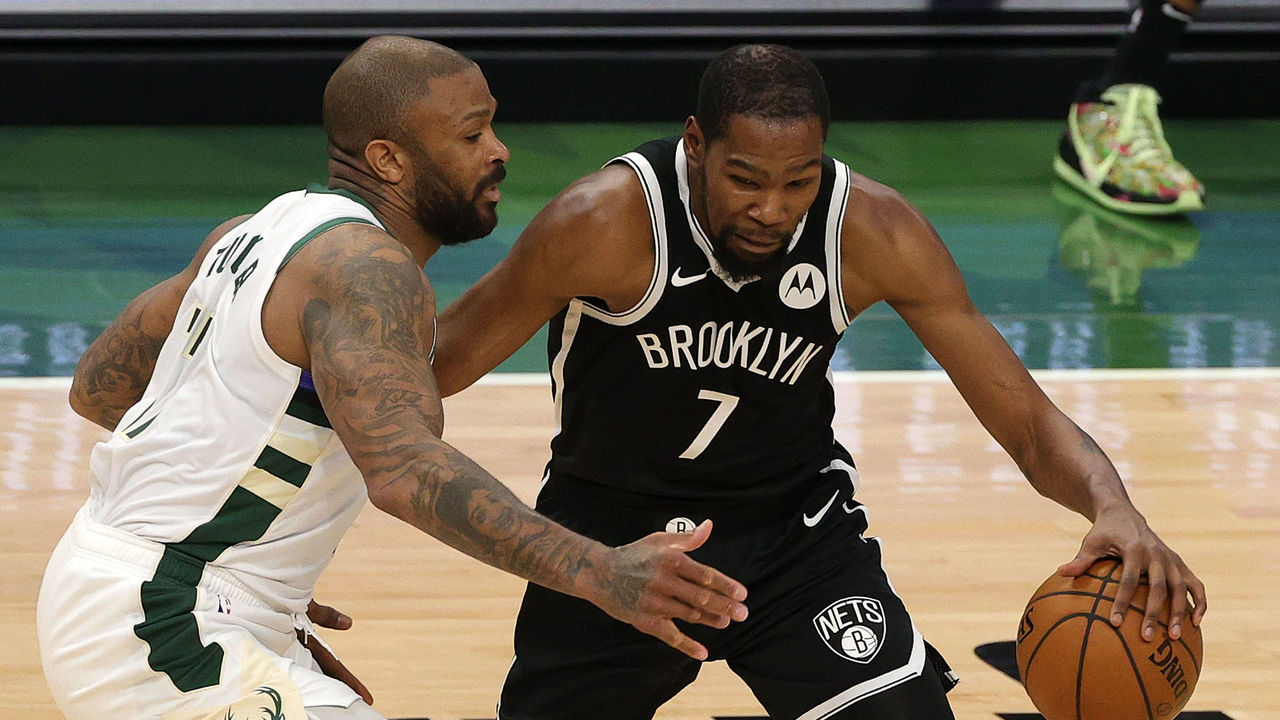 While the Bucks were more help-conscious in guarding Durant than the Nets were in guarding Antetokounmpo, they seemed similarly keen on letting Durant work in isolation rather than turning him into a playmaker. At least, that was their approach in the first game. After KD went for 42, Milwaukee changed things up.
In terms of size and mobility, Antetokounmpo is plainly the Bucks' best individual option to throw at Durant. But, as is their wont, the Bucks' initial preference was to stash Antetokounmpo on the weak side and have him guard non-shooters like Jordan or Bruce Brown whenever possible. They used Middleton and P.J. Tucker as the primaries on Durant.
The benefit of that configuration was that it allowed Brook Lopez to play closer to the level in pick-and-roll to take away Durant's pull-up, knowing that Antetokounmpo could help aggressively off of either corner behind him. The rare times Milwaukee full-on blitzed Durant to get the ball out of his hands or avoid an unfavorable switch, Antetokounmpo was usually able to clean things up on the back end:
Everyone wants to see Antetokounmpo take on the top defensive assignment and guard the Durant types more often. But contrast the possessions above with the one below and you'll start to see why having him available as a helper can be more beneficial than putting him in a scenario where he's liable to wind up trailing the play:
Screen navigation isn't Antetokounmpo's forte, and when he's guarding the ball-handler in pick-and-roll - particularly when said ball-handler is a pull-up threat like Durant who demands you go over the screen - the end result is often a two-on-one with no rim protection on the back line.
There's also a benefit to sticking Antetokounmpo on Durant's preferred screener, as that forces Durant to either find a different pick-and-roll dance partner or invite Antetokounmpo to switch onto him. (It was after a switch that Antetokounmpo dramatically blocked Durant's jump shot late in Sunday's game.)
The problem is that the Nets don't play non-shooters very often, and they'll do so even less once Harden is back. Their closing groups are basically always five-out lineups, which limits what Antetokounmpo can do as a helper. His disruptiveness as a free safety while ostensibly guarding Brown is probably the reason Brown played just 15 minutes in the two-game set.
The other downside is that with anyone else on him, Durant has the option to simply eschew the screen and attack one-on-one. And he did, repeatedly. Tucker drew the bulk of the Durant assignment when he was on the floor, and Durant torched him to the tune of 29 points on 10-of-14 shooting across the two games, according to NBA.com's matchup data.
Tucker is a strong one-on-on defender even at his advanced age - his strength and low center of gravity make him practically immovable in the post, and he still moves his feet well enough to stay in front of most wings - but those skills didn't do a whole lot to deter Durant, who could just shoot right over him. The taller Middleton had a bit more success, and the quicker Holiday did a bang-up job when he switched onto Durant (a switch the Bucks conceded liberally), but Antetokounmpo was the ace in the hole.
Milwaukee played that card early and often in the second game. After guarding Durant for just 8.6% of the Nets' possession time when both were on the floor Sunday, Antetokounmpo took on the assignment 30% of the time on Tuesday. As noted above, that alignment still caused some issues when Durant had the ball, but what made it successful on the whole was Antetokounmpo's ability to prevent Durant from getting the ball in the first place.
Antetokounmpo spent large portions of the game face-guarding Durant up and down the court and working to deny him touches. Durant still scored efficiently in the game (32 points on 25 shooting possessions), but his usage rate fell from 38.8% to 29.8%, he got 12 fewer touches, and his total time of possession dipped from 6.1 minutes to 4.7 minutes, per NBA Advanced Stats.
That wasn't all Antetokounmpo's doing. Denying Durant the ball was a team-wide mandate:
The Bucks were far more proactive Tuesday at showing Durant extra bodies, swiping on his drives, and digging down on his post-ups. That increased focus allowed Kyrie Irving to shake loose for 38 points and the Nets as a team to drill 20 threes, but the adjustments were generally sound.
Again, everything looks different with Harden in the mix; his presence makes every Bucks decision infinitely more difficult. Still, this was a fascinating look at how these two immensely talented teams may approach the challenge of defending each other in what could be one of the defining postseason matchups of the year.
Joe Wolfond is a features writer for theScore.
Comments
✕
Nets-Bucks mini-series gives glimpse into game plans vs. Giannis, KD
  Got something to say? Leave a comment below!