The Memphis Grizzlies are eighth in the NBA's Western Conference - smack-dab in the middle of the play-in picture after losing the Association's inaugural play-in game last year. theScore recently caught up with Grizzlies sophomore and Canadian big man Brandon Clarke for a Q&A about the playoff structure and other topics.
theScore: As someone who plays for the team that lost the first ever play-in game last season, and is now in the first ever 7-10 play-in mix this season, what are your thoughts on the play-in and more teams getting a chance to make the playoffs?
Brandon Clarke: It's tough to say. I ask that same question to a bunch of my teammates and coaches. I've been getting different answers from everybody. Personally, I think it's kind of weird. We're still playing 70-plus games this season. That's still plenty of games to figure out who should be in and who should not be in. The fact that the 10-seed can still get in and the 7-seed might not get in, when injuries and stuff can play a role in that, I think it's going to take time to get used to that.
It can be something that ends up being cool, but right now it's kind of weird. We just have to get used to it, and we'll see how it goes after this year. Kind of like how MLB added the wild-card games, I was talking to my teammate Kyle (Anderson) about that recently, and he was saying how people took time getting used to those games. I think that's what's going to end up happening with these play-in games.
theScore: Do players talk about specific playoff format changes the same way fans and media do, like for example that the NBA should go to a top-16 format rather than the traditional East/West format?
Clarke: It's definitely something that I do (think about), personally. I know I've had that talk with a couple teammates. I honestly think that's what they should do. I know the NBA has at least thought about it a couple times. The whole West versus East thing is kind of weird. Being in Tennessee right now, I feel like it's not even really in the West or the East. That kind of makes me more biased on it. I feel like the top teams (should make it); that should be something the NBA looks closer into. It's tough, though. It's always been eight East and eight West, so that would be a big change. The West has usually been tougher, so I think it would be fair if that happened.
theScore: What kind of things do your teammates and coaches that you talk to about it say?
Clarke: It's not like we're passionate about it, because we don't really have much of a say in it. Everyone's so used to the eight East, eight West thing that everyone would be shocked if they changed it. But with time, you get used to everything.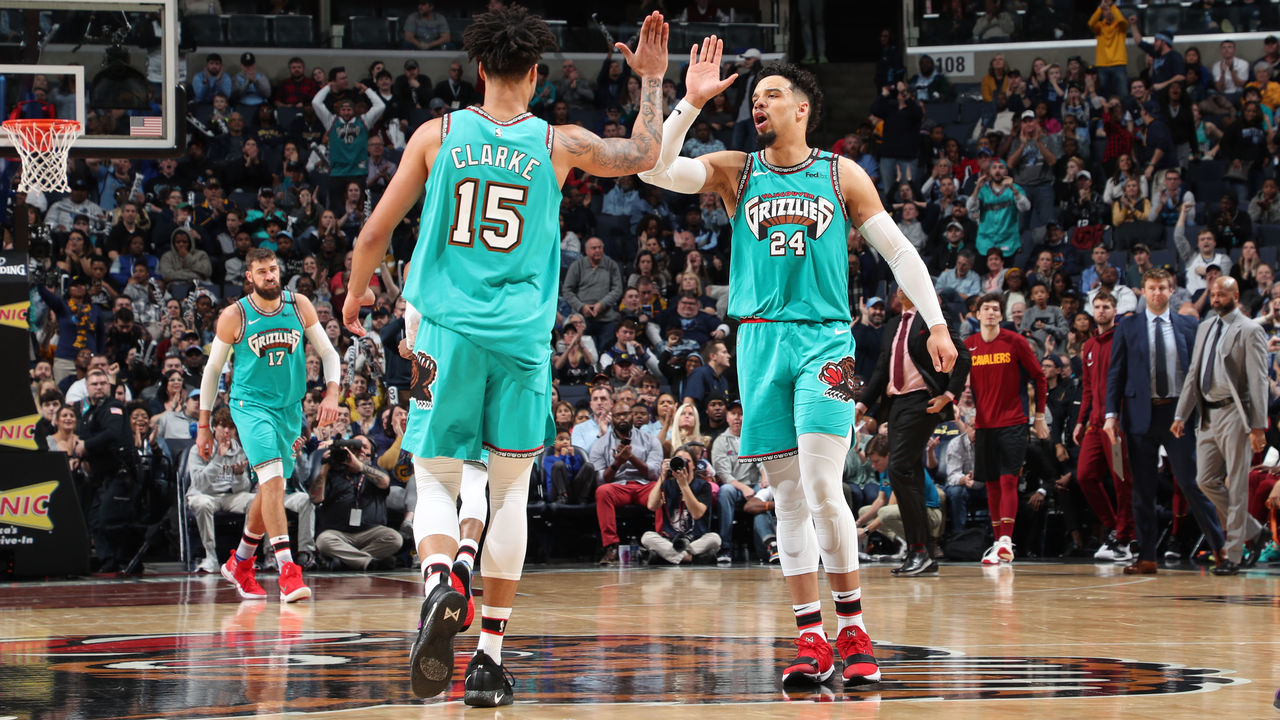 The Grizzlies are currently the NBA's third-youngest team, behind only Minnesota and Oklahoma City. Unlike the Timberwolves and Thunder, however, Memphis is in the thick of a playoff race for the second year in a row.
theScore: As a young team with so much promise, is it tough not to let your imagination run wild about the future? Do you guys ever catch yourselves talking about how good this group can be?
Clarke: It's definitely tough, because we have guys that are so young, but we're all just living in the moment right now. We want to win and play well right now. I think we all have it in the back of our minds that we want to grow into something, but right now, we just want to win and be as good as we can be. I feel like if you're thinking too much about the future, that can make you not care as much about the now, and about losing games right now. I think we have a good mindset as a team with that.
theScore: Similar question, but about Canada Basketball. Do you and (Grizzlies teammate) Dillon Brooks, or you and other Canadian players around the league, ever get caught up in the bright future of Canada Basketball the same way fans do?
Clarke: I talk to Dillon about it often. We have a really good team, Team Canada, for this year. I was talking to a couple other guys, and they were saying it's probably the best team (Canada) has ever had. That makes us all really excited. We're really looking forward to finally getting together as a team and being able to play in the (Olympic) qualifiers.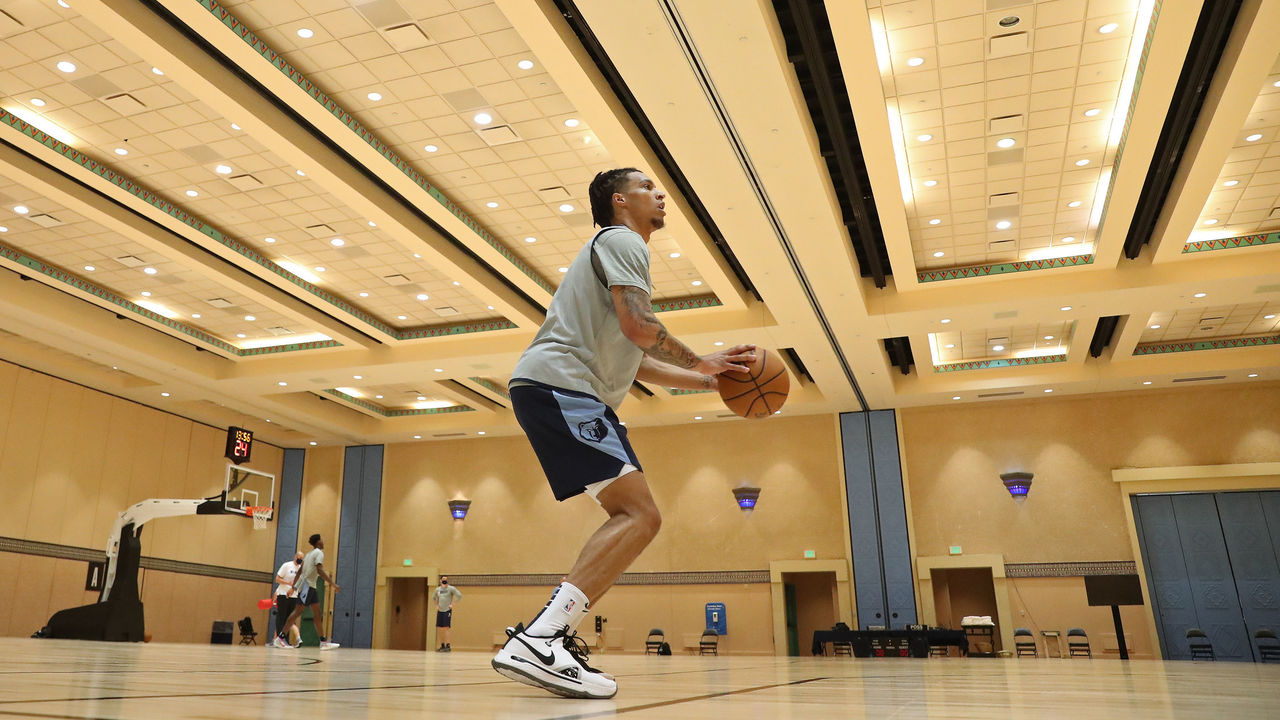 While still boasting above-average efficiency, Clarke's shooting numbers have fallen since his rookie year, with his true shooting down 10%. This comes in a season where his remade jumper has drawn criticism and debate.
theScore: There have been questions about your jumper since you were a draft prospect, and despite you always being an efficient scorer, your mechanics have changed. There's been talk about those mechanics this year. How do you balance mechanics versus results?
Clarke: I just try to keep my focus. It's something that I've always heard in my career, so it's something that I've kind of become numb to. It doesn't really bother me anymore. I just try to let my work on the court talk. I'm gonna keep doing that, keep my focus, keep working on it, and keep getting better as a player.
theScore: Is there a specific memory or moment from the past year, that years from now you'll remember as the defining memory that you lived through a worldwide pandemic, that you played in the NBA in the middle of that pandemic?
Clarke: I would say just being in the bubble. It was something really, really different than what I was used to. At first the food wasn't great, I was trapped in my room, and I was afraid of COVID. We didn't know … it just seemed like COVID could come and get us whenever. Just sitting in the (bubble hotel) room after being at home for so long (during the shutdown), just having to change all your focus to basketball, having to go through training camp again, being tired all the time there. That was a really big challenge. The start of my time there, it just felt … it was crazy. It didn't really feel real, being there. It was something really different than what I thought I would ever have to do.
theScore: And now? I know you're not in the bubble anymore, but is it still strange or just routine?
Clarke: You're just used to everything now. Used to wearing masks everywhere. Every time I'm going somewhere, even just going to my car, I always make sure I have my mask with me now. I get tested once or twice a day. That's something I've had to get used to. Just a bunch of new regulations. Plus playing in gyms that are empty is crazy. At first, that was really weird, but now we've been doing it for so long, I don't even think about it, really. I'm so used to it.
theScore: You were only half a season into your NBA career when the shutdown happened. You've played in empty NBA gyms more often than full ones. Can you imagine the feeling of when arenas are packed again?
Clarke: It's gonna be a great feeling. We had some fans at the (FedEx) Forum last night, but it still wasn't that same true, full feeling like when the place is packed. It's weird playing the Lakers, the Clippers, and it being quiet. Definitely not what you think it's gonna be like entering the NBA. I have trust and hope that over time, we'll find a way to bring NBA fans back the way that they were.
theScore: What's the one thing in your life that when you're able to do it again, you'll know life is back to normal?
Clarke: I'd probably say when we're on the road and we can leave freely. And also when we don't have to COVID test everyday. Actually I think that's when I'll know we're fully done with it; when I don't have to test everyday, because that means that there's no need to test every day. I think about that sometimes, and it's almost hard to imagine a time where I don't need to take a COVID test every single morning. It seems like it's gonna be tough to get there, because obviously (the NBA) has been very strict with the protocols. But with vaccines, I have hope that it's next year. It could be longer, but I have hope. And when that's done, it will mean we're finally over this.
theScore: What about in your personal life, unrelated to basketball?
Clarke: Going to see films. Going out to eat without having to worry about keeping 6 feet of distance. Simple things. Bars, restaurants, going out to parties. Something with other people. Being able to see family, and older family members, freely. There's so much stuff we haven't been able to do. It's a crazy long list, probably.
theScore: Given that you're a Gonzaga alum who tweeted "Best game ever" after Jalen Suggs hit THE shot to beat UCLA in the Final Four, I have to know: What were you doing during that game and what was your reaction when the shot went down?
Clarke: I was on the road. I was watching it in my hotel room with (teammate and fellow Gonzaga alum) Killian Tillie and Jaren (Jackson). Me and Killian were on our toes the whole game, obviously. When that shot went in, I jumped on Killian's back, screaming. I was really, really, really happy.
I think that game was such a high, though, that it took a toll (on Gonzaga). They had to play again in a couple days, and that UCLA game was just such a roller-coaster game; a crazy game. I called it the best game ever, so it's kind of hard to come back after that game and beat a Baylor team that's chomping at the bit to beat you. You kind of lose your edge and let your guard down.
Joseph Casciaro is a senior writer for theScore.