We're looking towards the March 25 NBA trade deadline, and the teams with the most interesting decisions to make between now and then.
Part One analyzed two clubs trying to balance present and future. In Part Two, we delve into a pair of woebegone franchises that may need to hit the reset button.
Sacramento Kings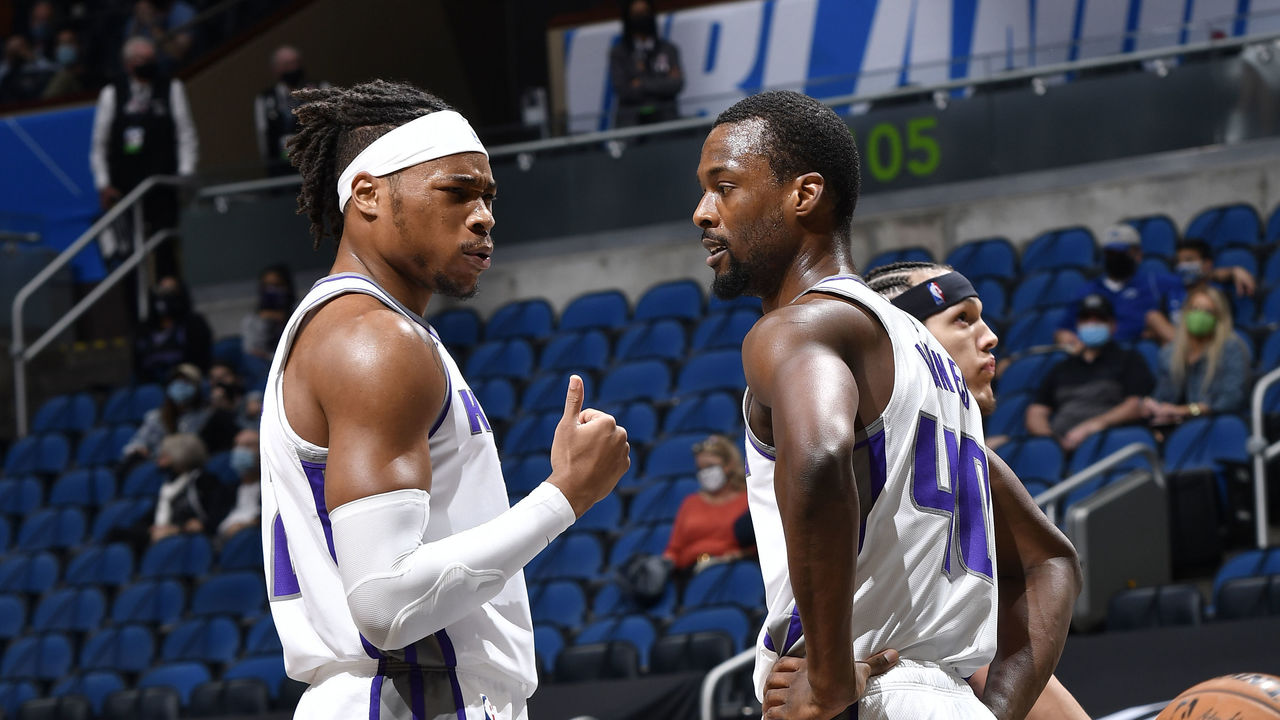 Missing the playoffs this season would mark Sacramento's 15th consecutive trip to the lottery, which would tie the ignominious record set by the Clippers 30 years ago. It's been a rough decade-and-a-half in the Cowbell Kingdom.
But it's not all doom and gloom. The Kings have a burgeoning star point guard in De'Aaron Fox, and added what appears to be an ideal long-term backcourt partner when they stole Tyrese Haliburton at No. 12 in last year's draft. They unearthed a hidden gem in Richaun Holmes a couple years ago. Buddy Hield, for all his warts, is still one of the best high-volume 3-point shooters in the league. Harrison Barnes is having a career year. This is currently a top-10 offense.
Unfortunately, this is also currently the worst defense in NBA history by a considerable margin. As such, the Kings are 14-22, with the league's fifth-worst net rating. They might try to talk themselves into a second-half run at a play-in spot, but they're already four games out of 10th with three teams to leapfrog, and it's hard to imagine the front office doing anything that would result in them snapping their historic postseason drought. Instead, Sacramento should be looking to cut its losses and focus on building up its young talent base around Fox and Haliburton for the future.
Barnes is the most obvious trade candidate on the team. A big wing who can shoot (he's at 39.2% from 3-point range), punish size mismatches (he's an 82nd-percentile post scorer), and passably guard both forward positions is one of the NBA's most valuable commodities. Throw in the fact Barnes is 28 and under contract for two more seasons after this one - on a pricey but not exorbitant deal that descends in value - and he should generate a ton of interest on the market.
Marcus Morris on an expiring deal got traded for a first-round pick last season. It's hard to say if the term on Barnes' contract works in favor of or against his value, but he should be able to fetch at least that same return. To name but a few teams that would surely pick up the phone: the Heat haven't found a suitable replacement for Jae Crowder, the Celtics are reportedly in the market for a scoring forward to fill the Gordon Hayward void, the Nuggets are perpetually in need of reinforcements on the wing, and the Mavericks - max cap space be damned - would probably welcome Barnes back with open arms.
Of course, those are all reasons the Kings may prefer to just keep Barnes. He doesn't fit their timeline perfectly, but if they intend to compete for the playoffs in either of the next two years, having him around and still presumably in his prime would certainly help. Given what the franchise has been through, it would be understandable if the front office were to prioritize that short-term playoff pursuit rather than aiming higher in the long term.
In the meantime, they have other veteran pieces they can sell off, though none figure to bring back anything substantial on their own. Nemanja Bjelica, Hassan Whiteside, and Cory Joseph would all be more valuable to a current playoff team than they are to this or any near-future iteration of the Kings, and none carry financial commitments beyond this season (Joseph has a $12.6-million team option).
Their most interesting decision may come down to Holmes, who's grown into an elite pick-and-roll finisher over his two seasons in Sacramento, aided by one of the game's most accurate floaters. The 27-year-old big man is set to hit unrestricted free agency, and while he could be a great long-term pick-and-roll partner for Fox, and even expressed interest in staying put, it's possible the market will price the Kings out. They only have Early Bird rights on Holmes, which means if they're going over the cap to re-sign him, they can only offer a contract starting at 175% of his current annual salary. Holmes is making just $5 million this year, so that raise wouldn't even get him to mid-level exception money. That's not going to get it done.
If the Kings opt not to risk losing Holmes for nothing, it's not out of the realm of possibility that they could pull in a first-rounder in exchange. Alternatively, they could try to clear money off their books to make re-signing him easier. Moving Barnes for expirings would be one way to accomplish that. Another, if they're set on retaining Holmes and Barnes, would be to try find a taker for Hield. Haliburton's emergence has arguably made the gunslinging 2-guard expendable, and while Hield's limitations as a defender and playmaker figure to suppress interest in his services, there's always a market for shooters of his caliber.
It's clear, one way or another, that the Kings should be looking to sell. Whether or not they actually choose to do so, and what form their selling might take, are the unknowns that make them a team to watch leading up to the deadline.
Orlando Magic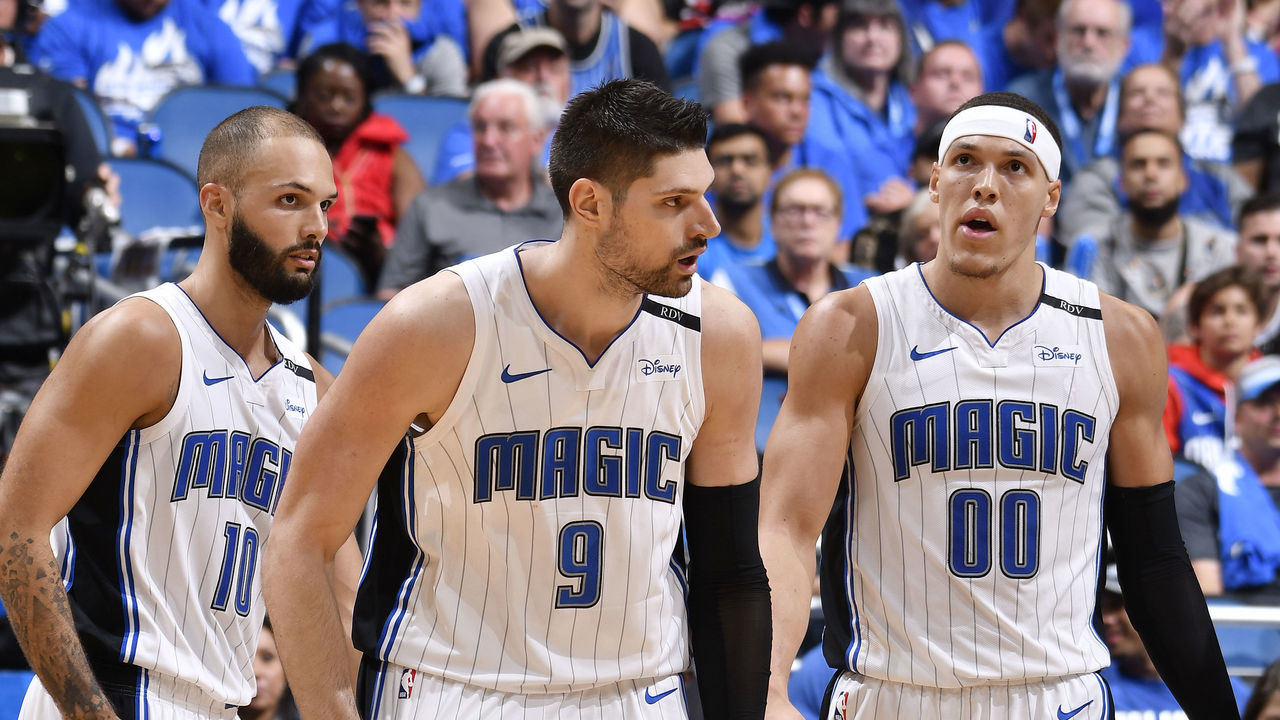 There was a time, not too long ago, when it seemed the Magic might be able to escape the treadmill of mediocrity and grow into something more.
Nikola Vucevic took his all-court game to new heights, Jonathan Isaac emerged as a floor-shrinking defensive terror with DPOY upside, Aaron Gordon moulded his raw physical ability into the outline of a complete player, Markelle Fultz tapped into some of the potential that made him the No. 1 overall pick, and Mo Bamba's tantalizing skill set stood waiting in the wings.
Vucevic remains a monster in the middle, but everything else that felt moderately promising about Orlando has gone completely awry. Isaac battled myriad injuries, then tore his ACL. Fultz tore his as well. Gordon's development plateaued, and then he got hurt. Bamba struggled to crack the rotation, got COVID-19 when it seemed he was starting to figure it out, took months to recover, and is now back to the fringes of the rotation. A run of good health would go a long way toward getting this team back on track, but it's getting harder and harder to envision this nucleus growing beyond the .500-at-best first-round out it's been the last two years.
The Magic can tank effectively without making any trades - they already rank 28th in net rating - but by going into sell mode before the deadline, they can accelerate their necessary demise and brighten their long-term outlook in the process. The most logical way to do that would be to deal Evan Fournier, without whom the team would have almost no off-the-dribble shot creation and even less off-ball gravity. Fournier is on an expiring mid-sized contract that shouldn't be too difficult to move. With his ability to shoot off of movement, serve as a second-side playmaker, finish at the rim, and (as of this year) draw heaps of fouls, there are plenty of teams he can help. The Sixers, Bucks, Knicks, and Grizzlies all come to mind.
Gordon's seemingly been on the trade block forever because of Orlando's frontcourt logjam, and perhaps this is the season he'll finally get a change of scenery. Some of the shine has come off the former No. 4 pick as his scoring ability has stagnated. But he's still just 25, with jump-over-stuff athleticism, solid playmaking chops (especially in the open floor), and rugged on-ball defense at the forward spots. He could be a perfectly complementary piece for a good team that's already stocked with shot creation.
The Trail Blazers tried to get Gordon once; will they try again? The Timberwolves reportedly have serious interest; would they be willing to put D'Angelo Russell on the table? And is that something the perpetually point-guard-poor Magic would be interested in, given their commitment to Fultz and rookie Cole Anthony?
Finally, the front office must decide what it wants to do with Vucevic. The All-Star center is the best thing the Magic have going for them, and also the thing preventing them from biting the bullet and committing to a rebuild. He's 30 years old, in the midst of a career season, and has two years left beyond this one on a descending contract. Skilled bigs like him are vital in the postseason, and while there would be real concerns about his ability to anchor a playoff defense, Orlando would justifiably expect a significant haul in return.
The center-starved Hornets were reportedly sniffing around, and they've got guard depth to spare between Terry Rozier, Devonte' Graham, and Malik Monk (not to mention Miles Bridges, if the Magic feel like trying again with Gordon 2.0). The Warriors would also be a fascinating fit. If they put James Wiseman on the table (with Andrew Wiggins as salary ballast), would Orlando bite? How about a package from the Mavericks headlined by Kristaps Porzingis? The Celtics, Spurs, and Wizards all have a need and could make reasonably compelling offers.
The most likely outcome: the Magic put out an exorbitant asking price and wind up keeping Vucevic through the deadline. That may be the sensible approach. It's not like Vucevic will have any less trade value in the offseason, and it makes sense to see what the team looks like next year - with a healthy Isaac and a potential top-five pick in the mix - before deciding whether he can be part of the next good Magic team.
If the lottery gods are generous and Orlando is able to add someone like Cade Cunningham or Jalen Suggs, things could turn around in a hurry. It would be nice to have Vooch around for that.