No team came into this season with more to prove than the Los Angeles Clippers. No team underperformed its expectations to the same degree, or flamed out as spectacularly, last year.
L.A. went into the offseason on the heels of a blown 3-1 lead and a Game 7 loss to Denver in which Kawhi Leonard and Paul George combined to shoot 10-for-38. Virtually every member of the organization publicly pinned the blame on some structural issue or other, be it a lack of on-court chemistry, a dearth of basketball IQ, poor leadership in the locker room, or excessive pandering to the team's two stars. Leonard reportedly lobbied the team to add a point guard in the offseason, implying he wasn't thrilled with the playmaking burden he was forced to shoulder with Lou Williams, Pat Beverley, and Reggie Jackson ostensibly manning the position.
Despite ranking second in efficiency during the regular season, the Clippers' offense was disjointed and individualistic and fell apart in the highest-leverage moments. It was clear something needed to change, but given the team's limited avenues for personnel upgrades (no cap flexibility, minimal trade assets), it wasn't clear how that change was going to come about. The Clippers did what they could within those constraints, replacing coach Doc Rivers with Tyronn Lue, letting Montrezl Harrell leave via free agency while signing Serge Ibaka, trading Landry Shamet for Luke Kennard, and plucking Nicolas Batum off the scrap heap. Every other rotation piece returned. No new point guard was acquired.
So far, those marginal moves have paid huge dividends. This year's Clippers own the NBA's best record and second-best net rating, despite having a 51-point loss on the ledger. Their 116.7 offensive rating would rank as the best of all time over a full season (though it's currently bested by the Bucks' and Nets' even more historic outputs). It hasn't hurt that Leonard has been as good as ever, or that George has come back with a vengeance after his postseason flop.
But amid all the good vibes, there are some small red flags. Namely: The Clippers rank 27th in the league in the proportion of their shot attempts that are coming at the rim and 20th in free-throw attempt rate, after finishing 19th and second last season, respectively. In short, they aren't getting many easy points and are relying heavily on jump shots. That hasn't been an issue yet because they've been hitting those jumpers at a ridiculous rate. Nine of their rotation players are shooting at least 39% from 3-point range, six are shooting at least 41%, and four are shooting at least 44% - including George, who's hit 45.4% on 7.8 attempts per game. They're shooting 51% on corner threes as a team.
Odds are, they won't shoot this well all season, or in the playoffs. What happens if or when regression hits?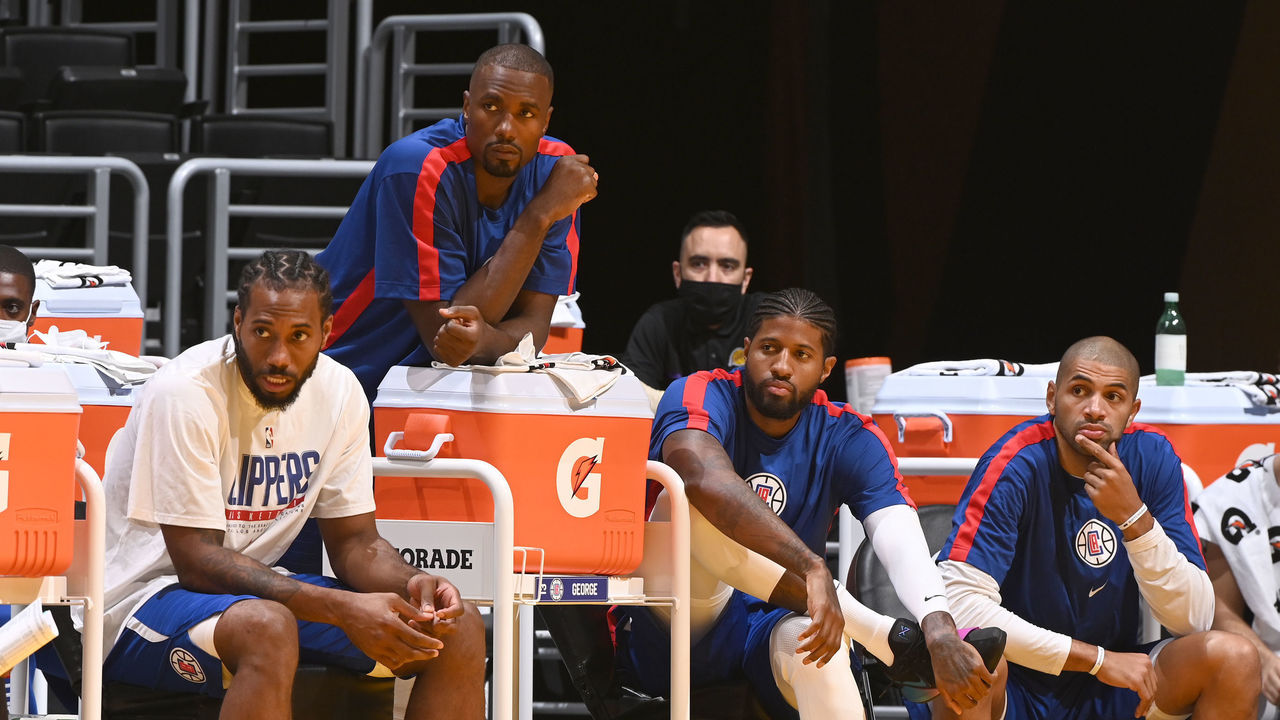 We all remember that old saw about "jump-shooting teams" being ill-equipped to win championships. You may recall the Warriors facing doubts about the viability of their offensive approach right up until they won the title in 2015, even as they set the league on fire and broke all manner of offensive records. That theory doesn't hold water in today's NBA, where basically every team is a jump-shooting team. But the Clippers' lack of recourse if their shots aren't falling is still a tad troubling.
The Lakers cleaned up in the postseason last year by dominating the paint. The Warriors still got to the rim fairly regularly during their dynastic run, and they were arguably the best shooting team ever. Excluding garbage time, just 26.6% of the Clippers' shots are coming within 4 feet of the basket, according to Cleaning the Glass. The championship team with the lowest proportion of at-rim shots in the site's database (which stretches back to the 2003-04 season) was the 2010-11 Mavericks, at 30.6%. The lowest mark for any Warriors championship team was 31.8% in 2017-18.
That speaks partly to the way the game is trending on both ends of the floor. It's no secret that offenses are hunting 3-pointers like never before, but defenses have also grown more willing to concede long-range shots as a cost of barricading the rim. That defensive model, popularized by the 2018-19 Bucks, has since been adopted by teams like the Raptors, Heat, Pelicans, and Wizards. As a result, the league as a whole is conceding a lower proportion of shots at the rim than it has in years past. The median team this season allows opponents to take 33.3% of their shots in the restricted area, compared to 36.8% just two years ago.
But the Clippers are jumper-happy even relative to the rest of the league. And while that's benefited them thus far, it also opens them up to a spectrum of variance that includes the kind of meltdown they experienced against the Nuggets last year. When they started clanking jumpers in that series, they couldn't adjust by getting to the basket or the line. Leonard and George combined for just one free-throw attempt in Game 7. Harrell was the only L.A. player capable of applying consistent rim pressure, and he was a husk of himself in the postseason.
With Harrell gone, the deficiency is all the more stark, even as the addition of Ibaka has opened up new possibilities. For all his warts, Harrell was one of the most prolific interior scorers in the league last season, ranking third among all qualified players in points per game in the restricted area (12.4). He also got to the line a ton, ranking 13th in free-throw attempts per 100 possessions (9.5), and was the biggest reason the team ranked ninth in offensive rebound rate.
Instead of replacing his skill set, the Clippers doubled down on perimeter scoring. Their starting center (Ibaka) and power forwards (Batum, Marcus Morris, Patrick Patterson) are all tasked with stretching the floor, not pounding the ball inside, crashing the offensive glass, or getting to the line. Backup center Ivica Zubac is a strong interior finisher, but he can only do so much in 19 minutes a game. For all their offensive firepower on the wing, the Clippers still lack a true north-south attacker who can blow past the defense and get all the way to the cup.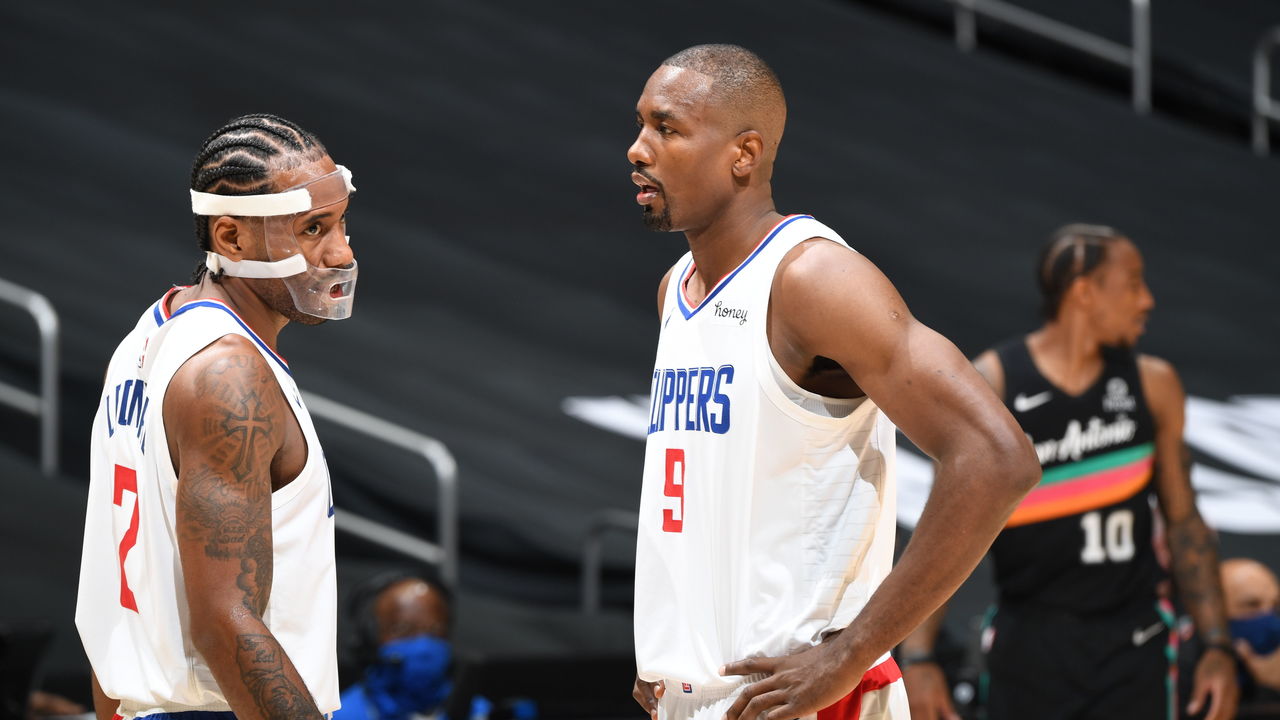 But there are just as many reasons to believe the Clippers are well-equipped to do what they couldn't last year.
For one thing, they should be insulated by their sheer depth of shooting talent, making them less likely to experience the kind of teamwide drought that sunk them against the Nuggets. For another, we've also seen the value their additional spacing provides. Even though they shoot sparingly at the rim, they are remarkably efficient when they do, with 68.3% success on shots in the restricted area, which ranks third in the league. Leonard has been particularly unstoppable as a finisher surrounded by shooting threats, hitting 47-of-57 (82.5%!) at the rim.
The way the Clippers create their many jump shots also matters. They're assisting on 60.2% of their made baskets, up from 57.1% last season. More than half of their jumpers came off of the dribble last season, but this year, the majority of them are coming off the catch. They're taking 29.3 catch-and-shoot jumpers a game (up from 25.4 last year) and converting them with a league-leading effective field-goal percentage of 65.8, according to NBA Advanced Stats.
If they're going to depend on jumpers, it's encouraging that they've struck a healthier balance between self-creation and facilitation. There's a difference between relying on your stars to create their own shots in isolation, and relying on a stable of knockdown spot-up shooters to make good on the open catch-and-shoot looks those stars are creating for them.
That improved balance also seems to be engendering more trust and goodwill up and down the roster.
"I feel like our energy is way better this season," Marcus Morris told ESPN's Ohm Youngmisuk in January. "Think guys are buying in."
"The chemistry is amazing," George told Youngmisuk. "It's a real bond. It's fun, with this team, it's locked in, we are together; it is one of the best locker rooms I have been around and been in."
Maybe any team will feel good when it collectively sinks 42% of its threes, but from a process perspective, it does feel like the Clippers turned a meaningful corner under Lue. After throwing an average of 271 passes per game in 2019-20 (28th in the league), they're up to 289 this season (16th). They're approaching their drives with less tunnel vision and more of an intent to create. As a team, they passed on just 34% of their drives last season, the third-lowest rate in the league. This year, they're passing on 41.5% of their drives, the seventh-highest rate in the league, according to NBA Advanced Stats.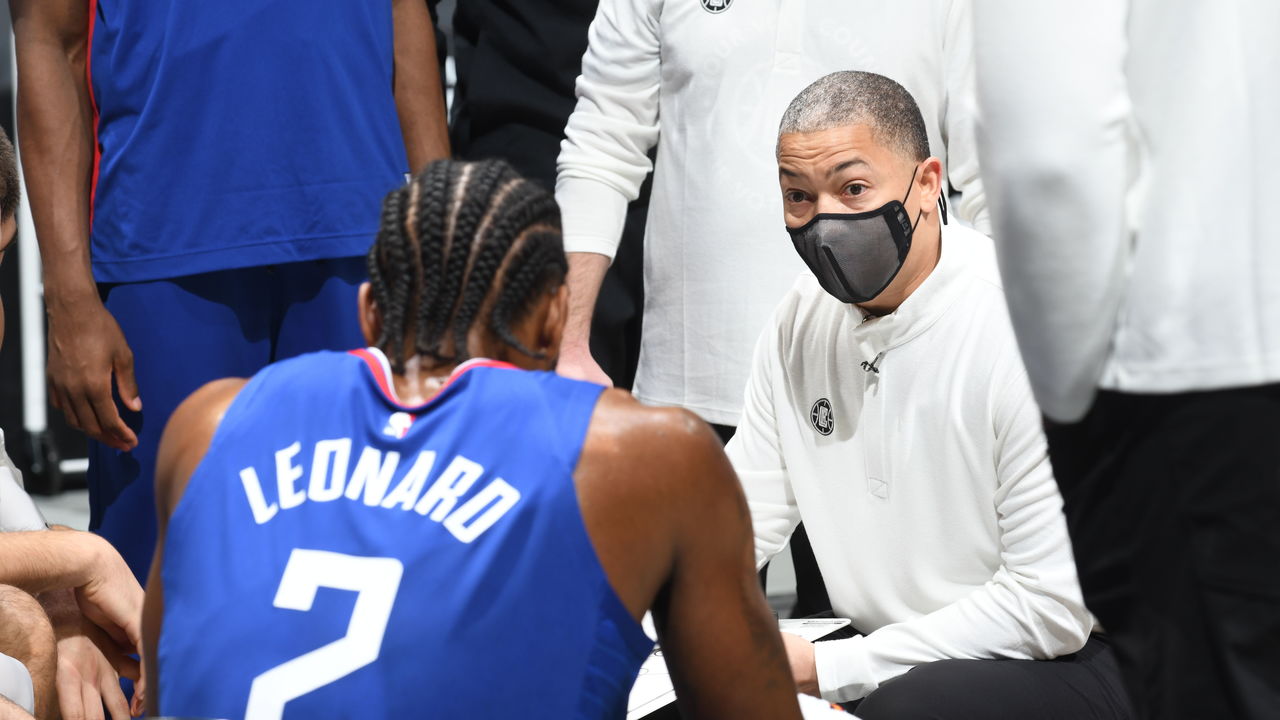 The Clippers didn't acquire a point guard in the offseason, but they've essentially created one by committee, with everyone from Leonard to George to Batum to Beverley to Kennard to Williams getting a turn to run the show. Batum, in particular, has done wonders for the team's offensive structure with his injection of unselfishness and passing acuity. The Clippers have leaned on him as a facilitator from the top of the floor, where he can deliver the ball to Leonard and George in the post or on the move with pinpoint accuracy.
Shifting into a slightly less ball-dominant role has helped Leonard cut his turnover rate almost in half. His usage rate is down from a cumbersome 33% to a more manageable 29.4%. He's scaled back his pick-and-roll usage, and the increased selectivity has resulted in outrageous efficiency. He's producing 1.32 points per possession when he either shoots or passes directly to a shooter out of the pick-and-roll, tops in the league among players who have run at least 50 of them, according to Synergy.
Another upshot of Leonard's reduced initiating responsibilities is that he's spending more time in the post. He's averaging 6 used post possessions per game, up from 3.7 last season. That doesn't necessarily goose the team's at-rim scoring on its own - he uses the majority of those post-ups to get to his turnaround jumper - but it creates a kind of gravitational pressure on opposing defenses, eliciting frequent double teams and producing efficient looks elsewhere. The Clippers average 1.21 points per possession when Leonard shoots or passes to a shooter out of the post, which is more than the Nuggets squeeze out of a Nikola Jokic post-up, per Synergy.
Being asked to initiate less hasn't actually hamstrung Leonard's and George's playmaking capabilities. If anything, it's amplified them. George, in particular, has taken to his role as a secondary creator, posting a career-high assist rate by a mile. His improved vision and audacity as a passer are paying dividends even when they aren't reflected in the box score because of the swing-swing sequences he triggers by manipulating defenses rather than simply reacting to them. It's telling that he's more than doubled his rate of secondary assists from last season to this one:
| Season | Passes per game | Potential assists | Secondary assists | Assist pts created |
| --- | --- | --- | --- | --- |
| 2019-20 | 29.6 | 6.5 | 0.5 | 10.2 |
| 2020-21 | 45.4 | 9.6 | 1.1 | 14.6 |
(Source: NBA Advanced Stats)
That passing increase has resulted in a corresponding spike in George's turnover rate, but his occasionally errant deliveries are a worthwhile tradeoff for enabling a more connected Clippers offense.
So, despite a couple of worrisome trends, this team is in a very good spot. We no longer question whether jump-shooting teams can win championships, and the Clippers are by most measures the best shooting team in basketball. They're creating their shots in a healthy fashion and reaping the benefits.
Their ability to subsist on jumpers, even if their percentages ultimately come back down to earth, will be handy in theoretical matchups against the Lakers - a team they're almost certain to have to get through in order to win the West - and potential Finals opponents such as Milwaukee or Philadelphia. Those teams thrive defensively by taking away the rim, but on its own, that doesn't counter the Clippers' offensive strengths. And if those opponents exchange their drop principles for a more switch-heavy approach (as playoff defenses often do), the Clippers still have Leonard's and George's individual creation to fall back on.
After the way last year ended, no amount of success is going to persuade anybody until the Clippers translate it to the postseason, whether that means sustaining their hot shooting or finding a way to diversify their scoring methods when shots aren't dropping. But for now, they've got no reason to stop letting it fly.