The New Orleans Pelicans' first season under coach Stan Van Gundy got off to an auspicious start. They won four of their first six games, and in their seventh lost a nail-biter in overtime to a very good Indiana Pacers team. More encouraging than the results themselves was the manner in which the Pelicans were achieving them. After those seven games, they ranked fourth in the NBA with a 104.4 defensive rating.
For a team that came undone last year because of its glaring defensive flaws, particularly inside the bubble, the turnaround was a pleasant surprise. Van Gundy came in with a reputation as a no-nonsense, defensive-minded coach, and he seemed to be instilling his new team with the right habits and principles. The scheme he implemented aimed to approximate the core defensive tenets of the Mike Budenholzer-era Milwaukee Bucks, in function if not necessarily in form: Protect the paint at all costs, clean the hell out of the defensive glass, keep the opposing team off the free-throw line, and force your opponent to beat you with jump shots.
It was never realistic to expect the Pelicans to enact those principles as successfully as the Bucks did en route to leading the league in defensive efficiency for two straight years - Milwaukee did it with far more experienced and, frankly, more capable personnel - but it immediately became clear that the revamped approach could pay dividends if executed correctly. New Orleans surrendered a ton of 3-pointers but compensated by allowing the third-lowest rate of shots at the rim and leading the league in both defensive rebound rate and opponent free-throw rate.
Since then, however, things have completely fallen apart. The Pelicans have dropped six of seven since the OT loss to Indiana, and over that stretch, they rank 29th in points allowed per 100 possessions at 119, ahead of only the disastrous Sacramento Kings (who currently own the worst defensive rating in history by a not-insignificant margin). That's dropped New Orleans down to 24th in defense for the season, even worse than last year's finish.
One explanation is that the Pelicans have simply been playing better offensive teams. Their first seven opponents own an average offensive rating of 108.9, while their last seven clock in at 111.2. Another is that they've been bitten by 3-point variance. Opponents shot 35.2% from deep over New Orleans' first seven games, but that's up to 41.5% over the last seven. Committing to an interior-focused style of defense means living with that variance, which on many nights will break in the Pelicans' favor.
On the other hand, it's hard to chalk up their struggles solely to bad luck when there hasn't necessarily been a sound method to their defensive process. The opponent 3-point swing is significant and likely to balance out, but that uptick still only works out to about 1.5 extra made threes - or about 4.5 additional points - per game. That hardly explains the extent of the Pelicans' defensive collapse.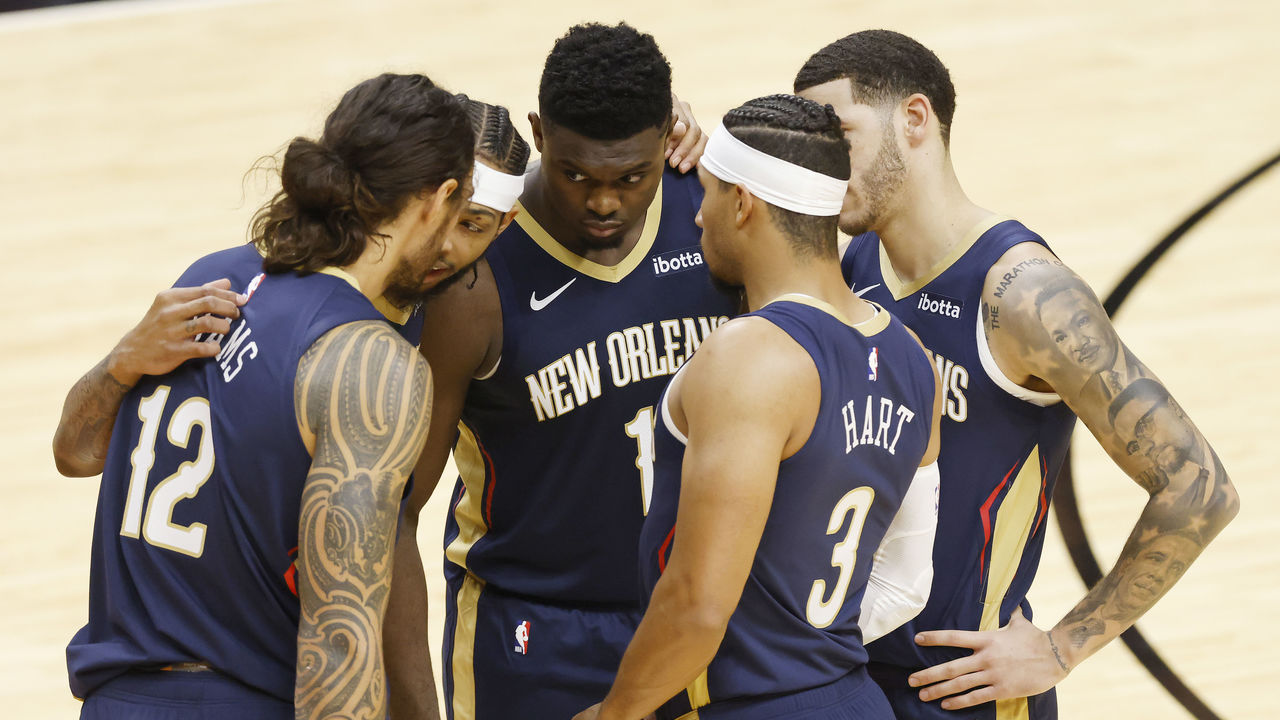 The fact is, they're doing everything worse than they were at the start of the year. Over their past seven games, they're down to 19th in opponent free-throw rate and 11th in defensive rebound rate. Those marks aren't disastrous on their own, but when you're producing only average results in the areas your scheme is designed to hone in on, it's a problem.
The reason the Bucks have been so successful despite conceding so many 3-pointers in recent years is their attention to detail in executing their scheme. That means not just preventing shots at the rim but being in position to contest and alter the rare attempts they do allow. It means making sure opponents shoot the vast majority of their threes from above the break rather than the corners. It means forcing lead ball-handlers into mid-range pullups and floaters while coaxing 3-pointers from lesser threats like pick-and-pop bigs.
The Pelicans haven't really been doing that. They surrender the second-highest rate of corner threes and induce the second-lowest rate of long 2-pointers in the NBA, according to Cleaning the Glass. And while they've done a good job suppressing volume, they're allowing opponents to shoot 69.8% at the rim, tied for the league's worst mark. Steven Adams, for as much of a deterrent as he can be, does not have great timing when it comes to contesting shots, and he's too earthbound to make up for it.
In short, the new scheme, despite its early signs of promise, has simply become a different way for the Pelicans to beat themselves at the defensive end.
"Our habits have slipped since the early part of the season," Van Gundy told reporters Friday. "We've got to find a way to get our habits back, but really, to get our defensive disposition back, where we play harder, where we're into people more,"
On top of basic stuff like fighting through screens, the Pelicans have really struggled to find the line between helping and overhelping. They have a tendency to tip over onto the wrong side of that line, with such an emphasis on showing extra bodies in the paint that they forget about what comes after the kickout. There's a lot of "helping without helping" going on, where guys pinch well into the lane from the wing even when a drive or a pick-and-roll action is well taken care of by the primary defenders, and they get caught ball-watching as a pass gets sprayed out to a capable shooter for a wide-open three.
Zion Williamson has probably been the worst offender, as is the case with many of the Pelicans' defensive woes (though numerous others have been guilty of this). Watch Williamson here:
That pick-and-roll was bottled up; what help was he providing? Sometimes it's OK to just play those actions two-on-two and keep everybody else at home. Instead it's an extra-long closeout and a blow-by.
This one didn't wind up burning them, but here's Brandon Ingram getting so fixated on the middle of the floor that he completely loses track of his check:
The Pelicans have also tweaked their pick-and-roll coverage in recent games, with a more aggressive approach at the level of the screen. They were never quite as conservative with their drops as the Bucks are - the similarities in their schemes lie more in how proactive both are about pulling their weak-side defenders over to the middle of the floor - but they've started to mix in more hard-hedges and traps. Perhaps that's been Van Gundy's way of trying to give a listless unit a jolt by forcing a new level of activity on them.
That's helped them force more turnovers, but it hasn't been a successful tactic on the whole. It's putting the Pelicans in constant rotation, and unfortunately, they haven't been rotating especially well on the back end. The Jazz picked those coverages apart over a two-game set by repeatedly shorting the pick-and-roll, and New Orleans couldn't adjust:
The slippage in defensive rebounding, meanwhile, simply comes down to effort. Here are two particularly egregious displays of laziness from a recent loss to the Lakers, a game in which the Pelicans made so many unforced errors, it seemed like Van Gundy was going to have an aneurysm on the sideline. In the first clip, Ingram simply declines to put a body on his man, LeBron James, who swoops past him unimpeded for a put-back dunk. In the second, Montrezl Harrell "seals" Williamson without actually having to do anything, and gets his own uncontested put-back because Zion makes no attempt to fight around him and establish inside position:
Williamson, in general, remains a frustratingly terrible defensive rebounder, which is why Adams - who's basically the lone reason the Pelicans are a good rebounding team - is necessary, and why calls for more Zion-at-center looks feel a bit misguided. Those lineups have played 34 minutes this season and produced a 63% defensive rebound rate. Yes, the offensive upside is tantalizing, but those lineups are likely to be just as flammable defensively.
With Zion on the floor and Adams on the bench this season, the Pelicans have posted a 117.7 defensive rating and been outscored by 9.3 points per 100 possessions. We've seen time and again how ineffectual Williamson is as a back-line defender. Switching everything wouldn't work, either; guards would just target and cook him.
That said, if the only other option is Nicolo Melli, then yes, New Orleans is almost certainly better rolling with Zion at the five. Melli's defense has been an adventure, and he isn't even shooting the ball well, so there's zero reason to play him. In that same game against the Lakers, he completely mangled the coverage on an after-timeout play, got his wires crossed with Josh Hart, and wound up essentially screening Hart out of the play:
So, yeah, a lot's been going wrong, and it continues to prove extremely difficult to scheme around a glaring defensive hole at the heart of the roster.
It would be one thing if the Pelicans were a team designed to dominate offensively, but the theory behind their current roster construction is actually to sacrifice scoring for defense. Between Zion, Adams, Bledsoe, and Lonzo Ball, they're starting two shaky shooters and two complete non-shooters alongside Ingram. The trade-off is supposed to pay dividends at the other end. If they can't get stops in that spacing-averse setup anyway, then maybe they should just tear up the original plans, play Zion big minutes at center, move JJ Redick into the starting lineup, and try to outgun teams.
But that isn't really Van Gundy's MO, and the team isn't particularly well-built for small ball. The Pelicans have proved they can execute better than this defensively, and they have the personnel to at least be competent. They've had runs of legitimately inspired defense this season, even at points during this recent funk. There are games when you can see their paint-packing approach completely flustering opponents, stretches when they tag, rotate, and sink-and-fill on a string.
Adams continues to be an immovable block of granite in the middle. Bledsoe is still one of the pre-eminent ball hounds at the point of attack. Ingram has markedly improved as a weak-side defender. Ball has the combination of length and instincts to be an elite help guy. Zion is at least capable of giving better effort. Most of these problems are at least halfway fixable, though some may ultimately require a schematic adjustment. While it's clear the Pelicans were playing above their heads at the beginning of the season, it should be equally clear that they aren't as bad as they've looked over the past two-odd weeks. Their schedule is about to soften considerably, and their opponent 3-point percentage is due to regress.
Still, if they want to even sniff the play-in tournament, let alone the playoffs proper, they have a ton of detritus to clean up. For now, their defensive baggage is weighing down a young team that's not nearly as exciting as it ought to be.