Just over 90 seconds into Wednesday's game between the Brooklyn Nets and Cleveland Cavaliers, Kyrie Irving had the ball in his hands in the corner, with an overmatched Cedi Osman trying to contain him. Irving appeared to be posting Osman up before spinning to his right, spinning back to his left - sending Osman to another postal code - and unloading a buttery jumper.
With that classic display of offensive beauty and ease, Irving was officially back, paving the way for a 37-point performance in a double-overtime loss to Cleveland. That performance, which included a rolled ankle that caused a noticeable limp late in the first half, was a fitting cap to a two-week span that encompassed the full Kyrie Irving experience.
That experience often leaves us talking about anything but basketball.
Irving was a late scratch from a game on Jan. 6 for personal reasons, with early reports indicating he'd return a couple of days later. The personal leave, which Irving attributed to "a lot of family and personal stuff going on," included a mask-less birthday party for his sister, Asia. Irving was fined $50,000 for violating the NBA's health and safety protocols, and he forfeited $816,898 in salary for the two games he had to sit out due to mandatory quarantining upon his return.
By the time the dust settled and Irving got his conditioning back, the star guard missed seven games. While he was gone, though, it was revealed that Irving purchased a house for the family of George Floyd, adding to the 28-year-old's reputation for being about more than the game.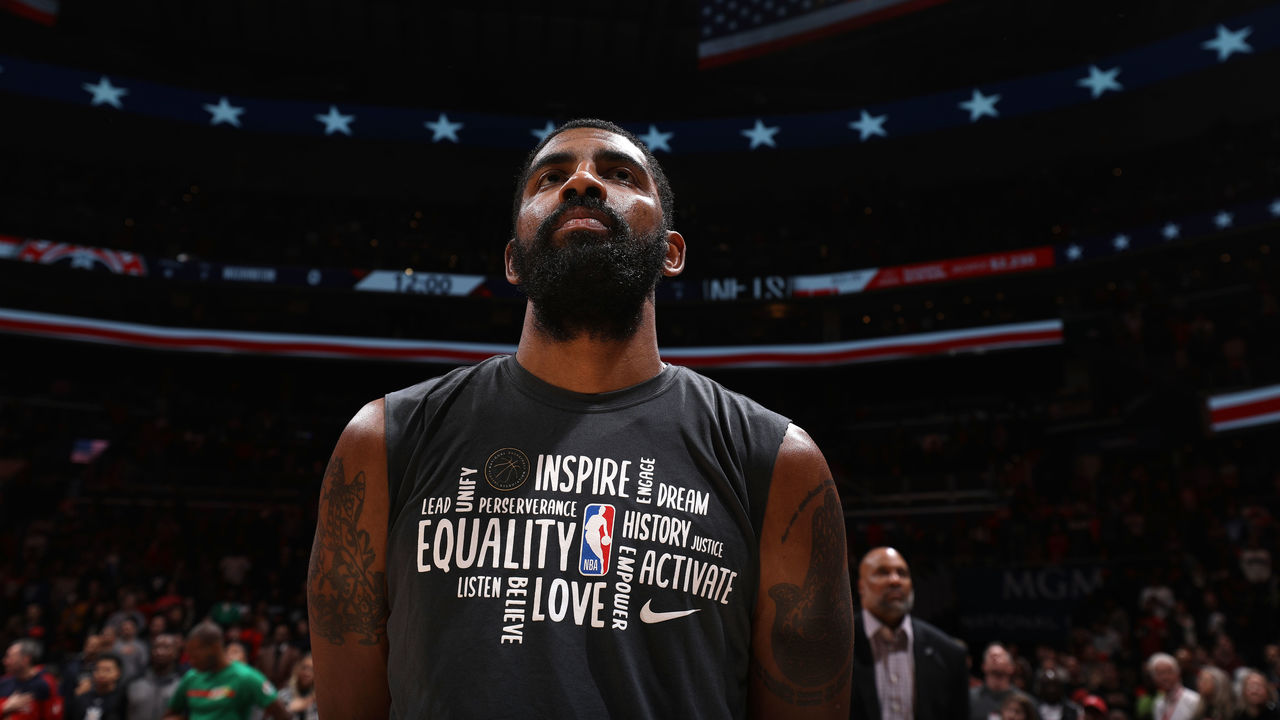 Irving first put a target on his own back four years ago with his infamous flat-earth comments. Since then, this is often how the dance goes. Every time Irving says or does something that brings fair criticism his way, he says or does something to remind us why his peers elected him a vice president of the National Basketball Players Association.
If you took issue with Irving's short-lived media boycott in December, you must also acknowledge that just last week, a veteran reporter who's been honored in the Basketball Hall of Fame shamelessly admitted on a podcast that she once told Irving that players are property.
In a conversation about his issue with the idea that players are limited by the NBA draft, Irving told Jackie McMullan, "We're not someone's property."
"I'm like, 'Yeah you are, dude. That's the way it works,'" MacMullan said of her reply.
It's not hard to imagine how that sort of statement might distort one's view of the people sticking microphones in his face every day.
Mask-less partying in the middle of a pandemic's worst wave is reckless and tone-deaf, no matter who it was celebrating. Irving's coworkers at every level of the NBA - from well-paid teammates and opponents to team employees lower down on the organizational chart - are relying on him to stay healthy and control the spread of the virus. Yet, despite sometimes making decisions that appear selfishly aloof, Irving's proven committed to larger causes he feels strongly about.
Over the last year, in addition to buying the home for Floyd's family, Irving's philanthropic work includes donating $323,000 to Feeding America, partnering with Nike to donate 17 pallets of food and masks to the Standing Rock Sioux Tribe, donating $1.5 million to WNBA players who opted out of playing in the bubble, and paying the tuition of nine students studying at historically Black colleges and universities.
As time passes and active careers become aging legacies, the impact of Irving's efforts to make a difference off the court will far outweigh his occasional penchant for putting his foot in his mouth.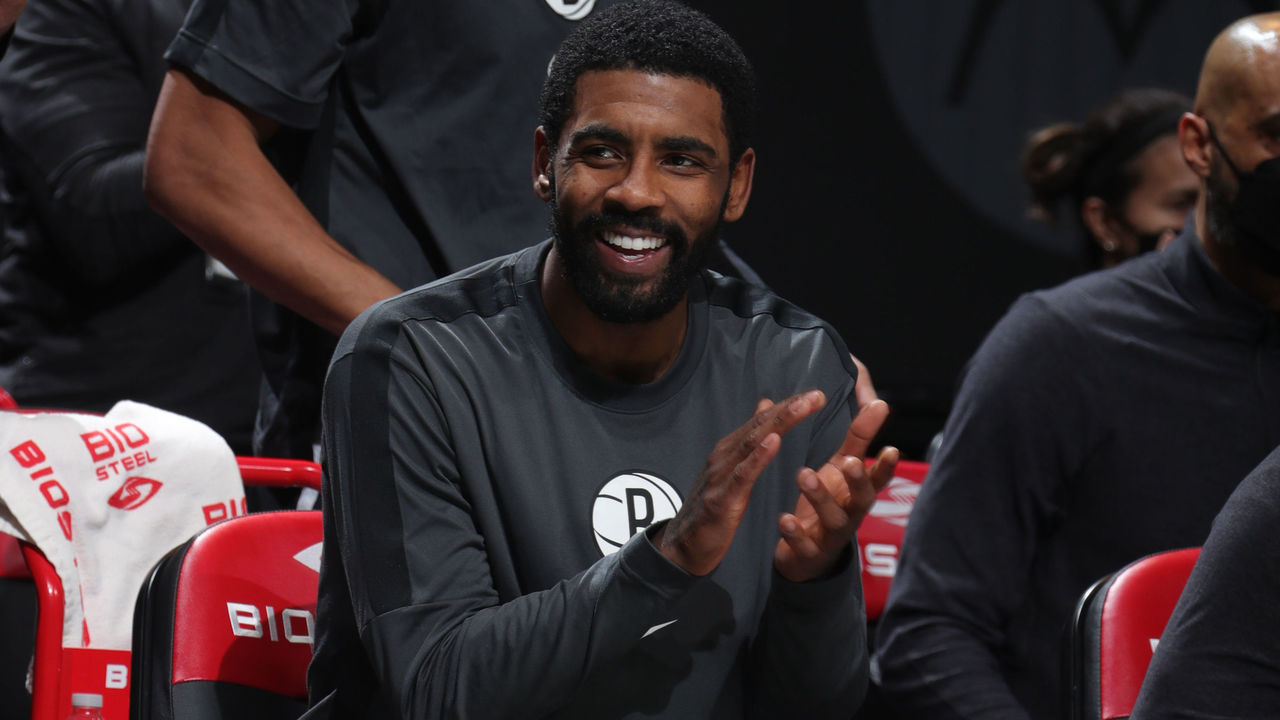 On the court, there are questions to be asked, and not just those pertaining to how the trio of Irving, Kevin Durant, and James Harden will coexist, or how Irving will adapt to playing off the ball as a third option at times.
The fact that Irving is one of his generation's most talented and entertaining ballers is undeniable, but over the course of his 10-year career, he's missed more than one-quarter of his team's regular-season games, and a third of his team's playoff games.
Simply put, I wouldn't want to be an NBA team whose success hinges on Irving's availability - though you could argue that with Harden joining Durant, the Nets' success no longer does.
But I'm not an NBA team, and chances are, neither are you, so why was Irving's absence so polarizing?
In his first media conference since returning from his personal leave, Irving apologized to the fans, but he didn't need to. His personal leave was just that - personal - and though you can chide him for the party, or argue he could've communicated more clearly with his team, fans aren't entitled to an explanation or an apology. Irving's not a public servant. The checks he cashes while choosing not to play are between him and team management.
You can cry foul over the fact you'd give anything to play your favorite sport for a living while Irving might rather spend a night attending a Zoom call for his favorite New York district attorney candidate with Cynthia Nixon. But there's something admirable and fascinating about the fact he truly seems to view basketball as nothing more than his job, and that he's using that job to fund and fulfill a much greater purpose for himself.
"With everything going on in the world, politically, socially, it's hard to ignore," Irving said Tuesday. "I want to make changes daily. There are so many oppressed communities, so many things going on that are bigger than just a ball going through a rim."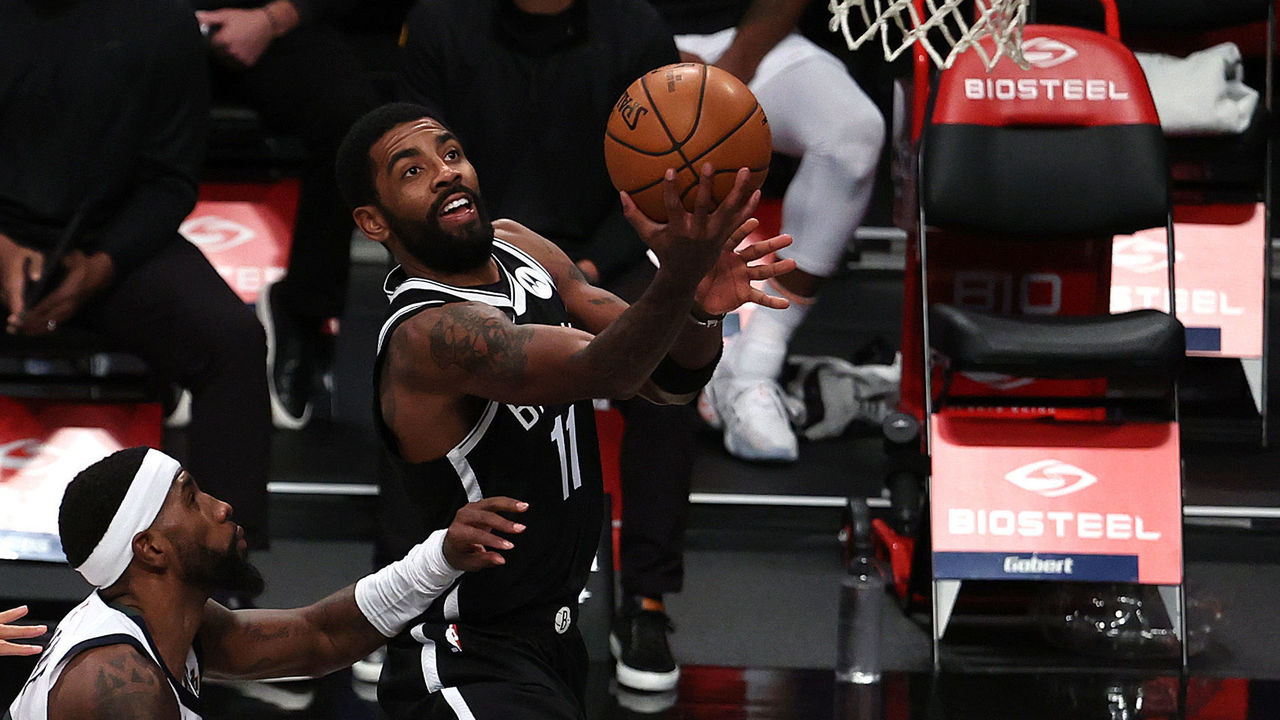 One of the ways we dehumanize professional athletes is by assuming they subscribe to a uniform way of thinking. But a group of 450 NBA players is going to include people with varying values and beliefs, varying views on work-life balance, varying levels of social and political awareness, and varying states of mental health.
Irving seems to be genuinely conflicted about basketball's value in the world right now, but he's good enough at what he does to remain valuable in the best basketball league in the world, even as his commitment to the game is questioned.
There are plenty of people reading this who would take full advantage of the ability to come and go from work as they please if they had the professional clout Irving has.
In any industry, no matter the skill level of a given worker, you'll find some who see their career as a calling, and some who don't. You'll find some who want to dedicate themselves to their craft without distraction, and many who see that same craft as nothing more than a means to an end.
It's easy to acknowledge how misguided it is to say players should "shut up and dribble." It's easy to laud athletes for the good they do off the field when you feel they're living up to their end of the bargain on the field. But what about when a superstar as talented as Irving refuses to shut up or dribble? His contributions and concerns shouldn't become less valid.
Irving can be a frustrating and enigmatic talent, but his complexities and vulnerability are what make him human. Given the times, an NBA star needing a personal leave should be the most relatable thing imaginable, not the most divisive.
Joseph Casciaro is theScore's senior basketball writer.