The Indiana Pacers spent part of their abbreviated offseason trying to trade Myles Turner. If reports are to be believed, there was considerable mutual interest between the Pacers and Gordon Hayward, and they were prepared to send Turner to Boston as part of a sign-and-trade for the playmaking forward. The Celtics, it seems, weren't interested, preferring to lose Hayward for nothing and sign Tristran Thompson to be their starting center for half the price.
The proposal wasn't hard to rationalize from Indiana's perspective. In recent years, the team's been forced to confront the limitations of a roster in which two of its top five players (Turner and Domantas Sabonis) function most effectively as centers. Hayward would've balanced the roster and opened the door to more lineup flexibility. But the trade never happened. Turner remained a Pacer, and all he's done through the first two-plus weeks of the 2020-21 season is protect the rim at a historic level.
Numerous factors have contributed to Indiana's impressive 6-2 start, including All-NBA-caliber play from Sabonis and Malcolm Brogdon as well as a return to form for Victor Oladipo. But Turner has been the team's unheralded star and by far the biggest reason it boasts a top-10 defense. The Pacers' scheme is built to spotlight his singular shot-altering capabilities, and they've allowed 11 fewer points per 100 possessions with him on the floor.
Turner has gotten steadily better over the last few years at weaponizing his elite physical tools, but he's hit a different gear this season. He's honed his footwork, his timing on help-side contests, and his precision in tracking ball-handlers in space and syncing his steps so he doesn't leave his feet before they do. He's become sharper at sniffing out decoys and locking in on the central action, which he frequently finds ways to blow up.
Turner's obscene block totals obviously stand out above all else; he just recorded his second eight-block game of the season, and he's swatting 11.8% of opponents' 2-point attempts when he's on the floor, which would be the highest mark in league history over a full season. (Manute Bol holds the record at 10.8%.)
Of course, you can't block a lot of shots if players aren't attempting a lot of shots in your vicinity. The 10.6 shots per game Turner is contesting at the rim represent the most of any player in the eight-year NBA Advanced Stats database. He's holding opponents to 44.7% shooting on those attempts.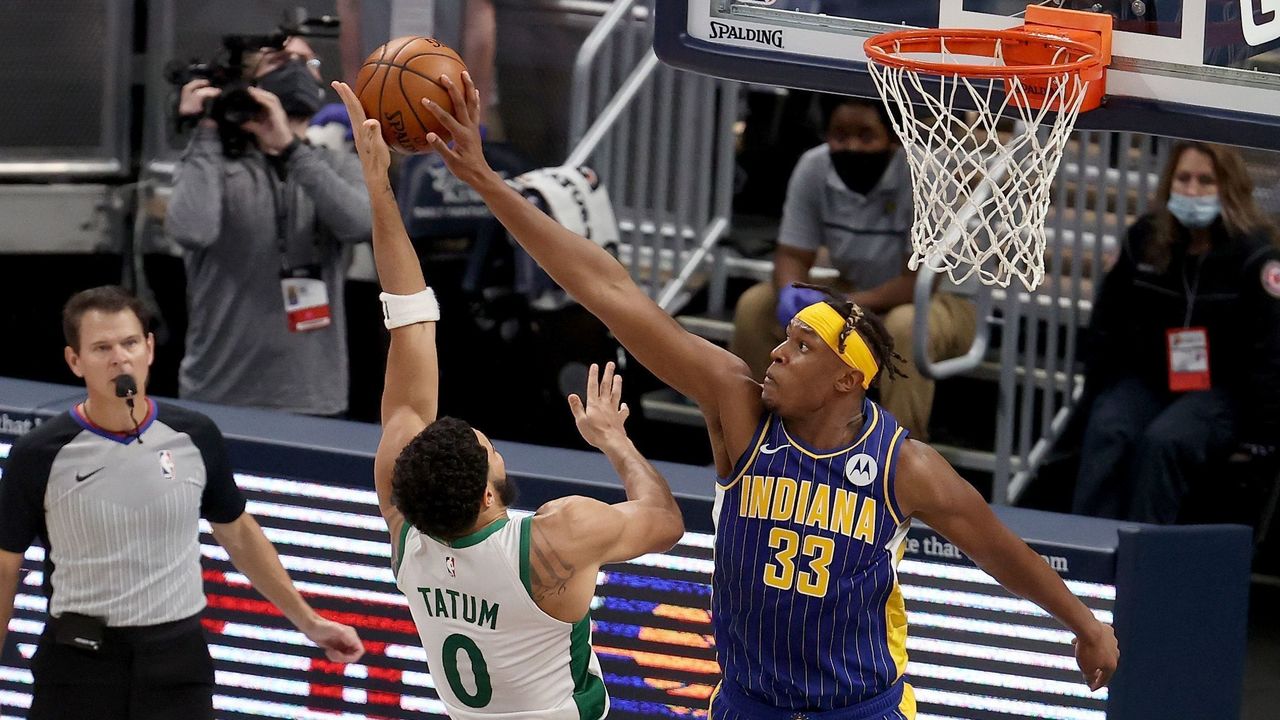 That volume is a fascinating component of the Pacers' first season under head coach Nate Bjorkgren. The impact of the best rim-protecting teams and players tends to manifest itself as deterrence. The goal isn't just to alter shots at the rim but to dissuade opponents from attempting them. The league is increasingly adopting defensive principles pioneered by the Milwaukee Bucks, wherein preventing interior shots is prioritized over almost everything, even at the cost of surrendering boatloads of threes.
But that is very much not what the Pacers are doing. As a team, they allow the league's highest proportion of shot attempts in the restricted area - a staggering 43.9% - according to Cleaning the Glass. And they permit more shots at the rim when Turner's on the floor than they do when he's off it.
The flip side is that Indiana allows the league's lowest opponent 3-point attempt rate. Turner's presence on the court correlates with a spike in opponents' mid-range jumpers and a sharp decrease in threes, which suggests the team's defensive shot distribution is at least partly by design. Where other teams force opponents to win with jump shots, the Pacers are daring opponents to beat them by scoring over their layup-devouring center at the rim.
It makes sense that when they have Turner as a security blanket on the back line, their perimeter defenders focus more on pressuring the ball and running guys off the arc, either with hard closeouts or rear-view pursuits overtop of screens. But it's not just about how Turner's teammates react to his presence. He himself plays a significant role in shepherding opponents toward the basket. This season, he's been playing up higher and hewing closer to the ball-handler in the pick-and-roll. Whether he's switching, soft-hedging, or playing a shallow drop, his positioning naturally invites the drive.
It's less about guys trying to test him in a strength-invites-challenge type of way, and more about the fact that he doesn't leave them a ton of alternatives. And when they do attack him off the bounce, he often has them right where he wants them, even if they manage to get a step on him.
Opponents may attempt more shots at the rim with Turner out there, but they shoot 16 percentage points worse (53.5% vs. 69.9%) on said shots. They also shoot just 31% on 2-pointers outside the restricted area when he's on the floor, per Cleaning the Glass. In other words, forcing opponents inside the arc is generally a safe proposition for the Pacers.
Turner has become a master of pick-and-roll containment, which is a big man's most important defensive responsibility. His length, athleticism, balance, and patience allow him to track both the ball and his man, simultaneously playing the drive, shot, and pass. Pick-and-roll ball-handlers score just 0.8 points per possession when he's defending the screener, according to Synergy. And the Pacers have been the league's best team at defending the roll man, allowing a minuscule 0.7 points per possession.
Here's a still from one of the plays above that provides a good illustration of the myriad options Turner is able to take away.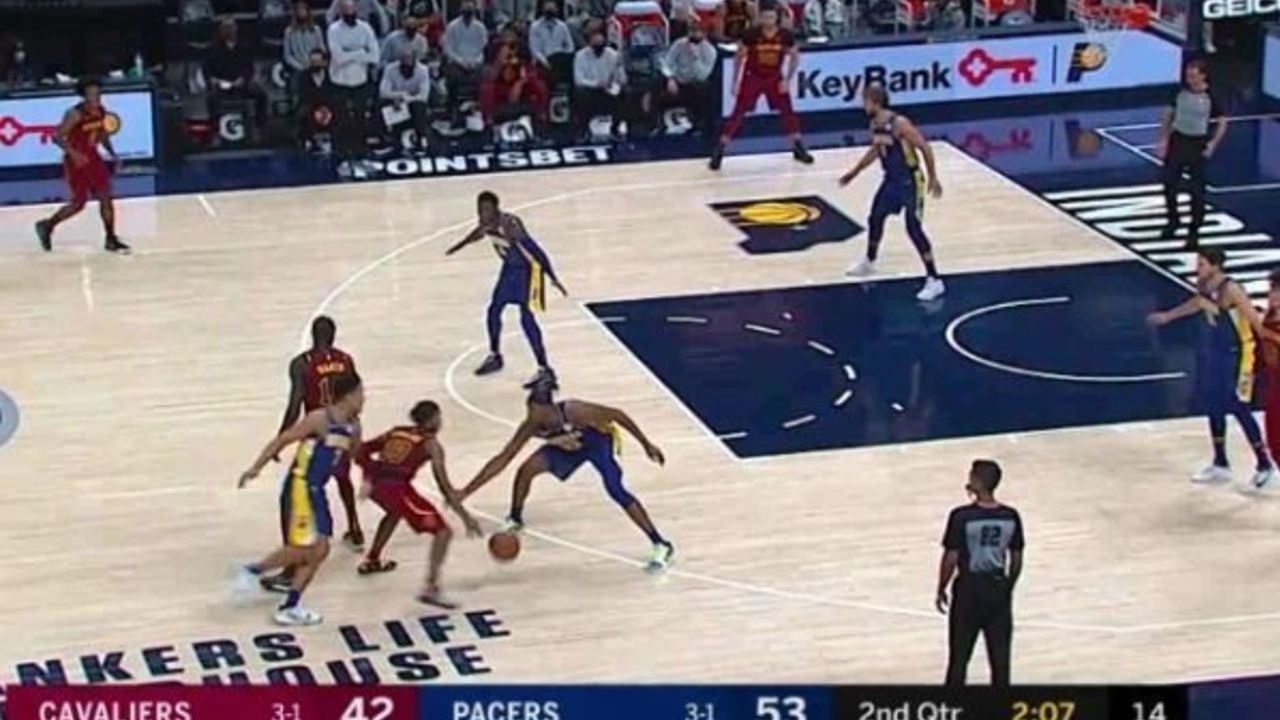 He's playing up to the level of the screen to deny Darius Garland airspace to pull up from three, and check out how low he gets to deny the pocket pass to Thon Maker. He's then able to burst out of that crouch and track Garland's drive all the way to the rim, ultimately forcing an emergency mid-air kickout.
Against dangerous pull-up shooters like James Harden, Turner can jump up above the level of the screen and then use his loping strides and change-of-direction speed to recover before the slipping roll man can make a play that triggers a rotation. Plenty of bigs can hedge and recover effectively, but not many can cover this much ground before ceding an advantage:
This allows the Pacers to have it both ways: They can apply pressure at the point of the screen and take away the pull-up jumper while still functionally playing the pick-and-roll two-on-two. That still requires help from the wing, but Turner's recovery speed allows those wings to stunt rather than fully commit.
The much-scrutinized Turner-Sabonis frontcourt has worked quite well in conjunction with Indiana's uptick in perimeter pressure. Sabonis has fared better as a rim protector, so the Pacers are fairly comfortable having Turner show high while Sabonis mans the backline (and vice versa, of course). Sabonis, incredibly, ranks second in the league to Turner in shots defended at the rim.
The pairing has always excelled defensively, but it's looked more functional than ever this year, posting a 100.6 defensive rating.
Bjorkgren recently made a point of complimenting the work that Turner has done with his hands. He ranks in the top 15 in the league in both steals and deflections per game (1.6 and 3.3, respectively), more than doubling his averages from last season in each category. It's a key reason why the Pacers have jumped from 13th to third in opponent turnover rate.
Turner's still far from a perfect defender. His increased aggressiveness has also led to an uptick in fouls, contributing to the Pacers' penchant for parading opponents to the free-throw line. His individual post defense isn't exceptional, and defensive rebounding remains an issue (though that's partly a natural consequence of his appetite for challenging shots). He doesn't have the sturdiest center of gravity, so bigger centers like Joel Embiid can shove him around a bit. Strong drivers can also knock him back and create mid-air separation, as John Wall did to great effect in the Pacers' win over the Rockets on Wednesday night:
Wall's repeated drives at Turner in that game perhaps help illustrate why opposing ball-handlers tend to proceed all the way to the rim rather than stopping short for in-between shots when they get run off the 3-point line. It's usually more profitable to drive right into his backpedaling body and try to create an opening at the rim than it is to try and elude his reach with a contested floater.
The sustainability of the Pacers' defensive approach remains an open question. As well as it's worked so far, it's hard to imagine them continuing to surrender this many shots at the rim and remaining a top-10 defensive outfit. Turner won't keep swatting away layups at this rate, and eventually, they'll need to figure out how to actually keep opponents away from the basket.
But it's clear that this version of Turner affords the Pacers plenty of scheme versatility and a tremendous amount of leeway on the perimeter. They can always feel reasonably comfortable forcing an opponent downhill when he's on the floor. He's become the ultimate safety net.
And yes, concerns persist about Turner's offensive fit with this roster, since he and Sabonis have yet to prove they can form a successful frontcourt duo against elite defenses. There remain valid questions about whether the Pacers have enough off-the-dribble shot creation to make a deep playoff run, and despite some incremental growth, Turner doesn't help answer those question. His inability to punish the back end of switches could very well become an issue in the postseason once again.
But for now, it's encouraging that Turner has managed to be effective offensively despite shooting 25% from beyond the arc. He's expunged almost all the long 2-pointers from his diet and is attacking closeouts hard, flashing into space, and making alert cuts from the weak side. He's nearly doubled his rate of scoring at the rim and is shooting 66% from 2-point range, where he's never finished above 54% in any season.
If he can keep defending at anything close to this level, Indiana won't need him to be much more than serviceable on offense. Despite posting a career-low usage rate, he's making an enormous overall impact for a team that looks capable of making legitimate noise in the Eastern Conference.
There's much still to be determined, but in the end, perhaps the Pacers will come to thank Danny Ainge and the Celtics for saving them from themselves.