As they did last year, the Los Angeles Lakers and Los Angeles Clippers began their seasons by facing one another at Staples Center.
Much was different this time around, from the fact the building was empty of fans to the fact the Lakers collected championship rings before tipoff. On the heels of a busy offseason for both teams, there were also a bunch of fresh faces joining the intracity rivalry. Below's a look at how those new guys performed in their Hollywood debuts - a 116-109 Clippers win - and how they might impact the matchup between these Western Conference powerhouses moving forward.
Lakers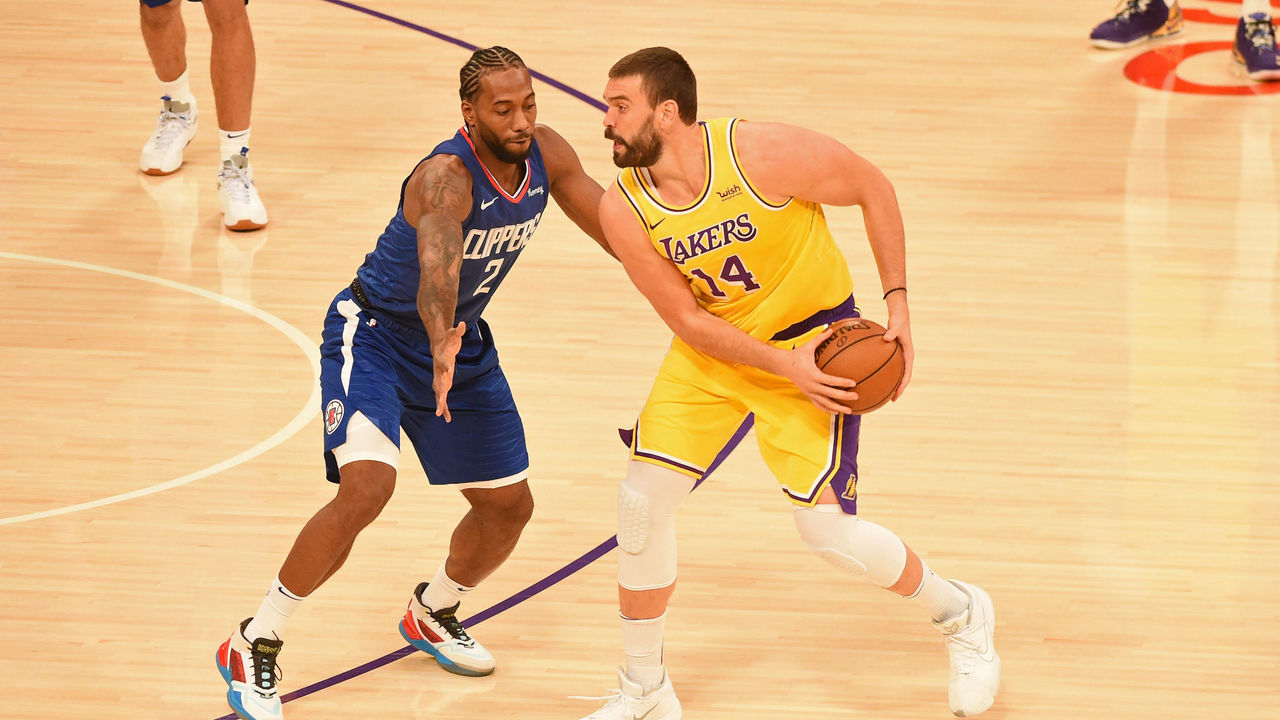 Marc Gasol
It was a tough Lakers debut for Big Spain, who finished with no points, one rebound, one assist, a turnover, and five fouls in 12 minutes.
The Clippers made life difficult for him by stretching the floor and having Serge Ibaka at center for most of Gasol's minutes, forcing the aging big man to cover a lot of ground in his attempts to help at the rim. They scored 33 points on 12-of-18 shooting in 10 such minutes. The Lakers hung him out to dry on a couple occasions with some shoddy work on the perimeter, but Gasol's fouls were mostly the result of him being late to the spot as the Clippers' wings continued to drive at him. Gasol rarely got a chance to match up with Ivica Zubac instead of Ibaka, but when he did, you saw the difference in his ability to help:
The counter to the Lakers' jumbo lineups is typically going to be playing five-out. Downsizing against them will be easier to stomach this year because Gasol doesn't pose the same kind of offensive rebounding threat JaVale McGee and Dwight Howard did. It has to be at least a little concerning that the Clippers had as much success as they did despite not being able to run their best five-out group with Marcus Morris out injured. Unless the Lakers can hard-match Gasol's minutes with Zubac's, this may not be the matchup for him.
The Lakers also didn't seem to know what to do with Gasol offensively. He played all of his minutes alongside Anthony Davis, and with Davis operating from the mid-post, Gasol mostly hovered around the dunker spot rather than spacing out or serving as a high-low hub from up top. He did set some effective pin-in screens that freed corner shooters, but that was about the extent of his offensive contributions. His usage rate for the game was 3.5%.
Dennis Schroder
Though the Lakers have him starting, and he doesn't seem interested in relinquishing that role, Schroder's most important function for this team figures to be his ability to run the offense when LeBron's on the bench. He got off to a fairly inauspicious start on that front, though. He was actually a lot more effective playing off of LeBron in this game than he was handling primary initiating duties in transitional lineups. Those lineups really struggled to score, which was partly the result of Schroder over-dribbling and hunting his own offense, with questionable shot selection.
It's worth noting that while Schroder's speed and ball-handling ability make him an excellent isolation scorer, his playmaking has never been up to lead-guard standards. (It's no accident his best season came when he played a big chunk of his minutes alongside Chris Paul and Shai Gilgeous-Alexander.) Notions of Schroder and Montrezl Harrell approximating the Lou Williams-Harrell pick-and-roll were always fanciful for that reason. Schroder uses the pick-and-roll to drive more than he uses it to pass, and at points in this game there were pocket-passing windows he either didn't see, didn't trust himself to use, or didn't bother to look for.
The Clippers' second unit does provide him soft spots to attack, and he took advantage by roasting Luke Kennard on a couple occasions. He looked good as a secondary creator with the starting group, and wound up leading the team in both rebounds and assists, which speaks to his activity level and offensive involvement.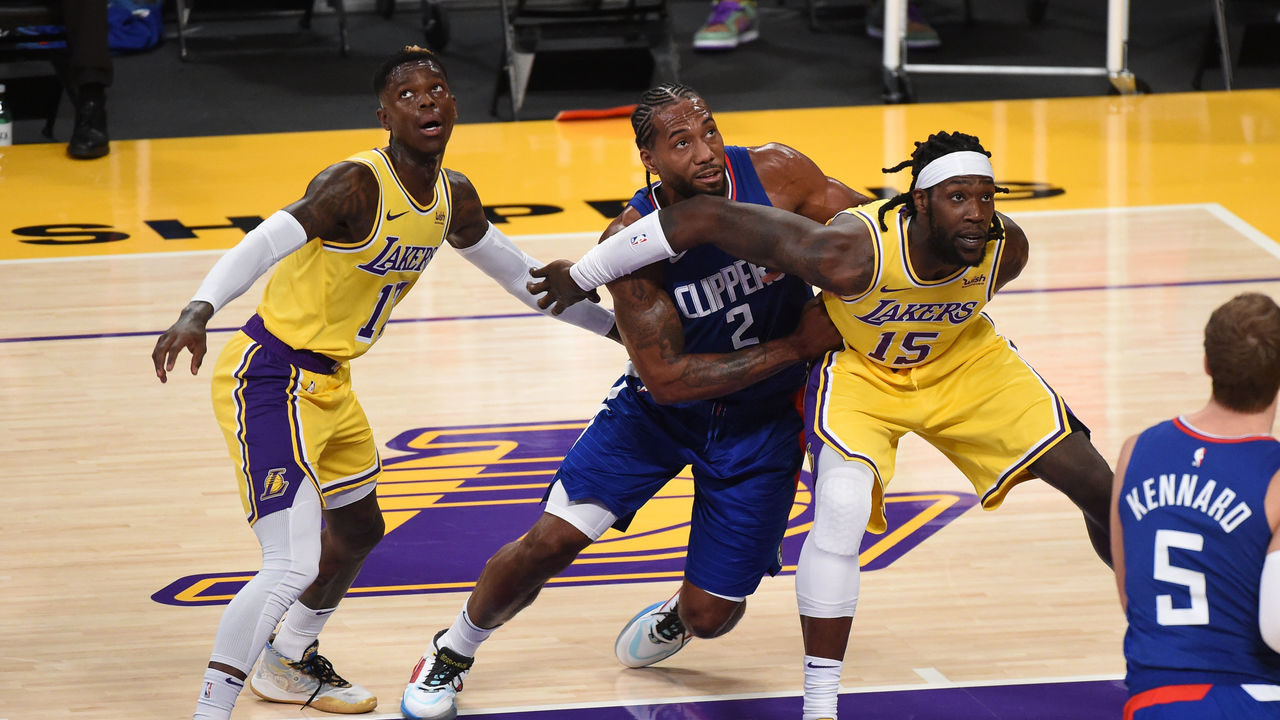 Montrezl Harrell
Harrell mostly did what he does: he came off the bench, gave the Lakers a necessary jolt of energy, put consistent pressure on the rim, got to the free-throw line a bunch, and crashed the offensive glass relentlessly, snagging four o-boards and turning two of them into putback buckets. He wound up leading the team in minutes. The Lakers simply didn't have that kind of offensive presence on their bench last season. After their comically abbreviated offseason, it feels like there are going to be a lot of nights in which they rely on Harrell's motor to propel them.
One thing that may be a challenge is figuring out how often to pair him with Davis and how often to play him as the lone big man. The two overlapped for 15 minutes in this game, and the Lakers struggled at both ends of the floor. Davis offers protection for Harrell as a last line of defense, but Harrell is generally more effective defending at the 5 than at the 4. It's also an awkward offensive fit, which tends to result in Harrell being excluded from the central action.
That said, Harrell's a smart cutter who can attack gaps when Davis gets double-teamed. And Davis looked sharp passing out of those doubles Tuesday:
That kind of big-to-big passing will go a long way toward making the pairing work, and helping Harrell thrive without his longtime pick-and-roll partner.
Wesley Matthews
Matthews somehow managed to one-down Gasol in his first game as a Laker, as the would-be defensive specialist on the wing had a nightmarish time trying to contain Kawhi Leonard and Paul George. Leonard used his strength advantage to simply clear him out of the way on drives, while George used his height advantage to shoot overtop of him without issue. Clippers players shot 9-of-10 from the field and 2-of-2 from 3-point range with Matthews as their primary defender, according to NBA.com's matchup data.
Unless his physical abilities careened off a cliff sometime in the last three months, Matthews is much better than he showed Tuesday. He's usually quite good at holding his ground, getting into opponents' bodies, and pressuring the ball. But this outing didn't exactly bode well for his ability to guard the Clippers' star wings and replace what Danny Green gave the Lakers on the wing. He also missed two pretty clean catch-and-shoot 3-point looks, and finished with no points, no rebounds, no assists, and a minus-18 rating across 11 minutes.
Clippers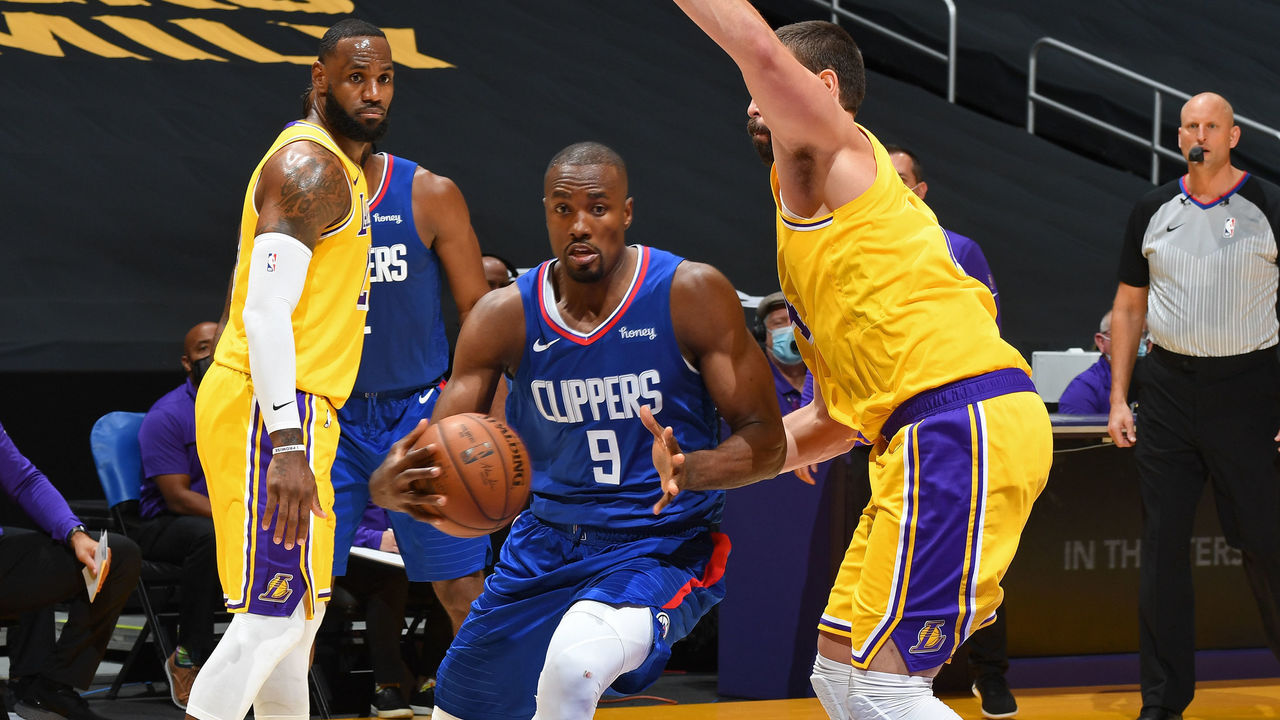 Serge Ibaka
Ibaka's shooting from the center position promised to give a new dimension to the Clippers' offense, and he delivered on that promise in this one, hitting 5-of-7 from the field and 2-of-3 from deep. The spacing he provided helped the Clippers hang 50 paint points on maybe the best interior-defending team in the league.
It was also encouraging to see him confidently attacking closeouts and creating open looks down the chain with his evolving passing chops:
The defense was less encouraging. Ibaka didn't offer much hope that he's the answer to the Clippers' AD problem, nor did he hold up particularly well when switching out on the perimeter, which the Clippers strangely kept asking him to do. There's a reason he was a minus-8 in the win, despite his efficient scoring output. Testing out the limits of his defensive versatility in a feel-out game made sense, but next time these two teams meet, the Clippers should probably make more of an effort to avoid switching him onto LeBron.
And while his offensive value was evident when Gasol was on the floor, it lost a good deal of its impact when Davis or Harrell moved up to center. The Lakers outscored the Clippers 29-10 in the 10 minutes Ibaka played with Gasol on the bench.
Luke Kennard
Kennard's recent extension added more intrigue to his L.A. debut. It was our first glimpse of the player the Clippers deemed worthy of four years and $64 million; a chance to see what they saw. We'll have to keep looking.
Kennard just didn't do much in this game. His gravity as a shooter helped open things up, but he was hardly involved in the offense, and looked like a deer in the headlights for most of the game. He passed up clean looks, and tried to get off the ball as quickly as possible.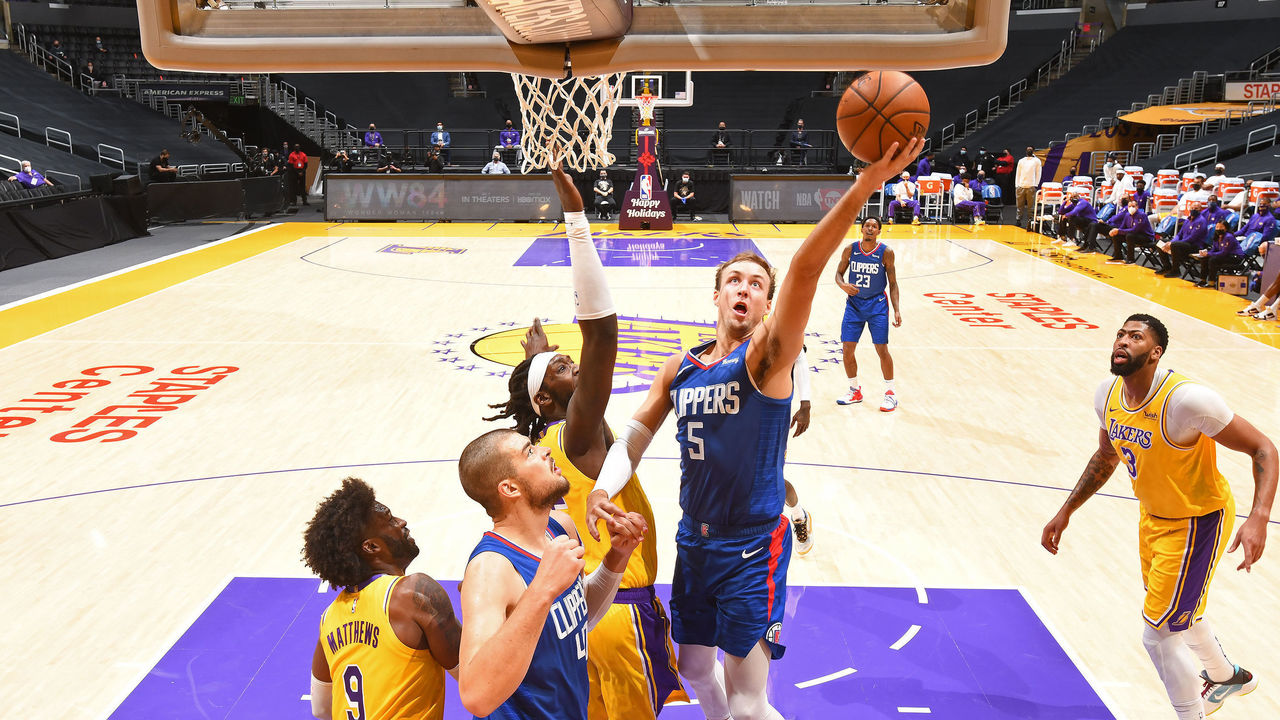 Getting stops is going to be a challenge with both him and Lou Williams on the floor, so those transitional lineups are going to have to score a lot. For that to happen, Kennard needs to be a reliable shooter and secondary creator. Six shooting possessions in 21 minutes isn't going to cut it.
He looked better in the second half when the Clippers made an effort to get him the ball in motion. He made a couple nice kickouts on the move, and worked free for a mid-range jumper by sprinting off a pindown into a dribble-handoff with Zubac. It might take some time for Kennard to find his footing in the star-studded Clippers ecosystem after spending the first three years of his career as a developmental priority on mediocre Pistons teams, but eventually he'll need to play with a lot more assertiveness and confidence.
Nicolas Batum
Batum slotted into the starting lineup with Morris injured, and for 28 minutes did a perfectly passable job. He spent time guarding LeBron and AD, and acquitted himself about as well as could be expected. You wouldn't be comfortable with either of those matchups in a game with real stakes, but the 32-year-old Batum, while significantly diminished, still looked like he belonged.
His biggest contributions came at the offensive end, where he dished a team-high six assists. Most of them were cheapies that came off basic post entries or swing passes, but Batum worked as an effective connector from the top of the floor, which proved quite handy for a Clippers team that's otherwise short on facilitators. His passing can give their offense a bit of a different dynamic. Would it be nice if Batum could supplement that passing with any scoring pop whatsoever? Sure. But as an unselfish table-setter, he should have some utility this season. His role will obviously be scaled back when Morris returns, but he looks like he can provide some frontcourt insurance.