Note: This piece was published prior to the postponement of the Houston Rockets' season opener against the Oklahoma City Thunder on Wednesday.
Maybe you saw it.
In the third quarter of a preseason game against the San Antonio Spurs last Thursday, James Harden - the Houston Rockets' restless, dissatisfied superstar - ran a pick-and-roll with Christian Wood, the Rockets' splashy free-agent acquisition.
Wood initially set up to Harden's right but cannily flipped his screen's direction to give the guard space to cross over to his strong hand and plunge into the middle of the floor. Wood's defender stepped up to help, the big man rolled toward the basket, and Harden threaded a between-the-legs bounce pass that hit him in stride just below the free-throw line. Wood jump-stopped, exploded off of two feet, and unfurled one of his go-go-gadget arms for a surprisingly effortless lay-in from well outside the charge circle.
That nifty little hookup punctuated a game in which Wood and Harden collaborated to demolish the Spurs. It was the third time the pick-and-roll combo bore fruit in that third quarter alone. On the first, Wood corralled a wayward Harden shovel pass and flipped it up and in. On the second, Wood burned the Spurs' drop coverage by popping out beyond the arc and burying a 3-ball off a behind-the-back feed from Harden. Another play in the first half saw Wood take a swing pass off a Harden drive-and-kick, attack a closeout, draw help, and hit a relocating Harden for an open corner triple. All told, the two combined for 47 points (on 18-of-32 shooting), 17 rebounds, and 11 assists in three quarters.
It was a tantalizing tease of what the Rockets could look like if Harden dropped his trade demand and gave his remodeled team a chance. Apart from Harden and Wood's synergy, Eric Gordon appeared more explosive in the preseason than he looked all last year and seemed to be developing his own budding pick-and-roll chemistry with Houston's shiny new toy. After nearly two years on the shelf, John Wall still looks capable of slinging darts to the corners and turning on the jets to get to the rim. Even DeMarcus Cousins seems relatively spry in his return from an Achilles tear, rolling and sealing hard while splashing his share of threes.
Many people misconstrued the Rockets' team-building approach last season as a deliberate attempt to play small. In actuality, it was to maximize Harden and Russell Westbrook via optimal floor-spacing and defensive switchability. But Wood can space the floor for Harden and Wall without crippling Houston's ability to rebound or protect the rim. He's 6-foot-11 with a 7-foot-3 wingspan, and he's equally dangerous rolling to the rim or popping out to the 3-point line. Harden has never played with a big man like that before.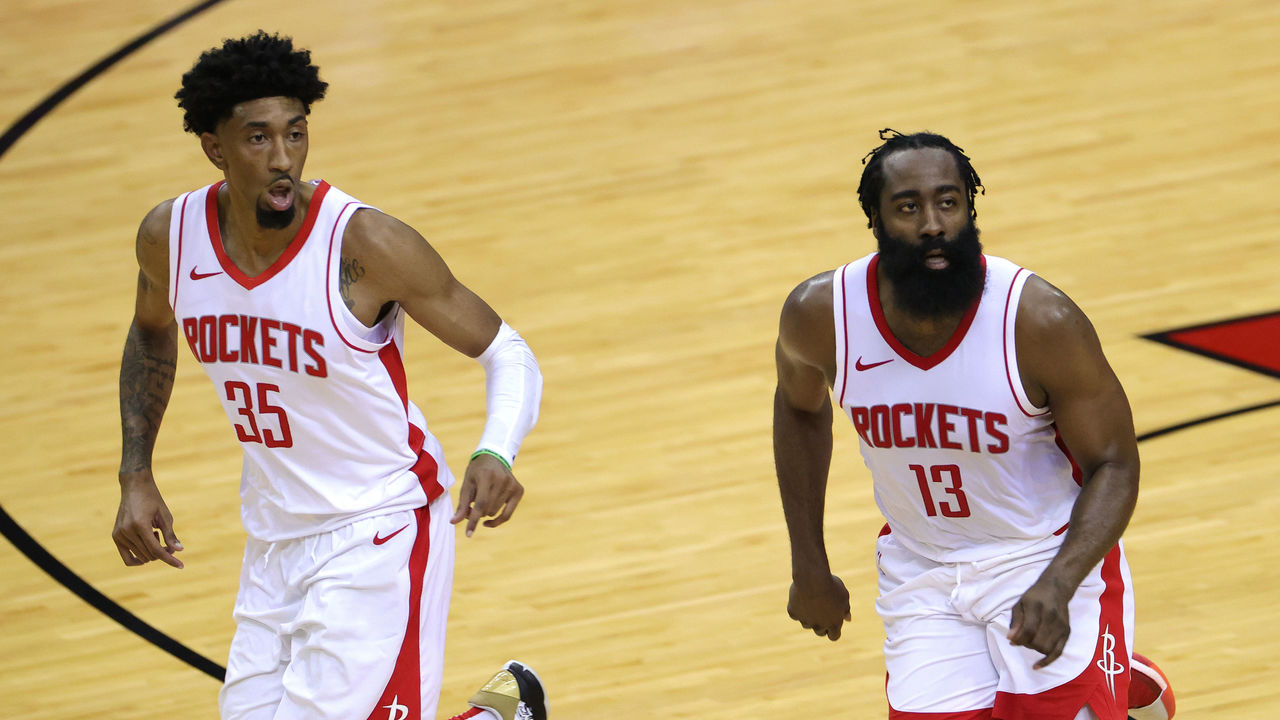 Wood has also shown flashes of self-creation and can punish size mismatches on the back end of switches, which he should generate plenty of as a ball-screener for a pull-up shooter as lethal as Harden. Wood hasn't played with a guard like that before.
While he hasn't demonstrated the instincts to be a consistent plus defender up to this point in his career, Wood has the combination of length and mobility to succeed in multiple pick-and-roll coverages if or when his feel develops. He was a decent deterrent at the rim last season, holding opponents to 56.9% shooting when he was in the vicinity. The Rockets allowed opponents to shoot 67% at the rim in 2019-20.
Wood also wasn't asked to play the five as often as he will be with the Rockets, who will switch less frequently than they did last season and keep their center close to the rim more often. If they go up against a bully-ball opponent that necessitates playing Cousins, Wood can slide to the four without much issue. His three-year, $41-million contract might be the offseason's biggest bargain.
All of which is to say, if Harden's on board, there's no reason Houston can't find itself in the Western Conference's expansive second tier of contention with teams like Denver, Dallas, Utah, Portland, and Phoenix. That's a level where claiming home-court advantage and winning a first-round series is a distinct possibility, and a couple of favorable breaks could produce an upset against a team from L.A.
Between the institutional knowledge of mainstays like Harden, Gordon, and PJ Tucker, fresh ideas from new coach Steven Silas, and the newfound lineup and schematic flexibility enabled by the offseason additions, this team could be just as good or better than last year's outfit. It'll definitely have a greater capacity to shape-shift stylistically. After a year of doing almost nothing but isolate, it was nice to see Harden orchestrating the pick-and-roll and moving without the ball again.
Just one problem: Harden seems completely unmoved by all of this. Despite reports suggesting the Rockets swapped Westbrook for Wall at his behest, and even after he and Wood made sweet pick-and-roll magic, Harden has doubled down on the hostage situation he's created in Houston.
When asked if spending time practicing and playing with his new teammates has made him rethink his hard-line trade stance, Harden responded with a meek "next question." He's also had multiple confrontations with teammates in practice, including a reported dust-up with rookie Jae'Sean Tate.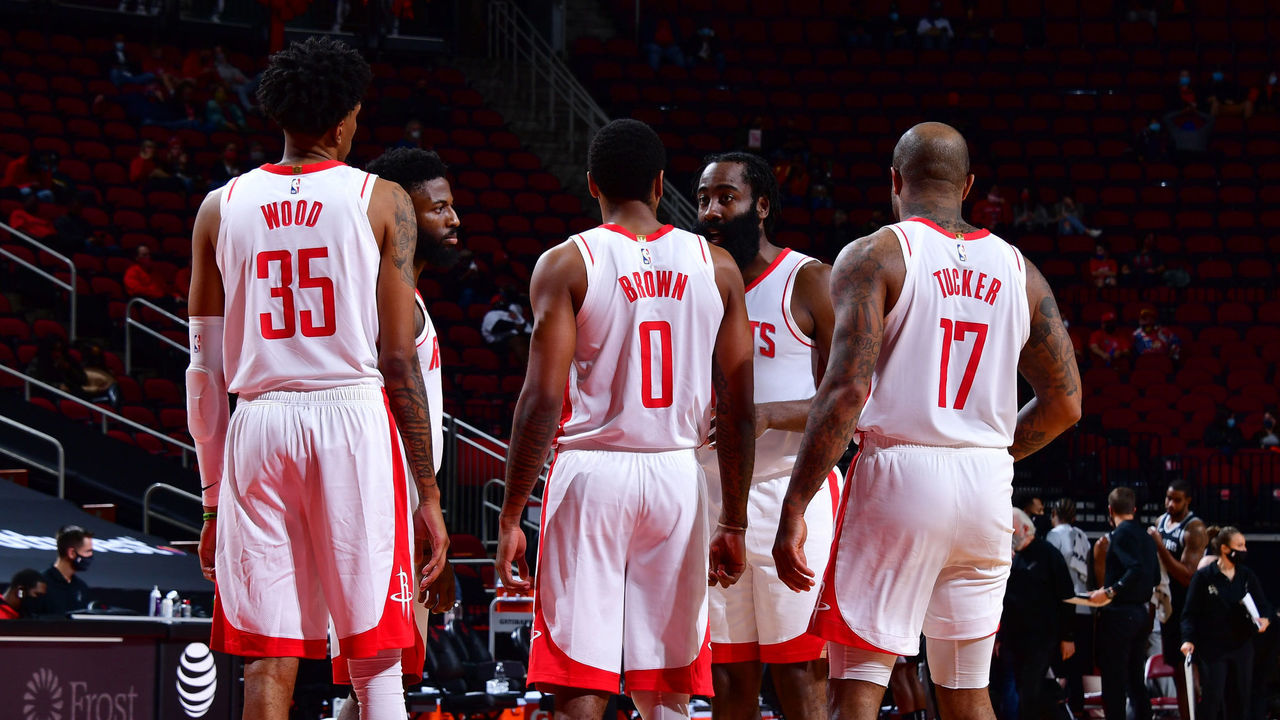 With the Rockets set to tip off their season Wednesday night, there's still no clarity on where this is going or how the situation will resolve itself. In the meantime, how are you supposed to project these guys? Where do you slot them into the title mix or the West playoff race? It's impossible to say without knowing how much longer Harden will be on the roster or who they'll get in return if they trade him. Houston is Erwin Schrödinger's team, occupying two states of being at the same time; simultaneously alive and dead.
OK, dead may be too dramatic. The Rockets can still be decent if they trade Harden, assuming they bring in a young cornerstone like Ben Simmons. But swinging such a trade will obviously reroute the team's direction and put them on a different timeline. Their hopes of competing for a top-four seed and making a deep playoff run this season will indeed die. They'll be hard-pressed to even extend the franchise's eight-year run of playoff appearances, which is the NBA's longest active streak.
Rather than a win-now club looking to maximize the remainder of Harden's prime, they'll have to rebuild and lay the groundwork for a team led by whatever players Harden nets them. They'll look to offload Tucker and their other vets, although they may have to find a way to fit Wall and Gordon into their long-term plans since those contracts likely aren't moveable. Their playing style will completely change. Given their financial constraints and extended timeline, they'll have to focus on building through the draft for the first time in almost a decade.
Their decision will also carry massive implications for the rest of the league, with Harden influencing the title race for whichever contender he gets traded to.
So, this is where the Rockets find themselves on opening night: at the nexus of several distinct avenues of possibility. They are the league's great unknown. When we open the box at season's end, there's no telling what we'll find.