Every season, at least one lottery team in each conference seems to emerge from the morass to crash the postseason party. Can we expect the same in 2021? This year's Eastern Conference playoff field figures to look similar to last season's. Barring catastrophic injury, the top seven seeds seem unlikely to change.
There was already a very clear demarcation line separating the East's top six from the rest of the field in 2019-20. The Bucks, Celtics, Raptors, Heat, 76ers, and Pacers all either got slightly better or slightly worse this offseason; none are expected to fall out of the playoffs as long as they stay healthy. Then add the Nets, who nabbed the 7-seed last season despite getting just 11 games out of Kyrie Irving and none from Kevin Durant. Now you're left with just one playoff spot.
Here's where we should note that this season will include a play-in tournament involving the 7-10 seeds in each conference, so finishing ninth or 10th in the standings won't be disqualifying. With that, let's assess which teams appear most likely to be vying for the last three play-in spots.
Orlando Magic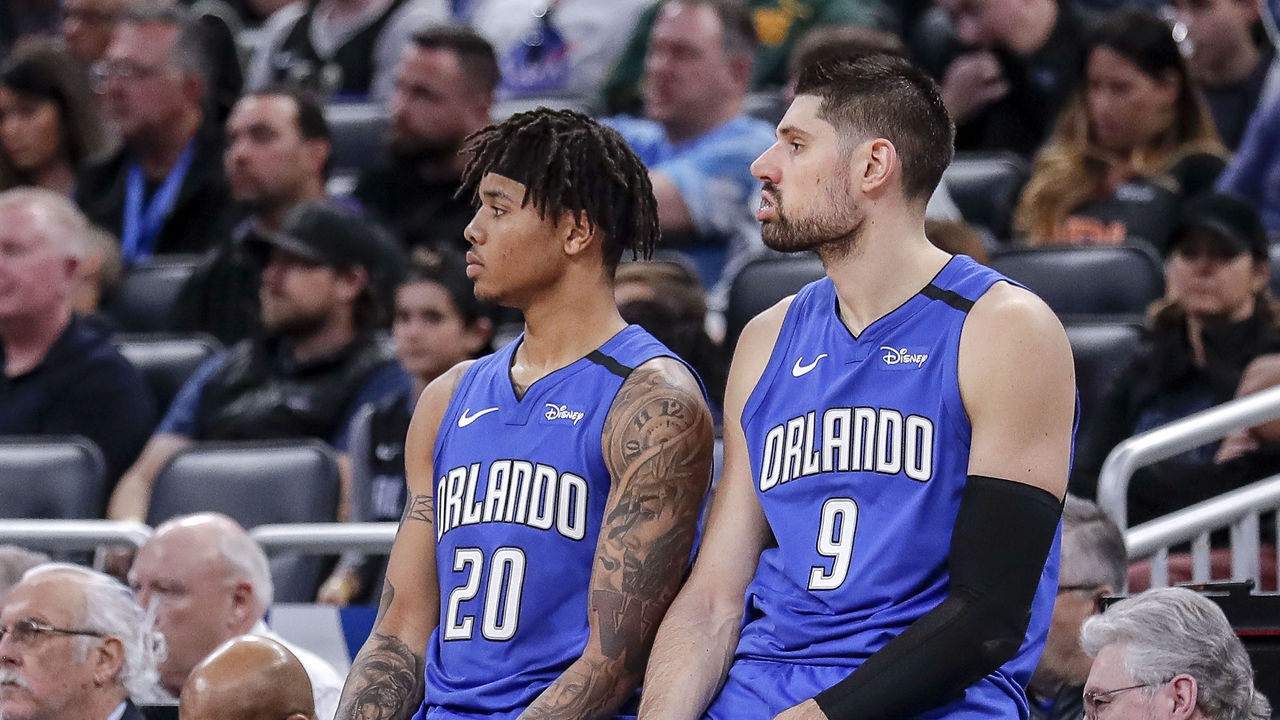 It's certainly possible that the Magic - not a lottery team in 2020 - make it a full rerun of last season's playoff field, but it's going to be tough sledding with Jonathan Isaac sidelined for most or all of the campaign with a knee injury. Isaac is Orlando's best defensive player, and this is a team that made the playoffs the last two years largely on the strength of its top-10 defense. The Magic allowed four more points per 100 possessions with Isaac on the bench last season.
The loss of D.J. Augustin is another tough blow. The Magic already had a severe lack of off-the-dribble playmaking, and Augustin was probably their best pick-and-roll operator. Unless rookie Cole Anthony is ready to contribute right away, they have no replacement for Augustin's skill set, and their backup point guard situation is going to be a disaster. Evan Fournier's opt-in helps on the scoring front, but Fournier isn't much of a playmaker.
There's still a path for Orlando to be competent. Nikola Vucevic remains one of the most versatile offensive centers in the game, and with Isaac on the shelf, there's a chance that Aaron Gordon can finally spread his wings and break out as a full-time power forward. (Gordon played some of his best basketball when the Magic unleashed him as a playmaking four after Isaac got hurt.) Markelle Fultz will shoulder a bigger playmaking load and be given every opportunity to build on last season's encouraging development. Chuma Okeke, a combo forward with elite physical tools, will make his long-awaited debut after missing his rookie campaign with a torn ACL.
This team should be good enough to reach the play-in stage, at which point anything can happen. But given that the Magic will be without a pillar of their defense, their offense needs to improve if they're going to keep their spot in the top eight. For now, that's hard to envision.
Atlanta Hawks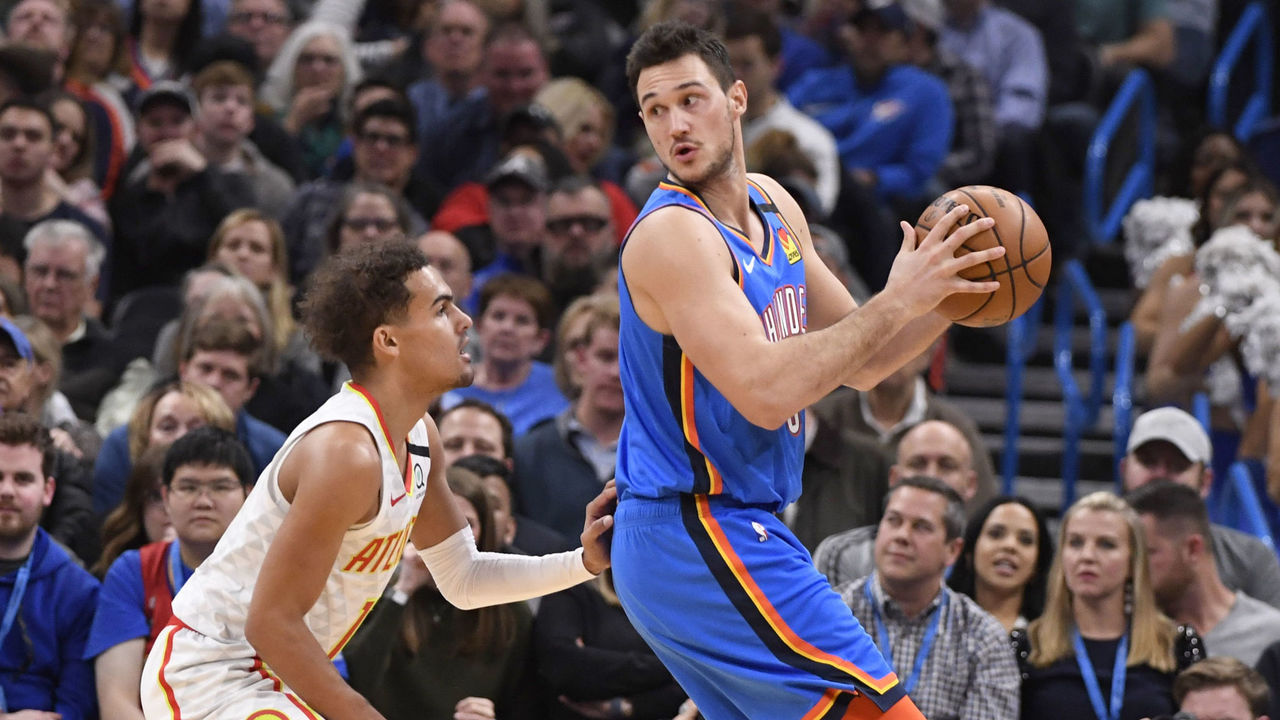 Among last year's lottery teams, the Hawks appear most likely to nab a playoff spot.
After an offseason makeover, they possess the talent and roster makeup to be a top-10 offense: an elite pick-and-roll conductor in Trae Young; two more high-level shooters and shot-creators in Bogdan Bogdanovic and Danilo Gallinari; an athletic screen-and-dive man in Clint Capela; and a hyper-efficient hybrid big in John Collins who can serve as either a rim-runner or a floor-spacer. Atlanta can form nasty pick-and-roll combinations with just about any two-man pairing from that group. And with Young no longer relied upon to do everything all the time, his shot selection and turnover rate should improve.
The concern is that the Hawks' offensive gains could be done in by their defense. Young has been arguably the single worst defensive player in the league through his first two seasons. Bogdanovic, while far sturdier in frame, isn't the kind of team defender who can paper over Young's deficiencies. Free-agent signee Kris Dunn could help greatly in that regard, but his offensive limitations may prevent him from playing enough to make a meaningful difference. (Would head coach Lloyd Pierce dare start Dunn and bring Bogdanovic off the bench after the latter signed for $72 million?)
Things aren't much rosier at the forward spots. Barring a major improvement from DeAndre Hunter or Cam Reddish, the Hawks are going to be weak at the three, with nobody on the roster profiling as a high-end wing defender. Between Collins and Gallinari, they're assured of having a minus defender at the four. And we still don't know how they plan to sort out the frontcourt logjam between those two, Capela, and rookie big man Onyeka Okongwu.
Collins doesn't really fit at either frontcourt position defensively: He's not quick enough horizontally to deal with stretch fours and isn't good enough as a rim-protector or problem-solver to anchor the backline as a five. A lineup with Collins at the five and Gallinari at the four could be unstoppable offensively but even more stop-averse on defense. They could throw one of Capela or Okongwu into the mix, but then the value of having a defensively capable big at the five would be wiped away by forcing Gallinari to defend at the three.
This all gets at the biggest issue with the Hawks as currently constructed, which is that their best players can't all be on the floor at the same time. Still, they're easily the most talented team in this group, and they're set up well to make a trade (with Collins being the most likely outgoing piece). If they can get a return that helps shore up their defense, particularly on the wing, they'll really be in business.
Washington Wizards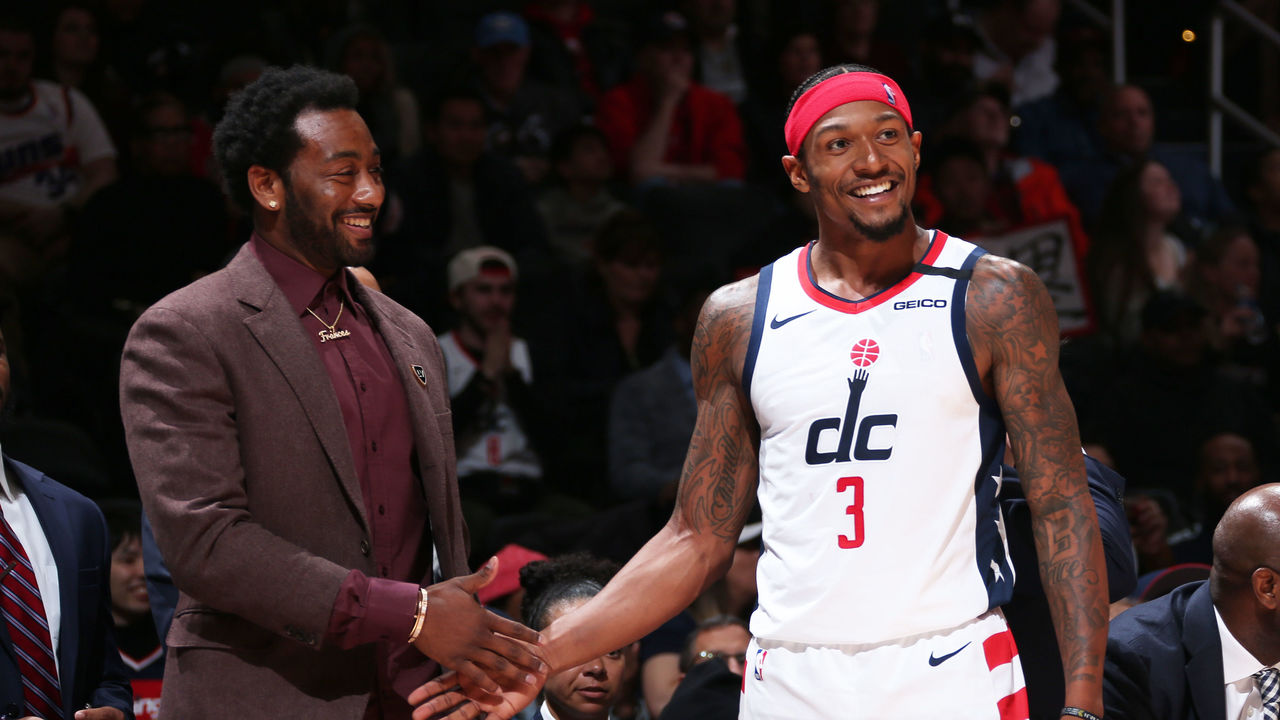 With John Wall set to return to action after a two-year layoff, the Wizards are something of a mystery. Wall and Bradley Beal at their best form one of the league's most potent backcourts, but Wall is a 30-year-old point guard whose effectiveness hinges on athleticism, and he's coming off a ruptured Achilles that occurred shortly after a left knee surgery.
Still, while Wall won't be good enough to prevent his contract from becoming an albatross, his size, vision, and passing ability will probably still be good enough to give a jolt to an offense that finished 12th in the NBA last season. An overpay or not, keeping Davis Bertans in the fold will do wonders for the spacing on pick-and-rolls involving Wall or Beal. (Washington posted a preposterous 118.7 offensive rating with both Beal and Bertans on the floor last season.)
The Wizards also have a decent amount of complementary playmaking in rookie forward Deni Avdija and third-year wing Troy Brown. The latter showed surprisingly keen pick-and-roll instincts when asked to step into a larger role in the bubble, averaging 4.5 assists to just 1.8 turnovers.
Even more so than the Hawks, the Wizards don't appear to have a path to anything approaching respectability on defense. They finished 29th in the league last season, and a compromised Wall won't help much on that end. They badly needed to add a defensive anchor in the middle, but picking up free agent Robin Lopez was an odd choice. Their playoff hopes rest entirely with their offense.
Fortunately, Beal is one of the league's best offensive players, and as long as the Wizards hold on to him, they should be able to score enough to remain in the hunt for a play-in spot. But if they're to be anything more than a .500 team, they probably need to be top five at that end, which is asking an awful lot.
Charlotte Hornets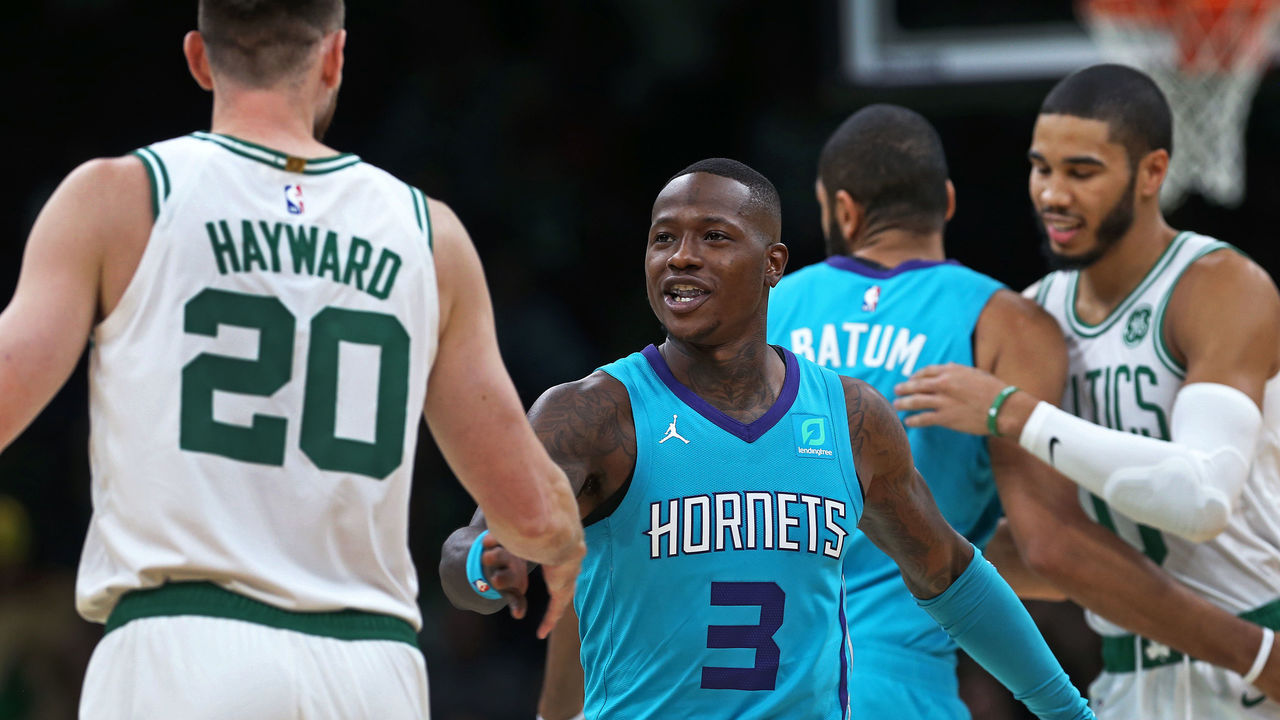 On paper, the Hornets improved more than any team in this group outside of Atlanta this offseason. Whether they improved enough to get into the playoffs is another matter. They owned the best record of the eight teams who didn't participate in the bubble but had the point differential of a 19-46 team, ranking 28th on offense and 25th on defense.
Free agent Gordon Hayward should help in both categories - particularly on offense, where he posted an excellent 59.5% true shooting mark last season. (No non-big on the Hornets came in above 55.3%.) Hayward represents a massive upgrade on the wing, where Miles Bridges will likely get bumped back to the bench. Promising sophomore P.J. Washington will likely continue to start, and he and Hayward will be virtually interchangeable at the two forward spots. The center rotation is where things get really dicey, with Cody Zeller at the top of the depth chart and nothing of substance behind him.
LaMelo Ball will unquestionably be Charlotte's biggest wild card. The No. 3 pick is already going to be the team's best passer, but whether his decision-making, defense, and shooting ability are anywhere near NBA level right now is unknown. If Ball is ready to be an impact player right away, Charlotte can compete for a playoff spot. If not, the question will turn to the team's priorities.
Ball's development should be the most important item on the Hornets' agenda, but that will mean taking touches away from Hayward, DeVonte' Graham, and Terry Rozier, all of whom are likely to be more offensive players in 2020-21. That may in turn cost the team a chance at a top-10 seed, which would seem to run counter to the win-now spirit of the Hayward signing. We'll see how or if the Hornets can reconcile their short- and long-term ambitions.
Chicago Bulls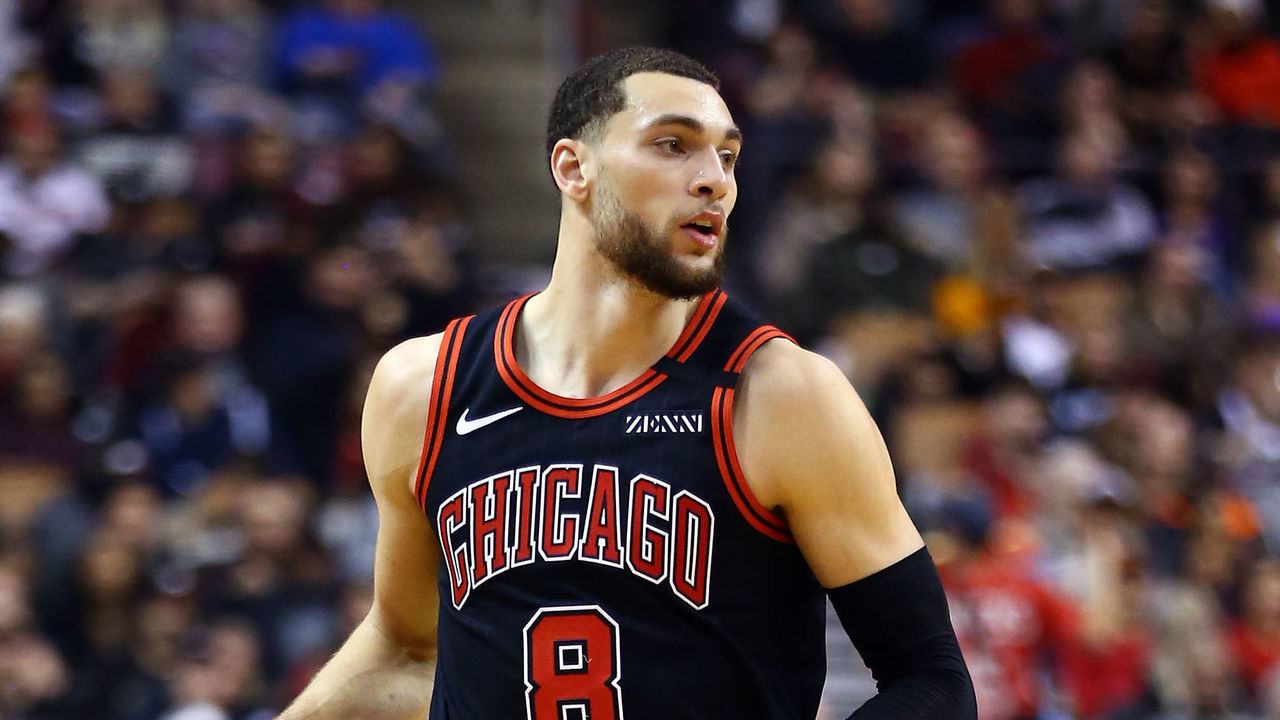 Chicago may have upgraded its head coaching situation more dramatically than any team in the league, but is that enough to overcome the Bulls' continued lack of playmaking? How far can a team really go with Zach LaVine as its best player?
Maybe Wendell Carter, Lauri Markkanen, or Coby White makes a quantum leap this year that changes the discussion, but until that happens, there just isn't much top-end talent here, especially on the offensive side of the ball. The Bulls finished 29th on offense last season, and while coach Billy Donovan should be able to get more out of them at that end, the absence of an above-average facilitator stands out. Who's the best passer on the team, Tomas Satoransky?
Even a bit of offensive improvement might not be enough to outweigh the defensive slippage the Bulls could experience after bizarrely declining to tender Kris Dunn a qualifying offer. Dunn was the biggest reason for their surprising top-10 defense last season; they allowed 6.2 fewer points per 100 possessions with him on the floor. But Chicago can still be solid defensively if Carter develops into the switchable, rim-protecting anchor he's shown brief flashes of being. And a fully healthy season from Otto Porter would help tremendously at both ends.
All told, the Bulls probably have a higher floor than most of the teams in this mix but also a lower ceiling. Their range of outcomes doesn't stretch much higher than a play-in berth.
Detroit Pistons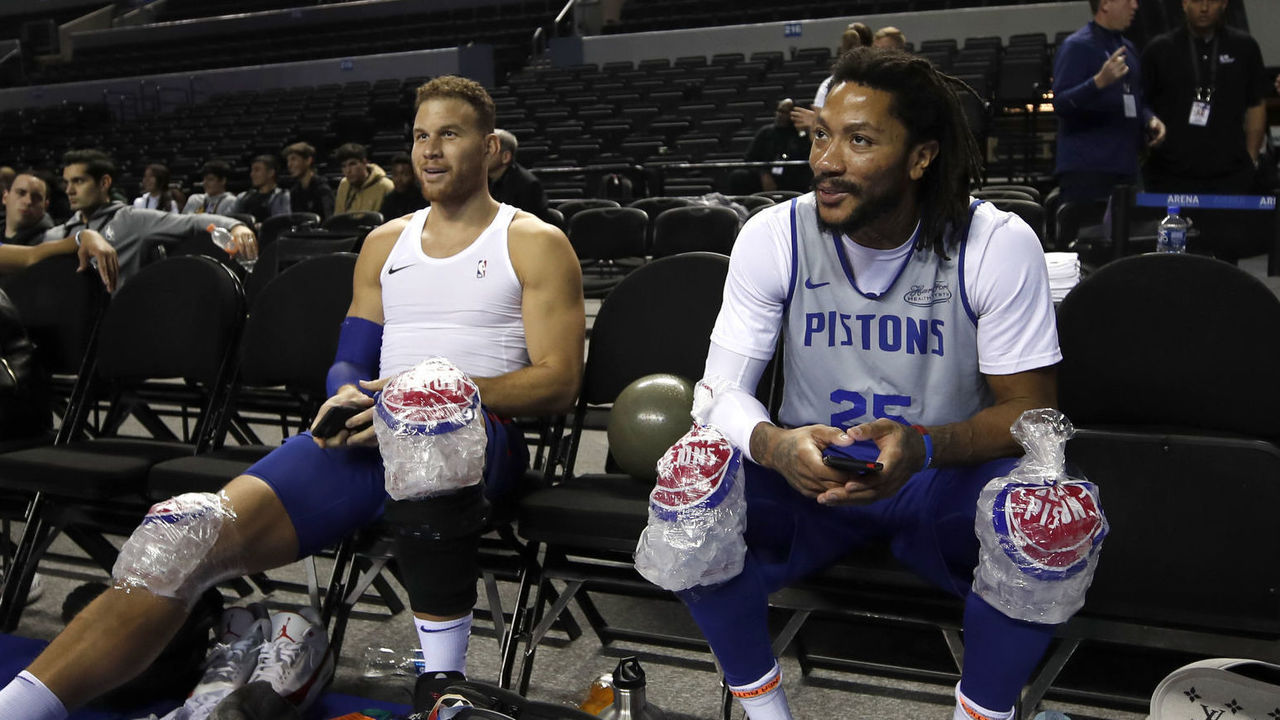 The Pistons' offseason can be broadly summarized thusly: They traded away their best big man (Christian Wood), their best shooter (Luke Kennard), and their best wing defender (Bruce Brown), primarily so they could give Jerami Grant and Mason Plumlee a combined $28 million a year. With Langston Galloway and Tony Snell also exiting, this might be the worst shooting team in the league. It's hard to see how the Pistons are going to generate the spacing necessary to run a functional half-court offense, which isn't a very polite way to introduce potential point guard of the future Killian Hayes to the league.
For the Pistons to even be a factor in this race, they need Blake Griffin to be, at minimum, an All-Star-caliber player again, if not the All-NBA guy he was two years ago. At age 31, after two left knee surgeries in the span of eight months, that feels unlikely. And a rejuvenated Griffin alone won't be enough. Hayes needs to be ready to contribute right away, with the ability to shoot off the bounce and thread passes through the offense's inevitably narrow corridors. Grant needs to prove he's actually capable of shouldering the expanded offensive role he signed up for. And raw young players like Svi Mykhailiuk, Sekou Doumbouya, and Dzanan Musa need to show meaningful growth.
That's way too many variables that have to swing Detroit's way. Even reaching the play-in stage feels like a long shot.
New York Knicks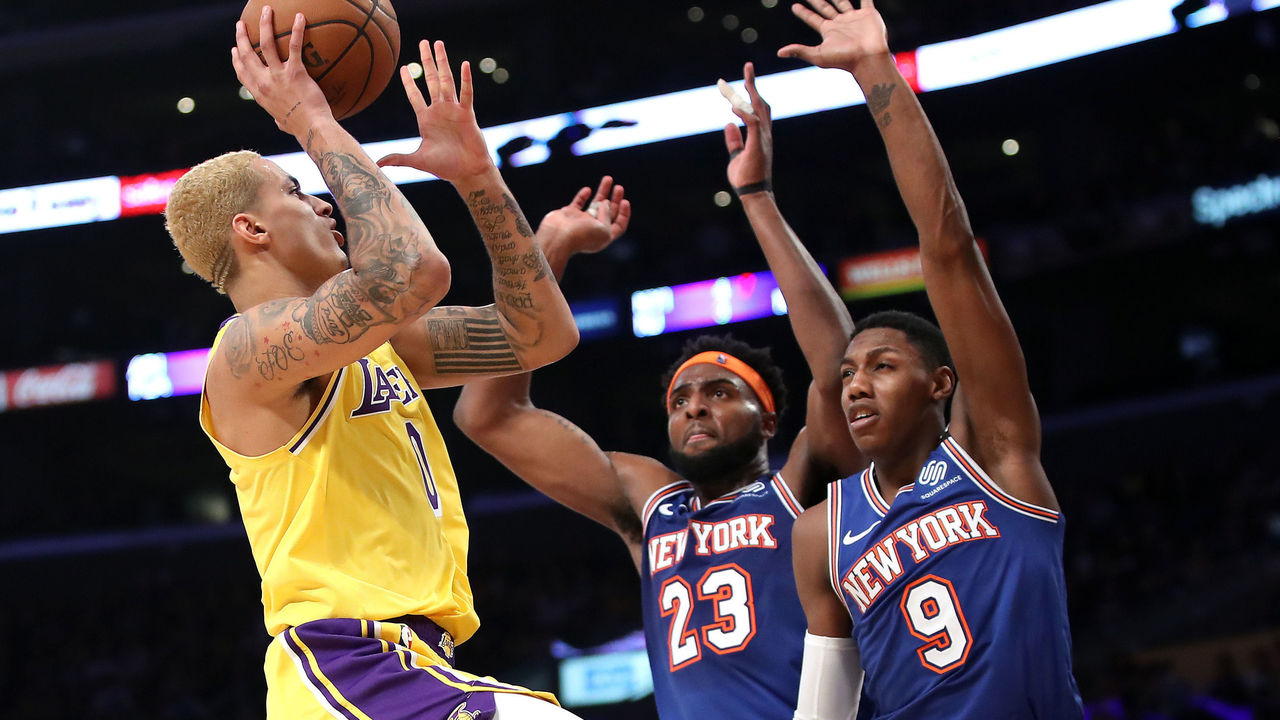 The Knicks didn't have a bad offseason per se. They made some low-key smart trades that helped them accumulate second-round picks and avoided shelling out the kind of irresponsible contracts to second- and third-tier stars that have defined their misadventures over the past two decades. But none of that did much to actually improve the team for 2020-21.
Somehow, this team still doesn't have a point guard. Alec Burks and Austin Rivers are perfectly fine low-cost additions who will give the Knicks a bit of ball-handling and shooting, but neither of them is capable of actually running an offense. The Knicks may see RJ Barrett as their lead playmaker, but they still haven't surrounded him with the kind of spacing that might make him remotely effective in that role. Rookie Obi Toppin might already be their most polished offensive player, though there's a good deal of overlap between him and Julius Randle.
The Knicks' path to competency runs through their defense, which hinges largely on big man Mitchell Robinson. If he learns to stay on his feet and stop fouling so much, Robinson can be a major impact defender; a fearsome rim-protector with the lateral quickness to corral ball-handlers on the perimeter. Throw in point-of-attack menace Frank Ntilikina and bouncy backup center Nerlens Noel, and the bones of a league-average defense are here.
It almost certainly isn't enough to secure a top-10 finish, but it may be enough to avoid being a complete gong show.
Cleveland Cavaliers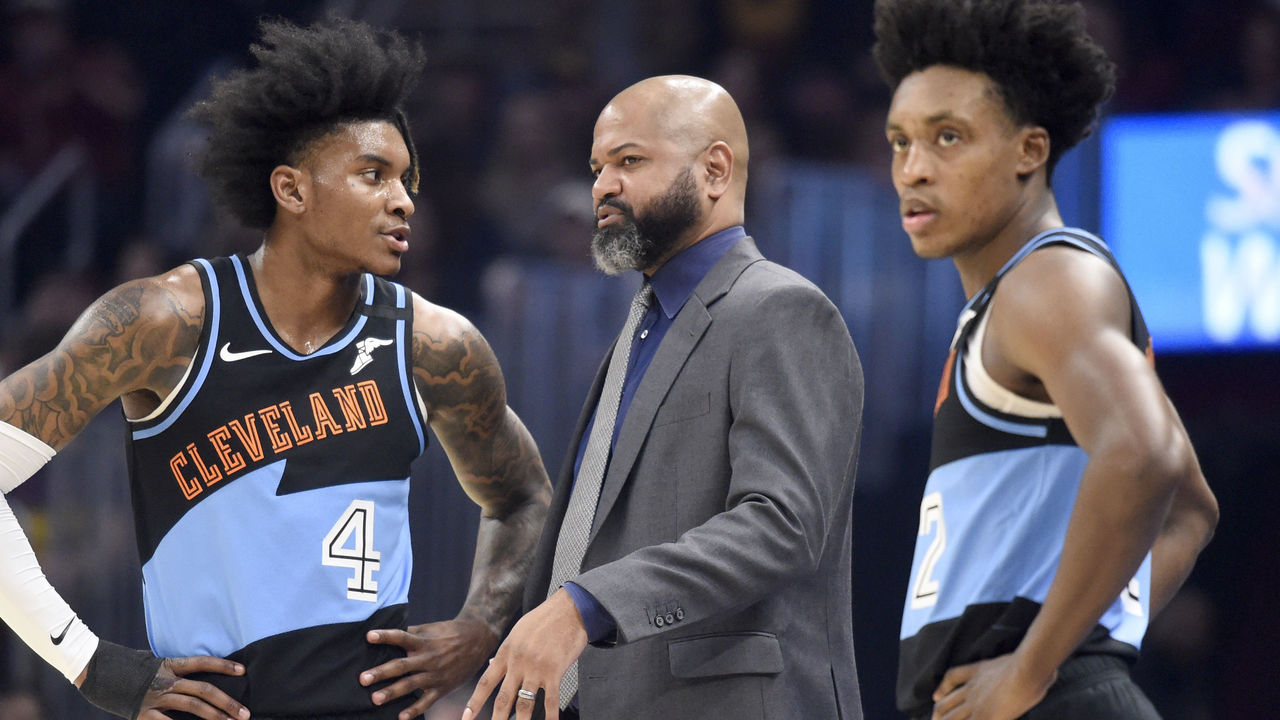 The Cavs did well to address their defensive deficiencies in the draft, picking Isaac Okoro fifth overall in the hopes that he can shore up a unit that's finished dead last in the NBA two years running. They didn't do much else, though. Apart from significant internal development, it's hard to see a short-term path for this team to get out of the doldrums and into the play-in mix.
They actually have a pretty solid frontcourt in Andre Drummond and Kevin Love, but odds are they'll be trying to trade both guys. It's unclear if Collin Sexton and Darius Garland can share a backcourt. Both guys can get their own offense, and Sexton had a sneaky-good offensive season in 2019-20, but neither is a table-setter, and defensively, the pairing was a tire fire. The Cavs allowed 117.3 points per 100 possessions with both on the floor.
Kevin Porter Jr. might be Cleveland's most exciting young player. The 20-year-old flashed plenty of ball-handling creativity and change-of-pace guile as a rookie, improving steadily as the season progressed. His size also makes him a better defensive prospect than either Sexton or Garland. Maybe he'll ultimately make one of them expendable.
In the meantime, this looks like another developmental year for the Cavs, in which their best outcome probably involves finding takers for Love and Drummond and tanking their way to another top-five pick. Playoff contention isn't in the cards just yet.
Joe Wolfond is a features writer for theScore.