Over the next few weeks, we'll examine one question facing a handful of NBA franchises during this unprecedented offseason.
When you think of recent historical precedents for the Golden State Warriors' position entering the 2020 draft - which is to say, teams that had both a championship-caliber infrastructure and a top-two pick - the two that come to mind are the 1997 San Antonio Spurs and the 2003 Detroit Pistons. Those teams stand as stark examples of the potential range of outcomes in such a situation. The Spurs drafted Tim Duncan; the Pistons selected Darko Milicic.
Golden State can't hope to replicate the Spurs' blueprint, since there's nothing remotely close to a Tim Duncan in this class. That's true of most drafts, but no one in this class seems to project as even a run-of-the-mill franchise cornerstone. There's no sure thing and no consensus, aside from the fact that the draft is weak. This explains why, rather than drafting for themselves at No. 2, the Warriors may look to trade their pick for a jolt of present-day talent.
This is probably their best opportunity to do so, and determining how to go about making that addition is a massive decision. Because of the Warriors' bloated cap sheet, free agency isn't a viable avenue. Trading the pick could net them a player (or package of players) who can pry their championship window open a little wider. On the other hand, using it to draft a player might ultimately help keep that window open a few years longer. Each option comes with hurdles and risks.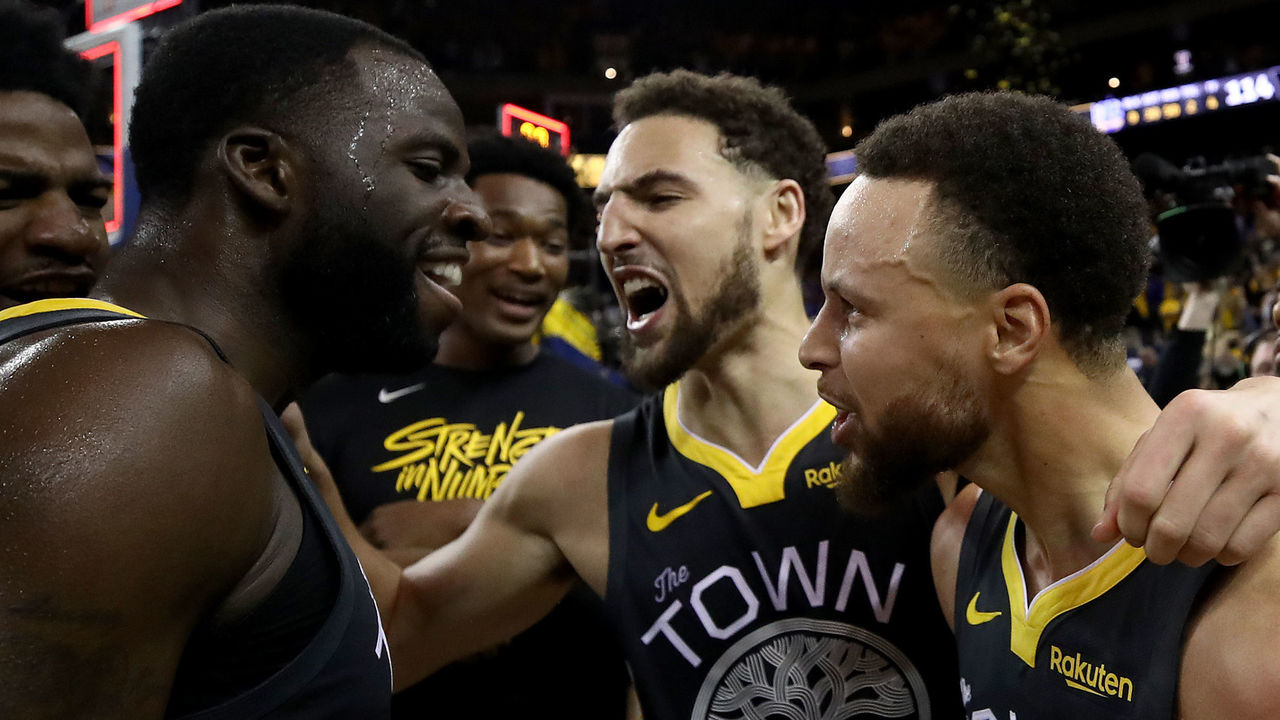 Even if the Warriors were to draft a future All-Star, he likely wouldn't help them win now. Steph Curry will turn 33 next season, while Klay Thompson and Draymond Green will turn 31. By the time Golden State's theoretical home run draft pick would be ready to contribute at an All-Star level, Curry, Thompson, and Green could be too far past their primes for an emerging star to tip the balance of a championship chase.
By the same token, it's possible we've already reached that stage with those three, in which case going all-in now would be a mistake that could cost the Warriors their best chance to bridge two eras of contention. Thompson is coming off a potentially career-altering injury and will have spent 18 months on the shelf by the time next season starts on Dec. 22. Curry played just six games in that same time frame and didn't look all that great in his handful of appearances before breaking his hand last season. Green was a shell of himself, and it's fair to wonder whether renewed stakes and motivation alone will be enough to get him back to his Defensive Player of the Year peak. If he can't, this team could be very shaky defensively once again.
Whatever they do, the goal for the Warriors will be to get someone who can be a bridge to the future and meaningfully contribute to their present-day title hopes. Here are some possible options:
Keep the pick
The variable that will determine how this situation plays out is the No. 2 pick's value around the league. Every team is working with basically the same information the Warriors are, so the collective interest in that pick could be tepid for all the same reasons Golden State would want to trade it. Without knowing who is or isn't attainable, it's impossible to say whether the Warriors should hold on to the pick or not.
If they do draft for themselves, James Wiseman looks on paper like the obvious choice. There's currently nobody taller than 6-foot-9 on Golden State's roster, and the team's only true center, Kevon Looney, played just 262 minutes last year due to a nerve condition in his hamstring. Wiseman is a mobile, 7-foot-1 leaper who would serve as a dangerous lob threat and possibly even a defensive stabilizer somewhere down the road. But he's a bit short on offensive polish and could be for some time.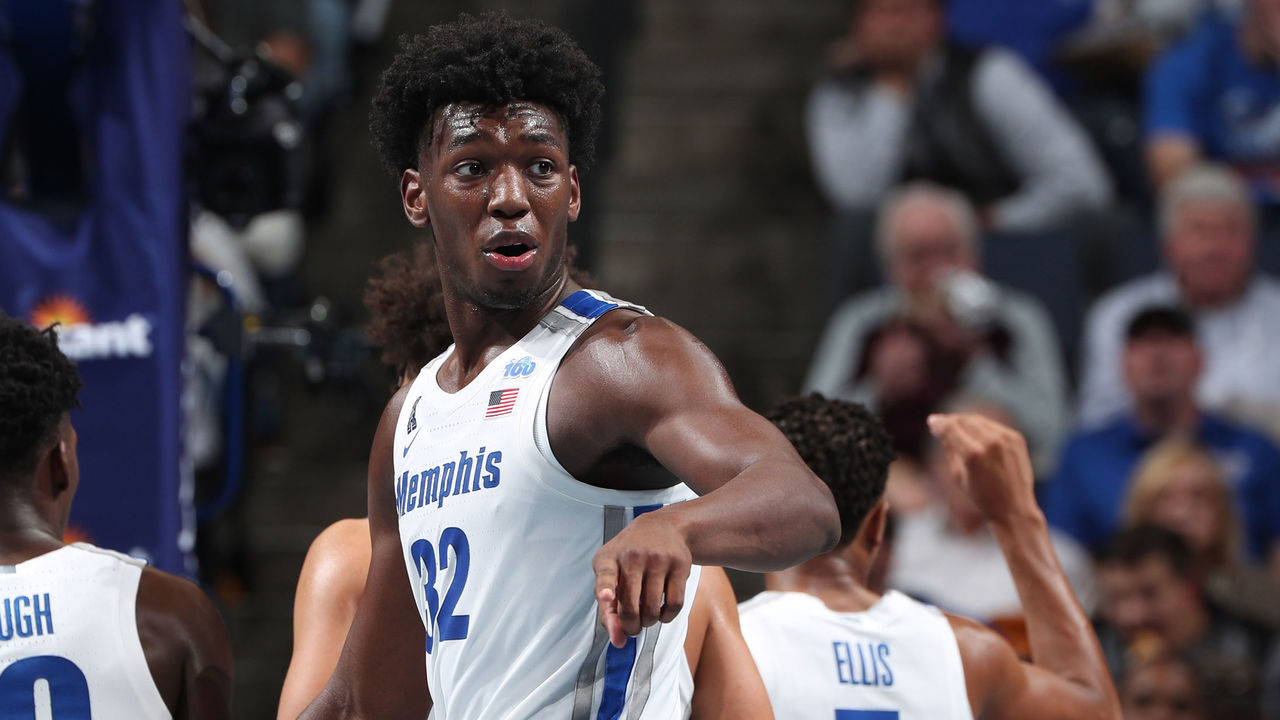 The Warriors are reportedly high on Deni Avdija, whose combination of size (6-foot-9), ball skills, and off-ball awareness provide the rough outline of a slashing, playmaking forward. But Avdija's jump shooting and defensive ability are major question marks. There's upside with sizey guards Anthony Edwards and LaMelo Ball, but they don't seem like natural stylistic or personality fits with this team.
Go big
If there is in fact a robust market for the pick, what type of player should the Warriors be looking to acquire in a trade?
Given their aforementioned hole at the five, they could go after the kind of offensively gifted true center they've lacked throughout their golden era. Wiseman might eventually grow into that player, but if they're looking for someone who can fill the role right away, my favorite target would be Orlando's Nikola Vucevic, a 29-year-old fringe All-Star with three years left on a contract that declines in value. The Magic are spinning their wheels in the mud of mediocrity, and they need to see what they have in Mo Bamba. This would be a good opportunity for them to reset their timeline.
The Warriors would have to adapt their style to fit him, but Vucevic would be a dynamic pick-and-roll, pick-and-pop, and dribble-handoff partner for Curry. He can hold his own as a drop defender, his passing can burn opponents that blitz Curry, and he can play the role of floor-spacer when Green serves as the trigger man in the middle of the floor. (Vucevic hit 35% from deep on 3.7 attempts per game over the past two seasons.) He'd also give the Warriors the low-post scorer they thought they were getting in DeMarcus Cousins, someone with the ability to punish the back end of switches.
If Vucevic is off the table, another target could be Portland's Jusuf Nurkic, an excellent screen-setter, passer, rebounder, and interior defender who's still just 26 years old and comes with a team-friendly price tag for the next two years. His offensive fit with Green would be a bit more tenuous, but his playmaking is sharp enough to make it work. It's unclear if the Blazers, with their own win-now mandate, would be open to trading him.
There aren't many other bigs who could conceivably be available and make sense to trade for. Maybe Atlanta's John Collins or Indiana's Myles Turner could work as part of a package. Rudy Gobert would be perfect, but I don't think the Jazz would entertain the idea unless the Warriors were to add next year's top-three-protected Timberwolves first-rounder to their offer.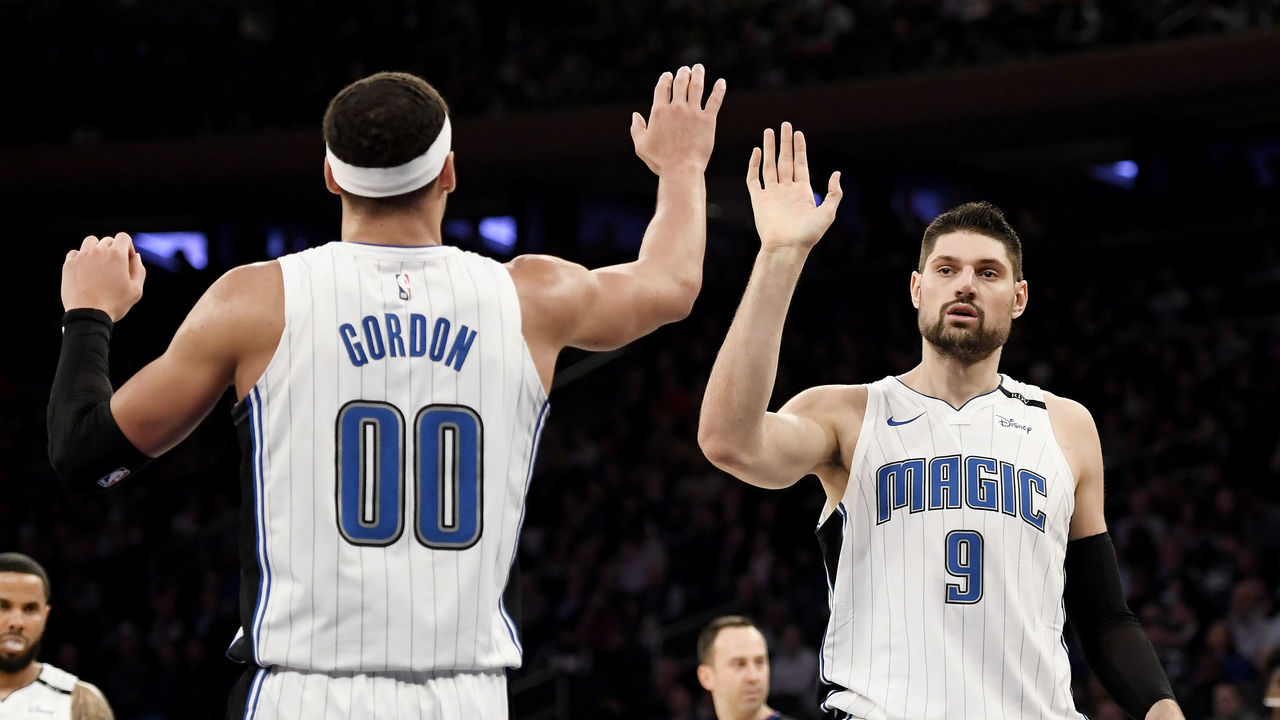 Get a forward
If the Warriors believe Green can still hold up at the five for long stretches, and they envision closing games with him there, they can just grab a 20-minute-a-game center using their taxpayer mid-level exception and instead trade for someone who can capably man either forward spot. Adding a big wing would go a long way toward filling out a new iteration of the Death Lineup.
Maybe the optimized version of Andrew Wiggins - who applies himself on defense and focuses on attacking off the catch rather than dithering with the ball and taking long twos off the dribble - can serve that function. But he's shown little aptitude for defending power forwards over his career and no interest in being judicious with his shot selection. Golden State can do better with that spot in the rotation.
Aaron Gordon, a solid open-court playmaker and quality defender across three positions, could be an ideal small-ball four in a Green-at-center alignment. Ditto for TJ Warren, a hyper-efficient scorer who doesn't need to hold the ball to be effective. OG Anunoby would fit that role perfectly - he and Green would be suffocating defensively - but I'm skeptical the Raptors would give him up. If the Spurs were willing to package Derrick White and Rudy Gay, that would be worth considering.
Aim for a guard
The Warriors also have a huge hole at backup point guard, so it would make sense to add another high-end ball-handler who can both play alongside Curry and run the offense when he's on the bench. It could also provide some insurance against a potential Thompson drop-off. The failed D'Angelo Russell experiment may give some fans pause, but Russell was a uniquely bad defensive fit.
When it comes to balancing present and future needs, Bradley Beal seems like the ideal trade candidate. He's 27, still improving, and under contract for at least two more years. But the Wizards don't seem particularly interested in trading Beal right now, and if or when they do, the cost will be significantly steeper than just this year's pick. It's fair to ask if the Warriors should pay it, considering they'd still face the challenge of pairing two small-ish guards who are at best average defensively.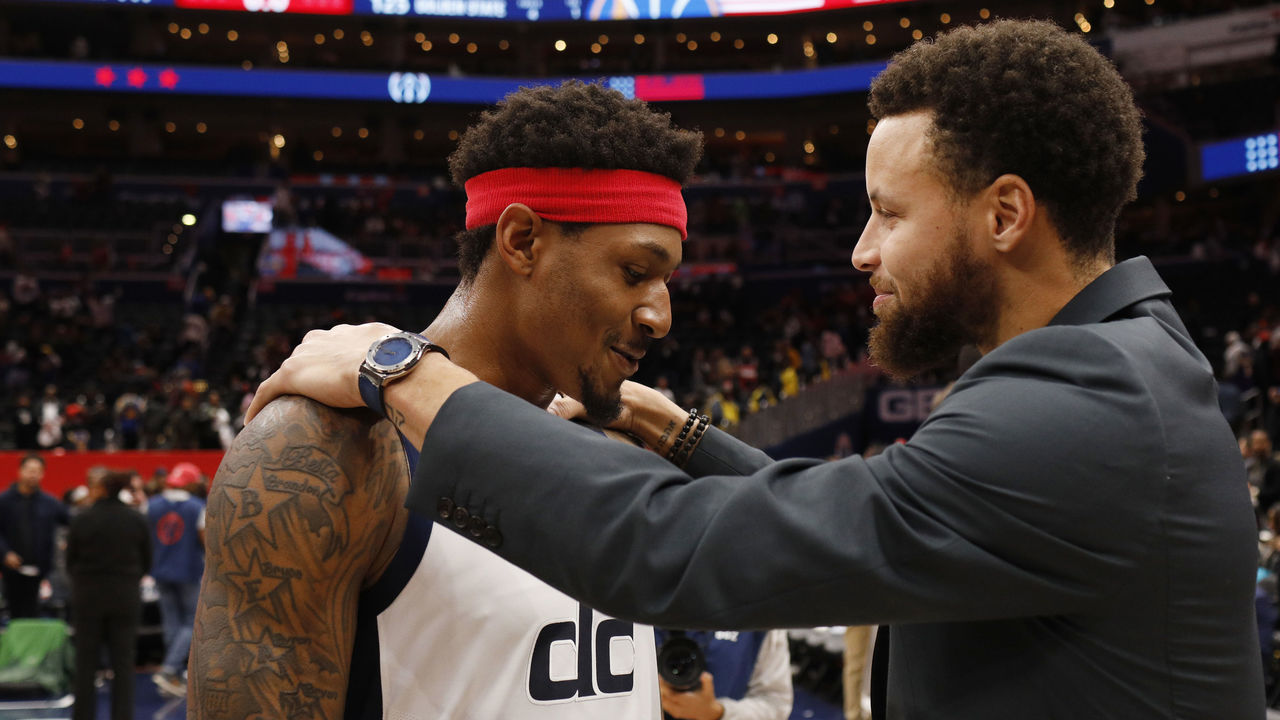 Victor Oladipo could be the right guy, but that would be contingent on him fully recovering from a devastating ligament injury and getting back to a level he's only actually played at for about 16 months. He's also a year away from unrestricted free agency.
If Beal is out of reach, their best backcourt target would be Jrue Holiday. The Pelicans are reportedly open to moving him, and given that they're building around 20-year-old Zion Williamson and 23-year-old Brandon Ingram, the No. 2 pick should appeal to them. In Golden State, Holiday could thrive playing on or off the ball while tackling the toughest perimeter assignment every night, covering for Curry's defensive shortcomings and easing Thompson's workload in his return from injury.
For the Warriors to take that plunge, though, they'd probably need some assurance that Holiday would be open to signing an extension or exercising his player option in 2021-22.
Making the money work
For a lot of these deals to work cap-wise, Wiggins would have to be the salary ballast going back the other way, and with a contract that will pay him about $95 million over the next three years, he's a negative-value asset. His inclusion in a deal involving the No. 2 pick makes the Warriors' package worse, not better.
Part of the appeal of trading for someone like Collins, Anunoby, or White is that they're still on their rookie deals, which would make it relatively easy to both match salary and retain them long term. All three are extension-eligible this offseason and would be restricted free agents next year if a deal isn't worked out.
There is a way for the Warriors to circumvent the cap restrictions. It would involve using their $17.2-million trade exception, which will expire shortly after the official start of the 2020-21 league year. Any of Nurkic, Warren, or Gay, for instance, could be absorbed into that exception with no outgoing salary. But using the exception while keeping Wiggins on the books would result in an enormous luxury-tax bill.
It's possible the Warriors will try to have it both ways by trading down only a few slots in the draft with the aim of nabbing an intriguing rotation player while also securing a major piece of their future later in the lottery. If, for instance, there's truth to the reports about the Hornets' interest in Wiseman, Golden State could potentially trade down to No. 3 and add someone like Miles Bridges in the process. Would the Bulls offer Wendell Carter or a Thaddeus Young-Tomas Satoransky package to move up from No. 4? Are the Knicks desperate enough to move up from No. 8 to dangle Mitchell Robinson? Would Phoenix send Kelly Oubre (who'd fit snugly into that trade exception) for the right to move up from No. 10?
There's a lot to think about, and parsing the best course of action will be difficult. But that's a pretty good problem to have. There aren't many bad options or wrong answers. One way or another, the path the Warriors choose will be one of the defining decisions of the offseason.
Joe Wolfond is a features writer for theScore.