Over the next few weeks, we'll examine one question facing a handful of NBA franchises during this unprecedented offseason.
When the Oklahoma City Thunder parted ways with head coach Billy Donovan in September, reports suggested the split was a product of the team's changing direction. It seemed to imply that, after the Thunder put forth a spirited performance in what was meant to be a transition year, their front office intended to embark on the full-scale teardown many expected after Russell Westbrook and Paul George were traded away last year.
There are a few reasons why triggering the delayed rebuild makes sense now. For one thing, every other Western Conference team looks primed to compete for a playoff spot, and tanking during a year in which everyone else is trying to win would be the surest way for OKC to add to its young core and arsenal of draft assets.
The truth is, as rosy as the Thunder's long-term outlook is, they don't actually have much young talent in hand. Most of their bright future is theoretical, tied to draft picks that in some cases won't be made for several years. For now, outside of uber-promising combo guard Shai Gilgeous-Alexander, there's no sustainable foundation to build upon. Defensive specialist Luguentz Dort and toolsy hybrid forward Darius Bazley are both coming off intriguing rookie seasons, but at this stage, they represent raw material more than they do building blocks.
Paul's trade value is another important consideration. He didn't drum up much interest on the trade block last summer, but he'll likely have more suitors this offseason now that he has one less year on his mammoth contract. He's also coming off a redemptive season in which he hit the 70-game threshold for the first time in four years, posted his second-best true shooting percentage, routinely dominated in the clutch, was named to the All-NBA second team, and finished seventh in MVP voting. But at 35, odds are he won't have a campaign that productive again.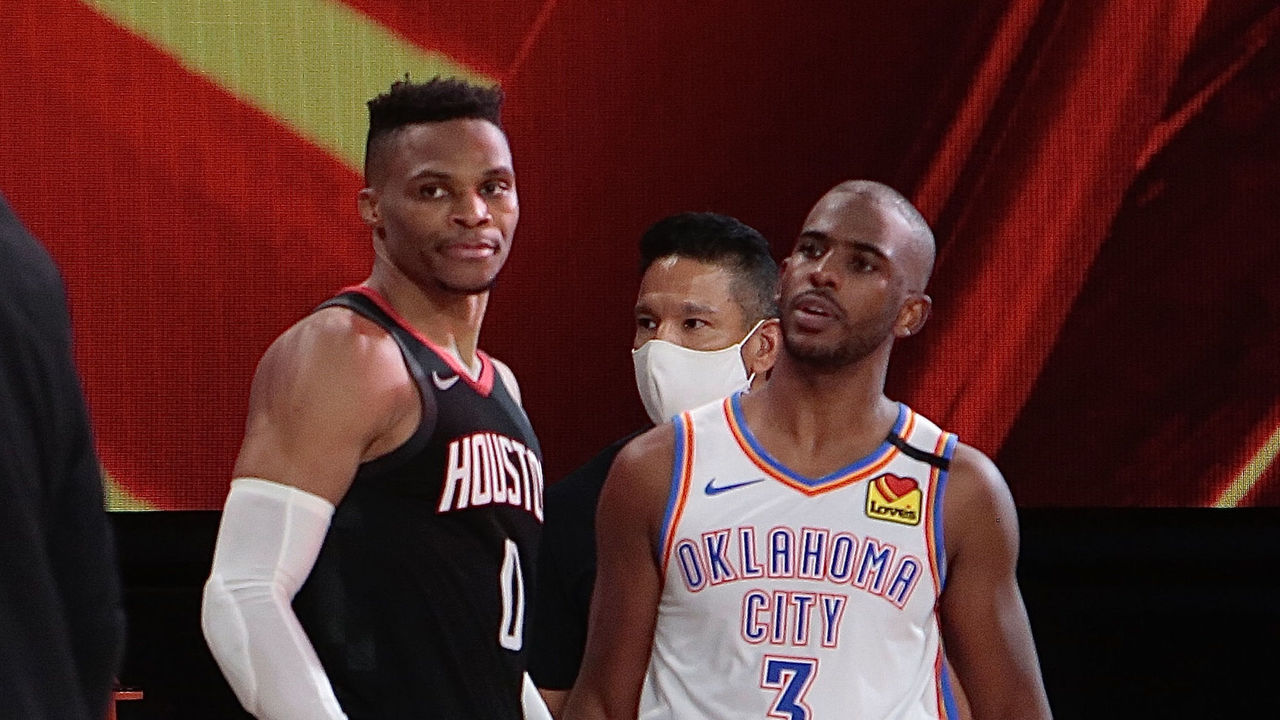 On the surface, the Thunder had a great year, particularly given the talent they shipped out last offseason. They went 44-28, finished fifth in a stacked conference, and took the Rockets down to the final possession of Game 7 in the first round - their best playoff showing of the post-Durant era. They thrived on scoring balance, with four players (Paul, Gilgeous-Alexander, Danilo Gallinari, and Dennis Schroder) averaging between 17 and 19 points per game on usage rates between 23% and 27%. But their success was built partly on unsustainable factors.
Thanks to an uncanny knack for winning close games, they exceeded their expected record by three wins; their point differential pegged them as a solid but unspectacular 47-win team over an 82-game season. Their defense benefited from the league's second-lowest opponent shooting percentage on wide-open threes. And their key rotation players enjoyed immaculate health, which was particularly surprising when it came to historically injury-prone guys well into their 30s in Paul and Gallinari. They probably can't bank on a repeat, no matter how strongly Paul believes in the transformational power of a plant-based diet.
Gallinari is set to become an unrestricted free agent, and given the dearth of cap space around the league, particularly among competitive teams, a sign-and-trade could be a win-win-win. Schroder and Steven Adams are entering the final year of their contracts, which makes them potential trade candidates as well (though the market for Adams, on a $27-million deal in a center-saturated league, figures to be chilly).
Schroder has to prove that his breakout 2019-20 campaign, in which he finished second in Sixth Man of the Year voting, wasn't a one-off. His 2-point and 3-point percentages were both career highs by a mile, and his incredible on-off differential (plus-8.2 points per 100 possessions) was driven in part by the Thunder's disastrous alternatives on the wing and flukily poor opponent shooting. His trade value may never be higher than it is right now.
It's easy to see why OKC's aggressive and forward-thinking front office would consider scuttling this ship and plunging to the Western Conference depths.
Trading Paul alone would be enough of a breach to sink the Thunder. He was their lodestar last season, by far the biggest driver of their success. They outscored opponents by 6.9 points per 100 possessions with him on the floor and were outscored by 6.5 points per 100 with him on the bench, which is approximately the gulf between the Lakers and Knicks.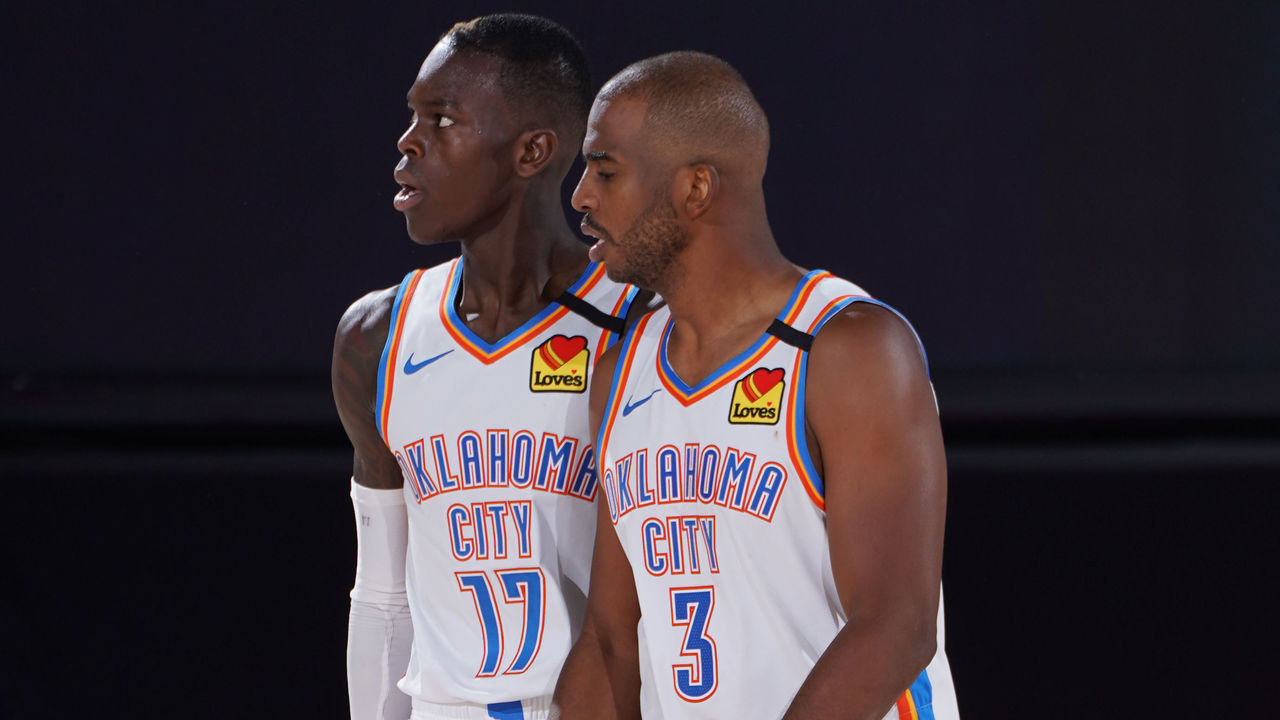 But as easy and fruitful as it might be to tank, the front office really doesn't need to be in a rush to offload Paul and certainly shouldn't be looking to trade him for the sake of trading him. Yes, he carries a steep price tag, with $85 million owed to him over the next two years. But the Thunder are in no danger of tipping into the luxury tax - even if they re-sign Gallinari - and they really don't have anything better to spend that money on in the short term.
Besides, Paul's contract makes it difficult to construct a trade in which the Thunder don't eat a significant amount of bad money in return. Trading him to any above-the-cap team (i.e. any realistic suitor other than the Knicks) would require them to take back about 80% of his salary, much of it likely to be dead (or at least comatose) weight. Why not just pay that money to Paul? The timing actually works out nicely if they keep him. By the time Gilgeous-Alexander's dirt-cheap rookie deal is ready to be converted into an exorbitant second contract (either via an extension next offseason or a restricted free-agent agreement the following year), Paul will be coming off OKC's books.
Crucially, running it back wouldn't have to compromise the Thunder's future. Thanks to Sam Presti's shrewd and exacting negotiation in the George and Westbrook deals, they now control 14 first-round picks in the next six drafts, with swap rights on four of them. That's an entire roster's worth of first-rounders. And while maximizing "bites at the apple" in the draft has become a popular and relatively successful team-building mantra, the Thunder don't need to add to a stockpile that's probably already too large for them to manage on their own. If anything, they can afford to trade from that stockpile to add present-day talent in the two years they still have Paul under contract.
Right now, they're in a unique position to build on parallel tracks. They may not profile as a championship contender as currently constructed, but there's no reason why they can't once again be a solid playoff team with a chance to win a series and possibly become more than that if the opportunity for a well-timed upgrade presents itself. In a market like Oklahoma City, there's a good deal of value in staying relevant, to say nothing of the benefits of further high-leverage experience for the young players.
It's fair to ask what would actually be better for the long-term development of young players: getting a ton of reps and the leeway to work through mistakes on a bottom-feeding team or being cast in more narrowly defined roles for a competitive playoff squad. But Gilgeous-Alexander has proved he's good enough to enjoy the best of both worlds.
In his second NBA season, Gilgeous-Alexander established himself as something of a co-lead alongside Paul, pacing the Thunder in scoring and ranking in the league's top 50 in time of possession per game. He looks capable of handling more on-ball responsibilities moving forward, but there's something to be said for easing him into a primary role rather than foisting it upon him. It's not like Paul stood in the way of his growth. If anything, he helped enable it.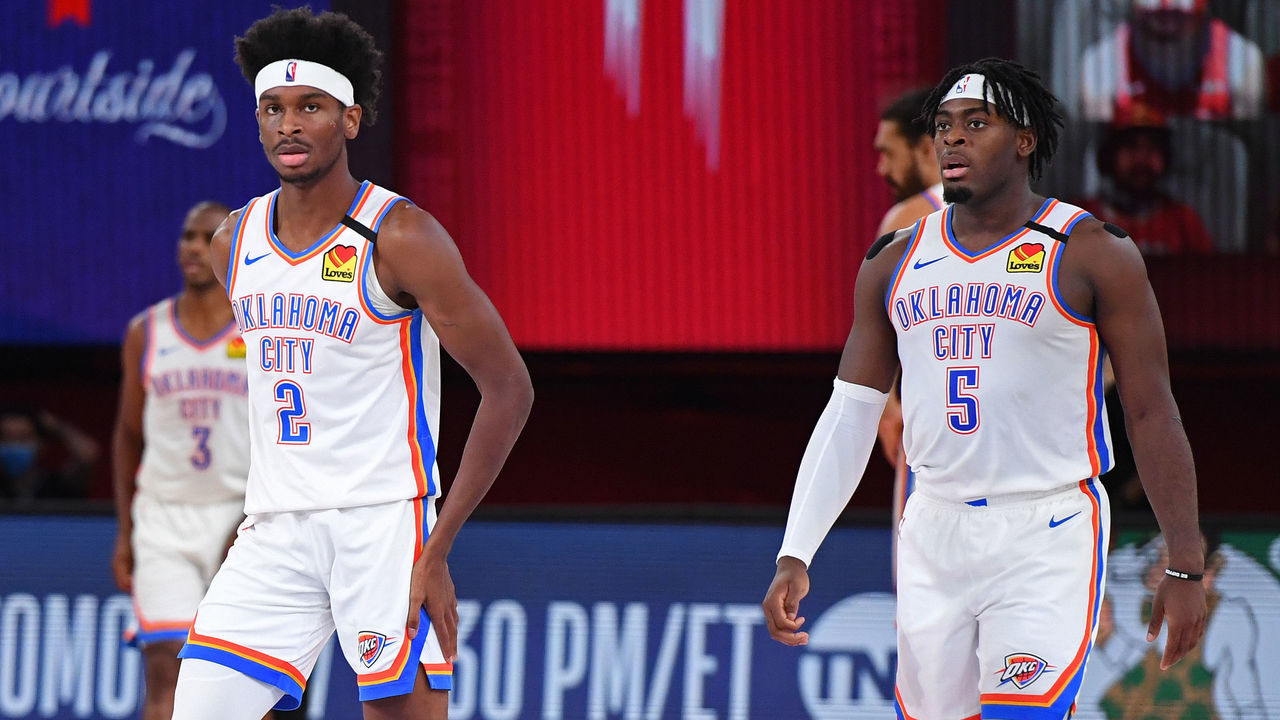 The decision regarding Paul will determine what next season looks like for this team, but we shouldn't undersell how reliant the Thunder were on Gallinari at the offensive end. They scored 16.6 more points per 100 possessions with him on the floor than with him on the bench. Even if they hold on to Paul, they could take a big step back by letting Gallinari walk or sign-and-trading him without recouping a significant return.
Why not instead take advantage of the cap-space-starved market and use their Bird rights to re-sign him at a number above the mid-level exception? That way, they can aim to stay competitive while retaining the option to flip Gallinari down the road if things go sideways. Given the league's presently uncertain financial picture, the 32-year-old may be amenable to a short-term deal. And if he can stay relatively healthy and maintain his 2019-20 level, there should be a robust in-season market for him.
Schroder also presents an interesting set of options. He may be the most tradeable player on the roster, but if the Thunder believe his most recent campaign is his new normal rather than an outlier, they could look to extend him. He's still just 26 and has a chance to be part of the team's present and future.
There's some room for internal improvement here, too. Bazley, OKC's 2019 first-round pick, arrived in the bubble looking like a sophomore coming off his first offseason, showcasing an improved shooting stroke, strong defensive chops, and an excellent nose for rebounds. Dort proved in the playoffs to be one of the league's best one-on-one defenders. Maybe the optimistic faction of the front office can hold out hope that one of the team's ongoing wing projects like Hamidou Diallo or Terrance Ferguson can grow into a reliable two-way contributor.
Meanwhile, there's that vacancy on the bench to fill, and the type of coach who replaces Donovan could tell us a lot about where management sees this offseason going.
Of course, their decisions will be dependent on what's actually on the table. It's possible the Thunder will receive offers for Paul et al. that are too good to pass up, making the rebuilding route the most obvious one. But the front office should hold a hard line in any negotiation and give serious thought to keeping the band together. There's no need to force anything. Running it back is a great option in its own right.
Joe Wolfond is a features writer for theScore.