Over the next few weeks, we'll examine one question facing a handful of NBA franchises during this unprecedented offseason.
To say the Los Angeles Clippers are in win-now mode would be an understatement.
We don't need to rehash everything they gave up to acquire Paul George and Kawhi Leonard, or revisit the humiliation of the blown 3-1 lead, or recap the ouster of coach Doc Rivers. We already know the Clippers don't fully control their own first-round pick until 2027, with the pick outgoing every even year and swap rights conceded every odd year between now and then.
George and Leonard can hit unrestricted free agency in a year and have nothing but bruised egos to show for Year 1 of their partnership. They didn't even get a chance to measure themselves against the Lakers in a playoff series after spending all season gearing up for it. Leonard is 29, George is 30, and they have both dealt with persistent injuries. There's no telling how much longer they will be a championship-caliber two-man core. This team is in win-yesterday mode.
The problem is, the Clippers are entering an offseason in which almost every road to meaningful improvement is blocked. They played one of their few cards by replacing Rivers with Tyronn Lue as head coach. But in terms of roster machinations, barring something stunning like a George trade, the front office will be relegated to tinkering around the margins. That doesn't mean club president Lawrence Frank's front office can't make the team better, just that any upgrades will likely be incremental.
The Clippers will be over the salary cap even if they renounce all six of their potential free agents. They can't expect to get much help in the draft, since all that's available to them is the 57th pick. And their trading avenues are limited due to their dearth of young talent and the fact that they literally have no first-rounders to trade at the moment (they won't be eligible to deal their 2028 pick until after the 2021 draft, though they'll be able to trade their 2021 choice after the conclusion of this year's draft).
Their decisions begin with what to do about their own free agents, most pertinently Montrezl Harrell and Marcus Morris. Harrell's Sixth Man of the Year campaign ended on a sour note, but he's been an emotional bellwether for the Clippers the past three seasons, and they'd be hard-pressed to replace the interior scoring and consistent energy he gave them last year.
It would also be tough to let Morris go, given how thin they are otherwise at power forward and given that they dished out their last available first-rounder to get him last season. Re-signing both would likely require eight-figure annual salaries that would take the team above the luxury-tax apron. And those decisions may hinge at least in small part on whether forward JaMychal Green picks up his $5-million player option.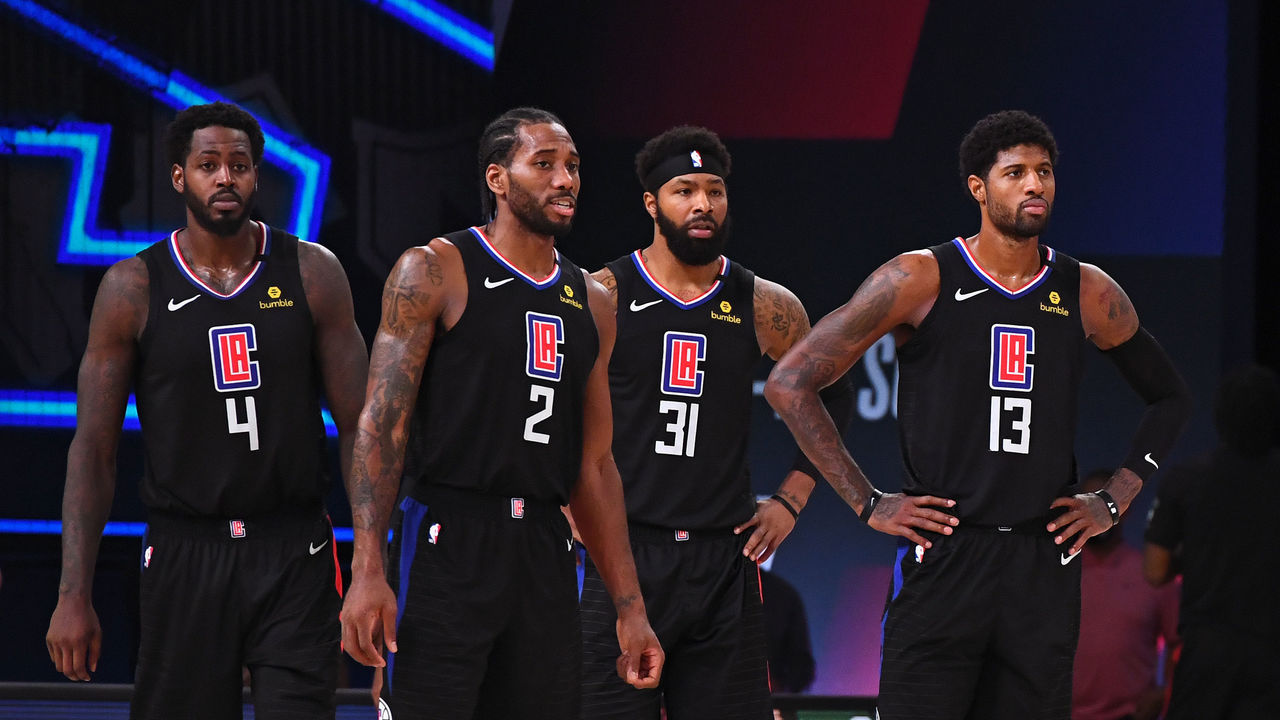 There is a path for the Clippers to gain access to the non-taxpayer mid-level exception, but that would mean renouncing at least one of Harrell or Morris, along with their other free agents of note. And there's no guarantee they'd be able to get a better player than either of those guys with the full mid-level - which, assuming last year's cap figure holds, will be worth about $9.3 million per year. Retaining both would limit L.A. to using the taxpayer mid-level (about $5.7 million) or the biannual exception ($3.6 million).
The Clippers should be wary of falling victim to recency bias on Harrell. Yes, his bubble performance was a disaster, and his play against the Nuggets was a significant factor in the team's demise. But given the extenuating circumstances that contributed to that performance, it shouldn't sully his season, which also featured elite pick-and-roll finishing, a refined post game, and 24.1 points and 3.4 offensive rebounds per 36 minutes. Though he's undersized for a center and has clear defensive limitations, Harrell had one of the league's lowest defensive field-goal percentages at the rim.
At the same time, if the Clippers have to get through teams like the Lakers and Nuggets - and players like Anthony Davis and Nikola Jokic - in the playoffs, it's fair to wonder how valuable Harrell truly is to them. Ivica Zubac made a strong case for more playing time, and you can argue the Clippers would be better served by signing a cost-effective 18-minute-a-game backup and devoting their resources elsewhere.
They're in a similar bind with Lou Williams. He's still under contract for 2020-21 (at an eminently reasonable $8 million), but he's a similarly valuable regular-season performer who has been shown year after year to be markedly less effective in the postseason. The Clippers' ideal scenario appears to be finding players who fill the roles Williams and Harrell occupied last season, but who are better fits with more playoff upside.
Easier said than done. They can find defensive upgrades, but it's going to be close to impossible to replicate the offensive contributions those two provided. And it's hard to come up with a team that would be willing to shell out a return for Williams that would make it worthwhile for the Clippers to trade him.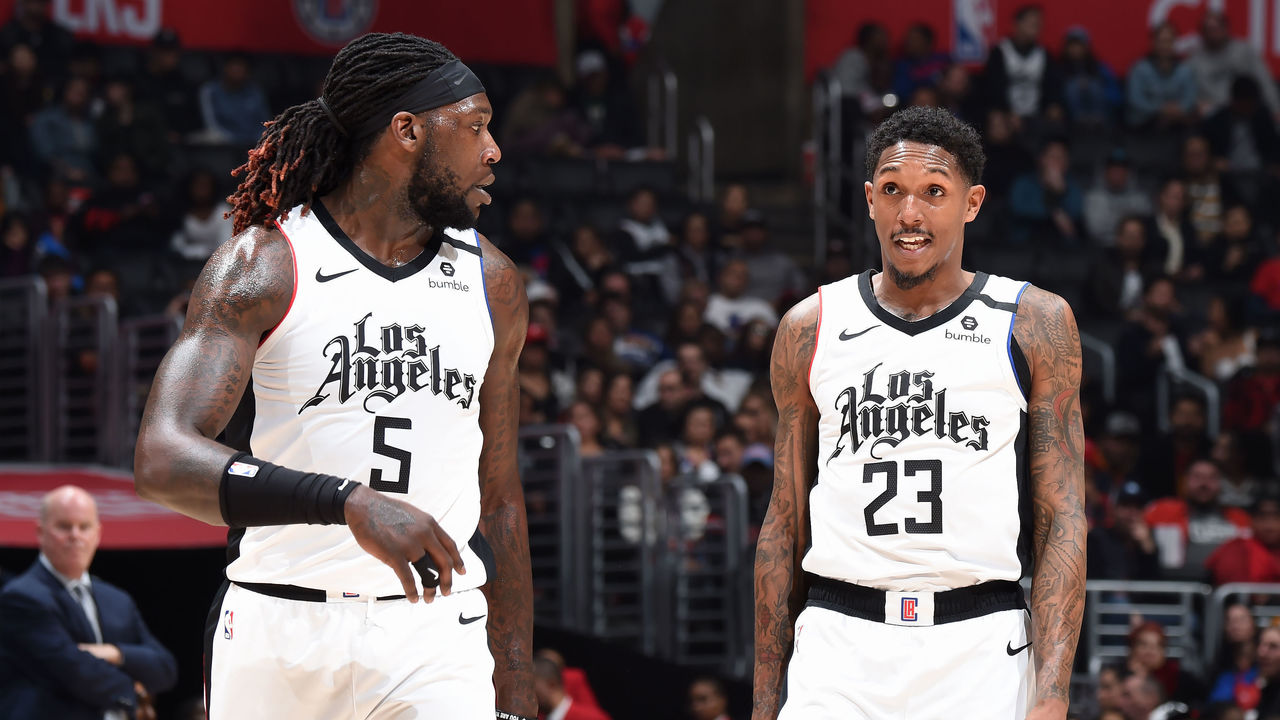 After getting routed by the Nuggets in Game 7, Leonard said the Clippers needed more basketball IQ. In the weeks since, he's reportedly lobbied the team to add a point guard, which would seem to imply that he doesn't believe Williams, Pat Beverley, or Reggie Jackson fits the role to his satisfaction. That's fair. Neither Beverley nor Williams is a point guard in the traditional sense, and Jackson is … Jackson.
Despite ranking second in the NBA in efficiency, the Clippers' offense felt disjointed last season. They ranked 24th in assist percentage, 28th in passes per game, and sixth in isolation frequency. Leonard made great strides as a passer and pick-and-roll operator, George can facilitate in a pinch, and Williams worked his two-man dance with Harrell, but for the most part, everyone kind of did their own thing.
Here's the issue: As nice as it would be to add a playmaker capable of gluing the offense together and shouldering a share of the immense ball-handling load Leonard carried last season, this year's point guard market is barren. There aren't many guys available who can handle and facilitate at a high enough level to justify taking the ball out of the hands of Leonard, George, or even Williams.
With Fred VanVleet and Goran Dragic well out of the Clippers' price range, the only free-agent point guards they can realistically sign are backups. We're talking Rajon Rondo, DJ Augustin, Kris Dunn, Jeff Teague, and Shabazz Napier.
Rondo is actually an interesting possibility, and the Clippers reportedly plan to pursue him. He'd certainly fit Leonard's description of a high-IQ player, and he proved in the playoffs that he still has the 16-game juice. But it's going to be hard to pry him away from the Lakers.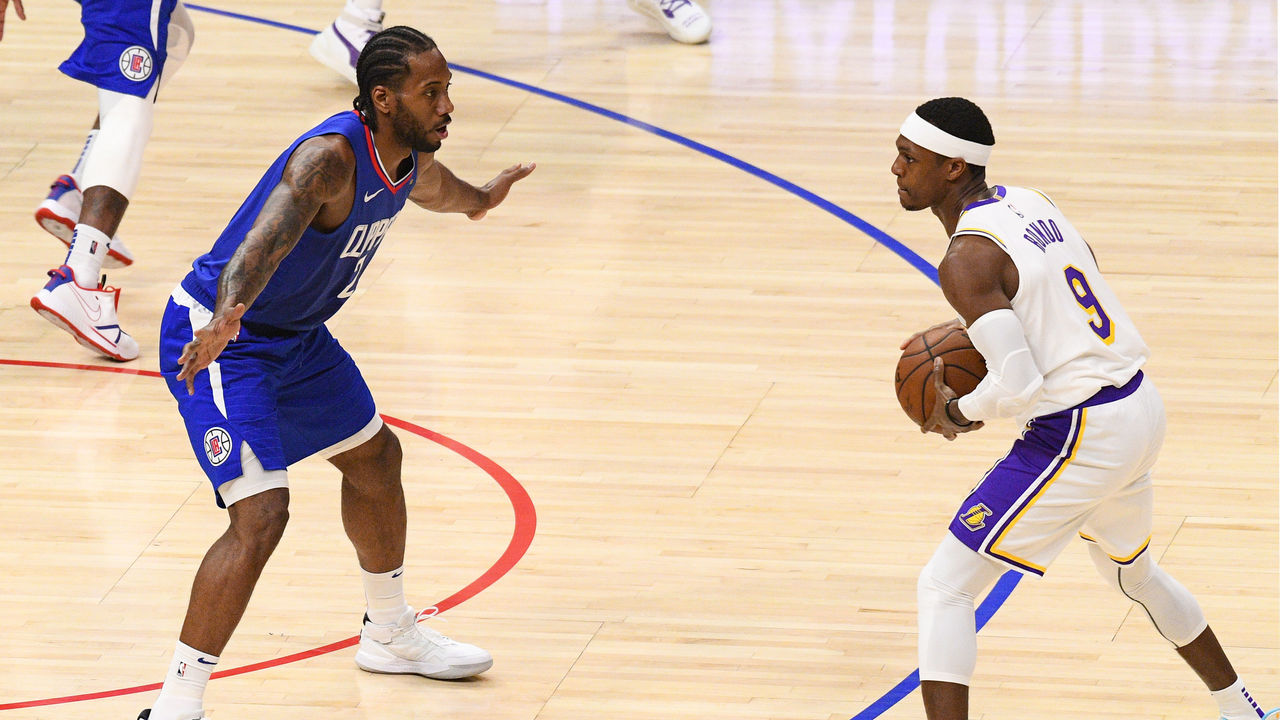 Augustin is a strong shooter and a decent passer who thrives in the pick-and-roll. He's coming off a down shooting year, but in his two previous seasons, he combined to hit 42% of his threes and post a 61.6% true-shooting mark. But he's badly undersized and a potential defensive liability in the postseason. Dunn is basically Beverley with better defense and significantly worse shooting. It's debatable whether Teague or Napier is even as good as Jackson.
The Clippers could look to the trade market instead, but it's tough to find a realistic target. Their asset cupboard is bare. Zubac and Landry Shamet are the closest things they have to young blue-chippers, and they can't really afford to trade Zubac.
They don't have the goods to get a Chris Paul or Jrue Holiday deal done. Maybe they can cobble together a package for Mike Conley, but considering the combination of salaries they'd have to include to make the cap math work, it would be hard to do without completely crippling their depth. At this stage of his career, Conley isn't good enough to justify blowing up the back half of their roster.
A bunch of quality backups on expiring deals could become available, like Derrick Rose, Dennis Schroder, Spencer Dinwiddie, and Patty Mills. But even if the Pistons, Thunder, Nets, or Spurs are interested in what little the Clippers have to offer, how much do any of those guys move the needle relative to Williams? They're all pretty similar score-first types with comparably shaky defense, and none of them is as good a playmaker.
So, yeah, it's unclear how the Clippers are going to solve their point guard conundrum. There are options, but none look particularly inspiring.
Addressing their other major need - interior defense - should be a lot easier, given the more abundant supply and lower barrier to productivity for defensively capable backup big men. The free-agent market is rife with them.
The list of potentially available bigs who fit L.A.'s needs and could conceivably be had for a price anywhere between the biannual exception and the non-taxpayer mid-level includes Marc Gasol, Nerlens Noel, Derrick Favors, Aron Baynes, Hassan Whiteside, Dwight Howard, Alex Len, Harry Giles, Willie Cauley-Stein, and Mason Plumlee. Optimists might even convince themselves that Tristan Thompson or Serge Ibaka would be willing to sign for the full mid-level.
The type of player the Clippers chase obviously depends on whether Harrell is back and whether they're hunting for a primary backup or a third big. If they let Harrell walk, they'd better be sure they can get someone like Favors or Thompson. But most of the guys above will be available at the mini-mid-level or below, so the Clippers can retain Harrell and still sign one of them to complete a well-rounded trio.
They can also go the trade route with Harrell. The CBA prohibits them from using the taxpayer mid-level and executing a sign-and-trade in the same year, but they could re-sign him with the intention (or at least the option) of flipping him once he's eligible to be dealt three months later. Maybe that's what could ultimately get them their point guard. Though, again, that point guard would probably look more like Terry Rozier than Jrue Holiday.
As much as a few roster tweaks can help them, the biggest factors in determining whether the Clippers improve on this past season's embarrassing result involve their current core group; namely, whether George can get back to something approaching his 2018-19 level, whether Lue can make the kind of in-game and in-series adjustments Rivers could not, and whether the team as a whole can find a sense of equilibrium on the court and in the locker room.
The good news is that the Clippers don't need to make any major structural changes in order to be a championship contender. They ranked second in offense, fifth in defense, and second in net rating last season. Leonard is still a top-three player in the world, and George - for all his recent postseason struggles and all the Pandemic P punchlines - is still a worthy second banana. L.A. outscored opponents by 13.2 points per 100 possessions with both of those guys on the floor. Marginal upgrades could very well be enough to propel this team to a title.
Given how much is at stake for the Clippers, they had better hope so.
Joe Wolfond is a feature writer for theScore.