Morey had a good run, but he leaves the Rockets backed into a corner
Bill Baptist / NBA / Getty Images
Daryl Morey's departure from the Rockets marks the end of an era in Houston: one that altered the NBA's competitive landscape and changed the way the game is played.
The analytics guru used his position as general manager to turn Houston into the NBA's most forward-thinking and mathematically sensible team, steering the Rockets from the era of McGrady and Yao to the era of Harden without tanking in between.
While other franchises raced to the bottom in order to find their way back to the top, or simply punted on the chance to contend while the mighty Warriors dominated the latter half of the 2010s, Morey never stood pat, always believing he could turn the cards he held into a winning hand. He sought to find market inefficiencies while churning through players, draft assets, and coaches in an attempt to accumulate star talent that could fulfill his quest for a championship.
Only the Spurs won more regular season games than the Rockets during Morey's 13 years as GM. But seven teams won more playoff games during that time, eight franchises won championships, and 10 teams made Finals appearances. The Rockets twice made it to the conference finals (2015 and 2018) but went no further.
The writing may have been on the wall for Morey a year ago when his tweet in support of democracy for Hong Kong derailed the NBA's relationship with China (the league went a full year without games being broadcast on Chinese TV) and cost the league an estimated $400 million in revenue.
The writing may have been on the wall once Tilman Fertitta bought the team from Leslie Alexander and quickly earned a reputation for being a more meddlesome, stingier boss.
Perhaps the final straw was watching coach Mike D'Antoni - who proudly orchestrated the small-ball symphony Morey always envisioned - leave the Rockets in September.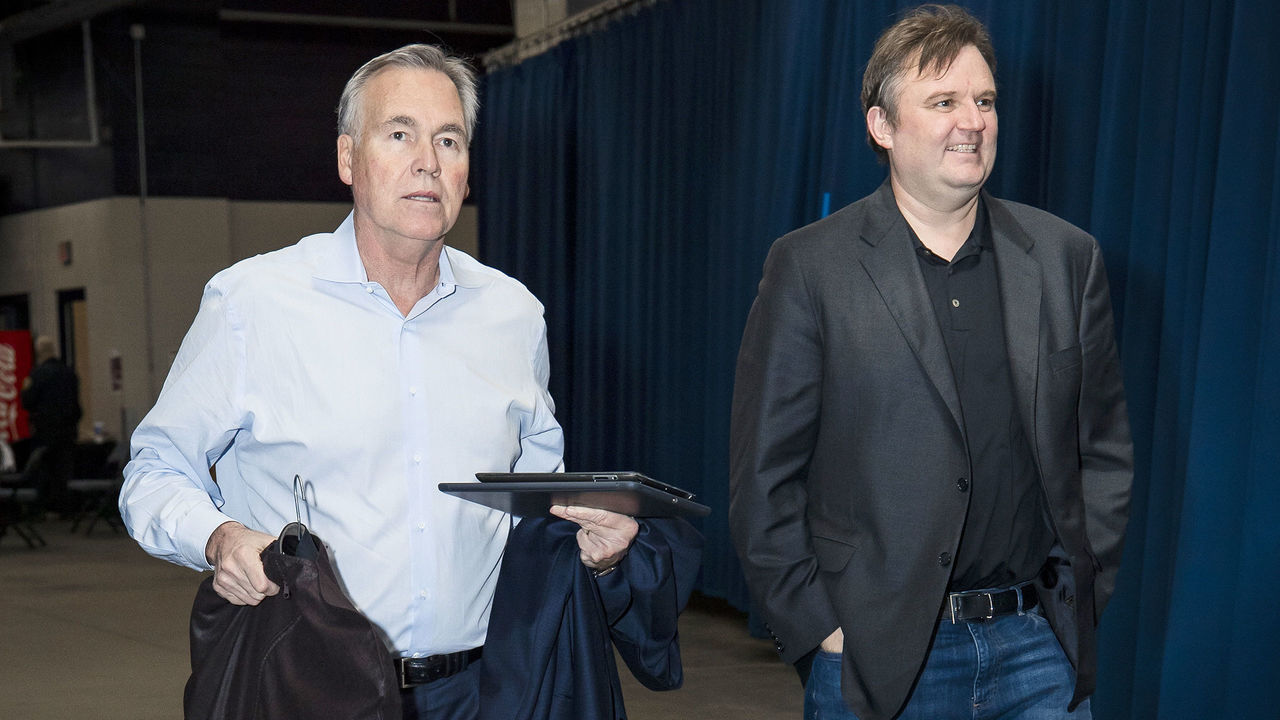 While those off-court dealings and Morey's personal desires surely impacted his decision to walk away, the roster he leaves behind made that choice a lot easier. It became increasingly clear that he finally had run out of options to raise Houston's ceiling.
Houston's fortunes begin and end with James Harden. Say what you will about his flaws and his postseason shortcomings; Harden is an elite offense unto himself whose mere presence on the roster virtually ensures 50-plus wins and a spot in the second round of the playoffs.
In eight years as a Rocket since Morey pried him from Oklahoma City in 2012 - in exchange for Jeremy Lamb, Kevin Martin, and three draft picks - Harden has averaged 29.6 points, 7.7 assists, six rebounds, and 1.8 steals on 61.2% true shooting while missing an average of four games per season.
Harden has been an All-Star every year, made seven All-NBA teams, won MVP in 2018, and finished top three in MVP voting five of the last six years. In four seasons together, D'Antoni and Harden advanced to at least the second round each year.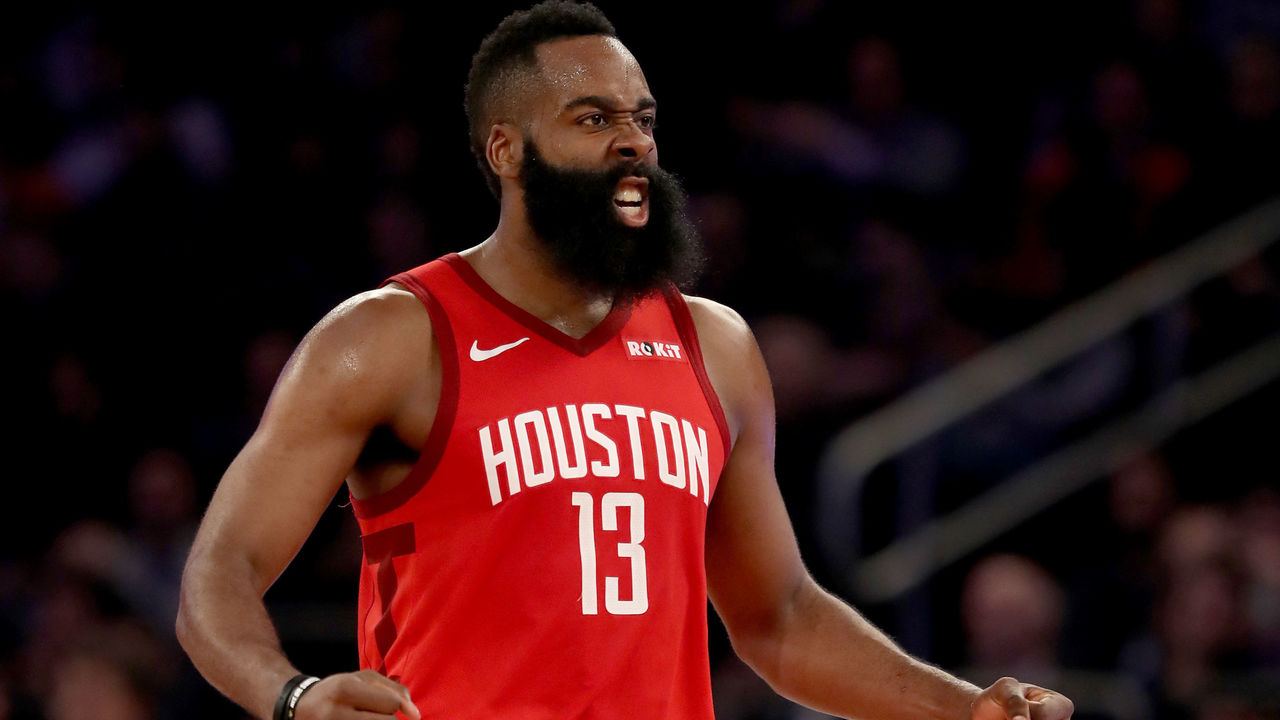 Criticisms of Harden's defensive consistency, as well as his decision-making and passivity during some memorable postseason meltdowns, are fair. But Dirk Nowitzki faced many of the same criticisms until the stars aligned for him and the Mavericks in 2011.
As long as Harden's around, the Rockets should be good enough to have the same opportunity - poised only a few bounces, breaks, or matchups away from a potential title run. But the Rockets had run out of ways to improve those chances beyond wishful thinking.
Morey thought outside the box and swung for the fences whenever he could. His most recent swing - influenced at least in part by Harden's unhappiness with Chris Paul - sent CP3's burdensome contract to Oklahoma City for Russell Westbrook and his even worse contract. Morey gave up two first-round draft picks and two more pick swaps in the process.
A year later, Paul is one of the league's most sought-after trade targets following a resurgent season with the Thunder. The Rockets, meanwhile, are stuck with Westbrook.
That might seem like a harsh way to describe a perennial All-Star coming off a season in which he averaged better than 27 points, seven rebounds, and seven assists. To his credit, Westbrook spent a fair chunk of the 2019-20 season getting back to being the high-impact, rim-rampaging guard he was in his prime.
But he's a ball-dominant guard who relies on athleticism and is about to turn 32 years old. He's perhaps the worst volume shooter in NBA history, yet he falls in love with his jumper. His desire to play defense comes and goes, and he doesn't move enough to be as useful as he could be off the ball.
In addition, he can earn roughly $131 million over the next three years, which includes a $46.7-million player option for the 2022-23 season.
So yes, the Rockets are stuck with Westbrook.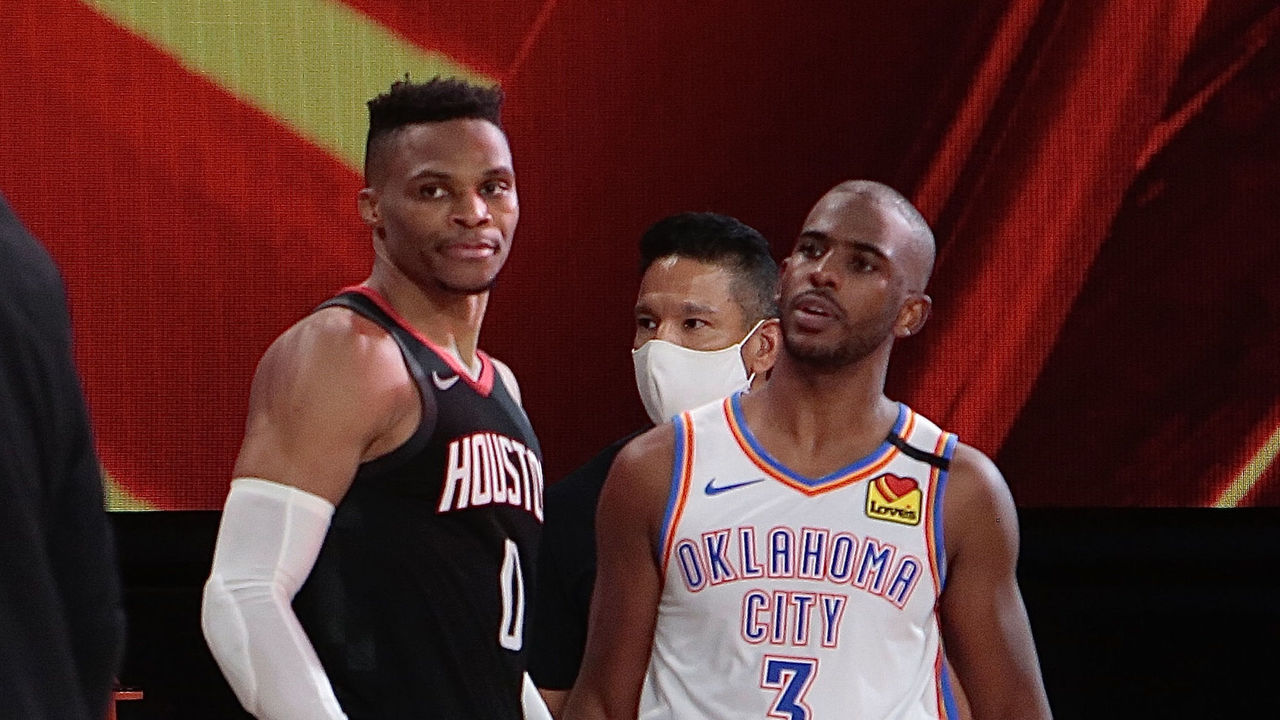 Houston also owes 31-year-old Eric Gordon more than $75 million over the next four years (though his 2023-24 season isn't fully guaranteed).
After trading Clint Capela to go all-in on small ball, the Rockets don't have any assets that would bring back the type of talent that truly moves the needle.
Robert Covington and P.J. Tucker are on much more team-friendly deals, but they're also the two most critical components of Houston's undersized, switchable defense, so the team shouldn't rush to trade them.
Beyond that, it's tough to find even one rotation player under contract or any young player with upside who would entice another team in trade talks. The Rockets also don't control their own first-round pick until 2022 - and over the next seven years, Houston only controls two of its first-rounders.
In fairness to Morey, the gamble to deal Capela and go even smaller made sense for a team built around Harden and Westbrook. It even worked defensively for long stretches.
But if there's one thing the Rockets should have learned after years of falling short against Golden State, as Warriors head coach Steve Kerr joked about last week, it's that you can't be completely one-dimensional in the postseason.
The Rockets' next GM and coach will have to figure out how to diversify a team Morey built to play one way.
Championship teams are capable of playing different styles and adapting over the course of a playoff run. Modern talent is too good, and the coaching and game-planning too complex, for even great teams to simply stick to their guns.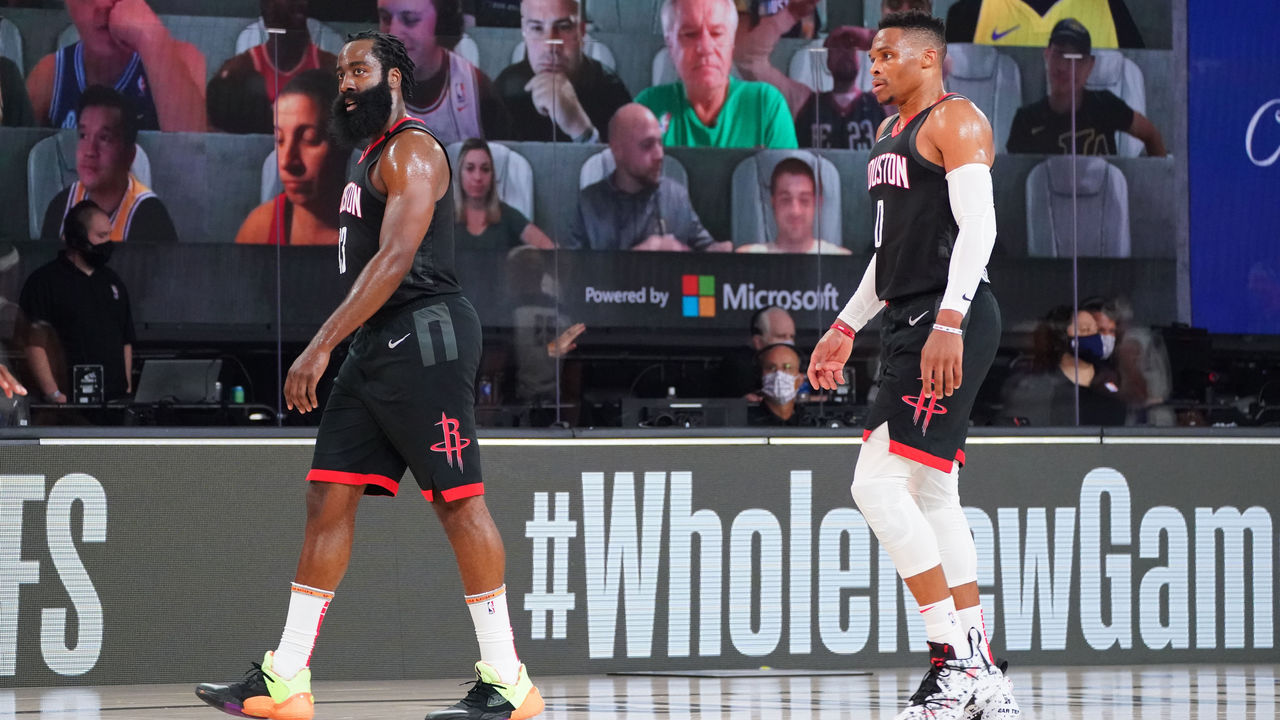 The only significant move Morey may have had left was a Harden trade, which would set the franchise on a different course.
The Beard has two guaranteed years left on his contract (plus a player option for 2022-23), and he's still the type of MVP-caliber superstar who serves as the foundation of title contention. Trading him would mean hoping that someone - or some draft pick - you acquire turns into a player who is half as good years from now as Harden is today.
Again, imagine if the Mavs had gone that route with Nowitzki sometime before 2011. Even as the postseason heartbreaks pile up, there's an argument to be made that good teams on the cusp of reaching the pinnacle should stay together, seizing the opportunity to add talent when it arises.
Unfortunately for the Rockets, they may have maximized their potential already with no clear opportunities remaining to make the roster better.
The franchise backed itself into a corner where the only move left to make is the one it never should; where the only card left to play is the one it must hang onto.
Morey knew exactly the type of losing hand he was folding.
Joseph Casciaro is theScore's senior basketball writer.
Comments
✕
Morey had a good run, but he leaves the Rockets backed into a corner
  Got something to say? Leave a comment below!