With all due respect to a Los Angeles Lakers team that was taking care of business, one of the most unfortunate subplots through two games of The Finals was that Bam Adebayo's and Goran Dragic's Game 1 injuries robbed Jimmy Butler - who had conquered and overcome so much in his career - of a chance to truly compete for a title in his first NBA Finals appearance.
So much for that.
We still don't know how soon Adebayo and Dragic will be back on the court - and their value to the Miami Heat is irreplaceable - but as we were reminded in Sunday's Game 3, nothing about this Heat team is as immeasurable as Butler's indomitable will.
Butler was sensational in a Game 2 loss when his offensive initiation was the only thing that kept Miami chugging. What he did in Game 3, though, was the stuff of basketball immortals.
Just like in Game 2, it was evident from the jump that every single thing Miami accomplished offensively stemmed from Butler, who abandoned scoring opportunities on his drives early in Sunday's contest and kicked it out instead of being more aggressive.
It was obvious to Butler, too, which is why the five-time All-Star pleaded with head coach Erik Spoelstra not to pull him with 4:16 remaining in the first quarter and Miami up 22-9. Butler lost that argument, and the Heat proceeded to lose the next 2:14 of game time by a score of 6-0 before he checked back in.
Butler didn't sit again until the opening 45 seconds of the fourth quarter, as Spoelstra wouldn't dare disrupt his star player with Miami's championship hopes on the line while Butler was in the process of crafting one of the great basketball masterpieces of our time.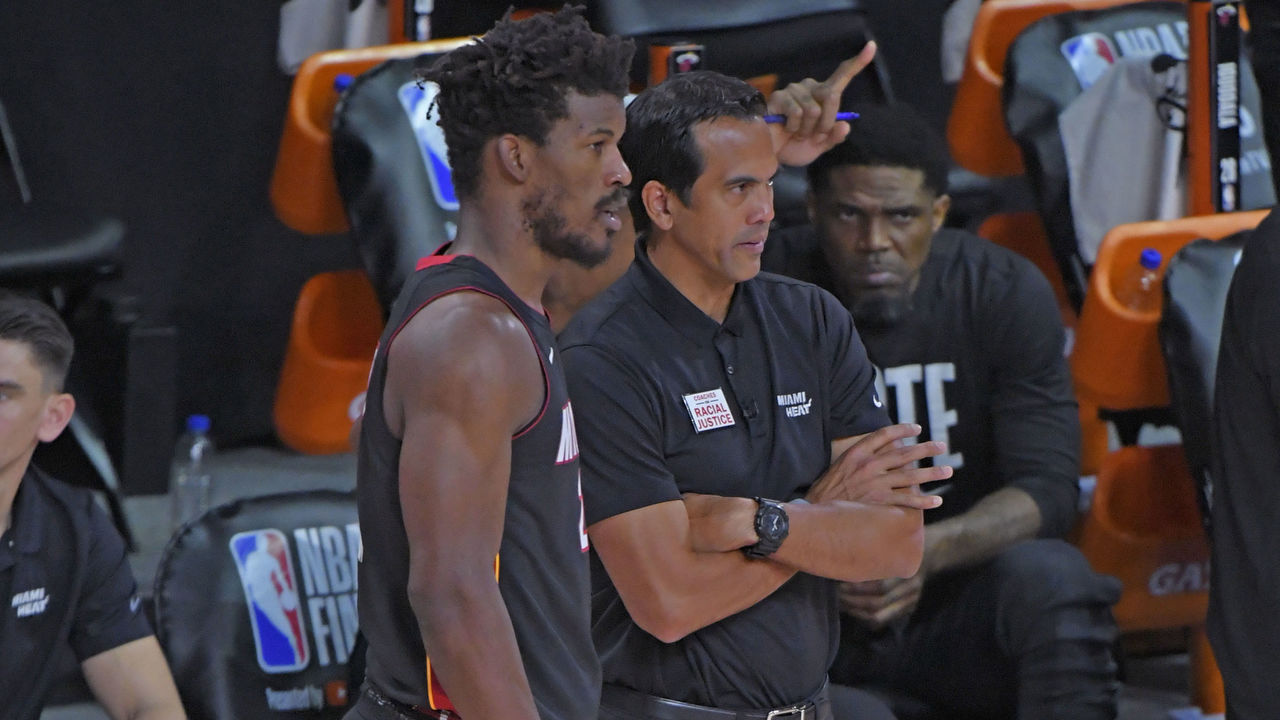 Regardless of the defender or defensive scheme in front of him, Butler continuously created a smorgasbord of opportunities for his teammates by penetrating, pressuring, and collapsing an elite Lakers defense.
Sure, L.A. did well to take away Duncan Robinson's space for stretches of this game, and Robinson, Tyler Herro, and Jae Crowder also missed a ton of open looks that should've led to more Butler dimes. Still, Butler posted his second straight 13-assist game.
To put that in perspective, Butler had never recorded a 13-assist playoff game in 71 previous tries. He's now done it twice in a row with Miami's two other integral playmakers sidelined.
Sunday's baker's dozen resulted in 33 Heat points, with seven of those 13 assists leading to 3-pointers and 18 of Miami's 34 3-point attempts coming directly from Butler passes. Inversely, Butler's Game 3 scoring was a testament to his brilliance inside the arc.
Do you know how hard it is to score an efficient 40 points in the modern NBA without shooting threes, especially for a wing scorer or distributor? There's a reason why, before Butler, the last player to drop 40 in an NBA Finals game without attempting a triple was Shaquille O'Neal way back in 2002.
While Butler is capable of getting hot from downtown, his overall offensive package makes him one of the few perimeter scorers who can get the job done without the benefit of long-range bombs. And the Lakers got a steady dose of that multifaceted package Sunday.
At times, Butler bulldozed his way into the lane and finished inside like a bruising big man. At other points, he patiently yet ruthlessly picked the Lakers apart with his mid-range game.
When none of that worked, Butler simply paraded to the free-throw line, fearlessly seeking and drawing contact at the rim to finish with 14 attempts from the charity stripe.
The most memorable of those fearless drives came late in the third quarter when Rajon Rondo flattened Butler on a midair block attempt that sent the Heat forward crashing down on his back. It was a scary collision until you remembered it was Jimmy Buckets on the receiving end. All Butler did was get up, literally laugh it off like the endearingly psychotic competitor he is, make both free throws, and run back on defense.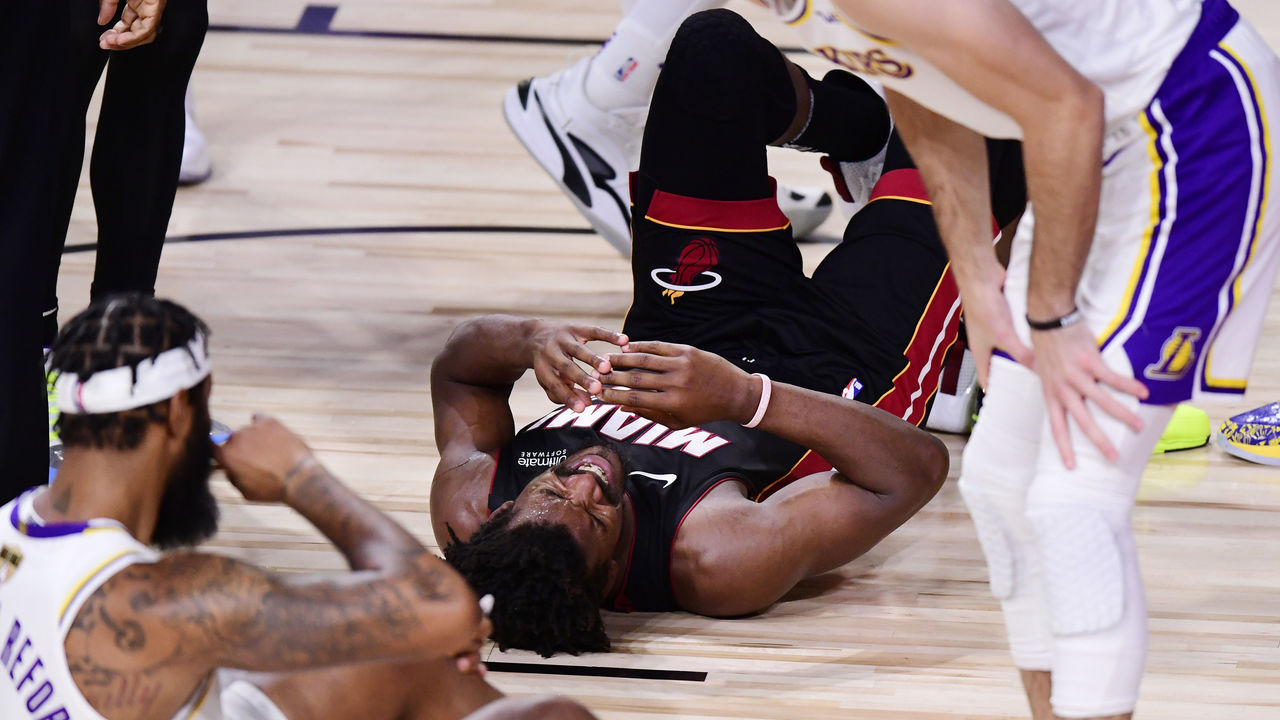 Statistically, Butler's numbers pop off the page.
His 40 points, 13 assists, and 11 rebounds make him only the third player in history - after LeBron James and Jerry West - with a 40-point triple-double in The Finals, and the 73 points scored or created by Butler tied for the second-most ever in an NBA Finals game. But even those prolific figures don't do Butler's legendary performance justice, because they don't capture his tireless defensive effort on a night Miami needed every second of his 44:51 of game time.
Butler finished with two blocks and two steals without committing a personal foul and toggled between assignments in the Heat's various defensive schemes. He also took on the primary job of guarding James - most notably when Miami relied on man-to-man defense over the final few minutes of the contest - and played a key role in forcing LeBron into eight turnovers.
Butler's willingness to guard James was especially notable on a night when LeBron and the Lakers too often conceded switches guarding Butler on the other end. What's the point of sticking James on Butler if you just switch screens and allow Butler to abuse Kentavious Caldwell-Pope, or another one of the Lakers' smaller players, in crunch time?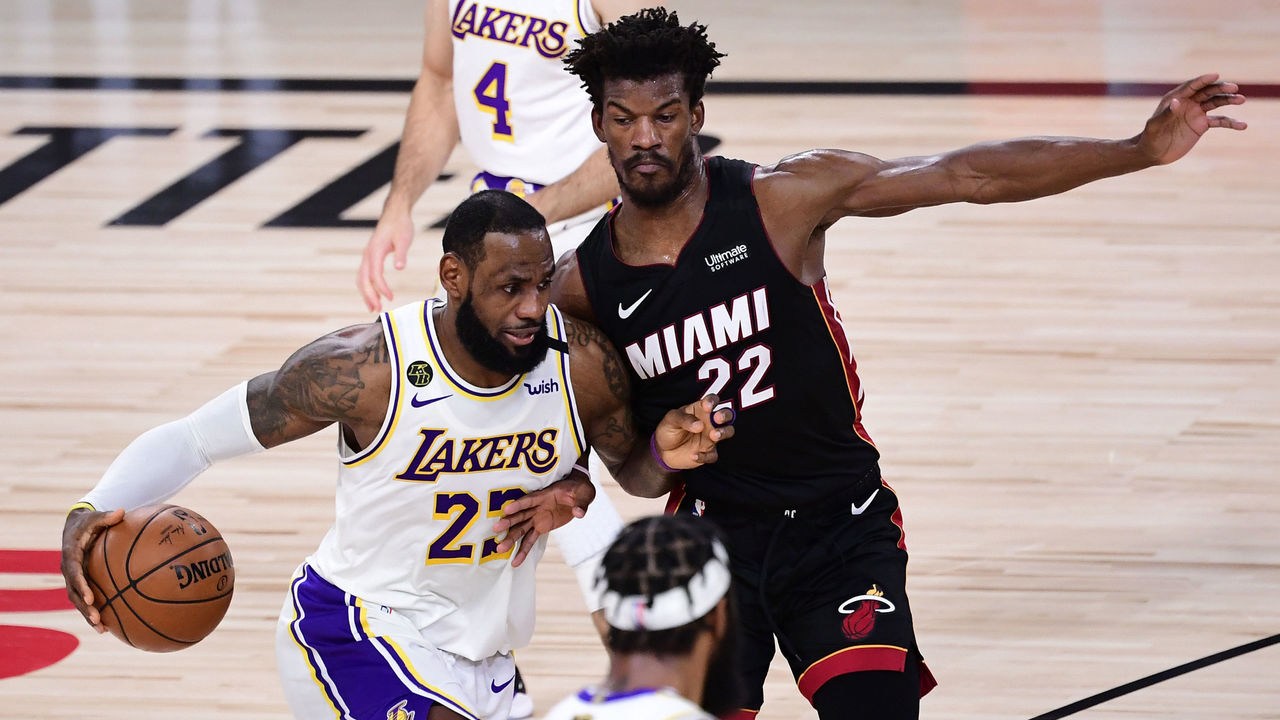 There will be plenty more of those tactical decisions to break down between Games 3 and 4, like how Miami's defense helped Anthony Davis neutralize himself, or why JR Smith played even a second (let alone 5:28) of meaningful basketball. The Lakers should be embarrassed by their lackadaisical showing with the chance to put a wounded team down.
In the meantime, nothing should overshadow Butler's inspiring Game 3 spectacle. It was an iconic performance that will live on in NBA Finals lore, and one that deserves to be attached to Butler's name after years of grinding.
Late in the fourth quarter, with Miami about to slice the heavily favored Lakers' series lead in half, Butler yelled "you're in trouble" to the L.A. bench. That might prove to be a stretch, especially given the uncertainty of Adebayo and Dragic, but try telling that to Jimmy Butler.
The guy who famously thumped Karl-Anthony Towns and Andrew Wiggins with a bunch of Minnesota Timberwolves third-stringers in practice just took a ragtag version of an already overmatched Heat team and beat a squad led by LeBron James and Anthony Davis in The Finals. In the process, Butler became the first player in 52 tries to outscore, outrebound, and out-assist King James in an NBA Finals game.
Is anything really a stretch for Butler at this point?
Joseph Casciaro is theScore's senior basketball writer.