Jamal Murray's leap puts everything on the table for the Nuggets
Andrew D. Bernstein / NBA / Getty Images
Jamal Murray is having one of the most remarkable postseason glow-ups we've ever seen.
The Denver Nuggets guard has upped his regular-season averages of 18.5 points and 4.8 assists on 55.9% true shooting to 26.6 points and 6.5 assists on 63% true shooting this postseason. Murray has always run hot and cold, but he's never had a hot streak like this one, let alone in repeated must-win scenarios against some of the league's best defenses.
The thing that's jumped out the most is Murray's ability to sustain his ridiculous shotmaking during five weeks of high-leverage basketball. He's hitting 47.7% from beyond the arc on 7.6 attempts per game during the playoffs after shooting a modest 34.6% from 3-point range through the regular season and 35.8% for his career, with 125 of his 130 postseason attempts coming from above the break and 90 of them coming off the dribble.
A shooting run like that will make anyone look like a superstar, but Murray's refinement of his skill set inside the bubble goes well beyond his long-range marksmanship. He has leveled up in virtually every area. Murray's tightened up an already-strong handle, allowing him to break down even the stoutest perimeter defenders off the bounce, create more separation for his jumper, and get to the rim about 50% more frequently than during the regular season.
It's also made him tougher to push off the ball, which is why his turnover rate has trended down despite the fact that he's spending two more minutes per game with the ball in his hands in the playoffs.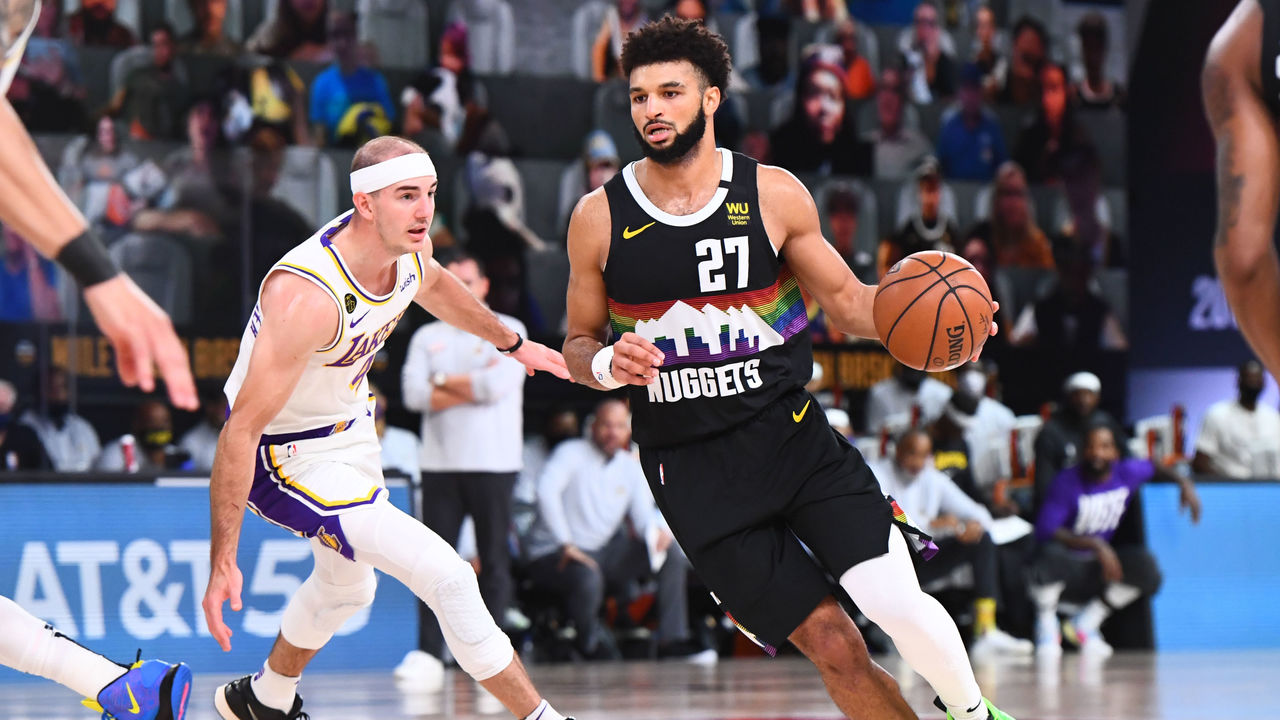 Murray's generally looked more comfortable and confident than ever operating inside the arc, as he's maintaining a live dribble while freely changing pace and direction to work himself closer to the basket instead of just settling for his mid-range pull-up jumper. He's shown a feathery in-between touch, shooting 51.2% from floater range, which is up from 45.9% in the regular season. He's also gotten better at finishing at the rim and through contact, perhaps owing to the muscle he added during the hiatus.
Against the Utah Jazz, Murray scored almost 10 points per game in the paint on 59% shooting despite frequently running into the league's best interior defender. Against the Los Angeles Clippers, he managed to wriggle his way into the teeth of the defense and hit 67% in the restricted area despite facing a rotating cast of elite one-on-one stoppers who took away his space and stifled his pull-up game. Murray also connected on over 43% of his attempts from above the break while transitioning to more of a spot-up shooter role around Nikola Jokic versus the Clippers before shaking loose entirely and pouring in 40 points in Game 7.
Through three contests against the Los Angeles Lakers in the Western Conference finals, Murray's shooting 61.5% from 2-point range while continuing to bomb away to the tune of 40.9% from deep. And in Denver's series-altering Game 3 win, he beta-tested his latest software upgrade, putting forth a dazzling display of playmaking.
Murray recorded 12 assists by dissecting the Lakers' defense with a combination of patience, vision, and body control. He repeatedly leveraged the gravity he's earned as a scorer by engaging multiple defenders on his probing drives; he then used his eyes and body to get those defenders lurching the wrong way before tossing no-look dimes that Jokic would approve of. Pay attention to LeBron James in the first play here, and Rajon Rondo in the second:
In a way, all Murray's improvements have flowed from his scorching-hot shooting. It's changed the way defenses react to him, opening up more avenues for his driving and passing. And all of that has made him the perfect co-star for Jokic.
The two of them already had balletic offensive chemistry, with Murray cutting and relocating and serving as a dribble-handoff release valve around the 7-foot passing savant. But the extent to which he and Jokic have both upped their scoring output this postseason is helping them reach a new level of symbiosis. The pick-your-poison choice they foist on opposing defenses has become a win-win proposition for the Nuggets.
Utah opted to drop back and play Denver's pick-and-rolls two-on-two, which limited what Jokic could do in the post and on the short roll but allowed Murray to dine out on pull-up jumpers while the big man feasted on pick-and-pops. The Clippers tried and failed with multiple different coverages, including blitzing Murray, which simply allowed Jokic to pick them apart in four-on-three scenarios. Murray's passing was also a big factor in cracking that coverage, as he routinely split the Clippers' traps and set Jokic up with a buffet of options in the middle of the floor:
The biggest reason the Clippers couldn't get anything to work defensively is that nobody on their roster had the combination of speed and size required to handle Jokic's range and post prowess. The Lakers do have a defender who fits that mold in Anthony Davis, but Murray's five-alarm threat level is peeling Davis away from Jokic.
The Lakers have opted to switch Murray-Jokic actions partly because they can - Davis is the rare big capable of swallowing ball-handlers out on the perimeter - and partly for fear of what Murray will do to them if they allow him too much space coming off of screens. The danger Murray now poses as a scorer is providing Jokic more opportunities to go to work against smaller defenders in the post.
Jokic has altered his shot diet in response. His 3-ball has fallen by the wayside in the conference finals after being essential for him against the Jazz and Clippers, because the Lakers' switches have taken away the pick-and-pop. After averaging 6.6 3-point attempts per contest in the first round and 5.4 in the second, Jokic has attempted just seven triples through three games against L.A. and hit just two.
But the Lakers are still making a major concession with that approach. Murray has had no issue going to work with either JaVale McGee or Dwight Howard switched onto him, and when he's forced to go at Davis, he's able to dump the ball to Jokic and let him have his way with a mismatch in the post. The Lakers then have to decide whether they want to send a hard double-team (bad idea) or take their chances with a small on Jokic in single coverage (worse idea).
Here's an example from late in Game 2. The Nuggets force the switch and then enter the ball to Jokic in the mid-post, with Alex Caruso guarding him. That forces Davis to bring an emergency double, while Murray slides over to the strong side, providing Jokic an easy kickout target rather than forcing him to make a cross-court swing to try and beat L.A's excellent defensive rotations:
For the playoffs as a whole, Denver has averaged 1.12 points per possession when Jokic either shoots or passes directly to a shooter out of the post, according to Synergy.
When L.A. does drop back, or when Jokic tries to beat the switch by slipping out early, Murray is leveraging Jokic's roll gravity and using his guile to bend the defense. In the first quarter, with Kentavious Caldwell-Pope serving as the low man for the Lakers in the weak-side corner, Murray got Caldwell-Pope lunging up toward the wing just as he hit Jokic on the roll with a one-handed sling pass. In the third quarter, he got Caldwell-Pope to commit to Jokic while making what looked like the exact same pass, only it turned out to be a skip to Monte Morris in the short corner:
L.A. went to a pressure zone in the fourth quarter, utilizing a 1-2-2 that temporarily flummoxed and flustered the Nuggets, forcing Murray into three turnovers and preventing Jokic from getting established on the block. But with Denver's playoff run teetering on the brink (again), Murray managed to steady them (again).
For all the nuanced strides he's made, it sure helps that he can now apparently just do stuff like this when the offense stops flowing late and the opponent is amping up the pressure:
Seriously, Murray's been making game-saving shots like that all postseason. In 35 clutch minutes (less than five minutes left and the score within five points), he's scored 39 points on 15-of-25 shooting from the field and 8-of-11 from deep, with 10 assists for good measure.
Murray's defense was a major point of improvement even before the shutdown, and that's mostly continued in the playoffs, at least since the first four games of Round 1. He can't always contain dribble penetration and he still gets hung up on the odd screen, but he gets his hands in passing lanes, makes good controlled closeouts, and almost never blows a rotation. His increased muscle mass has also helped him in one-on-one scenarios. Opponents have scored just 0.64 points per possession against Murray in isolation this postseason.
Given the circumstances in which he's doing all this, and the opponents he's doing it against, it's becoming increasingly hard to doubt that Murray's leap is real. No, the 3-point accuracy isn't sustainable - it wouldn't be even if we assumed that he'd actually morphed into the best shooter alive overnight - but most of the across-the-board improvements should hold up. He's played like one of the best guards on the planet against the two championship favorites in back-to-back series. That doesn't just happen.
Jokic has long been one of the league's most dynamic offensive forces, but in a playoff setting against half-court defenses that liberally shade help toward the middle and zone up the weak side, he can't handle all the responsibilities of a primary creator. To take the next step, Denver needed to be able to entrust more of its offense to a high-end off-the-dribble initiator, a role in which Murray had functioned only sporadically before this season. The Nuggets demonstrated their belief in his ability to grow into the perfect Jokic complement when they lavished him with a five-year max contract last summer. Now, here we are.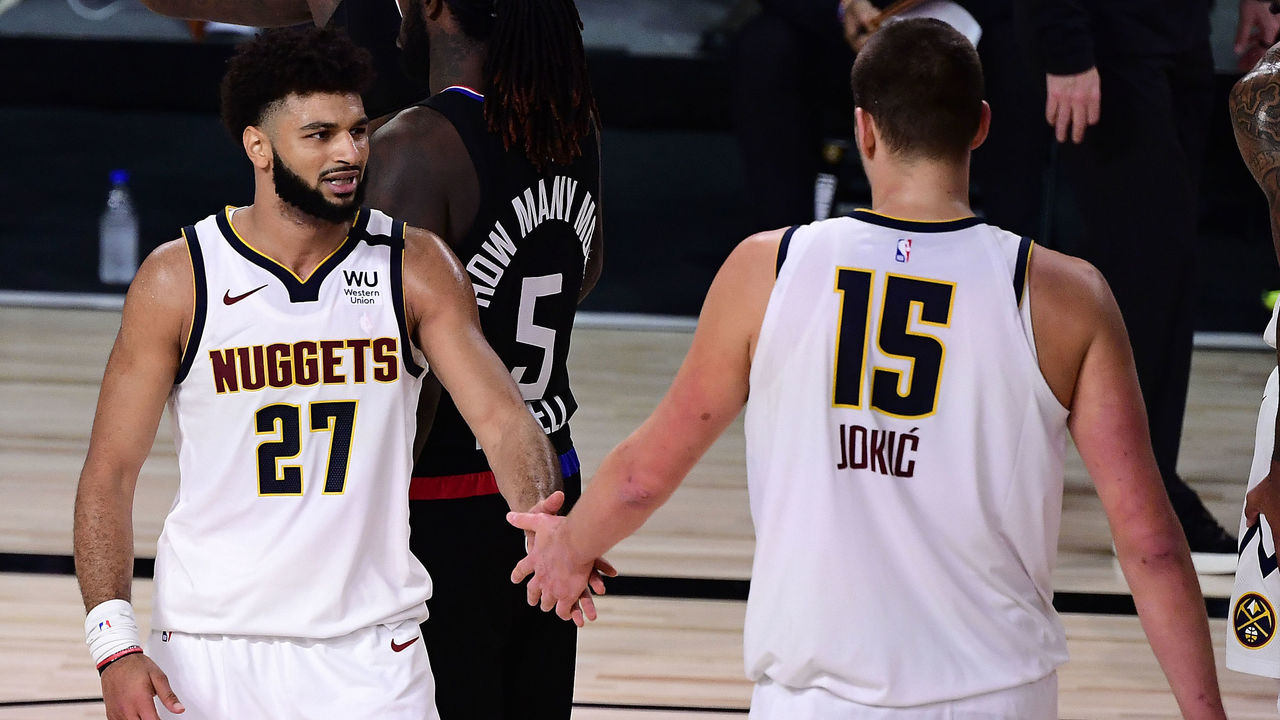 "Now I know every night what I'm getting from Jamal," Nuggets coach Michael Malone told reporters after Game 3. "Last year, we knew what we were getting from Nikola, but what kind of game would Jamal have? That's no longer the case.
"We have two superstars in Nikola and Jamal."
Jokic added his two cents: "He is built for the big shots. I really, truly believe that he's a superstar."
Murray still has areas in which he can improve. He can still get caught up over-dribbling, and he doesn't get to the free-throw line nearly enough. But he's just 23 and is already changing the shape of who the Nuggets are and who they can be. His timely leap has transformed them from a cute regular-season team into a bona fide contender.
To borrow another Jokic quote, which he used to describe the Lakers but is now entirely applicable to the Nuggets: "They have two really good, really good, really good players."
Joe Wolfond is a features writer for theScore.
Comments
✕
Jamal Murray's leap puts everything on the table for the Nuggets
  Got something to say? Leave a comment below!