After a wild second round, the Eastern Conference finals are set. Here, theScore's NBA feature writers Joseph Casciaro and Joe Wolfond preview the series and predict who will represent the East in The Finals:
No. 3 Boston Celtics vs. No. 5 Miami Heat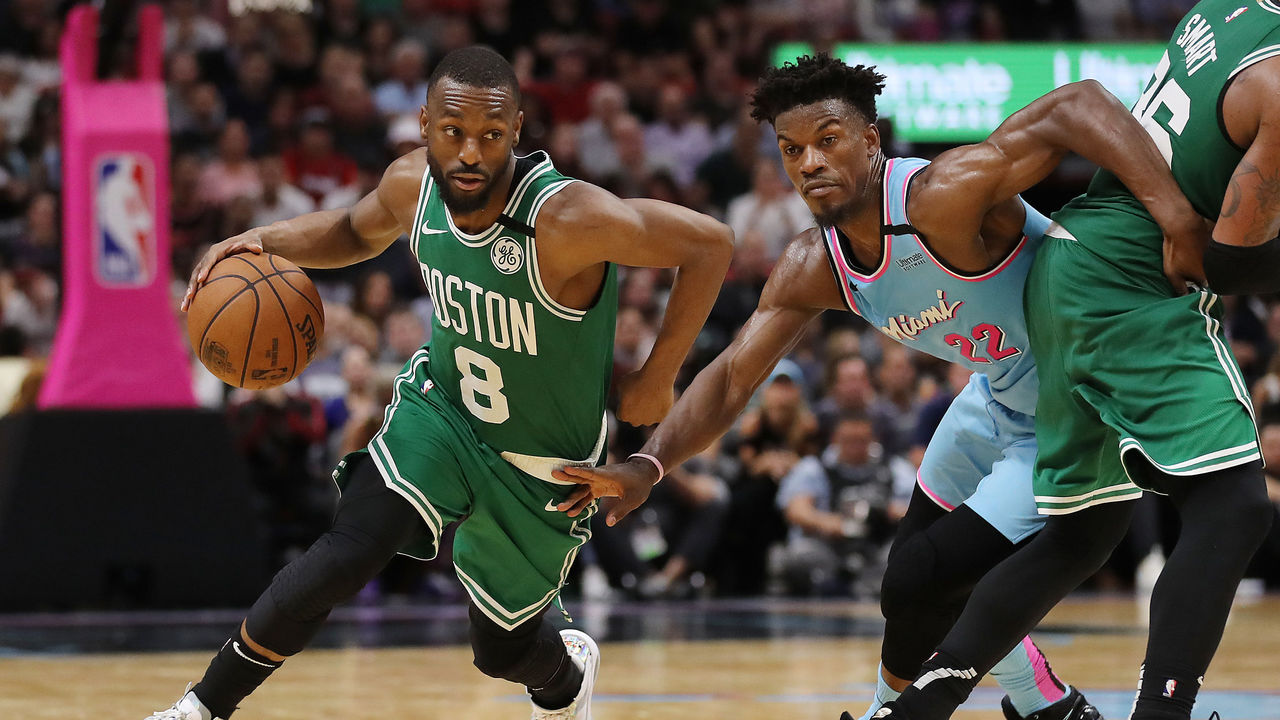 Prediction
Wolfond: Celtics in 6
I've been an avowed Heat skeptic all year, and all year I've been eating crow. Why change my diet now?
In all seriousness, Miami has been incredibly impressive during its run to the conference finals. Erik Spoelstra has probably been the best head coach in the playoffs, Jimmy Butler has been an absolute boss, Bam Adebayo is a defensive stud capable of single-handedly blowing up opponents' game plans, and Goran Dragic is pulling up from deep and finishing at the basket like it's 2014. The Heat have been idle for a week after waxing the top-seeded Milwaukee Bucks in five games, while the Celtics just emerged from a seven-game war against the Toronto Raptors. And I still think this is Boston's series to lose.
These are two great defenses with length on the wing and mobile bigs in the middle, and both excel at denying dribble penetration. But the Celtics' offense should have a few more places to attack. As good as Miami's wings are at defending the point of attack, its guards are vulnerable there, and the Celtics are going to run them through labyrinths of screens to try to spring Kemba Walker. The Heat may give Butler the primary Walker assignment rather than Dragic, but doing so would put quite a strain on the player who will also be expected to carry the offense for extended stretches.
The Heat have switched a ton throughout the postseason, and having Adebayo guard Daniel Theis could allow them to neutralize Theis as a screener given Adebayo's prowess as a switch defender. The Celtics faced a similar dilemma in Round 2 when the Raptors went small and stuck OG Anunoby on Theis. Boston realized very quickly that intentionally drawing Anunoby to the ball was a bad idea and responded by using Jayson Tatum more as a screener, to mixed results. But while the Raptors could live with switching Fred VanVleet onto Tatum, I don't think the Heat can to survive doing the same with a player like Dragic, Tyler Herro, or Duncan Robinson; the Celtics would almost always have a pain point to press on.
Boston won't have to do quite as much defensive problem-solving as Miami, especially given Walker's tenacity at that end so far this postseason. The Celtics are super-switchable in their own right, and the Heat don't have a particular individual matchup that should frighten Boston too much. Though Miami can and will rain fire from 3-point range, I ultimately trust the Celtics' late-game shot creation more, especially if Gordon Hayward returns at some point.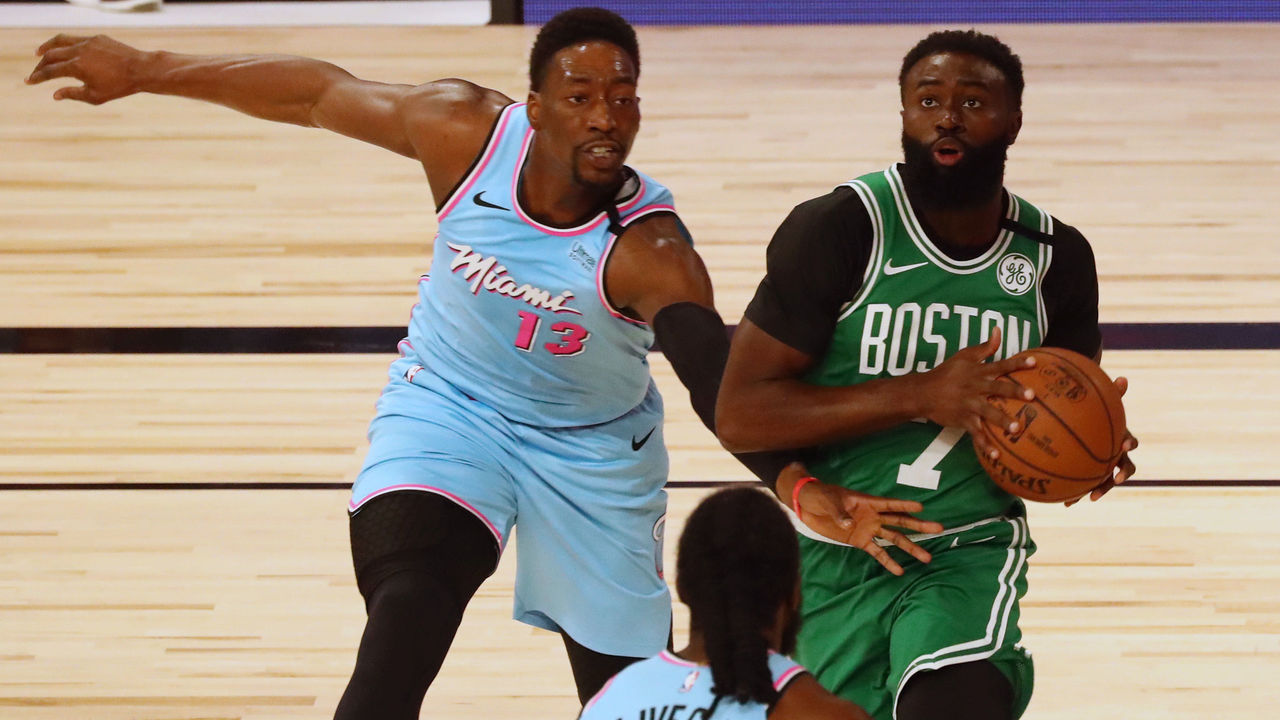 Casciaro: Celtics in 7
Contrary to the aforementioned season-long doubting of Miami, I may have been the most optimistic Heat observer outside of South Beach this year, believing all along this team had the right star (Butler), supporting cast, coaching, and toughness to excel in the playoffs.
All that said, while I expect the Heat to give the Celtics another long, competitive series, I think Boston will bring an end to Miami's playoff run.
Miami's defense is good, but it doesn't present the Celtics with quite the same challenge that Toronto's did. The Raptors didn't play any true defensive liabilities in the second round, while the Heat's best lineup combinations still offer Boston some players to pick on, especially on the perimeter. Brad Stevens' Celtics are too good to not take advantage of those soft spots.
What makes Boston so tough to beat four times out of seven? Its wealth of shot creation and pull-up ability. As we've detailed ad nauseam this summer, the Celtics have the type of offensive talent that bails a team out in the playoffs and pushes a club over the hump in an otherwise evenly matched postseason series.
Perhaps Butler takes it upon himself to stop Tatum or Walker, but what about the other one of those two Celtics stars plus Jaylen Brown? And what about Boston's fourth individual creator in Hayward, who is expected to play at some point in this series? Jae Crowder and Andre Iguodala can help Butler and a mobile Adebayo in slowing down the Celtics' bevy of shotmakers, but the Heat can't play all of them at once and expect to survive on the offensive end against an elite Boston defense.
That's the difference with the Celtics. They're good and versatile enough to play three or four star-level creators - plus Theis and Marcus Smart - without giving up an inch on the defensive end. If an opposing team can't do the same or doesn't employ one of the few superstars great enough to play head and shoulders above any of Boston's stars, that team probably isn't beating the Celtics.
The Heat might come close, but they won't have enough to finish the job.
Series X-factor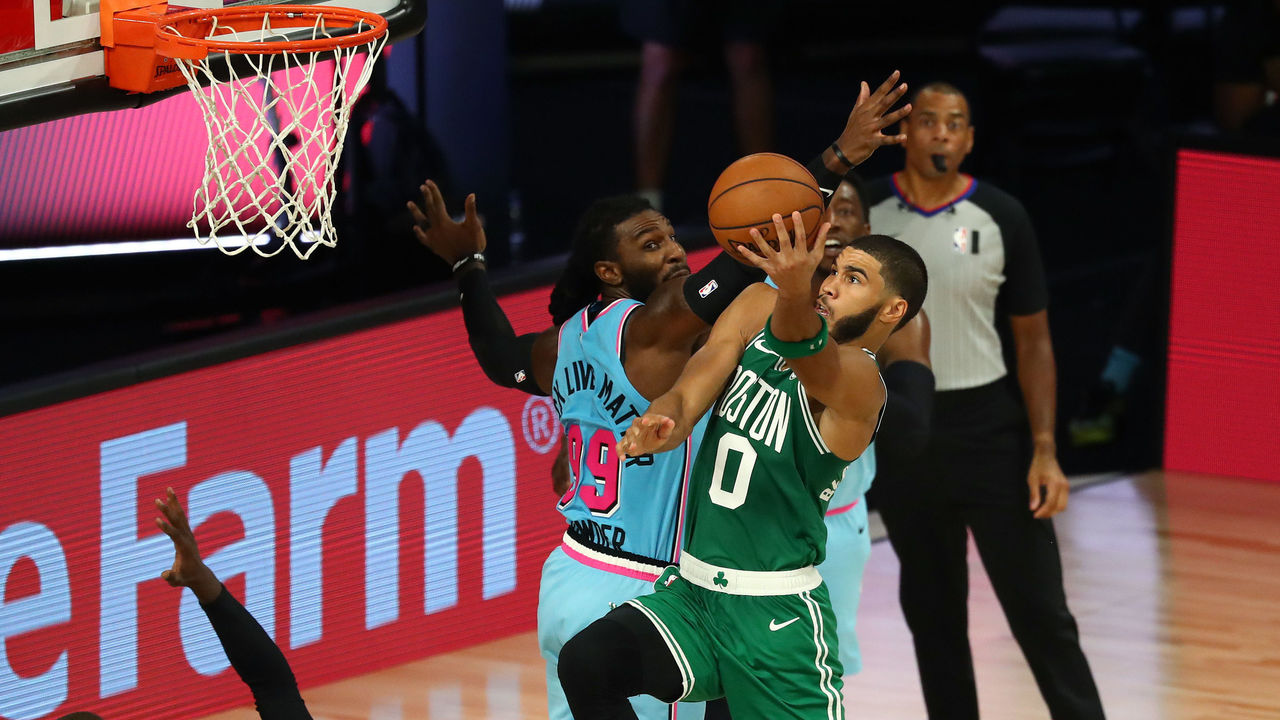 Wolfond: Jae Crowder
Crowder was a huge factor in the Heat's dismantling of the Bucks, and he'll have to be a huge factor again if they're to topple the Celtics.
Crowder's 3-point shooting has been off the charts since Miami acquired him at the trade deadline. Between the regular season and playoffs, he's hit 42.9% from deep on seven attempts per game in a Heat uniform; he had shot just 29.3% from beyond the arc with Memphis before the trade and 34% for his career. He was particularly ridiculous in the conference semifinals, hitting 43.1% on more than 10 attempts per game, burning the Bucks time and again when they abandoned him on the weak side in order to load up on drives and help at the rim.
In addition to punishing Milwaukee for its paint-packing scheme, Crowder was instrumental in slowing down Giannis Antetokounmpo. He frequently drew the primary assignment, which meant offering enough resistance at the point of attack to allow additional help to come from the wing before Antetokounmpo had a chance to advance past the free-throw line. Against his former team, Crowder will likely be the primary on Tatum, who will pose a different type of challenge.
Rather than sagging back and steeling himself to stonewall high-impact drives, Crowder will have to close space on the perimeter and fight over screens in an attempt to limit Tatum's pull-up game - without being overeager and sending him to the free-throw line. Given Boston's glut of shooting, Crowder also probably can't count on the same kind of backup he had last round. He'll need to make Tatum work for his shots in one-on-one scenarios.
Boston also isn't nearly as aggressive as Milwaukee in helping at the rim, so Crowder likely won't get the same quantity or quality of looks from outside in this series. The Heat will be slightly more reliant on his ability to put the ball on the floor and attack closeouts. Just two of his 53 field-goal attempts against the Bucks came from inside the arc, but that will almost certainly change against the Celtics. For Miami's offense to keep flowing in the half court, Crowder will need to prove he's more than just a catch-and-shoot threat.
Casciaro: Hayward's availability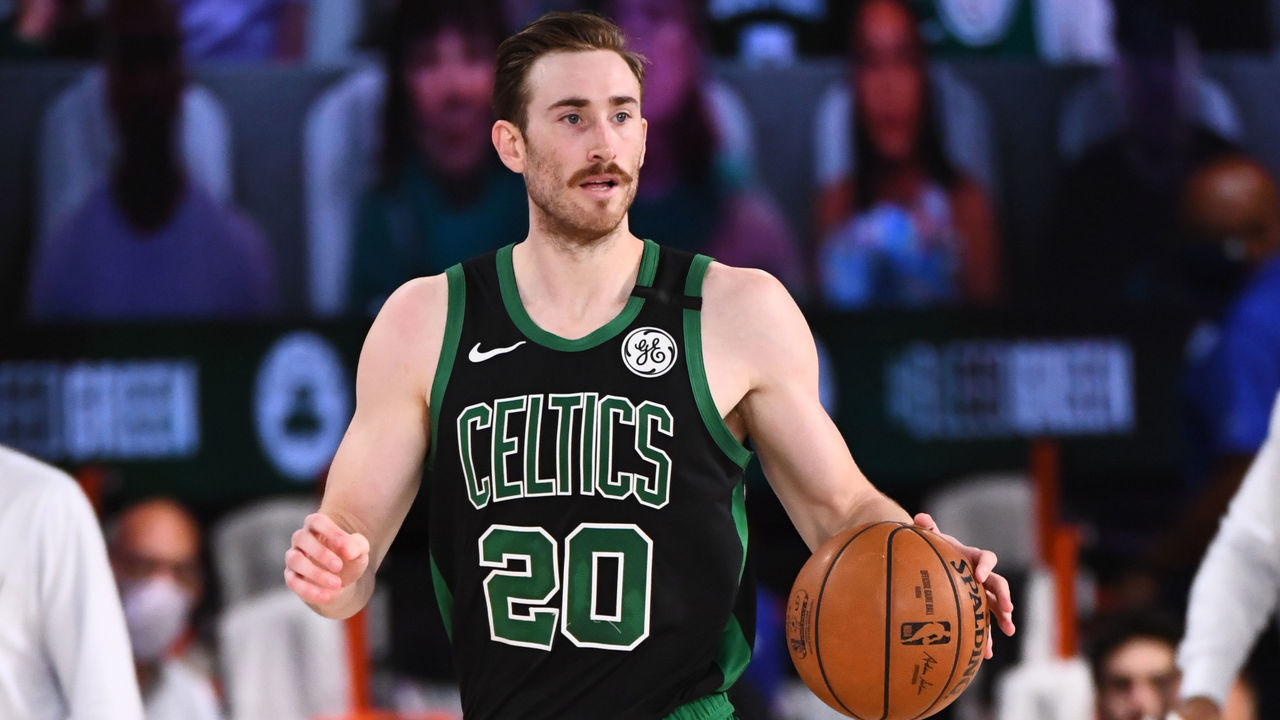 I said Boston will need seven games to dispose of a scrappy but talented Heat team, but I'd feel far more comfortable penciling the Celtics into The Finals - and predicting them to make it there in fewer than seven games - if Hayward can return to the court early in this series.
We've already mentioned the many problems Boston's bevy of shot creation causes for opponents, and we saw how exhausting it was for a great Raptors defense to contain the three-headed monster of Tatum, Walker, and Brown without losing sight of a potential wild card like Smart. Hayward may never regain the All-Star form he displayed as the man with the Utah Jazz, but he's still an offensive force who averaged 17.5 points and 4.1 assists - plus an offensive rebound per game - on 50-38-86 shooting this season.
Reinserting that type of scoring, shooting, and playmaking threat into a lineup with Tatum, Walker, and Brown almost seems unfair.
If Hayward returns later in a competitive series and needs time to readjust, then perhaps I'm overvaluing his potential impact on this matchup. But if Boston's fourth-leading scorer is available for the majority of the Eastern Conference finals and picks up anywhere near where he left off, it might be Miami's ability to compete in this series that I'm overestimating.