NBA players show what using their platforms really looks like
Jesse D. Garrabrant / NBA / Getty Images
When the NBA players' association agreed to the proposal set out by the league for the resumption of the 2019-20 season in a Disney World bubble, it announced that it was doing so with "the goal of taking collective action to combat systemic racism and promote social justice." It was hard to know at the time what that was going to look like.
Leading up to the restart agreement, players debated within their own ranks whether it would be appropriate to return to play in the midst of both a social uprising against the state-sanctioned killing of Black people (who fill about 80% of the league's roster spots) and a global pandemic that was also disproportionately killing Black people. Apart from the feeling that basketball would be a distraction from the protests happening in the streets, there was reason for the players to feel uncomfortable about being at a physical remove from those protests and the movement at large.
While those discussions were happening, one common refrain from those who favored participating in the restart was that players would be better positioned to push for meaningful change with the platform and visibility that would come from resuming the season. In a way, that proved to be true.
Initially, the league and its players used that platform with a mixture of symbolism and genuine action. Players like Jrue Holiday, Patty Mills, and Dwight Howard announced they would donate their entire salaries from the bubble games to charities, Black-owned businesses, and other social justice initiatives. LeBron James spearheaded a voting-rights coalition that partnered with several cities to turn sports arenas into polling stations for the coming U.S. federal election. That coalition also helped pay off outstanding fines so that disenfranchised ex-convicts in Florida could restore their voting rights, and it worked with the NAACP to recruit poll workers in majority-Black electoral districts.
The NBA helped develop a rapid, saliva-based coronavirus test for public use. Owners pledged $300 million over 10 years (or the equivalent of $1 million per owner per year) to a foundation aimed at "creating substantial economic mobility within the Black community."
The league painted "Black Lives Matter" on all the courts in the bubble. The Raptors rolled up to Disney with that now-ubiquitous phrase emblazoned in big, bold letters across their team buses. Virtually every player, coach, and referee knelt during the playing of the national anthems before games in a show of solidarity for the silent protest that got Colin Kaepernick blackballed by the NFL four years ago. Players like Jerami Grant, Marcus Smart, and Jaylen Brown used their media scrums to publicly lobby for the arrest of Breonna Taylor's killers in Louisville.
And then, after seven weeks in the bubble, video surfaced of an unarmed Black man, Jacob Blake, being shot seven times in the back by police officers in Kenosha, Wisconsin. Protests erupted in the city shortly after, and two protesters were killed by a white teenager with an AR-15-style rifle who'd been given the tacit endorsement of local law enforcement. Suddenly, for those NBA players sequestered inside a theme park and physically cut off from the rest of the world, none of those gestures seemed remotely sufficient.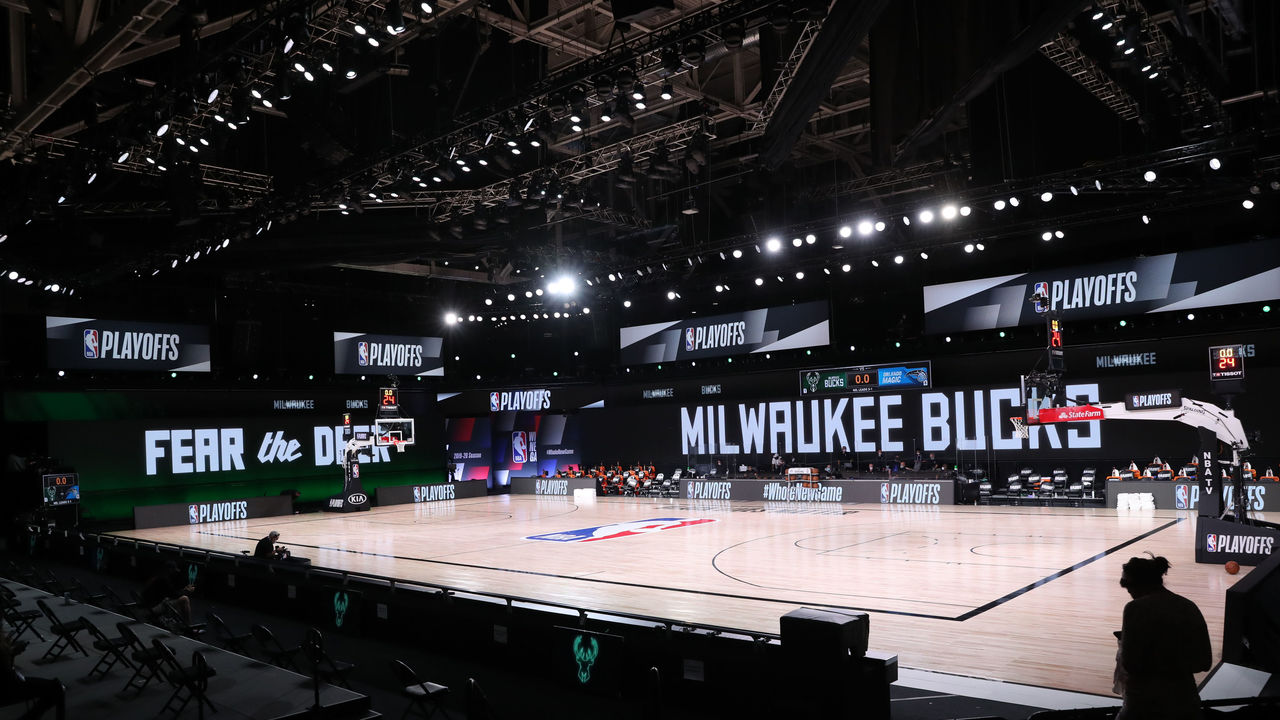 So, on Wednesday, just before the scheduled tipoff of a slate of Game 5s in the first round of the playoffs, the Milwaukee Bucks used their elevated platform in the most dramatic possible fashion: They walked off the job. The rest of the teams scheduled to play Wednesday soon followed suit. All 13 teams remaining in the bubble met to discuss next steps, with some expressing a desire to sit out the rest of the playoffs.
Athletes across multiple sports took up the call to action. WNBA players walked out. Three MLB games were called off Wednesday because teams refused to take the field, and more on Thursday. Tennis star Naomi Osaka pulled out of a WTA Premier event before the semifinals, and the tournament was subsequently put on hold. (Osaka responded by recommitting to play.)
NBA players ultimately voted to stay in Orlando and resume the postseason after what will amount to a three-day solidarity strike. It's unclear what concessions they were (or will be) able to extract from owners in the process. The two sides are set to meet Thursday to "discuss plans of action moving forward on social justice issues," ESPN's Adrian Wojnarowski reported.
Whatever comes of that meeting, or the remainder of the NBA playoffs, the players made a powerful statement that has a chance to disrupt the status quo. This isn't to say that players like Kyrie Irving and Avery Bradley who opposed the Disney restart were wrong, but the bubble - which has been a huge success for the league up to this point - gave the players a measure of leverage that they might otherwise not have had. And those who decided to participate, with the stated goal of using the spotlight to affect change, have very much walked the walk.
After everything the league did to make the restart a reality, and all the resources that have been poured into it, the prospect of finishing out these playoffs and salvaging a huge chunk of national TV revenue still is a powerful bargaining chip for the players. Just because they collectively decided not to walk out on the playoffs in protest doesn't mean they won't decide to do so if they continue to feel like they aren't being heard or aren't making progress.
These players have immense social capital. Should they choose to withhold their labor in the future, they have the power to ramp up public pressure and bring an $8-billion industry to a standstill. That theoretically gives them the power to hold the league's billionaire ownership class - and perhaps, by extension, elected officials - to a standard of actionability. They're in a position to demand that those owners put something tangible behind their largely performative shows of support.
Within an hour of their strike, the Bucks were on a Zoom call arranged by their team owners with Wisconsin Attorney General Josh Kaul and Lieutenant Governor Mandela Barnes asking why the officer who shot Blake hadn't been taken into custody. George Hill delivered a statement on behalf of the team in which he called for the officers involved to be held accountable, and for the Wisconsin state legislature "to reconvene after months of inaction and take up meaningful measures to address issues of police accountability, brutality, and criminal justice reform." In the players' meeting later, James called for more action from owners on racial justice matters, according to The Athletic's David Aldridge, Joe Vardon, and Shams Charania.
"It felt like the message was fading," one player told The Undefeated's Marc J. Spears. "Hopefully this can create a new level of activism and commitment from our owners, league, and teams towards real change."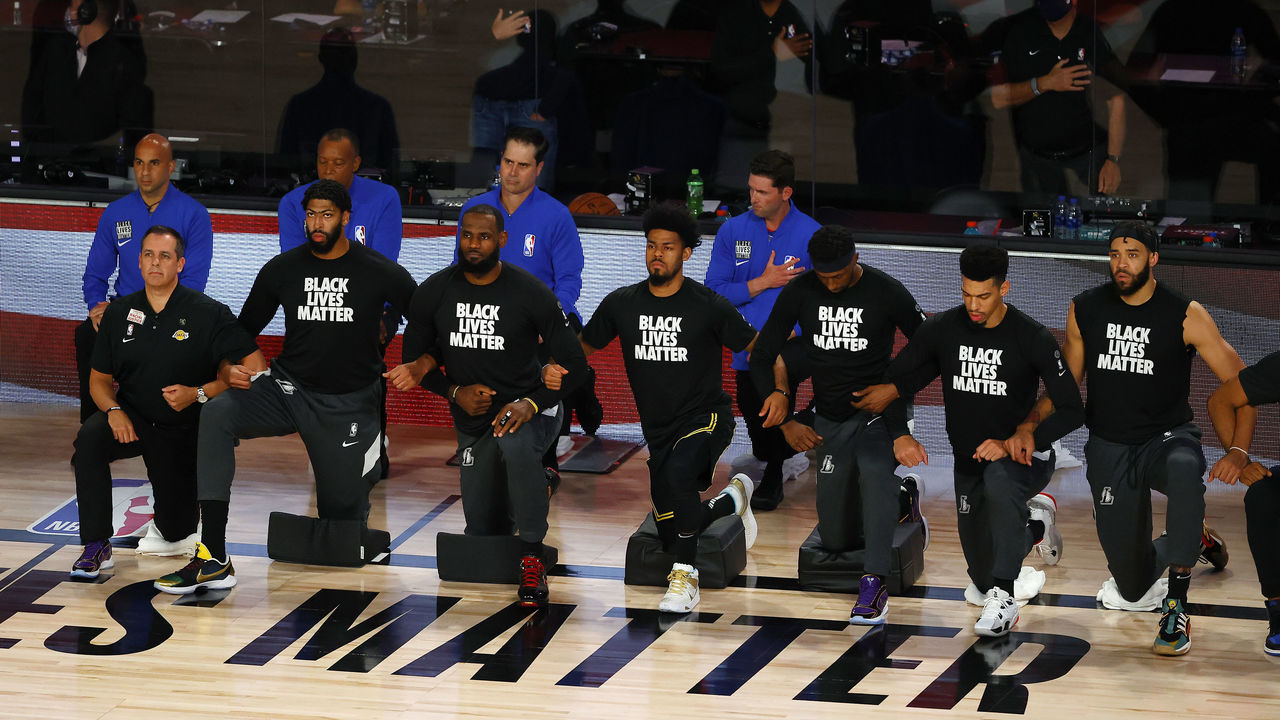 How the NBA responds will be the real test of trust between the two sides, and determine where this all goes. The league placed a good deal of faith in its ability to message its way through the complicated optics of its restart, but that no longer seems like it's going to fly. It's all well and good for the league to paint slogans on the court and not go out of its way to penalize players for protesting the anthem, but it has risked very little so far.
NBA owners, by and large, have considerable political suction. For decades, we've seen owners of sports franchises successfully hold cities and their taxpayers hostage, lording the prospect of relocation over them in order to gin up exorbitant public funds for new stadium projects. The NBA's proven over the last few weeks that when it has the will, it can accomplish virtually anything, even if that means staging a contact sport during a pandemic while insulating a population of hundreds from a virus that's ravaged the globe. Players have the right - and more importantly, in this context, the power - to demand that the people who are profiting off of their labor use their considerable resources and influence to, at minimum, help make Black communities safer.
While some may be disappointed by the players' decision to return to work without exerting the full force of their leverage, it would be unfair to ask the players to sacrifice their livelihoods so that police stop killing people who look like them. We can acknowledge that a full-on strike would be the most effective use of NBA players' leverage, and also that it was in no way the responsibility of NBA players to make that sacrifice. It's not incumbent on athletes to solve society's problems, and it certainly isn't incumbent on athletes who largely belong to a persecuted group to come up with the solution to their continued persecution.
Before the two sides came to an agreement on a restart plan, the prospect of the owners triggering the force majeure clause in the NBA's collective bargaining agreement hung like an anvil around the players' necks. That could have meant tearing up the CBA, and plunging the league into a labor dispute that would jeopardize future seasons. If they were to leave the bubble, getting them all in one place with the chance to present a united front during CBA negotiations would be next to impossible over the next few months.
In the early days of the NBA shutdown, when there was concern over what would happen to the thousands of team arena employees that would soon be out of work, several players pledged to pay those employees' salaries, before owners caved to public pressure and finally stepped up. Now, as then, it shouldn't be the players' responsibility to make this hold up, and one can only hope that they've drawn enough attention to the problem, and put enough pressure on the people who actually should be taking ownership of said problem, to force those people to work toward fixing it.
Yes, if the players go back to work after a couple of days and the owners offer only platitudes and nothing changes, this brief strike could wind up looking toothless - another purely symbolic gesture. But whether it actually constitutes a turning point in the fight for racial justice will be determined entirely by what happens next, and what happens next is up to, well, everyone with an iota of influence on public policy.
Joe Wolfond is a features writer for theScore.
Comments
✕
NBA players show what using their platforms really looks like
  Got something to say? Leave a comment below!