In a league that's always been defined by its transcendent talent, there's a special breed of NBA playoff performance authored by those stars that embeds itself in our minds.
For fans of a certain era, perhaps it's a young Michael Jordan - sorry, God disguised as Michael Jordan - dropping a postseason-record 63 points on Larry Bird's Celtics in a losing effort. Maybe it's Isiah Thomas hopping his way to 43 points against Magic Johnson's Lakers on a bum ankle in the NBA Finals.
Surely, you remember where you were when LeBron James singlehandedly beat the mighty Pistons in Game 5 of the 2007 Eastern Conference finals, or when James made that face during his Game 6 evisceration of the Celtics in 2012.
Years from now, we'll look back and remember where we were when Luka Doncic did what he did to the Clippers in Sunday's Game 4 of the Western Conference quarterfinal; where we were when commentator Mike Breen rewarded Doncic's audacity to pull up for three, down one at the end of overtime and two games to one in the series, with a rare double "BANG!"
If mentioning Doncic's Game 4 performance in the same breath as Jordan, James, Thomas, or any other legendary postseason masterpiece seems like hyperbole to you, then you're not fully appreciating how special Doncic was on Sunday afternoon.
The Mavericks superstar wasn't even a guarantee to be on the floor for Game 4 until about an hour before tipoff, his questionable status due to the fact that less than 48 hours earlier (in Friday's Game 3 loss), Doncic's left ankle contorted in a way only Slinkys should safely be able to.
Yet there was the Slovenian phenom, unloading one of the most memorable postseason game-winners you'll ever see and getting mobbed by his teammates following nearly 46 minutes (45:45) of godly basketball just hours after his Game 4 status was confirmed.
The Mavs were without Kristaps Porzingis, and the Clippers built a 21-point lead in the second quarter. But there was Doncic, pouring in 43 points, 17 rebounds, 13 assists, two steals, and a block on 58% shooting to drag the Mavs back into the fight. He went shot for shot - and then some - with Kawhi Leonard down the stretch.
Doncic's game-winner was one of his four 3-pointers on a day he only got to the free-throw line five times. The 21-year-old knocked down tough jumpers, scored from mid-range, and put defenders in the spin cycle en route to mesmerizing layups. He sized up Leonard at times and punished the Clippers for their bewildering decision to switch screens and allow Reggie Jackson to guard him on multiple occasions in crunch time, including on the final possession of the game.
His 13 assists led to 30 points. That means if you totaled all of Doncic's individual possessions (including turnovers) and assists, he scored or created 73 points on 53 possessions. To put that in perspective, Dallas scored only 62 points on its remaining 58 possessions.
Doncic even flashed some of his one-on-one defensive potential in matchups against Leonard and Paul George on Sunday - a possibility that should terrify the rest of the league given how dominant the Mavs star already is on the offensive end.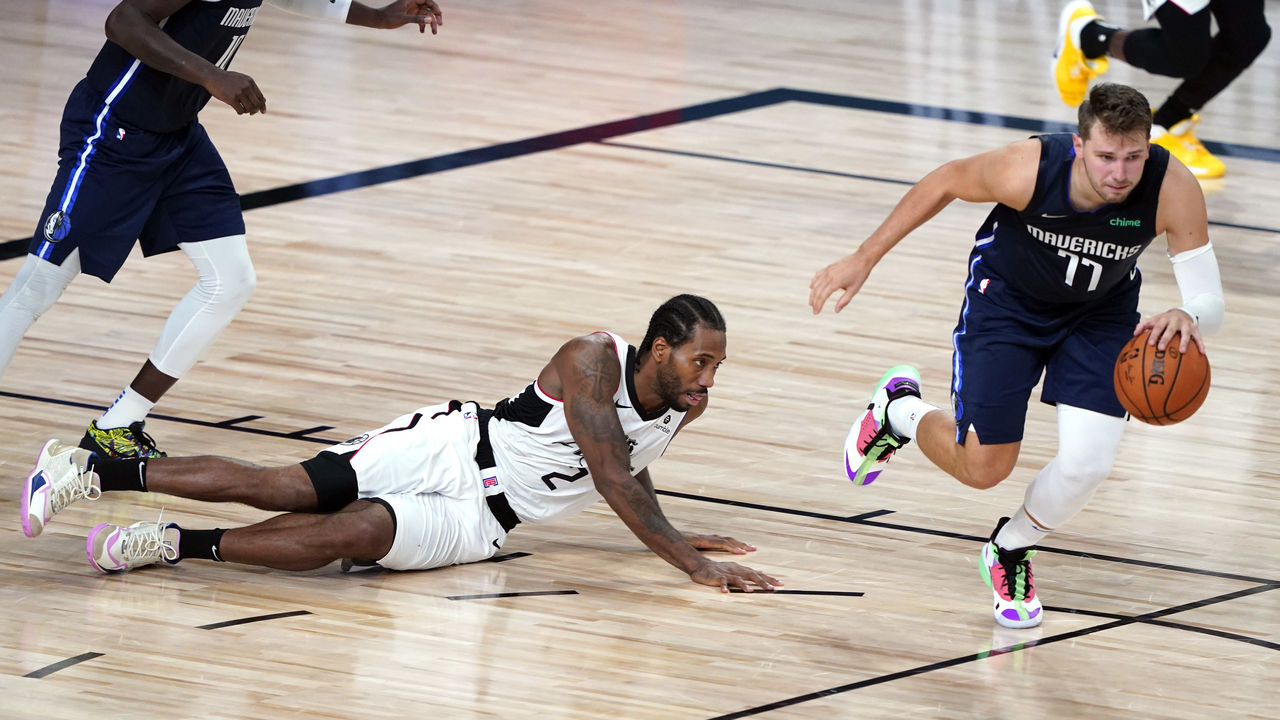 Six days after producing the most prolific postseason debut in NBA history, Doncic joined Oscar Robertson and Charles Barkley as the only players with a 40-15-10 playoff game.
In every conceivable way, Doncic picked the Mavs up off the mat and breathed life back into an undermanned underdog gasping for air. Then he outdueled the reigning Finals MVP to win a playoff game at the buzzer to even up a postseason series against a championship favorite.
On a day when Joel Embiid and the listless 76ers reminded us there are very few superstars capable of singlehandedly giving flawed teams a chance to win big - or at least beat a superior opponent - in the playoffs, Doncic pointed out that at 21 years old, and in his sophomore NBA season, he's already one of those select few stars.
Against all odds, this series is now a best of three.
History suggests the better team, led by an all-time star like Leonard, should prevail in such a high-leverage scenario. But, whether you're prepared to admit it or not so early in his career, Doncic is already knocking on that all-time door, and Breen's screams of "Bang!" Sunday afternoon might've been the sound of Doncic crashing through it.
Remember where you were when you heard it happen.