After an underwhelming performance during the eight-game seeding stage inside the Disney bubble, the Milwaukee Bucks were supposed to make a statement in their opening playoff contest.
After all, before the NBA shut down, the Bucks were one of the best regular-season teams ever, boasting a top-10 all-time scoring margin and the third-best relative defensive rating in league history. They're anchored by a singular talent who's about to win his second straight MVP and will most likely be named Defensive Player of the Year to boot. They also had the East's No. 1 seed all but sewn up when the restart kicked off, and with little to play for during the seeding stage, their lackluster performance was given the benefit of the doubt. Surely, once the games started to matter, they'd ratchet it up and once again look like the world-beaters we've come to know.
After getting thoroughly outclassed in Game 1 on Tuesday, trailing virtually wire-to-wire en route to a 122-110 loss against a below-.500 Orlando Magic team that was missing two of its four best players in Jonathan Isaac and Aaron Gordon, the Bucks no longer deserve that benefit of the doubt. They should, of course, remain prohibitive favorites to win the first-round series, and they'll most likely advance in five games. Remember, Milwaukee got stomped by the Celtics in Game 1 of the second round last year and came back to blow Boston out in four straight games. But this loss raises legitimate concerns about the Bucks' current level of play, their inflexibility, their lack of preparedness, and their ability to handle the challenges that await beyond this series.
First things first: hats off to the Magic. This is a shorthanded team that was at a significant talent disadvantage before losing the only two guys on the roster who can match up defensively with Giannis Antetokounmpo. They came in with a sound game plan and executed it to perfection.
Orlando packed the paint to the gills and forced Milwaukee to shoot jumpers, with many of them a result of the Bucks swinging the ball around the perimeter rather than the drive-and-kicks they typically subsist on. The Magic were extremely active helping to the nail to prevent penetration, with James Ennis doing a particularly good job of wedging himself between Antetokounmpo and the basket:
Orlando also played magnificent transition defense, punting the offensive glass - the Magic recovered just four of their own misses - in order to sprint back and build a wall around Giannis before recovering out to shooters:
The Magic forced Milwaukee to play in the half court, surrendering just 10 fast-break points to one of the best open-court teams in the league. These are things that the Bucks, at their best, do better than any other team. In a sense, Orlando beat them at their own game.
But let's be clear: As well as the Magic played, there's no reason a team as good as Milwaukee should've had as hard a time as it did puncturing Orlando's shell defense, which, in the absence of Isaac and Gordon, is mostly made up of average individual defenders. The Bucks will see far more daunting iterations of that lockbox around the paint deeper in the playoffs. They need to find ways to get Giannis the ball in more advantageous spots, especially when opponents are zoning up or using their centers to guard him and laying back at the rim, as the Magic occasionally did with Nikola Vucevic and Khem Birch.
Khris Middleton arguably should've initiated more of the offense and ran more pick-and-rolls than he did, but the truth is he didn't really make the most of what few opportunities he got Tuesday. Milwaukee just didn't run its stuff with much zip or urgency, and its complementary players, including Middleton, couldn't make the Magic pay for their Giannis-loaded approach. Somehow, Antetokounmpo himself was the only Buck to hit more than two 3-pointers. The rest of the team's starters shot 5-of-19 from deep.
Those issues, though, will almost certainly improve. What's more concerning right now is the Bucks' defense, which is supposed to carry them through the playoffs but hasn't looked remotely the same in the bubble as it did before the shutdown. Milwaukee ranked 10th out of 22 teams during the seeding stage with a 110.2 defensive rating, up from 101.6 - which was 3.3 fewer points allowed per 100 possessions than any other team - prior to the restart. Against Orlando - the worst offensive team to be invited into the bubble - the Bucks allowed 114.8 points per 100.
Vucevic was by far the biggest cause of their struggles, going off for 35 points on 15-of-24 shooting from the field and 5-of-8 from 3-point range while doing most of his damage in the pick-and-pop against Milwaukee's drop coverage. For as good a rim-protector as Brook Lopez is, he alone couldn't make the Magic center uncomfortable, and with the Bucks sending few double-teams to help him, he was powerless to stop Vucevic from getting to his spots and uncorking an array of baby hooks and mid-range jumpers.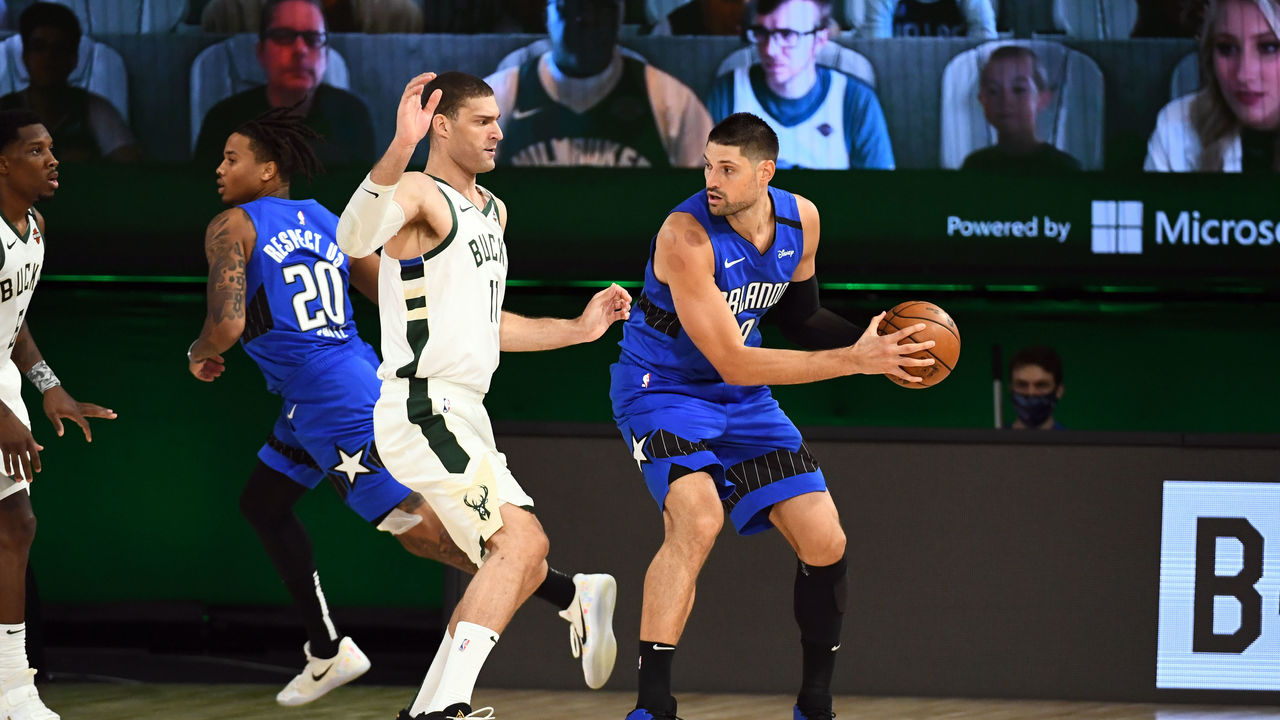 Much of the Bucks' post-restart defensive drop-off is a result of them surrendering a ridiculous number of wide-open 3-pointers - 25.1 per game, considerably more than they allowed pre-shutdown (when they already led the league in that category). The Magic shot 16-of-38 (42.1%) on above-the-break threes Tuesday, a very strong mark - especially for a team that generally doesn't shoot it all that well - but not some outlandish outlier. 3-point shooting percentages are up around the league in the bubble, with some players suggesting the dark backdrop in fan-less arenas allows for better depth perception and shooting sight lines. What if that makes Milwaukee's defensive scheme less tenable?
At the same time, the stifling interior defense that's been the bedrock of the Bucks' historic unit this season has also taken a step back. They allowed opponents to shoot just 54.9% inside the restricted area before the hiatus. That mark rose to 57.7% in the seeding games. The Magic shot 13-of-19 (68.4%) at the rim in Game 1, and 6-of-10 on paint shots outside the restricted area.
Lopez will deservedly receive some blame; this was one of the worst games he's played all year. He was at times out of position, and he occasionally neglected to rotate and help at the rim, both extreme rarities. Certainly, the extent to which Vucevic lit him up from outside was a factor. On a pair of fourth-quarter possessions, Lopez let Terrence Ross cut right down the middle off of curls without so much as a bump because he had to account for the threat of Vucevic popping for a jumper:
Another thing you'll notice on those possessions is how badly the Bucks' guards got hung up on screens, and how the defenders in the weak-side corner neglected to rotate over, all of which hung Lopez out to dry. There seemed to be some confusion about how Milwaukee wanted to defend those actions; whether the plan was to switch, or have Lopez drop down and the trail defender veer back to Vucevic.
There were plenty of other head-scratching miscues, like this play in which Marvin Williams fronted Vucevic in the post while the Magic cleared out the strong-side corner. No help arrived to help Williams on the back side, so Evan Fournier just entered the ball over the top for an uncontested layup:
You can see Lopez motioning for George Hill, who was guarding non-shooter Markelle Fultz up top, to rotate down and provide that help, but to no avail. For a purported title contender, the lack of communication, adjustments, and general preparation was pretty alarming.
And speaking of a lack of adjustments, Bucks coach Mike Budenholzer's rigidity goes beyond his commitment to his defensive scheme. For a second straight postseason, he seems intent on playing his stars regular-season minutes. His refusal to lengthen Antetokounmpo's leash last year, even with a trip to The Finals on the line, greatly contributed to his team's demise. On Tuesday, with the game within reach at various points throughout the second half, Budenholzer opted to stick with his normal substitution patterns, playing Giannis 34 minutes and Middleton 31.
All in all, it was an embarrassing performance from the Bucks' players and coaching staff, which will only turn up the volume on the festering doubts regarding their title hopes. It's certainly not time to panic yet. Fultz probably won't roast them from mid-range again. Vucevic is unlikely to repeat that shooting performance. Eric Bledsoe, who's still working his way back into peak form after missing a bunch of ramp-up time while recovering from COVID-19, should improve defensively as the series progresses.
But the Bucks are supposed to have bigger fish to fry than beating the Magic, and they need to get serious. Their role players need to shoot better, their guards need to do a much better job navigating screens, their defensive communication needs to improve, Lopez needs to rediscover his defensive mojo, and Giannis and Middleton need to play more minutes.
To get where they're trying to go, the Bucks are going to have to get through far better defenses than Orlando's. They're going to face other pick-and-popping big men - some combination of Kelly Olynyk, Marc Gasol, Serge Ibaka, or Daniel Theis - that will challenge their base defense.
The Game 1 loss won't doom Milwaukee, but it may prove to be a big red flag.