The most thrilling matchup through two days of the NBA's Disney World restart was an overtime barn burner between the Portland Trail Blazers and Memphis Grizzlies, who are battling for the Western Conference's eighth and final playoff spot.
Yet, as we watched with excitement while Damian Lillard took over down the stretch of a Blazers victory, while Carmelo Anthony celebrated with threes to the dome, while Jusuf Nurkic excelled in his return, Jaren Jackson Jr. teased his tantalizing potential, and Ja Morant continued to wow us with his sheer audacity, there was also a sobering reminder; only one - and possibly neither - of these teams will make the playoffs.
It didn't have to be this way.
When the NBA decided on a single-site environment to conclude its 2019-20 season, the uniqueness of the bubble itself during these unprecedented times allowed for thinking outside the box. That's the very reason why the league has provided an opportunity for ninth-placed teams to force a postseason play-in if they're within four games of eighth.
But if the Association was willing to get a little funky, it should've gone all-in and embraced the glaring opportunity provided by the fact that no travel is involved in this year's playoffs.
The top 16 teams, regardless of conference, should make it.
Just look to Friday's early action for inspiration. While the Blazers and Grizzlies were entertaining us, the woefully depleted Nets and Wizards were being run off the floor by Orlando and Phoenix, respectively.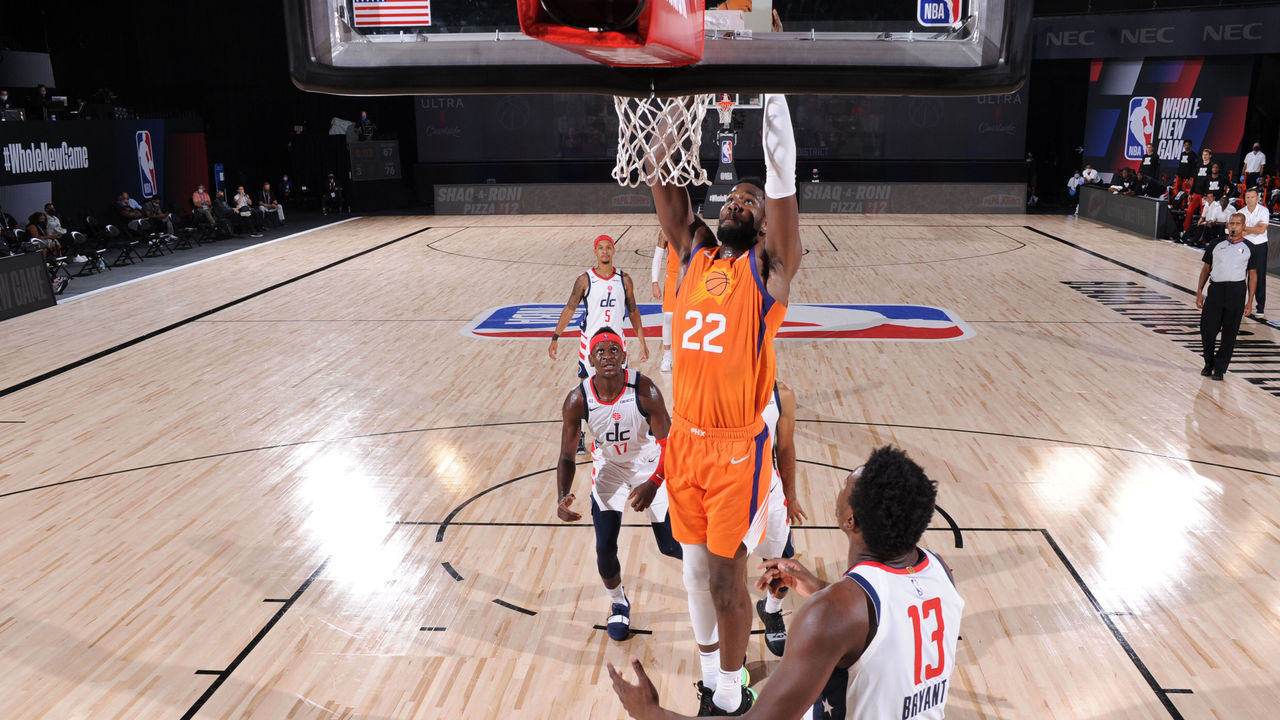 The league couldn't have predicted that Brooklyn and Washington would see their rosters decimated ahead of the restart, so this isn't an argument about leaving the Nets and Wizards at home.
But the fact that one of those clubs is guaranteed a postseason berth while teams like Memphis, Portland, New Orleans, Sacramento, San Antonio, and Phoenix fight each other for one spot is frustrating enough in a normal year, when there's at least a valid argument to be made about breaking the playoffs up between East and West.
It's downright maddening this year, when the only postseason travel to navigate is how to get from your hotel room to the basketball court on the same damn resort.
If you think the West playoff picture promises excitement, just imagine how much better the race could've been in a top-16 format. The same 22 teams could've been involved, and the league still could've given two extra clubs - 17th and 18th overall - the chance to compete in a play-in should they have finished within four games of 15th and 16th.
Under the current format, the hapless Wizards need to make up a couple of games on the equally hapless Nets to force the worst possible play-in the NBA could've envisioned. The 31-35 Magic, meanwhile, are probably already home free.
To put things in perspective, the Suns need to leapfrog four teams while making up at least one more game on Memphis just to qualify for a play-in, but this same Suns team was a 7.5-point favorite over Washington on Friday afternoon. And Phoenix covered easily.
Now imagine the same standings, except teams from both conferences trying to land in the top 16. Here's what that would look like:
| Place | Team | Record | GB |
| --- | --- | --- | --- |
| 14th | Grizzlies | 32-34 | +1.5 |
| 15th | Magic | 31-35 | +0.5 |
| 16th | Nets | 30-35 | -- |
| 17th | Blazers | 30-37 | 1.0 |
| 18th | Spurs | 28-36 | 1.5 |
| 19th | Pelicans | 28-37 | 2.0 |
| 20th | Kings | 28-37 | 2.0 |
| 21st | Suns | 27-39 | 3.5 |
| 22nd | Wizards | 24-41 | 6.0 |
Instead of six solid-to-decent teams fighting for one West playoff position while a mediocre Magic team cruises to the playoffs and two G-League squads fight for the last East spot, you'd have eight teams fighting for three spots - plus two likely play-in berths - in this dream scenario that could've easily been executed.
Only the Wizards would really be out of the mix had the NBA done this right. An exciting young team like the Suns would have a realistic shot. Friday night's Spurs-Kings game would've felt absolutely massive instead of feeling like a matchup between two West playoff hopefuls who don't really have much hope left. Zion Williamson's Pelicans would be a half-game back of 18th, which might mean a play-in against the Magic instead of Morant's Grizzlies.
Williamson, Morant, and Lillard all could've theoretically made the playoffs, and the Magic would've actually had to fend off one of those teams to earn their way in.
Every single team involved would be gunning for 14th to avoid a play-in.
Hell, did you watch Lakers-Clippers on Thursday night? Had the NBA gone 1-to-16 this year, that LeBron-Kawhi duel could've been a Finals preview rather than a West finals teaser.
Maybe the league would've never received enough ownership approval to apply this radical, one-year amendment. Maybe you feel tinkering too much with tradition would've diminished the integrity or sanctity of the 2020 playoffs.
But everything about this bubble is an experiment, and it's tough to argue on behalf of integrity while watching what's left of the Nets and Wizards compete for the right to be eviscerated by Milwaukee, or watching the Magic practically qualify by default while teams like Memphis, Portland, New Orleans, Phoenix, and Co. entertain the hell out of us in vain.