Sound, systematic team defense isn't typically the first thing that comes to mind when we consider what excites us about watching basketball. It doesn't tend to produce highlight-reel plays or get you out of your seat. It's mostly nuanced, structured, repetitious work that one's focus grows soft to over time. But the Milwaukee Bucks have a way of making their routinized defensive dance enthralling to watch. And I've missed watching it.
I've missed watching their tough, long, physical guards apply pressure on the perimeter, slither through screens, and funnel opposing ball-handlers into the bramble of waiting arms in the paint; the way additional waves of help come crashing in, first from the wings and then from the corners, to stymie passes to the roll man, interrupt drives, or provide last-ditch backup for the dropping big man at the rim.
I've missed the composure and organization with which they help and recover, descending on the middle and instantaneously fanning back out to shooters when or if the ball escapes, like a collapsable Hoberman sphere; the synchronicity with which their guards top-lock shooters to prevent them from springing free for open threes off of handoffs or pin-downs, while their bigs simultaneously slide into position to cut off backdoor cuts. It's symphonic in its way.
The Bucks' defense has been arguably the biggest story in the NBA this year. It has carried them to the league's best record and catapulted them into a stratum alongside the best regular-season teams ever, with an average margin of victory that ranks fifth all time. The gulf between their league-leading defensive efficiency and that of the second-ranked Raptors is equivalent to the gap between Toronto's mark and that of the eighth-ranked Nets. Relative to league average, Milwaukee boasts the third-best defensive rating in history, behind only the 2003-04 Spurs and 2007-08 Celtics.
Their formula is beautiful in its simplicity. The Bucks are hyper-disciplined and use their length and speed to defend without fouling. They cede very little in transition, aided by the fact that their center spends most offensive possessions hanging out several feet behind the 3-point line and rarely gets trapped behind the play. In the halfcourt, rather than concede switches on the perimeter, they keep their biggest bodies within spitting distance of the rim, forcing their opponents to shoot jumpers and negating any second-chance opportunities.
For the second straight year, they're cleaning their own glass at the league's highest rate. And for the second straight year, they're allowing both the lowest proportion of opponent shots from inside the restricted area and the lowest field-goal percentage on such shots. Their three most prominent frontcourt defenders - Giannis Antetokounmpo, Robin Lopez, and Brook Lopez - rank first, third, and fourth in the league in defensive field-goal percentage at the rim.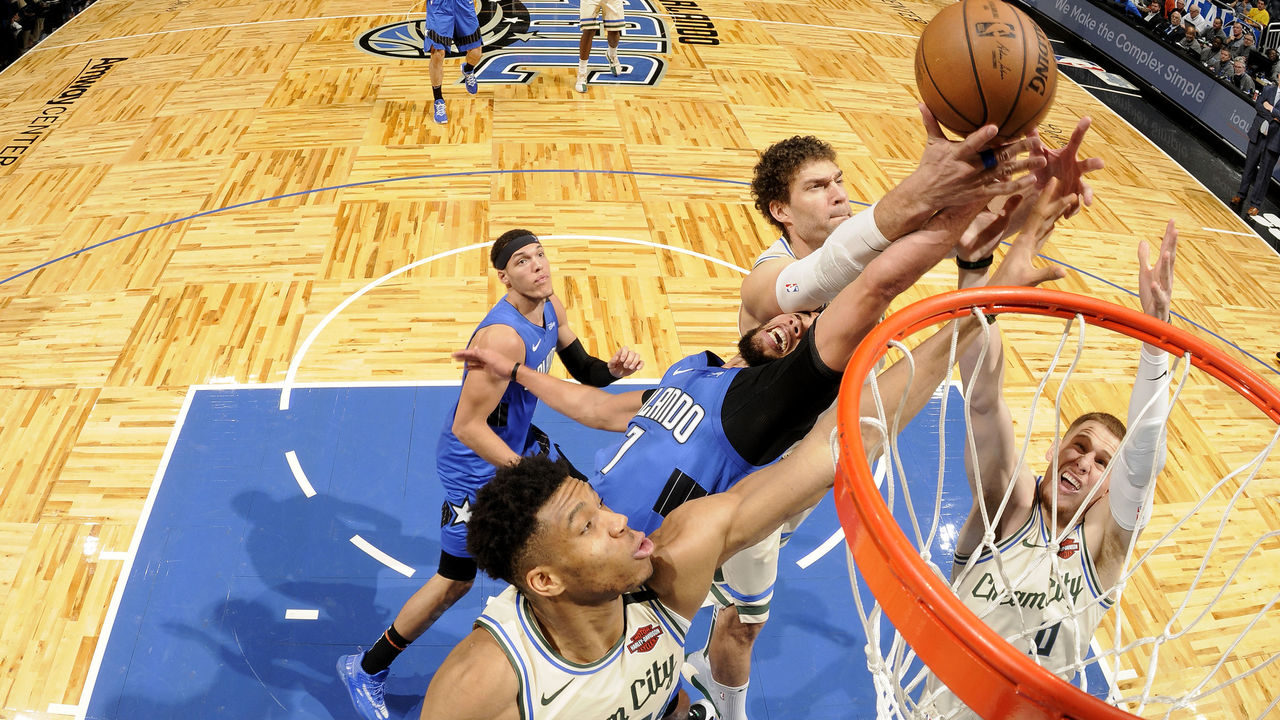 Allowing scads of 3-pointers, which the Bucks do as a consequence of their interior-oriented approach, once seemed antithetical to efficient defensive principles. But they're so good at barricading the paint that what happens outside of it almost doesn't matter. They know they can't take away everything, so they don't try. They don't let perfect be the enemy of ridiculously good.
That's not to say they aren't menacing on the perimeter as well. Eric Bledsoe, Khris Middleton, Donte DiVincenzo, George Hill, and Wesley Matthews all impose their will at the point of attack, inviting opponents to challenge one of the Lopez twins at the hoop while giving pursuit and blotting out space from the rear. Once you step past the threshold as an opposing offensive player, the front door slams shut behind you, and you're faced with a back door that won't budge. Suddenly you're locked in a house of horrors, with a Giannis monster running amok and ready to swallow you whole.
It feels, to a degree, like the Bucks have hacked NBA defense in the same way those Kevin Garnett-led Celtics defenses did in the late 2000s by icing the pick-and-roll and flooding the strong side of the floor before the rest of the league caught on. Like those Celtics teams, the Bucks have created an ideal synergy of personnel and scheme that has both placed them ahead of the curve and made their blueprint unreplicable. Like those Celtics defenses, their magic is unlocked by a singularly gifted 7-foot unicorn.
I'm looking forward to once again watching that unicorn wreak defensive havoc, be it as a back-line helper, a perimeter rover, or a one-on-one enveloper. I'm looking forward to being reminded of the symbiosis between Antetokounmpo's fluid speed and the unscalable verticality of the Lopez twins. I'm looking forward to watching more possessions like the one below, in which Giannis shuttles between multiple assignments and blows up two or three different actions, buying Brook Lopez time to position himself for a perfect at-rim contest just when the offense finally manages to evade Giannis and thinks it's home free.
The term "copycat league" gets thrown around a lot, but schemes themselves are less than half the battle. Other teams have adopted Milwaukee's approach of going all-in on rim protection - even at the cost of surrendering a ton of 3-pointers - and some, like the Raptors and Celtics, have found a great deal of success doing so. But it's one thing to take cues from the Bucks and quite another to defend like them. It's a bit like how other teams tried to downsize in an effort to replicate Golden State's model, ignoring the fact that it was the Warriors' wholly unique personnel group that allowed them to perfect small ball. Expecting the same result is usually a recipe for disappointment.
Head coach Mike Budenholzer was criticized last season for a lack of scheme flexibility in the playoffs, but it was the Bucks' offense, not their defense, that ultimately failed them in the conference finals. There's still reason to think they can be neutralized on that side of the ball in a way some other contenders can't be, but their defense is even better this year and could very well be good enough to carry them to a championship.
I can't wait to watch and find out.
Joe Wolfond is a features writer for theScore.